The Coffee–Songbird Connection Scientific American
A 130,000-year-old archaeological site in southern California, USA Nature. Alters the timeline…
U.S. Tech's Self-Feeding Digital Money Machine on Show This Week Bloomberg
Facebook targets 'insecure' young people Australian Business Review. Interesting:
A 23-page Facebook document seen by The Australian marked "Confidential: Internal Only" and dated 2017, outlines how the social network can target "moments when young people need a confidence boost" in pinpoint detail.

By monitoring posts, pictures, interactions and internet activity in real-time, Facebook can work out when young people feel "stressed", "defeated", "overwhelmed", "anxious", "nervous", "stupid", "silly", "useless", and a "failure", the document states.

After being contacted by The Australian, Facebook issued an apology, and said it had opened an investigation, admitting it was wrong to target young children in this way.
I'd want more verifiable technical detail on the actual targeting — this is, after all, a sales pitch — but regardless of what Facebook is actually doing here, should they even want to?
Employees at this Swedish company can get a microchip inserted under their skin World Economic Forum. "The process lasts a few seconds, and more often than not there are no screams and barely a drop of blood."
Modi's India: Rising and Reshaping The Diplomat
ASEAN Summit: An exercise in omission Lowy Interpreter
Chinese economy cools as key sectors continue to slow Guardian
Japan Labor Shortage Prompts Shift to Hiring Permanent Workers Bloomberg'
France
Brexit
Jean-Claude Juncker says Theresa May is 'deluded' in scathing call with Angela Merkel after Brexit talks Telegraph. See also this 30-tweet tweetstorm (RS) on Theresa May's dinner with Michel Barnier and Jean-Claude Juncker at No. 10 from The Economist's Jeremy Cliffe; it summarizes this FAZ article (only in German; partial translation; and another summary ("a caricature of Brexiteer amateurism")).

EU calls May's Brexit stance 'completely unreal' FT

The Brexit slowdown begins (probably) Mainly Macro
Syraqistan
Arab Winter Buzzfeed

In Translation: al-Qaeda goes glocal The Arabist
Imperial Collapse Watch
Tomgram: Nick Turse, The U.S. Military Moves Deeper into Africa TomDispatch (GF)

The Attritionist Letters: the Marines shackling their field-grade officers, & losing wars Fabius Maximus. Fun rework of the central trope of The Screwtape Letters.

High-Value Target Disappointed To Be Raided By Rangers Instead Of Navy SEALs DuffelBlog
North Korea
Trump Transition
Health Care
How Economic Incentives have Created our Dysfunctional US Medical Market Elisabeth Rosenthal, Medium

Health Care Reform: Commercial Multi-Payer vs. Public Single-Payer Health Insurance Common Dreams

Wall Street Wellness Programs Are Now Used to Drive Sales Bloomberg. I don't recall studies showing that "wellness programs" deliver heatlh benefits, despite (or because of) being subsidized by ObamaCare. Readers?
Big Brother Is Watching You Watch
NSA Kept Watch Over Democratic and Republican Conventions, Snowden Documents Reveal The Intercept

In pursuit of WikiLeaks The Economist

Trump says China could have hacked Democratic emails Reuters
Our Famously Free Press
Dumb And Vile – Independent Falls For Prank, Smears Other Journalists Moon of Alabama. The "prank," from 4chan, p0wned several liberals on my Twitter feed.

Confirmed: the crucial role of Chilean media mogul on US plan to overthrow Allende Unbalanced Evolution of Homo Sapiens

The secret lives of Google raters Ars Technica
Guillotine Watch
Hard times for Whole Foods: 'People say it's for pretentious people. I can see why' Guardian (Furzy Mouse).
Class Warfare
May Day protests expected nationwide The Hill

Low-wage African American workers have increased annual work hours most since 1979 Economic Policy Institute

American Airlines gave its workers a raise. Wall Street freaked out. Vox. Yglesias: "This is why we can't have nice things."

America's two-track economy MIT News (MS). "In Temin's terms, updated, America now features what he calls the 'FTE sector' — people who work in finance, technology, and electronics — and 'the low-wage sector.' Workers in the first sector tend to thrive; workers in the second sector usually struggle. Much of the book delves into how the U.S. has developed this way over the last 40 years, and how it might transform itself back into a country with one economy for all."

Trade, Jobs, and Inequality: CUNY Grasping Reality. Conference transcript. The trade situation has develped not necessarily to our (well, your) disadvantage.

25 Years After the Riots, Economic Conditions in Many L.A. Neighborhoods Are Worse LA Weekly

Can unions rebuild the labor movement in the US south? Guardian. Things will be easier because Obama passed card-check. Oh, wait….
Economics, not identity, is key to reviving American liberalism FT. But is it key to reviving the fortunes of the paid-to-lose Washington Generals liberal nomenklatura?
A Tough-Love Letter to the Left Tne New Republic
The Rule of Law Won't Save Us Jacobin
Strategies for resisting right-wing populism Understanding Society
Democracy on the Brink Foreign Affairs
The five universal laws of human stupidity Medium
Antidote du jour (via):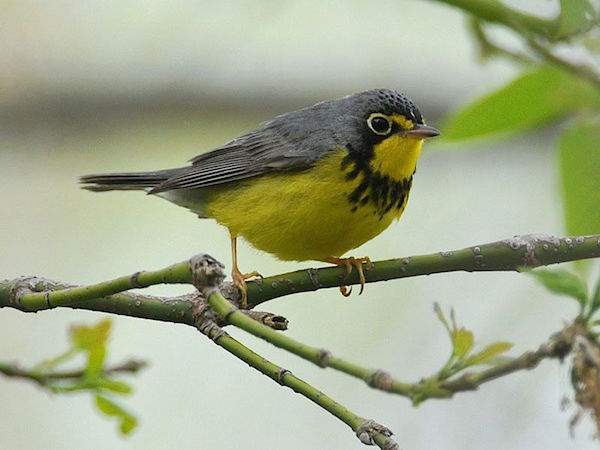 Canada Warblers returning to the eastern US.
See yesterday's Links and Antidote du Jour here.