By Lambert Strether of Corrente
UPDATE We have now made the goal of 250 contributors, and so this mini-fundraiser has come to a successful close (although naturally I will continue to accept donations :-). I'm grateful for this very tangible appreciation of Water Cooler, and look forward to more posting in these interesting times. Thank you all so much! –lambert
Our mini-fundraiser for Water Cooler is on! And we are a-a-l-l-l-l-most there! As of this writing, 221 donors – our goal is 250 – have already invested to support Water Cooler, which provides both economic and political coverage, to help us all keep our footing in today's torrent of propaganda and sheer bullsh*t. Independent funding is key to having an independent editorial point of view. Please join us and participate via Lambert's Water Cooler Tip Jar, which shows how to give via check, credit card, debit card, PayPal, or even the US mail. Thanks to all!
Trade
"The broad coalition that derailed the Trans-Pacific Partnership (TPP) delivered more than 100,000 petitions demanding the North American Free Trade Agreement (NAFTA) be replaced with a deal that benefits working people. Activists with "Replace NAFTA" signs and T-shirts made the delivery today as witnesses arrived for hearings on NAFTA renegotiation at the U.S. International Trade Commission. This followed the unprecedented submission of more than 50,000 comments to the U.S. Trade Representative (USTR) docket on NAFTA talks. The dozen groups that alerted members to the opportunity to submit comments were surprised by the overwhelming response, which crashed the USTR's submission platform" (PDF) [Eyes on Trade].
Before his meeting with Trump, "[South Korean President Moon Jae-in] did seem to want to cast [the U.S.-Korea free-trade agreement (KORUS)] in a more favorable light, calling the United States and South Korea 'inseparable economic companions' and noting that trade between the two countries has grown by 12 percent over the past five years, even though overall global trade has fallen by 12 percent over the same period. He also expressed hope his visit would 'elevate our bilateral economic partnership to the next level'" [Politico].
"Add Norway to the list of countries jockeying to make its voice heard in the ongoing discussion over how best to address the fisheries subsidies issue at the World Trade Organization. In addition to four other countries, Oslo is now circulating its own proposal laying out a preferred way to word a commitment against subsidies for illegal, unreported and unregulated fishing, Geneva sources told Morning Trade" [Politico].
Politics
Ossoff Debacle
"The not-so-secret sauce for Demo­crats is that polls show their party mem­bers are agit­ated and angry about Trump's elec­tion, and are mo­tiv­ated to do something about it…. A tight race was ex­pec­ted, but the GOP nom­in­ee, former Geor­gia Sec­ret­ary of State Kar­en Han­del, beat Demo­crat Jon Os­soff, a 30-year-old former con­gres­sion­al staffer, by nearly 4 per­cent­age points, 51.9 per­cent to 48.1 per­cent. It turned out that Clin­ton per­formed bet­ter than Os­soff. So what happened? The blame game is well un­der­way" [Charles Cook, Cook Political Report]. "[Dav­id Wasser­man, House ed­it­or of The Cook Polit­ic­al Re­port,] goes on to ob­serve that "the di­ver­gent res­ults in Geor­gia-06 and South Car­o­lina-05 prove sat­ur­a­tion-level cam­paigns can back­fire on the party with a baseline en­thu­si­asm ad­vant­age—in this case, Demo­crats. The Geor­gia-06 elec­tion drew over 259,000 voters, an all-time turnout re­cord for a stand-alone spe­cial elec­tion and an amaz­ing 49,000 more than par­ti­cip­ated in the 2014 midterm there. The crush of at­ten­tion mo­tiv­ated GOP voters who might have oth­er­wise stayed home, help­ing Han­del to vic­tory." So maybe the DCCC should stop flushing money down the consultant toilet and put some money into infrastructure? Seeking to win the war (Grant) not the battle (McClellan, on a good day)? Just a thought. Of course, that would smash a lot of consultant rice bowls…. More: "Tues­day's res­ults show that the bot­tom has not fallen out for Re­pub­lic­ans, as some had sug­ges­ted. At the same time, Demo­crat­ic spe­cial-elec­tion can­did­ates are out­per­form­ing nor­mal Demo­crat­ic vot­ing pat­terns by 7 to 12 per­cent­age points, something that should alarm Re­pub­lic­ans run­ning for reelec­tion in com­pet­it­ive dis­tricts and states."

UPDATE "Amidst the wreckage of Ossoff's campaign there emerges only one winner: Mothership Strategies, which reportedly earned $3.9 million for its work. Everyone else—voters, the party, the candidate Mothership promoted—lost" [The New Republic].
Health Care
"Best encapsulation of the White Hat (optimist) thinking, from an administration source: "I think we're going to pass this. I really think they'll bribe off the moderates with opioid money and then actually move policy to shore up Mike Lee and Ted Cruz. … If it was going to fail, McConnell would've put it on the floor. He wants people on the record — put up or shut up. He would've said: 'F— it, let's fail now and move onto tax reform.' … Now he's going to eat up another two weeks of floor time. He's not going to waste those weeks unless he thinks he can do this" [Axios].

"Once-unified Democrats are splintering into competing factions over how to best move forward, with progressive lawmakers and activists aligned with Sen. Bernie Sanders, I-Vt., telling NBC News Wednesday they see the problems in the GOP as an opportunity to double down on their preferred health care reforms, like single-payer health insurance. They have shown little to no interest in negotiating with Republicans" [NBC News]. "On the other hand, several Senate Democrats, including Minority Leader Charles Schumer, D-N.Y., have said they have in mind a variety of modest changes to Obamacare that they'd love to sit down and discuss with Republicans. Schumer even invited President Donald Trump to a bipartisan meeting with all senators."

"Several members, including [Sen. Joe] Manchin, have co-sponsored a bill that would add a cheaper catastrophic plan to the insurance exchanges, among other tweaks. Sen. Claire McCaskill, D-Mo., recently introduced legislation that would allow people in counties with no insurers to buy from the same exchanges members of Congress use. Other Democrats have talked about restoring Obamacare provisions that cushion insurers against unexpected high costs that were removed in a prior bipartisan spending deal. Sen. Mark Warner, D-Va., for his part, has suggested allowing insurers to sell across state lines, a proposal that has also gotten support from Trump. Warner acknowledged that 'folks on both ends of the extreme' could torpedo efforts to work across the aisle, but said he would still try" [NBC News]. I love McCaskill's idea: "people in counties with no insurers to buy from the same exchanges members of Congress use." So how come everybody doesn't get to ride the train to HappyVille?

"Despite those collegial words, Schumer has kept his caucus united in opposing the Republican legislation — even Democrats from states that Trump won remain against it — and established barriers for starting bipartisan talks: Democrats have insisted they would work with Republicans only if the GOP abandons its efforts to repeal the Affordable Care act and drops proposed cuts to Medicaid and tax breaks for wealthy Americans" [RealClearPolitics]. "'It'll be dealt with in one of two ways: Either Republicans will agree and change the status quo, or the markets will continue to collapse, and we'll have to sit down with Senator Schumer,' McConnell told reporters outside the White House. 'And my suspicion is that any negotiation with the Democrats would include none of the reforms that we would like to make.'" Query: Would the Democrats make a Grand Bargain and cap Medicaid? Everybody's silent, so I assume that's an option.

"A recently published analysis of the impact of the American Health Care Act (AHCA) passed by the House of Representatives, from researchers at the Commonwealth Fund and the Milken Institute of Public Health at George Washington University, predicts more than 900,000 jobs will lost nationwide by 2026 if the House bill becomes law, the vast majority of which (725,000) would be lost from the health-care sector. This magnitude of job loss would mean a roll-back of nearly half of all health-care jobs gained just since January 2014″ [MarketWatch]. I'd like to be sure these jobs are in direct care, like nursing, and not in rental extraction.

UPDATE "Hundreds of activists marched around the Capitol on Wednesday to protest the Republican health care bill in a demonstration organizers called a "human chain" protest" [HuffPo]. Hundreds. I'm not seeing any images of an actual chain, either. Readers?
2016 Post Mortem
UDPATE Wrong about everything, though perhaps of interest only to Twitterati:

Clinton Fanfic vs Clinton Reality pic.twitter.com/TecmLOLVap

— L. (@leslieleeiii) June 28, 2017
New Cold War
"Is War Between a Rising China and a Dominant America Inevitable?" [David Ignatius, RealClearPolitics]. "An interesting thought experiment would be to imagine a Chinese version of Allison, who decides to examine the ledger from their side. What would such applied history teach the Chinese about their looming intersection with the dominant power of the United States? I'm no expert on Chinese history or foreign policy, so I'll simply sketch some areas of possible focus for a hypothetical Sino-Thucydides analysis." Even if, or because, Ignatius is one of the intelligence community's water carriers, this isn't so bad.

UPDATE "CNN Journalists Resign: Latest Example of Media Recklessness on the Russia Threat" [The Intercept]. "THREE PROMINENT CNN journalists resigned Monday night after the network was forced to retract and apologize for a story linking Trump ally Anthony Scaramucci to a Russian investment fund under congressional investigation. That article — like so much Russia reporting from the U.S. media — was based on a single anonymous source, and now, the network cannot vouch for the accuracy of its central claims." Oopsie. Then again, CNN dealt with the matter a heck of a lot faster than the Times dealt with its Judy Miller WMD fiasco, which helped get us into Iraq, so if anything this story raises CNN in my estimation (though granted, the baseline is low).
Realignment and Legitimacy
"Deconstructing the Administrative State" [RealClearPolitics]. Interesting:

According to [Adam J. White of the Hoover Institution], the term "administrative state" is used in different ways. In a straightforward sense, it simply refers to the group of federal agencies tasked with carrying out the executive branch's constitutional duty to execute the laws passed by Congress. Such agencies have existed for as long as our Republic, of course, but they have multiplied and grown over the centuries. During the last century, in particular, administrative agencies — think of the Securities and Exchange Commission, the Federal Communications Commission, the Food and Drug Administration, or the Environmental Protection Agency — were empowered by Congress to formulate federal rules and regulations that carry the force of law.

While overseen by Congress along with the president and presidential appointees, today's administrative agencies effectively possess the power to create and enforce (and sometimes even adjudicate) law­ — despite being part of the executive (rather than the legislature or judiciary). For this reason, the administrative state is sometimes called the "fourth branch of government," a governmental body not envisioned by the Constitution. In this latter sense, White argues, the administrative state refers to "a general approach to governance in the United States — an approach in which, by and large, the federal laws that govern us on a day-to-day basis come not from Congress with the president's signature, but from this massive set of agencies." The administrative state in this sense is not merely a collection of federal agencies so much as an "alternative to the Constitution's framers' vision of republican self-governance, governance through the elected branches of government under the rule of law."

Interestingly, this dovetails neatly with — and does not mention — Glennon's article, "Security Breach: Trump's tussle with the bureaucratic state," in Harpers.

UPDATE Hoo boy (1), this NRA ad [Facebook].

UPDATE Hoo boy (2): "Oath Keepers is assuming the role of a paramilitary security force within the ultranationalist movement backing President Trump" [Scalawag]. "The rationale of Oath Keepers' armed presence in flashpoints of social conflict switches from libertarian—where the rights of White ranchers are at stake—to law-and-order, where it opposes Black people seeking liberation and freedom from police violence." Hmm.

UPDATE "Republicans don't hold town halls anymore" [Vox]. With handy chart.

UPDATE "Inspired not merely by their opposition to Trump but in many cases by the experience of the Sanders campaign, these next-generation progressive candidates—often running with the backing of Our Revolution, the national group developed by Sanders backers—share a belief that effective opposition begins with saying "no" but never ends there. They recognize that an alternative vision can be proposed and put into practice in communities where taxes are levied, services are delivered, commitments to fight climate change are made, resolutions to establish sanctuary cities are adopted, and questions about poverty, privatization, and policing are addressed" [The Nation]. "For progressives, figuring out where to win and how to win—not merely to resist, but to set the agenda—is about more than positioning. This is the essential first step in breaking the grip of a politics that imagines large parts of the country will always be red, and that says the only real fights are over an elusive middle ground where campaigns are fought with lots of money but little substance."

UPDATE Good news (?). I like Nina Turner a lot, so and but we'll see how she functions in an executive role:

We're excited to announce the new president of Our Revolution: @ninaturner! We are grateful for Jeff Weaver's leadership as we launched OR. pic.twitter.com/jf67vexzua

— Our Revolution (@OurRevolution) June 29, 2017

Of course, since Turner is a Sanders supporters, she's no true woman, and no true Black, so be prepared for that nonsense…
Stats Watch
GDP, Q1 2017 (Final): "The first-quarter was still weak but does get an upgrade with today's third estimate, now at a 1.4 percent annualized rate vs 1.2 percent and 0.7 percent in prior estimates" [Econoday]. "Consumer spending also gets an upgrade, to 1.1 percent from prior estimates of 0.6 percent and 0.3 percent. This had been the weakest consumer showing in 7 years but is now the weakest in 4 years… Slower inventory growth stripped 1.1 percentage points from the first quarter rate. Looking at final sales, which exclude inventories, growth was very respectable at 2.6 percent. Both residential investment and business investment were the big positives that offset consumer weakness, adding 0.5 points and 1.2 points respectively. Government purchases subtracted 0.2 points as did net exports." And: "The overall impact on Federal Reserve policy is likely to be limited, especially in terms of growth, with the consumer spending data reinforcing expectations that a the [sic] slowdown was temporary" [Economic Calendar]. Yes, that "a the" blooper is in the text. What's going on there? And but: "Not sure the inflation change is real – but overally the first quarter is now better than the previous quarter using year-over-year analysis" [Econintersect]. And: "This was above the consensus forecast" [Calculated Risk].
Jobless Claims, week of June 24, 2017: "Jobless claims remain solidly stable at historic lows" [Econoday].
Corporate Profits, Q1 2017 (revised): "Corporate profits rose a revised 11.5 percent year-on-year in first-quarter 2017" [Econoday].
Bloomberg Consumer Comfort Index, week of June 25, 2017: "Eased sharply for a second straight week" [Econoday]. "This is the lowest reading since February but still points to solid consumer optimism."
Durable Goods (Monday): "Worse than expected and prior month revised lower, but otherwise muddling through at modest rates of annual growth" [Mosler Economic].
Shipping: "The world's largest container shipping group Maersk has been hit by a major cyber attack that is affecting a number of major companies around the world, with Maersk's IT systems down across multiple sites and business units" [Lloyd's Loading]. ", able to communicate and crews are safe,' the company said. 'APM Terminals is impacted in a number of ports.'" Not that I'm foily, but is there reason to think a "cyber" (ugh) attack would render vessels unmaneuverable?
Shipping: "[F[or a broad array of businesses the attack on Maersk marked an alarming sign of the vulnerability of supply chains to hacking. Maersk carries an outsize share of global trade on its ships, leaving the potential financial pain from the hack to reach companies far beyond the vessels themselves" [Wall Street Journal].
Shipping: "According to a DHL Trend Research report, it's estimated that within their truck for the next delivery. For many, this process relies on their memory of how the truck was loaded. An AR [Augmented Reality] app could be used to streamline the time it takes to identify packages upon delivery and reduce the time it takes now to figure out what package goes where" [Supply Chain 247]. "Augmented reality: Layers virtual elements onto the real world. It blends digital components and the real-world imagery and can be experienced through smartphone and tablet devices"; Apple just released an SDK.
Shipping: "Will you please pack your container properly..!!" [Shipping and Freight Resource]. "There are innumerable cases of damage to cargo, containers, personnel, lifting equipment and ships due to improper packing of cargo into containers. Cargo damage can take many forms such as Physical, Wet, Contamination, Temperature related etc. As per UK P&I Club, ." As with AR above, we're seeing the heavy hitters of Silicon Valley swinging for the fences with AI, autonomous vehicles, drones, etc., when they could be scoring runs by playing small ball. Apps for packing trucks (above) and packing cargo (here) aren't the sort of projects that attract goatee-stroking brand evangelists or daddy's stupid money, but catering to those use cases would yield real, measurable benefits in a short time. Hitting singles is the anti-Bezzle….
Housing: "Using your home as an ATM is dumb. Yet here we go" (chart) [Dr. Housing Bubble]. "Home equity withdrawals are now getting back in fashion. People are already leveraged up to their eyeballs in other forms of debt (see later in article). So what if they don't have a NINJA loan. What happens when there is a correction and the next recession hits? Just look at the balance sheets of many tech companies based in California. They are ridiculous. And these companies employ hundreds of thousands of high paid tech workers. Many of these workers are keeping the bubble afloat in places like San Francisco. Does it matter that you put 20 percent down on a $1 million crap shack but lose your job? Many of these tech companies have balance sheets that are not performing. So the stock market is hot, the housing market is hot, and now the mania is making people think that using your home like an ATM is smart. It is not."
Debt: "Strict underwriting criteria are part of the reason that Redwood City-based lender Oportun has been hailed by many as a responsible outlier in a subprime market where 'payday lenders' dominate. The company, which primarily targets Latino borrowers, declines half of all applicants" [Capital and Main]. "Founded in 2005, Oportun has managed to operate profitably while making a dent in a difficult-to-serve market – the 45 million people that the Consumer Financial Protection Bureau identifies as having little-to-no credit history….A key ingredient in Oportun's secret sauce is advanced data analytics. The company has developed the ability to score applicants, even if they lack a FICO score — as do half of Oportun's borrowers. That scoring system, developed with the help of $260 million in venture capital, contributed to Oportun's reaching profitability just over two years ago." They also have physical branches.
The Bezzle: "When people refer to putting land titles or diamonds "on the blockchain", they're using a short hand that belies blockchain's limitations. To represent any physical thing in the ledger requires firstly a schema – a formal agreement about which symbols in the data structure correspond to what property in the real world – and secondly a process to bind the owner of that property to the special private key (known in the trade as a Bitcoin wallet) used to sign each ledger entry. Who does that binding?" [Constellation (Richard Smith)]. If you follow blockchain, this is must-read.
The Bezzle: "Blue Apron Breaks Infatuation With Growth at Any Price" [Bloomberg]. "Or maybe this isn't just about Blue Apron but a signal that broader doubts have crept in about the wisdom of fairly full valuations for untested companies. I assume Spotify is watching. It's another fast-growing company with many red flags that is hoping to go public at a rich valuation." Blue Apron also treats its workers badly, in common with other Silicon Valley startups, especially Uber, but that doesn't seem to affect its valuation. At least not downward.
The Bezzle: "Customer retention is one of the biggest challenges for Blue Apron. , CNBC reported last month, citing data from the purchase-analytics firm Cardlytics" [Los Angeles Times]. "Blue Apron's revenue totaled $795.4 million last year, up from $77.8 million in 2014, but it also lost a combined $132.7 million over those three years, including a $54.9-million loss last year…. One reason for the losses is that Blue Apron's spending on marketing also soared in that period, to $144 million last year. The heavy marketing spending, along with Blue Apron's promotional discounts for new subscriptions, is needed partly to attract enough new customers to offset cancellations."
The Bezzle: "[Blue Apron's] orders, too, are rising rapidly — especially a big jump between Q4 last year and Q1 this year — but it still has to effectively acquire a customer and return the value on what it spent marketing to that customer. Services like Blue Apron may have been effective initially through word of mouth and promotions, but as it gets more and more expensive to acquire customers the company has to figure out ways to keep them for a longer amount of time in order to earn back that spend. As of Q1 this year, Blue Apron says " [TechCrunch]. That's not very many.
The Bezzle: "Short Sellers: If You Can't Beat 'Em, Give 'Em $15,000-An-Hour Consulting Gigs To Turn Rat" [DealBreaker]. This is fun!
Political Risk: Zuckerberg: "We want to help 1 billion people join meaningful communities. If we can do this it will not only reverse the whole decline in community membership we've seen around the world … but it will also strengthen our social fabric and bring the world closer together" [247 Wall Street]. "We"? "Our"? What's wrong with this dude? The very last thing I want is some lucky squillionaire writing an algorithm that defines, for me, what a "meaningful community" might be. If Zuckerberg really wants to encourage "meaningful communities," the best thing it could do is break itself up.
Political Risk: "New paper finds that political and personal interests have a major impact on politicians' decisions regarding bank bailouts" [ProMarket]. Sweetheart, get me rewrite!
Five Horsemen: "Amazon reigns as King of the Tech Wrecks, while Apple can't even keep up with the S&P. What have they done to the Goog?" [Hat tip, Jim Haygood].
Today's Fear & Greed Index: 51 Greed (previous close: 60, Greed) [CNN]. One week ago: 50 (Neutral). (0 is Extreme Fear; 100 is Extreme Greed. Last updated Jun 29 at 11:36am
Gaia
"A million plastic bottles are bought around the world every minute and the number will jump another 20% by 2021, creating an environmental crisis some campaigners predict will be as serious as climate change" [Guardian]. "The demand, equivalent to about 20,000 bottles being bought every second, is driven by and the spread of a western, urbanised 'on the go' culture to China and the Asia Pacific region."
Word of the day: plastiglomerate [e-flux]. This is a very good post:
What is a beach actually? It is marginalia, a footnote to the essay that is the ocean. Beaches are many things and can range from rocky outcrops to lush vegetation. But the sandy beach of popular imagination is made up of sediment, of particles coming from eroded coral reefs in the ocean, sediment from the sea floor, eroded sections of the continental shelf, or weathered and eroded rocks from nearby cliffs. In Hawai'i, volcanic basalt sometimes contributes to the mix, creating black beaches of small-to-tiny particles that are eroded by the constant, lapping wave action of the ocean. Beaches are far from sedentary. They are in constant motion, as wind and water wear away at rocks, coral, shells, and other matter. They also stretch across time as certain minerals, such as quartz and feldspar, are chemically stable and strong enough to last well through erosion, often forming the base of beaches millennia old. When plastics are released into the ocean, they join this process
Class Warfare
"Haiti garment workers launch another protest over wages" [Daily Mail]. "Garment workers have taken to the streets of the Haitian capital for the second time in two weeks to demand a minimum wage increase The workers at factories making T-shirts, pants and other apparel were also demonstrating Monday against the firing of roughly 40 union members at a Port-au-Prince industrial park." Nice to see the Clinton family, who have done so very much for Haiti, out on the front lines here. Oh, wait….
"New York Times newsroom to walk out after editors, reporters send letters decrying direction of paper" [MarketWatch]. Good thing management got rid of the Public Editor, eh? "'Editors — and yes, that especially means copy editors — save reporters and the Times every day from countless errors, large and small," [the reporters] say in the letter. 'Requiring them to dance for their supper sends a clear message to them, and to us, that the respect we have shown the Times will not be reciprocated.'" It's almost like shifting to "digital" is an excuse….
"Looking for a job? Brace yourself for very invasive background checks…" [MarketWatch]. Your alternative digital identities — if any, of course — are a real asset…
"The richest people on the planet just got even richer, but one country was an all-star" [MarketWatch]. Love the clickbait, but: "The world's ultra-high net worth population — individuals with $30 million or more in assets — grew by 3.5% to in 2016 after a sharp fall a year earlier, according to new data by global wealth consultancy Wealth-X. Their combined wealth also increased in 2016 by 1.5% to $27 trillion. There were sharp regional fluctuations in dollar-denominated wealth creation last year, with North America (up 5.1%) recording the only significant rise in wealth, followed by Asia (up 3.5%)…. Buoyed by a stronger dollar, rising equity markets and a robust tech sector, the U.S. consolidated its dominant position as the world's leading ultra-high net worth country." USA! USA! But: "In the U.S., average workers did not see the same kind of gains as the super-rich. The average chief executive at a S&P 500 company received a pay raise in 2016 nearly three times the rate of the average worker." Odd, that. Also, fewer billionaires and more millionaires. But there are not very many of the Shing.
"United Parcel Service Inc. is taking bigger actions to pare its growing pension burden. The package carrier plans to freeze pension plans for about 70,000 nonunion employees… seeking to corral a retirement fund with a nearly $10 billion deficit. The company closed the pension plan to new hires last year and offered buyouts to former workers, joining major U.S. corporations looking to rein back a collective deficit in the S&P 1500 pension plans that totaled $408 billion last year" [Wall Street Journal].
"In fact, modern corporations struggle to create a sense of a collaborative community of employees, managers, suppliers, lenders, distributors, service providers, customers, and shareholders, all cooperating to create value by better satisfying customer needs and aspirations" [Ricardo Hausman, Project Syndicate]. "To create functioning collaborative organizations, humans have evolved a sense of "us," a feeling of belonging to what the historian and political scientist Benedict Anderson famously called an "imagined community." We owe such communities our loyalty, and we feel pride in their achievements, pain in their stumbles, and hope for their continued success. We cooperate not just because it is in our cold pecuniary interest to do so, but because a cocktail of moral sentiments – loyalty, pride, guilt, shame, outrage, glee – make us work and root for our team… It is easy to see why the vision of the firm as a collaborative community is winning out in business schools and the most successful companies." Hmm. I can see why modern corporations would like us to believe this. But it's hard to see how people who have trained their outsourced successors and been fired, or been threatened with being replaced with robots, or are members of the precariat, would view these concepts with anything more positive than irony.
News of the Wired
"Remains from 'skull cult' discovered at world's oldest stone monuments" [Ars Technica]. Just to pre-empt one obvious question, the monument is nowhere near Chappaqua.
"Burning Man will go on under Trump (probably)" [Axios]. "Rumors were floating around the Burning Man online community that President Trump may try to block the event, possibly because the participants tend to skew much more liberal than conservative (There are exceptions, of course, like tax guru Grover Norquist, who wrote a piece about his experience there a few years ago)." Why hasn't some clever person franchised Burning Man, anyhow?
* * *
Readers, feel free to contact me at lambert [UNDERSCORE] strether [DOT] corrente [AT] yahoo [DOT] com, with (a) links, and even better (b) sources I should curate regularly, (c) how to send me a check if you are allegic to PayPal, and (d) to find out how to send me images of plants. Vegetables are fine! Fungi are deemed to be honorary plants! See the previous Water Cooler (with plant) here. And here's today's plant (Chris):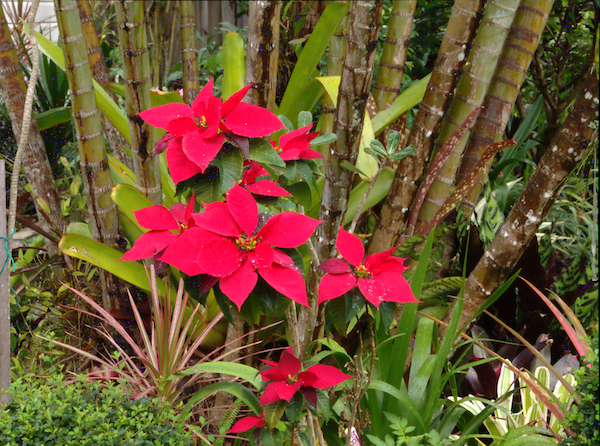 Chris writes: "As a bonus, and to remind you of the festive season, and as you head into warmer times, a beautiful flowering Poinsettia. Loves full sun and my partner's loving care and watering most days. We also have the pink ones in flower too."
UPDATE Now that that the 2017 Water Cooler fundraiser post is launched, I can say that directions for sending a check will include a request to send me a parallel email so I can thank you. I was not able to thank all you sent me checks this year, because I was unable to connect physical mail identities to online identities. Apologies!
* * *
Readers, Water Cooler is a standalone entity, not supported by the Naked Capitalism fundraisers. Please use the dropdown to choose your contribution, and then click the hat! Your tip will be welcome today, and indeed any day. Water Cooler will not exist without your continued help.