By Lambert Strether of Corrente
Politics
Policy
'Some rural lawmakers are worried their districts could get short shrift from President Donald Trump's plan to rebuild the nation's roads, bridges and rails. That's because the $1 trillion plan would largely depend on funding from private investors who typically favor projects that throw off steady streams of revenue and tend to be near big population centers' [Wall Street Journal]. 'To rally support, the White House says the president's program will include federal grants for bridges, roads and waterways in rural areas, though details remain scarce.' In two weeks….
2020
Neera Tanden, unsurprisingly, doubles down:

I'm for progressives running on this. https://t.co/3xuPzQt68J

— Neera Tanden (@neeratanden) June 9, 2017

Amazing that such a well-funded outfit filled with such "smart" people could expect such a sloppy work product to command respect; see NC here and here.
2017
GA-06: 'Eleven days out, the most expensive and built-up House special election of all time is still a Toss Up. Fueled by anger towards President Trump from all corners of the country, Democrat Jon Ossoff has raised $25 million to Republican Karen Handel's $4 million, but at this point it's a story of diminishing returns: for example, Ossoff has aired three Spanish-language ads in a district where the electorate could be only 5 percent Latino' [Cook Political Report]. 'Both sides are desperately scouring for any tiny advantages that could break this deadlocked race.'

GA-06: 'The sub­urb­an At­lanta dis­trict looks a lot more like the ones that are go­ing to de­cide which party has the ma­jor­ity in Janu­ary 2019. Twenty-three House Re­pub­lic­ans are sit­ting in dis­tricts that Hil­lary Clin­ton won, and the 6th Dis­trict is one of the half-dozen or so oth­er GOP-held dis­tricts that Trump won but not by much—in this case, a bit less than 2 per­cent­age points. Demo­crats need a net gain of 24 seats to cap­ture the House' [Cook Political Report].

GA-06: '[An Atlanta Journal-Constitution] poll of likely voters has Ossoff leading Handel by a margin of 51 percent to 44 percent ahead of the June 20 runoff. About 5 percent of voters are undecided. The margin of error is 4 percentage points' [Atlanta Journal-Constitution]. 'The findings show Ossoff has an enormous lead over Handel among women, leading 60 percent to 34 percent. The Republican is beating Ossoff among male voters by a margin of 52 percent to 41 percent. He has a solid advantage over Handel among younger voters, while she has a slim majority of voters who are over 65…. The conservative-leaning district has long been held by Republicans, and Ossoff has tried to appeal to both liberals infuriated with President Donald Trump and moderates and independents who typically vote for the GOP.' In other words, it's Clinton's strategy in 2016 after she threw Sanders voters under the bus and appealed to suburban Republicans.

GA-06: Vacuous messaging is key:

"We are on the cusp of sending the White House and Washington a clear message: that we want respectful, decent, kind leadership." pic.twitter.com/sSOy2gJ6pq

— Team Ossoff (@TeamOssoff) May 30, 2017

"[R}espectful, decent, kind" but not respectful, decent, or kind enough to drag 25 million people out from under the bus by advocating #MedicareForAll, or even address "deaths from despair" in the flyover states. This is virtue-signaling in its crassest form.

GA-06: Boatloads of money are also key:

How many TV ads have aired in Georgia? Just saw a 3-year-old boy in a restaurant call out Ossoff's name, unprompted, as candidate walked by

— Alex Burns (@alexburnsNYT) June 8, 2017

That'll scale in 2018 and 2020, for sure.
Heath Care
This is useful:

When you call a Senate office, ask to speak to the relevant Health Legislative Assistant. Hey look, a list of staffer names! 18/ pic.twitter.com/UQ0yZNaSxc

— Ben Wikler (@benwikler) June 8, 2017
Realignment and Legitimacy
'How to get the most out of opinion polls without being led up the garden path' [The Conversation].

"If I have to read one more article blaming liberal condescension toward the red states and the white working class for the election of Trump, I'm moving to Paris, France" [Katha Pollitt, The Nation]. Do it! You can hang out with Ta-Nahesi Coates!
Stats Watch
Wholesale Trade, April 2017: 'In yet another negative for second-quarter GDP, wholesale inventories fell a sharper-than-expected 0.5 percent in April' [Econoday]. 'The draw is centered in autos… The wholesale stock-to-sales ratio holds unchanged at a still lean 1.28.' But and: 'Overally, I believe the rolling averages tell the real story – and they significantly declined this month. There is an obvious growth trendline in wholesale – but this was a bad month' [Econintersect]. 'Inventory levels returned to recessionary levels. To add to the confusion, year-over-year employment changes and sales growth do not match.'
Real Estate: 'there are several warning signs for commercial real estate. As an example, even as the economy approaches full employment – and the demand for office space will likely slow – new construction is still strong and vacancy rates are already high' [Calculated Risk].
Retail: 'because grocery stores are one of the few businesses in which consumers provide most of the labor. Not only do shoppers assemble their orders themselves, but in many cases, they also process their own payments in self-checkout lines. This model is hard for e-grocers to compete with because they have to pay people to pick and pack orders' [DC Velocity]. '[Boston-area startup] Takeoff's model calls for the development of micro-fulfillment centers that use robotic shuttle technology to assemble customer orders, making fulfillment quick and relatively cheap. The micro-fulfillment centers would be located in high-traffic urban locations, making customer pickups convenient and reducing last-mile delivery costs for those wanting door-to-door service. (The cost of delivery from a warehouse to the customer's doorstep is something that has plagued e-grocers in the past.) Online orders would be available for pickup within 30 minutes of order placement, which means a customer could order groceries online before leaving the office and pick them up on the way home. … At the heart of the Takeoff model is the Knapp OSR Shuttle, an automated storage system used to house and deliver products quickly to workers at the micro-fulfillment sites.' Hmm. Finance costs for the robots would be? Once the stupid money for the startup stops?
Commodities: 'North Korea's global coal exports went down to zero in April, data released Friday shows, mainly due to China's recent decision to ban imports from its nuclear-armed neighbour for the rest of the year' [Mining. com].
The Bezzle: "Former Silicon Valley CEO Indicted for Allegedly Defrauding Employees of Tech Company Start-Up" [United States Department of Justice]. "The indictment alleges that Choi, while working at his company, known publicly as WrkRiot, falsely claimed that he received a degree from a prestigious New York business school, worked as an analyst at a major financial instution, had access to significant personal wealth, and was investing significant amounts of that money into the company. The indictment further alleges that after certain WrkRiot employees came to learn that WrkRiot's bank accounts did not contain the capital that Choi claimed to have invested, Choi falsely claimed that a significant portion of the money he pledged to invest was tied up overseas and elsewhere." I worked for such a company just before the dot.com bubble burst; such (alleged) companies do a lot of damage to everyone around them.
Political Risk: 'We found that the Chinese National Bureau of Statistics has improved its source data and its collection practices, making its final official statistics higher quality than those of many counterparts in the developing world. However, due to the country's complex economy and challenges posed by the transition from a command economy to a market economy, China's economic statistics remain unreliable' [Federal Reserve Bank of St Louis].
Political Risk: 'Qatarstrophe?' [Lloyd's List]. 'If the objective of the blockade against Qatar was economic isolation through confusion, the Gulf states headed by Saudi Arabia and United Arab Emirates have succeeded beyond expectations.On day four of the crisis, shipping companies caught in the crossfire were still struggling to make.'
Honey for the Bears: 'Everyone Is Muddling In Economic Darkness' [RealClearMarkets], 'As was once said, history doesn't repeat but it surely rhymes. At the so far other end of the dot-coms in 2017 we find somehow similar processes particularly as they relate to stock prices. The market here and elsewhere around the world continues to find new record high prices, even though valuations are now in many ways comparable only to the late nineties and the dot-com era. That should be everyone's first clue about what is going on.' An interesting long read. I'd be interested in what people with money in the markets think. And I love the headline!
Five Horseman: 'Facebook's got the bit between its teeth, as the other horsemen take a break to graze' [Hat Tip, Jim Haygood].
Today's Fear & Greed Index: 60 Greed (previous close: 55, Neutral) [CNN]. One week ago: 57 (Greed). (0 is Extreme Fear; 100 is Extreme Greed. Last updated Jun 9 at 12:17pm.
Blighty
'May confirms intention to form government with help of Democratic Unionist party' [Guardian]. 'Accompanied by her husband Philip, and with her voice shaky at times, she said: 'What the country needs more than ever is certainty, and having secured the largest number of votes and the greatest number of seats in the general election, it is clear that only the Conservative and Unionist party has the legitimacy and ability to provide that certainty by commanding a majority in the House of Commons.'
It's simple math. The numbers: Conservatives 316, Labour 261, SNP 35, Lib/Dem 12, DUP 10, Sinn Fein 7. Sinn Fein sits out, SNP would never join the Tories, the Lib/Dems were badly burned by Cameron, so the only option left is DUP (316 + 10). #Awkward:
Things are going be to awkward in Northern Ireland.#DUP #GE2107 #hungparliament #DUPCoalition #Coalition #TheresaMay #CoalitionOfChaos pic.twitter.com/YjCOJVdIHI

— Paul McGarraghy (@PaulMcGarraghy) June 9, 2017
' On the stump, Corbyn has always been a first-rate yeller, with a nicely calibrated sense of grievance' [Benjamin Wallace-Wells, The New Yorker]. Professionals don't yell, right? That said, this is good:
On Wednesday night, Corbyn gave the final speech of his campaign, in the stunning Union Chapel, in Islington, his own constituency. Near the end, he took out his reading glasses and gave a dramatic performance of a few melodramatic lines from Shelley. "Rise, like lions after slumber / In unvanquishable number! / Shake your chains to earth like dew / Which in sleep had fallen on you: / ye are many—they are few!" Corbyn was standing in front of a red background emblazoned with Labour's slogan: "For the many, not the few." He said that he and his audience had stood together in places like this for countless protest meetings over the decades—"protect this, defend that, support this person." "Tonight is different," Corbyn said. "We're not defending. We're not defending. We don't need to. We are asserting. Asserting our view that a society that cares for all is better than a society that only cares for the few."
I had no idea Labor's 'For the many' was an allusion to Shelley. Amazing. More Shelley. Note the source (!):
Rise like lions. We are many, they are few. #VoteLabour #GE2017 pic.twitter.com/I5wpiQDgnW

— Jeremy Corbyn (@jeremycorbyn) June 8, 2017
Two pleasingly obvious examples of how, for liberals, "The Story" is always the conservatives, and not the left. First, the liberal New York Times:
Here's how the supposedly objective, neutral NYT takes a stance without taking one – here, diminishing Corbyn and Labour. pic.twitter.com/v33s5TW923

— Cartoon Parn (@freddiedeboer) June 9, 2017
Second, the liberal Washingon Post:
WaPo: the story is May's resolve and the demise of the "sensible center" in UK politics – not Labour's amazing comeback and seat gains. pic.twitter.com/zxfMjcjI4c

— Cartoon Parn (@freddiedeboer) June 9, 2017
From The Department of Schadenfreudge, Obama's liberal 2012 campaign manager, Jim Messina, was conservative Theresa May's data expert (and worked for Tory Cameron, too). What a loser. From May 31:
Spent the day laughing at yet another stupid poll from .@yougov. Hey .@benleet do you want to bet for charity? I'll take the over.

— Jim Messina (@Messina2012) May 31, 2017
(See NC on the YouGov polling here.)
From The Department of Schadenfreude, a double heaping teaspoon of #FAIL from Messina, talking his book:
Tale of 2 campaigns: Tories going targeted digital, other side flying banners. https://t.co/7pVawFLqfG

— Jim Messina (@Messina2012) June 8, 2017
From the Department of Schadenfreude, Tony Blair boards the FailBoat:
— sean. (@SeanMcElwee) June 9, 2017
From the Department of Schadenfreude, Barack Obama joins Blair:
lol #GE2017 pic.twitter.com/jWyWMp1zwJ

— Luke Savage (@LukewSavage) June 9, 2017
Say, maybe the President of the United States shouldn't be meddling in other peoples' elections? Just a thought.
"These past six weeks ought also to put an end to two theses about the post-Corbyn influx of members. The first is that they are paper members: the huge number of people on the streets canvassing and persuading – a tactic Labour activists have sometimes avoided in the past – disprove that argument. The second is that they are cuckoos in Labour's nest: they are not, and they are here to stay. Acceptance of that fact will require some adjustments on both sides: the party institutions and the rough-and-ready newcomers. Accommodations will have to be found. But it is worth underlining that many of these people have been condescended to, smeared, insulted, reviled and abused for their joining the party. That must now end" [Verso Books]. This seems oddly familiar…
"Jeremy Corbyn, in contrast, had a good campaign. His speeches attracted the young, who voted in droves, as well as appealing to metropolitan pro-Europeans who were strongly against Mrs May's plans for a hard Brexit. His manifesto was festooned with far-left pledges to tax business and the rich, to nationalise the railways and utilities, and to spend lots of public money. But his message resonated with voters fed up with austerity. His success puts him and his brand of socialism firmly in charge of Labour" [The Economist].
"It's tough being wrong, but that doesn't mean you have to carry on being wrong. Unfortunately, a number of Corbyn-sceptic commentators cannot accept the fact that Jeremy Corbyn ran a very effective campaign. The idea is emerging that, had there been a different Labour leader, the party would have won the election" [The New Statesman]. "Part of the reason Corbyn had these bad ratings is that he was not playing by the "rules" of an opposition leader – not communicating properly with the press, failing to unite his party, leading an often shambolic leadership operation and announcing left-wing policies that he refused to compromise on. No other candidate the Labour Party could have chosen would have done this, and so this election probably wouldn't have happened. But aside from that, none of these imaginary more competent candidates would have run this kind of campaign. Corbyn's big, old-fashioned rallies and bypassing of the usual channels to get his message across – he did very few print interviews, and shunned the wheel-out-the-spouse sofa interview – appealed to voters in a way that Theresa May's stage-managed, distant approach did not." I don't think Corbyn is Machiavellian enough to play rope-a-dope, but it sure worked out that way, didn't it?
So Corbyn — in addition to running on a platform of universal direct material benefits — turns out to be brilliant on the stump. Here's that video from his speech to the Libertines concert again:
Again, I just think that video is extraordinary. Jacobin ran a cleaned up version that brings policy into focus, but this one includes the crowds chanting "Go Jezza Go" (Corbyn's nickname), and shows Corbyn's stance and body language much better. Can you imagine any other politician taking such a risk? And the risk paying off? Totally badass.
"How 'groupthink' in Theresa May's Downing Street delivered another round of UK political chaos" [London School of Economics Blog]. Interesting:
The theory of 'groupthink' adds a useful extra insight here. First formulated by the psychologist Irving Janis, it specifically applies to tightly knit executive teams composed of a dominating leader and ultra-loyal assistants with a drive to maximize in-group solidarity. , as May did in scheming her way to bid for the Conservative leadership. Especially important here was the intra-party arm-twisting of all the other candidates after the Brexit vote, so that she could ascend by coronation instead of having to fight an internal party election.

Janis argued that succeeding in this first stage struggle, against the odds, and with a centralizing and controlling leader, then induces in the leadership team a distorted view of their own insights and capabilities. Buoyed up by high morale, contemptuous of 'outsiders', and completely discounting any critical feedback received, – as Blair did in committing to the Iraq war, and later sending troops to Afghanistan; or as Cameron did in his 2013 commitment to hold a Brexit referendum, and then his mismanagement of the doomy Remain campaign in 2016.
Or as the "executive teams composed of a dominating leader and ultra-loyal assistants" in the White House right now has done from Day One. (We might also speculate on what the effect of second-phase groupthink would have been in a Clinton White House; remember that Putin Derangment Syndrome was already floridly on display in October 2016, when everybody, not least the Clinton campaign, thought they would win. So, and speculating very freely, we would then have seen much the same tactics deployed from the White House that we see being deployed against the White House (and probably against the left as well; see WaPo's McCarthyite blacklisting of small sites like NC).
Our Famously Free Press
'Anonymous Sourcing Under Siege: CNN, NY Times Bungle Trump Reports' [RealClearLife]. "CNN's publication and retraction of a story about the Trump-Comey conflict illustrates the biggest bias in journalism: the bias in favor of '8220;The Story.' Similarly, the high-profile reporting by The New York Times on alleged collusion between the Trump campaign and Russia was at least partially refuted by Comey. He asserted that 'in the main' a February story about alleged contacts between Trump lieutenants and Russian government officials was not true. Hours later, the New York Times reported Comey's comments, but largely stood by their original story.' As I've been saying, if we're going to unseat a President, it would be nice to be able to put faces and names to those with the evidence that backs up the unseating. Oh, and the evidence, too. Not statements about the evidence, but evidence.
"Rolling Stone at 50: How Hunter S. Thompson Became a Legend" [Rolling Stone]. "Thompson was also reshaping what it meant to write about politics. He filed 14 dispatches for Rolling Stone from the 1972 presidential campaign trail. He lacerated the 'waterheads,' 'swine' and 'fatcats' of D.C. culture – a tone far different from the reverent approach of the time – and lifted the curtain on the mechanics of press coverage. He exposed 'pack journalism,' puff pieces born out of schmoozing sessions between journalists and campaign aides. Many of Thompson's observations ring true today: 'It's come to the point where you almost can't run [for president] unless you can cause people to salivate and whip on each other with big sticks,' he wrote. 'You almost have to be a rock star to get the kind of fever you need to survive in American politics.'" We need a giant like Thompson so badly, today.
"Aaron Cantú, a staff writer at the Santa Fe Reporter, has been indicted by a federal grand jury on charges that he participated in a riot while working as a journalist during protests in Washington, DC on Inauguration Day" [Santa Fe Reporter]. "Cantú was not named specifically by prosecutors as the cause of any of the destruction, as some defendants were. Instead, the indictment named him as being present while the damage happened. The arrests have been criticized by the American Civil Liberties Union, other civil rights groups and newspapers as overly broad and lacking hard evidence."
Class Warfare
"The fashion industry is a complex web of connections – and this might prove to be more of a liability than an asset. Yes, fashion is something of a byzantine ecosystem borne largely from the industry's failure to look outside of its closest circle of stylists, consultants, journalists, ghostwriters, etc. for talent. The result is a significant overlap of roles – a magazine editor styling a brand's runway show, a critic writing a brand's show notes, or the same handful of casting directors determining which models walk in shows during a season. It also ensures that the iron-clad establishment stays in power" [The Fashion Law]. "As we have noted in the past, this set up tends to give rise to conflicts and as a result, a need for transparency. Yet, the notion of candidness and clarity is increasingly obfuscated because it could potentially dismantle the delicate balance – between advertisers and editors, designers and editors, influencers and brands, and still, some further variations thereof – upon which the fashion industry so heavily relies. (Note: this is in no way a fashion industry-specific phenomenon). Italics in the original; indeed! I'm always suspicious of "transparency" as a remedy for power imbalances; as for example the idea that transparent mortage contracts would have prevented the foreclosure crisis.
News of the Wired
"The Benefits of Talking to Yourself" [New York Times]. "The two types of self-talk you're likely most familiar with are instructional self-talk, like talking yourself through a task, and motivational self-talk, like telling yourself, "I can do this."… The study concluded that motivational self-talk worked best on tasks based on speed, strength and power, while instructional self-talk worked best with tasks that involved focus, strategy and technique." Interesting, if true.
On Corbyn, let's not lose all perspective:
Yo England, Imma let you finish, but America had the most hung Parliament of ALL TIME pic.twitter.com/znJj5gq0dB

— David Burge (@iowahawkblog) June 8, 2017
Happy dance!
* * *
Readers, feel free to contact me with (a) links, and even better (b) sources I should curate regularly, and (c) to find out how to send me images of plants. Vegetables are fine! Fungi are deemed to be honorary plants! See the previous Water Cooler (with plant) here.
And here's today's plant (via):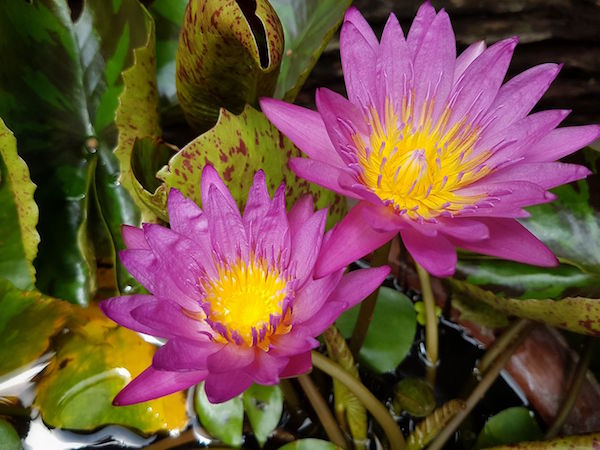 Double lotus blossoms in Chiang Mai, Thailand.
* * *
Readers, Water Cooler is a standalone entity, not supported by the Naked Capitalism fundraisers. Please use the dropdown to choose your contribution, and then click the hat! Your tip will be welcome today, and indeed any day. Water Cooler will not exist without your continued help.