How beloved pets become invasive predators – an interview with Dr. Peter Marra National Geographic (guurst). My cats (now cat) are indoor cats…
Cubs P-57 and P-58 have died in the Santa Monicas LabObserved (Kim Kaufman)
Dazzling Photos Let You Orbit the Earth with Astronaut Tim Peake Wired (furzy)
Oslo, Norway, is giving residents $1200 toward purchasing an electric cargo bike TreeHugger (Chuck L)
Scientists Discover a 2D Magnet R&D Magazine. MoiAussie: "A real first – could have many applications."
Cheap DNA Testing Is Giving Some Insurers Even More Ways To Deny Coverage Techdirt (Dr. Kevin)
Please applaud our Richard Smith, who writes: "Many hands involved in its downfall; two of them were mine, though, so slightly chuffed. Of course the money (and we are talking billions) will just be flitting off to other shadows."
Cheerful farewells to the huge, seedy New Zealand Foreign Trust business, suddenly vaporised by new disclosure rules https://t.co/K4NmMVG199

— Richard Smith (@ncsmiff) June 9, 2017
Japan passes landmark bill for Emperor Akihito to abdicate BBC
Visit Tsukiji, a 'Great Wonder of the World,' While You Still Can Bloomberg
UK Election. The results have created what Lambert would call an overly dynamic situation. As an aside, note that Labor did worse in the seat results than YouGov predicted, but better in popular vote, getting 40.1% versus the Tory 42.3%. But in general, the pollsters have as much egg on their faces as the Tories do.
Also, for UK political junkies or foreigners who want to get down the curve, the commentary on our post as results were coming in was very informative, so you might give that a look too.
Please stay while we savour your humiliation, Britain tells May Daily Mash

David Cameron: "I'm the stupidest Tory prime minister there's ever been."

Theresa May: "Hold my Pimms."

— Carlton Reid (@carltonreid) June 8, 2017

Nicola Sturgeon: I will help Jeremy Corbyn become Prime Minister in a hung parliament Telegraph

The Times points out in its daily e-mail:

A host of big beasts have lost their seats, including Alex Salmond, Nick Clegg and Angus Robertson. But the home secretary Amber Rudd has held on despite Labour defeating one Tory minister after another

Corbyn's 'gobsmacking' result confounds critics Financial Times. After nearly 40 years of neoliberal policies, pundits have managed to believe that ordinary citizens are content to get the short end of the stick. The backlash has finally taken place.

Election 2017: What is happening? Possibly one of the biggest upsets in UK political history Independent. Subhead from earlier in the AM: "With Brexit negotiations less than two weeks away, if the exit poll is correct then there will be complete chaos."

It Looks Like No One Has Won The UK General Election. WTF Happens Now? BuzzFeed (Richard Smith)

For U.K. Conservatives, Potential Leadership Successors Emerge Wall Street Journal:

Betting companies immediately offered odds on her potential replacements. Irish bookmaker Paddy Power PLC had Britain's Foreign Secretary Boris Johnson in the lead, followed by Brexit minister David Davis and then Treasury chief Philip Hammond.

Dear God, Johnson is a horror and Davis is stupid. Hammond by default is the best of those choices, but was opposed to Brexit. But given that the election appeared to show that voters at most want a "soft Brexit," plus someone who is known to like the EU would have better odds of getting the negotiations on a decent interpersonal footing, he would seem to be the best man the Tories have for the job. Whether they can get their minds around that is another matter entirely.

Why don't Sinn Féin MPs sit in parliament? New Statesman. BTW, they looked set to cinch 7 seats this time.

British democracy in one photo pic.twitter.com/S9HIJ1Ynbz

— Guardian politics (@GdnPolitics) June 9, 2017
No One Has Ever Made a Corruption Machine Like This One Bloomberg. On the Brazil corruption scandal. I dunno. The F-35 boondoggle is pretty rich. But it's all done in the open, hence no corruption, right?
Corrupt, dangerous and brutal to its poor – but is Marseille the future of France? Guardian (resilc)
Syraqistan
JUST IN: Iran's revolutionary guards say Saudi Arabia was behind deadly attacks in Tehran – statement pic.twitter.com/vrHMiBzpEF

— Reuters World (@ReutersWorld) June 7, 2017
Global Peace Index Vision of Humanity (resilc). US is 103 out of 163. China gets a 119 and Russia a 151, above North Korea at 150. Of ouur best friends, the Saudis get 129 and Israel, 143.
Big Brother is Watching You Watch
Facebook wants to spy on people through their smartphone camera and analyse the emotions on their face The Sun (Chuck L). Another reason not to have smartphone.
Comey Testimony
Trump Transition
Putin says Kremlin critic Senator McCain 'lives in Old World' Reuters. Furzy: "Watching McCain last night….he seemed way off his feed…didn't really make sense, comparing Clinton's dismissal of criminal charges by Comey concerning her servers to Comey's lack of dismissal of the investigation of Russian hacking….​false equivalency!!"
House Passes Bill Rolling Back Wall Street Rules Wall Street Journal. Subhead: Financial Choice Act is Republicans' opening bid to loosen regulation; unlikely to become law. Lots of good detail. Key parts:
…the Senate is unlikely to take up some of the more controversial provisions in House bill, according to a GOP Senate aide, such as the 10% leverage ratio for regulatory relief, reduced powers of the consumer bureau, and repealing the Orderly Liquidation Authority in Dodd-Frank for the government to unwind a failing financial firm…

Mr. Hensarling said he is looking for ways to push pieces of the plan through the Senate without Democratic support by attaching some measure to the annual budget bill, which passes on a majority vote. Some of those provisions include the Orderly Liquidation Authority measure, reducing the CFPB's powers and eliminating the Office of Financial Research, created to study financial risks.
House votes to kill Dodd-Frank. Now what? CNBC (furzy)
I went to the Daily Mail to see what they made of the UK election results. This was their lead story for US readers: 'I want to burn the White House down': NSA leaker Reality Winner, 25, is DENIED bail as prosecutors claim she may have stolen more top secret information, was fascinated with Islamic terrorism and planned to play the 'pretty, white girl' card in court
Montana congressman-elect to be sentenced for altercation with reporter Reuters (furzy)
Black Injustice Tipping Point
In Trump's America, Black Lives Matter activists grow wary of their smartphones Washington Post
U.S. Pays Farmers Billions To Save The Soil. But It's Blowing Away NPR (Chuck L)
Factories Won't Bring Back the American Dream Bloomberg (furzy)
State workers will have a new personnel director in Jerry Brown's last year Sacramento Bee. The real news is this: "State Human Resources Director Richard Gillihan is leaving his post overseeing the state's workforce. He's joining the California Public Employees' Retirement System as its new chief financial officer." Even though he did work for the Department of Finance, he's a weak choice for this role. He's not a CPA, which is what you would normally expect to see in a private sector CFO. And he's said little in board discussions.
What Is Ailing Retail? Barry Ritholtz
House Republicans Are Trying to Pass the Most Dangerous Wall Street Deregulation Bill Ever Mother Jones (resilc)
Why Amazon should keep prescription drugs off its voluminous shelves The Conversation (J-LS). Dear God, I had no idea this was under consideration. Gah.
Top 100 Economics Blogs of 2017 Intelligent Economics. NC is here, under Financial Economics blogs.
Guillotine Watch
The gilded glut: falling demand hits luxury property market Financial Times. In New York, there's a threatened crackdown on using real estate to launder money. That put a big dent in the super high end market.
Class Warfare
Boxed in: life inside the 'coffin cubicles' of Hong Kong – in pictures Guardian (resilc). A must see.

Boeing Studies Planes Without Pilots, Plans Experiments Next Year Seattle Times
Antidote du jour. Crittermom:"Hummingbirds do take baths, but they're so quick about it this is the first time I've been able to capture it. I suppose it could be called the epitome of a 'bird bath'".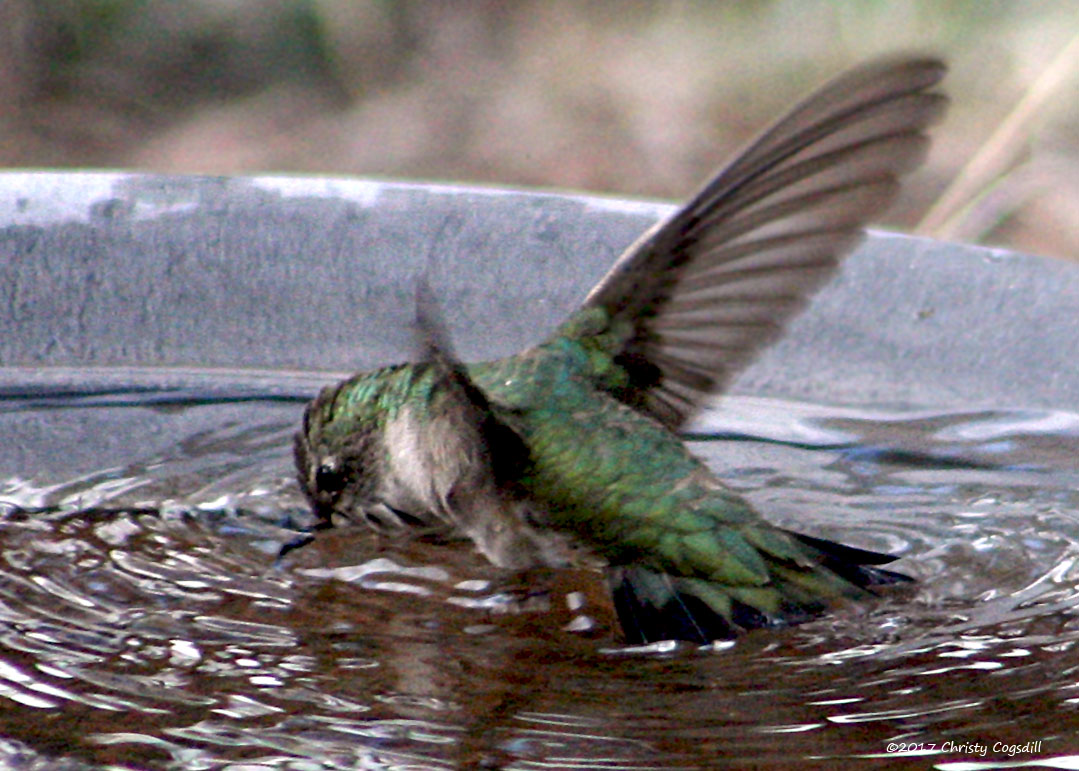 And a bonus antidote (Richard Smith):
Anyway, here's a chameleon trying to catch bubbles. pic.twitter.com/RSSKV1nFYY

— Paul Bronks (@virtuallydead) June 7, 2017
See yesterday's Links and Antidote du Jour here.