By Lambert Strether of Corrente
Trade
"The TPP May Not Be Completely Dead Yet" [The National Interest]. "The existing text needs creative adaptation rather than simple adoption. Any successor agreement should be between those members who wish to exploit the gains of well-managed globalisation for innovative, inclusive and sustainable growth. The TPP can be a valuable organ donor." "[W]ell-managed globalisation" vs. "Kill it with fire." Decisions, decisions….
The rebirth of the Trans-Pacific Partnership" [Japan Times]. "[A]s Columbia University's Jagdish Bhagwati said to me, 'the TPP was a bit like allowing people to play golf in a club, but only if they also attended a particular church over the weekend.' The deal's signatories were in it for the golf — that is, the expanded trade and investment flows. But they couldn't avoid the obligation to accept rules that would benefit the U.S., in the hope that the liturgy might help to constrain China's behavior. The U.S. is unique in this scenario, because it had a strong national interest in both the golf and the church." And it's not like golf is a class marker, or anything.
Politics
Health Care
UPDATE "The US spends more on medical care, per person and as a percentage of gross domestic product, than any other nation: costs are expected to hit 18% of American GDP next year, compared to an Organisation for Economic Cooperation and Development (OECD) nation average of around 11%. Despite this enormous expenditure, roughly 10% of American adults have no health insurance and millions more are underinsured, with medical debt the leading cause of personal bankruptcy. Nor is American healthcare yielding especially impressive results on a national scale, with life expectancy and infant mortality rates markedly worse than in peer nations" [Le Monde Diplomatique]. In other words, the American health care system perfectly embodies both the simple rules of neoliberalism. Ka-ching!

"The life of Charlie Gard" [Chicago Tribune]. So that's why Trump tweeted on this. A "baby ventilator" story is the conservative attack on single payer, not so coincidentally coming at the same time as the liberal diversion into waonkish policy weeds; they are reacting to single payer gaining traction. Left out: The continuing crapification of the NHS, as engineered by neolibera policy, encouraged by UK conservatives, and allowed by UK liberals. (The framing at a more inflammatory winger site: "In the UK, Socialized Medicine Yanks Baby's Life Support." So, death panels again…
2020
"Cory Booker on 2020: 'I don't know what the future's going to bring'" [CNN]. Oh, really?
2018
Liberal Democrat Design Bake-Off:

Dems are asking people to vote on a new sticker and I'm not sure anyone in history has been as bad at this. pic.twitter.com/isYaZV60Dp

— Mazel Tov Cocktail (@AdamSerwer) July 5, 2017

"I mean, have you seen the other guys?" Now there's a hill to die on…

By contrast:

@dccc pic.twitter.com/95ncfdAPWc

— Hippo (@InternetHippo) July 5, 2017

"Back to the Center, Democrats" [Mark Penn and Andrew Stein, New York Times]. "But the last few years of the Obama administration and the 2016 primary season once again created a rush to the left. Identity politics, class warfare and big government all made comebacks. Candidates inspired by Senator Bernie Sanders, Senator Elizabeth Warren and a host of well-funded groups have embraced sharply leftist ideas. But the results at the voting booth have been anything but positive: Democrats lost over 1,000 legislative seats across the country and control of both houses of Congress during the Obama years. And in special elections for Congress this year, they failed to take back any seats held by Republicans." Ingenious! Takes positioning the Blame Cannons to a whole new level.

"The Remaking of Donald Trump" [BusinessWeek]. "In the multicultural days of The Apprentice, he rose to a level of popularity with minorities that the GOP could only dream of. Then he torched it all to prepare for a hard-right run at the presidency." So, Trump took Penn and Stein's advice. As a Republican….
Realignment and Legitimacy
"Give Directly To Good Democrats" [Mike the Mad Biologist]. Disintermediate the Democratic strategists and the consultants, the paid losers who forced Perez down our throats.

"Newspapers rip Trump voter fraud panel in July Fourth editorials" [The Hill]. A good wrap-up; sadly, USA Today succumbers to Putin Derangement Syndrome.

"According to a roster updated daily by the National Association of Secretaries of State, 18 states declined as of Wednesday to provide voter data sought by Pence and commissioners, who are operating under the leadership of vice chair Kris Kobach, the Kansas secretary of state" [RealClearPolitics]. "Twenty-four states agreed as of Wednesday to provide at least some of the publicly available data the Pence panel requested, in some cases following receipt of fees required for the transaction." Kobach, of course, has made it his life's work to throw PoC off the voter rolls by using algorithms designed to produce false positives (exactly the technique used by Jebbie in 2000 to purge the Florida lists in 2000, and about which the Democrats very naturally did squat).

"The White House is pushing back against reports that states are overwhelmingly rejecting its voter-fraud panel's information request" [Business Insider]. "States that refused to provide the data span the political spectrum, from Alabama to California. Maryland's attorney general, Brian Frosh, said the commission's request was 'designed only to intimidate voters and to indulge President Trump's fantasy that he won the popular vote.' And Kentucky's secretary of state, Alison Lundergan Grimes, said, 'There's not enough bourbon here in Kentucky to make this request seem sensible.'" Again, Democrats are silent on CrossCheck. Why?

* **

And then there's this:

Making haircuts great again #Cambodia #PhnomPenhPompadour #TrumpStyle pic.twitter.com/zQIzQ7KzFX

— Kevin Doyle (@doyle_kevin) July 2, 2017

I don't know what to make of this, but it's an indication that elite reaction to Trump isn't necessarily universal…
Stats Watch
Purchasing Managers' Services Index, June 2017: "Service-sector strength improved in June, to 54.2 vs the mid-month flash of 53.0 and May's final reading of 53.6. Gains for new orders, the best since January, are behind the strength as is hiring which is the best since February. Another positive is a rise in confidence in future activity" [Econoday]. "This report is solidly positive and points to quarter-end momentum for the economy in general."
Institute For Supply Management Non-Manufacturing Index, June 2017: "ISM's non-manufacturing sample continues to report extending strength" [Econoday]. "The strength in this report continues to be impressive but ."
ADP Employment Report, June 2017: "ADP sees June private payrolls rising 158,000 which misses Econoday's ADP consensus of 180,000" [Econoday]. "Estimates this year from ADP have been hit and miss with a wild upside miss in May."
Challenger Job-Cut Report, June 2017: "In a positive indication for tomorrow's employment report and in confirmation that employers are holding onto their employees, Challenger's layoff count for June is the lowest total since October last year" [Econoday]. " One industry where layoffs have been heavy, however, has been retail"
Jobless Claims, week of July 1, 2017: "In results clouded by estimates, initial jobless claims rose 4,000 in the July 1 week to 248,000 which nevertheless is steady and safely within Econoday's consensus range" [Econoday].
Gallup Good Jobs Rate, June 2017: "The June good jobs rate rose to 46.3 percent, up from 45.4 in May. The workforce participation rate reached a record-high 68.6 percent. Unemployment and underemployment rates remained steady" [Econoday].
Bloomberg Consumer Comfort Index, week of July 2, 2017: "Edged" one point lower [Econoday].
International Trade, May 2017: "The nation's trade gap came in very near expectations in May" [Econoday]. "The strength in exports is centered once again in services where the surplus rose 1.0 percent to $64.8 billion. ."
Shipping: "Airfreight continues multi-month roll in May with global double-digit growth" [DC Velocity]. "No one knows how long it will last, but the international airfreight industry is partying like it's 1999…. Present-day demand growth is following the recovery in global economies, with the pace of new export orders nearing a six-year high in May. Industry executives expect demand to grow by 8 percent during the third quarter, IATA said."
Retail: "In interviews with Business Insider, half a dozen [Sears] employees described signs of decay in the stores they work in. These include a rat problem, collapsing ceilings, empty shelves, and a lack of working toilets for weeks on end" [Business Insider]. As I've said, the Sears in the Bangor Mall is one of the most depressing built environments I've ever been in; I wanted to take a shower when I left.
ETFs: "[Bank of American] says the massive popularity of ETFs may be leading us on a road to a liquidity problem. The note issued by Bank of America Merrill Lynch's Global Research department warns 'the actual shares available, or true float for S&P 500 stocks, may be grossly overestimated'" [CNBC]. "That could lead stocks and the overall market to fluctuate more violently, especially to the downside, due to a future event affecting either a single stock, a sector or the market at large."
The Bezzle: "Much has already been written about Blue Apron's financials. The company is on pace to generate around $1 billion of revenue this year, but marketing costs are exploding, revenue per customer is in decline, and the company is burning cash at an accelerating rate. The financials alone are reason enough to avoid Blue Apron stock like the plague. Blue Apron posted a net loss of $52 million during the first quarter, nearly as much as it lost during the whole of 2016" [Business Insider]. "If you still find yourself tempted by this trendy company drowning in red ink, there's another reason to stay away from the stock. The business model, mailing ingredients and recipes to customers, just doesn't make much sense." Wait, that seems like a familiar story… More: "Blue Apron customers placed just 4.1 orders on average during the first quarter, down from 4.5 during the first quarter of 2016. A customer who orders every week would place around 12 orders each quarter, so this number is shockingly low. Blue Apron doesn't disclose customer churn rates, but the only conclusion from the data we do have is that customers aren't sticking around very long."
The Bezzle: "On a website with more than 100 million active daily users, there are plenty of ways to game the system" [Vulture]. "Even Spotify is reportedly gaming the system by paying producers to produce songs that are then placed on the service's massively popular playlists under the names of unknown, nonexistent artists. This upfront payment saves the company from writing fat streaming checks that come with that plum playlist placement, but tricks listeners into thinking the artists actually exist and limits the opportunities for real music-makers to make money." So it's like Spotify is selling own-label product. Just without the label. Seems legit. (This topic seems to be what's getting this article tweeted, but it's well worth a read to understand the streaming business.)
Concentration: "Film studio profits have been suffering in recent years, and the 'desperation level in Hollywood' has reached new highs, according to a new research note from Morgan Stanley" [Business Insider]. "Hard times and thin margins could result in a major push toward a service called 'premium video on demand' — streaming newly released movies at home for a higher fee in lieu of visiting the cinema — that may boost profits at studios but would likely harm movie theater operators, according to the bank. Just how bad is it for film studios right now? Despite the gaudy, billion-dollar global box office figures, most of Hollywood isn't earning huge profits, thanks in part to the onslaught of streamable, high-quality TV content." More on streaming….
Concentration: "How to keep Amazon from eating your business, too" [ReCode] "[Amazon Web Services] has been compared to a tax, 'because it's so widely used by every company that it'll eventually turn into a fixed annual cost for most businesses.' What is Amazon doing with that tax they collect on businesses rushing to the public cloud? Using those proceeds to compete with those very same businesses." Seems legit.
Political Risk: "Yelp's Six-Year Grudge Against Google" [New York Times]. More:
For example, say you searched for "steakhouse New York." The first set of results, consuming the entire screen of a mobile phone, is a map and a set of restaurants from Google's local offering. The results have information like hours, stars and customer reviews. Below that are links to reviews, articles and other sites. Like Yelp.

Yelp's contention is that by putting its own results at the top, Google is giving itself an unfair advantage, because those results don't have to jump through the same algorithmic hoops non-Google sites are subjected to. And since Yelp says few people go beyond the first or second result, companies like Yelp are made invisible.

Google disagrees. The company declined to comment beyond its official statement on the European fine, but it has repeatedly said that as smartphones displace desktop computers as the internet gateway, people just want the answer to their question — not a link to a site where they might have to repeat the query — and that Google's results oblige.
Lambert here: Who could have known that combining immense computing power with a coarse-grained interface (fingertip vs. mouse) and a teensy amount of screen real estate would work to the benefit of ginormous monopolies? (Well, nobody, so far as I know, certainly not me, but readers?) Google's News horrid new interface and algo now fill my laptop screen — and therefore a cellphone's screen — with a single "card," i.e., one story, which is presumably all most people will read. Compare that to the extravagant redundancy of TV news, where at they very least they announce the top stories, plural, at the start of the show. And compare that to the enormously effective payout of a newspaper front page. It's hard to avoid the conclusion that the Lords of Silicon Valley have devoted their immense technical and financial resources to making us more ignorant, more vulnerable to herd-like behavior, worse citizens. How did the smart phone get so dumb?
Concentration: "How to Disable AMP on WordPress" [Alex Kras]. ("The Accelerated Mobile Pages (AMP) Project is an open source initiative that makes it easy for publishers to create mobile-friendly content," sponsored by Google.) tl;dr: If you change your site to AMP, and then change back, AMP defaults to breaking all your links." That's not a bug. It's a feature; AMP is a roach motel. (This does seem to be The Day of the Horrid Cellphone Story (see below); maybe something's happening in the zeitgeist…
The Fed: "A Newly Frisky Janet Yellen Is Ready To Set The Banks Free" [DealBreaker]. "According to the the just-released minutes of the Federal Open Market Committee's last meeting, Chair Janet Yellen and her cohorts spent much of their last meeting discussing why, exactly, investors have responded to the Fed's interest rate hikes by pushing stocks and other risky markets to all-time highs. (They've taken away the punch bowl only to find that the party-goers brought their own flasks )… [I]t is no accident that the softened stance on Volcker and CCAR testing comes on the heels of the departure of former Fed Governor and supervision czar Daniel Tarullo, who, as was obvious by their seething and barely contained hatred of him, neither a product nor a tool of the money-center banks…. [Efforts by Neel Kashkari and Rep. Jeb Hensarling] appear to be policy footnotes to a much different agenda for now, however — as they will remain historical footnotes whenever the ascendant deregulatory agenda reaps the inevitable financial calamity Fed officials have bowed to sowing" (more on Tarullo at NC here).
Five Horsemen: "Three of the Fab Five have undershot the S&P 500 since late April, with Apple the worst laggard" [Hat tip, Jim Haygood].
I'm gonna have to stop ranting about Apple; apparently, Mr. Market was listening over all!
Today's Fear & Greed Index: 48 Neutral (previous close: 57, Greed) [CNN]. One week ago: 47 (Neutral). (0 is Extreme Fear; 100 is Extreme Greed. Last updated Jul 6 at 12:08pm.
Health Care
"Everyone—rich or poor, man, woman or child—can use it." Britain's National Health Service (NHS) was launched on this day in 1948. pic.twitter.com/c8c1YoeKsP

— Jacobin (@jacobinmag) July 5, 2017
Class Warfare
"Toward a Marxist Interpretation of the US Constitution" [Bertell Ollmann, Jacobin].
But it wasn't until 1840, a half century after the Constitution was put into effect, with the posthumous surfacing of James Madison's extensive notes, that the American people could finally read what had happened in those three crucial months in Philadelphia.

What was revealed was neither divine nor diabolical, but simply human, an all-too-human exercise in politics. Merchants, bankers, shipowners, planters, slave traders and slaveowners, land speculators, and lawyers, who made their money working for these groups, voiced their interests and fears in clear, uncluttered language; and, after settling a few, relatively minor disagreements, they drew up plans for a form of government they believed would serve these interests most effectively.
Film at 11? Dark Bargain: Slavery, Profits and the Struggle for the Constitution is a good book on the sausage making between South Carolina slave owners, and the Connecticut shipbuilders who built ships for the Triangular Trade ("Southern slaves on Yankee bottoms," as a saying I've filed away, which which seems to be apocryphal, goes.)
News of the Wired
"Brain Drain: The Mere Presence of One's Own Smartphone Reduces Available Cognitive Capacity" [Journal of the Association of Consumer Research].
In this research, we test the "brain drain" hypothesis that the mere presence of one's own smartphone may occupy limited-capacity cognitive resources, thereby leaving fewer resources available for other tasks and undercutting cognitive performance. Results from two experiments indicate that even when people are successful at maintaining sustained attention—as when avoiding the temptation to check their phones—the mere presence of these devices reduces available cognitive capacity. Moreover, these cognitive costs are highest for those highest in smartphone dependence.
Believe it or not, readers, I encountered this link after my rant on screen real estate (supra). And this study — from the Great Sept of neoliberalism at the University of Chicago — reinforces my priors so much it's hard to cope. Can readers comment on the methodology?
"A large satellite may be falling apart in geostationary orbit [Updated]" [Ars Technica]. "'We have seen several pieces come off of it over the past several days,' ExoAnalytic's chief executive officer, Doug Hendrix, told Ars. 'We are tracking at least one of the pieces. I would hesitate to say we know for sure what happened.'"
"Coding ethics into technology" [Hack & Craft].
"Redesigning Google News for everyone" [Google]. How Google came up with a site redesign for News that sucked up all the screen real estate on a laptop to present four stories.
"Data brokers and the new panopticon" [Medium].
"Is social graph portability workable?" [Digitopoly]. If you want to break up giant digital monopolies, you've got to think through issues like this. This will be difficult; culturally and as a matter of incentives, programmers always want to optimize their inputs and outputs for "their" program, and the idea that data might have its own integrity outside those bounds doesn't figure largely in their thinking. And then there's the lock-in effect.
"The hidden signs that can reveal a fake photo" [BBC]. News you can use!
* * *
Readers, feel free to contact me at lambert [UNDERSCORE] strether [DOT] corrente [AT] yahoo [DOT] com, with (a) links, and even better (b) sources I should curate regularly, (c) how to send me a check if you are allegic to PayPal, and (d) to find out how to send me images of plants. Vegetables are fine! Fungi are deemed to be honorary plants! See the previous Water Cooler (with plant) here. And here's today's plant (Diptherio):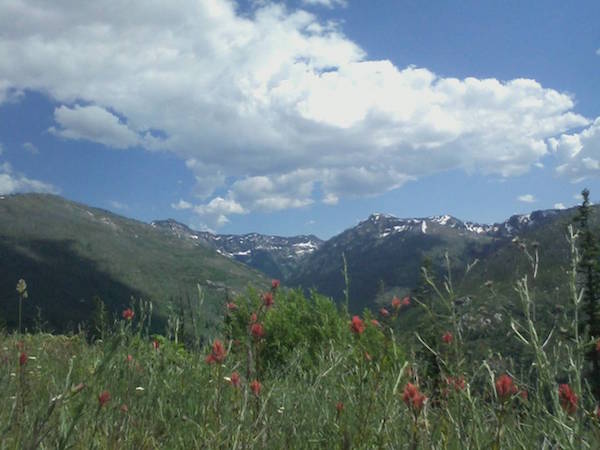 Diptherio writes:
Don't know if the resolution on this is high enough to use. The camera on my fake blackberry isn't the best. That's Indian Paintbrush, Castilleja miniata, in the foreground, which I think you probably don't see out East. It's an interesting plant. From Wikipedia:

That's Indian Paintbrush, Castilleja miniata, in the foreground, which I think you probably don't see out East. It's an interesting plant. From Wikipedia:
The flowers of Indian paintbrush are edible, and were consumed in moderation by various Native American tribes as a condiment with other fresh greens. These plants have a tendency to absorb and concentrate selenium in their tissues from the soils in which they grow, and can be potentially very toxic if the roots or green parts of the plant are consumed. Highly alkaline soils increase the selenium levels in the plants. Indian paintbrush has similar health benefits to consuming garlic if only the flowers are eaten in small amounts and in moderation.
The Ojibwe used a hairwash made from Indian paintbrush to make their hair glossy and full bodied, and as a treatment for rheumatism. The high selenium content of this plant has been cited as the reason for its effectiveness for these purposes. Nevada Indian tribes used the plant to treat sexually transmitted diseases and to enhance the immune system.

Happy Independence Day!
NOTE Readers, if you want your handle to appear as a credit, please put it in the subject line. Otherwise, I will anonymize by using your initials. Thank you!
UPDATE Now that that the 2017 Water Cooler fundraiser post is launched, I can say that directions for sending a check will include a request to send me a parallel email so I can thank you. I was not able to thank all you sent me checks this year, because I was unable to connect physical mail identities to online identities. Apologies!
* * *
Readers, Water Cooler is a standalone entity, not supported by the Naked Capitalism fundraisers. Please use the dropdown to choose your contribution, and then click the hat! Your tip will be welcome today, and indeed any day. Water Cooler will not exist without your continued help.