Time for a fluffy post, in both senses of the word.
I know some animals have been nominated for elected office and even polled well, which is not surprising given the alternatives. But I had a different angle in mind, prompted by this e-mail from reader Pat:
"Adorable kitties" isn't the first thing that comes to mind when you have to make a trip to the DMV. I was dreading registering my car this week, but a friend turned me on to the Department of Licensing agency in Aberdeen, Wa., where we were greeted at the door by two adorable and very friendly cats. There were three more in the waiting area. When it was our turn at the agent's window, we were astonished to see that the office behind her was more like an animal shelter. There were chickens, ferrets, a parrot, a magnificent cockatiel, a perky young German shepherd, and others I can't recall. Mind you, the office isn't that big, and they were all getting along with each other. Greeting apparently is a demanding job, though, requiring periodic catnaps. Seeing these two on my way out the door made me forget momentarily that I'd just paid hundreds of dollars in registration fees and taxes.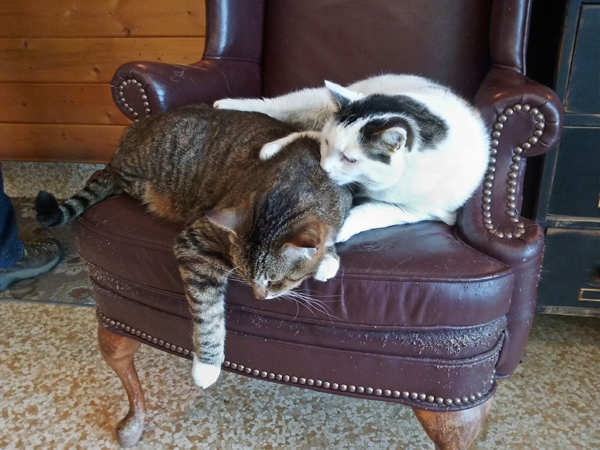 I also recall reading some years ago, perhaps in the Wall Street Journal, about a law firm that had 13 cats in its office. They found them to be a big net plus for business.
We've had decades of right-wind financed demonization of government, to the point that a lot of people are prejudiced against it even though many agencies function well. Even though bureaucracies are, well, bureaucratic because they have to operate with laws and regulations, given how much crapification and looting goes on in the private sector on a routine basis, it's not as if businesspeople have a valid basis for claiming a moral or efficiency high ground, save with respect to lining their own pockets.
More animals in government offices would produce a lot of side benefits:
More relaxed employees

Calming/distracting effect on citizens, particularly if they are having to wait

Good imaging/branding

Reduction in the number of uncared-for strays
Just imagine how much less unpleasant dealing with airports would be if the TSA has some cats hanging around, or were allowed to have tanks of calming dentist office exotic fish. Of course the cats would like hanging out on the X-ray machines, which would probably be bad for them, so nix that idea…
Now of course there are many practical issues to solve. People in the office would need to take care of the critters. If they were government pets, as opposed to personal pets allowed to hang out in and live overnight in government offices, the kibble and litter and vet expenditures would need to be budgeted. But this could wind up being cheaper than other forms of PR. And if they were personal pets allowed to play a dual role as daytime government greeters, how would they be screened to make sure they were calm and well behaved enough?
More serious is that some people (both government workers and citizens visiting offices) might be allergic or phobic. But I've regularly seen cats in stores (health food and news stands seem to be the biggest users of store cats) so this doesn't seem to come up often as an issue. However, citizens can't necessarily avoid going to certain government offices, while cat (or dog or ferret or parrot) haters have the luxury of boycotting stores with animals they don't like.
So I hope this idea gets traction, but I doubt it will get beyond offices in small to medium sized communities that tolerate a certain amount of character. Readers?