Private equity firms are seldom sued for their practice of levering companies for fun and profit and not caring much if they leave smoldering wreckage in their wake. One big reason has been that it takes a lot of time and effort to prove fraudulent conveyance, which is layperson terms means continuing to bleed cash out of a company into your own pocket when you know it is a goner. And to discourage these suits, private equity general partners go into the legal version of scorched earth mode to deter other bankruptcy victims from getting bright ideas.
Today, the Wall Street Journal reports on the outburst of litigation over bankruptcy restructuring plans for private-equity-damaged retailers like Payless Cashways. We've discussed how private equity set many retailers up for failure by selling off their real estate at rich, asin inflated prices, giving themselves a nice big payout, and saddling the operator with high lease payments. Mind you, the reason these chains had owned their own stores in the first place was that retail is a cyclical business. Owning a lot of the property you used was a way to reduce overheads and increase odds of survival.
But in the cases the Journal highlighted, the private equity owners resorted to a strategy that had been discredited, that of the so-called dividend recap. The poster child was when Clayton & Dublier acquired Hertz in 2006, loaded it with debt, and made a big dividend payment with the proceeds. While Hertz didn't fail, the company unquestionably suffered and the recap got a great deal of bad press. Deal watchers add to the list of firms hurt by older dividend recaps, such as Hexion Specialty Chemical, Burger King, KB Toys, Warner Music, and Burlington Coat, to the degree that law firms started against the practice. From a 2006 article:
Lately, a number of companies owned by private equity funds end up in the bankruptcy courts or are left in questionable states of solvency after a dividend recap. Dividend recaps have drawn fire from institutional investors, analysts, the media and legislators who charge that private equity funds are piling too much debt on the backs of portfolio companies without considering the companies' financial well-being. Also increasing is litigation charging private equity sponsors with breach of fiduciary duty, fraud, self-dealing, acting to deepen the insolvency of a portfolio company, fraudulent conveyance and other fiscal malfeasance following the bankruptcy of a portfolio company involved in a dividend recap.
Yet in the post-crisis super low interest rate interest environment, lenders were desperate for yield and private equity firms revived this dodgy practice, as this chart shows: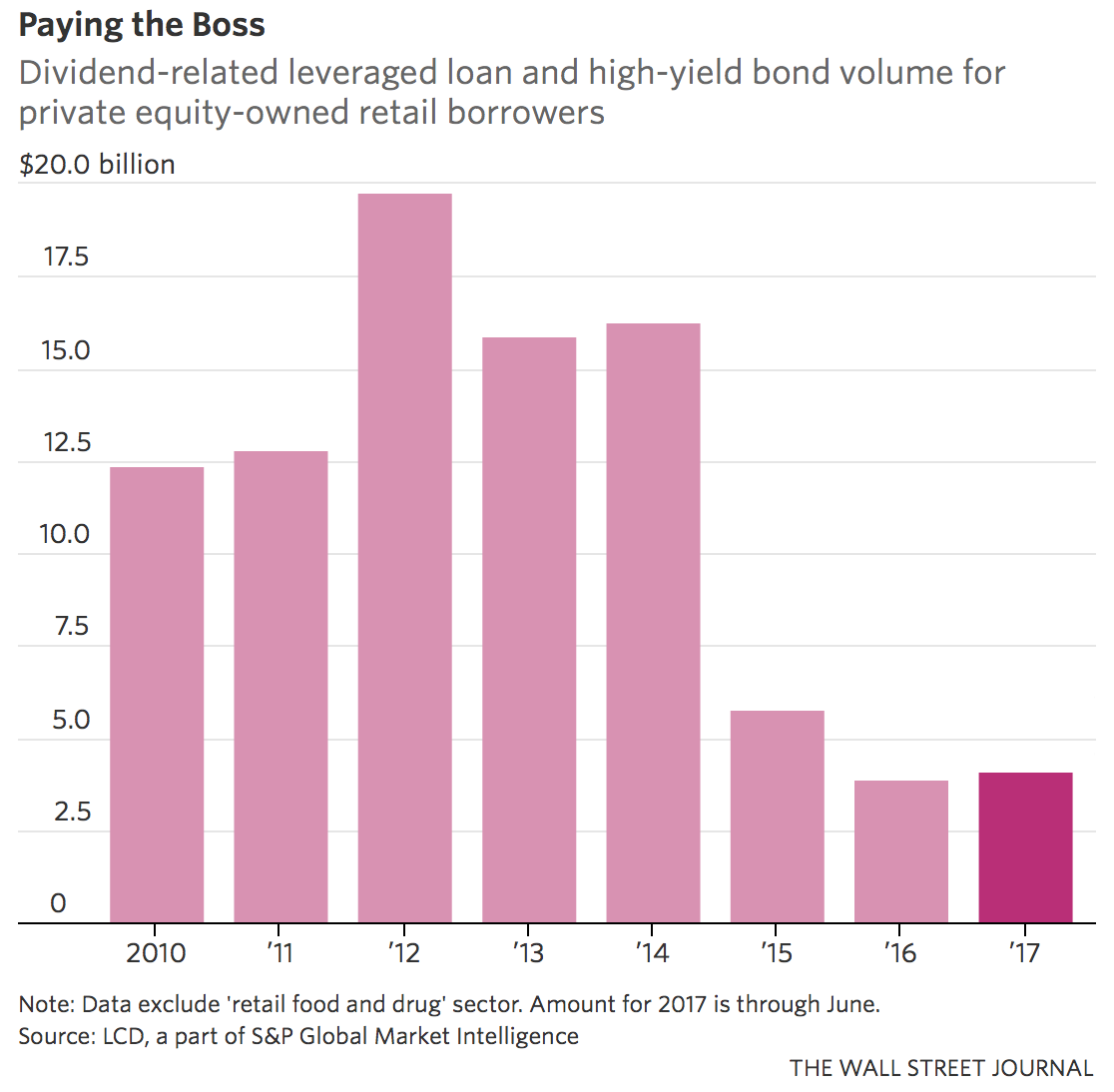 A wave of retail bankruptcies washing through court has revived an old debate about the role of private-equity firms in accelerating the problems of companies in distress.

Payless ShoeSource Inc., Gymboree Corp., rue21 Inc. and True Religion Apparel Inc. were all acquired by private-equity firms during the past decade. Now, lawyers for creditors have questioned whether private-equity firms share blame for the retailers' financial collapse, in some cases by loading debt on the companies.

In the case of Payless, investors Golden Gate Capital and Blum Capital, after a leveraged buyout in 2012, over the next two years paid themselves $350 million in dividends—in total putting more than $700 million in debt on the company. In 2016, Payless said in court papers, it had about $2.3 billion in global net sales, and nearly $840 million in debt…

Gymboree's June bankruptcy filing occurred days after it couldn't make a semiannual interest payment on debt dating back to Bain Capital's $1.8 billion 2010 buyout. Public filings show Bain also received fees from Gymboree in the years after the buyout.

Earlier this month, Gymboree's unsecured creditors, including vendors and landlords owed an estimated $220 million, said in court papers they have been investigating potential claims against Bain and other insiders. The creditors, which are slated to receive nothing, point to dividends and fees received by Bain and its affiliates….

True Religion filed for chapter 11 protection in early July. Shortly after, a junior debt lender, Ares Management LP, raised concerns about the proposed restructuring plan, which will leave the creditor with a slim recovery while private-equity backer TowerBrook Capital Partners LP is slated to receive the same or higher return as Ares. Typically in bankruptcy, lenders expect to be paid before equity owners….

For Payless's creditors, the tactic of raising their voice in court paid off, to an extent. Following heated exchanges in filings and in the courtroom, as well as private negotiations, the private-equity backers and lenders have agreed to give more than $20 million to the company, which will be used toward beefing up the creditors' recoveries. Meanwhile, the creditors have agreed not to bring any legal claims against the backers following the bankruptcy filing.
But as Bloomberg pointed out last week, some of the legal maneuvering at Payless looks pretty sus:
Payless, remember, is the discount shoe retailer that became insolvent earlier this year after being the subject of a leveraged buyout in 2012. Now, suppliers and property owners that are owed money are clearly mad about how private equity firms directed Payless to borrow millions of dollars to pay themselves hefty dividends without improving the company's viability.These creditors want to hire an expert to evaluate how much those dividend payments ate into Payless's value and doomed its fate.

Here's where the case goes down the rabbit hole: Payless, which is still owned by private equity firms Golden Gate Capital and Blum Capital, responded this week by saying it's already investigating the dividend payments. The probe is being headed by Charles Cremens, who's affiliated with another private equity firm, Bunker Hill Capital. Payless argues that hiring a separate team would be redundant.

That's right, someone close to private equity is investigating private equity firms for doing a very private equity thing. This throws off a vibe that perhaps this investigation isn't the most independent one. The unsecured creditor group obviously shares that view in its desire to spend the time and money to bring on someone with a bit more of an outsider perspective….

A good start would be to not have private equity investigate its own complicity in excessive, debt-fueled dividend payments. It clearly didn't help Payless to have so much debt piled on top of it. It would be helpful to avoid a repeat.
In a sign of a bit of a shift in the zeitgeist, the comments on the Wall Street Journal, which typically favor big rich dogs, were on the whole critical of the private equity machinations, with quite a few also saying this sort of thing was hardly new. For instance:
ARTHUR PICCOLO
In our society it is the typical way private equity firms make lots of money risk free while undermining other companies and handicapping our society for their very greedy gain. And they are even lionized for doing so and making themselves super-rich by doing nothing but manipulating our financial and legal system. God bless America's oligarchs.

Mark Lynn
What about J Crew, Nieman Marcus, and Nine West. All hobbled under the stewardship of private equity……

Stan Kabala
It is really hard to feel sorry for a company like Ares ($ 4 Billion market cap) that most likely purchased this debt at deeply discounted prices to get high yield. They are sophisticated investors trying to increase their yield by getting a larger share of a diminished pie.

The losers here are employees and mall owners who lost jobs and lease payments respectively (possibly suppliers too). Mall owners are losing a lot more than the businesses that go bankrupt and also are sophisticated investors. Retail employees seem to be "collateral damage" in the high stakes battles among the investors of all stripes. Same story, different day.
And even the people who defended private equity and said the fault lay with stupid lenders sometimes got replies of the sort "No, it was the Fed's fault" For instance; "Zero interest rates have 'investors' throwing money at anything that moves."
Indeed, the more visible private equity becomes, despite its great efforts at maintaining its secrecy, the more even the better heeled members of the great unwashed public don't like a lot of what they see. Bloomberg's Noah Smith felt compelled to pen a piece last week, Private Equity Doesn't Deserve Its Bad Reputation, which despite the tone of the headline and the cheap trick of counterposing a critical book by a mere journalist (Josh Kosman, whose Buyout of America is very well documented) against a handful of academic studies still failed to a compelling defense. And that's before you get to the fact that Smith ignored the ignoring the exhaustive, rigorous treatment of private equity by Eileen Appelbaum and Rosemary Batt in their landmark book, Private Equity at Work, as well as their research since then, and also oddly failed to mention that the academics he touted regularly consult to private equity firms.
So private equity is staring to lose its largely undeserved sheen. This is a necessary but not sufficient precondition for curbing its excessive influence.