By Lambert Strether of Corrente
Meetup reminder: Burlington, VT Thursday, August 17 at 8:00PM; Montreal, Quebec Friday, August 18, at 6:00PM. Hope to see you there!
* * *
Trade
"10 former U.S. ambassadors to both Mexico and Canada are angling to assert some influence over the White House ahead of the NAFTA talks, sending a letter to Trump earlier this month urging the president to recognize the importance of maintaining a stable and secure North American triumvirate for both economic and security reasons" [Politico]. "'As former American diplomats, we have devoted much of our lives to ensuring the prosperity and security of this great nation,' the ambassadors wrote in a letter obtained by Morning Trade on Wednesday evening. 'NAFTA has not only created unprecedented export opportunities [for] U.S. producers, farmers, and workers, but the depth of cooperation on true, hard security issues is deep and profound and has grown following the implementation of NAFTA.'" You see this dynamic everywhere; one or another subclass of the political class coming forward to say: "We're responsible for the last 40 years and they've been great!" And yes, they are, but no, they haven't been, at least not for those who have "had it" (in Gaius Publius's on-the-money phrase).
Politics
New Cold War
Massive, inflatable chicken with orange hair is staring down the White House CBS. And the context:

Taran Singh Brar says he bought it for $1300. It's a visual protest. "Trump is too chicken to release his tax returns, to stand up to Putin" pic.twitter.com/JLohv0yl82

— Philip Lewis (@Phil_Lewis_) August 9, 2017

"Stand up to Putin." Great. War fever (and the tax thing is just stupid, as NC readers know).

"No one knows if Trump's strategy can change Beijing's calculus, but his willingness to use force on the peninsula is credible in ways Obama's and Bush's were not. His unpredictability and impulsiveness make the threat seem more credible. So does his economic nationalism, which makes his threats to the Chinese economy believable" [RealClearPolitics]. Mad man theory is alive and well, then. Then this: "The underlying problem is that the Kim family regime is unpredictable and unstable, and, under its current leader, Kim Jong-un, it is even more so." This is conventional, but I would like to be sure that we aren't simply reading our own press releases, and buying into our own propaganda campaign of demonization. One word for "family regime" is dynasty. Another word for "family regime" is gang (see, e.g., The Godfather). Both dynasties and gangs are suspectible to analysis and prediction (even those with deified leaders). For one thing, given that national leaders who give up or lose their WMDs tend to be killed by the United States (Qadaffi; Saddam), Kim could simply be trying to preserve his own life, which is entirely rational. And it's not as if George W. Bush didn't telegraph his intentions by making North Korea part of the "axis of Evil." So it would be nice if the current crisis didn't culminate in the Mother of All Blowbacks.

"Trump's Legal Team Is No Match for Mueller's" [Bloomberg]. "Trump's efforts to enlist the services of a large firm have so far been rebuffed. White-collar experts at three high-powered firms, Sullivan & Cromwell, Steptoe & Johnson, and Quinn Emanuel Urquhart & Sullivan, have turned him down, say two people familiar with the matter. Some firms had conflicts that prevented them from taking the job; others worried that Trump wouldn't follow legal advice, potentially damaging their firms' reputation, two people said." Or Big Law wants Trump out.
Trump Transition
"Rarely in U.S. history has a clutch of senior brass played such an outsize role in the affairs of state as they do now. The President's chief of staff, his Defense Secretary James Mattis and his National Security Adviser H.R. McMaster are all either active-duty or retired generals. What makes the arrangement all the more interesting is that the three men are not only friends but longtime allies. Two of the three are Marines, and when you add Joseph Dunford, the Chairman of the Joint Chiefs (who, with Kelly, served under Mattis), it is safe to say the scrappy Marine Corps has never had so much clout in the chain of command" [Time]. Musical interlude…
2016 Post Mortem
"Whitewashing the working class" [Context]. This is an interesting symposium from June that I missed because I wasn't watching this source then (unusually, it's all on one page, so keep scrolling down). I don't agree with all of it, but Katherine J. Cramer is always worth a read.
Realignment and Legitimacy
"[I]f Republicans have increasingly little incentive to tolerate Trump, he may make the same calculation about the GOP, the party's conservative policy agenda, and the conservative movement as a whole" [Weekly Standard]. Pass the popcorn.

"Messy internecine fighting is also unnecessary. Democrats are being pulled inexorably to the left by broader trends in American politics and society, and if the two camps don't realize, soon, that they desperately need each other to gain and then effectively wield power, they may both lose" [The Week]. This looks, to me, like the "wait for demographics to do the job" theory behind the so-called Obama Coaltion. How's that workin' out for ya? "The Democratic Party is a large, diverse coalition — what political scientists refer to as a 'catch-all party.' Otto Kirchheimer, the political scientist who coined the term in an influential 1966 paper, said that 'a party large enough to get a majority has to be so catch-all that it cannot have a unique ideological program.' Such organizations may adjust their platforms and positions to appeal to the largest number of voters and therefore gain power. Infighting between the various power centers in the party is therefore not a temporary, regrettable outcome of the 2016 primary, but rather a built-in feature of our politics. There will always be factions."

First, if there will "always be factions," then where do "desperately need each other" and the call for unity fit in? Second, there's enormous and "messy" "internecine" fighting in the Republican Party, which has crippled them so badly they control all three branches of the Federal government and are within striking distance of controlling 34 states and initiating an Amendments Convention. Finally, some factions are born, but others are made: Specifically, the Blue Dogs, who were chosen by Democrat mandarins like Rahm Emmanuel to keep the party in Third Way mode, after they dismembered Dean's 50-state strategy and and defenestrated Dean. Anyhow, if the Democrat Establishment wanted to avoid "messy" "internecine fighting" they would have given the left a sop by putting Ellison in charge of the DNC. They wouldn't even do that. Oh, and now the Agenda:

Activists across the spectrum should be taking their cues from the leadership of Indivisible, the group of former Hill staffers who wrote the Indivisible Guide and who have helped organize a national movement to push back against the GOP agenda.

Lambert here: Stuff and nonsense. Indivisible — unlike Sanders and Our Revolution — studiously used #SaveTheACA to suppress #MedicareForAll. In what sense, then, are they "natural allies" of the left? The left should use Indivisible's excellent technocratic manuals on how to communicate with elected officials — who better to know this than staffers — and throw away the Beltway-based Indivisible leadership's message entirely. (No knock on local chapters; you do what you can where you can.)

"If At First Democrats Don't Succeed, Try The Third Way Again" [ShadowProof]. Clintonite retreads secure funding, film at 11.

"How Identity Became A Weapon Against The Left" [Current Affairs]. "To ignore identity is to ignore injustice. Yet there are risks to viewing the world through the prism of identity. If people are defined by their demographic characteristics, they can be reduced to those characteristics in a way that obscures differences within groups. If "identity" becomes synonymous with "perspective," dissenting members within the identity group risk having their viewpoints erased and their humanity diminished. And when used cynically, as a political weapon, a simplistic view of identity can allow people of a particular political faction to wrongly imply that they speak for all members of their racial or gender group… The "Bernie Bro" mythology—that progressives are almost exclusively white, male, and young—will not die, no matter how often women and people of color try to speak up to disprove it. In all the words spilled about the uninterrupted whiteness of Sanders supporters, prominent 'Bros' like Rosario Dawson, Ben Jealous, Pramila Jayapal, Eddie Glaude, Spike Lee, Lisa Ling, Killer Mike, Cornel West, and Nina Turner went largely unmentioned." Not to mention Sanders advisor Adolph Reed.

Lambert here: Note the political aspect: Without their firewall in the South, liberal Democrats got nuthin', which explains their "any stick to beat a dog" zeal to defend it. Hence liberalism can be reduced, without loss of generality, to neoliberalism; its vaunted "justice" component is so inconsistently applied and driven by faction as to be meaningless. If you want an example, look no further then liberal abandonment of vast swaths of the country to "deaths of despair."

UPDATE "The Kamala Harris Controversy Reveals the Erasure of Leftist Women by Pseudo-Woke Liberals" [Paste]. "Universal programs like single payer health care or even economic justice itself are discredited as inherently racist and sexist. Using the language of social justice, these liberals punch left at the very programs and policies that empower the people they claim to champion." Full of gruesome tweets!

UPDATE "Steve McMahon, a Democratic consultant who advised Howard Dean, the Vermont governor, when he ran for president in 2004, compared what is happening with Democrats in California to the Tea Party's emergence in heavily Republican districts in 2010" [New York Times] "Mr. McMahon said these struggles would probably move the party to the left, with one immediate result: Democrats in places like California will come under increasing pressure to support single-payer health care, much the same way opposition to the Iraq war, a central issue for Mr. Dean, became a litmus test issue for Democrats in 2004."
Stats Watch
Producer Price Index (Final Demand), July 2017: "Lack of inflation has been the issue this year but July's producer price report raises new concerns, that is disinflation" [Econoday]. "Prices this year, in part reflecting lack of wage traction, have been unusually weak and if tomorrow's consumer price report proves no better than today's wholesale price report, doubts over Federal Reserve intentions to further remove stimulus, including the initiation of balance sheet unwinding, will very likely build." And: "The data overall will continue to dampen expectations of higher inflation in the economy with very little evidence of upward pressure on costs at this stage. There will be little pressure for the Federal Reserve to consider a policy tightening based on the PPI data" [Economic Calendar]. And but: "The Producer Price Index is now on a noticeable moderation cycle – with most components declining year-over-year. My only conclusion is that generally there is an overabundance of goods and services – despite the Fed's insistence the USA is near full employment" [Econintersect]. And but: "All in all, this was the worst wholesale inflation number in 11 months. It's one thing to be talking about prices not rising enough for the Fed target, but it's entirely different to be having the deflationary bias again" [247 Wall Street].
Jobless Claims, week of August 5, 2017: "Demand for labor is the economy's big strength, evident in the latest jobless claims data where initial claims for the August 5 week came in little changed" [Econoday]. "All the readings in this report are at historic lows as employers hold on as tightly as possible to their existing staffs. There are no special factors in today's report and no states were estimated." And: "The 4-week moving average was unchanged at 1.965mn with a halting of the upward drift seen over the past few weeks" [Econintersect].
Bloomberg Consumer Comfort Index, week of August 6, 2017: "The consumer comfort index, which had softened noticeably in July, rose sharply" [Econoday]. "Strength in consumer confidence ultimately points to strength in the labor market."
Debt: "In the first quarter of 2017, household debt outstanding reached $12.7 trillion, beating the peak set back in 2008 before the precipitous fall not long after" [247 Wall Street]. "For a point of perspective, household debt outstanding in the first quarter is larger than China's economy, or nearly four times that of Germany's."
Shipping: "Finally! A field guide for container-spotters" [DC Velocity]. "Visitors to wildlife sanctuaries or nature preserves can take along a handy bird book or wildflower guide for help identifying the local flora and fauna. But what if your interests run more to infrastructure and logistics? Where do you turn for help identifying the colorful shipping containers you see stacked up on ships, in intermodal yards, and on the docks? The answer is The Container Guide, a 140-page pocket-sized waterproof field guide to shipping containers and the corporations that own them."
The Bezzle: "The pre-fabbed meal delivery service has managed to hit yet another post-IPO low after its first earnings report as a public company. Some of the issues here may be seasonal, but the reality is that Blue Apron has become an eyesore to its investors" [247 Wall Street]. "This company came public too late, and it was right at the same time that Amazon and Whole Foods were tying up and right before more news of meal kits being prepped for delivery by Amazon. And if you watched the CNBC video interview with Blue Apron's CEO immediately after coming public you might have been challenged to keep up with that sound so nice and cute but that can become jargon and a masking tool for expenses or excuses for potential sales misses ahead." Term with which NC readers who follow The Bezzle are quite familiar….
The Bezzle: "US Postal System Continues to March Backward" [247 Wall Street]. Better headline: "Neoliberal Long Con to Destroy Public Goods Still in Play." I bet a Post Office Bank would spruce that balance sheet right up. Not that an institution providing a universal concrete material benefit should be assessed with metrics appropriate to a private firm.
The Bezzle: "[Indiana's privatized interstate I-69's] troubles come as more cash-strapped states explore deals with the private sector to back delayed infrastructure projects, and as talks advance in Washington about the potential for private investment in infrastructure. The results in Indiana are a 'black eye' for such plans, one backer concedes, and highlight the difficulties such public-private partnerships face in meeting public needs. Still, Indiana is , even as the state moves without its private partner to get I-69 built" [Wall Street Journal]. Ka-ching.
UPDATE Five Horsemen: "Amazon and Alphabet: how the mighty have fallen!" [Hat tip, Jim Haygood].
Today's Fear & Greed Index: 35 Fear (previous close: 54, Neutral) [CNN]. One week ago: 59 (Greed). (0 is Extreme Fear; 100 is Extreme Greed. Last updated Aug 10 at 12:09pm. The Hamptons are not a defensible position…
Police State Watch
Even the children…
Costco is selling warrior cop children's costumes for the baby paramilitary terrorist in your life pic.twitter.com/1eyGmWD6E0

— Alison Macrina ? (@flexlibris) August 8, 2017
Water
"New Orleans Floods Despite Having a Properly Working Drainage System" [Governing]. Lots of information for urban flooding geeks…
Class Warfare
"Conservatives mad over the Google memo censorship should end their century-long war on unions" [Mic]. "But there's no need for a culture war when there are concrete legal and institutional methods of solving this alleged crisis directly. If conservatives are convinced there is an escalating assault on their ability to express their opinions in the workplace, they could start by ending their war on the most powerful mechanism for protecting them: unions…. [Just cause] is a clause in a union contract wherein firing someone without proving that they failed to perform essential, work-related duties — say, for expressing a political opinion — is a breach of contract."
"Collecting trash is one of the most dangerous jobs in the country. In fact, garbage workers are far more likely to die on the job than police officers or professional firefighters" [Governing]. "The legislative push [for "Slow Down to Get Around" laws] comes at a time when fatality rates for trash workers are on the rise: They hit their highest point in a decade in 2015, the last year for which federal data is available. Not all of those on-the-job deaths were caused by traffic crashes, but some say that risk is rising because of distracted driving."
""Middle-class" America encompasses households with two-thirds to double the national median, according to Pew Research Center. While that makes up roughly half of American households, it's a shrinking group — from 2000 to 2014, middle-class populations decreased in 203 of the 229 metropolitan areas reviewed in a Pew study" [Business Insider]. "While the average household income for the wealthiest 20% of Americans grew by about 60% from 1980 to 2015, the rest of America has significantly lagged behind. The mean income of the lowest-earning 20% grew by just 10% in the same time period." Interesting detail on how Walmart's retail strategy reflects this/
"The bonus puzzle" [Lars P. Syll]. "If bonus or 'incentive pay' schemes work so well for senior executives and bankers, why does everyone not get them?" A guestion that answers itself, once asked…
"It might seem intuitive that the participation rate for the older workers would have declined the fastest. But exactly the opposite has been the case. The chart below illustrates the growth of the LFPR for six age 50-plus cohorts since the turn of the century. The chart below divides them into five-year cohorts from ages 50 through 74 and an open-ended age 75 and older. The pattern is clear: The older the cohort, the greater the growth. Interestingly, the 70-74 cohort LFPR was in decline from 2013 through the end of 2015 but saw a striking uptick in 2016 that has continued into 2017. This movement is more prominent for women as seen in the chart at the end of this article" [Advisor Perspectives].
"I Worked in a Strip Club in a North Dakota Fracking Boomtown" [Mother Jones]. Life in the colonies…
News of the Wired
"Note to employees from CEO Sundar Pichai" [Google].
"Lise Meitner's Devastating Letter to Otto Hahn" [RealClearPolitics]. Another letter on a different topic.
"Memories of Living in the 'Deep State'" [The American Conservative]. "I still haven't explained what I disliked most about my Washington suburban domicile, which ran off a congested onetime country road with the misleadingly bucolic name of Tuckerman Lane. The worst part of this residential experience were my neighbors, who with few exceptions, identified themselves with this sentence: 'I work for our government.' Those who uttered this were stiff and arrogant and almost always pronounced themselves for the 'Left,' or for whatever was fashionably leftist at the time…. Most of their houses were bungalows and located in developments or sub-developments, but what these neighbors lacked in emoluments, they made up in chutzpah. Just as our Deplorables rightly suspect, these 'public servants' loathed gun owners, religious Christians, and the residents of fly-over country. Their fellow-citizen were there to be 'regulated,' and these experts hoped to make all economic transactions rational and humane. In all the time I spent in their midst, I never perceived any of these neighbors sitting on a front porch. One usually had to reach them by phone or by leaving messages on an intercom system."
"[U]nlike T. S. Eliot, whose allusive, multilingual poems established his individuality against the European canon, Ammons defined himself explicitly as an American poet writing of American places and American people. His goal, it seemed, was to reinvent lyric poetry for contemporary America" [Harpers]. "In place of Whitman's terrestrial, geographic idea of poetic structure, Ammons adopted a geometric one, drawing on forms such as crystals and spheres. With each new volume, he revealed a surprising phase of creative experimentation. He had the rare good luck of remaining a striking poet into old age, revealing in every decade fresh and original impressions on social, cultural, and personal phenomena."
* * *
Readers, feel free to contact me at lambert [UNDERSCORE] strether [DOT] corrente [AT] yahoo [DOT] com, with (a) links, and even better (b) sources I should curate regularly, (c) how to send me a check if you are allegic to PayPal, and (d) to find out how to send me images of plants. Vegetables are fine! Fungi are deemed to be honorary plants! If you want your handle to appear as a credit, please put it in the subject line. Otherwise, I will anonymize by using your initials. See the previous Water Cooler (with plant) here. Today's plant (TH):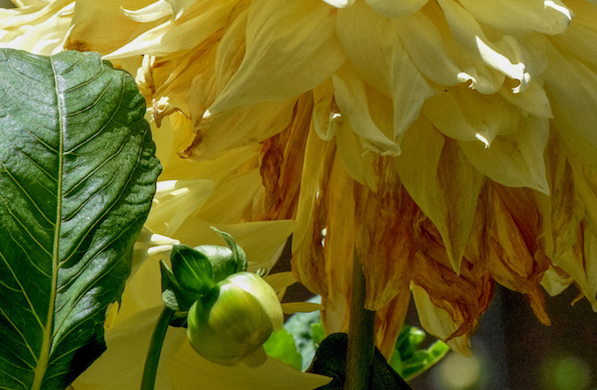 TH writes: "So, the attachment is a Dahlia at South Coast Botanic Garden in Rancho Palos Verdes, California. Feel free to crop as needed of course."
Now there's a religious issue!
* * *
Readers, Water Cooler is a standalone entity, not supported by the Naked Capitalism fundraisers. Please use the dropdown to choose your contribution, and then click the hat! Your tip will be welcome today, and indeed any day. Water Cooler will not exist without your continued help.