By Lambert Strether of Corrente
Trade
"A trade war is brewing between the United States and China, but the offended parties — U.S. companies operating in China supposed forced to hand over technology for access to local markets — do not seem to have much to say about the matter" [MarketWatch]. "How bad is the problem that the White House is trying to solve here? … In a recent survey by the U.S.-China Business Council, 20 out of 100 companies surveyed said that they were asked to transfer technology within the past three years as a condition for market access. This certainly sounds believable, especially for a country still ruled by a one-party communist system. A spokesman for the council then opined that this was unjust. Maybe so, but the problem is, if transferring the technology was so deeply against the interests of these 20 companies, why would they acquiesce anyway? Because access to the Chinese market is more important than maintaining technological secrecy for these U.S. firms in these specific cases."
"Trump administration releases NAFTA renegotiation principles: Read them here" [Cleveland Plain Dealer].
"[T]he NAFTA model does not work for workers. Instead, it subordinates their interests to the bottom-line profit motives of multinational corporations, suppresses wages and labor standards, and contributes to rising inequality. We welcome NAFTA renegotiation and, on behalf of our 1.4 million members, we will engage with our governments to upgrade this flawed and failed 'free trade' model" [James P. Hoffa and Francois Laporte, HuffPo]. This starts with the inclusion of a new Labor Chapter to replace the original ineffective side agreement." From the principles document linked to above, here's the section on Labor: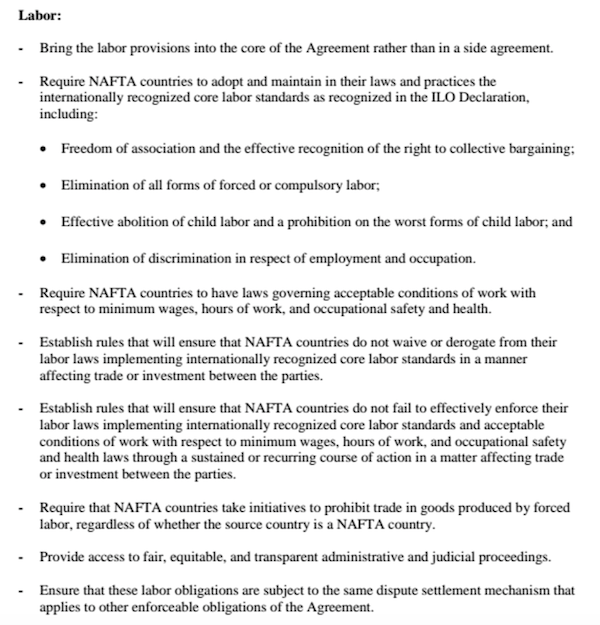 (There's one more bullet point on a "senior-level Labor Committee"…)
"[W]e have to do away with special courts that allow multinational corporations to undermine U.S. laws and take advantage of American workers. These corporate courts are called investor-state dispute settlement and they've got to go" [Sherrod Brown, USA Today].
"A Newer NAFTA" [U.S. News and World Report]. "There are three main ways that NAFTA can be improved. First, [NAFTA] does not address many of the e-commerce issues that are now central to international trade…. Second…, the core dispute provision (Chapter 20), which lets governments bring complaints when they believe another government is violating the rules, has not functioned. Defending governments have sometimes been able to prevent complaints against them, as in a 2000 case brought by Mexico against U.S. barriers to sugar, which never made it to the panel stage after the U.S. blocked the process… Third, NAFTA got rid of tariffs on most goods, but there were a few exceptions. One of the most notorious is Canada's supply management system for dairy, poultry and eggs."
"5 big questions about the NAFTA talks" [Politico]. "Even if the United States scales back its ambitions so negotiators can reach a deal by Christmas, it would be difficult to get to a vote in Congress before the November 2018 midterm elections. That's because trade legislation requires the White House to give Congress at least 90 days' notice before signing a new trade agreement. It then gives the U.S. International Trade Commission another 105 days from the date of signing to conduct an economic analysis."
"Although [it sounds] like [NAFTA] negotiators had a specific end-date in mind, a second USTR official said that was not the case. 'The U.S., Canada and Mexico are currently finalizing an aggressive negotiating schedule through the end of this year. Ambassador Lighthizer has been clear that the U.S. will not set an artificial deadline,' the second official said. Stay tuned for more from the talks later today" [Politico]. " The first USTR official said the negotiating texts will not be released to the public because they are 'classified' documents. That's consistent with past negotiations, but will give critics ammunition to complain the deal is being negotiated in secret." Because it is!
"NAFTA glossary: Talk trade like a boss, with these negotiating terms" [Canadian Press]. Handy! If you want to know what Demandeur means, this is the place to look.
"While trade on the continent has surged, the academic consensus is that the impact on the U.S. job market wasn't significant, though some industries and parts of the country were hit hard. And that's close to the picture that most economists were painting two decades ago" [Bloomberg]. "While economists weren't predicting an employment windfall, [President Bill] Clinton still focused on the jobs angle, predicting the accord would create 200,000 jobs in two years. 'Nafta means jobs, American jobs and good-paying American jobs,' he said. Last year, the U.S. International Trade Commission reviewed the academic literature. It concluded Nafta substantially expanded trade volumes in all three countries but led to only a small boost in U.S. welfare, as measured by gross domestic product and consumption. Overall, the ITC said there was 'little or no change' in U.S. employment. There were also winners and losers among industries: wages fell in sectors that were protected before the deal, such as footwear, textiles and plastics, according to one study cited by the commission."
Politics
2017
"Moore, Strange Advance to Runoff in Alabama Senate Primary" [Roll Call].
2018
"Bernie Sanders supporter jumps in to unseat Democrat in one of nation's hottest House races" [Sacramento Bee]. "A 30-year-old lawyer who backed Vermont Sen. Bernie Sanders' presidential campaign last year has jumped into the race to challenge Rep. Ami Bera, a three-term Democrat representing suburban Sacramento."

"Term Limits Could Hurt Republicans in 2018" [Governing]. "All told, term limits will make a total of 271 state legislators in 24 chambers ineligible to run in 2018, according to an analysis by Ballotpedia. Like state legislatures as a whole, the affected chambers are tilted strongly toward the GOP. Republicans control 19 of the 24 chambers where term limits will have an impact."

"McCaskill Gets Primary Challenger" [Roll Call]. "Angelica Earl, a political novice, said she rejects McCaskill's push for a bipartisan solution to health care. The 31-year-old [former health care marketplace worker] from St. Louis County said she supports 'single-payer health care for all.'"
Charlottesville
"McConnell says there are 'no good neo-Nazis' after Trump's 'very fine people' comment" [MarketWatch]. "McConnell's wife, Elaine Chao, is Trump's transportation secretary. On Tuesday, she said 'I stand by my man — both of them,' when asked by reporters about Trump's criticism of her husband. McConnell has at times been openly critical of Trump, saying for instance 'I'm not a fan of the daily tweets.' But McConnell will be a key player this fall as Congress and the administration try to hammer out a budget deal, raise the debt ceiling and craft a tax-reform package."

Eyewitness account: "In Charlottesville, the Local Jewish Community Presses On" [Reform Judaism].

Eyewitness account: "Reaction from Emancipation Park" [CBS19]. Interesting detail.

Style Guide: "At AP, we have taken the position that the term "alt-right" should be avoided because it is meant as a euphemism to disguise racist aims. So use it only when quoting someone or when describing what the movement says about itself. Enclose the term "alt-right" in quotation marks or use phrasing such as the so-called alt-right (no quote marks when using the term so-called) or the self-described "alt-right" [AP]. Important note: "The 'alt-right' or 'alternative right' is a name currently embraced by some white supremacists and white nationalists to refer to themselves and their ideology." This is not true for those targeted by "alt-left"; they haven't "embraced" it at all.

"Liberals Helped Create Trump's New Bogeyman, the "Alt-Left"" [The New Republic]. Plenty of examples from Neera Tanden, Joan Walsh, Joy Reid, and so on.

"What's the 'alt-left'? Experts say it's a 'made-up term'" [CNN].

"Here Are the Top 100 Political Activists of Resistance Twitter (Part 1)" [Sally Albright and Mia Brett, Independent Journal Review].
Realignment and Legitimacy
"Trump Loses Corporate America" [Wall Street Journal]. "Companies get in bed with politicians when it serves their interests and are quick to run away when it doesn't. Thus nobody is obliged to interpret the flutter of CEOs away from President Trump's advisory council since the Charlottesville riot as occasions of courage. Still, these are some of America's most delicate PR canaries, surrounded by risk-averse advisers. Mr. Trump's administration is turning out not to be the administration they were hoping for, though probably the one they realistically expected." More:

With the exit of AFL-CIO, here's an updated list of members of Trump's manufacturing council. pic.twitter.com/CTIrejEGYH

— Dan Diamond (@ddiamond) August 15, 2017

"[T]he show of fascist strength in Charlottesville made it abundantly clear that the most vocal and committed leaders of the movement are not basement-dwelling geeks but heavily armed militiamen. This was no shambolic gathering of weedy LARPers or neckbeards with silly grins and Pepe signs but a uniformed procession of politically serious white nationalists prepared for violence and employing deadly serious chants of "blood and soil" and "you will not replace us'" [The Baffler]. "The almost cartoonish villainy of the far right will enable the center to consolidate its power—and that could, perversely enough, produce another wave of purification and witch-hunting of the kind that a newly vibrant and increasingly popular Anglophone left was starting to finally overcome."

* * *

Inflammatory material, handle with care — i.e., with evidence and analysis — in comments:

1) History lesson, despite the headline: "The GOP/Nazi Connection" [FAIR (1988)]. "Unlike most media, the Philadelphia Inquirer featured a series of investigative pieces which documented the Nazi link. A front-page lead story (9/10/88) detailed the sordid past of men like Florian Galdau, the national chairman of Rumanians for Bush, who defended convicted war criminal Valerian Trifa; Radi Slavoff, co-chairman of Bulgarians for Bush, who arranged a 1983 event in Washington that honored Austin App, author of several texts denying the existence of the Holocaust; Phillip Guarino, chairman of the Italian-American National Republican Federation, who belonged to a neofascist masonic lodge implicated in terrorist attacks in Italy and Latin America; Bohdan Fedorak, vice chairman of Ukrainians for Bush, who was also a leader of a Nazi collaborationist organization involved in anti-Polish and anti-Jewish wartime pogroms; and Croatian fascist Jerome Brentar, co-chairman of the GOP ethnic coalition, who acknowledged that as an International Refugee Organization officer he helped hundreds of Nazis emigrate to the US after World War II. Brentar was the principal financial backer for the defense of convicted war criminal John Demjanjuk." See also Russ Bellant's book on this topic (full text). Just let me underline that the incorporation of (former (?)) Nazis by the United States was a thoroughly bipartisan affair; I don't mean to imply either party has clean hands.

2) "Virginia governor Terry McAuliffe revealed* on Monday that the far right activists had hidden caches of weapons around the city. 'They had battering rams and we had picked up different weapons that they had stashed around the city,' McAuliffe told civil rights campaigner DeRay Mckesson on his podcast Pod Save the People" [Guardian]. I've seen this amplifying quickly on the Twitter to caches everywhere a la Rwanda, with locations announced over the radio. My spidey sense tingles on this for several reasons. On Charlottesville in particular: (1) No physical evidence; (2) DeRay and McAuliffe are both Democrat operatives, with every incentive (a) to lie about McAuliffe's ineffectual ("Where were the LRADs?!") response, and — tinfoil hat time! — every incentive to (b) pivot away from the failing Russia narrative to a new phase of gaslighting. On the larger possibilities: (1) The lack of physical evidence is odd, given FBI infiltration of militias, (2) the sorts of groups tracked by SPLC are highly factionalized and sectarian; it's doubtful they could organize anything on a continental scale. * Politicians don't "reveal." It's absurd to pretend that arch-Clintonite and uber-fundraiser McAuliffe is a neutral player here.
Stats Watch
MBA Mortgage Applications, week of August 11, 2017: "Despite the weekly decline, the strong and strengthening year-on-year growth pace in purchase applications points to a solid housing market, driven by low mortgage rates and high unemployment levels" [Econoday]. Sigmund Freud, courtesy phone? And: "The harsh language between the United States and North Korea drove demand (and prices) for bonds higher last week. When bond prices rise, mortgage loan rates decline. By Sunday, North Korea retreated on its threat to nuke Guam, and investors fled the bond markets, sending bond prices down and mortgage loan rates higher. Not a lot higher, but up from the nine-month lows available last Friday. The most prevalent loan rate for top-tier borrowers remains at 4%" [MarketWatch].
Housing Starts, July 2017: Lower than expected [Econoday]. "The rate is now back to the weakness of March and April in what may be emerging as a declining trend this year. Permits also fell…. The swing factor is multi-family units, the smaller of the report's two components but, after a run of heavy building earlier this year, are now in retreat. … Putting all the pieces together: starts are down 5.6 year-on-year in weakness offset by permits which are up 4.1 percent. Permits are the forward looking indication in this report and today's news, despite July weakness and general volatility in the data, is good. The housing sector, even with starts being soft, looks to be a contributor to the second-half economy." But: "Note that multi-family starts are volatile month-to-month, and has seen wild swings over the last year. … As I've been noting for a couple of years, the growth in multi-family starts is behind us – multi-family starts probably peaked in June 2015" [Calculated Risk]. But: "Lower than expected, and, as always starts are ultimately determined by permits, which have been slowing as per the chart, which also reflects the deceleration in mortgage lending over the last 6 months" [Mosler Economics].
Atlanta Fed Business Inflation Expectations, August 2017: "Inflation expectations are as weak as actual inflation" [Econoday]. "The inability to get prices going is a major concern for Federal Reserve policy makers who have been attributing the weakness to one-time factors such as low costs for cell phones and gasoline." Snark from Econoday (!).
Housing: "The rental site ApartmentList released its annual survey of renters in 50 major U.S. metro areas today, with some figures to make locals sit up and take notice: 83 percent of Bay Area renters say they want to move out of the SF metro area" [Curbed]. "And, no surprise, about two thirds of those apparently impending immigrants cite the cost of living here as the factor most likely to drive them out."
Shipping: "Cyber-attack wiped up to $300m from Maersk's books: [Splash 247]. That's almost real money!
Shipping: "New accounts from the country's biggest import gateways suggest retailers certainly are stocking up for a rebound. California's ports of Los Angeles and Long Bach reported double-digit gains in inbound container volume to new record levels in July and the Port of Oakland, with more modest 5.4% growth, also set an import record. Those boxes are bringing more goods to warehouses and stores, giving shipping lines a big start to the peak season and what retailers hope will be a shopping season that pays for all that inventory" [Wall Street Journal].
Infrastructure: "President Donald Trump is acting to speed up consideration of infrastructure projects even as the administration's plan for highways, bridges and ports is still waiting in the wings. The president's new executive order directs federal agencies to more quickly review the environmental effects of projects…" [Wall Street Journal]. "It's one of the few steps Mr. Trump can take on infrastructure without the help of Congress, but any action to get construction going faces an uncertain future. Republican lawmakers have been focused on health care and a tax overhaul. And there is plenty of skepticism in Washington over the administration's plan to have cities, states and private industry fund the lion's share of a program Mr. Trump says will total $1 trillion."
The Bezzle: "'Body Brokers' Get Kickbacks To Lure People With Addictions To Bad Rehab" [NPR]. "The first step for unscrupulous rehab centers: Recruiting clients who have good health insurance. That's created a whole new industry — something called patient brokering or "body brokering.'" Because markets.
The Bezzle: "The Fed Has 6,200 Tons of Gold in a Manhattan Basement—Or Does It?" [Wall Street Journal]. "The Fed tells visitors its basement vault holds the world's biggest official gold stash and values it at $240 billion to $260 billion. But 'no one at all can be sure the gold is really there except Fed employees with access,' said Ronan Manly, a precious-metals analyst at gold dealer BullionStar in Singapore. If it is all there, he said, the central bank has 'never in its history provided any proof.'" Sounds like a phishing equilibrium to me…
The Bezzle: "The Seattle-based company launched a service Tuesday that lets Prime members in five cities pick up things like snacks, cold drinks or phone chargers within two minutes of ordering them online. Customers need to head over to an Amazon location to collect their order" [Bloomberg]. Wait, I think there's a word for that… "Store"?
Political Risk: "Amazon's stock slips after President Trump tweet that company is doing 'great damage'" [MarketWatch]. "Shares of Amazon.com Inc. slipped 0.3% in premarket trade Wednesday, but pared earlier losses, after President Donald Trump tweeted that the e-commerce giant was 'doing great damage to tax paying retailers.' The stock had fallen as much as 0.9% within a few minutes after the tweet."
Five Horsemen: "Apple's on a roll at a fresh new high" [Hat tip, Jim Haygood].
Today's Fear & Greed Index: 36 Fear (previous close: 39, Fear) [CNN]. One week ago: 61 (Greed). (0 is Extreme Fear; 100 is Extreme Greed. Last updated Aug 15 at 12:15pm.
Black Injustice Tipping Point
"Slave Revolt in Jamaica, 1760-1761: A Cartographic Narrative" [AxisMaps]. "Mapping the revolt and its suppression illustrates something that is difficult to glean from simply reading the textual sources. The colonists and imperial officials who produced the historical record were universally unsympathetic to the rebellion, and we have no documents produced by the rebels. So the written record skews our understanding toward the insights, fears, hopes, and desires of slaveholders. But we learn something else by plotting the combatants' movements in space. Tracing their locations over time, it is possible to discern some of their strategic aims and to observe the tactical dynamics of slave insurrection and counter-revolt."
"Amandla Stenberg and Janelle Monáe Open Up About Racism and Where They Were During the Election" [Teen Vogue]. Of course, by "open up" we mean "strategically reveal." Nevertheless, an interesting document.
"The hedge fund manager, Daniel S. Loeb, one of the state's most prolific political donors, said in a Facebook posting last week that [Senator Andrea Stewart-Cousins, the state Senate minority leader] was worse for minorities than 'anyone who has ever donned a hood" because of her support for teachers' unions. Mr. Loeb has since deleted the post and apologized" [New York Times]. "Daniel S. Loeb, a hedge fund magnate, has apparently used Ku Klux Klan references at least twice to criticize those who he believes oppose charter schools."
Gaia
"A new Global Witness report reveals that 2016 was the deadliest year ever recorded for environmental defenders, with 200 activists murdered – compared to 185 in 2015. The violence has also spread geographically. Environmentalists were killed in 24 countries, up from 16 in 2015″ [Deutsche Welle]. "One reason crimes against environmental defenders are on the rise is they usually go unpunished, giving the green light to perpetrators elsewhere… And despite growing international awareness, both the World Bank and the Asian Development Bank (ADB) are actually moving to relax their safeguards against investing in projects responsible for environmental and human rights abuses.
That's because they are increasingly in competition with rival investors like the Asian Infrastructure Investment Bank (AIIB) led by China, [campaigner J.B.] Garganera says."
Class Warfare
"This March, the Upjohn Institute published the most comprehensive study of [state and local] economic development incentives yet produced, analyzing data from 1990 to 2015. The researchers found that although the average amount of incentives tripled over that period, increasing from 9 percent of business taxes to 30 percent, they were largely ineffective and governments would have experienced the same results without the incentives 94 percent of the time" [Governing].
"An excerpt from Underground America: Narratives of Undocumented Lives" [Verso]. "Out of my $1,600 each month, I send home $1,200. I take off $160 for tithing to my church here and $40 for my calling cards. I don't spend any money here—it's all for my family back home. I never go to a movie. I don't even buy spring water. My family back home are paying off the debts with the money I send. But, like I told you, people believe that in America you can pick up dollars from the grass. Even now, I get text messages on my phone from people at home saying, 'Send me money.' Oh Jesus, they don't know. 'Please, please, please send me five thousand rands." Do they know how much work it takes to make five thousand rands? Do they know what I'm doing? They don't understand a thing.'" Cheap labor. What the immigration debate is all about.
"In interviews with workers, it has become clear that Nissan promoted hundreds of temporary workers to full-time "pathway" status in the months leading up to the union election. Many workers complain that the new 'pathway' employees were tough to organize since many of the workers felt a debt of gratitude to management for promoting them" [Payday Report]. "Nissan denied allegations that they promoted temps to counter the union election." I'm not sure why this election was even called, given the numbers. To make a point?
"No sanctuary, fewer farmhands: How Dairyland suffers under Trump agenda" [Reveal News]. "As one of the state's largest industries and the core of its Cheesehead identity, dairy production is heavily dependent on immigrant workers." Dairy also, apparently, being a topic at NAFTA. Everything is deeply intertwingled.
News of the Wired
"Power in Simplicity: How This Modern Photographer Mastered His Style" [Lens Culture]. Charles Sheeler.
"New York City makes the claim that it's the podcast capital of the world (but is that a good thing?)" [Nieman Labs].
* * *
Readers, feel free to contact me at lambert [UNDERSCORE] strether [DOT] corrente [AT] yahoo [DOT] com, with (a) links, and even better (b) sources I should curate regularly, (c) how to send me a check if you are allegic to PayPal, and (d) to find out how to send me images of plants. Vegetables are fine! Fungi are deemed to be honorary plants! If you want your handle to appear as a credit, please put it in the subject line. Otherwise, I will anonymize by using your initials. See the previous Water Cooler (with plant) here. Today's plant: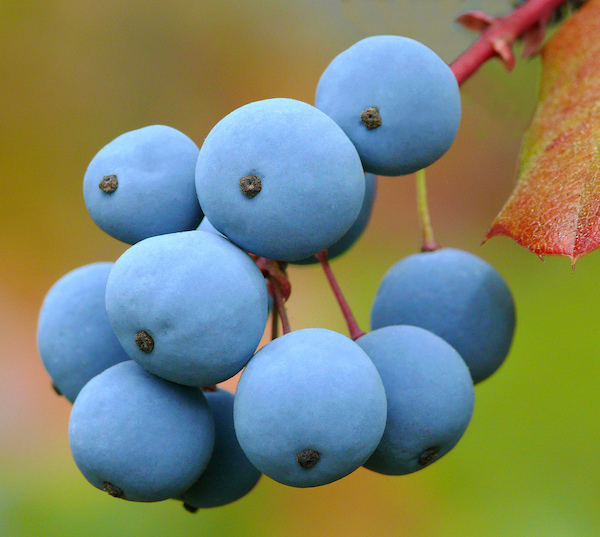 "Berberis aquifolium (formerly Mahonia aquifolium) is among the tallest of an informal subgroup within Berberis known commonly as the Oregon grapes (note: not actually grapes)."
* * *
A note on donations: All readers who contributed to the very successful annual Water Cooler fundraiser — Water Cooler is a standalone entity, not supported by the Naked Capitalism fundraisers — have now been thanked, both PayPal donors and those who sent checks. Thank you again, and I'm sorry it took so long; I just worked away at the list until I finished.
However: Do feel free to use the dropdown and click the hat to make a contribution today or any day. Here is why: Regular positive feedback both makes me feel good and lets me know I'm on the right track with coverage. When I get no donations for five or ten days I get worried. More tangibly, a constant trickle of small donations helps me with expenses, and I factor that trickle in when setting fundraising goals. So if you see something you especially appreciate, do feel free to click the hat!