By Lambert Strether of Corrente
Trade
"The White House is quietly conducting a comprehensive review of its strategic and economic approach toward China, according to administration officials and outside advisers with knowledge of the plan" [Politico]. "The review, which is not yet complete, is a government-wide effort spearheaded by senior staff on the National Security Council and the National Economic Council, who have been quietly working on the plan for months. It stemmed in part from concerns in some parts of the administration that the president lacked a coherent approach to China." and simultaneously–
"Top U.S. Spymaster Warns American Firms About Deals With China" [Bloomberg]. "'China is our number one adversary with respect to economic espionage,' [William Evanina, the Director of the National Counterintelligence and Security Center] said in an interview at Bloomberg in Washington Thursday. 'Their ability to steal proprietary information and trade secrets is proficient and it's aggressive.'"
"The Securities and Exchange Commission's chairman made the decision to freeze his staff's plan to approve the sale of the Chicago Stock Exchange to a Chinese-led group after consulting about the subject with the White House, people familiar with the matter said" [MarketWatch].
"WTO to Probe Canadian Jet Subsidies in New Bombardier Blow" [Bloomberg]. Good thing Quebec isn't Catalonia. Oh, wait…
Politics
Puerto Rico
"[C]ompanies in Puerto Rico are saying their biggest challenge remains blocked roads and scarce fuel supplies that keep them from getting goods moved beyond San Juan's seaport. Some of that needed fuel is at the seaport as well, and federal aid workers have created a distribution system to transport a steady supply of diesel to hospitals for their generators. It's the kind of makeshift effort that relief groups and residents hope will repair stunted supply chain enough to bring in even greater relief" [Wall Street Journal].

"[A]n estimated 10,000 containers containing relief supplies are sitting idle at the Port of San Juan in part because stevedoring companies tasked with moving them require cash or money orders to do the work, Kathy Fulton [of the executive director of the American Logistics Aid Network (ALAN)] said in a phone interview today. However, most of the commonwealth's financial institutions have been unable to open due to the lack of power or because they have suffered physical damage from the devastating impact of Hurricane Maria, she said" [DC Velocity]. "What's more, there is a shortage of trucks needed to haul the boxes because of a lack of fuel, the impassibility of many Puerto Rico's roads, and little hope of getting in touch with drivers because the island's communications systems have been badly compromised. In the short term, the 10-day waiver of the Jones Act may do more harm than good if it stimulates further traffic flows and pushes even more boxes onto the port where they can't be moved, Fulton said."
2016 Post Mortem
"A New Study Shows Just How Many Americans Were Blocked From Voting in Wisconsin Last Year" [Mother Jones]. "Researchers at the University of Wisconsin-Madison surveyed registered voters who didn't cast a 2016 ballot in the state's two biggest counties—Milwaukee and Dane, which is home to Madison. More than 1 out of 10 nonvoters (11.2 percent) said they lacked acceptable voter ID and cited the law as a reason why they didn't vote; 6.4 percent of respondents said the voter ID law was the 'main reason' they didn't vote." Yes, this is reprehensible behavior by the Republicans, but where the heck are the effing Democrats? With their resources, they would been fixing Voter ID problems like the DSA is fixing tail-lights! And they should have been at it since 2000, when Jebbie tried to steal Florida for his little brother with a fake voting list purge.
Obama Legacy
"After Failing to Prosecute Bankers, Obama Cashes In With Wall Street Speeches" [Common Dreams]. Liberal Democrats hate Trump not because he's corrupt, but because he's crude.
2020
"Analysts are sifting through a mountain of just-released national polling from ABC News/Washington Post, CNN, and NBC News/Wall Street Journal, along with the continuous flow from the Gallup Organization, but a couple of snap impressions are already in order" [Cook Political Report]. "First, President Trump's overall job-approval ratings have ticked up a few points from their low ebb over the summer. Some of the gain is attributable to him finally scoring a major legislative victory, albeit in an unexpected way—a deal with Democratic leaders Nancy Pelosi and Chuck Schumer that both surprised and appalled their Republican counterparts, Paul Ryan and Mitch McConnell…. Second, contrary to much speculation, Trump's numbers among Republicans did not plunge as a result of the cross-partisan deal. In Gallup's continuous tracking, his approval ratings among his fellow party members rose a couple of points as well. It was a reminder that when activists and ideologues rant on cable television and talk radio, they're expressing their own views, not those of the of the rank and file or political leaders."
Trump Transition
"Senate Finance Chairman Orrin Hatch (R-Utah) went off script Thursday and said he'd like to maintain the [state and local] tax deduction if possible. That undercuts the united front GOP leaders wanted to show on the matter — and potentially leaves them a $1 trillion hole in their list of pay-fors, potentially jeopardizing their entire plan" [Politico]. That was fast! The Big Six of this morning are now The Big Five Plus One!
Health Care
"Socialized Medicine Has Won the Health Care Debate" [Sarah Jaffe, The New Republic]. "Both Republicans and Democrats have badly misunderstood what makes Obamacare unpopular. * , When Vox's Sarah Kliff visited Whitley County, Kentucky, to talk to Trump voters who benefited from the ACA, she heard complaints from those buying private insurance with their subsidies that their deductibles were still too high for them to access care. Others, not surprisingly, were angry that the very poor got Medicaid, while they had to pay monthly premiums for care they rarely used. But that anger hasn't turned them against the program. Medicaid expansion—the "socialized" part of the ACA—remains wildly popular, with 84 percent of those polled by Kaiser Family Foundation saying it's important to keep the expansion." * Ha. I didn't write a six-part series on "ObamaCare's Relentless Creation of Second-Class Citizens" for nothing!
Realignment and Legitimacy
Excellent public relations. The Dog Caucus:
Stats Watch
Personal Income and Outlays, August 2017: "The next Federal Reserve rate hike may not be in December after all, based on an unexpectedly weak personal income and spending report that includes very soft inflation readings" [Econoday]. "Income is the best news in the report …. Now the bad news starts. Spending came in at only 0.1 percent as spending on durables, the likely result of Hurricane Harvey's late month hit on Texas and related declines in auto sales, fell a very steep 1.1 percent to fully reverse strength in the prior month. Spending on both nondurables and services actually inched forward in August to 0.3 percent each. The really bad news comes from inflation readings as the core PCE price index, which is the Federal Reserve's central inflation gauge, inched only 0.1 percent ahead while the year-on-year rate fell backwards… Data in this report, after inflation adjustments, are direct inputs into third-quarter GDP and the results will pull down estimates. Real spending fell 0.1 percent in August to cut in half July's 0.2 percent gain. The Bureau of Economic Analysis which compiles the report could not quantify Harvey's effect and had to make estimates for missing data. Yet the impact appears obvious and is the most tangible hurricane effect so far to hit the nation's economic data. The next hurricane effects will be coming from Irma's September strike on Florida."
And: "The increase in personal income was below expectations, and the increase in PCE was at expectations" [Calculated Risk]. And: "July Personal income revised down to .3 and August only .2 further confirms income growth- the driver of consumption- has slowed down in line with the deceleration in bank lending, and the same seems to be the case with spending, with weak price indicators further confirming the same weak demand narrative. And the very low savings rate tells me there's a lot more weakness to come" [Mosler Economics]. And: "The savings rate was unchanged – and historically is extremely low. Consumer spending is far outpacing income – not good news" [Econintersect]. "The backward revisions this month marginally lowered the year-over-year rate of growth for income and expenditures."
Chicago Purchasing Managers Index, September 2017: "There are no hurricanes in Chicago where the PMI, which has been very strong all year, absolutely surged in September" [Econoday]. "Readings moved higher but it's a surge in backlog orders, also hitting a 29-year high, that leads September's report. High backlogs point to the need for hiring which has been very weak in this sample but did move back into positive ground in the month….. Outside of prices, the report's sample isn't reporting any direct hurricane effects though nearly 40 percent expect delivery times to begin lengthening at least slightly. This report, in contrast to this morning's personal income and spending data, is yet another reminder that private and regional surveys, where sample sizes are small and responses voluntary, have been far outpacing hard economic data at the national level."
Consumer Sentiment, September 2017 (Final): "Consumer sentiment ends this month about where it was at mid-month, at 95.1 for September which is strong but still down a sizable 1.7 points from August" [Econoday]. "Hurricane effects are likely behind the easing as respondents in Florida and Texas reported doubts about their financial situation. Yet confidence remains very high…. Consumer spending hasn't been showing the kind of strength that consumer confidence readings have, a contrast underscored by the weakness in this mornings consumer spending data. But the strength of confidence in general, including confidence on the business side, is perhaps, along with the lack of inflation, the biggest stories of the 2017 economy."
Shipping: "The impact of extreme weather on contracts of carriage" [Shipping & Freight Resource]. "Extreme weather events may have an impact on the trading of cargo vessels, for example during the recent hurricanes Harvey, Irma and Maria in the USA and Caribbean, as they give rise to legal and cover questions in relations to the contracts of carriage agreed by the carrier." Very nerdy, but if this is what you need to know, here it is.
Shipping: "Today's bargains, tomorrow's noose" [Splash 247]. "Shipping's simple, especially dry bulk – one good year, two years bad. That was the advice I was given as a cub reporter at the start of the century. The pattern held true enough through to 2003 at which point it went seriously off piste and has yet to correct itself. First came the supercycle, then Lehman Brothers imploded sending shipping into a recession on a scale not seen for a generation. However, the stars are rapidly aligning in my humble opinion for a return to this seasoned trading model, at least through to the end of this decade…. The supply/demand ratio for the dry bulk fleet will finally narrow in the coming months… Just as dusk follows dawn, this cycle promises to be short and weak. As ever there's only one type of person to blame for this, the shipowner and his/her habitual weakness for a bargain. Newbuild prices are finally in the ascendant and many are rushing to buy cheap tonnage before Asian drydocks fill up. The amount of huge newbuilding orders we have been reporting on in the past few weeks in the dry bulk segment is a ticking timebomb for this brittle business, set to explode in 2019."
Shipping: "In the past few years, the international shipping finance sector has experienced a massive crisis with bad debts accumulating amid the continued recession in several shipping sectors. European banks have substantially reduced the scale of their shipping exposure in order to repair their balance sheets while American private equity firms have realised shipping is not the easy profit center they had once anticipated" [Splash 247]. "In the meantime, Chinese financial leasing companies have stepped into the gap left by the European banks and US private equity firms, and are now strengthening their grip on the international shipping market. In order to seize opportunities from the central government's One Belt, One Road initiative, Chinese financial leasing companies have accelerated their international strategies in the past couple of years."
The Bezzle: "How the $100 Echo could cost you thousands" [Moneyish]. "Jonathan Hadad, an analyst at IBISWorld, explains that this is because 'Amazon wants to be customers' , and convenience and simplicity plays a major role in that. By having Echo in the home, Amazon is making it extremely easy for customers to order goods from Amazon; all they have to do is say what they want, and it's ordered and delivered to their door'"
The Bezzle: "So f**k Google, and allow me to explain…" [Facebook]. Go read the whole thing. As Stoller points out: "Also the person who wrote this complaint was the eCampaign director for Bush/Cheney 2004."
The Bezzle: "Apple can patch bugs, but its biggest Apple Watch problem can't be fixed" [Business Insider]. "[I]t seems as if Apple released this cellular watch because it was on a hardware road map from two years ago — "this has been our vision from the very beginning" — and because it could. And that's ultimately a much bigger problem with the Apple Watch than some prerelease glitches."
Today's Fear & Greed Index: 85 Extreme Greed (previous close: 79, Extreme Greed) [CNN]. One week ago: 71 (Greed). (0 is Extreme Fear; 100 is Extreme Greed). Last updated Sep 29 at 1:47pm.
Black Injustice Tipping Point
"At the height of his career, Russell embodied the activist athlete. He boycotted games to protest Jim Crow, and he traveled to murderous Mississippi to join civil rights activists. When asked if he would quit playing basketball to join the movement, he stated, "Yes, but only if it would make a concrete contribution. There'd be no choice. It would be the duty of any American to fight for a cause he strongly believes in." Russell remained with the Celtics, but he continued to dedicate his life to activism. Earlier this week, he knelt in support of Kaepernick while wearing his Presidential Medal of Freedom" [Vox]. My father loved Bill Russell when I was a kid. Now I know why.
The 420
"Pot dispensaries pulled in more than $27 million in July, the first month of recreational marijuana sales in the Silver State, generating more than $3.6 million in taxes, according to figures released Thursday by the Nevada Department of Taxation" [247 Wall Street]. "The figures for weed sales in Nevada top those for Colorado and Oregon, which each sold more than $14 million in marijuana in their first months for legal sales. The state of Washington tallied $3.8 million in its first month. All those states have populations much larger than Nevada."
Class Warfare
"The Physical Demands Of The U.S. Workplace" [Econintersect]. Handy chart from the RAND Corporation: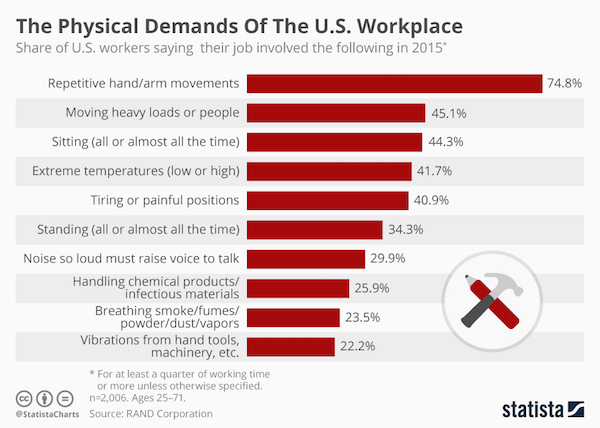 "On Thursday morning, the Supreme Court agreed to hear Janus v. American Federation, a case that could permanently hobble public-sector unions in the United States…. Now that President Donald Trump has put Justice Neil Gorsuch on the bench, he is almost certain to provide that fifth vote to deal the death blow to public sector unions, setting American back four decades" [Slate]. "Thus, while Janus will be a crushing blow to unions, it probably won't be the last one dealt by the Supreme Court. Once the court's conservatives establish that fair share fees violate the First Amendment in the public-sector context, they can turn to private-sector unions and deploy a similar analysis. In doing so, they will turn every state in the country into a complete right-to-work state, constitutionalizing an issue that was previously the province of the legislature."
"The lack of coordination between staffing agencies and employers, and the gaps in the legal protections for workers have created a dangerous situation for temporary workers, according to a study of temp workers in Pennsylvania conducted by researchers at Temple University" [MarketWatch] (original). "Staffing agencies and host employers both assume that the other will handle workplace safety-related compliance, the researchers found. 'Buck-passing' between the two means that temp workers often will receive little to no training needed to perform their work safely — which results in many getting injured on the job, sometimes fatally."
Americans who go to college are four times better off than everyone else
The Greatness That Is Twitter
"On Tuesday evening, Twitter announced that it is experimenting with doubling the length of tweets, allowing users to post up to 280 characters per message" [The Atlantic].
Fixed it for ya:
— اسامة نور الدين (@NourOusama) September 26, 2017
Twitter being Twitter:
And now for the most important thing to do with the new character limit:
3.1415926535897932384626433832795028841971693993751058209749445923078164062862089986280348253421170679821480865132823066470938446095505822317253594081284811174502841027019385211055596446229489549303819644288

— ? (@fMRI_guy) September 27, 2017
News of the Wired
"18 Tips for Comic Book Artists by Jean 'Moebius' Giraud" [The Worlds of William Stout]. The linking is all screwed up on this one, but here's an aggregation.
"A 'right to repair' movement tools up" [The Economist]. See NC here, here, here, here, and here.
"iPhone 8 Teardown" [IFIXIT]. "Come for the teardowns, stay for the repair goodness!"
"A UK firm is building the world's first edible, humanitarian drone" [Business Insider]. Would sure come in handy in Puerto Rico right now….
"Lakes of mercury and human sacrifices – after 1,800 years, Teotihuacan reveals its treasures" [Guardian]. "Items unearthed included greenstone crocodile teeth, crystals shaped into eyes, and sculptures of jaguars ready to pounce. Even more remarkable was a miniature mountainous landscape, 17 metres underground, with tiny pools of liquid mercury representing lakes. The walls of the tunnel were found to have been carefully impregnated with powdered pyrite, or fool's gold, to give the effect in firelight of standing under a galaxy of stars."
"Neandertals made their own jewelry, new method confirms" [Nature].
"14 texts that every guy has sent at least once" [Quartz]. Perhaps not in so many words…
"Good Riddance To An Abusive Creep" [Current Affairs]. "What kind of person imposes a curfew on their 'partner' and locks them inside a mansion, dictating their clothes, regulating their personal interactions, and chastising them for breaking his "rules"?
"Hugh Hefner to Be Buried Next to Marilyn Monroe" [Billboard]. Oh, come on.
He asks a good question: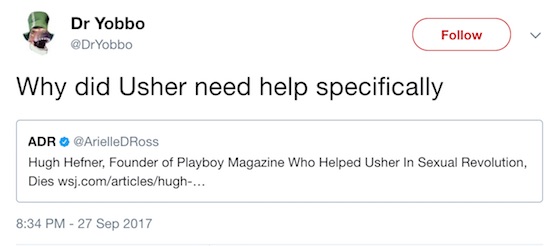 "[In Nathan Fiedler's Nathan for You] host and creator Nathan Fielder most infamous stunt yet, he created a coffee shop called Dumb Starbucks, to compete against the real Starbucks. He argued that the stunt—in which he handed out coffee for free—was protected as parody, and he managed to drive a news cycle and spur customer lines around the block for days" [Quartz]. Paging Thomas Frank on "dumb"!
* * *
Readers, feel free to contact me at lambert [UNDERSCORE] strether [DOT] corrente [AT] yahoo [DOT] com, with (a) links, and even better (b) sources I should curate regularly, (c) how to send me a check if you are allergic to PayPal, and (d) to find out how to send me images of plants. Vegetables are fine! Fungi are deemed to be honorary plants! If you want your handle to appear as a credit, please put it in the subject line. Otherwise, I will anonymize by using your initials. See the previous Water Cooler (with plant) here. Today's plant (MR's sister):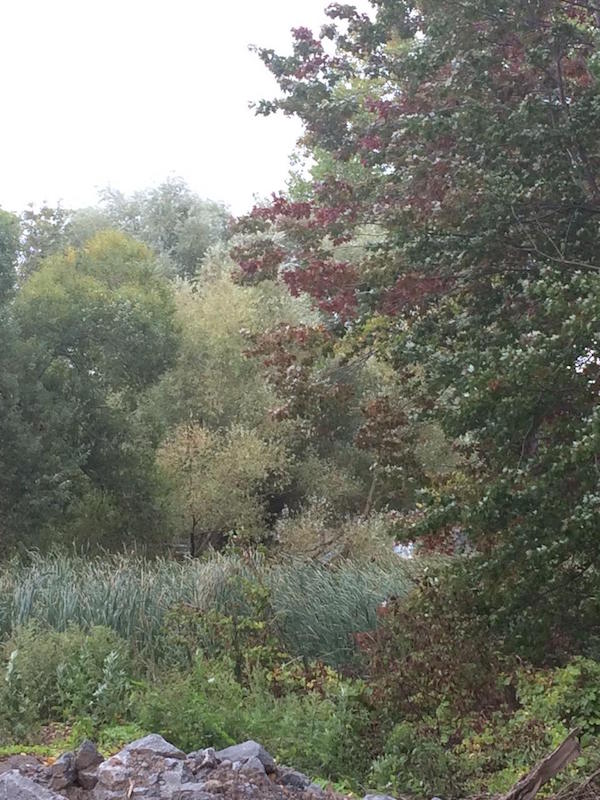 MR writes: "This was taken today on the New York side of Lake Ontario, near Rochester. Not by me, by my sister, who has just moved up there from NYC. She writes:
On my walk this morning
Gray skies bring out the colors
* * *
Readers: Do feel free to use the dropdown and click the hat to make a contribution today or any day. Here is why: Regular positive feedback both makes me feel good and lets me know I'm on the right track with coverage. When I get no donations for five or ten days I get worried. More tangibly, a constant trickle of small donations helps me with expenses, and I factor that trickle in when setting fundraising goals. So if you see something you especially appreciate, please click the hat!