By Lambert Strether of Corrente
Politics
2016 Post Mortem
"Front-row tickets to see Hillary Clinton in Ann Arbor on sale for $600" [Mlive]. "Clinton didn't make any appearances in Ann Arbor during her 2016 presidential campaign, but she has visited multiple times in the past, including as first lady in the 1990s when she was greeted by loyal members of her fan club in Ann Arbor, at one point said to be the biggest chapter of the Hillary Clinton fan club in the world." I kinda feel like I'm piling on here, but–

I got some mail from Clinton. The subject line is "re: bravery":

I have been thinking lately about bravery — the bravery of citizens like Heather Heyer who lost her life fighting the organized forces of hate and divisiveness, of volunteers who are rescuing strangers in the wake of Hurricane Harvey, and of young DACA recipients who are fighting for their future in the only country they know and love.

It takes chutzpah for Clinton to hijack Heather Heyer's name to promote her book tour, especially given that Heyer was a Sanders supporter. (Oh, and the "re" at the start of the subject line is an spammer's trick to get you to think you're already involved in whatever thread the mail is about. And the lowercase "b" in bravery provides a pleasing and totally spontaneous impression of intimacy, does it not? Classy touch!

"Clinton's score-settling frustrates Democrats" [The Hill]. "'The best thing she could do is disappear,' said one former Clinton fundraiser and surrogate who played an active role at the convention. 'She's doing harm to all of us because of her own selfishness. Honestly, I wish she'd just shut the f— up and go away.'"

Sanders on Stephen Colbert: "Look, Secretary Clinton ran against the most unpopular candidate in the history of this country and she lost and was upset about that and I understand that. But our job now is really not to go backwards. It is to go forward. It is to create the kind of nation we know we can become. We have enormous problems facing us and I think it's a little bit silly to keep talking about 2016" [Daily Beast]. When she goes low, he goes high…

"How Verrit's "Authentication Codes" Expose Peter Daou's Continuing Ineptitude" [Medium]. "The real meat of it is the authentication code. As for what makes up the number — difficult to say, other than the fact that most if not all of the authentication numbers seem to start with either 0443 or 0116. If one had to guess, these two prefixes are probably for two authors posting their 'verrits' so as not to overlap numbers, and artificially increased a large amount to make it look like there's a whole lot of 'verrits' on the site. Of course, I'm willing to be wrong and I'd be delighted if the real explanation were any more intelligent…. But when the authentication mechanism is meaningless, backed by nothing but a post on a WordPress blog, you very dangerously redefine what 'authentic' means, and ultimately are setting yourself up to do more harm than good. Circuitous references on a WordPress blog do not — and will never — equal mankind's greatest hope to battle misinformation, or whatever the hell they're saying it is."

"Verrit, the pro-Clinton 'media platform' that's looking worse and worse" [Washington Post]. "The only thing Verrit is capable of debunking is parodies of Verrit. False statistics from elsewhere don't come with codes that users can check against the site's database. Neither, of course, do real ones. Verrit's collection is finite — filled only with carefully curated cards that confirm Clinton voters' views. It serves no purpose except to spare those voters the need to confront beliefs that conflict with their own… Verrit has taken all the worst parts of today's liberalism and turned them into a website. It is a safe space for middle-of-the-road Democrats, seeking to shelter them from conversations that would help far more than they hurt, based not on any actual issue of identity but instead on their preference for a candidate who was defeated 10 months ago. It's only going to help them lose again."

"This Pro-Hillary Website Looks Like North Korean Agitprop" [Politico]. Ouch! "The derision greeting Verrit is so universal it inspires sympathy for Daou, as Gizmodo, the Washington Post, Outline, New Republic, New York, The Ringer and others have broken its back with their snap judgments. 'Verrit, a Media Company for Almost Nobody,' read one headline. 'No One Asked for Verrit, But Here We Are,' stated another. 'What Is Verrit and Why Should I Care? (Unclear; You Shouldn't.),' said a third. 'Peter Daou Continues to Embarrass Hillary Clinton,' asserted the best in show." Grifters gotta grift.
2020
"Adopting populist economic policies like those championed by Senator Bernie Sanders will keep the Democratic Party locked out of power, according to a report published Tuesday by centrist think tank Third Way" [Newsweek]. Wow, Third Way. They're still in business? More: "The report, based on findings of online focus groups with voters who switched support from Barack Obama in 2012 to Donald Trump in 2016, as well as persuadable African-American, Latino and millennial voters, urges Democrats to instead become 'the jobs party.'" I agree! How about a Jobs Guarantee?
2018
"Last week, Feinstein was booed again on her home turf, this time for saying that Trump 'can be a good president' if he can 'learn and change'" [McClatchy]. So I guess this whole Russian puppet fascist white supremacist thing is inoperative? And impeachment is off the table? Confusing!
Democrats in Disarray
"Tom Perez, former U.S. labor secretary, to teach at Brown" [Providence Journal]. I'm so old I remember when it was critical that the DNC chair be full time, and the Democrat establishment insisted Keith Ellison resign his seat if he won. Good times.

"Why Democrats have no foreign policy ideas" [Vox]. Shorter: Democrats have no foreign policy ideas because nobody pays "progressive" think tanks to have them. "'What's happened on the left is a complete atrophy of any kind of alternative thought,' says Dan Nexon, an international relations professor at Georgetown who advised Bernie Sanders's presidential campaign on foreign policy.'" This is true across the board, for any liberals or leftists engaged in electoral politics, and sadly it includes Sanders.

"A Democratic PAC Is Raising Money Off Of Single-Payer, But Not All Members Back Policy" [HuffPo]. "The Congressional Hispanic Caucus' political action committee, Bold PAC, has sought to capitalize on the energy behind the so-called "Medicare for all" push with at least eight fundraising emails in the past few months that suggest contributing to the PAC will help advance single-payer legislation…. The emails frequently invoke Sen. Bernie Sanders (I-Vt.)… The strategy is paying off: In a non-election year, the Bold PAC has already raised nearly $3.9 million ― including over $820,000 in contributions under $200. In the first quarter of 2017, it brought in over $2 million, breaking its previous fundraising record for a three-month period…. The trouble is, just half of the 30 full voting members of the Congress Hispanic Caucus have publicly endorsed single-payer health care." Free-riders. Nice!
Realignment and Legitimacy
"The Competence of Others: Understanding Perceptions of Others' Civic Abilities" [Social Science Research Council]. Important, and well worth a read. "In this essay, I present the results of an ethnographic study of [lower-income or working-class whites voting for Republican candidates with] such views, conducted as part of a larger study of Wisconsin residents.4 In 2007, I began inviting myself into the conversations of people meeting regularly in gathering places such as diners, gas stations, and cafés in 39 groups in 27 communities sampled across the state to represent a wide variety of places.5 I visited these groups repeatedly through 2012, and have returned to groups in rural places in 2016 and 2017…. People in rural areas perceived that the important decisions affecting their lives were made in the main urban centers, and communicated out to them, with little listening going on in reverse. They also perceived that the state capital (Madison) pulled in their taxpayer dollars, spent them on itself or on the other urban center (Milwaukee), and spent less than it should on their own communities. Finally, they perceived that decision makers had little experience or understanding of rural areas, and did not respect the people living there." And with good reason.

"A supervisor's search to fathom Trump's appeal" [San Jose Mercury News (DS)]. Worth a read, especially in combination with the article above. "[Santa Clara County Supervisor Joe Simitian, a] 64-year-old supervisor spent a week in each of three counties that had voted for Barack Obama but flipped in 2016 for Donald Trump: Robeson County, N.C.; Cambria County, PA., and Macomb County, Michigan… The nub of what the supervisor found is worth repeating in our bubble within a bubble. People really, deeply hated Hillary Clinton. Their economic problems were decades in the making. And Democrats could learn a few things by listening carefully. Simitian explains that the switch from Barack Obama to Donald Trump wasn't as outlandish as it seems from here. In 2008, the voters in the three counties thought Obama was the change they craved. He wasn't. With Trump, they were doubling down." For more on flipping counties and their impact in 2016, see NC here.

"The Myth of Partisan Selective Exposure: A Portrait of the Online Political News Audience" [SAGE Journals]. From the abstract: "[P]artisan selective exposure research tends to stem from experimental or self-reported data, which limits the applicability of their findings in a high-choice media environment. We explore observed online audience behavior data to present a portrait of the actual online political news audience. We find that this audience frequently navigates to news sites from Facebook, and that it congregates among a few popular, well-known political news sites. We also find that political news sites comprise ideologically diverse audiences, and that they share audiences with nearly all smaller, more ideologically extreme outlets. ."

"Silicon Valley's Politics: Liberal, With One Big Exception" [New York Times]. "Over all, the study showed that tech entrepreneurs are very liberal — among some of the most left-leaning Democrats you can find. They are overwhelmingly in favor of economic policies that redistribute wealth, including higher taxes on rich people and lots of social services for the poor, including universal health care. Their outlook is cosmopolitan and globalist — they support free trade and more open immigration, and they score low on measures of "racial resentment…. Now for the twist. The study found one area where tech entrepreneurs strongly deviate from Democratic orthodoxy[1] and are closer to most Republicans: ." In other words, Silicon Valley is liberal. It is not left, because it does not put the working class first. And that's why the Democrat Establishment loves it. It's crystal clear. [1] Oh, please. Read Thomas Frank. And a reaction piece to this–

"The Democratic Party faces a keen dilemma: It is badly outspent by Republicans. But if it accepts the tech industry's largesse, it will do so at the expense of vulnerable people. The party doesn't have much moral capital at the moment. It'll have even less if it sacrifices progressive labor and economic policies to satisfy the tech elite" [The New Republic]. The Democrats could try to square this circle with UBI.

More concrete material benefits:

DSA is teaming up with the North Texas Dream Team to help fund DACA renewals for eligible recipients. ? donate here: https://t.co/ghVmIKD6D5 pic.twitter.com/qKaIIlRd5J

— DSA North Texas ? (@DSA_NorthTexas) September 7, 2017

This will be a lot more effective in political and human terms, than holding a sign or marching.

"Loudly advocating for such things [as white supremacy] is so far beyond the pale that some people are bound to come out and at least yell abuse at those who do so, which can very easily slide into brawling. No number of tut-tutting op-eds will change this. It happened many times and in many places in the 1930s, and not just in Germany. British fascists under Oswald Mosley attracted angry counter-protesters, as did a rally of American fascists in New York City. In 1960, fascist Italian Social Movement backing of the Christian Democratic Party government of Fernando Tambroni resulted in militant counter-demonstrations and clashes with police so large that Tambroni had to step down, and the ruling coalition turned to the center-left Socialists for support" [Ryan Cooper, The Week]. I've been looking for some examples where antifa tactics actually worked, and kudos to Cooper for coming up with them. That said, if antifa tactics were used against Hitler, Mussolini, or Franco, they weren't sufficient, were they? (Granted, only the latter case involved a Civil War.) Even if they were necessary.

"Bill Introduced That Would Make Arrested Protesters Pay Police Overtime, Gov't Expenses" [Tech Dirt].

"Using AI to identify protestors hiding behind hats or scarves is entirely possible" [Quartz]. "Now, new research suggests that AI could potentially be used to identify people who have taken steps to conceal their identities by wearing hats, sunglasses, or scarves over their faces."

"Antifa has a rapid response team that targets alt-right organizers" [Public Radio International]. "The Heather Heyer Brigade." Worth a read, but I dunno… Why would anybody serious about doing what this "rapid response team" says it's doing talk to a reporter?
Stats Watch
Stats from yesterday and today:
Wholesale Trade, July 2017: "Wholesalers have been stockpiling goods in what is probably a sign of confidence" [Econoday]. "[W]holesalers did ease their build of vehicles in what may be another signal of doubts in the auto sector. The build among wholesalers is well beyond current sales which edged 0.1 percent lower in July to lift the inventory-to-sales ratio to 1.30 from 1.29. Today's report points to a gain for next week's business inventories report which will also include factory inventories, where early July indications point to a build, and also retail inventories where the advance reading showed a small draw."
Jobless Claims, week of September 2, 2017 (yesterday): "More than 50,000 claims from Texas fed a giant and surprisingly unexpected 62,000 jump in initial claims for the September 2 week to 298,000, a week that marks the first from the effects of Hurricane Harvey's strike on Houston" [Econoday]. "Forecasters missed badly in this report, expecting delays in Texas filings that didn't happen. Hurricane effects, however, will not register in the August employment report which was sampled at mid-month before the storm hit. But Harvey's effects on initial claims promise to be extreme in the coming weeks with its ultimate effect on the September employment report unknown. Also unknown is the future effects of Hurricane Irma which has already swept Puerto Rico (whose data is included in the claims report) and is bearing down on Florida." And: "Claims for California and four other states were estimated for the week which may have caused further distortions" [Economic Calendar].
Productivity and Costs, Q2 2017 (yesterday): "An upgrade to output growth gave a boost to the second estimate for second-quarter productivity which came in at a 1.5 percent annualized rate vs 0.9 percent in the first estimate" [Econoday]. "Output rose at a very strong 4.0 percent rate in the quarter, revised up from 3.4 percent in the first estimate. Hours worked are unchanged at 2.5 percent with compensation revised 2 tenths higher to 1.8 percent. In real terms, which takes inflation into account or in this case lack of it, compensation is also revised 2 tenths higher to a 2.1 percent annualized rate. Productivity data are volatile…."
Bloomberg Consumer Comfort Index, week of September 3, 2017 (yesterday): "Confidence readings, after easing a bit during the spring and most of the summer, are back at their very best levels" [Econoday].
Quarterly Services Survey, Q2 2017 (yesterday): "Information revenue rose 1.4 percent to $384.8 billion in the second quarter compared to the first quarter with the year-on-year rate at plus 5.7 percent" [Econoday].
Hotels: "Hotel occupancy rates increased noticeably following Hurricanes Katrina and Rita in 2005. I expect the overall occupancy rate will also increase following Hurricanes Harvey and Irma – and stay elevated for several months" [Calculated Risk].
Real Estate: "Black Knight: Hurricane Harvey Could Result in 300,000 New Mortgage Delinquencies" [Calculated Risk].
Real Estate: "50 States of McMansion Hell: Hillsborough County, New Hampshire" [McMansion Hell (Clive)].
Retail: "Amazon wants a second North America headquarters. Now watch cities rush to the altar of Bezos" [Recode]. Could get ugly….
Commodities: "We're Going to Need More Lithium" [Bloomberg]. "Demand for the metal won't slacken anytime soon—on the contrary, electric car production is expected to increase more than thirtyfold by 2030."
The Bezzle: Equifax is run by horrible human beings [Hat Tip, DK]:
If you enroll in Equifax's TrustedID bc your data was leaked, you waive your rights to sue Equifax in court or be part of any class action. pic.twitter.com/5kSiNGwGlD

— warrior cop (@wyatt_privilege) September 8, 2017
The Bezzle: "Why the Equifax breach is very possibly the worst leak of personal info ever" [Ars Technica]. "The breach Equifax reported Thursday, however, very possibly is the most severe of all for a simple reason: the breath-taking amount of highly sensitive data it handed over to criminals. By providing full names, Social Security numbers, birth dates, addresses, and, in some cases, driver license numbers, it provided most of the information banks, insurance companies, and other businesses use to confirm consumers are who they claim to be. The theft, by criminals who exploited a security flaw on the Equifax website, opens the troubling prospect the data is now in the hands of hostile governments, criminal gangs, or both and will remain so indefinitely… What's more, the 143 million US people Equifax said were potentially affected accounts for roughly 44 percent of the population. When children and people without credit histories are removed, the proportion becomes even bigger. That means well more than half of all US residents who rely the most on bank loans and credit cards are now at a significantly higher risk of fraud and will remain so for years to come."
The Bezzle: "Equifax Faces Multibillion-Dollar Lawsuit Over Hack" [Bloomberg]. First out of the box…
The Bezzle: "Uber Faces FBI Probe Over Program Targeting Rival Lyft" [Wall Street Journal]. "The investigation, led by the Federal Bureau of Investigation's New York office and the Manhattan U.S. attorney's office, is focused on a defunct Uber program, known internally as 'Hell,' that could track drivers working for rival service Lyft Inc., the people said… people familiar with the matter said "Hell" worked like this: Uber created fake Lyft customer accounts, tricking Lyft's system into believing prospective customers were seeking rides in various locations around a city. That allowed Uber to see which Lyft drivers were nearby and what prices they were offering for various routes, similar to how such information appears when an authentic Lyft app is opened on a user's smartphone, these people said. The program was also used to glean data on drivers who worked for both companies, and whom Uber could target with cash incentives to get them to leave Lyft, said these people, who added that the program was discontinued last year." And nobody was fired, naturally. Uber really is corrupt top-to-bottom, isn't it? Right down to the coders in the cubes.
The Bezzle: "IBM pitched its Watson supercomputer as a revolution in cancer care. It's nowhere close" [STAT]. "[T]hree years after IBM began selling Watson to recommend the best cancer treatments to doctors around the world, a STAT investigation has found that the supercomputer isn't living up to the lofty expectations IBM created for it. It is still struggling with the basic step of learning about different forms of cancer. Only a few dozen hospitals have adopted the system, which is a long way from IBM's goal of establishing dominance in a multibillion-dollar market. And at foreign hospitals, physicians complained its advice is biased toward American patients and methods of care." Algorithms are opinions, as mathbabe remarked.
The Bezzle: "Coding Boot Camps Get the Boot: Why the Industry Is Shutting Down" [Tech Ladder]. "It may be a challenge for the coding industry to keep this promise of job placement though."
The Bezzle: "Trader allegedly paid Amazon employee and frat bro $10,000 to steal earnings results in $1.7 million insider trading scam" [Business Insider]. Insider trading. Yawn.
Today's Fear & Greed Index: 42 Fear (previous close: 38, Fear) [CNN]. One week ago: 49 (Neutral). (0 is Extreme Fear; 100 is Extreme Greed). Last updated Sep 8 at 11:58am.
Black Injustice Tipping Point
"The First White President" [Ta-Nehesi Coates, The Atlantic]. As usual, an eloquent counsel of despair. Cf. this thread:
The new Ta-Nehisi Coates piece is beautiful, but deeply limited analysis that only comforts the already comfortable.https://t.co/1ESvHGSokn

— Lana Del Raytheon (@LanaDelRaytheon) September 7, 2017
"Seeing Lee Through the Eyes of Slaves and Planters" [The American Conservative]. "This is a fundamental problem for American national memory. Reconciliation in the present means reconciliation of conflicting narratives of the past, finding a place for all of our varied common ancestors. But the axes of conflict between those ancestors may, themselves, be irreconcilable." Although, as the author points out, the Lincoln of the Second Inaugural Address did not believe so (nor did Grant, as the closing paragraphs of his autobiography show).
"New South Park Game Gets Harder If You Play A Black Character" [Kotaku]. So the game is realistic?
Imperial Collapse Watch
"Why the USA is falling apart" (charts) [Doug Henwood]. "Hurricane Harvey is only the latest reminder that the U.S. infrastructure is falling apart—a situation that become more urgent as the climate crisis bites harder. Here's a data series that goes a long way to explaining why. In simple English, the public sector is barely investing enough to keep up with normal decay, let alone doing anything to improve things…. [O]ur political system is completely incapable of formulating the problem. (Trump's infrastructure plan is a ludicrous patchwork of tax breaks and privatizations.) And it's only going to get worse, as the rot deepens and the climate challenges mount."
"Restating the Obvious, Briefly" [Power of Narrative].
Class Warfare
"Gold toilets, teen nose jobs, and the other things people buy in place of real social mobility" [Quartz].
"If you teach students to be warriors against all power asymmetries, don't be surprised when they turn on their professors and administrators" [Scientific American]. Fair enough, but are we really talking "all"?
News of the Wired
"A Few Bad Scientists Are Threatening to Topple Taxonomy" [Smithsonian]. "[L]ike any library, taxonomy is only as good as its librarians—and now a few rogue taxonomists are threatening to expose the flaws within the system. Taxonomic vandals, as they're referred to within the field, are those who name scores of new taxa without presenting sufficient evidence for their finds. Like plagiarists trying to pass off others' work as their own, these glory-seeking scientists use others' original research in order to justify their so-called 'discoveries.' 'It's unethical name creation based on other people's work,' says Mark Scherz, a herpetologist who recently named a new species of fish-scaled gecko. 'It's that lack of ethical sensibility that creates that problem.'" "Taxonomic vandals"…
* * *
NOTE I will have a small meetup in the Bangor area on September 15 at 6:00, venue to be announced. (I realize I'll be "outing" myself to any locals who haven't made the connection, but at this point my online identity is sufficiently gauzy — certainly to a professional — that it probably doesn't matter much anyhow.) If anybody wishes to contact me for details, here's my email: lambert [UNDERSCORE] strether [DOT] corrente [AT] yahoo [DOT] com.
* * *
Readers, feel free to contact me at lambert [UNDERSCORE] strether [DOT] corrente [AT] yahoo [DOT] com, with (a) links, and even better (b) sources I should curate regularly, (c) how to send me a check if you are allergic to PayPal, and (d) to find out how to send me images of plants. Vegetables are fine! Fungi are deemed to be honorary plants! If you want your handle to appear as a credit, please put it in the subject line. Otherwise, I will anonymize by using your initials. See the previous Water Cooler (with plant) here. Today's plant (Re Silc):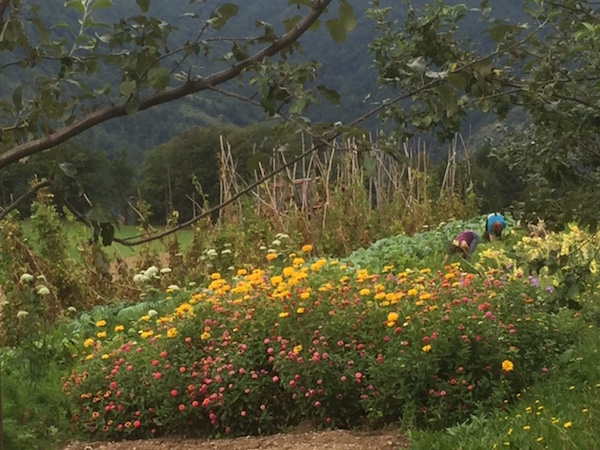 A farm garden in the Slovenian Alps!
Readers: Do feel free to use the dropdown and click the hat to make a contribution today or any day. Here is why: Regular positive feedback both makes me feel good and lets me know I'm on the right track with coverage. When I get no donations for five or ten days I get worried. More tangibly, a constant trickle of small donations helps me with expenses, and I factor that trickle in when setting fundraising goals. So if you see something you especially appreciate, do feel free to click the hat!