This is Naked Capitalism fundraising week. 1377 donors have already invested in our efforts to combat corruption and predatory conduct, particularly in the financial realm. Please join us and participate via our donation page, which shows how to give via check, credit card, debit card, or PayPal. Read about why we're doing this fundraiser,what we've accomplished in the last year and our current goal, more original reporting.
Trade
"It's the first day of what could be a defining round of NAFTA talks…. the talks could see some of the thorniest U.S. proposals thrown onto the negotiating table, including on automotive rules of origin, investor-state dispute settlement, a five-year "sunset" provision and a bid to rid the agreement of its trade remedy dispute provisions. Still unclear is whether those proposals are merely starting points for negotiations or red lines that will send the talks into free fall" [Politico].
"Connecticut Rep. Rosa DeLauro and four other House Democrats will urge NAFTA 2.0 negotiators today to drop the investor-state dispute settlement process from any renegotiation, arguing that ISDS makes it easier for companies to outsource jobs and forgo public health protections. Policies like ISDS "have no place in any version of a trade agreement. The American people deserve a new trade model that is not crafted by corporations. … The people of our nation want a trade deal that works for them, not for the wealthy and corporations with the most lobbyists," DeLauro told Morning Trade in a statement" [Politico].
Politics
Puerto Rico
Again the story that the goods are stuck on the docks. WTF?

1) This is a former Staff Sergeant and Calvary Scout. He is in Puerto Rico. He's telling you the truth. FEMA and POTUS are lying to us. pic.twitter.com/G4u617KW2P

— Lucian (@LucianRandolph) October 9, 2017
Trump Transition
"Justices end 4th Circuit travel-ban challenge" [SCOTUSblog]. "In a brief order issued this evening, the justices sent Trump v. International Refugee Assistance Project back to the U.S. Court of Appeals for the 4th Circuit with instructions to dismiss the case as moot – that is, no longer a live controversy."
2018
"Senate Democrats worry Russia could jeopardize reelection bids" [Politico]. No, not their hysteria about Russia. Boris and Natasha. They've self-gaslighted themselves…
2020
"Steve Bullock and the Lost Art of Political Persuasion" [Politico]. Donna Brazile and Celinda Lake are all in for this dude, a centrist Montana governor who knows how to work across the aisle. Say no more! Say no more!
New Cold War
Cheeky (I):

While everyone freaks out about Russian ads, RT takes out more Russian ads pic.twitter.com/Z5eW8GS6pg

— Jane Lytvynenko (@JaneLytv) October 10, 2017

Yes, that's DC in the background.

Cheeky (II):

Sometimes I'm actually in awe of the Russian troll game pic.twitter.com/Mk5C5Bgyzd

— Ali Watkins (@AliWatkins) October 11, 2017

There's a deeper message there, when you think about it…
Realignment and Legitimacy
"The Second Gilded Age and Its Discontents" [Charles Cook, Cook Political Report]. A panegyric to a Bruce Mehlman PowerPoint Presentation. Nevertheless: "He portrays a vertical class-war axis pitting insiders (Goldman Sachs is good, globalization works, America should lead the world) against outsiders (tax the rich, trade is bad, punish Wall Street, stop nation-building). Then he paints a more traditional left-right horizontal axis with immigration, racial equality, LGBTQ rights, and gun-control advocates on the Left pitted against white-identity activists on the Right who want less immigration, strongly support the Second Amendment, and think racial and LGBTQ issues are overblown." Oddly, for both Mehlman and Cook, "class war" and "the left" are on different axes.

Listen and learn:

This can't be posted and watched often enough. Watch it. Learn. @TheDemocrats don't care about any of us unless they need our $ or votes. pic.twitter.com/7TvWJzushv

— Steve Cox (@RealSteveCox) April 17, 2017

"How to save America by running for Middletown Township auditor" [Will Bunch, Philadelphia Daily News].

"The real fix for gerrymandering is proportional representation" [Matt Yglesias, Vox].
Stats Watch
JOLTS, August 2017: "Job openings held steady at a very abundant 6.082 million in August while hirings remained far behind, at 5.430 million" [Econoday]. "In an early indication of full employment, the gap between openings and hiring first opened up about 2-1/2 years ago signaling that employers are either not willing to offer high enough pay to fill empty positions and/or are having a hard time finding people with the right skills. At 652,000, the current spread between openings and hirings is one of the very widest on record." And: "Job openings are mostly moving sideways at a high level, and quits are increasing year-over-year. This is another strong report" [Calculated Risk]. But: "I read this as weakening demand and employers unwilling to pay up to hire, and maybe even posting openings to replace existing workers at lower wages" [Mosler Economics]. ("[P]osting openings to replace existing workers" is impressively devious.)
Commodities: "Until now, investors looking for safe-haven assets used to turn to gold or Treasuries. Not anymore. A Singapore-based exchange began trading Tuesday a new standardized diamond product that aims to become one of the most-sought shelters from global risks" [Mining.com]. "Launched by the Singapore Diamond Investment Exchange (SDiX), the new product is designed to store and display investment-grade polished gems sourced at wholesale prices on SDiX and issued in standard denominations of about $100,000 and $200,000 each." I'm filing this under "Commodities" to be safe. But–really?
Shipping: "US box imports remain buoyant" [Lloyd's Loading List]. "US box import levels are continuing at 'unusually' high levels this month after setting new volume records in July and August, according to the latest Global Port Tracker report produced by the National Retail Federation (NRF) and Hackett Associates…. 'Growth has slowed from the first half of the year, but 2017 is expected to total 19.8 million TEU, topping last year's previous record of 18.8 million TEU by 5.4%,' said the report."
Shipping: "For truckload carriers and their customers, the moment of truth has arrived" [DC Velocity]. "For years, trucking executives have warned that ultra-tight capacity, brought about by a long-term shortage of trucks and drivers, would need only a sustained U.S. economic recovery to lead to a significant upward movement in freight rates. That time may finally have come. Talk around the first day of the CSCMP EDGE 2017 annual meeting in Atlanta was that noncontract, or spot, rates, which have surged throughout the summer, will continue to climb….One rumor making the rounds is that a large, unidentified truckload carrier is prepared to increase rates by 10 percent across the board, and plans to do so in very short order."
Shipping: "Drone deliveries are stuck in a holding pattern, at least in the U.S. An advisory panel meant to recommend rules for operating drone couldn't agree on proposals…, a potentially serious setback for efforts to expand commercial drone operations. The committee couldn't reach consensus on basic questions over the categories of drones that should require remote monitoring and tracking. That will make it more difficult for federal regulators to set rules that would satisfy law-enforcement agencies, hobbyists and companies that are looking to add drones to their business mix—including delivery operators" [Wall Street Journal]. "There's some consensus on smaller drones, but it may take two or three more years to develop technical standards for communication links and collision avoidance technology for larger drones flying at higher altitudes."
Housing: "San Francisco housing still in manic phase: Dump that is "uninhabitable" with fire damage has pending offer at $1.4 million" [Dr. Housing Bubble].
Retail: Wal-Mart Stores Inc. is shifting its growth strategy from storefronts to the web. The retailer will open fewer than 25 new U.S. stores in its next fiscal year and undertake other cost-cutting measures aimed at freeing up funds to go in part toward building up its e-commerce capabilities" [Wall Street Journal]. "The retailer is adding new delivery and click-and-collect options for groceries, and it expects recent acquisitions to next year."
Retail: "After a failed effort to find a solution to save the company, Sears Canada said on Tuesday that it would shut down operations, leaving about 12,000 employees out of work" [New York Times]. "Aside from the employees who will lose their jobs, about 18,000 retirees of Sears Canada may be facing cuts to their pension payments. The company's pension plan has a deficit of nearly 270 million Canadian dollars. In a victory for the pensioners, a judge froze payments to other creditors last month until the pension issue is resolved. But the fate of the compensation and benefits of the company's current employees was unclear."
Concentration: "FCC's claim that one ISP counts as 'competition' faces scrutiny in court" [Ars Technica].
Tech: "Accenture left a huge trove of highly sensitive data on exposed servers" [ZDNet]. "The servers, hosted on Amazon's S3 storage service, contained hundreds of gigabytes of data for the company's enterprise cloud offering, which the company claims provides support to the majority of the Fortune 100." Oopsie.
The Bezzle: "Ford's Chariot shuttles are expanding to New York City" [TechCrunch]. Note Silicon Valley's crocodile tears about delays for public transit.
The Bezzle: "Despite dire warnings from security experts, only about a quarter of the U.S. adult population checked their credit score or credit report in the first two weeks after the breach, according to a new survey from the credit website CreditCards.com, which asked 1,000 U.S. adults about their credit habits between Sept. 21 and Sept. 24" [MarketWatch].
The Bezzle: "How to spot fake Amazon reviews" [CNET]. There are software tools. But they yield very different results!
The Bezzle: "Blockchain company Ripple says it has $15bn war chest" [Financial Times]. "The head of Ripple, one of the biggest blockchain companies, has said its $15bn of cryptocurrency reserves could be used to acquire or partner with rivals, as it seeks to dominate its fast-moving sector within financial technology."
The Bezzle: "There's a link between CEOs who torture the English language and poor stock performance" [MarketWatch]. "The researchers scored the complexity of the language used by executives. They went further, using the recorded transcripts to track executives' pauses, repetition of words and other factors to incorporate the 'tone' of the call into their statistical analysis. 'Academic research shows when management is trying to hide bad news, they use language that is not easily understood. In so doing, they eat up time, so there is less time for the Q&A with the analysts on the call," [David Pope, managing director of Quantamental Research] said in an interview Oct. 9. 'Only 20% of communication is verbal,' he said, highlighting the importance of the analysis of earnings call 'metadata' for pauses and other indicators." With handy tables for the top and bottom 10 bafflegabblers; I'm not seeing a direct correlation between ticker and total returns and bafflegab, though.
Five Horsemen: "Alphabet powers out of the cellar in a fresh bid for greatness" [Hat tip, Jim Haygood].
Today's Fear & Greed Index: 83 Extreme Greed (previous close: 85, Extreme Greed) [CNN]. One week ago: 91 (Extreme Greed). (0 is Extreme Fear; 100 is Extreme Greed). Last updated Oct 11 at 11:38am.
Health Care
We have the greatest health care system in the world. Thread:
This week I got a sense how the U.S. healthcare system can break people. This story begins on Monday evening, while I was playing soccer.

— Ryan Kearney (@rkearney) October 7, 2017
We have the greatest health care system in the world:
honestly, what's more american than this pic.twitter.com/VBOF0t2LuQ

— ☭ (@queersocialism) October 3, 2017
"Almost half of all money raised through crowdfunding is going toward medical expenses" [Business Insider]. "Medical campaigns make up $930 million of the $2 billion raised on GoFundMe, according to NerdWallet. Almost half of the $800 million raised on YouCaring, another crowdfunding platform, went towards medical expenses, Bloomberg reports."
"Popular Enough to Live: A Reading List About Crowdfunding Health Care" [Long Reads]. "Crowdfunding takes time, energy, and a knack for marketing. Not everyone has these privileges or skills, and when it comes to paying medical bills or seeking life-saving surgeries, that chasm can be fatal."
"Early Medicaid Expansion Associated With Reduced Payday Borrowing In California" [Health Affairs]. Which, I suppose, would be why Debbie Wasserman-Schultz doesn't support #MedicareForAll.
"With breast cancer, privatized Medicaid adds insult to injury" [Des Moines Register]. "Fittings Unlimited in Urbandale is one of a few local vendors of supplies related to post-mastectomy care. It has a sign in its store saying Medicaid payment is no longer accepted, so Medicaid patients must pay in cash. The sign went up in June and blames untimely reimbursements from the state's recently privatized Medicaid system. It directs people to call the governor's office with questions. "
"Our family, friends and communities deserve Medicare for all: Guest opinion" [OregonLive]. "One of my patients without insurance received a $100,000 hospital bill after a heart attack and newly diagnosed congestive heart failure. She has declined all recommended follow up tests, specialist care and cardiac rehabilitation due to the cost. I had a young patient in his 20s who developed worrisome neurological symptoms that warranted tests to rule out a stroke. But he declined hospital admission as his insurance required a $3,000 copay. A father had a bicycle accident requiring life-saving emergency care for a broken pelvis and fractured arm. The emotional toll from his accident was compounded by the shock of a $5,000 deductible bill, and the stress of the resulting collections agency calls and threat of home foreclosure. Patients' financial stress has become a routine part of our medical practices."
"Could there be a way to preserve Medicare for All's simplicity and its guarantee of universal health care access while cutting its cost and increasing its bipartisan appeal?" [Ed Dolan, New York Times]. "Universal catastrophic coverage just might be the idea that could bridge the gap. So far, the idea has gotten more attention in conservative circles, but if liberals would give it a careful look, they would find a lot to like." Dolan is a libertarian, so it looks like we've reached the bargaining stage.
Corruption
"The annual meeting [of the governors of the World Bank] is the first since the OECD released a remarkable document, one that subtly but unmistakably damns the development community for failing to curb corruption in the projects it finances. In skillfully-crafted prose that points the finger at no one miscreant while charging all with dereliction of duty, the OECD's Council for Development identifies weaknesses large and small in the corruption prevention efforts of both bilateral and multilateral development organizations and urges major reforms. Corruption in development projects not only defeats the reason development aid is provided but, as the council stresses, many times leaves the recipient worse off than had no aid been extended in the first place" [Global Anticorruption Blog].
Big Brother Is Watching You Watch
"Deputy Attorney General Rosenstein's "Responsible Encryption" Demand is Bad and He Should Feel Bad" [Electronic Frontier Foundation].
Gaia
"Fish farm has 60 days to fix net pens outside Seattle as 1 million Atlantic salmon move in" [Seattle Times (RS)].
"Superior is no longer the clearest of the Great Lakes" [MRP News].
Class Warfare
"Race, Economics and Reality" [Actify Press]. "Nothing is more intersectional in American life than money." What oft was thought, but ne'er so well expressed.
"Danny Meyer, David Chang, Others Sued Over No-Tipping 'Conspiracy'" [Eater] (the suit). "A proposed class-action lawsuit filed in California federal court names several Bay Area and New York restaurants — including those owned by no-tipping pioneer Danny Meyer's Union Square Hospitality Group — as defendants, and claims that no-tipping policies are 'part of a conspiracy to charge [diners] more for their food.'"
News of the Wired
"Swiss prosecutors are trying to figure out why someone apparently attempted to flush tens of thousands of euros down the toilet at a Geneva branch of UBS Group AG" [Bloomberg]. See Marietta's memo, "NEW TP POOL REGULATIONS," from Snow Crash, for one possible explanation.
Look at these horrid titles:
Download 243 Free eBooks on Design, Data, Software, Web Development & Business from O'Reilly Media https://t.co/oSKMDDFQty pic.twitter.com/ZaMr3wykcQ

— Open Culture (@openculture) October 11, 2017
Reads like an airport bookstore "Business" section. O'Reilly! O mores!
"William Gibson interviewed: Archangel, the Jackpot, and the instantly commodifiable dreamtime of industrial societies" [Boing Boing]. Something discordant about this interview, but I can't figure out what.
"Google's new browser experiment lets you learn about basic AI" [The Verge]. "Just hit the 'train green/purple/orange' buttons, and the machine will record whatever it can see through your webcam. Once it's 'learned' enough…" What could go wrong?
"Think of Thelonious Monk" [The New Yorker]. Or listen:
* * *
Readers, feel free to contact me at lambert [UNDERSCORE] strether [DOT] corrente [AT] yahoo [DOT] com, with (a) links, and even better (b) sources I should curate regularly, (c) how to send me a check if you are allergic to PayPal, and (d) to find out how to send me images of plants. Vegetables are fine! Fungi are deemed to be honorary plants! If you want your handle to appear as a credit, please put it in the subject line. Otherwise, I will anonymize by using your initials. See the previous Water Cooler (with plant) here. Today's plant (GF):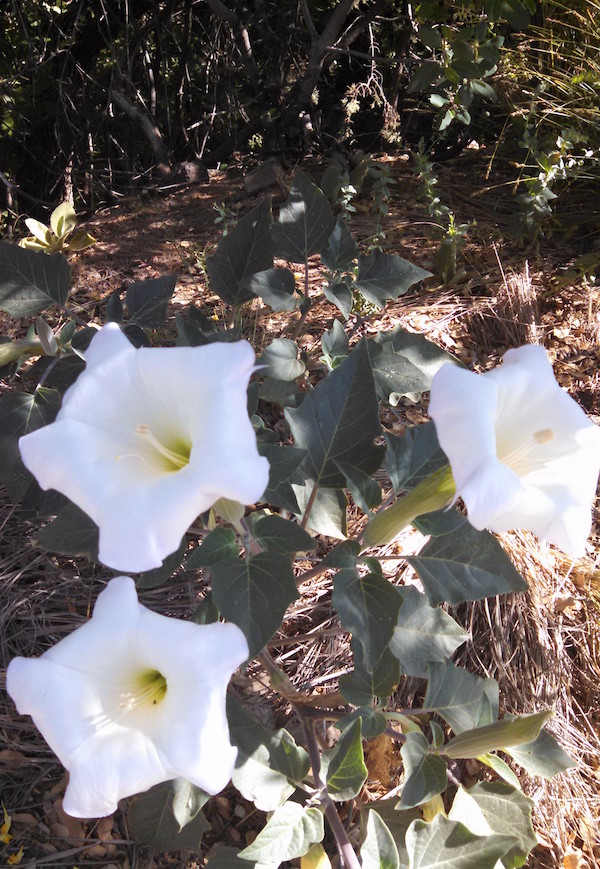 GF writes: "Attached is a flowering plant similar to the recent photo of a morning glory; but it's from here in AZ: the famous Datura from Carlos Castaneda's infamous book series The Tales of Don Juan. I took the photo while walking near my house in Prescott, AZ in June. They grow wild around here and the desert regions of AZ as well as other locales."
Readers, thanks for the nice pictures of plants! Now I have a little bit of a stash.