By Lambert Strether of Corrente.
Trade
"Canadian Prime Minister Justin Trudeau has complained [in NAFTA negotiations] that the hostile legal environment for unions in the United States compared to Canada creates unfair labor market competition between the two countries. In response, Senator Elizabeth Warren introduced a bill last month that would prohibit states from passing anti-union 'right-to-work' laws" [Portside]. Good for her.
Politics
2016 Post Mortem
"Fear and loathing on Hillary Clinton's grievance tour" [The Week]. "Why, if you believe that miscellaneous 'Russians' — at one point she referred to a generic character named 'Igor,' which is funny if your level of engagement with Russian culture does not extend far beyond Rocky and Bullwinkle horizons — bought Twitter ads in the hope of targeting 60- and 70-something union retirees in Macomb County, Michigan, would you not think you really won? Also: "Now she is making what bar-napkin math suggests must be at least $700,000 a night." Since the theatre had 3,500 seats, and the reporter paid $200 for a seat in the top row of the upper balcony, he could be right about Clinton's gross. I'd love a transcript of one of these things….
2017
"Virginia Governor – Gillespie vs. Northam" [RealClearPolitics]. The average of all polls: Northam 2.8% (Yesterday: 3.9%). Another new poll puts Gillespie ahead.
2018
"Politics is not all that complicated. It is a game of incentives. And, right now there is no incentive for Republicans to split from the President" [Amy Walter, Cook Political Report]. "The fact is Republicans are getting a lot done on issues they care about. Conservative jurists picked for federal courts. Regulatory roll-backs. And, of course, the potential for tax cuts/reform…. Forget all the stories about the "breaking up" of the GOP. There are really only two things that matter for GOP in the next year: the Midterms and Mueller. A disastrous 2018 and a damaging report could recalibrate Trump's currently solid hold on his party."

"Kevin de León vows to back Medicare for all, signaling key issue in 2018 Senate campaign" [Los Angeles Times]. "State Senate leader Kevin de León's opening salvo in the U.S. Senate race against Sen. Dianne Feinstein takes on one of the main frustrations progressives have voiced with her, a refusal to support single-payer health care."

Interesting:

A "stampede of Democratic candidates for the 2018 midterm elections," via @WSJ https://t.co/R2cC6dt2tL pic.twitter.com/gTnmMsMGmE

— John Gramlich (@johngramlich) October 27, 2017

Of course, they could all be Blue Dogs…
New Cold War
"Trump delays release of some JFK assassination documents, bowing to national security concerns" [WaPo]. Not a good look.
Realignment and Legitimacy
"But meanwhile, where are the Democrats? Basically nowhere" [Eugene Robinson, RealClearPolitics]. "My advice to Democrats is to say the word 'opportunity' so often that it becomes the party's trademark, then frame progressive policies in that context. My advice to Republicans, who are stuck with Trump, is to pray." No. I don't care about "opportunity." I care about outcomes. I don't want "access" to health care, for example. I want health care!

"Democrats used to campaign on class — and win. It's time to do it again." [Yahoo News (!)]. "But what if the answer isn't so simple? What if it isn't "either/or" — but rather "both/and"? As Democrats ponder their defeat and strategize about how to avoid similar disappointments in 2018 and 2020, it might be worth considering not just why they lost but why Trump won. In a sense, it all came down to class, because class is the space where economics and culture overlap."

"Legal pot is the new gay marriage" [The Week]. "Booker's bill is considerably more aggressive than even Bernie Sanders' bill from 2015, which would have merely allowed states to legalize marijuana — thus formalizing the quasi-legal status of the eight states and D.C. that have legalized marijuana to varying extents. In comparison, Booker's bill would remove marijuana from the Controlled Substances Act, pressure states into legalizing it, expunge federal marijuana use and possession crimes, allow marijuana convicts in federal prison to petition for resentencing, and create a community reinvestment fund to rebuild places hit hardest by the war on drugs." I hate to say it, but good for Cory Booker.

"Senate Completes Creation of 'Brown Utility Commission,' Neutering PUC Independence With Confirmation Of Governor's Former Top Aide Who Fired Oil And Gas Safety Regulators At Behest Of Occidental Petroleum" [Consumer Watchdog]. "The California Senate completed Governor Jerry Brown's consolidation of the California Public Utility Commission in the hands of three of his closest former aides and two of his former appointees, guaranteeing half a decade of influence by the utility-friendly Governor long after he leaves office."

"Prisons are important pieces in Ohio gerrymandering: Out of Line – Impact 2017 and Beyond" [Cleveland Plain-Dealer]. "Prisoners help boost rural Ohio's influence in Congress. The census, taken in April every 10 years, counts where people are living at the time – whether it be in a house, a college dormitory or a prison."
Stats Watch
GDP, Q3 2017 (Estimate): "A rise in inventories, likely the result of hurricanes, gave a boost to third-quarter GDP, at an inflation-adjusted 3.0 percent annualized rate which tops Econoday's high estimate" [Econoday]. "Transportation snags and backup in the supply chain may have given a boost to inventories which rose $35.8 billion in the quarter and contributed 0.73 percentage points to the quarter's GDP… But the core of the report is solid led by personal consumption expenditures which came in at a roughly as expected 2.4 percent pace and contributed 1.62 points to the quarter. Durable spending was very strong, at 8.3 percent and reflecting, at least in part, hurricane replacement demand for vehicles." I suppose Hurrican Keynesianism is better than Military Keynesianism. And but: "The consumer spending declined. I am not a fan of quarter-over-quarter exaggerated method of measuring GDP – but my year-over-year preferred method showed moderate acceleration from last quarter" [Econintersect].
Consumer Sentiment, October 2017 (Final): "Consumer sentiment held steady and very strong over the last two weeks" [Econoday]. "Personal finances are near record levels reflecting gains for personal income as well as strength in home and stock values. The report says consumers are unusually optimistic on the economy, expecting good times during the year ahead and over the next 5 years as well and without interruption."
New Home Sales (Wednesday): "Nice uptick, but subject to revision and at best indicating continued very modest growth well below the last cycle with a population that's maybe 10% higher than it was 10 years ago" [Mosler Economics].
Shipping: "The impact of a devastating hurricane season is starting to wash up in logistics sector earnings. Hurricane Harvey in Texas, Irma in Florida and Maria in Puerto Rico knocked out power to millions, damaged thousands of homes and disrupted the flow of goods across whole regions. Companies as diverse as Anheuser-Busch InBev and Harley-Davidson say sales suffered in the wake of the storm. That translates into fewer motorcycles and cases of beer for trucking fleets and railroads to move" [Wall Street Journal].
Retail: "Drugstores haven't faced the same online competition as retailers. But that may be about to change, with Amazon.com Inc. reportedly looking to buy a pharmacy-benefit manager, paving the way for the company to negotiate prices with drug makers and enter the retail pharmacy business" [Wall Street Journal].
Banking: "[Amazon] already has a small-business lending arm that has doled out more than $3 billion to more than 20,000 of the merchants on its e-commerce platform" [Bloomberg].
Shipping: Corporate capture of the International Maritime Organization: How the shipping sector lobbies to stay out of the Paris Agreement" (PDF) [InfluenceMap]. "This research found that at the most recent IMO environmental committee meeting 31% of nations were represented in part by direct business interests. The IMO appearsthe only UN agency to allow such extensive corporate representation in the policy making process."
Shipping: "Authors of IMO 'corporate capture' report respond to criticism" [Splash 247]. "UK-based non-profit InfluenceMap's Corporate capture of the [International Maritime Organization] report, issued on Monday, has been one of the talking points around this week's environmental talks at IMO's headquarters in London. It states leading shipowner organisations and flags of convenience hold too much sway in formulating ship emission cutting legislation at the IMO."
Shipping: "Internet of Ships falling down on security basics" [Naked Security (DK)]. Plenty of horror stories. The conclusion: "There are many routes on to a ship, but the satcom box is the one route that is nearly always on the internet. Start with securing these devices, then move on to securing other ship systems."
Shipping: "Why is blockchain so hot right now? Part of the explanation lies in the technology's mystique. Even with all the press on the subject over the last two years, it's been a long time since we've seen a topic so often discussed, yet so poorly understood. The most common questions seemed to be "What is it?" followed by "What does it do?" Although those questions are simple enough, the answers are not. I attended a session at the [the Council of Supply Chain Management Professionals] titled "Blockchain 101," hoping to enhance my own understanding, but came away knowing only slightly more than I did before I went in" [DC Velocity].
I think I'm gonna change my name to Lambert Blockchain:
A company added the word "Blockchain" to its name and its shares surged 394% https://t.co/QTCBkQlV0v pic.twitter.com/dD8uwyWRpW

— Bloomberg (@business) October 27, 2017
The Bezzle: "Sex wearable is coming to track your performance and judge you" [CNET]. "It's basically a Fitbit for your [sic] man bits that tracks thrust speed and velocity." And: "Forget dick pics. Now we have to worry about dick status updates."
The Bezzle: "Hipcamp, The Airbnb Of Camping, Is Changing Flyover Country Into A Big Welcome Mat" [Fast Company (MN)]. "The company's online platform allows you to search for and rent campsites on privately owned land, but it aspires to much more—to transform the way Americans behave and see themselves. By opening up private land, Hipcamp is trying to change flyover country into a big welcome mat. 'We're creating community across the political divide and the consistent geographical line that marks the split, usually between rural and urban,' [Hipcamp CEO and founder, Alyssa Ravasio] says…. Hipcamp increased from 2,000-plus private camp options available on its site in October 2016 to more than 17,000 today. There are 1,833 hosts and 2.2 million campers who used the site last year." Unregulated campgrounds. What could go wrong? And will there be banjos?
The Bezzle: "Uber believes it has SEC nod for earnings approach that mirrors business model" [Francine McKenna, MarketWatch]. "The ride-hailing service contends its customers are the drivers — not the passengers — and it merely facilitates their trips. Securing the SEC's blessing of this view of its business model would allow the company to report financial results without disclosing how much money drivers are taking home."
The Bezzle: "Alphabet's Waymo will begin testing its robot cars in Michigan next week to see how they perform in snow" [Reuters]. The final paragraph: "One challenge for Waymo may be human drivers. Many self-driving vehicles from numerous companies have been struck by inattentive or careless drivers in California, according to reports to filed with the state."
The Bezzle: Wait 'til they try this trick with robot cars:
In Vancouver they have this pic.twitter.com/fFEKRvWmjH

— Val Lord ???‍♀️ (@VPestilenZ) September 26, 2017
The Bezzle: "Shadow Banking Gets Bad Rap, So Treasury Wants to Erase the Term" [Bloomberg]. "'The word 'shadow' could be interpreted as implying insufficient regulatory oversight, or disclosure,' Treasury said in a 163-page report released Thursday, which advocates an easing of restrictions on asset managers and insurers. Use of the term is 'particularly inappropriate' for investment companies that are overseen by the Securities and Exchange Commission and file routine reports to the agency, Treasury added…. The Financial Stability Board — a panel of international regulators — admits in regular footnotes to its reports that it doesn't mean the term as a pejorative. But the Treasury points out that the FSB doesn't remind people of that when it issues press releases. So, the Treasury is offering an alternative — and decidedly less nefarious — term: ." Oh. OK.
Concentration: "From the very beginning, a core part of Amazon's strategy has been taking advantage of public benefits not available to its competitors" [Vice]. "The process [of siting Amazon's second headquarters] has unfolded like the work of a seasoned pro, and that's because it is. It started back in 1995, when Bezos was founding the company, and famously decided to base it in Seattle instead of the Bay Area. His reasoning, he told Fast Company a year later, was so that Amazon could avoid collecting sales tax in more-populous California, gaming a sales tax loophole that predated the rise of online shopping."
Concentration: "Why Don't We Build Amazon a Goddamn Stargate While We're at It" [Riverfront Times]. "Governor Eric Greitens made a big futuristic splash yesterday when his office announced that a hypothetical Hyperloop would be included in the state of Missouri's bid for Amazon's second headquarters….Stargates, also known as Astria Porta in Ancient and Chappa'ai in Goa'uld, have existed for millions of years — the one in Antarctica, for example, is estimated to be 50 million years old. They were constructed by the Ancients; it was their greatest achievement. Can we not simply reverse-engineer their work?"
Concentration: This was a joke three years ago [Know Your Meme].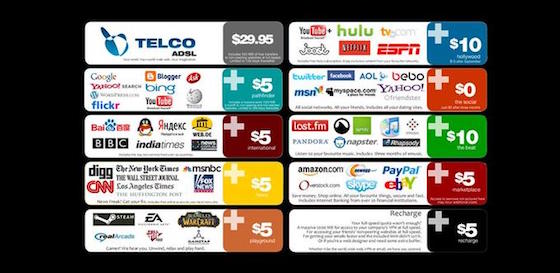 Now it's coming true:
In Portugal, with no net neutrality, internet providers are starting to split the net into packages. pic.twitter.com/TlLYGezmv6

— Ro Khanna (@RoKhanna) October 27, 2017
Naked Capitalism would be hard to find in that scenario….
Five Horsemen: "Massive blowout in Amazon as Microsoft busts the top off the chart." [Hat tip, Jim Haygood]. Lambert here: What'd Microsoft do? Put a MagSafe connector on the Surface?
Today's Fear & Greed Index: 72 Greed (previous close: 71, Greed) [CNN]. One week ago: 89 (Extreme Greed). (0 is Extreme Fear; 100 is Extreme Greed. Last updated Oct 26 at 11:17am.
Our Famously Free Press
"Platforms are not strategies, and they won't save news" [Mary Hamilton, Medium]. "Seriously. If someone else's algorithm change could kill your traffic and/or your business model, then you're already dead."
"Building trust online by partnering with the International Fact Checking Network" [Google]. Google (and Facebook) have more money than God. How come they have to outsource this stuff? Nevertheless: "Today we're announcing a new partnership with the International Fact-Checking Network (IFCN) at The Poynter Institute. As a nonpartisan organization, IFCN is committed to promoting excellence in fact checking and building a community of fact checkers around the world. IFCN has developed a widely accepted Code of Principles for fact check organizations. Signatories range from the Associated Press to the Washington Post, PolitiFact and Factcheck.org, to Correctiv (Germany), Aos Fatos (Brazil), and Africa Check."
"[T]he majority of students had no idea that algorithms were filtering the news content they saw on Facebook and Google. When asked if Facebook shows every news item, posted by organizations or people, in a users' newsfeed, only 24 percent of those surveyed were aware that Facebook prioritizes certain posts and hides others. Similarly, only a quarter of respondents said Google search results would be different for two different people entering the same search terms at the same time" [The Atlantic].
Gunz
"How Chicago Gets Its Guns" [Pro Publica (JB)]. "Most of the guns police seize come from Indiana and other states where firearms laws are more lax, police and researchers have found. After they were purchased legally, most were sold or loaned or stolen. Typically, individuals or small groups are involved in the dealing, not organized trafficking rings, experts say. Unlike the drug trade — often dominated by powerful cartels or gangs — illegal gun markets operate more like the way teenagers get beer, 'where every adult is potentially a source,' said Philip Cook, a researcher at the University of Chicago Crime Lab who's also a Duke University professor."
Class Warfare
Access to banking:
Since the financial crisis @BankofAmerica has removed 1,597 branches https://t.co/jYpp0NxNJ6 pic.twitter.com/vvAhULop24

— WSJ Graphics (@WSJGraphics) September 17, 2017
Surely all those branches didn't exist for the sole purpose of accounting control fraud?
News of the Wired
The iPhone X:
Tim Cook: "The iPhone X-2 includes new iDentity verification. Simply bite the phone's top and it will compare it to your dental records."

— Thorne (@ExistentialEnso) October 26, 2017
Facebook really doesn't like it when you travel:
Facebook just disabled my account for the 2nd time in two days. I had to identify friends from their pics to get back in. It was hard!

— Stuart McDonald (@travelfish) October 25, 2017
"Sleep in glass pods suspended 1,200 feet up the side of a mountain in Peru's Sacred Valley" [CNBC]. This seems to be a zeitgeist thing — glass bridges in China and Switzerland, a firm that stages dinners suspended from a crane high in the air — and I don't think I like it much. Life seems vertiginous enough already, right now.
* * *
Readers, feel free to contact me at lambert [UNDERSCORE] strether [DOT] corrente [AT] yahoo [DOT] com, with (a) links, and even better (b) sources I should curate regularly, (c) how to send me a check if you are allergic to PayPal, and (d) to find out how to send me images of plants. Vegetables are fine! Fungi are deemed to be honorary plants! If you want your handle to appear as a credit, please put it in the subject line. Otherwise, I will anonymize by using your initials. See the previous Water Cooler (with plant) here. Today's plant (JB):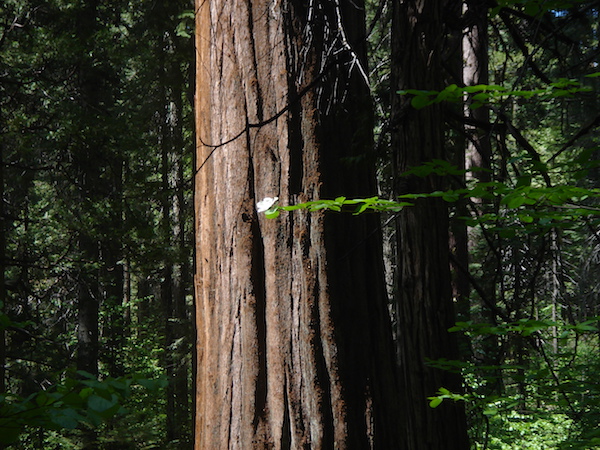 JB: "From Calaveras Big Trees" State Park. I'll say!
Also, it would be nice to have some pictures of people's gardens buttoned up for the winter, for those of you for whom winter is coming. And fall foliage, ditto.
* * *
Readers: The Naked Capitalism fundraiser is over, and let me express my personal thanks to all those who have helped keep Naked Capitalism getting better and better. Water Cooler, however, is a standalone entity not covered by the NC fundraiser. So do feel free to use the dropdown and click the hat to make a contribution today or any day. Here is why: Regular positive feedback both makes me feel good and lets me know I'm on the right track with coverage. When I get no donations for five or ten days I get worried. More tangibly, a constant trickle of small donations helps me with expenses, and I factor that trickle in when setting fundraising goals. So if you see something you especially appreciate, do feel free to click the hat!