By Gaius Publius, a professional writer living on the West Coast of the United States and frequent contributor to DownWithTyranny, digby, Truthout, and Naked Capitalism. Follow him on Twitter @Gaius_Publius, Tumblr and Facebook. GP article archive  here. Originally published at DownWithTyranny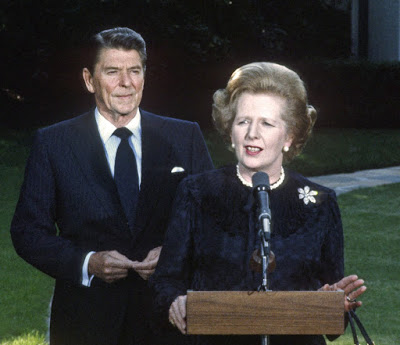 The saints of neoliberalism. Bill Clinton just put a Democratic Party face on it (source).
For years I've been using the term "neoliberalism" (or sometimes neo-liberalism*) and I'm always uncomfortable, since it sounds so academic. So I usually add one-phrase definitions and move on. For example, this from a recent piece on Puerto Rico:
If neoliberalism is the belief that the proper role of government is to enrich the rich — in Democratic circles they call it "wealth creation" to hide the recipients; Republicans are much more blatant — then the "shock doctrine" is its action plan.
That's sounds pretty blunt, but it's a true statement, even among academics. See this great interview (start at about 6:15) with Professor Philip Miroski of the University of Notre Dame on how modern neoliberals have come to see the role of government in society. It's weedy but excellent.
I want to offer our readers a better description of neoliberalism though, yet not get into too many weeds. So consider these exceprts from a longer Guardian essay by the British writer George Monbiot. (My thanks to Naked Capitalism commenter nonclassical for the link and the idea for this piece.)
Neoliberalism — The Invisible Water the West Is Swimming In
We'll start with Monbiot's brief intro, just to set the scope of the problem:
Imagine if the people of the Soviet Union had never heard of communism. The ideology that dominates our lives has, for most of us, no name. Mention it in conversation and you'll be rewarded with a shrug. Even if your listeners have heard the term before, they will struggle to define it. Neoliberalism: do you know what it is?
Ask people to define "neoliberalism," even if they've heard of it, and almost no one can. Yet the comparison of our governing ideology to that of the Soviet Union's is a good one — like "communism," or the Soviet Union's version of it, neoliberalism defines and controls almost everything our government does, no matter which party is in office.
The Birth of Neoliberalism
What is neoliberalism and where did it come from? Monbiot writes:
The term neoliberalism was coined at a meeting in Paris in 1938. Among the delegates were two men who came to define the ideology, Ludwig von Mises and Friedrich Hayek. Both exiles from Austria, they saw social democracy, exemplified by Franklin Roosevelt's New Deal and the gradual development of Britain's welfare state, as manifestations of a collectivism that occupied the same spectrum as nazism and communism.
Neoliberalism is an explicit reaction to Franklin Roosevelt and the welfare state, which by a quirk of history was called "liberalism" at the time, even though, in the nineteenth century, "liberalism" had roughly the same meaning that "neoliberalism" has today. In other words, "FDR liberalism" is in many ways the opposite of classical "liberalism," which meant "liberty (freedom) from government," and a quirk of history has confused these terms.
Back to Monbiot and Hayek:
In The Road to Serfdom, published in 1944, Hayek argued that government planning, by crushing individualism, would lead inexorably to totalitarian control. Like Mises's book Bureaucracy, The Road to Serfdom was widely read. It came to the attention of some very wealthy people, who saw in the philosophy an opportunity to free themselves from regulation and tax. When, in 1947, Hayek founded the first organisation that would spread the doctrine of neoliberalism – the Mont Pelerin Society – it was supported financially by millionaires and their foundations.

With their help, he began to create what Daniel Stedman Jones describes in Masters of the Universe as "a kind of neoliberal international" [a term modeled on "the Communist International]: a transatlantic network of academics, businessmen, journalists and activists. The movement's rich backers funded a series of thinktanks which would refine and promote the ideology. Among them were the American Enterprise Institute, the Heritage Foundation, the Cato Institute, the Institute of Economic Affairs, the Centre for Policy Studies and the Adam Smith Institute. They also financed academic positions and departments, particularly at the universities of Chicago and Virginia.

As it evolved, neoliberalism became more strident. Hayek's view that governments should regulate competition to prevent monopolies from forming gave way – among American apostles such as Milton Friedman – to the belief that monopoly power could be seen as a reward for efficiency.
Note the mention of Milton Friedman above. Neoliberalism is a bipartisan ideology, not just a Clintonist-Obamist one.
Democrats, Republicans and Neoliberalism
As Monbiot explains, for a while neoliberalism "lost its name" and was more or less a fringe ideology in a world still dominated by the ideas of John Maynard Keynes and Keynesian economics. When neoliberalism later came back strong in the Republican Party, it wasn't called "neoliberalism" but "Milton Friedman free market conservativism," or something similar.
Only when Bill Clinton and his Democratic Party allies adopted it in the 1980s did the term "neoliberal" re-emerge in public discourse.
[I]n the 1970s, when Keynesian policies began to fall apart and economic crises struck on both sides of the Atlantic, neoliberal ideas began to enter the mainstream. As Friedman remarked, "when the time came that you had to change … there was an alternative ready there to be picked up". With the help of sympathetic journalists and political advisers, elements of neoliberalism, especially its prescriptions for monetary policy, were adopted by Jimmy Carter's administration in the US and Jim Callaghan's government in Britain.

After Margaret Thatcher and Ronald Reagan took power, the rest of the package soon followed: massive tax cuts for the rich, the crushing of trade unions, deregulation, privatisation, outsourcing and competition in public services. Through the IMF, the World Bank, the Maastricht treaty and the World Trade Organisation, neoliberal policies were imposed – often without democratic consent – on much of the world. Most remarkable was its adoption among parties that once belonged to the left: Labour and the Democrats, for example. [emphasis added]
Note the role of Jimmy Carter and start of deregulation in the late 1970s. For that reason, many consider Jimmy Carter to be the "proto-neoliberal," both for the nation and the Democratic Party.
Neoliberalism — "Just Deserts" for Predators and Prey
What makes "neoliberalism" or "free market conservatism" such a radical — and destructive — ideology? It reduces all human activity to economic competition. It creates and glorifies, in other words, a world of predators and prey, a world like the one we live in as today:
Neoliberalism sees competition as the defining characteristic of human relations. It redefines citizens as consumers, whose democratic choices are best exercised by buying and selling, a process that rewards merit and punishes inefficiency. It maintains that "the market" delivers benefits that could never be achieved by planning.
In a world where competition is right and good, a world in which the "market" is the defining metaphor for human activity, all social ties are broken, the individual is an atom left to survive as an individual only, the strongest relentlessly consume the weakest — and that's as it should be. (It's easy to imagine how the apex predators of our social order would be attracted to this, and insist on it with force.
Thus the bipartisan world we live in today. Under a neoliberal regime, everyone gets what they deserve. Big fish deserve their meal. Little fish deserve their death. And government sets the table for the feast.
The Role of Government in a Neoliberal World
Since for neoliberals, the "market" is the source of all that is good in human interaction, non-interference in "the market" is rule one for government.
Over time that has changed, however, as winners have grown more successful and their control of government more absolute. The proper role of government in today's neoliberal regime is not merely to allowthe market to operate for the benefit of wealth-holders; it's to make sure the market operates for the benefit of wealth-holders.
In other words, the role of government is to intervene in the market on behalf of wealth-holders, or, as I put it more colloquially, to proactively enrich the rich. The interview with Professor Mirowski, as I noted above, makes that same point, but from an academic standpoint.
From this it should be also clear that until we free ourselves of rule by neoliberals and the pain and misery they create, we'll always be victims to the predatory giants — the very very wealthy and the corporations they use as power-extenders — those, in other words, who want merely to own everything else in the world.
This means we need to free ourselves from neoliberals in both parties, not just the ones in current seats of power. But that idea seems to have been excised from most discussions these days. Fair warning though. If the Age of Trump ends with the Restoration of Mainstream Democrats, we'll have won almost nothing at all.
____________
* I sometimes spell "neo-liberalism" with the hyphen to suggest the following connection: Neo-liberalism is "new liberalism," and has the same relationship to FDR liberalism as New Labour has to Labour — the two are exactly opposite.