By Lambert Strether of Corrente.
Trade
"Commerce Secretary Wilbur Ross may have summed up the Trump administration's negotiating strategy during a TV appearance Wednesday when he said that Mexico and Canada can't expect the United States to give up anything in the talks" [Politico]. "'We're trying to do a difficult thing,' he said on CNBC. 'We're asking two countries to give up some privileges they have enjoyed for 22 years and we're not in a position to offer anything in return, so that's a tough sell.'"
"230 Law and Economics Professors Urge President Trump to Remove Investor-State Dispute Settlement (ISDS) From NAFTA and Other Pacts" (PDF) [Public Citizen]. "As Chief Justice John Roberts [!!] noted in his dissent in BG Group PLC v. Republic of Argentina, ISDS arbitration panels hold the alarming power to review a nation's laws and 'effectively annul the authoritative acts of its legislature, executive, and judiciary.' ISDS arbitrators, he continued, 'can meet literally anywhere in the world' and 'sit in judgment' on a nation's 'sovereign acts.' … However, through ISDS, the federal government grants foreign investors – and foreign investors alone – the ability to bypass the robust, nuanced, and democratically-responsive U.S. legal framework." I understand you've got to tailor your message to your audience, but surely "the robust, nuanced, and democratically-responsive U.S. legal framework" is over-egging the pudding?
Politics
2016 Post Mortem
"A Review of What Happened by an Author Who Insists He Has Never Heard of Hillary Clinton or the 2016 Election" [Paste]. Deadpan and hilarious.

"City Board of Elections Admits It Broke the Law, Accepts Reforms" [WNYC]. Fancy that.
2017
"Virginia Governor – Gillespie vs. Northam" [RealClearPolitics]. The average of all polls: Gillespie Northam 3.9% [sorry the heart attack, Dems].
2018
"Has the Trump wing of the GOP handed Democrats an opening to retake the Senate?" [Los Angeles Times]. "The mathematics remain daunting and odds continue to favor continued GOP control. Thirty-four seats will be on the ballot and Democrats must defend 25, compared with just nine for the GOP. To take control of the Senate, Democrats need to keep every seat they now hold — no small feat — and pick up three held by Republicans. In addition to trying to flip a seat in Arizona, Nevada is a prime target."
2020
"Why Joe Biden Didn't Run . . . And Why He's Not Ruling Out 2020" [Vanity Fair]. The man who turned a generation of college students into debt slaves keeps milking the death of his son.
Trump Transition
"Who Knew Trump Would Be a Weak President?" [Elizabeth Drew, The New Republic]. Not a gaggle of hysterical, gaslighting liberal Democrats, that's for sure. More: "If this approach to governing keeps up, Trump may find himself once again on a newsweekly cover—the kind of prominence he craves—but this time with a sobriquet that once ordained one of his predecessors: 'WIMP.'" I disagree (which is not to say that I think Trump is a strong President, or that it would be good if he were; gridlock is our friend!) Amazingly, Drew doesn't mention the judiciary, where Trump has had great success — granted, without much Democrat opposition, who knew — in further packing the courts with conservatives. Drew also doesn't mention the adminstration's successful gutting of the EPA and the Education Department. I don't have a general theory of why Trump is sometimes effective, and why he isn't, but the judiciary and two major departments aren't chopped liver. Drew is also wrong on health care. She writes:

Trump not only didn't have an alternative to Obamacare ready on his first day in office, he never offered one. Moreover, when House Republicans presented to him their own ideas about what should be in the health care bill, they found him to be an easy mark.

This is nonsense. Obama turned writing his health care bill over to Max Baucus (who turned it over to his chief of staff,WellPoint's Liz Fowler). Trump had every reason to expect to be able to do the same with Paul Ryan or Mitch McConnell, fawned over by the political class as a policy wonk and a veteran dealmaker respectively, but it turned out that after eight years in opposition, neither had a bill that would pass ready to deploy. Who could have predicted that the feral Republicans would be even more clueless and ineffectual on health care legislation than the Democrats? This matters because Drew is the doyenne of Washington political journalists; she's what Josh Marshall would like to be when he grows up. If Drew can make such basic errors of perspective and analysis, that doensn't bode well for the political class ever pulling itself out of its legitimacy tailspin.

"On Wednesday, Joe Straus, the speaker of the Texas House of Representatives, announced that he would not run again, an indication that the Washington fever was spreading. Mr. Straus, a pragmatist with deep ties to the Bush family who had tangled with his state's hard-liners, delivered a plea that Republicans 'appeal to our diverse population with an optimistic vision,' but he still chose flight over fight" [New York Times]. "Mr. Straus's dash for the exits followed the retirement announcements of Mr. Flake, Senator Bob Corker of Tennessee and Representatives Ileana Ros-Lehtinen of Florida, Charlie Dent of Pennsylvania, Pat Tiberi of Ohio and Dave Reichert of Washington State — all members of the Republican establishment." So, it's the Republican establishment that's making like the Whigs and leaving public life. Who knew?

"Jeff Flake and Bob Corker are cowards" [The Week]. "If Flake, Corker, McCain, and any other Republicans willing to stage a Jerry Maguire walkout scene really think that President Trump is a menace to the country, the truly courageous thing to do would be to switch parties and join the Democrats." Indeed:

"The Party of Lincoln Is Now the Party of Trump" [New York Times]. "The growing strength of the kind of partisanship that is widespread today — whether you call it visceral, expressive, affective or tribal — undermines the workings of democratic governance. Not only are Republicans willing to support Trump, but both Democrats and Republicans are inclined to demonize the leadership of the opposing party."
Realignment and Legitimacy
'Antifa' Waging Civil War on November 4, According to Right Wing Conspiracy [Newsweek]. My head hurts. Alex Jones has antifa confused with the Bob Avakian crew. Help me.

Oh, Bernie:

Do the people of #NYC support @BernieSanders endorsing @BilldeBlasio even though no one has gone to jail or even been fired in my dads case? https://t.co/4obvZMf43x

— officialERICA GARNER (@es_snipes) October 25, 2017

A straw in the wind:

Driving from Minnesota to upstate New York. 5 miles into Indiana turned on the radio and Have heard about "the elites" 7 times in 2 minutes.

— Andy Slavitt (@ASlavitt) October 26, 2017



Stats Watch
International Trade in Goods, September 2017 (Preliminary): "The cross-border goods deficit widened to $64.1 billion in September," above consensus [Econoday]. "September imports rose 0.9 percent on increases for capital goods, industrial supplies and food products. Exports rose 0.7 percent but strength was isolated to industrial supplies with capital goods, consumer goods, and vehicles all down." Importing capital goods is important in a capitalist society.
Kansas City Fed Manufacturing Index, October 2017: " Kansas City's manufacturing composite is up 6 points this month to a 6-1/2 year best of 23. New orders lead the report at 27 followed by an enormous build in backlog orders," which could be hurricane-related [Econoday]. "Transportation issues are skewing some of the supply chain numbers but behind everything is robust strength in new orders. This week's durable goods report offered confirmation that the factory sector is enjoying a pivot higher." And: All of the regional Fed surveys have been strong in October" [Calculated Risk].
Retail Inventories, September 2017 (Advance): "Retail inventories fell a sharp 1.0 percent in September reflecting a 2.6 percent draw in vehicles, sales of which were unusually strong in the month" [Econoday]. "In a partial offset, wholesale inventories rose 0.3 percent in data also released with today's report. The large retail draw could trim back estimates for tomorrow's GDP report."
Wholesale Inventories, September 2017: (Advance): "Wholesale inventories rose 0.3 percent" [Econoday].
Pending Home Sales Index, September 2017: "Existing home sales have been flat and flat is the indication from pending sales which were unchanged in September" [Econoday]. "Unlike yesterday's new home sales report where sales spiked in the South, resales in the region are showing visible hurricane effects, down 2.3 percent in the month following August's 3.7 percent decline. Year-on-year rates show the South the weakest, down 5.0 percent, with the Northeast doing the best at minus 2.4 percent."
Bloomberg Consumer Comfort Index. week of October 22, 2016: Held steady [Econoday]. "Full employment, the rally in the stock market, and solid home-price appreciation are all important pluses for confidence measures."
Jobless Claims, week of October 21, 2017: "Puerto Rico is becoming a factor but claims data are otherwise very steady at historic lows" [Econoday].
Shipping: "Trucking volumes saw a decline from August to September, according to data released today in the American Trucking Associations (ATA) Truck Tonnage Index" [Logistics Management].
Retail: "McDonald's in China provoked snorts of laughter Thursday, as internet users mocked a ham-fisted new company name that sounds a lot like the Chinese word for a pig eating" [Agence France Presse]. Sounds legit. What's the issue?
Shipping: "UNCTAD flags oligopoly concerns amid unprecedented container shipping consolidation" [Splash 247]. ""The risk is that growing market concentration in container shipping may lead to oligopolistic structures," said Shamika Sirimanne, director of [the United Nations Conference on Trade and Development (UNCTAD)]'s division on technology and logistics." "May"? More: "Factoring in the incoming merger of Japan's big three boxlines, and Cosco's takeover of OOCL, there will be just seven global liners by next year – the number of container shipping majors having more than halved this decade. On top of this, the number of container alliances on the main east-west trades has shrunk from four last year to just three as of April 1 this year."
Supply Chain: "Blockchain technology may be on the table during the upcoming Thanksgiving Day holiday in the U.S. Agricultural conglomerate Cargill Inc. is test-driving the digital tool to let shoppers trace turkeys from the store back to the farm that raised them" [Wall Street Journal].
The Bezzle: "Elon Musk Was Wrong About Self-Driving Teslas" [Bloomberg]. "A year later, there's still no sign of Full Self Driving, and even the less ambitious 'Enhanced Autopilot' hasn't quite reached parity with an earlier, discontinued version. The head of Tesla's Autopilot division left in January, and six months later his successor did, too. Meanwhile, Tesla owners who paid thousands of dollars for the options filed a class action lawsuit, alleging they were tricked into buying a feature that doesn't exist and—in some cases—an unsafe car. Tesla has yet to formally respond to those disgruntled drivers who want refunds and punitive damages, and the case is currently in mediation." Elon! Elon! He's our man! If he can't do it, no one can! On robot cars, see NC here, here, and here.
The Fed: "Yellen looks to be out of the race for Fed chief" [MarketWatch]. "A Washington Post report, citing three people, said that President Donald Trump has narrowed his search to Fed governor Jerome Powell or Stanford University economist John Taylor. Earlier, Politico reported that one source who talks regularly to Trump said Powell and Taylor were the only finalists… Both reports on Thursday noted that Trump could still rip up the script." Yep!
Five Horsemen: "Microsoft carries on ruling the roost." [Hat tip, Jim Haygood].
Today's Fear & Greed Index: 74 Greed (previous close: 75, Extreme Greed) [CNN]. One week ago: 83 (Extreme Greed). (0 is Extreme Fear; 100 is Extreme Greed. Last updated Oct 26 at 11:17am.
Gaia
"US Department of Interior proposes biggest ever oil and gas lease sale in Gulf of Mexico" [Splash 247]. "Secretary of the Interior Ryan Zinke said the areas offered would be almost 77 million acres offshore Texas, Louisiana, Mississippi, Alabama and Florida – all the US states with Gulf shorelines."
"Seriously Metal Photos of Canada's Tree Planters" [Vice (Re Silc)]. Indeed. The terrain looks clear-cut to me, so it makes sense to have a conflict photographer cover the story. Re Silc: "Not easy. I've done 400-500 a year in Vermont for the past three springs. Hard for geezers."
Water
"[In] majority-African-American communities… residents' median water bill is 20 percent higher for the same amount of water than residents pay in predominantly white communities, the Tribune's examination revealed" [Chicago Tribune]. "Overall, towns with median household incomes in the bottom 10 percent of the region pay 31 percent more a month for water than towns with a median household income in the top 10 percent."
Class Warfare
"Re-imagining Value: Insights from the Care Economy, Commons, Cyberspace and Nature" (PDF) [David Bollier, Heinrich Boell Stiftung. "This report, written by David Bollier, draws upon three days of discussion by twenty thinkers and activists convened by the Commons Strategies Group in cooperation with the Heinrich Boell Foundation and David Graeber in September 2016."
"Rents have increased rapidly across U.S. housing markets as the share of renting households has risen faster than the number of new units. Now, in a survey published Thursday by an apartment-listing service, nearly one in five respondents reports struggling to make the monthly payments" [Bloomberg]. "While big landlords seem to be succeeding at finding tenants who can keep up, the survey, by Apartment List, suggests escalating housing costs may be straining renters' resources. Eighteen percent of respondents couldn't pay the full rent due in at least one of the past three months, according to the poll of 40,000 renters. Of those who have registered for the listing site this year, 3.3 percent said they had been evicted in the past, up from 2.8 percent in 2015."
"Drug Deaths in America Are Rising Faster Than Ever" [New York Times]. The struggle to medicalize — New drugs, ka-ching! Professionals, ka-ching! — Case-Deaton's "deaths of despair" continues apace.
News of the Wired
"The useless design features in modern products" [BBC]. Not just modern!
"Whenever war, hurricanes or other disasters ravage part of the globe, one of the biggest problems for aid organizations is a lack of reliable data" [Nature]. "Three years ago, one frustrated first-responder decided to do something about it. The result is an innovative piece of software called the Dharma Platform, which almost anyone can use to rapidly collect information and share, analyse and visualize it so that they can act quickly. And although public-health veterans tend to be sceptical of technological fixes, Dharma is winning fans. MSF and other organizations now use it in 22 countries. And so far, the Rise Fund, a 'global impact fund' whose board boasts U2 lead singer Bono, has invested US$14.3 million in the company behind it."
"Brain hardwired to respond to others' itching" [Washington University School of Medicine in St Louis]. "'Itching is highly contagious,' said principal investigator Zhou-Feng Chen, PhD, director of the Washington University Center for the Study of Itch. 'Sometimes even mentioning itching will make someone scratch. Many people thought it was all in the mind, but our experiments show it is a hardwired behavior and is not a form of empathy.'"
"The 'Sciencing' of Homo naledi" [National Geographic]. "Such a stunning treasure trove of hominin fossils presented a challenge about how to study them.Traditionally, a small group of senior scientists would spend years analyzing the fossils for subsequent publication. This collection would overwhelm such a system, so Berger chose to expand the team by inviting dozens of early-career scientists to Johannesburg in May 2014 to get the best young minds working on describing and identifying these bones."
"To stay young, kill zombie cells" [Nature]. "Now biotechnology and pharmaceutical companies are keen to test drugs — known as senolytics — that kill senescent cells in the hope of rolling back, or at least forestalling, the ravages of age. Unity Biotechnology in San Francisco, California, co-founded by van Deursen, plans to conduct multiple clinical trials over the next two-and-a-half years, treating people with osteoarthritis, eye diseases and pulmonary diseases. At Mayo, gerontologist James Kirkland, who took part in the 2011 study, is cautiously beginning a handful of small, proof-of-concept trials that pit senolytic drugs against a range of age-related ailments. 'I lose sleep at night because these things always look good in mice or rats, but when you get to people you hit a brick wall,' says Kirkland."
* * *
Readers, feel free to contact me at lambert [UNDERSCORE] strether [DOT] corrente [AT] yahoo [DOT] com, with (a) links, and even better (b) sources I should curate regularly, (c) how to send me a check if you are allergic to PayPal, and (d) to find out how to send me images of plants. Vegetables are fine! Fungi are deemed to be honorary plants! If you want your handle to appear as a credit, please put it in the subject line. Otherwise, I will anonymize by using your initials. See the previous Water Cooler (with plant) here. Today's plant (JP):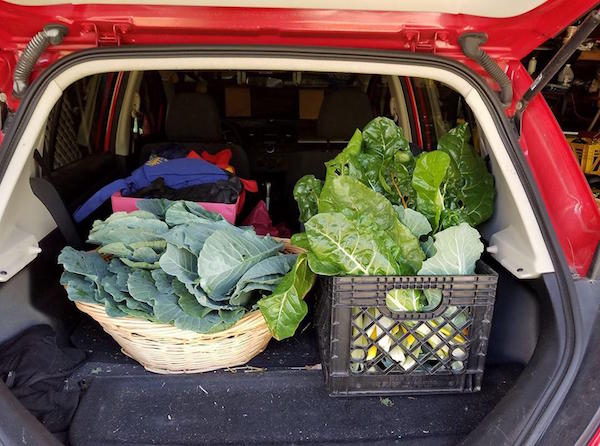 JP writes: "We have had an incredible bounty this year, and it keeps producing, so we are taking a load every week to the local food pantry. Here's the Versa loaded with fresh collard greens and chard, there are tomatoes and peppers too."
Also, it would be nice to have some pictures of people's gardens buttoned up for the winter, for those of you for whom winter is coming. And fall foliage, ditto.
* * *
Readers: The Naked Capitalism fundraiser is over, and let me express my personal thanks to all those who have helped keep Naked Capitalism getting better and better. Water Cooler, however, is a standalone entity not covered by the NC fundraiser. So do feel free to use the dropdown and click the hat to make a contribution today or any day. Here is why: Regular positive feedback both makes me feel good and lets me know I'm on the right track with coverage. When I get no donations for five or ten days I get worried. More tangibly, a constant trickle of small donations helps me with expenses, and I factor that trickle in when setting fundraising goals. So if you see something you especially appreciate, do feel free to click the hat!