By Lambert Strether of Corrente
Recently, there have been two extremely odd online incidents related to public libraries — odd, ultimately, in a good way — and so I thought I'd amble through the zeitgeist, looking for material on public libraries, and conclude with a few personal reflections.
Online Incident One, from Reddit:
I feel like an idiot. I vastly misunderstood how a library card works for years.

So, I was talking to my wife and the subject came to library cards and how she had one. I mention I didn't really see the point, if I'm going to pay for a book I'd rather own it, I say. She gives me a strange look but just brushes the remark off.

Later, somebody is talking about libraries on reddit and how they are so great. I said that, while the selection is great, amazon is much better.

"Yeah but you have to pay for them on Amazon"

And thats when some gears started turning.

So I started looking into it. Turns out, for years I've always, mistakingly, though that, while the card was free, you had a rental fee to pay whenever you rent the books. I always figured that if I'm going to pay a fee to rent them, I would rather pay a little extra and keep them without worrying about late fees. Saves money, can read at my own place, and has led to a respectable book shelf.

Turns out I was wrong. So so wrong.

I had no idea the books were free. I went to the library the very next day and got a card. Then I find out I can rent the books online and have them delivered to my kindle!

This is a complete game changer and I feel so foolish for not realizing this soon
Let's not make fun of this poster; he does admit he's wrong, and given the way everything else works, why wouldn't libraries work the way he ("mistakingly") thought they did? He expresses perfectly "The Soul of Man Under Neoliberalism," which if it isn't a book yet, should be. The image that follows could be an illustration for that book. Although it's from Twitter, and about Britain's NHS, the principle is the same: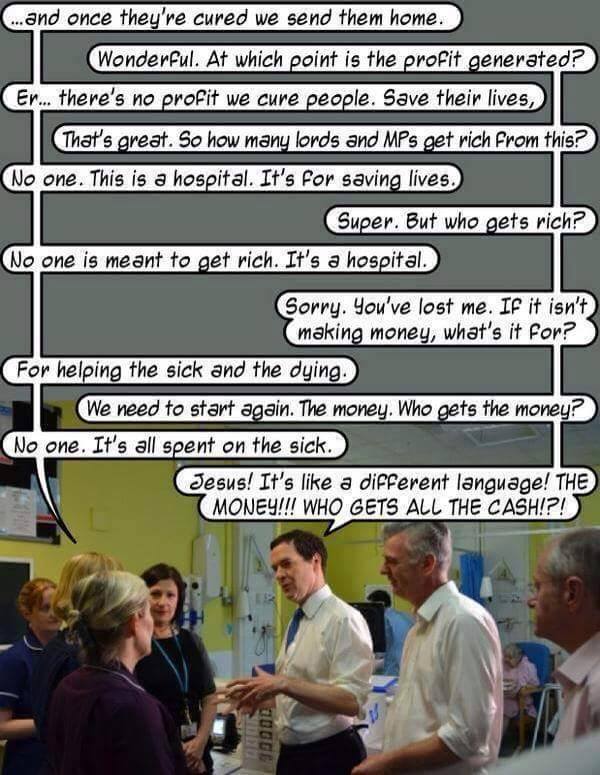 "It's like a different language." Indeed!
Online Incident Two, from New York Observer columnist Andre Walker on the Twitter:
Nobody goes to libraries anymore. Close the public ones and put the books in schools. https://t.co/Cimy1V81n5

— Andre Walker (@andrejpwalker) October 22, 2017
This too — for reasons I am about to relate — ended happily as well:
Dear #Library users, I surrender! pic.twitter.com/1F0cog6xo0

— Andre Walker (@andrejpwalker) October 24, 2017
110,000 replies; that's quite a ratio. (And let's not beat up on this guy, either; he did surrender!)
So how popular are libraries, in real life? Public libraries are used by a lot of people. From the Institute of Museum and Library Services 2015 survey:
Nearly 311 million Americans lived within a public library service area in 2015, an increase from 306 million in 2014. Libraries offered 4.7 million programs in 2015, attended by 106 million people, 4 million more attendees than the previous year. In addition, the number of electronic materials, including audio, video and e-books, continued to grow, increasing by over 50 percent between 2014 and 2015.
(While 106 million visits isn't Walmart or McDonalds scale, I still think it's impressive.
Why are libraries so popular? One reason, especially for the bright young things of today ("millennials"), is that they offer public space. Quartz:
According to a new analysis of Pew Research Center data on US library attendance, millennials more than other generations appear to have a use for physical libraries. They may not always come for the books, but the country's youngest adults show up…. '[Pew] found that millennials—arguably the first generation to grow up online—use public libraries more than other, older adults. More than half—53%—of survey respondents ages 18-35 visited a public library or bookmobile within the previous year.
One reason they do is that libraries provide (increasingly rare) public space:
There are a few reasons for the strong millennial attendance record, says librarian Rachel Clarke, an assistant professor at Syracuse University's School of Information Studies in New York. She points out that millennials are old enough to have kids now and parents love public libraries…. Younger adults may also have fewer financial resources and be more likely to live in small or shared spaces they long to escape.

The stodgy old library seems to be turning into a party animal. Beer and book nights or afternoon coffee klatches are common, says Clarke.

The library may not seem like the best place for these sorts of functions, given the existence of bars and cafes, but for a key distinction: money. The library is the rare place where there's no pressure to pay for anything (except the occasional fine on an overdue book). "Not everyone can go to a book club meeting at Starbucks and pay $5 for a coffee but public libraries are open to everyone and always will be," Clarke says with justifiable pride.
And it's not just millennials who increasingly want public space. From that 2015 Pew Research study:
Should bricks-and-mortar libraries have a smaller physical footprint in their communities? A majority do not think so. Nearly two-thirds (64%) of those ages 16 and over say libraries should "definitely" have more comfortable spaces for reading, working and relaxing. This represents a modest increase in this view since 2012, and it suggests that libraries still occupy a prominent spot in people's minds as a place to go.
"No pressure to pay for anything" translates to an escape from neoliberalism. The question in the graphic above — "At which point is the profit[1] generated?" — simply doesn't apply.
A second reason that libraries are so popular is that they provide trusted sources of information; "curated," I suppose we would say, and there are even curators ("librarians") to talk with. From the Brookings Institute:
In many communities, librarians are also ad hoc social workers and navigators. They help local people figure out the complexities of life, from navigating the health system to helping those with housing needs. This "go-to" role has influenced library programming and events, with libraries providing advice and connections to health, housing, literacy, and other areas.

Other sectors, such as health care, increasingly see public libraries as a critical link to a community.
Of course, if life under neoliberalism weren't so insanely complexified and crapified[2] (two sides of the same coin), librarians wouldn't have to perform all these functions; I would rather ObamaCare's tax on time not exist in the first place, although I'm happy that librarian navigators can help me reduce it. More from Brookings:
Philadelphia's libraries, as a trusted local institution, have partnered with the University to address population health and social determinants of health. With librarians now trained as "community health specialists," the libraries offer programs and assistance for people of all ages and socio-economic backgrounds. In 2015, almost 10 percent of the libraries' 5.8 million in-person visitors accessed specialized programs and assistance in such areas as nutrition, trauma and mental health resources, youth leadership and healthy behaviors. As the researchers conclude, "Libraries and librarians contribute two particular strengths to advance a culture of health: accessibility and trustworthiness."
A third reason libraries are so popular is pecuniary. Yes Magazine:
[In 2010] the Fels Institute of Government at the University of Pennsylvania undertook a detailed analysis of the economic impact of the public library.

Among other things, it found that within 1/4 mile of one of Philadelphia's 54 branches, the value of a home rose by $9,630. Overall, Philadelphia's public libraries added $698 million to home values—which in turn generated an additional $18.5 million in property taxes to the City and School District each year. That benefit alone recouped more than half of the city's investment.
Ka-ching. But at least, if I am a homeowner, it's my ka-ching, and not sucked out of my community, either.
I would bet that NC readers, being as they are accustomed to long-form bloggers, are disproportionately library users and enthusiasts, and so can come up with plenty of their own reasons — strengthening democracy, for example — to support public libraries. So here's my fourth and last reason: Librarians are bad-ass. From The Christian Science Monitor:
despite being supported largely by public funds, the library profession itself has a long history of opposing state power. In 1939, as the world was preparing for total war, the American Library Association (ALA) adopted the Library Bill of Rights, which guarantees everyone's right to access books and other materials regardless of their "origin, background, or views of those contributing to their creation." In 1953, at the height of McCarthyism, the ALA released the Freedom to Read Statement, which condemned the suppression of reading material as a "denial of the fundamental premise of democracy." And in 1967, amid growing urban unrest and opposition to US involvement in Vietnam, the ALA founded its Office of Intellectual Freedom, which aims to safeguard the First Amendment rights of all library users.
Anf of course after 9/11:
Following the 9/11 terror attacks, Congress passed the Uniting and Strengthening America by Providing Appropriate Tools Required to Intercept and Obstruct Terrorism (USA PATRIOT) Act, which gave US domestic intelligence agencies broad powers to obtain information about members of the public, including library records, with warrants or subpoenas from a secret court. A provision called Section 215, which expired in 2015, imposed a "gag order" prohibiting librarians from disclosing such requests.

The ALA opposed the provision. To circumvent the gag rule, [Jessamyn] West created and distributed "warrant canaries," signs to be posted in prominent places that read "The FBI has not been here (watch very closely for the removal of this sign)" – the reasoning being that, while Section 215 imposed rules against disclosing the existence of secret subpoenas, it said nothing about disclosing their nonexistence.
Love it.
Oh, and as one might expect, the Trump administration's budget plans to cut library funding. From First Monday:
For example, the budget defunds and closes multiple federal agencies that support direct public information access through libraries, such as the Institute for Museum and Library Services (IMLS), National Endowment of the Arts (NEA), and National Endowment for the Humanities (NEH). It also cancels funding programs that support specific library initiatives, such as the Library Services and Technology Act (LSTA) and Innovative Approaches to Literacy (IAL) program. These funds are central to the ability of libraries to provide free public Internet access and information literacy training, and as these institutions are the only public agencies that consistently provide such opportunities nationwide, these cuts would greatly undermine the social safety net that exists for people with no personal means for accessing information online
Obviously, this is very stupid and bad. You might consider calling your Congress Critters and telling them so, or (better) writing a letter to the editor of your local newspaper on the topic. People will notice!
* * *
I said I'd close with some personal reflections, and I thought I'd just list the ways the public libraries have helped me:
1) For most of my time in grade school through Junior High, I read several books a week, making my way from the children's section, to the yung adult section, and to the adult section before I was through. So I owe much of my intellectual formation to public libraries.
2) A library gave me my first job, shelving books after school (hence my life-long love of classification systems, in this case the Dewey Decimal system). I got my Social Security number then, too!
3) As an adult, and a poor working person, I did a lot of reading and research in the Boston Public Library, and later the New York Public Library. Wonderful public spaces, then solely concerned with books, and with electronic card catalogs a noxious innovation!
4) When I was out of work for a couple years in the Bush depression — disconnected phone, etc. — the Free Library of Philadelphia gave me a free Internet connection, without which I would not have been able to blog, and probably would not be here.
So I am very grateful to public libraries. More institutions should work like the universal concrete material benefit this is a libary, not fewer.
NOTES
[1] Handy article on library privatization in Santa Clarita, CA explains that "The bulk of the lower costs, both for the city and LSSI, comes from cutting the benefits previously afforded to librarians. Santa Clarita's library staff has been removed from the state's pension plan."
[2] Describing the librarian's role as "go'-to" is highly appropriate, since in programming, the "go-to" statement is said to lead to "spaghetti code," a twisted and tangled mass of Kafka-esque structurelessness. Like our health care system, like our criminal justice system, like our retirement system, like most every system we encounter under neoliberalism.