By Lambert Strether of Corrente.
Readers, I must apologize again for this being way too light. I'm still having teeth-grindingly frustrating workflow issues trying to transition away from Yahoo Mail, with mail hung up in the Outboxes of two new mail programs, and various other expedients, like Twitter or Apple messaging, failing or being stupid, and doing so slowly, too. All I want to do is send links from one email account to another. Why is this so hard? –lambert. P.S. No, I'm not going to use the [family blog] Cloud! And I think that's one reason Apple hates me.
Politics
2017
"Alabama Senate: One Hot Mess Moves to Toss Up" [Jennifer Duffy, Cook Political Report]. That's a pretty sexed-up headline for Cook Political Report! More: "It's hard to know whether Moore can or will win the special election. What we do know is that there is so much uncertainty surrounding the vote that moving the race to the Toss Up is the best way to describe where this race is today…. So what is the most important of these developments? [NRSC Chair Corey] Gardner's statement, as he is speaking for the leadership. This puts the Republican Conference clearly on the record in their belief that Moore is unfit to serve, and means that they have enough votes to expel Moore should he make it to the Senate."

"Just When You Think It's Bad, Roy Moore Makes It Worse" [Charles Cook, Cook Political Report]. This headline, too! "…This is not to say that Moore will deflect this direct torpedo hit to the engine room…."
2018
"Keith Ellison Believes Democrats Will Take Back the House and Senate" [The Atlantic]. "Ellison has been right before when others weren't. In a now-famous viral television exchange from 2015, Ellison said that Donald Trump had momentum, adding,'we better be ready for the fact that he might be leading the Republican ticket.'

Ellison: Yes. My opinion is that any Democrat who is not responsive to the economic challenges of working Americans will not be able to win.

If Ellison is predicting Demcrats will win, then he is also predicting they will have responded to the "economic challenges" of "working Americans." I'm dubious. (Although I certainly prefer "economic challenge" to "economic anxiety," the nauseating centrist phrase that makes it all about feelings.)

"But after the [Republican] party escaped a spate of special elections this year, especially in suburban Atlanta's 6th Congressional District, a competitive seat where Democrats invested tens of millions of dollars only to come up short, Republicans were brimming with optimism about escaping the midterm curse — or worse, an anti-Trump wave" [Washington Examiner]. "The first regular general elections on the president's watch offered fresh evidence of voter dissatisfaction with his polarizing leadership, and proof that the Democrats can harness it. Anxiety about the damage Trump could do is on the rise."
Trump Transition
"Justice Dept. to Weigh Inquiry Into Clinton Foundation" [New York Times]. "Although Mr. Sessions has recused himself from all matters related to the election, he and the deputy attorney general, Rod J. Rosenstein, will oversee the prosecutors' decision to appoint the special counsel, the letter [to the House Judiciary Committee] said." The actual reporting in this story is notably thin, even for the Times.
Realignment and Legitimacy
"Bill Clinton: A Reckoning" [The Atlantic]. "[Bill] Clinton was not left to the swift and pitiless justice that today's accused men have experienced. Rather, he was rescued by a surprising force: machine feminism. The movement had by then ossified into a partisan operation, and it was willing—eager—to let this friend of the sisterhood enjoy a little droit de seigneur… The notorious 1998 New York Times op-ed by Gloria Steinem must surely stand as one of the most regretted public actions of her life. It slut-shamed, victim-blamed, and age-shamed; it urged compassion for and gratitude to the man the women accused. Moreover (never write an op-ed in a hurry; you'll accidentally say what you really believe), it characterized contemporary feminism as a weaponized auxiliary of the Democratic Party." Plus çc change, granted for some definition of feminism (although surely the Beltway's).

"Who Will Vote for Republicans Next Year?" [RealClearPolitics]. "'The lesson — and it's a very important one — is you cannot wrap your policy, or your philosophy, in one person. You've got to stand for something,' [Republican National Committee chairman Michael Steele] told the Washington Post." A lesson both party establishments could learn.

"We're still aghast at Donald Trump – but what good has that done?" [Thomas Frank, Guardian]. "They are aghast, almost every one of them, and they compete fiercely with one another to say just how aghast they are. It is a as an acquaintance calls it, with all the skills of the journalist reduced to a performance of perturbation and disgust." And I would bet money very few of the aghast lost their homes to foreclosure in the crash, or lost their jobs, or lost a family member or friend to opioids. I bet they've all got dental. What in the world have they got to be aghast about?
Stats Watch
NFIB Small Business Optimism Index, October 2017: "The small business optimism index rose 0.8 points in October to 103.8, bouncing back, though less than expected, from a 2.3 point decline in September that took the index to the lowest level of the year as optimism retreated from 12-year highs set earlier in the year" [Econoday]. "Eearnings trends stubbornly remained the weakest of the components and became even more pessimistic in October…. Small business owners also became even more downcast about expected credit conditions… Weakness was also emerging in inventories… While falling somewhat short of expectations, the October bounce back shows small business owners retaining the highest level of optimism of the recovery, perhaps best exemplified by the one component that remained unchanged in October, plans to increase capital outlays." And: "The NFIB Index of Small Business Optimism inches up in October as more owners expect better sales and say it's a good time to expand" [Econintersect]. "Four of the Index components rose last month. Five declined slightly, while one remained unchanged. Outlook for expansion and sales expectations each jumped six points, while job openings increased by five points."
Producer Price Index (Final Demand), October 2017: "A strong and welcome price gain for services fed an unexpectedly strong producer price report for October" [Econoday]. "Gains here hint at wide and emerging price traction in the wholesale economy in what perhaps is a harbinger for price gains at the consumer level. Legal services and health care showed special traction in the month." Power surge for the 10%! And but: "The Producer Price Index again surged year-over-year" [Econintersect]. "This much gain in the Producer Price Index was not expected – and unless you are the twisted follower of the Fed – this increase is not good economically."
Tech: "Under terms of a contract that has been seen by Recode, whoever acquires Yahoo might have to pay Mozilla annual payments of $375 million through 2019 if it does not think the buyer is one it wants to work with and walks away" [Recode].
The Bezzle: "Waymo Safety Report: On the Road to Fully Self-Driving" (PDF) [Waymo].
Five Horsemen: "Amazon takes a run at Microsoft's lead" [Hat tip, Jim Haygood].
Today's Fear & Greed Index: 53 Neutral (previous close: 59, Greed) [CNN]. One week ago: 68 (Greed). (0 is Extreme Fear; 100 is Extreme Greed. Last updated Nov 12 at 7:00pm.
Class Warefare
"The Problem with Blaming Men for Not Working: A Comparison of Labor Market Outcomes for Men and Women" [CEPR]. "Researchers, partially in response to the slow labor market recovery from the Great Recession and the 2016 presidential election in the United States, are interested in why men, and particularly men without a college education, aren't as likely to be working. Some explanations point to survey data on how leisure time is used to argue that men aren't working because they would rather do something else (such as play video games, or engage in other online leisure activities). Other research points to how increasing opioid usage is causing men to be unable to work. One problem with these explanations is that within specific age and education groups, changes to women's employment outcomes are often actually worse than men's. That is, the 'problem with men' is not specific to men."
News of the Wired
"How to Get Rich Playing Video Games on Twitch" [The New Yorker]. "Each month, a hundred million visitors watch their favorite personalities play video games on Twitch, spending an average of nearly two hours a day there. This audience is large enough to make the site one of the twenty most trafficked in the U.S., yet it's perhaps more apt to measure Twitch against a different medium. With viewership numbers that rival those of MSNBC or CNN, Twitch is less like a conventional Web site than like a kaleidoscopic television network: thousands of channels at once, broadcasting live at every hour of the day."
* * *
Readers, feel free to contact me at lambert [UNDERSCORE] strether [DOT] corrente [AT] yahoo [DOT] com, with (a) links, and even better (b) sources I should curate regularly, (c) how to send me a check if you are allergic to PayPal, and (d) to find out how to send me images of plants. Vegetables are fine! Fungi are deemed to be honorary plants! If you want your handle to appear as a credit, please put it in the subject line. Otherwise, I will anonymize by using your initials. See the previous Water Cooler (with plant) here. Today's plant (Hermes the Goat):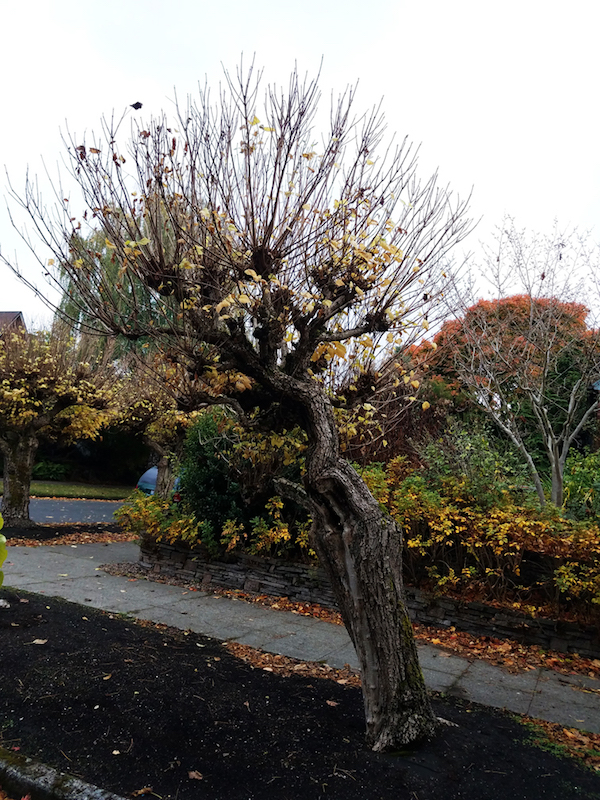 Hermes the Goat writes: "The fall colors that are continuing quite vividly here in Seattle, both were taken last weekend. The photo named 'overgrown pollards' is from a neighbor's house about a half mile up the hill from mine, which I thought was just a fairly striking sight." Yes, I think the rich colors and the detail are lovely. And shot right into the sky, too!
Readers, I'm doing OK on fall foliage now, but I'm so fascinated to learn that this map is off, I'm going to leave the request up just to see what there is to see…
* * *
Readers: Water Cooler is a standalone entity not covered by the NC fundraiser. So do feel free to use the dropdown and click the hat to make a contribution today or any day. Here is why: Regular positive feedback both makes me feel good and lets me know I'm on the right track with coverage. When I get no donations for five or ten days I get worried. More tangibly, a constant trickle of small donations helps me with expenses, and I factor that trickle in when setting fundraising goals. So if you see something you especially appreciate, do feel free to click the hat!