By Lambert Strether of Corrente.
Trade
USTR Robert Lighthizer on ISDS: "It's always odd to me when the business people come around and say, 'Oh, we just want our investments protected.' … I mean, don't we all? I would love to have my investments guaranteed. But unfortunately, it doesn't work that way in the market. … I've had people come in and say, literally, to me: 'Oh, but you can't do this: you can't change ISDS. … You can't do that because we wouldn't have made the investment otherwise.' I'm thinking, 'Well, then why is it a good policy of the United States government to encourage investment in Mexico?' … The bottom line is, business says: 'We want to make decisions and have markets decide. But! We would like to have political risk insurance paid for by the United States' government.' And to me that's absurd. You either are in the market, or you're not in the market" [Forbes].
Politics
2016 Post Mortem
"A Post-Obama Democratic Party in Search of Itself" [New York Times]. I read the whole article, all 6700+ words of it, and — hold onto your hats, here, folks — when I searched on the string "Sanders" I got zero (0) hits. Gee. That's odd.

"Inside Hillary Clinton's Secret Takeover of the DNC" [Donna Brazile, Politico]. (From the URL: "… clinton-brazile-hacks-2016….") Holy moley. Brazile throws Clinton under the bus? Brazile takes over after Wasserman-Schultz is defenestrated and follows the money:

[Gary Gensler, the chief financial officer of Hillary's campaign] described the party as fully under the control of Hillary's campaign, which seemed to confirm the suspicions of the Bernie camp. , giving it money every month to meet its basic expenses, while the campaign was using the party as a fund-raising clearinghouse. Under FEC law, an individual can contribute a maximum of $2,700 directly to a presidential campaign. But the limits are much higher for contributions to state parties and a party's national committee…. It would be weeks before I would fully understand the financial shenanigans that were keeping the party on life support.

The hottest of hot takes:

Donna Brazile sure seems to think Bernie is the most likely 2020 nominee (I tend to agree with her).

— Matthew Yglesias (@mattyglesias) November 2, 2017

If opportunists want to scramble aboard the good ship Bernie*, good. Great! * Brazile calls him Bernie…

UPDATE And one more hot take:

#ThursdayThoughts
I. Can't. Even. Form. Words. Yet. To. Address. This.
2nd WORST DAY OF MY LIFE.
Donna Brazile, compromised by Russia. https://t.co/2Nq4cNyvDL

— Peter Douche (@AngryBerner) November 2, 2017

"Trump pollster: Sanders would have won general election" [The Hill]. "Some Democrats criticized the Vermont senator for staying in the race too long, saying he damaged Clinton's campaign. Polls, however, consistently showed the self-described democratic socialist beating Trump in a head-to-head match-up." Not that Trump's pollster would be above sh*t-stirring…
2017
"Virginia Governor – Gillespie vs. Northam" [RealClearPolitics]. The average of all polls: Northam 3.6% (October 30: 3.3%). Suffolk and WaPo weigh in.

"The one-minute video shows a sinister-looking white man chasing down minority kids with his pickup truck that's adorned with three tell-tale symbols — a Confederate flag, a Tea Party license plate and a bumper sticker for Ed Gillespie, the Republican candidate for governor. At the end, this is all revealed to be a dream, as the kids wake up shaking in the middle of the night, while the narrator intones: "Is this what Donald Trump and Ed Gillespie mean by 'the American dream'?" [Roanoke Times]. "If this ad had shown an immigration officer snatching kids off the street, that would have been fair comment."

"Northam says he'd ban sanctuary cities if one ever appears in Virginia" [Richmond Times-Dispatch]. Hard to believe the same party is being discussed in the Roanake Times article, and this story.

"VA House of Delegates Updates – 10/31" [Decision Desk HQ].
Trump Transition
"Democrats are rolling out an old and flimsy argument against tax cuts" [Business Insider]. "In the weeks leading up to Thursday's reveal of the Republican tax plan, Democrats have been harping on about higher budget deficits and a resulting "entitlement crisis" as a key justification for opposing President Donald Trump's tax plan…. Unlike households, governments can run big deficits, and they should be doing so especially when inflation is as low as it is today. Doing so can help spur economic growth, and the Democrats know this because it was a key lesson of the post-financial-crisis recovery." Quotes Stephanie Kelton, but note how the central arguments have been decoupled from MMT branding, which is important for ideas on their way to becoming conventional wisdom.

"Republicans formally roll out tax plan — live updates" [CBS]. "It would lower the corporate tax rate to 20 percent, which the talking points say are the largest reduction for the U.S. corporate tax rate in history. It would also lower the tax rate on "hard-earned business income of Main street job creators" to no more than 25 percent, the talking points say." 20%, eh?

"A part of the new GOP tax plan will be a tough sell for Republicans in New Jersey, New York, and California" [Business Insider]. "While most House Republicans are in favor of getting rid of the [State and Local Taxes (SALT)] deduction, this proposal is likely to be one of the biggest hangups for those House Republicans in states like New York, New Jersey, and California, which could prove to be an obstacle to the bill's passage."
New Cold War
"[O]nce Mueller begins looking into Trump's books, there's no telling what he'll find …. Now raise your hand if you think that in all of his decades as a businessman, Donald Trump was careful never to break any laws or run afoul of any ethical standards, and Mueller will find nothing in Trump's finances that could be trouble for him if revealed. Anyone? I didn't think so" [Paul Waldman, The Week]. NTDT (Not To Defend Trump), but what Waldman is describing is a fishing expedition, and that is just what Rosenstein told the world the Office of Special Counsel would not be.

"The patsy in the White House" [Matt Bai, Yahoo News]. "Is it at least plausible that Manafort and Papadopoulos and others in their orbit could have been acting as de facto Russian agents without Trump or his coterie of little Trumps really being aware of it? Or that the Trumps were vaguely aware of what was happening but didn't think it was such a big deal? I actually do think that's plausible. And it's a version of events I find just as disconcerting as any other." What if everything is like Shattered, except Shattered is — stay with me, here — actually the standard for excellence, and everything else is far worse?
Realignment and Legitimacy
"Democrats: Stop rehabilitating George W. Bush" [Ryan Cooper, The Week]. "Democrats polishing the Bush presidency turd… allows Republicans to skate on what should be a gigantic political liability. Instead of tying Bush's failed presidency around the neck of every Republican in the land, Democrats are instead boosting his popularity. No doubt in large part due to elite signaling like Schumer's, Democrats now approve of Bush by a 51-42 margin." But the Democrats who control the party don't want to expand their electoral base by registering new voters. And they don't want to pivot left, because ka-ching (and that's before we get to ideology and hatred of the working class in their professional base). So where do they get the votes? Republicans, especially suburban Republicans. This didn't work for Clinton, and it didn't work for Ossoff, but perhaps third time is the charm.

Polarization on the Twitter:

If you are tweeting about politics, you probably aren't moderate–my new @538politics https://t.co/hOujKrQQNh paper: https://t.co/UXWdX4EWJk pic.twitter.com/aNuh6FuwYe

— Dan Hopkins (@dhopkins1776) November 1, 2017

Seems like warmongering isn't a guaranteed path to victory:

Important poll. Decisive lack of support for war: Only 25 percent of Americans think military action needed against North Korea. pic.twitter.com/wheKMFwB7V

— Ely Ratner (@elyratner) November 2, 2017
Stats Watch
Productivity and Costs, Q3 2017 (Preliminary): "Output rose at a very solid 3.8 percent annualized rate in the third quarter and it only took a 0.8 percent increase in hours worked" [Econoday]. "The gain in productivity helped hold down unit labor costs to a slightly lower-than-expected 0.5 percent annualized rate." And: "If data is analyzed in year-over-year fashion, non-farm business productivity improved 1.3 % year-over-year, and unit labor costs were DOWN 0.2 % year-over-year. Bottom line: the year-over-year data is saying that productivity growth is significantly outpacing labor costs" [Econintersect]. However: "I have issues with the way productivity is determined." Charts at the end, among them manufacturing: "In the case of manufacturing, output (blue line) and employment are now growing at the same rate. Prior to the Great Recession, output grew whilst employment fell… The above chart is saying there is no productivity growth in manufacturing – even with our belief that robotics are doing away with jobs."
Chain Store Sales, October 2017: "Chain stores are reporting improved sales rates in October compared to September which points at extended strength for core readings in the retail sales report" [Econoday].
Challenger Job-Cut Report, October 2017: "Jobless claims are at historic lows and Challenger's layoff count is at a 20-year low" [Econoday].
Jobless Claims, week of October 28, 2017: "Claims in Puerto Rico are rising but are offset by overall improvement as initial claims fell" [Econoday].
Bloomberg Consumer Comfort Index, week of October 29, 2017: Rose, below August peak [Econoday]. "Full employment, the rally in the stock market, and solid home-price appreciation are all important pluses for confidence measures."
Retail: "[Challenger] holiday hiring announcements were lower through October this year than through the same period last year. So far this year, companies have announced 548,950 seasonal hires, according to Challenger tracking. That is 9.2 percent lower than the 604,800 seasonal hires announced through October last year" [Econintersect].
Retail: "Un-Branded: How Consumers Outgrew Traditional Branding" [The Fashion Law]. "Brandless is similarly concerned with retail price. It offers all of its products – whether it be daily moisturizer or hand towels – for just $3. According to the company, it can offer such low prices by abolishing what it calls, , 'the hidden costs you pay for a national brand. We've been trained to believe these costs increase quality, but they rarely do. We estimate the average person pays at least 40 percent more for products of comparable quality as ours. And sometimes up to 370 percent more for beauty products like face cream.'"
Shipping: "Baltimore's double-stack rail project collapses" [Journal of Commerce]. "A highly-anticipated project to raise the 121-year-old Howard Street Tunnel, enabling CSX Transportation to run double-stacked trains, collapsed Wednesday after the railroad said it would no longer provide about one-third of the $425 million project budget…. CSX's withdrawal comes as the railroad is discontinuing hundreds of domestic intermodal services and destination pairs in an overhaul to build cargo density. The intermodal network overhaul is part of a broad sweep of changes under the leadership of CSX CEO E. Hunter Harrison, which he calls a "precision railroading" strategy."
Shipping: "Risks and Liabilities of a Freight Forwarder" [Shipping and Freight Resource]. "Freight forwarders are an integral part of the supply chain and global maritime trade.. Although they are involved in all modes of transport (sea, road, rail and air), in this article, I am concentrating on the seaborne trade which accounts for over 90% of the world's trade. In the most succinct and layman's terms, a Freight Forwarder is a multi-function agent/operator who undertakes to handle the movement of goods from point to point on behalf of the cargo owner." Shipping nerds will enjoy. I'm not sure automation is coming to this field anytime soon. Then again–
Shipping; "'We can make every forwarder in India a digital forwarder in a week'" [The Loadstar]. "This Expedia-like portal is created by FreightBro's back-end engine which uses algorithms to automate prices sent by carriers. Schedules are pulled from multiple carrier websites simultaneously for 'further convenience and more efficient selling'. A track-and-trace feature is included to allow shippers to monitor their cargo in real-time – FreightBro generates a "shareable link" which forwarders can pass on to customers." Interestingly, their technical approach is not market-based. ""We don't want to be a marketplace between shippers and carriers, or between shippers and forwarders, because we believe – in India at least – it's still a relationship marketplace."
Shipping: "At a forgotten Pakistan port, China paves a new Silk Road" [Agence France Presse]. "Remote and impoverished, Pakistan's Gwadar port at first glance seems an unlikely crown jewel in a multi-billion-dollar development project with China aimed at constructing a 21st century Silk Road. Situated on a barren peninsula in the Arabian Sea, Gwadar, or the "gate of the wind", owes its fortuitous selection as Pakistan's next economic hub to its strategic location near the Strait of Hormuz. The city is set to become the bridgehead for the China-Pakistan Economic Corridor (CPEC), a $54 billion project launched in 2013 linking western China to the Indian Ocean via Pakistan." But if you read further for detail, you see that "set to become" is definitely the operative phrase, as opposed to "becoming" for example.
The Bezzle: "What it's like to live in Phoenix? 'Waymo units all over the damn place'" [Ars Technica]. Besides a permissive regulatory environment, this : "A number of factors have drawn technology companies to the Phoenix area. Phoenix's sunny weather means companies don't have to worry about the complexities of rain, ice, or snow. The region has a lot of wide, well-maintained suburban streets." No. That's not quite it: "Other than the mountains in and around the city, the topography of Phoenix is generally , allowing the city's main streets to run on with " (WikiPedia). In other words, Phoenix has a road system optimized for algos that don't have to be very good. It's not quite like using the Indianapolis 500 Speedway as a test bed — only right turns! — but it's pretty close. Interestingly, Phoenix has both a low rate of people walking every day, and a relatively high rate of pedestrian deaths; and it is true that robot cars won't be talking on their cellphones while driving.
The Bezzle: "Silicon Valley Tried to Reinvent Schools. Now It's Rebooting" [Bloomberg]. After screwing with the heads of thousands of children. Thanks, Silicon Valley! Please, spare me from squillionaires with bright ideas!
Five Horsemen: "Facebook descends from its lofty perch after reporting earnings" [Hat tip, Jim Haygood].
Today's Fear & Greed Index: 72 Greed (previous close: 67, Greed) [CNN]. One week ago: 75 (Extreme Greed). (0 is Extreme Fear; 100 is Extreme Greed. Last updated Oct 31 at 8:00pm. That's what the update date is…
Black Injustice Tipping Point
"[W. E. B. Du Bois's 1935 magnum opus] Black Reconstruction in America is the definitive revisionist text in African American history and, arguably, American history more broadly. Black Reconstruction revises history in several ways. Most obviously, the book overturned the notoriously racist Dunning School. In his effort to transform how people thought about the Civil War and Reconstruction—in telling his story "as though Negroes were ordinary human beings"—Du Bois ran headlong into a legion of white historians who worked in lockstep with Columbia University historian William Archibald Dunning and his followers, including Woodrow Wilson. The Dunning School argued that Reconstruction was the most calamitous and corrupt period in the nation's history because imperialistic Radical Republicans empowered riotous, sub-human blacks to rule over the respectable white South. This racist interpretation, popularized by The Birth of a Nation, the 1915 silent film that rekindled the Ku Klux Klan, functioned as a rationale for stripping southern blacks of citizenship" [Society for U.S. Intellectual History].
Gaia
"Change in the Air" [Harvard School of Public Health]. "The experiment planted along County Road 1200 has already led to a startling scientific yield, as described in a 2014 study in Nature. When exposed to high levels of CO2, staple crops like wheat, rice, maize, and soybeans shift their internal chemistry and retain fewer essential micronutrients, such as the minerals zinc and iron. That's a frightening fact, says Sam Myers, principal research scientist, planetary health, in the Exposure, Epidemiology, and Risk Program in the Department of Environmental Health, who led the crop study. Today, 2 billion people worldwide suffer iron and zinc deficiencies. Both minerals are crucial to human health: zinc for a fully functioning immune system, iron to form a key building block of hemoglobin, the molecule that transports oxygen around our bodies. If global emissions and concomitant climate change continue at current rates, by 2050 hundreds of millions of people who depend on these staple crops for nutrition—especially in poorer societies where meat is rarely consumed—could suffer devastating health problems, from stunted growth to diminished cognitive function." Yikes. Another excellent long read; many such today!
The 420
"California to tax pot as much as 45%" [CNN]. Well, naturally. I mean, it's not like "pot" is a weed you can grow in your back yard.
Class Warfare
"About 60% of all college graduates complete their bachelor degree programs, with an average student loan debt of $16,723. The average college dropout owes nearly as much — $13,930 — and does not have a degree to show for it" [MarketWatch]. "[M]ore than half (53%) of college dropouts are not currently making payments on their student loan debt." Debts that can't be paid, won't be.
"Despite Lacking Collective Bargaining Rights, Tennessee Campus Workers Defeat Outsourcing in Major Victory for Public Sector Unions" [Payday Report]. "Despite lacking collective bargaining rights, the United Campus Workers (UCW), an affiliate of the Communications Workers of America (CWA), have dealt a death blow to Republican Governor of Tennessee Bill Haslam's $300 million plan to outsource thousands of custodial, maintenance, and repair jobs throughout the University of Tennessee system." Better fire the adminstrators who didn't do their jobs and bust the unions!
"Self-employed turn to non-bank lenders to crack the housing market" [CNBC]. "An increasing share of aspiring U.S. homebuyers are getting mortgages from "non-banks" that can accommodate borrowers in ways traditional lenders may not. Six of the top 10 home lenders by volume now fall into this category. Customers include the self-employed and those who rely on bonuses as a substantial part of their income."
News of the Wired
"[M]ost of the time we spend on the web today is no longer on the open Internet – it's on private services like Facebook, Twitter and LinkedIn. While Facebook provides a valuable service, it is also a for-profit, company. Their source of revenue is advertising. It is the epitome of centralized. Try posting a picture of the Francisco de Goya's "The Naked Maja" or your naked breasts (if you're a woman) on Facebook; it'll almost certainly be removed. It's against their terms of use. To use their platform, you have to agree to whatever conditions they set, however absurd. If you replace the open web with Facebook, you're giving up your right to publish and share on your terms. The data that you post there does not belong to you; you're putting it in a closed system. If one day Facebook decides to shut down — unlikely as that might seem today — your data goes with it. Sure, you might be able to download parts of it, but then what?" [Neutstadt.fr].
"The new thermodynamics: how quantum physics is bending the rules" [Nature]. Interesting if experiments prove out.
Boredom is the gateway to mind-wandering, which helps our brains create those new connections that can solve anything from planning dinner to a breakthrough in combating global warming. Researchers have only recently begun to understand the phenomenon of mind-wandering, the activity our brains engage in when we're doing something boring, or doing nothing at all. Most of the studies on the neuroscience of daydreaming have only been done within the past 10 years. With modern brain-imaging technology, discoveries are emerging every day about what our brains are doing not only when we are deeply engaged in an activity but also when we space out" [Nautilus].
* * *
Readers, feel free to contact me at lambert [UNDERSCORE] strether [DOT] corrente [AT] yahoo [DOT] com, with (a) links, and even better (b) sources I should curate regularly, (c) how to send me a check if you are allergic to PayPal, and (d) to find out how to send me images of plants. Vegetables are fine! Fungi are deemed to be honorary plants! If you want your handle to appear as a credit, please put it in the subject line. Otherwise, I will anonymize by using your initials. See the previous Water Cooler (with plant) here. Today's plant (MF):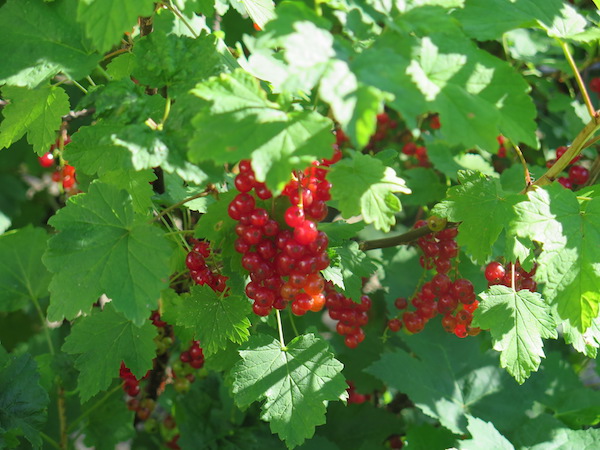 German red currants. Pretty!
Also, it would be nice to have more pictures of people's gardens buttoned up for the winter, for those of you for whom winter is coming. And fall foliage, ditto.
* * *
Readers: Water Cooler is a standalone entity not covered by the NC fundraiser. So do feel free to use the dropdown and click the hat to make a contribution today or any day. Here is why: Regular positive feedback both makes me feel good and lets me know I'm on the right track with coverage. When I get no donations for five or ten days I get worried. More tangibly, a constant trickle of small donations helps me with expenses, and I factor that trickle in when setting fundraising goals. So if you see something you especially appreciate, do feel free to click the hat!