By Lambert Strether
Clearly, Alex Azar, nominated yesterday for the position of Secretary of Health and Human Services by the Trump Administration, exemplifies the case of the "revolving door," through which Flexians slither on their way to (or from) positions of public trust. Roy Poses (cross-posted at NC) wrote, when Azar was only Acting Secretary:
Last week we noted that Mr Trump famously promised to "drain the swamp" in Washington. Last week, despite his previous pledges to not appoint lobbyists to powerful positions, he appointed a lobbyist to be acting DHHS Secretary. This week he is apparently strongly considering Mr Alex Azar, a pharmaceutical executive to be permanent DHHS Secretary, even though the FDA, part of DHHS, has direct regulatory authority over the pharmaceutical industry, and many other DHHS policies strongly affect the pharmaceutical industry. (By the way, Mr Azar was also in charge of one lobbying effort.)

So should Mr Azar be confirmed as Secretary of DHHS, the fox guarding the hen house appears to be a reasonable analogy.

Moreover, several serious legal cases involving bad behavior by his company, and multiple other instances of apparently unethical behavior occurred on Mr Azar's watch at Eli Lilly. So the fox might be not the most reputable member of the species.

So you know the drill…. The revolving door is a species of conflict of interest. Worse, some experts have suggested that the revolving door is in fact corruption. As we noted here, the experts from the distinguished European anti-corruption group U4 wrote,

The literature makes clear that the revolving door process is a source of valuable political connections for private firms. But it generates corruption risks and has strong distortionary effects on the economy, especially when this power is concentrated within a few firms.

The ongoing parade of people transiting the revolving door from industry to the Trump administration once again suggests how the revolving door may enable certain of those with private vested interests to have excess influence, way beyond that of ordinary citizens, on how the government works, and that the country is still increasingly being run by a cozy group of insiders with ties to both government and industry. This has been termed crony capitalism.
Poses is, of course, correct. (Personally, I've contained my aghastitude on Azar, because I remember quite well how Liz Fowler transitioned from Wellpoint to being Max Baucus's chief of staff when ObamaCare was being drafted to a job in Big Pharma, and I remember quite well the deal with Big Pharma Obama cut, which eliminated the public option, not that the public option was anything other than a decreasingly gaudy "progressive" bauble in the first place.) In this post, I'd like to add two additional factors to our consideration of Azar. The first: Democrat credentialism makes it hard for them to oppose Azar. The second: The real damage Azar could do is on the regulatory side.[1]
First, Democrat credentialism. Here is one effusive encomium on Azar. From USA Today, "Who is Alex Azar? Former drugmaker CEO and HHS official nominated to head agency":
"I am glad to hear that you have worked hard, and brought fair-minded legal analysis to the department," Sen. Max Baucus said at Azar's last confirmation hearing.
And:
Andy Slavitt, who ran the Affordable Care Act and the Centers for Medicare & Medicaid Services during the Obama administration, said he has reason to hope Azar would be a good secretary.

"He is familiar with the high quality of the HHS staff, has real-world experience enough to be pragmatic, and will hopefully avoid repeating the mistakes of his predecessor," Slavitt said.
So, if Democrats are saying Azar is "fair-minded" and "pragmatic" — and heaven forfend that the word "corruption"[2] even be mentioned — how do they oppose him, even he's viscerally opposed to everything Democrats supposedly stand for? (Democrats do this with judicial nominations, too.) Azar may be a fox, alright, but the chickens he's supposedly guarding are all clucking about how impeccable his qualifications are!
Second, let's briefly look at Azar's bio. Let me excerpt salient detail from USA Today:
1. Azar clerked for Supreme Court Justice Antonin .

2. Azar went to work for his mentor, , who was heading the independent counsel investigation into Bill and Hillary Clinton's Whitewater land deal.

3. Azar had a significant role in another major political controversy when the outcome of hinged on a . Azar was on the Bush team of lawyers whose side ultimately prevailed…[3]
For any Democrat with a memory, that bio provokes one of those "You shall know them by the trail of the dead" moments. And then there's this:
When Leavitt replaced Thompson in 2005 and Azar became his deputy, Leavitt delegated a lot of the rule-making process to Azar.
So, a liberal Democrat might classify Azar as a smooth-talking reactionary thug with a terrible record and the most vile mentors imaginable, and on top of it all, he's an effective bureaucratic fixer. What could the Trump Administration possibly see in such a person? Former (Republican) HHS Secretary Mike Leavitt explains:
"Understanding the administrative rule process in the circumstance we're in today could be extraordinarily important because a lot of the change in the health care system, given the fact that they've not succeeded legislatively, could come administratively."
We outlined the administration strategy on health care in "Trump Adminstration Doubles Down on Efforts to Crapify the Entire Health Care System (Unless You're Rich, of Course)". There are three prongs:
1) Administratively, send ObamaCare into a death spiral by sabotaging it

2) Legislatively, gut Medicaid as part of the "tax refom" package in Congress

3) Through executive order, eliminate "essential health benefits" through "association health plans"

As a sidebar, it's interesting to see that although this do-list is strategically and ideologically coherent — basically, your ability to access health care will be directly dependent on your ability to pay — it's institutionally incoherent, a bizarre contraption screwed together out of legislation, regulations, and an Executive order. Of course, this incoherence mirrors to Rube Goldberg structure of ObamaCare itself, itself a bizarre contraption, especially when compared to the simple, rugged, and proven single payer system. (. We might compare ObamaCare to a child born with no immune system, that could only have survived within the liberal bubble within which it was created; in the real world, it's not surprising that it's succumbing to opportunistic infections.[2])
On #1, The administration has, despite its best efforts, not achieved a controlled flight into terrain with ObamaCare; enrollment is up. On #2, the administration and its Congressional allies are still dickering with tax reform. And on #3…. That looks looks like a job for Alex Azar, since both essential health benefits and association health plans are significantly affected by regulation.
So, yes, there are worse scenarios than the revolving door; it's what you leave behind you as the door revolves that matters. It would be lovely if there were a good old-fashioned confirmation battle over Azar, but, as I've pointed out, the Democrats have tied their own hands. Ideally, the Democrats would junk the Rube Goldberg device that is ObamaCare, rendering all of Azar's regulatory expertise null and void, but that doesn't seem likely, given that they seem to be doing everything possible to avoid serious discussion of policy in 2018 and 2020.
NOTES
[1] I'm leaving aside what will no doubt be the 2018 or even 2020 issue of drug prices, since for me that's subsumed under the issue of single payer. If we look only at Azar's history in business, real price decreases seem unlikely. Business Insider:
Over the 10-year period when Azar was at Lilly, the price of insulin notched a three-fold increase. It wasn't just Lilly's insulin product, called Humalog. The price of a rival made by Novo Nordisk has also climbed, with the two rising in such lockstep that you can barely see both trend lines below.

The gains came despite the fact that the insulin, which as a medication has an almost-century-long history, hasn't really changed since it was first approved.
Nice business to be in, eh? Here's that chart: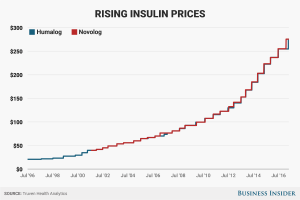 It's almost like Lilly (Azar's firm) and Novo Nordisk are working together, isn't it?
[2] Anyhow, as of the 2016 Clinton campaign, the Democrat standard — not that of Poses, nor mine — is that if there's no quid pro quo, there's no corruption.
[3] And, curiously, "[HHS head Tommy] Thompson said HHS was in the eye of the storm after the 2001 terrorist attacks, and Azar had an important role in responding to the resulting public health challenges, as well as the subsequent anthrax attacks…"