By Lambert Strether of Corrente.
Net Neutrality
"F.C.C. Repeals Net Neutrality Rules" [New York Times]. "The agency scrapped so-called net neutrality regulations that prohibited broadband providers from blocking websites or charging for higher-quality service or certain content. The federal government will also no longer regulate high-speed internet delivery as if it were a utility, like phone services…. Despite all the uproar, it is unclear how much will change for internet users. The rules were essentially a protective measure, largely meant to prevent telecom companies from favoring some sites over others. And ." Uh huh.
"FCC Vote Will Crush Rural Broadband and Entrepreneurship" [Daily Yonder]. From the article:
For rural America, the internet is the best and only hope for participation in today's economy. Poor broadband is correlated with lower population growth, less economic development, less access to education, lower property values, and slower home sales. Good broadband is a small town's lifeline out of geographic isolation, its connection to business software and services, and its conduit for exporting homegrown ideas and products.

Unfortunately, many rural broadband customers have few options when it comes to choosing an internet service provider (ISP). If the FCC ends net neutrality, it will further harm competition in rural areas. Already, broadband prices are higher where monopolies exist, and without net neutrality incumbents would have yet another tool with which to leverage their advantage, without fear of losing customers.

That's because ISPs will have the power to speed delivery of content from businesses that can pay a premium. And, since content providers tend to favor urban markets with higher customer density, incumbent ISPs will likely allocate even more of their infrastructure investment to cities. In comparison, their investments in rural areas would wane.
Trade
"Trade ministers from around the world arrived in Buenos Aires fearing the worst — that U.S. Trade Representative Robert Lighthizer would barge in to the World Trade Organization's biennial ministerial conference intent on destroying the system. Instead, they got more of the same negotiating paralysis that has dogged the consensus-driven global trading group for most of its 22-year history" [Politico]. "Only this time, it seemed worse without the United States in its traditional position of trying to guide WTO members toward some constructive outcome. In the end, countries walked away having accomplished next to nothing…. 'The Lighthizery and Trumpian view is, we paid' our dues, one high-level participant in the ministerial conference said. 'We led, we paid, and we're not doing that anymore.'"
"The world's most ambitious free-trade area is colliding with a surge in economic nationalism. From the nationalization of a shipyard in France to strict new rules for chocolates made in Italy, new barriers are going up in the supposedly borderless 28-country European Union" [Wall Street Journal]. "The actions are overturning a generation of moves toward trade liberalization—and driving countries further away from a well-functioning common market. The new trade hurdles increase the cost of doing business, and already appear to be disrupting cross-border supply chains and discouraging multinational investments. The retreat is coming in slow steps through one administrative rule after another…. Many multinational companies that thrived selling standardized products across dozens of countries are now worried, saying they are now competing with voters, unions and other groups that complain their home countries ceded too much autonomy to Brussels."
Politics
2020
"Moreover, Republicans are now stuck with Donald Trump. It's remarkable that a first-term president governing amid low unemployment, a booming stock market, and a long run of economic growth is trapped below 40 percent in the polls and triggering unexpected Democratic wins all across the country. I am skeptical that under these circumstances, another Republican president would be this unpopular, or provoke this much backlash" [Ezra Klein, Vox].
2018
"Special Elections So Far Point To A Democratic Wave In 2018" [FiveThirtyEight]. "There have been more than 70 special elections for state and federal legislative seats in 2017 so far. [I]n a neutral environment, we'd expect each special election result to match the partisan lean of that state or district. Instead, Democrats have outperformed the partisan lean in 74 percent of these races." The challenge will be to prevent the Democrats from squandering it, as they did in 2006. And I don't think the country can afford another performance like Obama's 2009 performance in the next downtown.

"Forty percent of Iowa Poll respondents say they would vote for a Democrat if congressional elections were held today, compared to 34 percent who say they would back a Republican" [Des Moines Register]. "The finding is notable because Republicans hold three of Iowa's four congressional seats, including two seen as among the most competitive in the country in 2018."
2017
The World Jones Made:

"In truth, just about any other Republican would have won this race" [Charles Cook, Cook Political Report]. "Certainly, Luther Strange, who had been appointed to the seat and who lost the GOP run-off to Moore, would have easily defeated Jones, as would have a random state legislator or mayor." A list of factors behind Jones' win: (1) "Democratic candidates are far exceeding the percentage of the vote that a Democratic candidate usually gets. Alabama was no exception"; (2) "there is evidence that turnout is some more rural Republican counties was down"; (3) "[Black] turnout exceeded the Jones' campaign's most optimistic scenario by two points"; (4) "Women made up 51 percent of the electorate and supported Jones with 57 percent. Moore took 63 percent among white women, but Jones got 98 percent among African-American women, 56 percent among women with children under 18 years of age at home and 55 percent among single women"; (5) The Jones campaign should probably send U.S. Sen. Richard Shelby a fruit basket for letting it be known that he would write-in another Republican rather than vote for Moore. Jones used footage of Shelby's remarks in a TV ad. The result was that write-ins accounted for 1.7 percent of the vote, which is considered a very high percentage in any race; it was under 1 percent in the 2016 presidential race and that was considered unusually high. These 22,819 write-in votes are more than the 20,715 votes that separated Jones and Moore"; (6) "Moore ran a terrible campaign." So, when you see headlines like "Alabama's women wrote the verdict on Roy Moore," you can safely ignore them.

"Centrists are going to learn the wrong lessons from Doug Jones' win" [Carl Beijer]. "[I]f you are a mercenary Democratic strategist, you are going to look at these numbers and decide that Democrats can take black voters for granted and need to focus on white voters. This is the lesson that Northam taught them in Virginia, and this is the lesson that Jones is teaching them in Alabama. The way you combat this is not to promote a politics of amoral demographic gaming, but to insist that Democrats need to fight for black voters regardless of what opportunistic (and largely superficial) data-wonkery suggests."

"Alabama Special Election: Winners and Losers" [RealClearPolitics]. Handy Inside Baseball-style roundup.
Tax "Reform"
"Long-term investors and workers hoping that the tax overhaul and repatriation holiday will encourage investment in growth and a rise in wages should brace for disappointment" [MarketWatch]. "A spike in share buyback and special dividend announcements in the past 10 days reveals that companies are more likely to use any money saved on an all-too-familiar item: shareholder returns."
New Cold War
"The FBI's Trump 'Insurance'" [Wall Street Journal]. Deplorable optics at the very least.

"Ex-Spy Chief: Russia's Election Hacking Was An 'Intelligence Failure'" (interview) [Michael Morell, Politico]. This is a remarkable article that you should consider reading in full. This paragraph caught my eye:

Morell: I would not be surprised if Bob Mueller concludes that the Trump campaign did not violate the law with regard to its interactions with the Russians. I'm really open to that possibility. Why? Because, as you know, The New York Times, The Washington Post, every media outlet that is worth its salt has reporters digging into this, and they haven't found anything.

And then there are those who believe the NSA had everything from Day One anyhow.

And I think that, had there been something there, they would have found something. And I think Bob Mueller would have found it already and it would have leaked.

So, . Right? That interaction leading to criminal charges.

Followed by:

[Morell: On] the obstruction of justice issue. In my view, when I read the statute, boy, it looks—you know, it looks like you could make a case. Now, the hard part is intent. Right? You have to intend to violate the statute. You have to intend to obstruct justice. That's the difficult piece to prove here.

But on institutional issues, this is even more remarkable:

[Morell:] So, let's put ourselves here in Donald Trump's shoes. So, what does he see? Right? He sees a former director of CIA and a former director of NSA, Mike Hayden, who I have the greatest respect for, criticizing him and his policies. Right? And he could rightfully have said, "Huh, what's going on with these intelligence guys?" Right?

Glasser: It embroiders his narrative.

Morell: Exactly. And then he sees a former acting director and deputy director of CIA criticizing him and endorsing his opponent. And then he gets his first intelligence briefing, after becoming the Republican nominee, and within 24 to 48 hours, there are leaks out of that that are critical of him and his then-national security advisor, Mike Flynn.

And so, this stuff starts to build, right? And he must have said to himself, "What is it with these intelligence guys? Are they political?"

Heaven forfend! Translation: There was no soft coup, but it's certainly understandable that Trump would think there was.
Stats Watch
Retail Sales, November 2017: "The consumer is in gear for the holidays as a very strong retail sales report lifts the outlook for fourth-quarter consumer spending" [Economic Calendar]. "Consumer spending proved a little soft in the third-quarter GDP report at only 2.3 percent annualized growth but today's report, including the revision, is certain to lift the outlook for fourth-quarter GDP. And it may even encourage talk that the economy, fed by unusual strength in the labor market, could be at the risk of overheating." And: "[O]ur analysis says this month's growth was significantly above the growth seen in the last 12 months" [Econintersect]. And: "The increase in November was well above expectations, and sales in September and October were revised up. A solid report" [Calculated Risk].
Purchasing Managers Index Composite Flash, December 2017: "An 11-month high for manufacturing couldn't offset a 15-month low for services" [Econoday]. "Outside of input costs for manufacturing, price data in today's report are soft. Today's mixed results are of interest, confirming what appears to be a very strong year-end finish for manufacturing and what may be, despite contrary hints in this morning's retail sales results, a soft finish for services, a sector that may not signal economic pivots with certainty but what is a far larger sector than manufacturing."
Business Inventories, October 2017: "The economic pace has been building but not inventories which are growing comparatively thin" [Econoday]. "The mismatch pulls the inventories-to-sales ratio down to 1.35 from 1.36 in September and 1.38 in August…. Low inventories will help keep prices firm which, though a negative for holiday shoppers looking for bargains, is a plus for Federal Reserve policy makers who are hoping that inflation will begin to show some lift. But for employment and production, low inventories and the need for restocking are clear pluses. One last note, however, is that inventory draws are a negative in the GDP calculation and today's report will shave a little from what otherwise look to be rising estimates for fourth-quarter growth."
Jobless Claims, week of December 9. 2017: "The first indication on the December labor market is very favorable. Initial claims fell" [Econoday]. "All the readings in this report outside of Puerto Rico are very low and point to a labor market that is at, or is very near, full employment."
Import and Export Prices, November 2017: "Year-on-year, both import and exports are up 3.1 percent which are the most constructive showings since April. Yet, in a persistent negative, the nonfuel reading on the import side is up only 1.4 percent which unfortunately is right in line with other readings on core prices, all of them weak" [Econoday]. And but: "The elephant in this month's changes were fuel imports" [Econintersect]. "Higher fuel prices were the main contributor to the overall advance in import prices for November."
NFIB Small Business Optimism Index, November 2017 (from Tuesday): "Expectations all the more trumped up with the new tax bill, but the details show actual conditions aren't doing so well" [Mosler Economics]. For example: "On the small business employment front, ."
Real Estate: "Many investors and managers believe the rise in popularity of online shopping has been a boon for the industrial real estate sector, though some insiders now are starting to wonder if too much capital is moving into the space" [Pensons & Investments].
Retail: "Retailer Zara's trend-setting fast-fashion supply chain may be fraying at the edges. Profit margins at parent company Inditex SA are narrowing even as sales are still growing" [Wall Street Journal]. "Inditex is being whipsawed by several big international forces, including shifting currency values, but some analysts believe the cost of delivery for its growing online sales also is cutting into profits. The company is testing various cost-saving strategies, including a click-and-collect kiosk. But the stress on margins suggests that even Zara's pioneering supply-chain strategy won't fully insulate the company from the realities of digital commerce."
Commodities: "[Glencore PLC] is already benefiting from a coming boom in electric-vehicle production, which is driving up the value of commodities critical to the vehicle" [Wall Street Journal]. " Tumbling coal prices in recent years have dinged Glencore's earnings, but the new commodities are becoming a primary earnings driver for the business. The company now is projecting strong surges in production of copper, cobalt and nickel, growth that will ripple across commodity supply chains and reset distribution channels to funnel the metals to factories that make batteries for the new generation of cars. The biggest question hanging over Glencore now may be whether there is enough cobalt supply in the pipeline to keep up with forecast demand."
Shipping: "The push by retailers toward delivery services is picking up speed. Target Corp's agreement to acquire grocery delivery startup Shipt Inc. takes consolidation in the retail-fulfillment arena to a new level, expanding the competition that so far has seen Amazon.com Inc. and Wal-Mart Stores Inc. pull together services aimed at getting goods to customers' homes faster and more efficiently. Shipt, like rival Instacart, uses thousands of contractors to buy products at retail stores and deliver them to consumers…, and pulls in products from local stores, including grocers like Kroger Co. and Costco Wholesale Corp." [Wall Street Journal].
The Bezzle: "My Not Too Fast, Not Too Furious Ride In A Self-Driving Uber" [BuzzFeed]. "When I take a ride on the construction-clogged streets of Pittsburgh, the first thing I notice is that my car is hardly self-driving. Every few minutes, vehicle operator Jonathan Dailey grabs the wheel, and a chime indicates that the vehicle has transitioned out of autonomy. [Vehicle operator Jonathan] Dailey holds his hands in the eight and four o'clock positions, as if he's about to start steering, for the duration of the drive. 'We call it the where we touch [the wheel] but are not manipulating controls,' says Dailey. 'I do keep [my hands] there just in case, because we have a lot of noncompliant drivers around that cut us off, or stuff like that."
Concentration: "Disney buys much of Rupert Murdoch's 21st Century Fox in deal that will reshape Hollywood" [Los Angeles Times], "The proposed purchase of much of Murdoch's 21 Century Fox media company accelerates the trend of media consolidation and would eliminate one of the six major Hollywood film studios. Murdoch would retain control of Fox News Channel, the Fox broadcast network and his newspapers.,,, The deal probably won't close until sometime in 2019, according to Disney, because the company has to secure approvals from regulators in Washington and in other countries."
Concentration: "Disney-Fox Deal Marks Seismic Shift for Hollywood's Studio System" [Hollywood Reporter]. "One reason for the acquisition is to make sure Disney has enough content for a new streaming service it is planning to roll out over the next two years in move to rival Netflix, in addition to becoming the majority owner of Hulu. That could mean making original movies directly for streaming. Industry observers say customers have a voracious appetite for a diverse menu of offerings, versus just the all-audience tentpoles and family friendly fare Disney has come to be known for. 'It's like a jukebox. If it's just the top 10 films, people will get bored pretty quickly. They want the B sides, too,' says one veteran Hollywood executive. Fox 2000 and acclaimed specialty label Fox Searchlight, for example, are both are bastions for adult-skewing, specialty fare. Fox Searchlight is at the top of its game at the moment."
Concentration: "Mouse Swallows Fox" [Variety]. "Disney is betting on an ambitious purchase of a sizable chunk of 21st Century Fox, hoping that more cable networks, production studios and other properties will buoy it into the future as it dives into the direct-to-consumer streaming distribution business with sports and entertainment services planned to launch in 2018 and 2019, respectively."
Five Horsemen: "Amazon, Alphabet & Facebook catch a bid as the Santa Claus rally rolls on" [Hat tip, Jim Haygood].
Today's Fear & Greed Index: 68 Greed (previous close: 67, Greed) [CNN]. One week ago: 60 (Greed). (0 is Extreme Fear; 100 is Extreme Greed. Last updated Dec 14 at 1:21pm.
Puerto Rico
"Today, nearly three months after the storm, more than one-third of the island is still without power, and in the areas where it has been restored the service is often unstable, with occasional outages" [Bloomberg]. Long-form with lots of good detail, but virtually unreadable in Bloomberg's over-designed, cellphone-friendly format. In any case, worth a read if you can struggle through it. Good to see the Democrats all over this. Oh, wait…
Neoliberal Epidemics
"Why American capitalism doesn't work for all Americans, says Nobel winner Angus Deaton" [MarketWatch]. From the interview:
MarketWatch: You compared this rise of mortality to the AIDS epidemic.

Deaton: The numbers we've given, which were similar to the AIDS epidemic, came from saying "ok, if mortality rates had continued to fall in the way they had prior to 1998, then how many people would be alive that are actually dead," and that's how you get that sort of number.

MarketWatch: It is not only opioids?

Deaton: That's right. I think in the age groups we were looking at among white non-Hispanics, the deaths from opiate overdoses are the biggest part of it, but they are not as big as suicides and cirrhosis added together. Maybe some of these deaths, we should also be putting some heart disease in there. Opioids are certainly the biggest single thing.

MarketWatch: And it is not just men. It is men and women?

Deaton: Yes. I mean most of these rates are lower for women but the increases are parallel for men and women. I mean, women don't kill themselves as much as men do but the rises have been similar.

MarketWatch: I want to make the bridge from your findings to the economy. You have said that white working class workers are facing a loss of their way of life.

Deaton: This is much more hypothetical because of course, you are saying "what is doing this?" Tying it to the economy is tricky because it is certainly not true that it was the Great Recession that made this happen, for example. And in fact even if you go back to the late 1990s, the patterns of income and so on are not that different across groups. They don't match up. Any simple story that said "it is the economy stupid," is stupid.

So we trace this back sort of a long way, and if you look at birth cohorts it is like each successive birth cohort is doing worse. They are more susceptible to these deaths throughout life, and the deaths rise with age more rapidly for younger cohorts, so we're attracted by this idea that there is a cumulative process going on which is steadily getting worse over time. And, you know, the destruction of the way of life of the white working class is maybe a good way of thinking about this. I mean we are very attracted by that. You know, , but, it works through a lot of other bad stuff that is going on — like the decline in marriage rates, the increase in out-of-wedlock childbearing, and all those sort of things. It is those things that get to middle age and your life has not worked out the way you thought, not just in terms of the salary you earned, but also your marital relationship, your kids who you may not know anymore and who are living with someone else. So there are a lot of people who in their 50s that find that their life has just sort of come apart.

One story is just that there has been this slow loss of the white working class life. There has been stagnation in wages for 50 years. If you don't have a university degree, median wages for those people have actually been going down. So it is just like that model, whereby American capitalism really delivered to people who were not particularly well-educated, seems to be broken.
An AIDS-level epidemic of death and suffering, and both major political parties are silent. Benign neglect is the most charitable explanation; malevolence the least.
Class Warfare
"Wal-Mart Stores Inc. has set a new series of programs to allow its employees, or 'associates' as they are called, access to part of their pay before they get their paychecks. One has to wonder why they need these very short-term, no interest loans. If their compensation was enough to cover day-to-day expenses, the services might not be necessary" [MarketWatch]. "On the other hand, Walmart probably believes these workers perform tasks not worthy of higher pay. If so, the pay plans are among the only way they can help employees financially over the long term." [Bullshit tell: This is called a "new financial wellness." Oww! My eyes!!] Something to tide you over 'til the food stamps arrive, I guess….
"A number of top banks, including Citigroup, J.P. Morgan Chase and PNC, announced right after the Federal Reserve undertook the fifth rate hike of its cycle that they would be increasing their prime lending rates" [MarketWatch]. "None of them said they were lifting the interest rates they're paying to depositors. That's not a surprise." No, it's not.
News of the Wired
"Twitter Users Like Long Tweets More Than Short Ones" [Buzzfeed]. "Early data shows tweets above 140 characters are being liked and retweeted at a rate approximately double that of their shorter counterparts. BuzzFeed News obtained the data from SocialFlow, a publishing tool used by approximately 300 major publishers including the New York Times and the Wall Street Journal."
"Bees can solve the Traveling Salesperson Problem" [Quartz]. "A research team, led by Joseph Woodgate of the biological and experimental psychology department at Queen Mary University of London, used a harmonic radar tracking system to study bee navigation, following the insects' flight paths within a set of artificial flowers. They discovered that bees are in a continual process of optimizing their routes over time."
Merry Xmas from Silicon Valley:
Things that did not exist on Christmas Day 10 years ago:

Uber
Airbnb
Instagram
Snapchat
Bitcoin
iPad
Kickstarter
Pinterest
App Store
Angry Birds
Siri
Google Chrome 
WhatsApp
Candy Crush
Alexa
Tinder
Apple Watch
Facebook Messenger
Starbucks Pumpkin Spice Lattes

— Andrew Bloch (@AndrewBloch) December 10, 2017
I'm looking at this list, and the only thing on it I wouldn't give up in a nano-second is the iPad.
"How to Succeed as an Artist Without Relying on 'The Art World'" [Bloomberg].
Zeitgeist Watch:
Of the #fatberg, our curator Vyki Sparkes said it "will be one of the most fascinating and disgusting objects we have ever had on display". https://t.co/v9fmnadiWR

— Museum of London (@MuseumofLondon) December 12, 2017
Why didn't Damien Hirst get to this idea first? Or Jeff Koons?
* * *
Readers, feel free to contact me at lambert [UNDERSCORE] strether [DOT] corrente [AT] yahoo [DOT] com, with (a) links, and even better (b) sources I should curate regularly, (c) how to send me a check if you are allergic to PayPal, and (d) to find out how to send me images of plants. Vegetables are fine! Fungi are deemed to be honorary plants! If you want your handle to appear as a credit, pleas s e place it at the start of your mail in parentheses: (thus). Otherwise, I will anonymize by using your initials. See the previous Water Cooler (with plant)
here
. Today's plant (SV):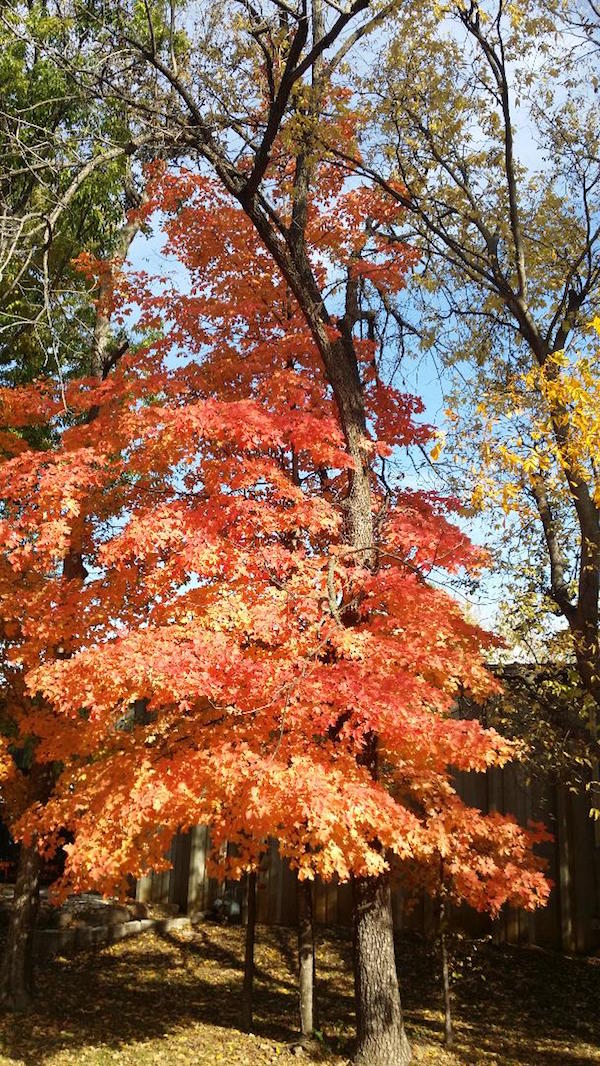 SV writes: "This is from 9 November. Like many others a couple of weeks past normal peak. Across from my office in NW AR."
Readers, I'm still running a bit short on plants, although thanks for the photos you have sent so far. Buttoned-up gardens? Fall foliage? Forest fires?! First snow? Those happy snaps from the summer you never had time to look at? Thanks!
* * *
Readers: Water Cooler is a standalone entity not covered by the NC fundraiser. So do feel free to use the dropdown and click the hat to make a contribution today or any day. Here is why: Regular positive feedback both makes me feel good and lets me know I'm on the right track with coverage. When I get no donations for five or ten days I get worried. More tangibly, a constant trickle of small donations helps me with expenses, and I factor that trickle in when setting fundraising goals. So if you see something you especially appreciate, do feel free to click the hat!