By Lambert Strether of Corrente.
When you've got your health, you've got just about everything –Popular saying
Patient readers, this should be the best post ever, because the "embodiment" concept — I stumbled across it on this Twitter thread from Brian Rahmer — deserves it, but instead it's going to be me staggering along a conceptual tight-rope until I arrive (I hope) at the other end, because new thoughts are hard. For the same reason, this post will have less rigor and many fewer links than I would normally like to see. I'm going to start by refreshing our memories on the Case-Deaton study — because what says "embodiment" more than excess mortality? — and then ask why our political class isn't all over Case-Deaton as an issue. After reviewing my priors and defining "embodiment," I will argue that it is superior to identity politics in every way, including politically (by which I mean electorally). I'll close with the concept of the "neoliberal epidemic," which certainly ought to resonate in the flyover states, including the Rust Belt.
Case-Deaton
So, lurching into motion: Naked Capitalism (NC) readers are familiar with the Case-Deaton study (original; and see here, here, here, here, and here[1]). Summarizing it:
This paper documents a marked increase in the all-cause mortality of middle-aged white non-Hispanic men and women in the United States between 1999 and 2013. This change reversed decades of progress in mortality and was unique to the United States; no other rich country saw a similar turnaround. The midlife mortality reversal was confined to white non-Hispanics; black non-Hispanics and Hispanics at midlife, and those aged 65 and above in every racial and ethnic group, continued to see mortality rates fall. This increase for whites was largely accounted for by increasing death rates from drug and alcohol poisonings, suicide, and chronic liver diseases and cirrhosis. Although all education groups saw increases in mortality from suicide and poisonings, and an overall increase in external cause mortality, those with less education saw the most marked increases. Rising midlife mortality rates of white non-Hispanics were paralleled by increases in midlife morbidity. Self-reported declines in health, mental health, and ability to conduct activities of daily living, and increases in chronic pain and inability to work, as well as clinically measured deteriorations in liver function, all point to growing distress in this population. We comment on potential economic causes and consequences of this deterioration.
In an interview with the Guardian, Anne Case expands on their findings:
Could you briefly describe your original research and what this new follow-up paper adds to it?

Our 2015 paper documented a set of facts: that after a century of almost uninterrupted progress on mortality, US white non-Hispanics (WNH) in midlife were experiencing a sustained period in which mortality rates stopped falling and rose instead. This stands in contrast to the continued declines in midlife mortality in other rich countries, and to progress being made in the US by black non-Hispanics, and Hispanics, who are on average poorer than whites.

….We found the mortality increases are in sync with the distress midlife WNHs face in many dimensions: poorer health and mental health, social isolation, obesity, marriage (or lack of marriage), poorer labor market opportunities, and weaker attachment to the labor market.

You use the term "deaths of despair". I'm wondering how you would define "despair" in this context?

We think of drug, alcohol and suicide deaths. In a sense, they are all suicide – either carried out quickly (for example, with a gun) or slowly, with drugs and alcohol.
In the greatest country in the world!
Theory of Change
First of all, it's madness to think that the country can have an increase in mortality with no political effects; organic damage — AIDS, the trenches of World War I, lynching (ultimately), and even, if you want to think of it that way, abortion — always brings about a political reaction from those damaged, or speaking on behalf of the damaged, often massive. So why don't we have either major political party directly capitalizing on "deaths of despair"? I mean, aren't political parties supposed to be about making voters' lives better? At best, we've got Trump putting Kelly Anne Conway in charge of something or other; and the Democrats are silent.[2]
To answer that, let me flounder through my priors. This is not laughably oversimplified, but cliche, so don't @ me, but I picture our society as having a pyramid-like structure with a 1% (more like a 0.01%) at the tippy top, who own capital, with a cadre of professionals below them, the 10%, who make sure the 1%'s capital stays buffed and tidy, with the remaining 90% below them, who don't own capital, and therefore sell their labor power by working to make a living. (Figures may not add due to rounding.) Part of buffing capital is managing all that labor power for profit; another part is keeping the 90% divided, "punching sideways" and not, heaven forfend, up.)
So where does electoral politics fit into all that? Teetering onwards and continuing to oversimplify, this is my theory of change: I believe that "change" — and I've "had it," as Gaius Publius says, I want "change" — comes only when a supermajority of the electorate has the power to demand it collectively; in other words, a big chunk of the 90% has to think and act the same way (and some class traitors in the 10% and 1%, too). I posit that constantly hammering on a platform of universal concrete material benefits, especially for the working class, is the way to bring about that realignment ("Peace, land, bread!"). Both party establishments disagree, as they would. Since the focus of the donor class is on keeping the 90% divided, the parties actively avoid seeking a supermajority, instead deploying a strategy of 50% + 1, that is, about half the electorate plus a few marginal voters. Trump did this by flipping Obama voters in 2016; the Democrats are trying to do this by flipping wealthy suburbanites, especially women, in 2018 and 2020. And this is what the whole swing state/bellwether county model of campaigning is about, and has been for years.
So, floundering along, tactically, how to win a supermajority in a deliberately divided electorate? And an electorate in our enormous country that is legitimately different, in that the life experiences — and class and cultural markers — of a first generation Hispanic immigrant woman in Miami will be very different from those of a male black descendant of slaves in Detroit will be very different from a sixth-generation WASP gay male in Brooklyn. Yes, they are all most likely to be selling their labor power at work as members of the 90%, but what about all the differences? The answer ought to be intersectionality, so that we could all see society as a sort of ginormous Venn diagram of overlapping identities. People ought to be able to communicate at the overlaps; to communicate with each other as both working people and black (or white (or…)) and female (or male (or…)). Unfortunately, intersectionality has been vulgarized into "identity politics," whose logic is not both/and but either/or; that's why you never hear about a "black working class" from liberal Democrats, for example; the category cannot exist for them. Worse, both intersectionality and identity politics focus the gaze of the citizen inward at the task of self-categorization, no matter whether the logic be the inclusive both/and or the exclusive either/or, and so you end up with absurd politics like this: "The most radical thing we can do is to be ourselves, no matter what that means or who tells us we're wrong." Most radical? Really?
Now my priors are out of the way, so onward. If intersectionality has failed — except for the 1% — because the parties have irretrievably polluted it with identity politics (yes), what to do to win that supermajority? I'm glad you asked. Here is a handy chart of Maslow's famous hierarchy of needs: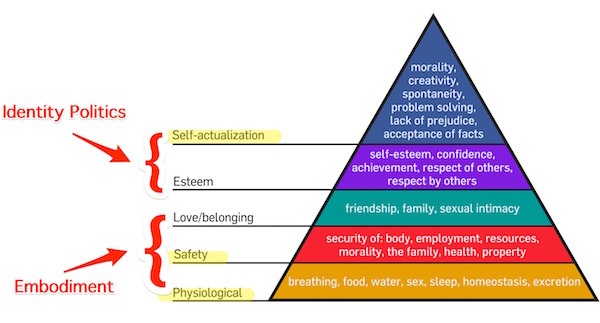 You see that I have classified identity politics as a form of Self-actualization ("The most radical thing we can do is to be ourselves…") and of course self-actualization is something that the 10%, who form the base of the Democrat Party (see Thomas Frank, Listen, Liberal!) have the money and the time and the energy to do; 10% women can worry about the glass ceiling because they don't have to worry about the floor collapsing under them. (The 10% may also entertain themselves by encouraging self-actualization in the rest of us, and possibly charge or bill for it.) You will also see that I have classified embodiment under Safety and Physiology ("concrete material benefits"). So, Identity Politics at the pyramid's tippy top; Embodiment at the base.
Embodiment
But what do you mean by embodiment? I'm glad you asked that, too. Rahmer links to a wonderful 2005 paper by Nancy Krieger, which I highly recommend you read in full, since it's only four pages long, plus a smidge: "Embodiment: a conceptual glossary for epidemiology" (J Epidemiol Community Health 2005;59:350–355), available for download at the US National Library of Medicine as a PDF. From the abstract:
Embodiment. This construct and process are central to ecosocial theory and epidemiological inquiry. Recognising that we, as humans, are simultaneously social beings and biological organisms, the notion of "embodiment" advances three critical claims: (1) bodies tell stories about—and cannot be studied divorced from—the conditions of our existence; (2) bodies tell stories that often—but not always—match people's stated accounts; and (3) bodies tell stories that people cannot or will not tell, either because they are unable, forbidden, or choose not to tell. Just as the proverbial "dead man's bones" do in fact tell tales, via forensic pathology and historical anthropometry, so too do our living bodies tell stories about our lives, whether or not these are ever consciously expressed.
(My spidey sense tingled at "tell stories," because — and this simplification is super-crude — there's a recurring focus on "black bodies" in the Black Lives Matter Twitter accounts I follow; which makes sense, given that in not-quite-historical times, black bodies were bought and sold. Now, all 90% bodies are rented, today, as opposed to being sold, and for some reason stories aren't told about that.)
And from the introduction:
Consider only: food insecurity and fast food profiteering; inadequate sanitation and lack of potable water; economic and social deprivation and discrimination; physical and sexual abuse; ergonomic strain and toxic exposures; and inadequate health care—all leave their marks on the body. As do their converse: the security of a living wage, pensions for old age, and societal support for childcare; universal sanitation and sustainable development; safe workplaces and healthy cities; universal health care and immunisations; and the protection and promotion of human rights—economic, social, political, civil, and cultural. As has long been argued, although not always widely appreciated, it is no accident that from population patterns of health, disease, and wellbeing it is possible to discern the contours and distribution of power, property, and technology within and across nations, over time. Or, more pointedly, . Embodiment, in other words, is literal.
And:
In the case of epidemiology, at the most general level, embodiment, as an idea, refers to how we, like any living organism, literally incorporate, biologically, the world in which we live, including our societal and ecological circumstances.
"Literally incorporate," for example, opiods. And:
Finally, while perhaps obvious, embodiment is contingent upon having a body. Understanding probable pathways of embodiment thus requires clarity about what it is that bodies do, as jointly biological organisms and social beings. Minimally, this includes, as elaborated in table 2: (a) for biological organism: reproduce; develop; grow; interact; exist in time and space; and evolve; (b) for social being: societal context; social position; social production; social consumption; and social reproduction. Consideration of these integral aspects of bodily existence is key for understanding both population health and social inequalities in health.
(The hashtag for discussion of such matters seems to be #SDoH (Social Determinants of Health). Imagine! And entire discipline!)
Now, why would I prefer "pathways of embodiment" to intersectionality/identity politics as a conceptual tool to support my theory of change? For several reasons:
Better benefits. Embodiment is material, and I like concrete material benefits. Health and a better, longer life — not just for you, but for the hostages to fortune that you care for — are, and ought to be, far more important to most people than self-actualization. That's a real reason to ask for people's vote when seeking a supermajority.
Better morality. Embodiment means that we are "simultaneously social beings and biological organisms." The focus on "social beings" brings altruism to the forefront, as the individualism of intersectionality/identity politics, and the tribalism of the latter, cannot do.
Better systems thinking. Embodiment allows us to think of the health results of lead pipes in Flint, MI and the health results of deindustrializing the Rust Belt and the health results of abandoning Puerto Rico as problems of the same order.
Better metrics. Unlike identity politics/intersectionality, epidemiology has a solid methodology. We know how to detect, measure, and end epidemics; if we have measurable health outcomes from political choices, that's a very good thing (and allows the supermajority to be kept, once gained.)
Better wedge issue. I am optimistic that Medicare for All is going to happen. When it does, embodiment provides us with the tools to think through how a truly universal health care system ought to be designed. This too allows a supermajority to be kept.
Neoliberal Epidemics
Neoliberal epidemics are particular pathways of embodiment. From Ted Schrecker and Clare Bambra in The Conversation:
In our new book, we draw on an extensive body of scientific literature to assess the health effects of three decades of neoliberal policies. Focusing on the social determinants of health – the conditions of life and work that make it relatively easy for some people to lead long and healthy lives, while it is all but impossible for others – we show that there are four interconnected neoliberal epidemics: austerity, obesity, stress, and inequality. They are neoliberal because they are associated with or worsened by neoliberal policies. They are epidemics because they are observable on such an international scale and have been transmitted so quickly across time and space that if they were biological contagions they would be seen as of epidemic proportions.
(The Case-Deaton study provides an obvious fifth: Deaths of despair. There are doubtless others.) Case in point for one of the unluckier members of the 90%:
On the morning of 25 August 2014 a young New Jersey woman, Maria Fernandes, died from inhaling gasoline fumes as she slept in her 13-year-old car. She often slept in the car while shuttling between her three, low-wage jobs in food service; she kept a can of gasoline in the car because she often slept with the engine running, and was worried about running out of gasoline. Apparently, the can accidentally tipped over and the vapours from spilled gasoline cost her life.

Ms Fernandes was one of the more obvious casualties of the zero-hours culture of stress and insecurity that pervades the contemporary labour market under neoliberalism.
And Schrecker and Bambra conclude:
Neoliberalism operates through labour markets to undermine health not only by way of the financial consequences of unemployment, inadequate employment, or low wages, as important as these are, but also through chronic exposure to stress that 'gets under your skin' by way of multiple mechanisms. Quite simply, the effects of chronic insecurity wear people out over the life course in .
Barbaric.
Conclusion
So, here I am, collapsed at the end of the tightrope. Once again, I apologize for the scattered nature of this post, which I wrote very fast, but the concept of embodiment hit me like a sledgehammer when I encountered it, and I felt it was vital to get it out there immediately, and to start refining it. And maybe some bright person who actually does politics can take this ball and run with it.
Oh, and "beyond class" because for social beings embodiment involves "social production; social consumption; and social reproduction." In the most reductive definition of class — the one I used in my crude 1% + 10% + 90% formulation — class is determined by wage work (or not), hence is a part of production (of capital), not social consumption (eating, etc.) or social reproduction (children, families, household work…). So, even if class in our political economy is the driver, it's not everything.
NOTES
[1] Case-Deaton have published additional papers on the same topic since the 2015 original; Noahpinion has a round-up of critiques and responses here.
[2] Oddly, a Google search for "'Thomas Frank' + opioids" brings up nothing. Frank should get on this, if the liberals haven't managed to gag him and stuff him in a box.