By Lambert Strether of Corrente.
Trade
"Airbus SE completed the year doing what it does best: selling its bread-and-butter narrow-body aircraft" [Industry Week]. "The orders for smaller jets also expose the flank that's opened up at the other end of the manufacturer's product line-up: wide-body and ultra large jumbos that are becoming increasingly hard to sell."
Politics
2017
Roy Moore's lawsuit:

The Roy Moore lawsuit includes an argument that the #ALSEN results contradicted most independent polls (depends which one you look at, and anyway most pollsters said this was a tough one to call) and — uh, exit polls? pic.twitter.com/7WU2nZuNnO

— Brian Lyman (@lyman_brian) December 28, 2017
New Cold War
"Trump Says Russia Inquiry Makes U.S. 'Look Very Bad'" [New York Times]. NTDT, but I keep hearing faint faraway sounds of hysteria on this interview, but suppose we crossed out "Trump" and wrote in "Bush." For example: "It makes the country look very bad, and it puts the country in a very bad position," Mr. Trump Bush said of the investigation. 'So the sooner it's worked out, the better it is for the country.'" Now I know Bush sets a pretty low baseline, but given that the liberal Democrats have now rehabilitated Bush, to appeal to suburban Repubicans, is the interview really that bad? In fact, now that I think about it, it's probably better than Reagan, certainly after Reagan started losing his mind, and the liberal Democrats rehabilitated Reagan, too, for the same reason they rehabilitated Bush.
Trump Transition
"White House looks to make internal changes amid worries of a tough year ahead" [WaPo]. Good detail, in company town terms. "How nervous Trump is about the upcoming year is unclear. Several friends who have seen him at Mar-a-Lago in recent days described him as relaxed and smiling, cocooned in his manicured villa and seeming without a political worry."
Realignment and Legitimacy
"Movement Pedagogy: Beyond the Class/Identity Impasse" [Viewpoint]. "In this essay, we suggest that when we think pedagogically about organizing, we arrive at a coalition between concepts that can appear to be incommensurate. Thinking pedagogically renders a coalition between the universality associated with class struggle, and the positionality that is key to a radical identity politics. Thus, we contend that the field of education offers crucial lessons for today's activists." This is a very interesting article, well worth a read. And the Morris Louis painting at the top is a bonus. Oh, and appealing to adjuncts…..

The headline: "Stop Writing 'Trump's America' Profiles" [US News]. The deck: "Those of us who live here want to read about solutions, not be treated like foreign curiosities." More: "We don't want to diagnose Trumpism. We want the antidote. And you'd be surprised how many Trump voters do too. He's , not a means to fix it." As I kept saying…
Stats Watch
No states today; the markets close early.
Debt: "The average addition to personal debt rung up by those Americans who went into debt this holiday season totaled $1,054, up from $1,003 a year ago and $986 in 2015. To make the new debt even more painful, 2017's 5% increase was mostly added to high-interest credit card debt" [247 Wall Street]. "The survey also noted that 64% of those who have new holiday debt did not plan for it and that lack of planning could be costly for the half of consumers who don't plan to pay off the debt within three months. Almost a third (29%) of those who plan to take more than three months to pay off their purchases say they'll need at least five months to pay the debt, accruing interest on the debt along the way."
Debt: "Goodbye, George Bailey: Decline of Rural Lending Crimps Small-Town Business" [MSN]. "The financial fabric of rural America is fraying. Even as lending revives around cities, it is drying up in small communities. In-person banking, crucial to many small businesses, is disappearing as banks consolidate and close rural branches. Bigger banks have been swallowing community banks and gravitating toward the business of making larger loans." Rural internet is going to be strangled too, if Pai's abolition of net neutrality goes through. And then there are opioids. It's almost like the powers that be are writing off flyover country entirely.
Commodities: "New life was breathed into the Canadian oil sands with a decision by foreign-owned Harvest Operations Corp to commission its BlackGold project south of Fort McMurray" [Mining.com]. "The Calgary-based arm of South Korean state-owned Korea National Oil Corp announced on Dec. 21 it will start the 10,000 barrels of oil per day (bopd) steam-assisted gravity drainage (SAGD) operation, construction at which was halted in 2015 due to low oil prices."
Commodities: "Want to Make Money in Industrial Metals Next Year? Ask China How" [Bloomberg]. "Base metals have been hot this year with zinc, copper and aluminum among the leaders, climbing between 15% and 23%. But what about 2018? Where would you invest to make money in industrial metals? China will have the answer. Its supply side discipline can make-or-break industrial metal sentiment for the next year, and will be the main focus for the market. Debates among analysts are heating up on copper and aluminum, while steel, coal and zinc are also creating buzz among the experts."
Shipping: "China consolidates its dominance" [Lloyd's List]. "With strong state backing, and growing dominance in finance, shipbuilding and shipowning, it is hard to see how China can be toppled from its leading spot on our 2017 Top 100 influential people in shipping ranking."
Shipping: "Study: in-store processing is cheapest option for retailers to handle returns" [DC Velocity]. "Handling returns through stores costs retailers an average of $3 per item, compared to $6 per item when returned items are sent to a distribution center (DC) and $8 per item when handled by a 3PL, according to 'Many Happy Returns for Retailers,' a Dec. 19 report produced by the New York City-based consulting firm AlixPartners LLP."
The Bezzle: parts business, a phishing equilibrium (tweets and links from DK):
This goes well with what local friends have been telling me- fake finished products are on their way out, fake components are big business and much harder to catch. https://t.co/lbc8Qs0TMV

— Naomi Wu (@RealSexyCyborg) December 28, 2017
"AN INTRODUCTION TO COUNTERFEIT ICS: COUNTERFEITING, DETECTION AND AVOIDANCE METHODS" [ATADIAT]. "Another study conducted by the U.S Department of Commerce from 2005 to 2008 showed that 50% of component manufacturers and 55% of distributors have encountered counterfeit parts. Moreover, Experts have estimated that as many as 15 percent of all spare and replacement semiconductors purchased by the Pentagon are counterfeit products." Not seeing links to that study, though. Readers?
The Bezzle: "A GUIDEBOOK TO THE WORLD OF COUNTERFEIT PARTS" [Hackaday]. "But how exactly does one counterfeit a microcontroller or transistor? Interestingly, in the vast majority of cases, old chips are pulled from recycled circuit boards and new labels are written over the original. Sometimes the forgery is as simple as changing the date code on the component or up-rating its capability (such as labeling it military spec when it isn't), but in some cases chips with the same package will be labeled as something else entirely. Other tricks are decidedly low-tech: the documentation for the device may list functions and capabilities which it simply does not possess, artificially raising its value."
The Bezzle: "A unit of Caterpillar that repaired railcars at a Los Angeles facility pled guilty last week to a federal environmental offense of dumping parts into the ocean to conceal that it was performing unnecessary and improper repairs for several railcar operators" [Corporate Crime Reporter]. "As a result of illegal conduct that spanned the years 2008 through 2014 – including the unnecessary and improper repairs on railcar adapters, brake beams, grating platforms, brake shoes, friction castings, hand brakes, roof liners and side bearings – United Industries earned at least $5 million."
The Bezzle: "Tesla Inc is likely to deliver about 5,000 Model 3s in the fourth quarter, KeyBanc Capital Markets analysts said on Wednesday, far below the brokerage's estimate of 15,000" [Reuters].
The Bezzle: "Apple, Epson face French legal pressure over planned obsolescence" [France24]. "US tech giant Apple and Japanese printer maker Epson face growing legal pressure in France over alleged planned obsolescence in their products as consumer groups make use of the country's law against the practice….On Thursday, the group hailed a breakthrough in a separate case against printer manufacturers when prosecutors opened a probe into Epson over claims that it was tricking consumers into changing ink cartridges before they were empty."
The Bezzle: "As dark pool action grows in Japan, top exchange lobbies for action" [Japan Times]. "An 86-page report that Ostuka published in September was an attempt to draw attention to the rise of dark pools in the world's third-biggest stock market. But while Otsuka estimates that Japan has Asia's largest dark pools market by trading value, it's still some way off other developed markets."
The Bezzle: "What's Behind Bitcoin Mania?" [Jacobin]. "The market pundit Robert Prechter, who is a great psychologist of financial markets despite being a devoted follower of Ayn Rand and believing in a piece of superstition called Elliott Wave theory, once argued that in the course of a major bull market there's something called a "point of recognition," when the general public gets on board. That means it's getting late in the run and it's time for pros to think about getting out (though a serious mania can go on well after John and Jane Q get involved). It sure seems like we're at that point with Bitcoin…"
Year in Review: "Global Economy Back to 'Normal' After 2017's Upside Surprises" [Bloomberg]. "Comparing 2017 predictions made a year ago versus the likely outturn — based on the latest forecasts in Bloomberg's monthly survey — shows that the pessimists called this one wrong. One of the biggest surprises was the euro area, set for its strongest expansion in a decade. At 2.3 percent, the expected growth is far above the 1.4 percent pace predicted at the start of the year. Even the U.K., which dropped to the bottom of the Group of Seven growth league, performed a little stronger than was expected."
Five Horseman: "The Fab Five drift listlessly into the new year, all having beaten the S&P 500 index in 2017" [Hat tip, Jim Haygood].
Today's Fear & Greed Index: 58 Greed (previous close: 62, Greed) [CNN]. One week ago: 66 (Greed). (0 is Extreme Fear; 100 is Extreme Greed. Last updated Dec 29 at 11:25am.
Our Famously Free Press
Examples of good journalism:
This was a hard year to be in journalism. With shrinking newsrooms, an insane news cycle, and ever-tightening deadlines, it was easy to question whether your stories were worthwhile or if they made a difference to anyone.

— Jessica Lipscomb (@jessicalipscomb) December 28, 2017
Self-serving, but still a good list. A strong local "paper" is important!
"Popular Texas blogger scooped police on a story. They charged her with 2 felonies, searched her phone records" [WaPo]. 'Over the past couple of years, the 32-year-old [blogger "Lagordiloca"] has become one of the city's most popular journalists. Her Facebook page boasts about 84,000 followers, and some of her videos have racked up hundreds of thousands of views. Laredo's flagship newspaper describes her as a 'local internet sensation.' But her raw, unfiltered social media dispatches and her guerrilla-style vlogging have led to tense confrontations with police that, according to Villarreal, have escalated since the summer."
"Rupert Murdoch Plants a Wind-Powered Sculpture in Front of Fox News HQ" [New York Magazine]. An… nular Eclipse by George Rickey is a giant pair of wind-powered, stainless-steel circles, 35-feet high."
Health Care
"The Leap to Single-Payer: What Taiwan Can Teach" [Incidental Economist]. "Regardless of which health system you might prefer, Taiwan's ambition showed what's possible. It took five years of planning and two years of legislative efforts to accomplish its transformation. That's less time than the United States has spent fighting over the Affordable Care Act, with much less to show for it."
"Why American doctors keep doing expensive procedures that don't work" [Vox]. "Naturally that carries a heavy cost: One study found that overtreatment — one type of wasteful spending — added between $158 billion and $226 billion to US health care spending in 2011. The stunning news about stents came in a landmark study published in November, in The Lancet. It found that patients who got stents to treat nonemergency chest pain improved no more in their treadmill stress tests (which measure how long exercise can be tolerated) than did patients who received a "sham" procedure that mimicked the real operation but actually involved no insertion of a stent."
"Affordable Care Act proving hard to kill" [Miami Herald]. "At the start of thea month, in excess of 802,000 Floridians have signed up for Obamacare. That means Florida has the most enrollees out of any state that offers the federal exchange. This despite the fact that in Florida, premiums are up, deductibles and out-of-pocket caps are higher, and provider networks are smaller for the most affordable plans… More than 9 million people signed up for health insurance in the 39 states served by the federal HealthCare.gov website. That's down slightly from the 9.2 million people during last year's open enrollment period."
Black Injustice Tipping Point
Dammit:
Erica wrote 3/4 of a book on her own. She had a publisher already on lined up. She wrote dozens of articles that we never put out because of one thing or another. Her story IS incredible. Including what it took to just survive BEFORE the activism started.

— officialERICA GARNER (@es_snipes) December 29, 2017
I've been looking for this quote for awhile. Here it is:
"If a white man wants to lynch me, that's his problem. If he's got the power to lynch me, that's my problem. Racism is not a question of attitude; it's a question of power" Stokely Carmichael pic.twitter.com/IEAs7CpUkV

— COMMON (@common) December 27, 2017
"Chicago incentivizes abusive policing through overtime policy" [The Chicago Reporter]. "During the two-and-a-half-year time period examined by the Inspector General, CPD paid out $225.5 million in overtime that cannot be accounted for because of coding errors. This may sound like a minor data tracking issue. But it's significant because officers can only accumulate overtime pay for specific situations, like attending court hearings, working special events or an 'extension of tour. CPD's inability to track the reasons for overtime payouts undoubtedly helps facilitate a practice known as trolling–the most troubling abuse documented in the report. Officers engage in trolling when they actively seek 'traffic, disorderly conduct or other violations at the end of a shift' or when they 'make an arrest at the end of a shift as a result of escalating a situation which would have been in the officer's discretion to dismiss.; Why do officers troll? Because if an officer makes an arrest after her shift was scheduled to end, she'll get a bigger paycheck…" They get time-and-a-half.
The 420
"California Marijuana Start-Ups, Shut Out From Banks, Turn to Private Backing" [New York Times]. "[Cannabis-focused accelerators and investment companies] have long been a presence in Silicon Valley, offering mentoring and investment in exchange for an ownership stake. Companies that provide these types of resources are critical to expanding a nascent industry around legal marijuana, said Mr. Krane, if only because they can introduce its entrepreneurs to angel investors and other private capital sources." Hmm. Sounds a bit like sharecropping.
Guillotine Watch
"Storage Space for the Undead: Inside the Cryonics Business" [Literary Hub]. Odd assumption that today's financial relationships will persist far into the future.
Class Warfare
"The Worst Job in Technology: Staring at Human Depravity to Keep It Off Facebook" [Wall Street Journal]. I can't help but think that the "Angel's Share" in this process is actual understanding of human depravity; this is, after all, an enormous anthropological effort. But no. All we get out of all the labor and suffering of the moderators is Facebook pages.
"New York's vanishing shops and storefronts: 'It's not Amazon, it's rent'" [Guardian]. "Over the past several years, thousands of small retailers have closed, replaced by national chains. When they, too, fail, the stores lie vacant, and landlords, often institutional investors, are unwilling to drop rents. A recent survey by New York councilmember Helen Rosenthal found 12% of stores on one stretch of the Upper West Side is unoccupied and 'for lease'. The picture is repeated nationally. In October, the US surpassed the previous record for store closings, set after the 2008 financial crisis." It's almost like some parasite is blighting everything…
News of the Wired
"Six years later, Penn State remains torn over the Sandusky scandal" [WaPo]. "'The vast majority of our alumni are overwhelmingly supportive,' board chairman Mark Dambly wrote. Every time alumni vote, however, they elect trustees who vow to renounce Freeh's report and reconcile with the Paternos."
"Things I have learnt as the software engineering lead of a multinational" [Minnen Ratta]. "An organization populated by a majority of incompetents has less than zero net-worth : it is able to destroy other adjacent organizations that are not similarly populated."
"How Classical Cryptography Will Survive Quantum Computers" [Nautilus]. "The methods of post-quantum cryptography have not been used in the past because they are less efficient than current public-key methods, but they are getting better. In August 2015, the N.S.A. announced that it was planning to introduce a list of approved cryptography methods that would resist quantum computers. In April 2016, the National Institute of Standards and Technology followed suit, starting a public vetting process lasting 4 to 6 years."
"The Last Jedi and narrative risks *major spoilers*" [Observational Epidemilogy]. "[T]he trick seems to be to reverse expectations at every turn and try to make it fresh and original as a result. But what struck me is how they somehow managed to avoid all of the real narrative risks that they could have taken with the story." Sounds like Game of Thrones without the thrones. Or, I suppose, the game.
"Why Studio Ghibli should make a film of Philip Pullman's Northern Lights" [New Statesman]. "[T]here are some particularly interesting parallels between Miyazaki, who co-founded Studio Ghibli, and Pullman. Both were born in the 1940s, with fathers involved in military aircraft – Miyazaki's manufactured parts for Japanese fighter planes, while Pullman's father was an RAF pilot. Both have an interest in flight that runs through their creations…. Both share an anxiety about manmade environmental disaster… Both show a recurring interest in coming-of-age stories and a secular optimism that a younger generation can remake the world for the better." There's a new Philip Pullman book out, featuring Lyra ("lyar"). Wish I had time to read it, but maybe a reader received it for Christmas?
Notes and Queries
A Minnesota reader writes:
I'm specifically writing to ask you to come to Minnesota for a meetup. I feel hopelessly alone in my state, in spite of how liberal we are supposed to be…. The last straw for me was this Christmas, when I tried to explain fiat currency to my dad, the die-hard Republican. I tried to explain how the Trump tax cut is a scam to cut his Social Security and Medicare. I know how insufferable socialists are when they start explaining things, but I couldn't help myself. He was receptive, but even I understand that knowledge doesn't equal power in our society. If you aren't able to come to Minnesota, is there someone you could connect me with here? I really need someone to exchange ideas with. Thank you, and happy new year!
To which I respond: I think that's a noble effort on fiat currency. I don't do meetups except during the summer. And I'm not sure Yves will be able to. But nothing prevents Minnesota readers from setting up a meetup for themselves, which we will be very happy to publicize. Also, I'll be happy to act as any intermediary for any other Minnesota readers who want me to forward their email address on to the writer. Finally, this is a dark time of the year, especially in Northerly regions, especially with the horror of daylight savings time, so be sure to take a walk in the sun, and remember that the shortest day of the year is behind us! Readers?
* * *
Readers, feel free to contact me at lambert [UNDERSCORE] strether [DOT] corrente [AT] yahoo [DOT] com, with (a) links, and even better (b) sources I should curate regularly, (c) how to send me a check if you are allergic to PayPal, and (d) to find out how to send me images of plants. Vegetables are fine! Fungi are deemed to be honorary plants! If you want your handle to appear as a credit, pleas s e place it at the start of your mail in parentheses: (thus). Otherwise, I will anonymize by using your initials. See the previous Water Cooler (with plant) here. Today's plant (Jim Haygood):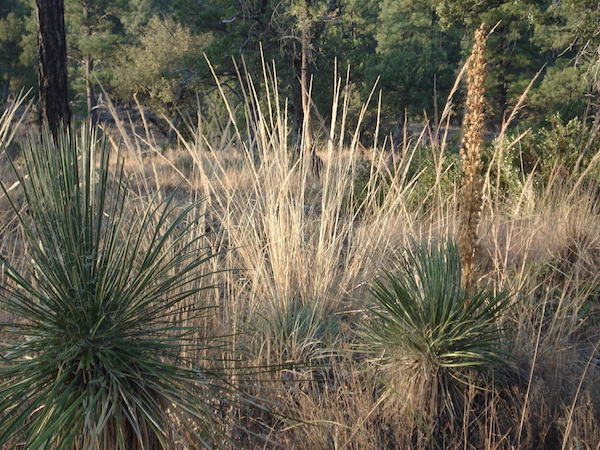 Haygood writes: "Wild grasses in Tonto National Forest Arizona this morning." December 14. Not a lot of snow in Arizona, yet, I take it..
* * *
Readers: Water Cooler is a standalone entity not covered by the NC fundraiser. So do feel free to use the dropdown and click the hat to make a contribution today or any day. Here is why: Regular positive feedback both makes me feel good and lets me know I'm on the right track with coverage. When I get no donations for five or ten days I get worried. More tangibly, a constant trickle of small donations helps me with expenses, and I factor that trickle in when setting fundraising goals. So if you see something you especially appreciate, do feel free to click the hat!