By Lambert Strether of Corrente.
Trade
"Free traders were one group in Washington that breathed a sigh of relief when the tax bills began to come together in Congress, for reasons that have little to do with taxation rates. Those who largely support the status quo on trade policy and want to see a modernization of NAFTA — and not a withdrawal from it — were glad to see President Donald Trump focused on securing victory, and refraining from commenting in any extreme way on trade. Now they're hopeful the lull will last at least until Christmas, as Republican leaders press to get a bill onto the president's desk" [Politico].
"A long-running battle over how Peru has handled agrarian reform bonds is putting the country's bid to join the Organization for Economic Cooperation and Development in the crosshairs, as a former senior OECD official is using the dispute to argue against Peru's bid to join the influential group" [Politico]. "The latest effort to discredit Peru is being done by a group of bondholders widely recognized as being organized by U.S. hedge fund Gramercy Funds Management LLC. The Connecticut-based hedge fund is already seeking $1.6 billion in damages through an investor-state dispute claim under the U.S.-Peru free trade agreement."
Politics
2020
I'm not getting this. Shouldn't Sanders be campaigning in wealthy suburbs? Or raising money in the Hamptons? Or selling books? What's wrong with this guy?

"Bernie Sanders scorches Trump tax plan in Akron" [Akron Beacon Journal]. "The Akron event, coordinated by the progressive political activists of MoveOn.org and the Not One Penny campaign, coalesced around egalitarian ideals like Medicare for all, free public college and equal pay for women. Sanders chided influential American "oligarchs" who he said are taking control of the world's wealthiest democracy." Crowd count: 1371. And:

Bernie Sanders speaking to giant crowd of angry Ohio voters rallying against the #GOPTaxScam… *on the night of Ohio's Big Ten Championship game* pic.twitter.com/2x8VdnqeNV

— Ben Wikler (@benwikler) December 3, 2017

Note the timing!

"Bernie Sanders calls tax bill "class warfare" at Dayton event" [Dayton Daily News]. "Kendra Bean, a physical therapist from Springboro, said many of the people she treats are dependent on Medicaid. She worries about the impact of the tax bill, and said she supports Sanders' approach. 'He really speaks to us as part of us," Bean said. 'We're all very tired of the top 1 percent making all the decisions for us.'" Crowd count: ~1300.

"People in crowd say Bernie Sanders energized them at rally in Reading" [Reading Eagle]. "Reading was the fourth and final stop on the tour aimed at getting voters re-engaged and to oppose the Republican Party tax plan. The Senate approved a plan Saturday that has to be reconciled with the earlier plan passed by the House…. One vendor said the hottest-selling T-shirt was the one that featured Sanders famous glasses, bald head and read 'Feel The Bern! 2020.'" Crowd count: 1600.

"Sanders is on a 3-day, four city "Protecting Working Families" tour with MoveOn.org and the "Not One Penny" coalition" (with a collection of videos from each rally) [Common Dreams], Now, I have to say I'm not super-enthusiatic about MoveOn. On the other hand, the Democrat Party did squat, so why not? (I don't like "working families" as framing, either. It leaves out too many people!)

* * *

"I'm 'Unbeatable' in 2020, Trump Declares" [Blooomberg]. "The president's final event in New York was a fundraiser at the Manhattan home of billionaire Blackstone Group LP Chief Executive Officer Stephen Schwarzman, said two people familiar with the event who weren't authorized to speak publicly. Peter Grauer, chairman of Bloomberg LP, is a non-executive director at the Blackstone Group LP."
2018
"U.S. Sen. Bernie Sanders endorses Randy Bryce for Congress" [Journal-Times]. "Bryce is trying to unseat House Speaker Paul Ryan, but he must first win his primary with Janesville School Board member Cathy Myers, and possibly other candidates. The primary election is scheduled for August 2018."

"Clinton Should Run for Cotton's Senate Seat" [Politico]. No, not Hillary. Not Bill. Chelsea. "We all know she's gearing up to run for something someday." I think this is a jeu d'esprit. It ends: "Now if you'll excuse me, I have a turnip to compost." Maybe because it fell off the truck?
2017
"Alabama Voters Will Be Able to Vote 'Republican' Rather than 'Moore' and It Will Count as a Vote for Roy Moore" [Election Law Blog]. "Honey, I swear to you…"

"Alabama Senate Special Election – Moore vs. Jones" [RealClearPolitics]. "Moore +2.6" (Previous: Moore +2.0).

"Is Roy Moore winning? Don't ask the pollsters" [Politico]. "The reality? No one really has a clue about where things stand with Alabama voters in the Dec. 12 special election. For all the national attention and the millions of dollars spent to win the seat, there's relatively little public polling in the contest. Only three public surveys in the average have been conducted since the Thanksgiving holiday, and odds are you've never heard of two of the three pollsters. And that's precisely the problem. The most important and closely watched election in the nation is taking place in the equivalent of a polling black box."

"Alabama Democrat Doug Jones is trying to shore up support among black voters in his U.S. Senate race against Republican Roy Moore by appealing for an end to the divisiveness that has long been part of the state's politics" [AP]. "Jones recently made an appearance with young progressive Randall Woodfin, inaugurated this week as the new mayor of mostly black Birmingham. Beneath blue and white balloons, Woodfin urged people to get to the polls to support Jones. 'People keep asking: Can Doug Jones win this race?' Woodfin said to the crowd. 'My answer is the exact same every time: Yes.'"

"The political class's partisan hypocrisy has been laid bare" [Al.com]. This seems to fall into the "fed up" bucket (as opposed to the "both sides" or "sensible centrist" buckets), so it's more interesting than usual. And it includes this gem:

Awkward: @SenatorDurbin attacking GOP for making handwritten changes to the #TaxBill, when he literally authored a handwritten amendment to Dodd-Frank. pic.twitter.com/aKP3hWwjNR

— Andrew Surabian (@Surabees) December 2, 2017

Sure, oppo. But still.

"Trump offers full support for embattled Republican Roy Moore" [AP]. "Trump tweeted early Monday that 'Democrats refusal to give even one vote for massive Tax Cuts is why we need Republican Roy Moore to win in Alabama.'"

"If Moore wins, Republicans fear that candidates up and down the ballot will be forced to answer for his every alleged action and confirmed comment, as the Senate grapples with whether to seat him. If he loses to Democrat Doug Jones, then the Republican hold on the Senate majority will grow even more tenuous, threatening to grind congressional action to a halt and fueling progressives on the left" [McClatchy].
2016 Post Mortem
"'I've got a crook running my campaign,' Trump said when he read it" (of Manafort) [Corey Lewandowski, Politico].
Tax Reform
Yep:

god, imagine if democrats had been as ruthless as this is 2009

— chris hooks (@cd_hooks) December 2, 2017

"Asked by interviewers Anna Palmer and Jake Sherman how to address the federal deficit, [Rubio] replied: 'We have to do two things. We have to generate economic growth which generates revenue, while reducing spending. That will mean instituting structural changes to Social Security and Medicare for the future'" [Michael Hiltzik, Los Angeles Times]. "The only thing that's new here is the explicit admission by a Republican officeholder that this is the GOP's master plan to eviscerate the welfare and retirement of American workers. Budget analysts have seen it coming with all the subtlety of a freight train."
New Cold War
"If Michael Flynn's 'crime' is all Robert Mueller has, it is time to move on" [James S. Robbins, USA Today]. "We have come down quite a way from the hyperventilation about Russia "hacking the election" a year ago. What happened to Democratic Sen. Mark Warner's claim, later promoted by Hillary Clinton, that there were 1,000 Russian agents planting anti-Hillary fake news stories in key swing states? Or that Russians had delivered Wisconsin to Trump? All the conspiracy theorists have so far are a few Facebook ads that can't credibly be shown to have changed even one vote."… Flynn was fully in his rights making the call to Kislyak. Despite the best efforts of the anti-Trumpers, it is still not illegal to talk to Russians. Even Democratic former CIA director and Defense secretary Leon Panetta said it was a "stretch" to say these contacts broke the law." (Robbins is on the editorial board of USA Today.)

"Why Has Trump Been So Desperate to Protect Flynn" [Ruth Marcus, RealClearPolitics].I've helpfully underlined the handwaving/wishful thinking: "It is . But the move by former National Security Adviser Michael Flynn to plead guilty to lying to the FBI is for Trump and his circle. We knew this day was coming, and yet the news that Flynn is cooperating with Special Counsel Robert S. Mueller III earth-shaking, for good reason. It the moment that ." I could write stuff like that all day. It's content-free!

"Russiagate, Swine Emperor Trump And Me" [Nina Illingworth]. A long round-up, well worth a read.
Trump Transition
"McConnell: 'There's not going to be a government shutdown'" [CNN]. "The issue being discussed as a roadblock to keeping the government funded is the Deferred Action for Childhood Arrivals (DACA) program, which is set to end in March. The Obama-era program has protected young undocumented immigrants, known as "dreamers," who came to the US as children, from deportation. Democrats say they will insist on protections for the dreamers in return for their support for a spending bill, giving rise to a potential showdown."

"War on the Blue States" [US News]. I'm not so sure about that. The tax bill seems more like a war by the 0.01% on all the rest of us, including even the 1%.
Realignment and Legitimacy
Ouch:

The Democratic party's utopian vision of the future is microloans to alleviate school lunch debt

— Victoria (@victoriaxxviii) December 1, 2017

One big happy:

This is the Democratic Party's largest funder, the fanatically "pro-Israel" Haim Saban, hosting Jared Kushner at his event. Look at what he just said: https://t.co/2w3VYOQchQ

— Glenn Greenwald (@ggreenwald) December 3, 2017

"Five Key Changes to Stop American Meltdown" [Umair Haque, Medium]. "What I'd Do if I Ran the Democratic Party." Interesting, but the Kleins and Silvers of this world are not the key problem; we're an oligarchy not a wonkocracy; and George Lakoff was not ignored. See, e.g., Why Mommy Is a Democrat, distinctly Lakovian:

Aaargh! My eyes!

"No Money, No Vote: How Imposed Fines, Fees and Cost Keep Black People From Voting" [Atlanta Black Star]. "When a person leaves jail/prison, it is often said that he or she has 'paid their debt to society.' But for many ex-offenders, the debt grows even after prison ends. In addition to jail or prison time, many defendants are sentenced to pay fines, costs, fees, or restitution. These financial penalties are legal financial obligations (LFOs). Like any other part of a sentence, the failure to satisfy one's LFOs has consequences. When these fees are not paid, the freed offenders lose many rights — including the right to vote. Due to the racial imbalances in the criminal justice system, most of these offenders who lose their rights are African-American."

"Philadelphia write-in candidate: I won with one vote" (his own) [The Hill]. "[Phillip] Garcia, editor-at-large of The Rumpus and a Temple University Ph.D. candidate, tweeted Friday that the city had informed them of being elected as an election judge to serve on a board for Ward 21, Division 10 of the city, which covers parts of the Manayunk neighborhood."
Stats Watch
Factory Orders, October 2017: "A big upward revision to core capital goods highlights today's factory orders report which closes the book on what was a mixed October for manufacturing" [Econoday]. "The split between the report's two main components shows a 0.7 percent gain for nondurable goods — the new data in today's report where strength is tied to petroleum and coal — and a 0.8 percent dip for durable orders which is 4 tenths improved from the advance report for this component. And driving the upward revision for durables is a major upward revision to October core capital goods (nondefense ex-aircraft) which is now up 0.3 percent from the initial 0.5 percent decline. This extends what is a very strong run for a component that offers leading indications on business investment…." But: "According to the seasonally adjusted data, it was civilian aircraft / ships and boats that caused the decline. The data in this series is noisy so I would rely on the unadjusted 3 month rolling averages which were unchanged this month: [Econintersect]. "Backlog of orders continues in expansion year-over-year – but just barely. And this data is not inflation adjusted which mean backlog is likely contracting."
Leading Indicators: "Looks like we've crossed the line?" [Mosler Economics].

Retail: "Spending growth at mom-and-pop businesses has outpaced that of the big chains in the past two years, according to Sarah Quinlan, senior vice president at credit-card giant Mastercard Inc., which tracks purchasing patterns. When they're not shopping online, Americans are seeking more personal connections and advice — something they can find lacking at national retailers" [Bloomberg].
Commodities; "Lots from North Carolina to Washington are reporting tight supplies Christmas trees…., pushing buyers to drive farther and pay more to get the central holiday decoration for many homes. It's an unlikely event in a market that's nothing if not predictable. Some suppliers blame extreme weather this past year and some blame changes to agriculture, like a turn by small farmers in Oregon toward grapes and cannabis" [Wall Street Journal]. "But many growers say the Great Recession is finally reaching Christmas tree lots. Many farmers cut production or went out of business altogether after the housing bust, when consumers pulled back spending, hitting a business where it takes seven to 10 years to grow a tree. Sellers insist there should be enough trees for everyone but that prices will be higher…."
Shipping: "Pressing medical needs are driving the growth of drone delivery operations in some of the world's most rugged and remote locations. The services include blood-transfusion materials that Zipline International Inc. is transporting in central Rwanda and pilot projects Matternet Inc. has been running in Bhutan and New Guinea, where roads are poor and medical treatment is in short supply. In the process…, the companies are gaining experience that could be used for shipments in more densely populated places" [Wall Street Journal].
Shipping: "Price increases for North American shippers are in the mail. U.S. freight operators are signaling new rate increases are coming amid growing demand in shipping networks, and even the U.S. Postal Service is getting in on the inflation action. The Postal Regulatory Commission gave permission for the service to speed up its pricing increases over the next five years…, part of an effort to shore up postal finances that will likely ripple across e-commerce shipping costs. Truckers are also are looking to turn the recent surge in spot-market prices by into better returns over the long term with higher contract rates" [Wall Street Journal].
The Bezzle: "Gold company's stock jumps 1300% after switching to bitcoin" [Mining.com]. "[A] small Israeli gold company that decided six weeks ago to refocus on blockchain and cryptocurrencies… In the last month and a half the shares of NLH have leapt 1300% in Israeli New Shekels. According to Bitcoin.com the company's first step is to acquire a Canadian bitcoin mining farm, and is in negotiations with BACKBONE Hosting Solutions to buy 75% of its shares in exchange for 75% of its own stock. Bitcoin.com says the announcement has made NLH the 10th most actively traded stock on the Tel Aviv Stock Exchange."
The Bezzle: "Andrew Salzberg, Uber's head of transportation policy and research, said aligning the company with public transport authorities was a good way to make Uber a better partner for cities" [Reuters]. "Uber, currently valued at $69 billion, has been testing a more collaborative approach to regulators under its new CEO Dara Khosrowshahi in a shift away from a more aggressive culture under former CEO Travis Kalanick."
The Bezzle: "Facebook launches a version of Messenger for young children" [The Verge]. "Facebook says it's going to great lengths to make sure the app does not come off as exploitative." Oh my.
The Bezzle: "[A] team of eminent scholars who just released the first in what is meant to be a series of annual reports on the state of AI" [Leonid Bershidsky, Bloomberg]. "The report is a great opportunity to finally recognize that the current methods we now know as AI and deep learning do not qualify as 'intelligent.' They are based on the "brute force" of computers and limited by the quantity and quality of available training data. Many experts agree…. The AI systems are such one-trick ponies because they're designed to be trained on specific, diverse, huge datasets…. The data dependence, however, isn't great for AI's future development. A backlash against the limitless data collection is gathering strength in the West; nation states are putting up barriers to data sharing; the weaponization of datasets to produce intentionally flawed results and flawed responses to them is not far off."
Tech: "Why Apple's HomePod Is Three Years Behind Amazon's Echo" [Bloomberg]. "The [Amazon] Echo is a truly standalone product at the center of an ecosystem. The cloud-based operating system has made it easy for developers to create thousands of skills or voice-activated apps. By contrast, the HomePod is essentially an extension of the iPhone, like an accessory. When someone asks the HomePod to open a third-party app, the request won't go directly to the cloud, as with the Echo, but to an iPhone. As a result, developers can't write apps for the HomePod. They must create tweaked versions of existing iPhone apps. What's more, Apple has limited the kinds of apps to messaging, to-do lists and notes. If Alexa is the beating heart of the Echo, Siri is almost an afterthought." A classic example of Conway's Law?
Marketing: "In today's media landscape, it's tougher than it used to be to win on big, slick set pieces that blanket the landscape—the type of campaign that built Nike through Michael Jordan's career. Now companies have to score in the run of play—having the right people in the right places making a series of small, skillful decisions on social media and in stores" [Bloomberg]. Nike vs. Adidas.
Fodder for the Bulls: "Economists See No Recession Next Year, Forecast for Accelerated Growth" [MarketWatch]. "The National Association for Business Economics' NABE Outlook is among the most carefully watched forecasts for economic growth. Its December survey shows that those questioned say a recession next year is highly unlikely. And the group revised most of its predictions for GDP improvement upward…. Among the main reasons are that tax cuts will stimulate the economy. The NABE is not the only group with such a forecast… It is hard to imagine things being much better, at least in terms of the economy." Irony alert!
Five Horsemen: "What have they done to the GOOG? Fab Five falter as $11K Bitcoin sucks air out of the speculative space" [Hat tip, Jim Haygood].
Rapture Index: Closes up 1 on volcanoes. "There has been several eruptions around the world" [Rapture Ready]. Record High: 189, October 10, 2016. Current: 184.
Today's Fear & Greed Index: 73 Greed (previous close: 70, Greed) [CNN]. One week ago: 51 (Neutral). (0 is Extreme Fear; 100 is Extreme Greed. Last updated Dec 4 at 11:16am. Loving tax reform.
Sports Desk
"Tennessee's Fans Know More Than John Currie and the Haslams" [Outkick the Coverage]. "When John Currie and the Haslam family attempted on Sunday to ram through Greg Schiano as the next Tennessee football coach, the fan base collectively stood up and said this was an unacceptable hire. From the state legislature to the lowest fan sitting in the highest seats of the football stadium, Tennessee fans forced the administration to rescind the offer and begin the search anew…. The Haslam's had gone 0-3 on hires and now they wanted the chance to make another one, a guy no one else wanted and, frankly, that no one else is even interviewing. And the fan base said, 'Hell no.'" And:
If you don't know about the Haslam family, you should. They are billionaires and they run the Tennessee athletic department like a feudal kingdom. They hire and fire, they make every major decision, they nod and administrators jump. They've got the governor's office locked up in the state and an NFL football team — if you want to count the Browns as an NFL team — and while their company is currently under federal prosecution for a variety of misdeeds, they control everything at the University of Tennessee and much in the state as well.
Perhaps there's a lesson here for all of us….
Gaia
"Mysterious Illnesses Are Plaguing People In California After A Massive Gas Leak" [Guardian]. This is super-nasty.
"Bill McKibben: Winning Slowly Is the Same as Losing" [Rolling Stone]. "In fact, that's the problem with climate change. It won't stand still. Health care is a grave problem in the U.S. right now too, one that Donald Trump seems set on making steadily worse. If his administration manages to defund Obamacare, millions of people will suffer. But if, in three years' time, some new administration takes over with a different resolve, it won't have become exponentially harder to deal with our health care issues. That suffering in the interim wouldn't have changed the fundamental equation. But with global warming, the fundamental equation is precisely what's shifting."
"In Massachusetts, Protesters Balk At Pipeline Company's Payments To Police" [HuffPo]. "According to records anti-pipeline protesters recently obtained through a public records request, Kinder Morgan has been reimbursing state police officers from nearby Troop B headquarters in Northampton for their many hours on site. Through October, the total reimbursement has been $957,682.15, according to Cathy Kristofferson, a member of the Massachusetts Pipeline Awareness Network."
"Nations agree to ban fishing in Arctic Ocean for at least 16 years" [Science]. "'There is no other high seas area where we've decided to do the science first,' says Scott Highleyman, vice president of conservation policy and programs at the Ocean Conservancy in Washington, D.C., who also served on the U.S. delegation to the negotiations [between nine nations and the EU]. "It's a great example of putting the precautionary principle into action.'"
Class Warfare
"Homecoming: Retracing My PapPap's Political Legacy in the Fight to Win the PA 18th Special Election & Stop the Northern Outbreak of "Right-to-Work'" [Payday Report]. "When I went on the radio and started talking about the decisive role played by Union army troops down South, I was quickly corrected by Southern organizers who took great pride in how the hill folks of Southern Appalachia had also taken up arms against the Confederacy…. As I toured the battlefields of Chattanooga, Gilliland explained to me how those strands of Southern resistance to the wealthy elite had continued to this day and wondered why people in the North were ignoring stories of resistance that could inspire so many."
"Robots Are Coming for Jobs of as Many as 800 Million Worldwide" [Bloomberg]. When you read "robot," think "slave."
"The Politics of Sexual Harassment (1981)" [Viewpoint Magazine]. "[W]e have an interest in defining sexual harassment specifically so that we can use the legal and moral weapons we have gained. If we insist on total subjectivity in the definition of the 'crime' – that is, that whatever makes a woman feel harassed is harassment – then we will sacrifice all access to legal weapons. Perhaps someday we will be strong enough as a movement to make sexism itself a crime; but we are not that strong yet and 'merely' pressuring sexual harassment out of existence would be most welcome."
"Nobody Wants to See your Dick — A Guide to Handling your Newfound Wealth and Influence" [Medium]. Well put!
News of the Wired
This really is astonishing:
The greatest onscreen dance scene in history: tap-dance gods The Nicholas Brothers moving to Cab Calloway and his orchestra in STORMY WEATHER (1943). pic.twitter.com/gigd4YvtKA

— TIFF (@TIFF_NET) December 1, 2017
* * *
Readers, feel free to contact me at lambert [UNDERSCORE] strether [DOT] corrente [AT] yahoo [DOT] com, with (a) links, and even better (b) sources I should curate regularly, (c) how to send me a check if you are allergic to PayPal, and (d) to find out how to send me images of plants. Vegetables are fine! Fungi are deemed to be honorary plants! If you want your handle to appear as a credit, please put it in the subject line. Otherwise, I will anonymize by using your initials. See the previous Water Cooler (with plant) here. Today's plant (Oguk):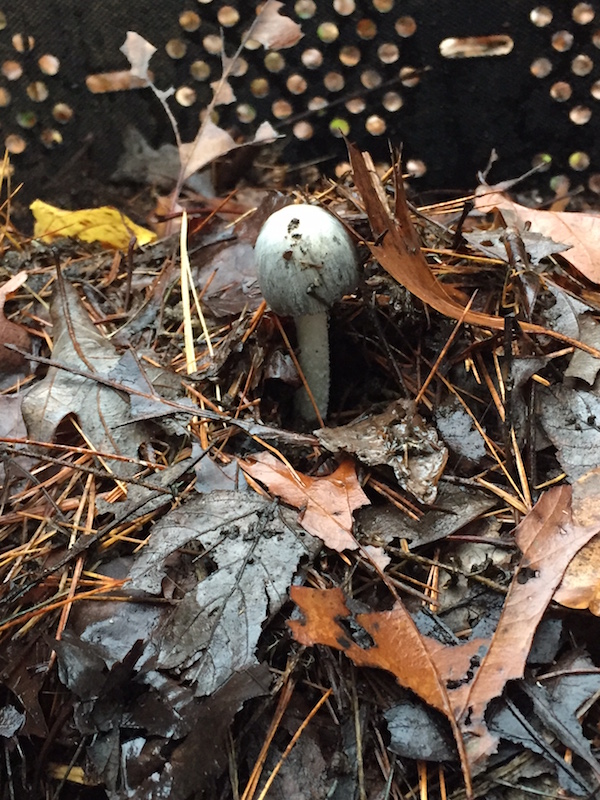 Oguk writes: "Volunteer in the compost pile." Like so many of us!
* * *
Readers: Water Cooler is a standalone entity not covered by the NC fundraiser. So do feel free to use the dropdown and click the hat to make a contribution today or any day. Here is why: Regular positive feedback both makes me feel good and lets me know I'm on the right track with coverage. When I get no donations for five or ten days I get worried. More tangibly, a constant trickle of small donations helps me with expenses, and I factor that trickle in when setting fundraising goals. So if you see something you especially appreciate, do feel free to click the hat!