By Michael Olenick, a research fellow at INSEAD
Yves wrote yesterday about the surreal world of student loans where an account isn't in default until it's delinquent for a year.
Building on that, I downloaded data about the defaults that shows an equally surreal world where the government refuses to pull the student loan spigot. Let's take a stroll through the latest data, available here. Student loan defaults are reported for fiscal years 2012 -2014.
Looking at the top-ten by default rate, it doesn't take a PhD in data science to recognize some patterns. Nine of the ten are beauty schools. Of the nine the Rob Roy Academy, appears twice, representing two different schools. Rob Roy is also in fifteenth place taking a full one-third of the top slots for the fifteen highest school default rates. The one school not in the top-ten that is not a beauty school is a tribal school, probably struggling with first-generation students.
Twenty-four of the top thirty with the highest default rates are cosmetology schools. It's not a lack of name-brand cosmetology schools: Paul Mitchell Cosmetology School has strong reviews but one of their many schools sports the twenty-fifth highest default rate, 34.3 percent, of the 4,712 schools in the dataset. There are 64 different schools that reference the Paul Mitchell name. Since some reference being a "partner" it's probably fair to say they've licensed the name, franchise style. It's unclear why a school would need to license a name.
Rival Aveda has only seven of their 31 schools in the top 1,000, the highest a number at 212 (Corpus Christi, with a 25.3% default rate). If you're dead-set on beauty school choose Aveda, especially their West Chester, OH campus, with default rate three slots better than Georgetown, at 4,547.
Non-cosmetology schools prominent in the top are also obvious candidates for cutoff. In the top-100 Everest is at slots numbered 16, 38, 53, 57, 87, and 94 (Everest apparently had nine separately listed schools). One entry in the top-100 should require a presumption a school should be ineligible for federal funds: five becomes a no-brainer. Of course, Everest was eventually shut down but not before ruining countless lives with crushing, non-dischargeable student loan debt.
Some schools did surprisingly well. Strayer University is at 1,611th place and the University of Phoenix just below it, at 1,686th place (with another Paul Mitchell beauty school sandwiched in between, at 1,670).
At the other end of the list there is a heavy grouping of medical schools, theology seminaries, and prominent business schools, all with a default rate of zero. Cornell and Harvard are one slot apart, at 4,555 and 4,556 respectively, with a default rate of .7%.
States with the highest default rates are, in order, MS, NV, NM, NC, ID, AZ, WV, AL, AK, and HI. At the other end congratulations to, in order from best to still pretty good, RI, VT, MA, IN, NE, VI, IA, CT, NY, and PA.
Moving into another dataset, we see what happens to people who can't or won't pay, the bill collection data.
As of Q2, 2017, there is $87.1 billion with private bill collectors. Of those, fourteen could be termed aggressive, accounting for 19 percent of money recovered. Despite that these 14 represent only 2.6 percent of money due they're the only collection agencies that are likely to garnish wages from over ten percent of their unfortunate student loan borrowers. One outfit, that goes by the name "ERS," is responsible for only .07 percent of outstanding debt but has chosen wage garnishment for 60 percent of the people unlucky enough to be assigned to them. Way to drive an underground economy, ERS. Most mainstream collectors seem to favor rehabilitation, consolidation, or voluntary payments over wage garnishment. Despite their gentler methods these firms collect far more revenue than the metaphoric knee crackers.
Finally, we get to the craziest default dataset of all: projected defaults. Cutting to the end, 52.7 percent of two-year proprietary (private) loans, by dollar volume, originated in 2007, are projected to default within 20 years. By loan volume, the figure drops to a still obscene 36.3 percent. Two-year public and non-profits are better, with 36.2 percent defaults predicted by dollar volume and 27.3 by loan volume. For two and four-year degrees default rates are predictably higher for those who drop out of school than those who earn degrees, suggesting a penalty might be in order for schools with abnormally low graduation rates.
Let's briefly dive into one of these businesses (err, schools). I chose to lookup Cheryl Fell's School of Business because, honestly, the name is ridiculous. Before diving into the degree programs let's check out the campus ambiance. Here's a photo, from Google Maps: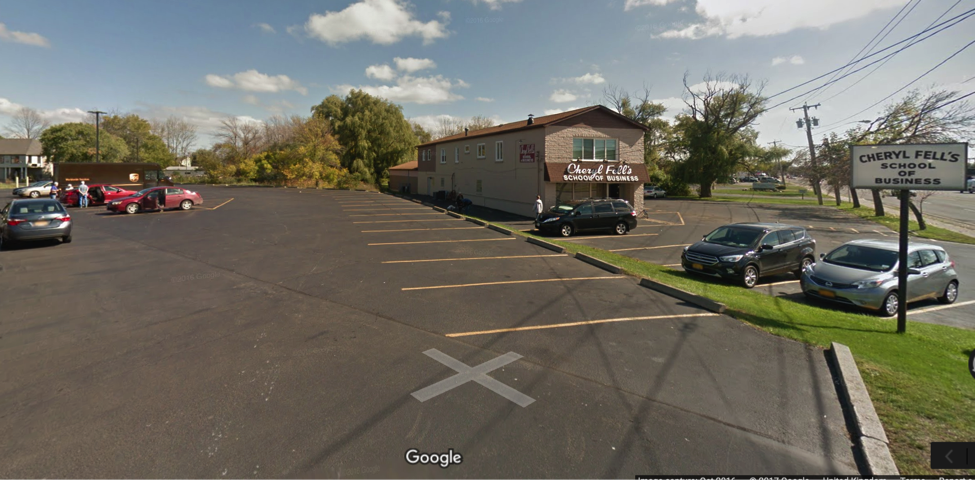 The "campus," in Niagara Falls, NY, is a two-story building abutted by a Burger King, "Military Liquors," and a place called the "People's Casino Gold Mine."
In 2014 there were apparently 71 students enrolled plus 84 students in repayment and 19 in default, a default rate of 22.6 percent. This puts them at number 389 on the list, sandwiched right between Lil Lou's Beauty and Barber College LLC and the Olympian Academy of Cosmetology (no, I'm not making this up). There are three Paul Mitchell schools with higher default rates.
Cheryl offers four programs: Accounting Assistant, Administrative Assistant/Accounting, Medical Receptionist, and Medical Secretary. The instructional hours required are 900, 1,500, 900, and 1,500 respectively. Fees are $8,500, $14,100, $8,500, and $14,100. Classes include, among other things, "Keyboarding" I, II, III, and IV.
These "Academic Programs" lie at the heart of the student loan program. Basic typing and computer literacy skills are likely necessary for these jobs but, judging by the ages of the people hanging outside the school, they're likely to know how to operate web-based software. They can probably type just fine but if they can't then Google returns 11.3 million entries for "free online typing class."
Reiterating, there's nothing more wrong with Cheryl's business school than any other similar program but none of them should be eligible for federal student funds. Nobody should take out a loan for a degree to be a receptionist. Even if the tuition were free, which it isn't, the 900 hours is at least 860 more than necessary. Any reputable medical office will allow for a week of on the job training for a promising job candidate. Paul Mitchell, with a personal fortune of $3.1 billion, can guarantee dischargeable loans to his cosmetology schools if he's confident the students are receiving a valuable education and can pay him back.
These programs would not exist but for the availability of non-dischargeable student loans. It'd be bad enough if this were merely a waste of taxpayer money but these are loans, for worthless degrees, that will saddle these students with junk debt for years or decades. Common sense reforms – specifically, throwing more schools off the eligibility list earlier – seem like no-brainers. But, under either Democrats or Republicans, they're not going to happen with lobbyists funneling the graft back up the chain.