By Lambert Strether of Corrente.
Politics
2020
"To millennials who think they have it tough: 'Give me a break,' Biden says" (video) [Los Angeles Times].
Oprah Boomlet
"Oprah 2020: Do we need another glitzy amateur in office?" [USA Today]. "If being a watchable TV personality selling fantasy qualifies one to be president, we might as well prepare ourselves for the Kardashian dynasty."
2018
"Had GOP primary voters not nominated such exotic candidates over the past eight years, they might well be sitting on a 57-seat Senate majority rather than the 51 seats they have today" [Charles Cook, Cook Political Report]. "Democrats, meanwhile, could take a break from their schadenfreude and glance over at the GOP, wondering if the past decade's developments on the opposing side could occur in their own party…. The contempt for Trump that has developed among liberals and Democrats resembles what happened in the GOP toward Obama. We could see a radicalization of a large element of the Democratic Party and a destabilization of a party establishment that already had been weakened—witness the Bernie Sanders challenge to Hillary Clinton in 2016. It is not implausible to see Democrats nominating their own exotic candidates, people who would appeal to the angry liberal base of the party but be less-than-optimal general-election candidates for Congress or even the presidency…. As some Democrats have visions of impeachment, invocation of the 25th Amendment, or passing single-payer health care dancing in their heads, they ought to be thinking about how not to make this election about them. Democrats ought to be projecting an image of a responsible party that would be an effective check on an erratic and unpopular president." As opposed to a governing party, then?

"[W]hen a party wins independent voters by double digits that party has gone on to make significant House gains. For example, in 2006, Democrats carried independent voters by 18 points (57 percent to 39 percent) and gained 30 House seats. In 2010, Republicans took independents by 19 points (56 percent to 37 percent) and picked up a whopping 63 seats" [Amy Walter, Cook Political Report]. "Right now, Democrats have a double-digit lead on the generic ballot with independent voters. Polling taken at the end of 2017 found Democrats with leads ranging from 11 to 17 points among this group… So, over these next few months, pay close to attention to independent voters. How they move – or if they do – will tell us more about who will control Congress than simply watching the ebb and flow of GOP or Democratic enthusiasm."

Arizona Senate: "Can Democrats Turn Arizona Blue?" [RealClearPolitics]. "Arizona may be ground zero for the battle within the Republican Party this year, with a three-way GOP primary to replace retiring Sen. Jeff Flake pitting controversial hard-liners against establishment forces aiming to halt the momentum of party outsiders…. [Democrat] hopes likely fall to Kyrsten Sinema, the three-term congresswoman from Tucson who was the party's prized recruit of the election cycle…. [N]ot everyone is entirely sold. In particular, some progressives are wary of Sinema's moderate, blue-dog background, unsure if they'd have a reliable ally in the Senate. Rep. Raul Grijalva, an Arizona congressman who co-chairs the progressive caucus, has not yet endorsed her campaign, and she has also not won over some of the grassroots organizations that popped up last year to oppose Trump." Arizona readers?

Maryland Governor: "The Most Important Election of 2018 Might Be Happening in Maryland" [Mother Jones]. "Jealous approaches this moment of reckoning from a different direction than many of his Democratic peers, one that almost sounds like optimism. Even after their strong showing in November, Democrats face steep odds of breaking Republicans' grip on Congress, but Jealous' race is emblematic of an opportunity outside Washington: In 2018, 13 states that Barack Obama carried twice have Republican governors who are retiring or up for reelection. Winning governors' mansions, Jealous says, is 'the only way to move our families forward.'" Of course, as 2016 made clear, Democrats don't necessarily own Obama voters.
Realignment and Legitimacy
"Apply to be a panelist at the Medicare for All Town Hall" [Bernie Sanders]. "Have you lived abroad and seen firsthand what universal health care looks like? Apply to be a panelist at the Medicare for All Town Hall in Washington on Jan. 23."

"There's a serious proposal to give babies born in the United States $20,000 (or more)" [WaPo]. "The whole point of Baby Bonds would be to dramatically lessen wealth inequality in the United States, according to the economists who came up with the idea, Darrick Hamilton of the New School and William Darity of Duke University."

"Paul Krugman got the working class wrong. That had consequences" [Thomas Frank, Guardian]. "We have just come through an election in which underestimating working-class conservatism in northern states proved catastrophic for Democrats. Did the pundits' repeated insistence that white working-class voters in the north were reliable Democrats play any part in this underestimation? Did the message Krugman and his colleagues hammered home for years help to distract their followers from the basic strategy of Trumpism? I ask because getting that point wrong was kind of a big deal in 2016. It was a blunder from which it will take the Democratic party years to recover. And we need to get to the bottom of it." The liberal Democrat "they have no place to go" strategy worked. Until it didn't (in just a key districts in just a few key states).

"I Started the Media Men List My name is Moira Donegan" [The Cut]. "I took the spreadsheet offline after about 12 hours." I got the demographic right (the author is an editor at The New Republic), but if the article it to be believed — I do — I got the institutional aspect wrong; no list-driven cabal here, but the more organic workings of a class tendency, not even a faction. For once, I was too cynical! (Googling Donegan, I found this remembered article, "Outside Trump Tower, in the LRB).

"The document itself, crowdsourced and unvetted—an organic whisper network transformed, cell by cell, into a piece of media—was ad-hoc. It was messy. It was, in some of the worst ways, limited, and exclusive, and excluding. As Jenna Wortham, writing for The New York Times Magazine, put it: 'The list was F.T.B.T.—for them, by them—meaning, by white women about their experiences with the white men who made up a majority of the names on it'" [The Atlantic]. "This failure, too, is part of Donegan's own reckoning." Of course, NC knows all about being crowd-sourced into documents produced by shadowy figures. So forgive my cynicism, please. And speaking of Google docs—

"Petition for Accountability for DSA's Medicare for All Campaign" [Google Docs]. Oof.
Stats Watch
Consumer Price Index, December 2017: "Housing and medical care costs, which together make more than half of the CPI, firmed and fed a constructive 0.3 percent rise in the ex-food and ex-energy core rate for December" [Econoday]. "This report is mixed but the core is definitely going in the right direction. When some of the wage hikes that are being announced at companies like Wal-Mart begin to kick in, the nation's inflation numbers could begin to improve." And: "On a monthly basis, median CPI was at 3.5% annualized, trimmed-mean CPI was at 2.8% annualized, and core CPI was at 3.4% annualized. Using these measures, inflation picked up a little year-over-year in December. Overall, these measures are close, but still mostly below, the Fed's 2% target (Median CPI is slightly above)" [Calculated Risk]. But: "The three month rolling averages of the unadjusted data marginally declined" [Econintersect]. "Our analysis says this month's growth was near average for the growth seen in the last 12 months. The relationship between year-over-year growth in inflation adjusted retail sales and retail employment do not correlate."
Retail Sales, December 2017: "It was a very good holiday shopping season but perhaps not a great one. Retail sales rose a solid 0.4 percent in December which is just shy of Econoday's consensus" [Econoday]. "The consumer was alive during the holidays but not unrestrained. Likely gains underway in wages along with the enormous strength in confidence and in the labor market are positives going into the 2018 economy."
Business Inventories, November 2017: "Inventories are rising but are not keeping pace with sales in what is very good news for the economy but not such good news for fourth-quarter GDP" [Econoday]. "Sales surged 1.2 percent in November and follow October's 0.8 percent rise. These are very strong numbers that aren't being matched by inventories which is reflected in the inventory-to-sales ratio which is down a notch to 1.33. This is very lean and points to the need for restocking, and restocking in turn points to the need for production increases and hiring. This is a very positive setup going into 2018."
Commodities: "Global miner Rio Tinto (ASX, LON:RIO) is said to have ditched plans to own a stake in Chile's Chemical and Mining Society (SQM), the world's largest lithium producer, due to a mix of tricky politics and the fact that such miner is currently the target of several claims" [Mining.com]. "Chilean authorities accuse SQM of underpaying royalties, environmental violations and illicit political financing, which have made the sale process complex, raising at the same time the specter of delays or a steep price discount, local paper Diario Financiero reports (in Spanish)."
Retail: "[Walmart is closing 63 of its Sam's Club sites around the U.S. over the next few weeks…. and will covert about a dozen of the facilities into e-commerce fulfillment centers" [Wall Street Journal]. "The retailer is facing growing competition for low-wage workers in a tight labor market and likely expecting a windfall from the new tax law that will add billions to retailer profits. The moves at Sam's Club are part of a bigger shift in the company's underlying business. Wal-Mart's overall online sales rose 50% in its most recent quarter, and the company's big focus is getting more of those goods delivered to customers cheaper and faster."
Manufacturing: "Fiat Chrysler Automobiles NV is joining the push toward more automotive production in the U.S. The company will invest $1 billion to move production of profitable pickup trucks from Mexico to Michigan" [Wall Street Journal].
The Bezzle: "Don't Worry, Petrolheads. Driverless Cars Are Still Years Away" [Bloomberg]. A report from CES: "Truly driverless vehicles are years away, executives from auto giants Toyota Motor Corp. and Hyundai Motor Co., mega supplier Robert Bosch GmbH and ride-hailing service Lyft Inc. said this week. While each of those companies showed off the progress they're making in the form of concept models or Las Vegas test drives, they're quick to admit that plenty of major hurdles remain. 'It's a mistake to say that the finish line is coming up very soon,' said Gill Pratt, chief executive officer of Toyota Research Institute, the carmaker's $1 billion unit working on artificial intelligence and robotics. 'Things are changing rapidly, but this will be a long journey.'… "You're going to need human drivers for a very long time," [Raj Kapoor, Lyft's chief strategy officer] said. 'In the next 10 years there will be more drivers than there are today, because the demand for our service is growing so much, and only so many AVs are coming on line.'"
The Bezzle: "Uber Looks Great When the Police Barge In" [Bloomberg]. "Uber explicitly built a system to counter police raids… Everyone knows that if the police raid your offices it's best if they can't just look at all your sensitive documents. Other companies have crude haphazard innocent-looking procedures that happen to keep the cops from looking at those documents. Uber built a whole system and gave it a swaggering name [(Ripley, as in "Nuke the entire site from orbit")]. It takes the procedure just one step further, but what a step."
The Bezzle: "PwC barred from issuing audit opinions in India for two years" [MarketWatch]. "Ramalinga Raju, Satyam's founder and major shareholder, admitted he had manipulated the results, including faking more than $1 billion in cash on the company's balance sheet. In his unexpected resignation letter delivered to the board of directors of the company, Raju said that keeping up with the fraud was like 'riding a tiger, not knowing how to get off without being eaten.'… The audit firm and its partners were accused of signing off on Satyam's financial statements, issuing clean audit opinions, despite the fact that the company's monthly bank statements didn't match with the company's daily bank statements and they had accepted confirmations of the balances form company executives instead of the bank itself, as the auditing standards require."
The Bezzle: "Goldman Sachs Exec Says Concerns Growing that Compliance Officers Are Being Unfairly Targeted by Law Enforcement" [Corporate Crime Reporter]. "Goldman Sachs executive Court Golumbic is raising the red flag. Golumbic says a string of recent enforcement actions targeting financial sector compliance officers is 'fueling concerns that they are being unfairly targeted.' … Golumbic says that law enforcement officials have responded to these concerns of unfair targeting by stressing that 'in the rare instances in which financial sector compliance officers have been held personally accountable, the majority had engaged in affirmative misconduct.'"
The Bezzle: "Facebook and Google's Dirty Secret: They're Really Junk Mail Empires" [Daily Beast]. "Underneath their moon shots and free services, the duopoloy's core revenue stream is quite simply the targeted junk mail business of the '90s reinvented and turbocharged for the 21st century. Google and Facebook clearly state in their SEC filings that their businesses are primarily funded by cost-effective, highly targeted advertising, and changes to data ownership policies are a significant risk to this business." I don't see why I don't own my personal data, all of it. Google and Facebook should give me royalties for it. And reparations, if we want to be hard-nosed about it. This article is well worth a read, since it also focuses on antitrust policy.
The Bezzle: "One of our big focus areas for 2018 is making sure the time we all spend on Facebook is time well spent." [Mark Zuckerberg, Facebook]. "[W]e're making a major change to how we build Facebook. I'm changing the goal I give our product teams from focusing on helping you find relevant content to helping you have more meaningful social interactions." No. No. No. No. No.
The Bezzle: "When I jokingly tweeted about 'investing in Dogecoin' in late 2013, I never imagined that the tongue-in-cheek cryptocurrency I had just brought into the world would still be around in the year 2018, let alone hit a $2 billion market cap like it just did over the weekend" [Vice]. And: "At the time of writing, it costs an average of $30 to send any amount of money using the Bitcoin network. At the same time, a token that touts itself as "the blockchain solution for the global dental industry" has just surpassed a $1 billion market cap. Something isn't right here.
Tech: "Male sex robots with unstoppable bionic p*nises are coming this year" [Metro UK]. "David Levy, author of Love and Sex With Robots, says, 'I'm sure women will find robots equally appealing as men.'"
Mr. Market: "ROSENBERG: The excesses in markets are practically unlike anything we've ever seen" (charts) [Business Insider]. "The question is how can this possibly be viewed as the most hated rally of all time when US household exposure to equities has rarely been as high as it is currently. And the thought is merely a piece of advice to heed Bob Farrell's rule #4 – exponentially rising markets usually go further than you think, but they do not correct by going sideways."
Honey for the Bears: "Economist James K. Galbraith isn't celebrating Dow 25,000" [MarketWatch]. "I think there are really major changes in the structure of the economy going forward. The share of business investment has been quite low, share of construction has been very low, and that means the economy is being driven increasingly by the consumer. The consumer is dependent upon the access to debt, auto loans, consumer loans and student loans. Those things will build up over time until such time as there is a crack and households decide that they no longer wish to access the credit — at which point this phase of the expansion will end."
Honey for the Bears: "There is a widening gap between consumer sentiment and the savings rate. In the past, this was a precursor to the end of an economic cycle" [Mosler Economics]. Handy chart: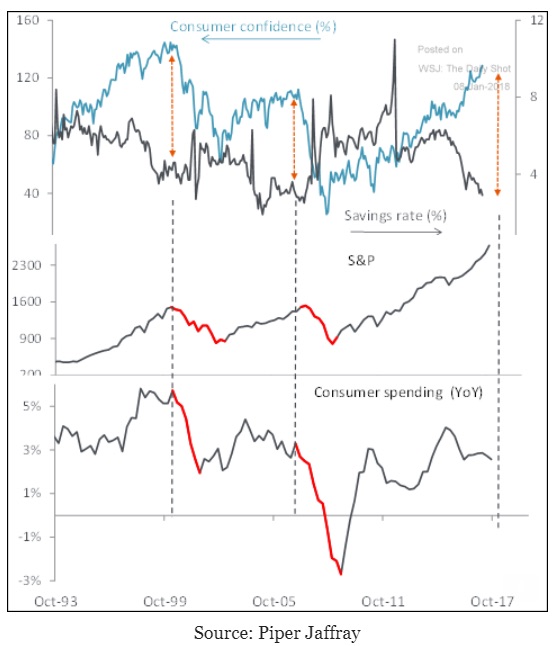 A cloud no bigger than a man's hand…
Five Horsemen: "Amazon blows the top off our chart for the third time in a week, as stocks warp on into the ionosphere" [Hat Tip, Jim Haygood].
Today's Fear & Greed Index: 78 Extreme Greed (previous close: 77, Extreme Greed) [CNN]. One week ago: 75 (Neutral). (0 is Extreme Fear; 100 is Extreme Greed. Last updated Jan 12 at 11:44am. Finally, we kick over into Extreme Greed!
Crapification Watch
"Intel details performance hit for Meltdown fix on affected processors" [Tech Crunch]. "The most recent Kaby Lake processors, introduced late last year, generally see less than 5 percent performance loss in SYSmark14SE, and often none at all. (The margin of error is stated at +/- 3 percent.)" But from the user perspective, what's hidden inside that average?
But the biggest hit for those CPUs, and in fact most of the others as well, is on which according to the benchmark app's creators includes "application launches, file launches, web browsing with multiple tabs, multi-tasking, file copying, photo manipulation, file encryption + compression, and background application installation." So, pretty much all the stuff most people need to do.
Oh good. A whole lot of new mini-taxes on time.
Hold my beer:
Apple: we're slowing down processors cause your battery might be bad

Intel: pic.twitter.com/qBR1MpcNXz

— Internet of Shit (@internetofshit) January 3, 2018
The 420
"First Nations entrepreneurs are asserting sovereignty and seizing the new cannabis economy" [CBC]. "Many currently involved in the First Nation cannabis trade see the opening moves by authorities as a replay of the beginning stages of what turned into a decades-long battle between government and First Nations over the tobacco trade."
Gaia
"US Senators from a dozen coastal states call for offshore drilling waiver" [Splash 247]. After Interior Secretary Zinke grants Florida a waiver for offshore drilling: "A total of 22 senators from 12 states signed a letter claiming their states, too, had 'vibrant coastal economies' that could be put at risk by the increased drilling promoted by DOI for the next five years. The letter's signatories were not only from east coast states but included Pacific ones, too…. Meanwhile energy industry spokespeople objected to the exemption on the grounds of it happening at all."
Neoliberal Epidemics
"[Society of Actuaries] finds slight dip in mortality rates overall" [Pensions & Investments]. Centers for Disease Control and Prevention data: "Overall, the mortality rate from all causes of death in the U.S. decreased by 0.6% in 2016 from the previous year. That follows a 1.2% increase in 2015. Over the most recent five-year period, mortality rates in the U.S. declined by an average of 0.3%. Persons between 15 and 44 experienced increases in mortality, with the sharpest increase — 10.5% — showing for those ages 25 to 34. The largest rate of improvement, 2.3%, over the previous year was for people ages 75 to 84."
Health Care
"Single Payer Could Solve the Rural Hospital Crisis" [Jacobin]. This:
Rural hospitals have been struggling for years, largely due to changing demographics in rural areas. Right now, the most powerful predictor of closure is profitability, which is partially a function of the characteristics of the community a hospital serves. As the American populace has shifted to urban areas, the populations that remain in rural areas have gotten older, poorer, sicker, and less likely to be insured. In other words, providing their care is more costly. Rural hospitals have been dealing with the financial strain caused by these changing demographics for well over a decade.

But . One reason for this is that the ACA began penalizing hospitals with high readmission rates, a metric that represents the number of patients who return to the hospital after discharge. This was intended to push hospitals toward providing higher-quality care and is in line with an admirable trend in American health care toward value-based payments. But it is also an aspect of the law that disproportionately impacts hospitals that see a higher proportion of sicker patients, as rural hospitals do.

In addition, the ACA shifted money from providing reimbursements for rural hospitals to covering the cost of insuring people via the Medicaid expansion.
Class Warfare
"The Marriott Family's Civil War" [Washingtonian]. One reason for highly progressive taxation is, paradoxically, to protect the children of the wealthy, who are often very unhappy.
"What the Culture Wars Did to Norma McCorvey" [Moira Donegan, The New Republic]. McCorvey was "Roe" in "Roe v. Wade." This is from February, but I thought I'd run it because Donegan outed herself as the author of "the list." Well worth a read.
"Why Baltimore Doesn't Heat Its Schools" [Jacobin]. "Since political officials, city planners, and economic elites began developing Baltimore's Inner Harbor in the 1970s — kicking off the modern wave of downtown tourist development — at least $3.7 billion in public money (in the form of direct subsidies, tax write-offs, PILOTS or payments in lieu of taxes, and TIFs or tax increment financing) has been used for downtown development….. In each of these cases, supporters argued that the public would reap the benefits through job growth and consumer spending. Rarely (if ever) did these trickle-down effects appear. Baltimore schoolchildren in particular suffered (or will suffer) in three main ways. First, money that went to these projects could not, by definition, go to Baltimore schools. Second, it may decrease state aid to Baltimore schools because the new developments (which pay little to no taxes) are now worth millions. Third, we know that poor funding is one of the drivers of the 'school to prison pipeline.'"
News of the Wired
"Congress prepares to knock down barriers to broadband expansion in rural America" [USA Today]. "The main obstacle to broadband expansion into rural areas is cost, said Pennsylvania Rep. Mike Doyle, the top Democrat on the House Communications and Technology Subcommittee. 'It would require tens of billions of dollars to bring broadband to unserved and underserved parts of the country,' he said. 'The private sector hasn't done it because they know they wouldn't make a profit on it.' Any rural broadband initiative without substantial new funding 'would be nothing more than window dressing,' Doyle said."
"A new study out of Harvard once again makes it clear why incumbent ISPs like Comcast, Verizon and AT&T are so terrified by the idea of communities building their own broadband networks" [Vice]. "According to the new study by the Berkman Klein Center for Internet and Society at Harvard University, community-owned broadband networks provide consumers with significantly lower rates than their private-sector counterparts."
"Improving Ourselves to Death" [The New Yorker]. "If the ideal of the optimized self isn't simply a fad, or even a preference, but an economic necessity, how can any of us choose to live otherwise? [British journalist Will Storr] insists that there is a way. 'This isn't a message of hopelessness,' he writes. "On the contrary, what it actually leads us towards is a better way of finding happiness. Once you realize that it's all just an act of coercion, that it's your culture trying to turn you into someone you can't really be, you can begin to free yourself from your demands.'"
"How to Think Like a Medieval Monk" [Lapham's Quarterly]. "When they practiced inducing emotions through meditation, the monks were in fact drawing on the brain's property of neuroplasticity—its ability to learn, adapt, and change itself based on its environment. Although doubtless they would have other philosophical disagreements, a medieval Cistercian and a modern neuroscientist would agree on the principle that certain feelings and emotions can be changed through meditative exercises."
"'Bat-nav' reveals how the brain tracks other animals" [Nature]. "In a study published in Science on 11 January, neuroscientists in Israel pinpoint individual brain cells that seem specialized to track other animals or objects. These cells occur in the same region of the brain — the hippocampus — as cells that are known to map a bat's own location. In a second paper, scientists in Japan report finding similar brain activity when rats watched other rats moving. The unexpected findings deepen insight into the mammalian brain's complex navigation system. Bats and rats are social animals that, like people, need to know the locations of other members of their group so that they can interact, learn from each other and move around together."
* * *
Readers, feel free to contact me at lambert [UNDERSCORE] strether [DOT] corrente [AT] yahoo [DOT] com, with (a) links, and even better (b) sources I should curate regularly, (c) how to send me a check if you are allergic to PayPal, and (d) to find out how to send me images of plants. Vegetables are fine! Fungi are deemed to be honorary plants! If you want your handle to appear as a credit, pleas s e place it at the start of your mail in parentheses: (thus). Otherwise, I will anonymize by using your initials. See the previous Water Cooler (with plant) here. Today's plant (timotheus):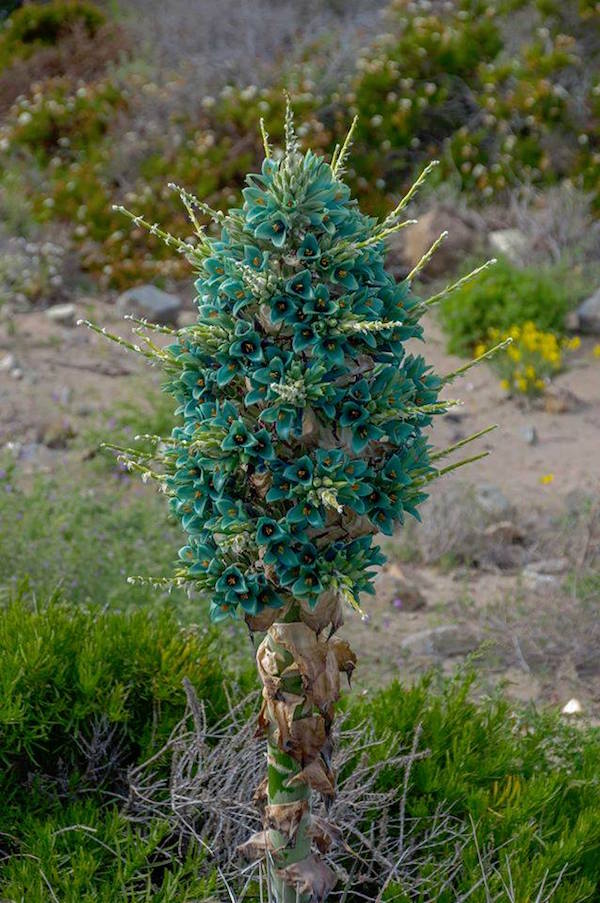 Timotheus writes: "This is a South American evergreens of the Puya family. Chagual is the local name for them in Chile, and apparently parts of the plant are edible though I never was served any to my knowledge in my years there. This isn't my picture, but some Chilean friends put it up on Facebook a while back, and I thought it was weirdly cool. The landscape in the far south is very inhospitable (wet, windy, cold, dark), so it makes sense that the plant life would have evolved in unique ways."
* * *
Readers: Water Cooler is a standalone entity not covered by the NC fundraiser. So do feel free to use the dropdown and click the hat to make a contribution today or any day. Here is why: Regular positive feedback both makes me feel good and lets me know I'm on the right track with coverage. When I get no donations for five or ten days I get worried. More tangibly, a constant trickle of small donations helps me with expenses, and I factor that trickle in when setting fundraising goals. So if you see something you especially appreciate, do feel free to click the hat!