By Lambert Strether of Corrente.
Patient readers, this is a bit light. I'll add some more material in a bit. –lambert UPDATE 2:36PM That's it for today!
Trade
UPDATE "Is Talk of U.S. Steel Tariffs Giving You Deja Vu? It Shouldn't" [Bloomberg]. "Trump's strategy to protect domestic steelmakers would be far different than George W. Bush's move back in 2002. At the time, Bush slapped tariffs on steel using power granted to him by Section 201 of the 1974 Trade Act, whereas Trump would be employing a different tool, Section 232 of the 1962 Trade Act…. For starters, Trump can count on a trusted cabinet member if he uses section 232 rather than an independent panel at the ITC to decide whether tariffs are needed. Commerce Secretary Wilbur Ross, a frequent critic of steel dumping, gave Trump results of the 232 probe last week, and the president has 90 days to decide on its recommendations, which could include tariffs and/or quotas. (Ross didn't publish details of his findings.) Commerce is conducting a similar investigation into aluminum, which is due later this month. Secondly, the burden of proof is arguably stricter for 201."
Politics
2020
UPDATEd "Cory Booker Is Laying It on a Bit Thick" [Slate (Re Silc)]. "At one point, he quotes Martin Luther King, Elie Wiesel, and Gandhi in quick succession, a grand slam of banality that's no doubt left JFK and Mother Teresa feeling a little jilted wherever they are. The deepest conviction evinced as he's speaking, stronger than any others he professes over the nine-plus minutes of his speech, is that his glaring and gesticulating and chest-beating are deeply moving to someone somewhere. Reactions to the speech from some Democrats on social media suggests he's probably right to think so. He's also, right, of course, that Trump's comments were wounding to many in immigrant communities. The problem, to this viewer anyway, is that the entirety of the Trump era is so unfathomably and obviously monstrous that choosing any one particular incident as an occasion for a Mr. Smith–ian oration smacks of opportunism. Every straw feels like the last. It cannot be otherwise because American political order itself is rotten." This is a bit stronger than the usual fare from Slate.
2018
UPDATEd "Democrats Openly Back Establishment Candidates for 2018 Primaries" [Real News Network]. Shocker! "Though Susie Lee came in 3rd in the 2016 primary in Nevada's 4th Congressional District, the DCCC is backing the wealthy philanthropist in her 2018 bid for Nevada's 3rd District to replace Rep. Jacky Rosen (D-NV), who has opted to run for Senate instead of seeking re-election. 'One example of the corrupting influence of money in politics is the Democratic Party supporting candidates because they can fund their own campaigns, have wealthy backers, or are friendly to corporate donors—even if they have no published platform,' said Hermon Farahi, one of Lee's Democratic primary opponents in the 3rd District race. "My district is a crucial one in the balance of power in the House and we should allow people to decide the nominee without interference.'" The DCCC is a cesspit, worse, if anything, than the DNC.

UPDATE "Yes, A Wave Is Coming– But The DCCC Is Working Full Time At How To Minimize It" [Down with Tyranny]. For example:

A friend of mine just asked me why the Michigan Democratic Party appears dead to the world but hasn't realized it's dead and manages to continue functioning (albeit ineffectively and detrimentally to its own stated goals). It was a long conversation but we would up talking about the 32 counties that make up far north swing district MI-01. The was Bernie Country in the 2016 primaries. He swept the counties and that district. Voters were very clear they were looking for the kind of change Bernie was offering, not the status quo Hillary was offering. The 2 biggest counties in the district– from which a plurality of votes flow– are Grand Traverse and Marquette. Bernie crushed Hillary with 65% in Grand Traverse and 62% in Marquette. But on that same day, he also outpolled Señor Trumpanzee– 8,091 to 5,891 in Grand Traverse and 5,530 to 2,524 in Marquette. Yes, yes, Bernie absolutely would have won Michigan in 2016, one of the states that slipped to Trump, had not Wasserman Schultz stolen the nomination for Hillary. But that isn't my point. My point is that the zombie Democratic Party in Michigan (along with the DCCC, of course) is looking to replicate the Hillary "magic" with horrible conservative candidates, like Blue Dog Gretchen Driskell, New Dem Elissa Slotkin and a self-funding candidate/corporate lobbyist so terrible in MI-06– George Franklin– that he's been financing incumbent Republican Fred Upton against progressives for years.

"Are Democrats' Senate Chances In 2018 Overrated?" [FiveThirtyEight]. "But the Senate map is really tough for Democrats, with 26 Democratic seats in play next year (including a newly opened seat in Minnesota after Al Franken announced his intention to retire) as compared to just eight Republican ones. Moreover, five of the Democratic-held seats — the ones in West Virginia, North Dakota, Montana, Missouri and Indiana — are in states that President Trump won by 18 percentage points or more."

"Democrats are way too cocky over 2018" [The Week]. "The biggest wild card is the one Republicans just played — their tax reform bill — and the Democrats' continuing attempt to describe it as a disaster for taxpayers. Democratic hyperbole prior to the late December vote had a significant impact on the bill…. Bear in mind that in most cases, American workers have yet to see any impact from tax reform. The bonuses are in the near future, as are the implementations of new withholding tables at most U.S. employers. And yet a new Survey Monkey poll shows a significant improvement in polling for the tax reform bill, rising from 37 percent approval in that series in mid-December to 46 percent this week."
Realignment and Legitimacy
"[UPDATE] DNC Confirms Ex Florida Dem Chair Bittel No Longer a Party Member and Removed from Committee" [Progressive Army]. Bittel resigned over "sexual misconduct," after Perez put him on the Rules and Bylaws Committee in his purge of Sanders supporters. It would certainly be a unity-building gesture if Perez extended the right hand of good fellowship to the Sanders wing by putting one of their own back on the RBC. After all, they'd get outvoted by Clintonite hacks anyhow, so where's the harm?

"The partisan brain: An Identity-based model of political belief" [PsyArXiv]. Preprints. Big if true.

"Democrats Add Momentum to G.O.P. Push to Loosen Banking Rules" [New York Times]. That's our Dems!

Big time:

it took lots of negotiating and compromise but I'm proud to sign off on this national electoral strategy document with 3 of the 4 NPC members who are on the National Electoral Committee https://t.co/OMhvu7MBFt

— process truster (@LarryWebsite) January 18, 2018
Stats Watch
Consumer Sentiment, January 2018 (Preliminary): "Consumer sentiment continues to edge back" [Econoday]. "Weakness in the report is in the current conditions component… This hints at weakness for not only consumer spending in January but also perhaps for the labor market and the January employment report. But there are positives as the expectations component is steady."
Banks: "As the country's five biggest banks began to report fourth-quarter results this week, a foreboding pattern emerged: terrible trading results, with their collective slumps in fixed-income trading exceeded analysts' expectations of a 22-percent drop. Goldman Sachs, for whom the situation is especially frightening given its historic reliance on trading as a moneymaking endeavor, posted its worst quarter in bond trading since 2008, with a 50 percent drop in revenue in that unit, and a 14 percent drop in equities trading, at a time when global stock markets are reaching new highs on a near-daily basis" [Bloomberg]. "But whereas the situation would normally have set chief executives rocking back and forth in the fetal position, recent legislation has cushioned the blow. As Bloomberg notes, 'The sweeping tax overhaul means billions of dollars in profit will materialize from thin air for the industry.'"
Government Shutdown: "Government Shutdown: Economic Data Likely to be Delayed" [Calculated Risk]. "In previous shutdowns, Government data from the BLS, BEA and Census Bureau were delayed. Data from the Federal Reserve was released on time…. As an example, if the government shuts down, I expect New Home sales, durable goods and Q4 GDP to all be delayed next week. Unemployment claims will probably be released on time (and increase the following week due to the shutdown). The following week, the key report that will probably be delayed is the employment report for January. In addition, any shutdown will be expensive and impact Q1 GDP."
The Bezzle: "Are We Ready for Autonomous Vehicles?" [Econintersect]. Betteridge's Law… I suppose if there ever are robot cars, we'll find out if we're ready for them or not.
The Bezzle: "Volvo's Drive Me takes detour on road to full autonomy" [Automative News]. "Volvo's Drive Me autonomous driving project is taking some detours compared with promises the automaker made when it announced the program four years ago, but Volvo says the changes will make its first Level 4 vehicle even better when it arrives in 2021."
The Bezzle: "How Nanoclean Global's nasal filter helps people breathe healthy" [Asian Nikkei Review]. Nanoclean Global is a start-up. Of course Who needs big gummint or the Paris Agreement when we've got nasal filters?
Tech: "Google announces patent agreement with Tencent amid China push" [Reuters]. " Alphabet Inc's Google has agreed to a patent licensing deal with Tencent Holdings Ltd as it looks for ways to expand in China where many of its products, such as app store, search engine and email service, are blocked by regulators."
Tech: "Apple to allow iPhone users to disable battery slowdowns" [The Hill]. "Apple CEO Tim Cook said Wednesday that iPhone owners will be able to shut down a software feature that lowers the performance of older phones to save battery power." In The Hill, of all places. Not good news for Apple.
Tech (with an update): "Apple Is Blocking an App That Detects Net Neutrality Violations From the App Store" [Vice]. The Update: " After this article was published, Apple told Dave Choffnes that his iPhone app, designed to detect net neutrality violations, will be allowed in the iTunes App Store. According to Choffnes, Apple contacted him and explained that the company has to deal with many apps that don't do the things they claim to do. Apple asked Choffnes to provide a technical description of how his app is able to detect if wireless telecom providers throttle certain types of data, and 18 hours after he did, the app was approved. 'The conversation was very pleasant, but did not provide any insight into the review process [that] led the app to be rejected in the first place,' Choffnes told us in an email."
The Arts (supposing journalism to be an art): "HuffPost, Breaking From Its Roots, Ends Unpaid Contributions" [New York Times]. "Since its founding nearly 13 years ago, The Huffington Post has relied heavily on unpaid contributors, whose ranks included aspiring writers, citizen journalists and celebrities from the Rolodex of the site's co-founder Arianna Huffington…. But the site's days of encouraging everyday citizens to report on the news are over. On Thursday, it said it was immediately dissolving its self-publishing contributors platform — which has mushroomed to include 100,000 writers — in what is perhaps the most significant break from the past under its editor in chief, Lydia Polgreen, who joined the news site, which is now called HuffPost, a year ago."
The Arts: "Patreon Found a Way to Pay the Creative Class. Will It Work?" [Bloomberg]. "Patreon Inc. has signed up 50,000-plus creators, who pay the company 5 percent of their earnings; last year alone, it attracted more than $150 million from one million patrons…. There's just one hitch: While some creators—including three guys behind an irreverent socialist podcast—pull in tens of thousands of dollars a month, most make less than $100 and have only a handful of supporters. Given that reality, can Patreon make the economics work?" I dunno. Why isn't this a public utility? (Not that $1200 a year sounds so bad to an impoverished, but creative, pensioner.)
Five Horsemen: "Big Tech cools its heels while watching the gov shutdown drama" [Hat Tip, Jim Haygood].
Today's Fear & Greed Index: 79 Extreme Greed (previous close: 72, Greed) [CNN]. One week ago: 79 (Extreme Greed). (0 is Extreme Fear; 100 is Extreme Greed. Last updated Jan 19 at 1:31pm.
Our Famously Free Press
UPDATE "So what does this algorithmic public sphere tend to feed us? In tech parlance, Facebook and YouTube are "optimized for engagement," which their defenders will tell you means that they're just giving us what we want. But there's nothing natural or inevitable about the specific ways that Facebook and YouTube corral our attention. The patterns, by now, are well known. As Buzzfeed famously reported in November 2016, "top fake election news stories generated more total engagement on Facebook than top election stories from 19 major news outlets combined" [Wired].
Health Care
"How a Bureaucrat Helped Save the Affordable Care Act" [The Nation]. "No one accepted his challenge, so Slavitt traveled from district to district, often on his own dime, explaining to some 35,000 Americans how the ACA's repeal would affect them. He took to social media to inform and energize hundreds of thousands more. He worked with any resistance group that reached out to him. And, in the end, he helped to rally the tsunami of opposition that would turn repeated attempts to kill the law into a massive debacle for the Republican Party." Tote-bag liberalism from The Nation: What Slavitt was not doing: Expanding "the conversation" to #MedicareForAll.
Gaia
"Save the Snowpack, Save the Water Supply" [Bloomberg]. "Snowpack is 50 percent lower than the average at this point in the winter at dozens of basins in the region. It's a major concern in a region with a growing population where water supplies are often pushed to their limits, even in good years. In addition to fueling the West's winter tourism industry, the snow provides a steady supply of water for the Colorado River, which serves 40 million people spread from Denver to Los Angeles."
"Humans Did Not Cause the U.S. Cold Snap" [Scientific American]. Another "weather is not climate" story.
"Broken Pipes, Broken System" [East Bay Express]. "But thousands of pages of public documents and emails reviewed by the Express, along with interviews with city sewer department staff, regulatory agencies, and local residents, reveal that the Oakland Department of Public Works has failed to report hundreds of thousands of gallons of sewage overflows, and city supervisors have sometimes submitted documents to regulators that contain false information. The city also failed to properly alert residents and the required agencies in a timely manner after spills occurred. As a result, dangerous bacteria and toxic chemicals have flooded into streets, onto properties, and into storm drains — or directly into regional bodies of water like Lake Temescal, where people fish and swim — without public knowledge." Sometimes I wonder why (besides Jack London, et al.) the left in Oakland is so militant. And then a story like this comes along.
Neoliberal Epidemics
"American Carnage: Tragic Tale of Two Suburban Atlanta Teens" [Lifezette]. "For people who think this is a problem that afflicts only poor white rural areas like Appalachia, the Manning story is a wake-up call to parents across America: The steepest rises in synthetic opioid deaths this past year occurred in Delaware, Florida and Maryland." Quotes Bill Bennett, sadly…
Class Warfare
"Why Is It So Hard for Americans to Get a Decent Raise?" [Slate]. Employer monopsony.
"Unifor splits with Canadian Labour Congress over workers' right to choose union" [CTV News].
News of the Wired
UPDATE "Hackers can't dig into latest Xiaomi phone due to GPL violations" [Ars Technica]. "Android vendors are required to release their kernel sources thanks to the Linux kernel's GPLv2 licensing. The Mi A1 has been out for about three months now, and there's still no source code release on Xiaomi's official github account. Unfortunately, GPL non-compliance is par for the course in the world of Android."
Who wants these products?
Panasonic has revealed a fridge that drives to you when called pic.twitter.com/DPsFf5Gr96

— Business Insider (@businessinsider) January 19, 2018
UPDATE "Now your nightlight can notify you of retweets and emails" [The Verge]. No. No. No. No. No.
* * *
Readers, feel free to contact me at lambert [UNDERSCORE] strether [DOT] corrente [AT] yahoo [DOT] com, with (a) links, and even better (b) sources I should curate regularly, (c) how to send me a check if you are allergic to PayPal, and (d) to find out how to send me images of plants. Vegetables are fine! Fungi are deemed to be honorary plants! If you want your handle to appear as a credit, please place it at the start of your mail in parentheses: (thus). Otherwise, I will anonymize by using your initials. See the previous Water Cooler (with plant) here (PS):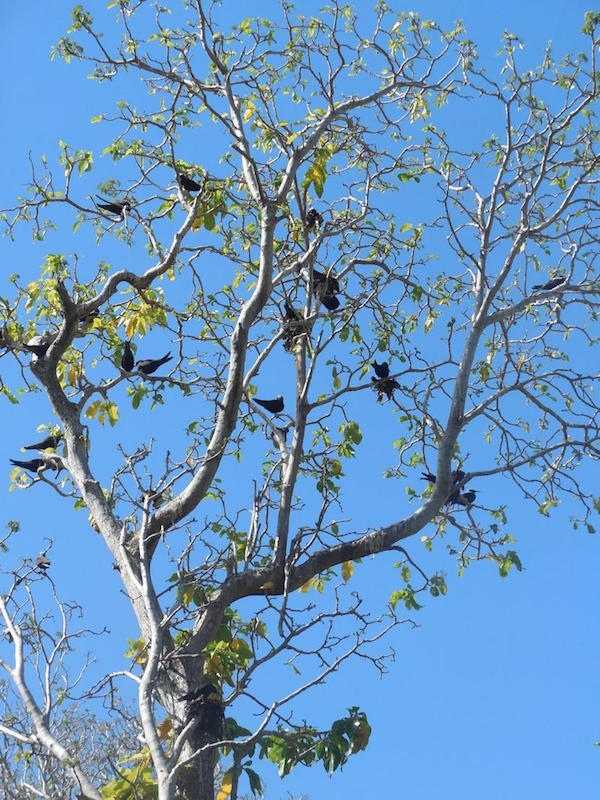 PS writes: "How about a couple with both of NC's favorite subjects, birds (nesting black noddies) and plants."
* * *
Readers: Water Cooler is a standalone entity not covered by the NC fundraiser. So do feel free to use the dropdown and click the hat to make a contribution today or any day. Here is why: Regular positive feedback both makes me feel good and lets me know I'm on the right track with coverage. When I get no donations for five or ten days I get worried. More tangibly, a constant trickle of small donations helps me with expenses, and I factor that trickle in when setting fundraising goals. So if you see something you especially appreciate, do feel free to click the hat!