By Lambert Strether of Corrente.
Politics
2020
"Read: Bernie Sanders panned Trump's broken promises in his response to the State of the Union" [Vox]. "This is the second year in a row that Sanders has sidestepped the official Democratic response and delivered his own speech after the State of the Union. Throughout his address, Sanders picked apart Trump's self-congratulatory speech, hammering home his own points about continuing inequality for the poor and middle class, two groups Trump promised to lift up during his campaign for president."

"In Joe Kennedy's speech, Democrats rediscovered Barack Obama's compelling vision" [Matt Yglesias, Vox]. If you think Matty goes over the top comparing Kennedy to Obama, wait 'til you get to the Lincoln comparison. Oh, and I got my very first fundraising email from Kennedy just today!

"Was that drool coming out of Joe Kennedy's mouth?" [Politico]. With pictures. I'm starting to think that a test of the validity of talking points is how promiscuous they are across party factions. "Drool" has been applied not only to Kennedy (from, no doubt, his infant-like appearance), but to Trump (from his putative senility) and Clinton (from her putative case of Parkinson's). "Fake news" started on the left and now it's everywhere. DItto "deep state." However, Sanders' talking points on billionaires (or the 1% vs. the 99%) have not migrated. They are not promiscuous.

"The problem for Republicans is that voters are not likely to believe explanations offered by politicians they don't like. And many of them really don't like Trump, personally or professionally" [Inside Elections]. "Any dramatic event that catches the national media's attention — and the public's — offers an opportunity for the parties and the president to redefine themselves and their opponents. But it is also true that you can't make a first impression twice. The president is not an ill-defined public figure. Americans know who he is and what he believes. And that is a problem for many Republicans next week, next month and in the fall."

Biden: "Guys, the wealthy are as patriotic as the poor. I know Bernie doesn't like me saying that, but they are" [The Hill]. Impressive fealty to the donor class.
2018
"House Ratings" [Inside Elections]. Holy moley, look at those open seats!

"Rep. Trey Gowdy, who chairs the House Oversight Committee, will retire from Congress in 2018." [The Hill]. Yikes! Not in the chart above.

"According to CNN ratings, 61 Republican seats are either toss-ups (15), leaning GOP (21) or likely GOP (25). Compare that to just 22 Democratic seats in any sort of jeopardy this fall and you begin to grasp the depth of Republican vulnerability" [CNN].

"The good economy might not bail out Republicans in the midterms after all" [CNBC]. "Emory University political scientist Alan Abramowitz has examined every midterm election since World War II. Among factors influencing partisan changes in the House, the state of the economy ranked low. 'The correlation between economic indicators and seat-swings in midterm elections is very weak,' Abramowitz says. The president's job approval rating, he adds, has been four times as powerful as economic growth in determining how his party fares."

Illinois: "Democratic race for governor now wide open" [Chicago Business Review].
Obama Legacy
"Destruction Of Black Wealth During The Obama Presidency" [People's Policy Project]. "[W]hile President Obama had wide discretion and appropriated funds to relieve homeowners caught in the economic crisis, the policy design his administration chose for his housing program was a disaster. Instead of helping homeowners, at every turn the administration was obsessed with protecting the financial system — and so homeowners were left to drown. As a result, the percentage of black homeowners who were underwater on their mortgage exploded 20-fold from 2007 to 2013." Thanks, Obama!
SOTU Wrapup
Nice pantsuit. Suffragette white:

Without an announcement, Mrs Trump enters the chamber and is accorded a standing ovation. pic.twitter.com/8LQRH8nwsY

— Mark Knoller (@markknoller) January 31, 2018

"Perhaps not surprising for someone who has lived his life in the spotlight and who built a life on image and brand, the stagecraft of Trump's first State of the Union was outstanding. From the families who lost loved ones to the MS-13 gang to Otto Warmbier's parents to the North Korean defector and his crutches, the visuals — and the stories they told — were haunting and memorable" [CNN].

On policy:

POTUS #SOTU: "We repealed the individual mandate"

Kennedy: "We choose a health care system that offers mercy"

Bernie Sanders: "We must guarantee healthcare for all through #SinglePayer, #MedicareForAll"

?Only ONE mentions a policy that most Americans support!#StateOfOurUnion pic.twitter.com/yNYyyIvhLO

— RoseAnn DeMoro (@RoseAnnDeMoro) January 31, 2018

"These Charts Show How The SOTU Language Has Changed With Each President" [Buzzfeed]. "BuzzFeed News analyzed every SOTU since George Washington spoke to the Congress of a new nation in 1790. They have slowly gotten easier to understand, using simpler and shorter words and sentences. Their sentiment, generally positive, has barely shifted over more than two centuries — with a few hiccups in times of national crisis."
Government Shutdown
"[T]he shutdown was never a big deal politically. As long as it didn't drag on for weeks and months, the shutdown was always more of an opportunity for feigned outrage, finger-pointing and media hype than political realignment" [Inside Elections]. "In October and November of 2013, Republicans got blamed for the government shutdown, leading many observers to predict the party would suffer in the 2014 midterms. But less than a couple of months later, the political situation flipped after the inept rollout of the health care law overshadowed the shutdown."
New Cold War
"Rod Rosenstein Is Shirking His Duty to Supervise Robert Mueller" [National Review]. "Back in May, besieged by Democrats feigning outrage over FBI director James Comey's firing — the same Democrats who wanted Comey's scalp for purportedly costing Hillary Clinton the election — Rosenstein preemptively surrendered. In appointing Mueller, he flouted regulations requiring that he specify the crimes that supposedly necessitated the appointment of a special counsel. He promised Democrats that Mueller would have carte blanche — no limits and no supervision from his nominal supervisor, Rosenstein. And now, with Mueller poised to pressure the president to submit to interrogation — despite the absence of a crime, despite the absence of any suggestion that Trump has essential information that Mueller is otherwise unable to acquire — Rosenstein is nowhere to be found, at least when he's not impeding congressional committees from conducting oversight of the Justice Department's actions in the Clinton emails and Russia investigations. Without Justice Department supervision, Mueller answers only to his own whim. Well, what if all prosecutors did that?"
Stats Watch
MBA Mortgage Applications, week of January 26, 2018: "Amid rising interest rates, purchase applications for home mortgages fell by a seasonally adjusted 3.0 percent" [Econoday]. "On a positive note for the housing market, the year-on-year gain in purchase applications widened by 3 percentage points to 10 percent."
ADP Employment Report, January 2018: "ADP sees a very strong employment report coming out on Friday, estimating a 234,000 rise in private payrolls" [Econoday]. "the bottom line is that ADP, however hit and miss this report can be, sees significant strength for the January employment report." But: "ADP employment has not been a good predictor of BLS non-farm private job growth" [Econintersect].
Employment Cost Index, Q4 2017: "Wage costs and benefit costs eased off in the fourth quarter but the trend remains significantly firm" [Econoday]. "The breakdown between the wages & salaries component and the benefits component show similar pressure. This report won't raise any red flags at today's FOMC meeting but it will certainly be cited as a further indication of tightness in the labor market, conditions that could be pointing to a future inflationary flashpoint for wages."
Chicago Purchasing Managers Index, January 2018: "Chicago PMI's sample starts off 2018 where it left off 2017, at a rare rate of growth" [Econoday]. "[C]apacity stress… has been apparent in this survey. An easing back in order acceleration during January and a draw in backlogs are probably positives for the month. Production also slowed. Unsustainable growth has been the signal from the Chicago report where readings, in more than 50 years of data, have been at historic highs." And; "The Chicago Business Barometer declined but remains firmly in positive territory" [Econintersect]. "The results of this survey continue to correlate to district Federal Reserve manufacturing surveys – and generallly aligns with the overall trend of the ISM manufacturing survey."
Shipping: "Container shipping could see the first widespread use of a cryptocurrency this week" [The Loadstar]. "Hong Kong-based blockchain developer ETH Smart Contract Tech will tomorrow start handing out its bespoke TEU tokens to shippers, forwarders and 3PLs under its 300cubits project. The company will release some 20m TEU tokens, "custom-designed as digital shipping booking deposits, using smart contract blockchain technology, to solve the no-show and rolling problems plaguing the container shipping industry", to container line customers for free – but on a first-come-first basis. Interested shippers and forwarders need to demonstrate their eligibility for 300cubits, and are currently restricted to those that bought slots in 2016."
The Bezzle: From The Department of What Could Go Wrong? [Mosler Economics].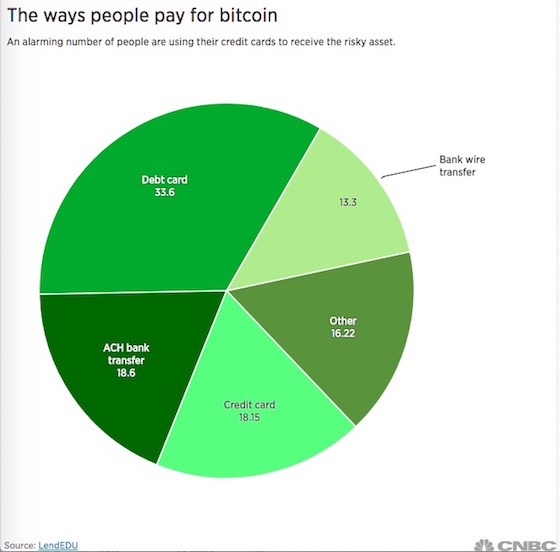 The Bezzle: "The era of driverless cars and delivery vehicles is well underway as far as some architects and developers are concerned. Planners in cities in North America, Europe and Asia are drawing up designs for streets with curbside drop-off areas for e-commerce deliveries and passengers rather than parking spaces… while architects are laying out office and residential buildings with space for stacking up packages and delivery lockers" [Wall Street Journal]. "The goal for many planners, says an executive at one architecture firm, is to 'future-proof' everything from roads to parking garages against what they say is an upheaval in transportation of goods and people. Real-estate developers and architects are thinking about a driverless future today because many of the structures and streets they're designing will still be around decades from now." Reminds me of prepositioning all the materiel for the Iraq War. That part went great…
The Bezzle: "The very meager production of Tesla Inc. Model 3 sedans has created an unusual, big-money market for the electric cars. A shortage of the vehicles is fueling a frenzy among curious competitors… with some automotive companies paying upward of $500,000 to get their hands on the car billed as Tesla's entry into mass-market sales" [Wall Street Journal]. "The Model 3 so far hasn't worked out that way, with supply chain problems and production bottlenecks leaving fewer than 2,000 of the cars rolling out over the past two quarters." The pricing makes sense. You can get a hand-made Vacheron Constantin Patrimony Tourbillon mechanical watch for around $350K, so why not a hand-made Tesla electric car for $500K?
Tech: "Electronics supply chains that Apple Inc. has helped build across Asia are shuddering at the cutback in production of the latest iPhone. Apple is slashing its plans for making iPhone X handsets by half, to 20 million, in the current quarter… Orders for components could be cut even more, by perhaps 60%, as reductions ripple across the broad eco-system of electronics manufacturing and distribution that Apple products have fostered. The latest reduction, the result of disappointing sales of the latest generation of the iPhone, is a new example of how companies in Apple's orbit can rise and fall as the company builds up new technology and then moves on or sees some features grow stale" [Wall Street Journal].
Tech: "AMD Triumphantly Returns to Full-Year Profitability, Forecasts Strong 2018" [ExtremeTech].
Debt: "Seems to me this divergence has been stretched to the limit" [Mosler Economics]. "[T]his shows the gap:"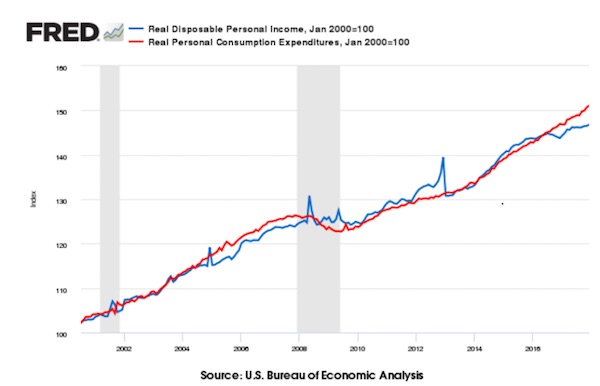 To be sure, Mosler is a bit of a Johnny One-Note on this. But it's hard for this Maine Bear to see how he's wrong. If something cannot go on forever, it will stop. Here's a more granular view of American consumer debt from MarketWatch.
Honey for the Bears: "US stocks slide as bond sell-off rattles investors" [Financial Times]. "Goldman Sachs' chief global equity strategist Peter Oppenheimer warned in a note that for global stocks a 'a correction is becoming increasingly likely.' 'It all feels a little bit euphoric," said Larry Hatheway, chief economist at GAM, the investment group. "It has led to a lot of people thinking that we should prepare the groundwork for some risk mitigation strategies. This can't go on for ever.'" Again, if something cannot go on forever, it will stop. Expanding on Yves' link to Authers in the FT this morning: A correction isn't the same as a crash, and a recession (overdue) isn't the same as a crash either. So what's levered? What's today's subprime? Caveating that if I were any good at this stuff, I'd be doing it, but the answers to those questions are not easy for me to see. Some damned foolish thing in Chinese real estate? Or an alternative scenario (caveat as before) I think of as "crashing in place." Some metaphors: You can drown in an inch of water. Or: If you are already flat on your back, there's no distance to fall. Meaning, in the next downtown, what happens to the people who already shop at Dollar General? Or what if our over-optimized and non-redundant supply chains — thanks, MBAs! — snap, whether for medical supplies (saline from Puerto Rico) or for food (as in Whole Foods, whose inventory system can't keep fresh vegetables in stock). Mosler's thinking on debt ties into "crashing in place" quite neatly. What happens when people can't make the car payments and can't get to work?
Five Horsemen: "Juggernaut Amazon streaks on to the outer limits of the solar system" [Hat Tip, Jim Haygood].
Today's Fear & Greed Index: 61 Extreme Greed (previous close: 62, Extreme Greed) [CNN]. One week ago: 78 (Extreme Greed). (0 is Extreme Fear; 100 is Extreme Greed. Last updated Jan 31 at 12:28pm.
Gaia
Blood moon:
WATCH: A timelapse of a #SuperBlueBloodMoon https://t.co/rCsbqqI6rc pic.twitter.com/8TDEY116KR

— Reuters Top News (@Reuters) January 31, 2018
Musical Interlude:
"In Birds' Songs, Brains and Genes, He Finds Clues to Speech" [Quanta]. "Very few groups of species have vocal learning. Songbirds, parrots and hummingbirds are the only ones amongst birds. There are roughly 40 or so lineages of birds: Those three have it, and the others appear not to. Amongst mammals, besides humans, there are dolphins, whales, bats, elephants and seals…. the vocal-learning groups of species all likely evolved this ability independently. But when we look at the brain pathways they use for vocal learning, they're similar. They're embedded within the pathway that controls learning how to move for other muscle groups. So how could that happen if they evolved independently? We propose it's due to a duplication of that motor-learning pathway during embryonic development."
Police State Watch
"For a few thousand bucks, Detroit police will give a business higher 911 priority" [Boing Boing]. Nice little business you've got there….
Class Warfare
"Mass Incarceration: New Jim Crow, Class War, or Both?" [People's Policy Project]. Both! Important post.
When liberal Democrats whinge about "neoliberal," show them this:
The word neoliberal is so academic and obscure that only the most scholarly and abstruse journals like @esquire used it in 1982: "Washington's Neoliberals: Smart and tough, but can they lead?" h/t @DennisThePerrin pic.twitter.com/Ju4VFYsTP1

— corey robin (@CoreyRobin) January 30, 2018
News of the Wired
"Free Software Foundation receives $1 million donation from Pineapple Fund" [Free Software Foundation]. "The anonymous Pineapple Fund, created to give away $86 million worth of Bitcoin to charities and social causes, 'is about making bold and smart bets that hopefully impact everyone in our world.'"
"Google and Facebook are watching our every move online. It's time to make them stop" [Gabriel Weinberg, CNBC]. (Weinberg is CEO and founder of DuckDuckGo.) "Google and Facebook also use your data as input for increasingly sophisticated AI algorithms that put you in a filter bubble — an alternate digital universe that controls what you see in their products, based on what their algorithms think you are most likely to click on…. [Congress needs] to legislate that people own their own data, enabling real opt-outs." And if I own my data, then Google and Facebook need to pay me to use it, right?
* * *
Readers, feel free to contact me at lambert [UNDERSCORE] strether [DOT] corrente [AT] yahoo [DOT] com, with (a) links, and even better (b) sources I should curate regularly, (c) how to send me a check if you are allergic to PayPal, and (d) to find out how to send me images of plants. Vegetables are fine! Fungi are deemed to be honorary plants! If you want your handle to appear as a credit, please place it at the start of your mail in parentheses: (thus). Otherwise, I will anonymize by using your initials. See the previous Water Cooler (with plant) here. Today's plant (marku52):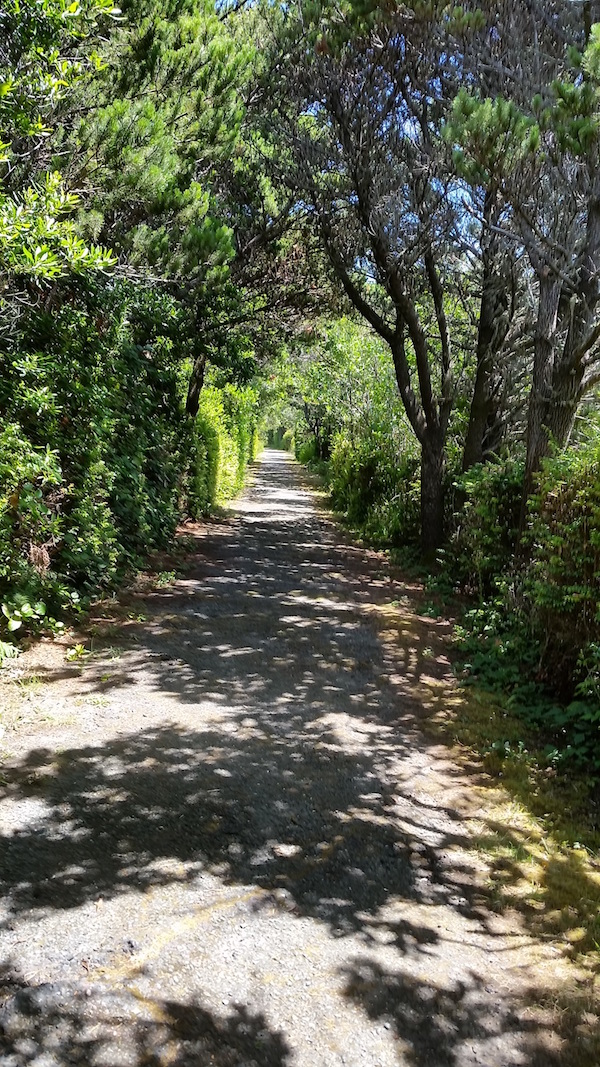 Looks inviting…
* * *
Readers: Water Cooler is a standalone entity not covered by the NC fundraiser. So do feel free to use the dropdown and click the hat to make a contribution today or any day. Here is why: Regular positive feedback both makes me feel good and lets me know I'm on the right track with coverage. When I get no donations for five or ten days I get worried. More tangibly, a constant trickle of small donations helps me with expenses, and I factor that trickle in when setting fundraising goals. So if you see something you especially appreciate, do feel free to click the hat!
[Readers, I have successfully fiddled with PayPal, and the hat is back! –lambert]