By Lambert Strether of Corrente.
In this post I'll review the state of play on FCC Chair Pai's order abolishing net neutrality, and on the Congressional Review Act (CRA) resolution nullifying Pai's order. I'll also list as many of the constituenicies in favor of net neutrality — for example, readers of small blogs! — as I've encountered, and I'll close with an introduction to injunctions, since ideally some player would seek one against Pai's order, rather than waiting for the damage to be done. To review, what Yves and I most fear is a "tiered Internet" that works — Eeewww! — like cable, which would certainly provide the Internet Service Providers (ISPs) with the level of rental extraction they want. We are concerned that their concept of how to "provide" "service" looks like this: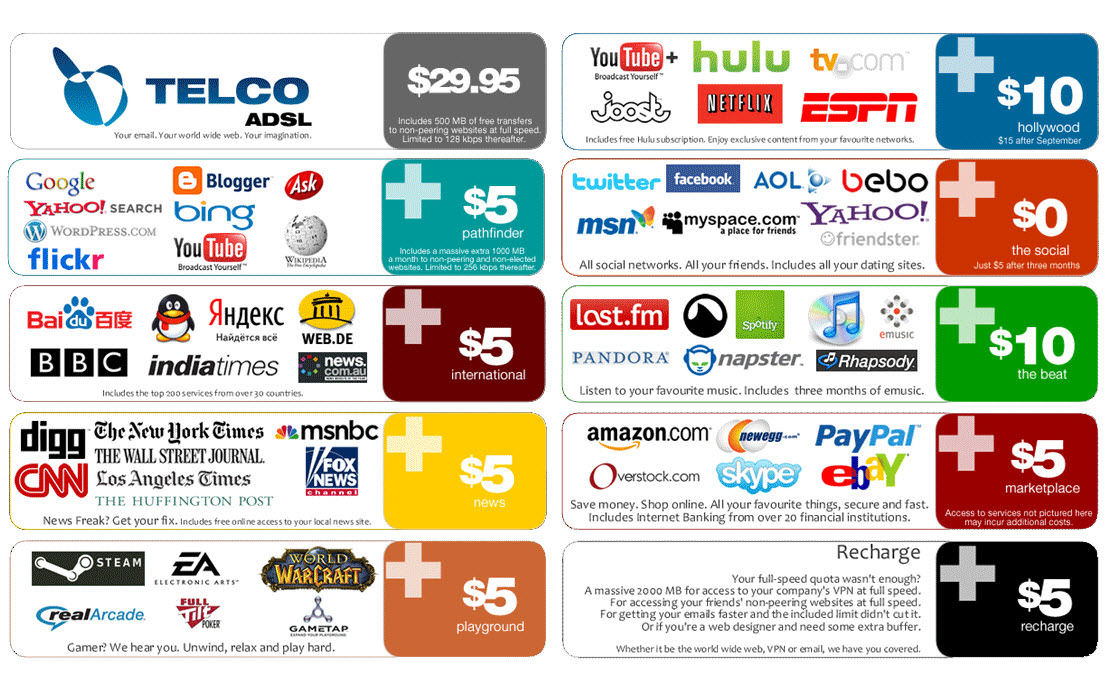 Needless to say, the "tiered Internet" would put an end to the days when you could just enter a URL into your browser, and go there. In cartoon form:
Emergency net neutrality cartoon https://t.co/sOTIKBO74s pic.twitter.com/PPGSrO4SRN

— Rob Cottingham ?✒️ (@RobCottingham) December 15, 2017
We are also concerned that — conservative nostrums about the so-called "free market" aside — that almost half of America lives with ISP monopolies. That means they have no leverage against a tiered Internet, and in fact where ISPs already exist, they are already violating net neutrality. Community Networks provides this handy map: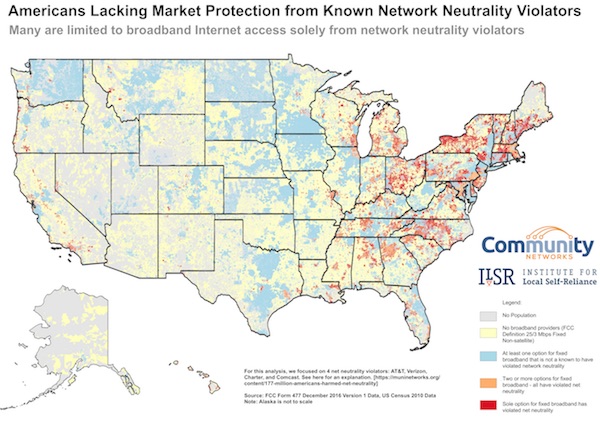 They conclude:
More than 129 million people are limited to a single provider for broadband Internet access using the FCC definition of 25 Mbps download and 3 Mbps upload. Out of those 129 million Americans, about 52 million must obtain Internet access from a company that has violated network neutrality protections in the past and continues to undermine the policy today.

In locations where subscribers have the benefit of limited competition, the situation isn't much better. Among the 146 million Americans with the ability to choose between two providers, 48 million Americans must choose between two companies that have a record of violating network neutrality.
The Status of Pai's Order Abolishing Net Neutrality
Recall that lawsuits and the CRA can't kick in until Pai's rule has been published in the Federal Register, after which it goes into effect in 60 days. But the FCC is still working on it. Ars Technica:
[T]he FCC is still making edits to the repeal order and hasn't released the final version. The final order should be similar to the draft released by FCC Chairman Ajit Pai three weeks before the vote, but some changes will be made.

FCC orders are sometimes released weeks after a vote, although orders are also often released the same day or within a few days of a vote. The time is used by FCC staff and the chairman's office to fix any mistakes or omissions and to respond to concerns raised by commissioners. Since net neutrality supporters will file lawsuits in an attempt to overturn the repeal, the final edits could also help Pai's office make the repeal order more legally defensible.

[Policy Director Matt Wood of advocacy group Free Press] noted that it isn't unusual for orders to come out a few weeks after votes, and that the end-of-year holidays may have slowed this one down even more. Still, the absence of a final order nearly three weeks after the vote "seems a little more remarkable [because] Chairman Pai has gone so far out of his way to praise himself for transparency, speed, and quantity in his orders—apparently in the belief that he gets a gold star for releasing as many decisions as possible, as fast as possible, no matter how bad they are for the public," Wood said.

At least one change to the repeal order was made at the request of the FCC's chief technology officer, Eric Burger (not to be confused with Ars Technica's Eric Berger). Burger noted in an internal FCC email that Pai's proposal would allow ISPs to block legal Internet content as long as they disclose the blocking, Politico reported before the vote. (The repeal will allow ISPs to block, throttle, and charge for paid prioritization as long as they follow transparency rules that require disclosure about network practices.)

Another change was made at the request of Republican FCC Commissioner Michael O'Rielly, who said that the commission should not invoke its authority from Section 218 or Title III of the Communications Act to enforce the transparency requirements. O'Rielly said that Section 257 of the Communications Act provided enough authority to require ISPs to be transparent about network management practices.
Those changes to the draft look substantive to me, indicating that Pai's draft was not perhaps as well thought through as it could have been.
The Congressional Review Act Resolution
I don't think we should be looking to a CRA to restore net neutrality; the CRA can be vetoed, and I'm dubious that net neutrality proponents have the votes to over-ride. Here is the state of play:
These are the U.S. Senators committed to saving #NetNeutrality. Text BATTLE to 384-387 or visit https://t.co/xSJHbLq2Wn to urge your lawmakers to join them! pic.twitter.com/8D5vxbcaox

— Fight for the Future (@fightfortheftr) January 2, 2018
That's 29 Democrats; Ed Markey (D-MA), the resolution's sponsor, says that only 30 votes are needed to force a vote on the Senate floor. Here's a list of Democrats who have not signed on:
The "real dems" who have NOT co-sponsored:
Booker (NJ)
Carper (DE)
Casey (PA)
Coons (DE)
Donnelly (IN)
Cortez Masto (NV)
Feinstein (CA)
Heitkamp (ND)
McCaskill (MO)
Manchin (WV)
Menendez (NJ)
Murphy (CT)
Murray (WA)
Nelson (FL)
Tester (MT)
Udall (NM)
Warner (VA)
*Al Franken

— Star Stuff (@Statistar30) January 3, 2018
Liberal Democrat icons Booker and Feinstein[2] not on board? For shame! In any case, I encourage you to call your Congress Critter and either thank them for doing the right thing, or encourage them to do so. Even if the CRA, as legislation, is ineffective, the list above will be handy for altruistic punishment later.
Constituencies in Favor of Net Neutrality
In an earlier post on this topic, I mentioned gamers as a surprisingly large constituency who would be adversely affected by net neutrality. In this section, I want simply to list more constituencies that I encountered in my random research walk through the web (such walks shortly to belong only to the past, if Pai and his reactionary colleagues have their way).
Tricoteuses. New York Times:
The potential repeal outraged Lesley Perg, a 44-year-old adult education instructor in St. Paul. She heard of Mr. Pai's plan in July and submitted her name, email and phone number to BattlefortheNet.com, a site run by Fight for the Future and its partners to see how she could fight back. She is among more than 1,500 volunteers, and for weeks she has put in four to eight hours a week in training organizers of demonstrations and congressional office visits.

"Net neutrality underlies everything I care about," said Ms. Perg, an avid knitter who is deeply involved with knitting communities online.
And a Reddit thread:
It has often been said fiber people are the best people in the world, but we are also the most powerful lobbying group that doesn't know their power. After 9/11 when all pointy and cutty things were outlawed on planes, the FIRST thing that was allowed back on was knitting needles followed by nail clippers (the knitters favorite cutting implement). This is not a coincidence. There are more knitters than golfers out there, and when you count spinners, crocheters, and weavers we touch everyone in the world.
The Times quote got me started thinking about constituencies, because the proponents of a "tiered Internet" have such an insanely impoverished view of human nature. I'm sure there are many, many small verticals with deeply committed participants. For example, suppose Ms. Perg to have a male significant other who is a model railroader. You can bet that Model Railroader, which has a big online presence with a lot of video and several forums, is going to be impacted for the worse by net neutrality as well.
LGBTQ Community. The Advocate:
One of the most important products of net neutrality is giving a voice to the voiceless — marginalized groups who historically never have had a "mainstream" platform. For the LGBTQ community, that has been fundamental component of the progress made over the past two decades.

When you look at the evolution of the LGBTQ movement, the Internet and blogging were critical to its growth and development. Chat rooms for queer people created safe spaces on a new scale and allowed for people to connect with individuals like them, regardless of distance. Net neutrality is also critical for things like political organizing because it is the digital embodiment of free speech, a hallmark of any social movement and a catalyst of change.
The Poor and the Working Class. Al Jazeera describes a neat initiative in Detroit:
"Who's being affected by this? It's poor people, people of colour," Nyasia Valdez, a 22-year-old with Detroit's Equitable Internet Initiative in Southwest Detroit, a predominately Latino area also known as Mexicantown, told Al Jazeera.

EII aims to foster greater internet access for Detroit residents by creating wireless networks and intranets within communities in the city.

These intranets, private networks shared among a group, are created by linking 50 households, who are then able to share news, files and communicate among themselves.

"If something were to happen in Detroit, if there's a water shut-off or a fire or a natural disaster, [the intranet] is used as a communication system" to spread the news, she said.

The EII also installs routers for wi-fi access in these neighbourhoods, which has created new opportunities for entrepreneurs in Southwest Detroit who "have started their own businesses, whether it's carpentry, laundry or food businesses", Valdez said.

Valdez said making the internet more expensive would further economically disadvantage these workers, and by extension, the entire community: "It would be so devastating and further exacerbate the inequality that's already there."
Public Libraries and Their Patrons. The Verge, from an interview with the heads of the New York Public Library, the Brooklyn Library, and the Queens Library systems:
The simple fact is that the poorest of New York rely on the library as the only place they can go and get free use of computers and free Wi-Fi. It's one of the reasons why the library is the most visited civic institution in New York. We have also, in recent years, been lending people what we call hot spots, which are Wi-Fi boxes they can take home, typically for a year. That gives them digital access at home — broadband access — which something like 2 million New Yorkers can't afford and don't have. We're still doing thousands of those. We'd like to do more and we're exploring how to do more, because in this day and age, if you don't have internet access that works and goes fast enough, you can't do your homework, you can't do research, you can't apply for jobs, you can't find jobs.

We live in a world where access to information is essential for opportunity, for learning, for success, for civic life, for checking facts. Anything that reduces that, particularly for people who can't afford alternatives, is a body blow to the basic democratic principles that the library stands for. Whether people or the library are shoved to the slow lane, and / or forced to pay to be in the fast lane with resources that are already stretched thin, is really sort of shocking. To put it sort of bluntly, the Federal Communications Commission should be defending communications.
And public librarians are as bad-ass as the knitters…
Entrepreneurs. From Iowa's Clay and Milk:
A fair and open Internet has spawned a virtuous cycle of innovation where one breakthrough begets another begets another. This has led to some of history's greatest advancements, many of which are now an integral part of our economic growth. This, in no small part, was fueled not only by net neutrality but by venture capital investing in the smallest, even poorest ideas.

There are examples of areas where investment chilled or were avoided. Barbara Van Schewick discusses many of these examples in her 2015 article in The Atlantic how mobile Internet VC investment suffered. She also quotes USV investor, Fred Wilson.

"Many VCs such as our firm would not invest in the mobile Internet when it was controlled by carriers who set the rules, picked winners, and used predatory tactics to control their networks. Once Apple opened up competition with the iPhone and the app store, many firms changed their approach, including our firm." – Fred Wilson, USV

Let's face it, raising capital anywhere is hard, but being in the risk averse Midwest doesn't make it any easier. New restrictions on data and content could kill entire industries before they start. Meanwhile, ISPs—who argue they, too, will experience a chilling effect when it comes to their own investments—have continued to admit how existing net neutrality regulations have NOT reduced their infrastructure investments.
Mentally bookmark "chilling effect," because I want to come back to it.
An Injunction Preserving Net Neutrality Against Pai's Order
Some look to a deus ex machina to preserve Net Neutrality, as in this article from Forbes:
It's time for Zuckerberg, Bezos, Larry, Sergey, Gates, and all the tech billionaires to preserve the internet freedoms which enriched them. They need to band together to provide lightning-fast, uncensored internet to all Americans for the continual advance of American society. Unlike many other issues, this can be fixed with money but it will not come easy.
The myth of the "good billionaire" dies hard, but if indeed Zuckerberg and all decide that net neutrality serves their class interests, they'll work to preserve it.[3] If they do, I'd speculate that they'd work through the Internet Association, their trade group, and seek an injunction to prevent Pai's order from taking effect in the first place:
When we eventually get to court, one or more of the litigants, perhaps one of the smaller tech companies that joins the suit, may ask the court to issue a preliminary injunction, or what the appellate courts called a "stay." If granted, this would prevent the FCC's order, or perhaps just portions of it, from going into effect until the court renders a decision.

The challenge for anyone seeking a stay, however, lies not in demonstrating long-term harm from the rules, but .
The American Bar Assocation explains:
Though considerations may vary from state to state, generally courts consider four factors before issuing an injunc­tion:

—Courts con­sider the significance of threat to the requesting party if the injunction is not granted.

Balance—Next, courts consider the effects of issuing, or not issuing, the injunction on both parties. While the requesting party may be harmed if the court does not issue the injunction, the other party may be harmed if the court grants the injunction.

Likelihood of success—Courts consider whether or not the party requesting the injunction has a poten­tially successful case—that is, one that is likely to "succeed on the merits" at the end of litigation.

Public interest—Finally, courts consider the injunction's possible effect on the public interest.
"Immediate and irreparable harm" (see, e.g., the Library Journal) seems to be the standard ad the sticking point, at least for a preliminary injunction to allow the case to be heard. Playing for a moment the lawyer I clearly am not, one reason I compiled the list of constituencies above was to find a use case that was "Immediate and irreparable." I don't think that the knitters, LGBTQ, poor and working class, or public libraries can meet that test; that's because, for them, the effects of net neutrality will be delayed, since the ISPs will probably prefer to boil their frogs, rather than simply slay and eat them. However, entrepreneurs are a different matter. There, the "chilling effect" of loss of future returns is indeed immediate (the investment doesn't take place) and is indeed irreparable (the startups don't start up). It would be deeply ironic, given my views on startups, if startups proved to be the harmed plaintiff that saved the Internet, but it's a funny old world, as Maggie Thatcher used to say.
Conclusion
The future lies ahead, and it's not without hope. We can at least call our Congress Critters and get the CRA rolling.
NOTES
[1] ISPs are America's most hated industry. One of the ISPs behind the drive to abolish net neutrality, Comcast, is America's most hated company.
[2] Fast Company: "[E]ven one-party ruled California has had a hard time. Its ISP privacy bill also failed to move ahead last year." Not a good sign for Internet Association action.
[3] To some, a successful injunction seems likely.