By Lambert Strether of Corrente.
Patient readers, I have to do a bit of pantry clearout on the midterms, so I'll add more material in the next few minutes. –lambert UPDATE 2:32PM All one.
Trade
"North American Free Trade Agreement as a bargaining chip" [Logistics Management]. "According The U.S. Department of Commerce, Trump has formally offered to exclude the neighboring countries from the president's planned tariffs on steel and aluminum if they can agree on a deal on a new North American Free Trade Agreement. Treasury Secretary Steven Mnuchin announced at a press conference that the administration is examining the impact of imposing the tariffs on a 'case-by-case' basis…. Speculation that President Trump is using his threatened steel tariffs as a ploy to renegotiate NAFTA may not play well with shippers associations."
"As U.S. President Donald Trump signed proclamations Thursday imposing 25 per cent tariffs on steel imports and 10 per cent for aluminium for almost every country but Mexico and Canada, other nations have expressed their desire to join the lucky duo" [Mining.com]. "European Trade Commissioner Cecilia Malmstrom said that the EU was a close ally of the United States and should also be exempt from metals tariffs."
"The so-called metal-benders in American supply chains worry that new U.S. curbs on steel and aluminum imports could break them. While tariff supporters, including some steelmakers and unions, say U.S. prices have been weighed down by cheap imports, smaller metal-consuming manufacturers say the new levies may significantly increase their prices and trigger job cuts" [Wall Street Journal]. "[C]ompanies including Batesville Tool & Die Inc. and Allied Machine and Engineering Corp. are concerned about rising prices and whether supplies for specialty steel products will be available. M&B Metal Products Co. Inc. says the tariffs may call into question its plans to upgrade its Alabama factory that makes clothing hangers."
"NOW COMES THE DEALMAKING: President Donald Trump signed a pair of proclamations on Thursday establishing a 25 percent tariff on steel and 10 percent tariff on aluminum, but he gave some countries a potential escape clause if they can find a way to eliminate the national security threat their exports pose to the United States" [Politico].
Politics
2020
UPDATE "Bernie Sanders To Hold Televised Town Hall On Economic Inequality" [HuffPo]. "The program will consist of a four-person panel: Sanders, Sen. Elizabeth Warren (D-Mass.), filmmaker Michael Moore, and Darrick Hamilton, an economics and urban policy professor at The New School in New York City." On Hamilton: "Professor Hamilton is a stratification economist, whose work focuses on the causes, consequences and remedies of racial and ethnic inequality in economic and health outcomes, which includes an examination of the intersection of identity, racism, colorism, and socioeconomic outcomes." Hamilton also advocates a Jobs Guarantee. Oh, to get a JG ringer into the questioners…

Generic Ballot: "There is good news and bad news for Democrats in the newest Quinnipiac University survey. The bad: The favorable rating of the Democratic Party has hit an all-time low. Just 31 percent of Americans say they view the party favorably, while 52 percent view it unfavorably. That's a far cry from the 55 percent favorable rating the party enjoyed when Barack Obama took office in 2009. The good? Despite the drop in favorability, Democrats still enjoy a healthy advantage over Republicans on the generic ballot question" [RealClearPolitics].

"Team Biden mulls far-out options to take on Trump in 2020" [Politico]. "On Tuesday, Biden kicked off what will be a heavy campaign schedule this year with two appearances for Conor Lamb, the Democrat running for a House seat in the Pennsylvania special election. It was as much about trying to put Lamb over the top as it was about signaling how much of his 2018 will be about promoting people he sees as 'Biden Democrats,' and cultivating the perception of him as the lone national Democrat who can campaign anywhere…. As he started speaking to House Democrats at their retreat last month, he was greeted with a few 'Run, Joe, Run!' cheers." Doomed…
Midterns
"Trump Gets More Positive Ad Cover Than Obama Did at This Point in 2014 Cycle" [Amy Walter, Cook Political Report]. "I spent some time watching a bunch of campaign ads for candidates running for Congress, Senate and Governor. Most were from early primary states like Texas and Illinois. President Trump plays a starring role in many, if not most of them. Democratic candidates pledge "to stop Donald Trump" while Republicans boast of their support for the president and/or identify with his cultural and policy proposals…. [M]ore than ten times as many pro-Trump ads have been aired in the last year than pro-Obama ads run during this same time period four years ago. In other words, Republicans are more willing to embrace the president in their advertising today than Democrats were back in 2013-14."

TX: From alert reader Daniel:

Wanted to share some links thoughts from Texas #21 and the state.

First, I was surprised by Mary Wilson's getting top votes in the primary. I thought it was going to be between Our Revolution endorsed Crowe and centrist Kopser. I preferred Crowe to Wilson because he added a job guarantee to his platform and she has some bad thoughts on marijuana. However, while I'm disappointed in Crowe's showing, Wilson is overall a good candidate. She came to multiple Our Revolution meetings in my area. She supports Medicare for All. Kopser nominally does but his website is full of "interim solutions." I will feel good about voting for her in the runoff, as I imagine many other Crowe supporters will do. She's got a real shot.

Steve Kling winning the nomination for State Senate is great news. He's very good. Took part in a Medicare for All march in downtown San Antonio and earned his Our Revolution endorsement.

Rick Trevino in district 23 is also very good, if he can make the runoff. As of now it's too close to call.

As far as Tom Wakely, no one expected much from his campaign, least of all him. He wanted to get the message out but had no illusions about winning the nomination. I guess it's fair to call it a loss for Berniecrats, but no one expected different.

Also, I did not expect Sema Hernandez to seriously challenge O'Rourke for Senate, but I was encouraged that she did better than I thought she would.

UPDATE: Trevino made the runoff. Also, I neglected to mention Chris Perri in #25. He's very good. He started in #21 before moving to a less crowded primary. Had an extended discussion with him at one event about job guarantee and he was certainly receptive. Quite likely I would have voted for him if he'd stayed in my district.

UPDATE TX: "Primaries Turn Texas a Deeper Shade of Red" [Governing]. "'The movement conservatives view this not as a single battle but as a war with a long time horizon,' says Jones of Rice University. 'They never expect to flip 12 or 15 seats in any given cycle. Instead, a net pickup of a few seats means an already weakened establishment is weaker in 2019. Over time, the movement conservative wing [will be] predominant in the House, just like it is now in the Senate.'" And conservatives are supposed to be stupid…..

Other Texas readers, thoughts? (I think these reports from the ground are useful. The more concrete detail to better.

TX-07:

#TX07– DCCC never learns. After inadvertently handing her a place in the runoff, a staffer there just told me they are going to go nuclear on Laura Moser & make her unelectable. That will hand Culberson reelection on a silver platter. The ONLY way to stop them is to defeat Pelosi

— Howie Klein (@downwithtyranny) March 7, 2018

TX-07: "Texas Progressive Laura Moser Is Beating Democratic Insiders" [The Nation]. "There's a good case to be made that the DCCC helped Moser, whose grassroots fund-raising spiked after the attack. She also earned a late-in-the-race endorsement from Our Revolution, the group formed by Bernie Sanders backers that had established a strong presence in Texas—and when the results came in, Texas populist Jim Hightower, an Our Revolution Board member, said: 'The voters of Texas showed they are the only deciders in the race to represent them in Congress.'"

UPDATE TX Senate: "Beto O'Rourke fell short of expectations in the Texas primary. Was it because of his name?" [Texas Tribune]. "In low-information Democratic primaries, name matters when voters are choosing a candidate based on cues like gender and surname, said Victoria De Francesco Soto, a political science lecturer at the University of Texas at Austin who has studied Hispanic voters." Shorter: Hispanic voters are stupid. Which is what liberal Democrats always say when people don't vote for their candidates. More on O'Rourke's rivals: "O'Rourke won less than two-thirds of the statewide vote. Sema Hernandez, a 32-year-old Houston activist and self-described 'Berniecrat,' picked up a surprising 24 percent… His Democratic primary opponents mostly campaigned on social media and reported raising less than $10,000 combined."

UPDATE TX Senate: O'Rourke's opponent:


Our campaign spent almost $4K (Grassroots) campaigning & earned over 245K votes is #BreakingNews. #TexasPrimaries #TexasStrong #Progressive

No Endorsements
No Support from @texasdemocrats
No Big Money Donors giving the max in donations.

I didn't compromise.#Elections2018 https://t.co/eZ8gm8ligr

— Sema Hernandez for Texas U.S. Senate ? (@ElectSema4TX) March 7, 2018

UPDATE PA-18: "Can Unions Push Conor Lamb to an Unlikely Victory in Pennsylvania?" [Roll Call]. "local unions, who have launched a coordinated ground game to support Lamb ahead of the March 13 special election in the 18th District.. Roughly two dozen unions are mobilizing workers like Sparks in the final days of the race to help Lamb do the improbable — win." If the unions succeed in their efforts, they still won't get anything for it from the Democrats; they never do.

UPDATE PA-18: "Republicans trash their candidate in Pa. special election" [Politico]. "Shortly after the new year, Rep. Steve Stivers, the House GOP campaign chief, delivered a stern message to Rick Saccone, the party's special election candidate in Pennsylvania…. But if Saccone didn't start upping his fundraising game and getting his sluggish campaign in order, he could lose a race that should be a gimme for the party. Saccone said he understood. But in the weeks to come, the National Republican Congressional Committee quietly dispatched a staffer to the district to walk Saccone, who lacked any donor infrastructure, through the basics of how to fundraise. Stivers had several more conversations with the candidate to try to prod him along." I wonderful if the RNC's Memorandum of Understanding on fundraising is as vile as the DNC's? If so, this speaks well of Saccone….. More: "[Ivanka] Trump told colleagues she'd been impressed by the candidate, who she described as kind [(!!)] and intelligent. But she noted that Saccone seemed to lack the charisma of many politicians."

Senate: Poll: Five Senate Dems would lose to GOP challenger if elections held today" [The Hill]. "New polls published Thursday morning in Axios show Sens. Claire McCaskill (D-Mo.), Jon Tester (D-Mont.), Joe Manchin (D-W.Va.), Joe Donnelly (D-Ind.) and Heidi Heitkamp (D-N.D.) would all lose reelection to GOP challengers if voters were heading to the polls this week." Blue Dogs all. Why vote for a fake Republican when you can vote for a real one?

UPDATE Senate: "Sanders won't endorse Feinstein" [The Hill] and "Sanders backs Ill. Dem primarying incumbent" [The Hill]. DCCC/DNC really shouldn't have attacked Sanders' candidates….

"Veterans Running as Democrats Challenge GOP on Guns in Key Races" [Bloomberg]. "Recruiting veterans is a key part of Democrats' strategy to gain House seats in this year's elections, and there are at least 25 running in primaries. Most have been advocating new controls on guns, or beefed-up background checks, since the Feb. 14 shooting at a high school in Florida, often citing their own experience with firearms."
Obama Legacy
"Obama in Talks to Provide Shows for Netflix" [New York Times]. "Mr. Obama does not intend to use his Netflix shows to directly respond to President Trump or conservative critics, according to people familiar with discussions about the programming. They said the Obamas had talked about producing shows that highlight inspirational stories. But the Netflix deal, while not a direct answer to Fox News or Breitbart.com, would give Mr. Obama an unfiltered method of communication with the public similar to the audiences he already reaches through social media, with 101 million Twitter followers and 55 million people who have liked his Facebook page."
2016 Post Morterm
Groundhog Day comes late this year:

GUESS WHO'S RAISING BIG $ AGAIN? @HillaryClinton soliciting major donors to give $10k+ to join finance committee of her nonprofit group Onward Together, which will hold a donor mtg in April with her & @GovHowardDean. pic.twitter.com/cXymVcOc0Q

— Kenneth P. Vogel (@kenvogel) March 7, 2018
Realignment and Legitimacy
"Democrats Are Considering Dropping Superdelegates Altogether" [Buzzfeed]. "One DNC member from California, Bob Mulholland, circulated a memo late Wednesday night ahead of the meeting outlining his opposition to the idea. 'I understand that one proposal before the DNC Rules Committee is to deny uncommitted Delegates (Members of Congress, DNC Members, Governors, former Presidents and DNC Chairs) the RIGHT TO VOTE in our presidential nominations at our National Conventions, on the first vote,' the memo begins. 'In other words, Presidents Obama, Clinton, and Carter would be told they cannot vote for our next President and they would be escorted to the nosebleed section of the arena.'" You say "escorted to the nosebleed section" like that's a bad thing…

"Are congressional Democrats lying their way to riches?" [Center for Public Integrity]. Throwing a flag on the Betteridge's Law violation, here… More: "'I find the DCCC's fundraising emails to be both annoying and pathetic — their hysterical pleas *,' said Leo McDevitt, a copy writer and content manager from Escondido, California, who says he no longer donates to the DCCC because he's put off by their solicitations. 'I have repeatedly told the DCCC that all of my donations are staying local,' said Linda Parsel of Texas, who avoids the DCCC and gives directly to Democratic candidates' campaigns. So why would the DCCC risk further alienating supporters with irksome fundraising emails, especially at a time when the committee, overseen by Rep. Ben Ray Luján of New Mexico, is already grappling with internal strife over how it supports candidates and involves itself in Democratic primaries? …Here's one reason: The bait-and-switch 'NOT asking for money' messages appear to work — at least more than they don't." * Make up your own jokes…

UPDATE But what about [genuflects] unity?

Elizabeth Warren is calling out her fellow Dems by name who are backing changes to Dodd Frank. Barney Frank calls this a "mistake" https://t.co/eee5DJtRWS pic.twitter.com/nyCzlvzATy

— Liz Goodwin (@lizcgoodwin) March 8, 2018

Democrat loyalist experiences cognitive dissonance:

I'm with @SenWarren on this. What on earth is possessing these red state Democrats to join Republicans in rolling back Wall Street regulations to let banks reopen the casinos that crashed the economy in 2007 and 2008? #inners

— Joy Reid (@JoyAnnReid) March 8, 2018

UPDATE "Petition approval puts Maine on track to use ranked-choice voting in June primaries" [Bangor Daily News]. "Maine Secretary of State Matt Dunlap said Monday that ranked-choice voting will be used in the June 12 primary after his office certified a people's veto effort that thwarted the Legislature's attempt to cancel the election system approved by voters in 2016. Dunlap deemed 66,687 of the approximately 77,000 submitted signatures to be valid… The people's veto attempt certified Monday would nullify a law passed last year by legislators that at the time was seen as a death knell for ranked-choice voting."
Stats Watch
Employment Situation, February 2018: "There's still no wage inflation underway but the flashpoint may be sooner than later based on unusual strength in the February employment report" [Econoday]. "Strength in construction is a standout in the report as payrolls in the sector surged 61,000 in February following gains in the three prior gains that are all 40,000 and over. Manufacturing is also very strong, up 31,000 for a fifth straight strong gain. Retail, which has been uneven, added 50,000 as did professional & business services where the closely watched temporary help subcomponent spiked 27,000 in a tangible indication that employers are scrambling to fill positions. Government payrolls, which have been weak, added 26,000 to February's nonfarm total…. , at only plus 0.1 percent with the year-on-year 3 tenths under the consensus at 2.6 percent. But given how strong demand is for labor, policy makers at the Federal Reserve may not want to risk runaway wage gains as employers try increasingly to attract candidates. The sheer strength of the hiring in this report would appear certain to raise expectations for four rate hikes this year as Fed policy makers may begin to grow impatient with their efforts to cool demand." Lordie. The F. Scott Fitzgerald novel to read here is The Diamond as Big as the Ritz, not The Punchbowl the Size of a Thimble. And when you think about it, regulating the economy by throwing people out of work is barbaric, yet we take it for granted. And: "The headline jobs number at 313,000 for February was well above consensus expectations of 205 thousand, and the previously two months were revised up a combined 54 thousand. Overall this was a very strong employment report" [Calculated Risk]. "Even if weather boosted the NFP report by 80,000 jobs, this was still a strong report." And: "The household and establishment surveys were not in sync BUT you have a choice between great and even better. This definitely was a good month with positive backward revisions – and it is very hard to point at any bad dynamic" [Econintersect].
Wholesale Trade, January 2018: "Inventories in the wholesale sector had not been keeping pace with sales which had been very strong and which helps to explain January's large 0.8 percent build" [Econoday]. "[Y]ear-on-year inventories are still lean, up 4.8 percent for the sector vs a sales gain of 6.7 percent. And for January, today's build together with a preliminary build of 0.8 percent build for retailers and a 0.3 percent build in durables at manufacturers points to a fast start for the inventory component of first-quarter GDP."
Banks: "Did the Dodd-Frank Act End 'Too Big to Fail'?" [Liberty Street Economics]. "Did the Dodd-Frank Act end 'too big to fail'? In a pair of blog posts published in 2015, we argued that, at the time, bond and CDS markets and rating agencies did not agree on the answer to that question. The updated evidence in this post suggests that there remains a difference of opinion on the effectiveness of the SPOE*. It's possible that investors are still skeptical about the new resolution tool since it has not yet been tested. It's also possible that bond markets' perceptions of risk differences between parent and subsidiary banks are concealed by the generally strong financial condition of the four institutions that we consider. Nonetheless, the absence of a market response is notable." * "The FDIC has developed a 'single point of entry' (SPOE) strategy, under which healthy parent companies bear the losses of their failing subsidiaries." Ratings agencies think that SPOE "has made the parent riskier" but bond investors do not agree.
Retail: Toys 'R' Us Inc. is no longer playing around. The troubled toy chain may liquidate all of its U.S. stores and abandon efforts to restructure through the bankruptcy process… The big-box retailer filed for chapter 11 protection in September with hopes of reorganizing its heavy debt load, revamping its stores and operations, and continuing as a mainstay toy busines" [Wall Street Journal]. "But now it is now evaluating bids to liquidate the rest of its U.S. locations, a plan that would effectively close off hopes of a rebound after a weak holiday season torpedoed plans to reorganize.
Retail: "The Slow Death of the Shopping Plaza" [The American Conservative]. "The anchor stores in [the Sully Place Shopping Center in Chantilly, Virginia] currently occupied, and there is none of the loitering or petty crime that tends to hasten the deaths of these places; this is no dead or dying mall. Yet the accompanying strips of smaller shops in between the anchors are one-third vacant. Of about 40 small storefronts, 13 are currently sitting empty (the number of vacancies has actually ticked up in the last several years). One or two stores that are occupied are "marginal" businesses, like the closeout warehouse stocked mostly with returned electronics and smashed cereal boxes. This is in one of the richest parts of one of the richest counties in the nation—the households within five miles of the mall sport a median household income of $110,000—during a supposedly thriving economy. That suggests that the high watermark of the massive shopping plaza is probably behind us, though whether greater blame belongs to e-commerce or to the defects of the sprawl model of development is up for debate. In any case, one wonders what the original builders were thinking in 1991 when the plaza was built."
Shipping: "[Kroger] Chief Financial Officer John Michael Schlotman said in an earnings call that the company's dedicated fleet keeps it 'well protected' as tight capacity boosts domestic shipping market prices. He says some of Kroger's consumer-packaged goods supplies have seen freight disruptions but adds, 'That's their issue, not our issue…We agreed to pay a certain price for their product and their obligation is to get it to us for that price'" [Wall Street Journal].
Shipping: "Massive jury award against FedEx unit could re-set standard for damages in truck accident" [DC Velocity]. "Virtually all of the $165 million award, considered by several legal experts as an astounding figure in a case of this nature, compensates the Morgas for "non-economic" damages such as pain and suffering, physical impairment, and "loss of consortium." The latter is roughly defined in tort law as depriving the survivors the means of carrying on a future relationship. Unlike "economic" damages, which cover such costs as medical claims and lost wages, and which can be calculated using established formulas, the amount of compensatory damages is, with a couple of exceptions, limited only by a jury's discretion. For example, the size of the award cannot, in legal parlance, "shock the conscience." Nor can a jury be influenced by passion, prejudice, the financial status of either party, or other elements that might conflict with a vetting of the evidence at hand. The jury did not award punitive damages in the case. The appellate court ruling upholds a 2015 federal district court decision affirming the verdict and denying FedEx Ground's request either for a new trial or a reduction in the size of the award." Hmm. Speaking of robot cars, the software companies have the deepest pockets of all….
Housing: "San Francisco housing has entered into a new reality. Tech money and foreign cash continues to flood the market and pushing prices to astronomical levels. The typical San Francisco crap shack now will cost you $1.42 million, a new record high with condos going for $1.15 million. The city is entering into escape velocity of gentrification" [Dr. Housing Bubble]. "San Francisco is such an odd case study. A city that outwardly states it supports the poor but when you look at prices even making $100,000 a year makes you part of a new high income poor – at that income level a sizable amount of your net income is going to go to simply paying for housing unless you want to be part of the mega commuting culture that is now emerging in California. What is going on in San Francisco?… You have foreign money flooding the market and you also have dual income high tech households trying to buy up what little inventory exists."
The Bezzle: "This Is What Happens When Bitcoin Miners Take Over Your Town" [Politico]. "The Mid-Columbia Basin isn't the only location where the virtual realm of cryptocurrency is colliding with the real world of megawatts and real estate. In places like China, Venezuela and Iceland, cheap land and even cheaper electricity have resulted in bustling mining hubs. But the basin, by dint of its early start, has emerged as one of the biggest boomtowns….. Stories abound of bitcoin miners using hardball tactics to get their mines up and running. [Bitcoin miner David Carlson], for example, says some foreign miners tried to bribe building and safety inspectors to let them cut corners on construction. 'They are bringing suitcases full of cash,' Carlson says, adding that such ploys invariably backfire [Oh?]. Adds [real estate broker Lauren Miehe], 'I mean, you know how they talk about the animal spirits—greed and fear? Well, right now, everyone is in full-greed mode.'" The miners remind me of "builders" in William Gibson's The Peripheral, as does the rural milieu.
The Bezzle: "Driverless cars are so overhyped" [The Week]. "The thing about driverless cars is that few people speak about them with specificity. When you read articles about autonomous vehicles, two assumptions are almost always made: First, that driverless cars will lead to near-universal ride-sharing and a massive drop in private car ownership. Second, that driverless cars are always electric. Nearly all the benefits we associate with driverless cars — from faster commutes to cleaner air — actually depend on these two assumptions coming true. And it's simply not clear they will." Good read.
The Bezzle: "A company called Embark tested their autonomous truck on a trip from Los Angeles, CA to Jacksonville, FL. The vehicle did the 2400 mile trip in five days and followed a test run from Los Angeles to El Paso, TX. Embark believes that the trip from Los Angeles to Jacksonville can be whittled down to as little as two days, yet they highlighted that they are not out to replace drivers entirely. Drivers will be needed in the vehicle at all times and must handle the off-freeway drive times. Notably, the route Embark's autonomous truck took completely missed the bad weather areas of the country, and it's uncertain how these trucks will handle poor weather" [Truckstop].
The Bezzle: "Two Years On, A Father Is Still Fighting Tesla Over Autopilot And His Son's Fatal Crash" [Jalopnik]. "He hopes the suit will bring more attention to the system's limited capabilities and force Tesla to change the way it deploys the technology before it's refined. (A federal lawsuit filed last year in the U.S. echoed that concern, alleging the automaker uses drivers as 'beta testers of half-baked software that renders Tesla vehicles dangerous.' Tesla called the suit 'inaccurate' and said it was a 'disingenuous attempt to secure attorney's fees posing as a legitimate legal action.'"
Tech: "Amazon splurges on Ring, hopes smart doorbells bolster in-home deliveries" [Ars Technica]. "Ring could help Amazon bolster customer confidence in Amazon Key: Ring's smart video doorbell uses an embedded camera to let users see who's at their door (via Ring's mobile app) and a speaker/mic system to allow the user and the guest to communicate."
Tech: "Comcast's Xfinity internet customers have been reporting multiple websites, including PayPal, Steam, and TorrentFreak have been getting blocked by the ISP's 'protected browsing' setting" [SlashDot]. Just spitballing here, but given that PayPal traffic is disportionately transactions from which PayPal takes a cut, it would only be natural that — in the absence of net neutrality — that Comcast would want a cut of the cut. Of course, Comcast would never do that.
Tech: "Oculus VR headsets knocked out by admin error" [BBC]. "Oculus failed to renew a security certificate for some software, meaning headsets would not run key code. Security certificates are often used to authenticate software, and many computers refuse to run code lacking valid credentials." I'm sure that will never happen with robot cars.
Tech: "Trump Administration Backs Internet Taxes at U.S. Supreme Court" [Bloomberg]. "Taking the side of traditional retailers, the administration said Monday that the court should uphold a South Dakota law that would collect sales taxes from large Internet retailers even if they don't have brick-and-mortar stores in the state. The government said the court might have to overturn a 1992 ruling that said states can't force merchants to collect taxes unless they have a 'physical presence' there." Sensible?!
Fodder for the Bulls: "The Economy Is Looking Awfully Strong" [New York Times]. "The economy is humming… The 313,000 jobs that the nation added in February are far more than are needed to keep up with population growth and continue a surprising burst of job creation to start the year. In the first two months of 2018, the economy has added an average of 276,000 jobs a month, a big step up from 182,000 on average in 2017. This is not the kind of data you expect in an expansion that is nine years old, or out of a labor market that is already at full employment. It . And other data in the latest report matches that idea." (Not clear to me how "the economy" can be humming when average hourly earnings "came in below expectations.") More: "Yes, , but the saving grace of the fact that they aren't is that it allows the Fed a little more room for patience." Yes, wouldn't it…
Five Horsemen: "Apple and Facebook duke it out for last place as juggernaut Amazon motors on into the Milky Way" [Hat Tip, Jim Haygood].
NakedCap Mania-Panic Index: "Mania-panic index advances to 45 (worry) on improvement in the put-call ratio, new highs vs new lows, and stocks' 21-day rate of change" [Hat Tip, Jim Haygood]. (The NakedCap mania-panic index is an equally-weighted average of seven technical indicators derived from stock indexes, volatility (VIX), Treasuries, junk bonds, equity options, and internal measures of new highs vs new lows and up volume vs down volume … each converted to a scale of 0 to 100 before averaging, using thirty years of history for five of the seven series.)
Health Care
"The Medicaid Freeloader Fallacy" [US News]. "Proponents of work requirements claim people with disabilities will be exempt. But what they do not tell you, and may not even realize, is that people like me who are clearly disabled by any common-sense definition of the word are often not considered disabled by the government. That is because our government makes it deliberately difficult and time-consuming to qualify as disabled. The Washington Post recently reported that 10,000 people died in the past year while judges drown in the backlog of federal Social Security Disability cases. The states run Medicaid, and Colorado and others rely on Social Security for disability determinations." And: "Work requirements solve a perception problem, not an actual problem. The majority of Medicaid recipients, both in Colorado and nationwide, already work. They are just so poorly paid that they still qualify for Medicaid."
The NHS:
Serious kudos to @Running_theRift who traced out this message on Rhossili beach. Ellie wanted to show her appreciation to the British National Health Service after her life was saved by a liver transplant. https://t.co/f4gu5lTgZY pic.twitter.com/pCYTjlLcpe

— Strava (@Strava) March 8, 2018
You can see why the Tories want to destroy it…
Gaia
"What scientists found trapped in a diamond: a type of ice not known on Earth" [Los Angeles Times]. "Trapped in the rigid structure of diamonds formed deep in the Earth's crust, scientists have discovered a form of water ice that was not previously known to occur naturally on our planet." That's wooder ice.
Class Warfare
"Man arrested after allegedly pulling gun on striking Frontier worker" [Charleston Gazette-Mail]. "A Georgia man slated to become a temporary worker for Frontier Communications during the ongoing workers strike allegedly pulled a gun on a picketing employee in Braxton County, according to an incident report filed with West Virginia State Police."
"Income Distribution, Household Debt, and Aggregate Demand" (PDF) [Levy Institute]. " I ask five questions: How much household borrowing finances consumption spending? How much has monetary consumption spending by households increased? How much of the rise in household debt-income ratios is attributable to increased borrowing? How is household debt distributed by income? And how has the distribution of consumption spending changed relative to the distribution of income? I conclude that the distribution-debt-demand story may have some validity if limited to the housing boom period of 2002–07, but does not fit the longer-term rise in household debt since 1980.
"The Socialist Origins of International Women's Day" [Jacobin].
News of The Wired
"Now accepting submissions!" [HyperCard ZIne]. I loved HyperCard…
"How exercise in old age prevents the immune system from declining" [BBC]. "Doing lots of exercise in older age can prevent the immune system from declining and protect people against infections, scientists say. They followed 125 long-distance cyclists, some now in their 80s, and found they had the immune systems of 20-year-olds."
"The Hammering In My Head" [Nina Illingworth]. I think all of us have had that hammering at one point or another…
"How Do You Solve a Problem Like a Giant Floating Bog?" [Atlas Obscura]. "Floating islands are common in Minnesota; it's the size of this one that's causing all the fuss. Sue Galatowitsch, a wetland ecologist at the University of Minnesota, says the island likely weighs at least 1,000 tons and could extend 30 feet below the water. Technically, it's a floating bog. A natural assemblage of peat moss festooned with cattails and tamarack trees, the bog is more than four acres across—that's about 64 tennis courts. ',' Galatowitsch says, '.'" At one level, this an inspiring story of locals cooperating. Still, it would be easy to rewrite this story as a dystopian nightmare…
* * *
Readers, feel free to contact me at lambert [UNDERSCORE] strether [DOT] corrente [AT] yahoo [DOT] com, with (a) links, and even better (b) sources I should curate regularly, (c) how to send me a check if you are allergic to PayPal, and (d) to find out how to send me images of plants. Vegetables are fine! Fungi are deemed to be honorary plants! If you want your handle to appear as a credit, please place it at the start of your mail in parentheses: (thus). Otherwise, I will anonymize by using your initials. See the previous Water Cooler (with plant) here. Today's plant (PS):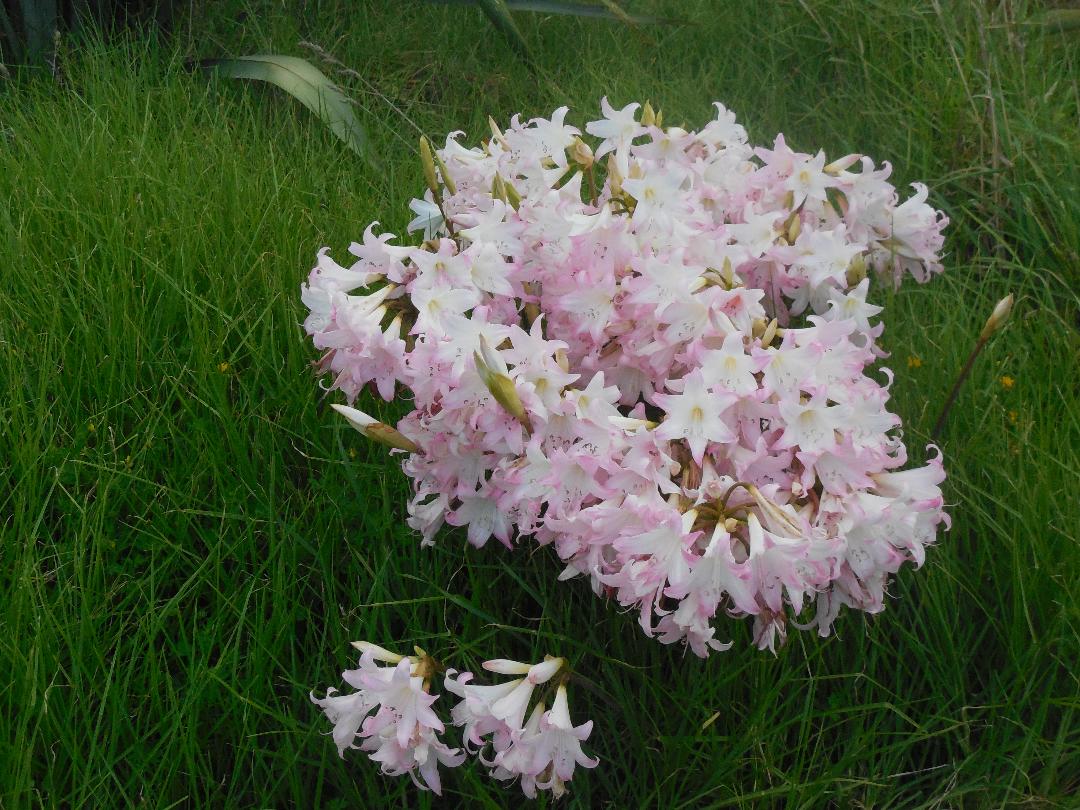 PS writes: "What better plant for Naked Capitalism than "Naked Ladies" (aka Amaryllis belladonna)?"
* * *
Readers: Water Cooler is a standalone entity not covered by the NC fundraiser. So do feel free to use the dropdown and click the hat to make a contribution today or any day. Here is why: Regular positive feedback both makes me feel good and lets me know I'm on the right track with coverage. When I get no donations for five or ten days I get worried. More tangibly, a constant trickle of small donations helps me with expenses, and I factor that trickle in when setting fundraising goals. So if you see something you especially appreciate, do feel free to click the hat!