By Lambert Strether of Corrente.
Readers, this Water Cooler is somewhat abbreviated because I'm slogging my way through another worksheet*, moving into districts that tilt and lean Republican for the first time. I'll have that up at some point after I publish this…. –lambert
* Many many thanks to readers who assisted with SQL code. This expansion wouldn't have been possible without their help.
Trade
"'I'll leave [the Summit of the Americas] very hopeful that we are very close to a renegotiated NAFTA that will be a better deal for the American people and will have the kind of fairness to it that will permit us to go forward in a productive, mutually beneficial relationship,' Pence told reporters at the close of the trip. He added that there is 'a real possibility that we could arrive at an agreement within the next several weeks on a renegotiated NAFTA'" [Politico].
"Why China's US trade stand-off is not a replay of Japan's in the 1980s" [South China Morning Post]. "At first glance, China's trade frictions with the US seem to be of a piece with the confrontations Japan faced in the 1980s: a surging Asian economy becomes a threat to American dominance in world trade and the US retaliates by crying foul and demanding concessions…. In economic scale, China today is much stronger than Japan was in the 1980s. It overtook Japan in 2010 to become the world's second-largest economy and has continued to narrow the gap with the US.. .. "China is able to cultivate a domestic market for its 300 million middle-income class. It is much more capable than Japan of bolstering domestic consumption," said Lu Xiang, a specialist on US issues with the Chinese Academy of Social Sciences. Lu said the US was facing challenges to properly manage its power decline and coexist with a rising China. 'Further confrontation between Beijing and Washington may … go on for a long time, no matter who is the leader of the US,' Lu said."
Politics
2018 Midterms
NY: "Andrew Cuomo Sees What's Coming. He Doesn't Know Whether to Run, Join It, or Destroy It'" [Kate Aronoff, The Intercept]. "On Saturday at the WFP's gathering, under fluorescent lights in the basement of an Albany Hilton, the group moved to endorse [challenger Cynthia] Nixon, with 91.5 percent of the vote going her way… With two influential unions splitting off from the WFP to endorse the incumbent governor less than a day before Saturday's meeting, the New York party's rough start to the weekend comes at an otherwise resurgent moment for both progressive challengers and the party nationally."

NY: "Cynthia Nixon Has Already Won" [New York Magazine]. "While victory is a long shot — the governor enjoys a $30 million war chest, support among unions and other factions, the incumbent bias in underattended primaries, and a 43-point lead in the first poll — it's not out of the question. Looking at the numbers, one analyst from CUNY estimated Nixon needed to win only 75,000 votes away from Cuomo. "It's more doable than I would've thought," he told Politico." The ending: "After all, these are emotional times, and Recent Events have demonstrated that it's possible for a candidate to surf to victory on a wave of feelings." Dear Lord. Nothing about policy, where Cuomo is so vulnerable, and Nixon — New Yorkers please correct me! — sounds better (and see immediately below).

NY: "The Working Families Party Backs Cynthia Nixon Against Andrew Cuomo" [The Nation]. "Nixon accepted the endorsement in the language and the spirit of her grassroots campaign, announcing that 'With the [New York Working Families Party] by our side, we will fight for equitable schools, good jobs, , subways that actually work, environmental justice, and an end to mass incarceration. It's time for a New York that belongs to all of us—for the many, not the few.'" Channelling Corbyn (!).

NY: "Andrew Cuomo rips teacher unions as selfish 'industry' more interested in members' rights than student needs" [New York Daily News]. "Cuomo on Wednesday unveiled an ambitious education reform plan that would make it easier to fire bad or lecherous instructors, revamp the teacher tenure and evaluation systems, and increase the cap on charter schools by 100." Ka-ching.

CA: "Charter school backers spend millions to support Antonio Villaraigosa for California governor" [Sacramento Bee]. "Wealthy charter school supporters are pouring millions of dollars into the battle to succeed Gov. Jerry Brown, throwing their money into an independent committee to push former Los Angeles Mayor Antonio Villaraigosa ahead in a crowded field of candidates. Netflix CEO Reed Hastings on Wednesday gave $7 million to the committee run by the California Charter Schools Association, an increasingly powerful player in state politics. On Thursday, Los Angeles philanthropist and developer Eli Broad contributed $1.5 million to the effort."

MI: "With success in private sector, Thanedar aims for public win" [Hillsdale Daily News]. Thanedar: "So I'm trying to disrupt the Democratic primary process right now, because it looks like there's a momentum to coronate the frontrunner, Senator Whitmer, and I'm saying that we should wait and have a dialogue." Softball questions. Thanedar is this guy.
Militarism
Jawbs:

Ramping Up Production: Today elected officials and business community leaders joined @LockheedMartin in Johnstown, Pennsylvania to celebrate the formal opening of a new #F35 assembly facility that will support the program's transition to full-rate production. pic.twitter.com/OFH4LWkJPc

— F-35 Lightning II (@thef35) April 4, 2018

Johnstown is PA-12 (Rothus, R), not one of the districts we're tracking. Perhaps exactly because of this facility?
Realignment and Legitimacy
"How the CIA's Secret Torture Program Sparked a Citizen-Led Public Reckoning in North Carolina" [Alternet]. "What can a small group of committed citizens who oppose these practices do to push back? A commission against torture in North Carolina may serve as a model for how citizen-led initiatives can create transparency and accountability for abuses of power in government." This is very important and worth reading in full.

"Cashing in on Standing Rock" [High Country News]. "In the course of a nine-month investigation, High Country News compiled publicly available data from GoFundMe and examined nearly 250 campaigns, each of which raised at least $3,000 for causes related to the Dakota Access Pipeline. Altogether, more than 138,000 people donated nearly $8 million. Many of those campaigns accepted money without necessarily offering accountability, either to their donors or to the causes they claimed to represent. In the case of Veterans Stand, chaos and disarray become the hallmarks of a campaign that initially galvanized thousands of veterans and inspired more than 26,000 people from around the world to donate. That money was, at best, squandered and at worst, egregiously misspent." That's really dispiriting, but maybe the lesson is that these "Let's put on a show!" efforts need to be a wee bit more structured. Good intentions, seemingly or no, are not enough. I seem to recall similar issues with Occupy, back in the day.

"In the era of Donald Trump, New England's biggest GOP donor is funding Democrats" [Boston Globe]. "Boston hedge fund billionaire Seth Klarman lavished more than $7 million on Republican candidates and political committees during the Obama administration, using his fortune to help underwrite a GOP takeover of the federal government. But the rise of Donald Trump shocked and dismayed Klarman, as did the timid response from the Republican-controlled House and Senate, which have acquiesced rather than challenge the president's erratic and divisive ways. So, in an astonishing flip, Klarman, at one point New England's most generous donor to Republicans, is taking his money elsewhere: He's heaping cash on Democrats." What's astonishing about it? The Democrat nomenklatura has been fighting to optimize the 2018 mid-terms to make the party safe for donors like Klarman.
Stats Watch
Retail Sales, March 2018: "In a slight reversal of expectations, retail sales proved stronger at the headline level" [Econoday]. Autos are the big story in March, jumping 2.0 percent and finally shaking off the long lull following the replacement surge of September's hurricanes…. Department stores are having a very hard time… But there are positives in the report including a second straight 0.4 percent gain for restaurants and a second straight solid rise, at 0.7 percent, for furniture stores. And nonstore retailers are once again at the top of the data, at a 0.8 percent gain following February's 0.9 percent jump. But this report, after two soft showings in January and February, doesn't show the fundamental acceleration that was expected for March." And: "The increase in March was above expectations, however sales in January and February were revised down slightly" [Calculated Risk]. And but: "Even though there is seen a significant improvement – it was a weak bounce back from the previous month's soft reports" [Econintersect]. "The three month rolling averages of the unadjusted data significantly slowes. [S]till, our analysis says this months' year-over-year growth was about average for the growth seen in the last 12 months."
Empire State Manufacturing Survey, April 2018: "There are hints of tariff trouble in this month's Empire State report where slowing is the result" [Econoday]. "But it's the 6-month outlook readings that tell the tale showing very severe and sudden declines, collapsing a whopping 25.8 points for general conditions to only 18.3 which is very weak for this reading. The outlook shows similar declines for new orders and shipments in what are very likely direct reactions to steel and aluminum tariffs put in place in March not to mention the wider threat underway of rising tariffs in general… But production in the sample is definitely still humming along…. [T]here are still plenty of indications of capacity stress including delivery times." But: "I am not a fan of surveys – and this survey jumps around erratically – but has been relatively steady for the last year. Key internals in the report declined and I consider this a much softer report than last month" [Econintersect]. And: "This was below the consensus forecast, but still a solid reading" [Calculated Risk].
Business Inventories, February 2018: "Inventories look to a be a big contributor to first-quarter GDP" [Econoday]. "The biggest build is at wholesalers, up 1.0 percent in February with retailers up 0.4 percent and manufacturers up 0.3 percent. It will be interesting to watch whether manufacturing data for March show any tariff-related stockpiling of metals. That aside, inventories are on the rise in line with underlying demand which is a good mix for the economy." And but: "Inventories remain elevated this month. Our primary monitoring tool – the 3 month rolling averages for sales – significantly declined this month but remains in expansion. As the monthly data has significant variation, the 3 month averages are the way to view this series. Overall business sales are improving since the low point in 2015 – but the trend in the last 6 months has been declining" [Econoday].
Housing Market Index, April 2018: "the lowest reading since November last year" [Econoday]. "The slip in current sales won't be raising expectations for next week's report on new home sales which have yet to get going this year. Housing has had a tough winter and today's report isn't pointing to much of a Spring bounce."
Container Movements: "Last month was exceptionally strong and this month was exceptionally weak. The year-to-date and the rolling averages are positive for imports and negative for exports which suggest to me a weakening global economy and a moderately growing USA economy. Overall I would wait until next month's data – if the downward trend continues, it spells trouble for the USA economy" [Econintersect].
Shipping: "The IMO won near-unanimous agreement on a deal aimed at cutting carbon emissions in half by 2050, a plan the maritime industry says will cost billions of dollars and likely make shipping much more expensive. That impact could take many years, and maybe decades, to ripple across the business. But the target is based on the 2008 emissions level, when shipping activity hit a peak and before a new generation of cleaner vessels hit the water, suggesting the reductions may be closer than they appear" [Wall Street Journal].
Shipping: "The unintended consequences of Trump's call for USPS task force" [DC Velocity]. "In a report issued last April, Christian Wetherbee, an analyst for Citigroup Inc., concluded that the U.S. Postal Service (USPS) would have to raise its artificially low parcel rates by as much as 50 percent in order to break even on its fast-growing parcel offerings. The biggest question, Wetherbee wrote, was who or what would break through the Washington inertia and 'trigger' such a change…. Should USPS' parcel rates rise to the levels cited by the analyst, the impact on the shipping marketplace, and on an economy increasingly influenced by e-commerce activity, could be enormous. Millions of online retailers and merchants offer their end customers "free shipping" for purchases as a means of retaining and keeping their business. The shipping is not free, and USPS has been raising parcel rates by mid- to high single-digit amounts for several years. Still, the rates remain so competitive that big-ticket users have been willing to effectively eat the costs. That approach may no longer be viable should rates rise substantially from current levels. In his analysis, Wetherbee wrote that "many consumers have been conditioned to expect shipping solutions which are ." Ah. "Economic reality."
Shipping: "President Donald Trump may be taking aim at Amazon.com Inc. with his order to review U.S. Postal Service finances, but other parcel carriers are in the line of fire. FedEx Corp. and United Parcel Service Inc. both get discount rates like Amazon, the WSJ's Paul Ziobro and Laura Stevens report, under a program that lets them drop truckloads of packages at local post offices for the last leg of delivery. The Parcel Select service gives the operators from 5% to 10% off published rates, a common practice in shipping contracts. UPS and FedEx have long argued that the Postal Service should charge more, in part because it would drive more volume to their own networks" [Wall Street Journal].
Retail: "Merchants selling on sites like Amazon.com Inc.'s marketplace face a day of reckoning at the U.S. Supreme Court. Justices will hear arguments this week on South Dakota's attempt to overturn a 26-year-old precedent under which states can't require retailers to collect sales taxes unless the companies have a physical presence in the state. …[T]ax and legal experts expect the court to overturn the precedent, potentially changing the financial landscape for a big swath of digital commerce. Current tax rules date from the era of mail-order catalogs, and they have helped fuel the rise of internet commerce and spurred frustration among brick-and-mortar retailers" [Wall Street Journal].
Big Ag: "207 million eggs in nine states recalled over salmonella fears" [CNN]. "A farm in Indiana is recalling more than 200 million eggs sold in nine states over salmonella fears. The eggs were sold through retail stores and restaurants. They reached consumers in Colorado, Florida, New Jersey, New York, North Carolina, Pennsylvania, South Carolina, Virginia and West Virginia."
Transportation: "A rail safety system gone badly off track" [Boston Globe]. "About 110 commuter rail engineers, more than half of them, have driving records that experts described as poor considering the sensitive line of work they're in — at least three infractions such as speeding, causing accidents, and failing to stop. Nearly 50 engineers have had their driver's licenses suspended — 44 of them more than once, according to Registry of Motor Vehicle records reviewed by the Globe."
The Bezzle: "NTSB goes head to head with Tesla" [Federal News Radio]. "Until a couple of weeks ago, everyone thought driverless cars were, like, here already. They are, except they hit stuff."
The Bezzle: "Apple's mysterious self-driving car project keeps hitting speed bumps" [Daily Dot]. "When it was first reported that Apple would enter the electric self-driving car market, it planned on launching a vehicle by 2019. Since then, Apple's strategies have drastically changed. That timeline is murky now that it's building self-driving systems rather than actual vehicles."
The Bezzle: "Tesla Workers Say Elon Musk is a Union Buster. The NLRB Just Gave Their Case a Boost" [In These Times]. "Tesla factory workers have been trying for months to win restitution for the company's alleged union-busting and harassment. Now, a National Labor Relations Board (NLRB) complaint against the company appears to be making strides. On March 30, the NLRB amended the complaint to add new allegations from workers which the board found to have merit. In the new claims, Tesla workers say the company investigated them after they posted information on a pro-union Facebook page. The case has now been scheduled to go before an NLRB administrative law judge in June."
The Bezzle: "Bots in the Twittersphere" [Pew Research]. "Among popular news and current event websites, 66% of tweeted links are made by suspected bots – identical to the overall average. The share of bot-created tweeted links is even higher among certain kinds of news sites. For example, an estimated 89% of tweeted links to popular aggregation sites that compile stories from around the web are posted by bots."
Concentration: "FTC Says 'Warranty Void If Removed' Stickers Are Bullshit, Warns Manufacturers They're Breaking the Law" [Vice]. "As we've reported before, it is bullshit and illegal under federal law for electronics manufacturers to put "Warranty Void if Removed" stickers on their gadgets, and it's also illegal for companies to void your warranty if you fix your device yourself or via a third party. The Federal Trade Commission put six companies on notice today, telling them in a warning letter that their warranty practices violate federal law. If you buy a car with a warranty, take it a repair shop to fix it, then have to return the car to the manufacturer, the car company isn't legally allowed to deny the return because you took your car to another shop. The same is true of any consumer device that costs more than $15, though many manufacturers want you to think otherwise."
Five Horsemen: "All five horsemen were up in mid-morning trading" [Hat Tip, Jim Haygood].
NakedCap Mania-Panic Index: "The mania-panic index rose to 45 (worry) despite Friday's mild decline" [Hat Tip, Jim Haygood]. (The NakedCap mania-panic index is an equally-weighted average of seven technical indicators derived from stock indexes, volatility (VIX), Treasuries, junk bonds, equity options, and internal measures of new highs vs new lows and up volume vs down volume … each converted to a scale of 0 to 100 before averaging, using thirty years of history for five of the seven series.)
Rapture Index: Closes down 1 on Satanism. "The lack of activity has downgraded this category" [Rapture Ready]. Record High, October 10, 2016: 189. Current: 182.
Gaia
"The Heroes of This Novel Are Centuries Old and 300 Feet Tall" [New York Times]. "These characters who have held us rapt for 150 pages turn out to be the shrubby understory, for which we couldn't yet see the forest. Standing overhead with outstretched limbs are the real protagonists. Trees will bring these small lives together into large acts of war, love, loyalty and betrayal, in a violent struggle against a mortgaged timber company that is liquidating its assets, including one of the last virgin stands of California redwoods. The descriptions of this deeply animate place, including a thunderstorm as experienced from 300 feet up, stand with any prose I've ever read. I hesitate to tell more, and spoil the immense effort Powers invests in getting us into that primal forest to bear witness." Sounds pretty neat!
Water
"Cape Town Isn't The Only Place That's Close To Running Out Of Water" [Fast Company]. "A new report from World Resources Institute looks at four other locations with similar problems, using a new platform called Resource Watch to map out the political, social, and environmental dynamics of each area." Morocco, Spain, Iraq, India.
Black Injustice Tipping Point
"A Black Teen Knocked On A Door To Ask For Directions To His School. Then He Was Shot At, Police Say." [Buzzfeed]. "'My mom says that black boys get shot because sometimes they don't look their age, and I don't look my age,' Brennan told Fox 2 News. 'I'm 14; but I don't look 14. I'm kind of happy that, like, I didn't become a statistic.'"
Health Care
"Sedentary behavior associated with reduced medial temporal lobe thickness in middle-aged and older adults" [PLOS One]. n = 35. "A detailed projection of the effect of risk factors on Alzheimer's disease (AD) prevalence [17] suggests that approximately 13% of AD cases worldwide may be attributable to sedentary behavior. A 25% reduction in sedentary behavior could potentially prevent more than 1 million AD cases globally." Get moving! Go out and take a walk. Take a camera and photograph some plants!
Class Warfare
"Bevin: 'I guarantee' a child was sexually assaulted because teachers attended protest" [Herald-Leader]. Idea: Pay the teachers a living wage, then?
"P*SS THE PARCEL Rushed Amazon warehouse staff pee into bottles as they're afraid of 'time-wasting'" [The Sun]. "The warehouse measures 700,000 sq ft and some of the 1,200 workers face a ten minute, quarter-of-a-mile walk to two toilets on the ground floor of the four-storey building…. An Amazon spokesman said: "Amazon ensures all of its associates have easy access to toilet facilities which are just a short walk from where they are working."
"Justifying Military Force: Racial Attitudes, Race, and Gender" [Jon Green]. Need to look at the methodology… .
News of The Wired
"The iPhone changed our lives. Now Apple needs to tackle addiction" [Wired]. Or regulate Apple such that its business model doesn't require addictive behavior?
"I Made Meghan Markle's Engagement Chicken and Now I'm in Love" [The Cut]. Not sure why I ended up on this page, but it looks like a pretty good recipe. None of this "make a tub of stock…" stuff you read about the Times.
"The Star of the 'American Chopper' Meme Didn't Know What a Meme Was" [Vice]. "I was hoping you could give me a bit more context about the original fight. It was horrifying. The problem is, there were always those incidents. I'm not sure if that was when I fired him, or if it was just another everyday dysfunctional situation going on between me and my son, you know?"
The meme in question:
This Meme keeps doing good stuff. pic.twitter.com/eO76TptuOy

— GMGerrymander (@GMGerrymander) April 12, 2018
Again, I think it's worthy of note that dialetical forms are making their way into the world of memes; quite different from "Can I haz cheezburger?", which is a one-liner, fun though it is.
News you can use:
Plug A Surge Protector Into Itself For Infinite Power pic.twitter.com/iRXbvECq79

— Shitty Life Tips (@mindblowingtips) April 14, 2018
I love maps in this style, I wish they were still a thing:
Jaro Hess's "The Land of Make Believe" from 1930 is a #map of all popular fairytales. I'm featured buying a pie at the center of the image. Source: https://t.co/KiYXl6E1r6 pic.twitter.com/H7aaGw61IG

— Simon Kuestenmacher (@simongerman600) April 12, 2018
* * *
Readers, feel free to contact me at lambert [UNDERSCORE] strether [DOT] corrente [AT] yahoo [DOT] com, with (a) links, and even better (b) sources I should curate regularly, (c) how to send me a check if you are allergic to PayPal, and (d) to find out how to send me images of plants. Vegetables are fine! Fungi are deemed to be honorary plants! If you want your handle to appear as a credit, please place it at the start of your mail in parentheses: (thus). Otherwise, I will anonymize by using your initials. See the previous Water Cooler (with plant) here. Today's plant (TH):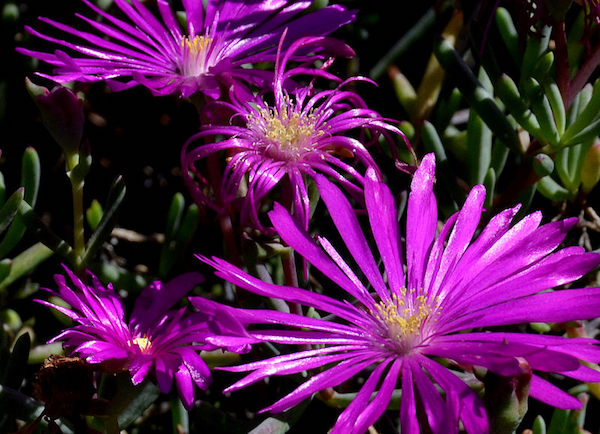 An ice plant. Purple rain, maybe, but purple ice?
* * *
Readers: Water Cooler is a standalone entity not covered by the NC fundraiser. So do feel free to use the dropdown and click the hat to make a contribution today or any day. Here is why: Regular positive feedback both makes me feel good and lets me know I'm on the right track with coverage. When I get no donations for five or ten days I get worried. More tangibly, a constant trickle of small donations helps me with expenses, and I factor that trickle in when setting fundraising goals. So if you see something you especially appreciate, do feel free to click the hat!