Our mini-fundraiser for Water Cooler is on! As of this hour, 135 donors — our goal is 275 –have already invested to support Water Cooler, which provides both economic and political coverage, to help us all keep our footing in today's torrent of propaganda and sheer bullsh*t. Independent funding is key to having an independent editorial point of view. Please join us and participate via Lambert's Water Cooler Tip Jar, which shows how to give via check, credit card, debit card, PayPal, or even the US mail. To give more, click on the arrow heads to the right of the amount. Thanks to all!
So we are just at the half-way point, and I'm sure Yves wishes to return to regular programming as rapidly as possible. If you have not yet contributed to help keep Water Cooler as an independent voice, please do so now. A few quotes from contributors who left Notes in the PayPal form to help you make up your mind:
"Thank you so much for your efforts. I am grateful and somewhat in awe of your daily efforts to educate and inform."
Well, I stand in awe of the way the Naked Capitalism commentariat educates and informs, too. It's quite something.
Please keep it up!
I hope to!
Don't go changing! :-D
I won't (except for the better, of course).Thanks to all!
Readers have asked how to increase the donation amount from the default $25.00. On the contribution form, right above the hat, you will see $25.00 with arrowheads to the right. Click on the arrows, and a drop-down menu will appear with larger amounts. Another reader asks why the largest amount is only $100.00 and why don't I change it? The largest amount is, apparently, too small because of my diffidence, which isn't really a good reason, I suppose. I will gratefully accept more generous amounts! And I don't change it because the PayPal interface for creating this form reminds me of a ticking package and I don't want to screw it up, now of all times. This reader went ahead and contributed two times. I grant that's a hassle. People can always send me mail at lambert [UNDERSCORE] strether [DOT] corrente [AT] yahoo [DOT] com, and I will explain how to send a check for a larger amount.
By Lambert Strether of Corrente.
Trade
"President Donald Trump and Japanese Prime Minister Shinzo Abe wrapped up their two-day summit in Mar-a-Lago on Wednesday evening with neither man having achieved the top trade goal he was aiming for: Trump received no commitment that Tokyo would be willing to launch negotiations for a bilateral free trade deal, while Abe failed to secure exemptions for Japanese exports from U.S. tariffs on steel and aluminum" [Politico]. "What the two leaders did agree on was a commitment to begin talks on a set of "free, fair and reciprocal trade deals" aimed at promoting economic development in the Indo-Pacific, Abe said. It was not immediately clear what type of deals that would mean, but Trump did say he was interested in reducing the U.S. trade deficit with Japan — which stood at $69 billion last year — and said that the steel and aluminum tariffs could be part of the talks."
"Renegotiating NAFTA: Threats to our Internet Freedom and Access" (PDF) [Public Citizen]. "Under the guise of "modernizing" the 24-year-old agreement, officials from United States, Canada and Mexico are developing terms that go even further than the extreme copyright rules that were included in the Trans-Pacific Partnership (TPP). Intense congressional opposition across the political spectrum meant the TPP could not be passed here. Nevertheless, those dangerous TPP rules and worse are back in the NAFTA negotiating objectives that the U.S. Trade Representative (USTR) outlined when talks started. NAFTA's IP terms should be one of the most controversial subjects in the renegotiations. But these Hollywood- friendly extreme copyright rules have received almost no public attention and have been moving quickly in the closed-door negotiations. This contrasts with the noisy attacks coming from the corporate lobby against U.S. government proposals that enjoy wide public support, like cutting NAFTA's investor outsourcing protections and investor-state tribunals. Negotiations on these popular proposals have stalled, while the extreme copyright terms are being pushed to completion."
Politics
2020
"History Suggests Double Trouble for Incumbent Trump" [Larry Sabato's Crystal Ball]. "To recap: Trump faces a double historical whammy: He's a weak incumbent and a popular vote loser to boot. Predecessors in similar situations have largely failed to overcome such hurdles." So the Democrats could run a ham sandwich like Kamala Harris in 2020. Or a turkey sandwich like Joe Biden.
2018 Midterms
"Don't Get Mad, Get Elected: The Rise of the Revenge Candidate" [Governing]. The article gives many examples. Here's one: "Perhaps no candidate this year is seeking revenge quite so directly as David Ermold. Ermold and his husband were among the couples denied marriage licenses in 2015 by Kim Davis, the county clerk in Rowan County, Ky., who became a folk hero among social conservatives after spending five days in jail for defying the U.S. Supreme Court's ruling on same-sex marriage. Ermold is now running to unseat her — while also suing her. Ermold and his husband have a case pending against Davis. His lawyer is confident they will win, but Ermold hopes for a more certain taste of revenge — personally driving Davis from office."

"Feehery: Don't call the game before it's over" [The Hill]. An extended Little League metaphor, from a Republican consultant. Some nuggets: "Sure, the party has been hit by some retirements, but most of those are in very safe Republican seats that the Democrats have no chance of winning… Here is my theory about this upcoming election: If the economy is perceived to be either strong or getting stronger by the majority of voters, Republicans will keep the House and expand their majority in the Senate. The reason has nothing to do about the efficacy of the Trump tax cuts. When the economy is strong, voters focus on cultural and social issues, which tend to cut better for the GOP. When the economy is weak, voters turn to the Democrats, because they figure they will find ways to spend money to take care of them."

MI-11: "Former Treasury Department official Haley Stevens has received plenty of national attention, but don't be surprised if former state House Minority Leader Tim Greimel surprises in the August 7 Democratic primary, according to a local source" [Inside Elections].

WI-01: "Dads For Office: Maybe we should start asking men about how they'll balance work and family obligations considering Republican Scott Wagner (running for governor in Pennsylvania) and Democrat Randy Bryce (running for Paul Ryan's open seat in Wisconsin's 1st district) are taking heat for not paying child support" [Inside Elections].
Health Care
Now it's "Medicare for Anyone," as liberal Democrats work to confuse their latest iteration of the market-driven, so-called "public option" with Medicare for All:

Today @ChrisMurphyCT and @JeffMerkley are introducing a "Medicare for anyone" plan called the Choose Medicare Act. 75% of Americans support such a plan, per @KaiserFamFound. pic.twitter.com/CwJnBf6MzT

— Topher Spiro (@TopherSpiro) April 18, 2018

As I keep saying, the #1 policy goal of the Democrat leadership is to prevent the wave (if it happens)s from leading to #MedicareForAll; this would also, not so coincidentally, make it harder for Sanders to run on that platform, if he does, in 2020. Hence all the diversionary tactics.

"Here Comes Another Democratic Proposal To Let More Americans Buy Into Medicare" [HuffPo]. "Merkley was among the 16 Democrats who co-sponsored the bill Sanders introduced this past September. 'I am very supportive of the vision for Medicare-for-all and I want us to find a path to get there," he said during a conference call with reporters on Tuesday. Murphy, by contrast, did not co-sponsor the Sanders bill. He said on Tuesday that he preferred to make enrollment voluntary, although he fully expects a lot of volunteers. 'I think this is a way for the market to decide whether a Medicare plan or private sector plans are better for businesses and families,' Murphy said, adding that he expects most Americans 'would choose to buy a Medicare plan' in the end." Again with the "path to" argument. Saying that a a buy-in plan is a path to #MedicareForAll is like saying you've got to go through a store on your way to church. Why not just go to church?
Realignment and Legitimacy
"Approximately 300 veterans are running for Congress this year. In a switch from past cycles, more of them are running as Democrats than Republicans" [Governing]. Not sure how many of those candidates will want to decrease the militarization of American society; some of them, no doubt.

"Pittsburgh Preparing for Riots In Case Trump Fires Mueller" [Governing]. "Pittsburgh police have no idea if President Trump plans to fire special counsel Robert Mueller, but they want to be prepared in case he does. Officials have ordered detectives to arrive for work with their uniforms and riot gear in case of protests. The order is generating national news headlines." It will be interesting if The Resistance, et al., get a taste of what the police, the National Guard, and the DHS did to Occupy and #BlackLivesMatter. Somehow, I doubt that will happen. OTOH, I've been thinking about The Resistance as the class consciousness of the 10% (or some fraction/factions of it). If indeed the 10% is willing to grasp the nettle of political violence, that would mark an interesting transition.

I'm so old I remember when liberal Democrats started arguing that Obama couldn't do anything because the Presidency was a weak institution:

Woke up this morning, scratched my head, and wondered, "Whatever happened to that green lantern theory of the presidency I used to hear so much about?" pic.twitter.com/t3zj83C5u0

— corey robin (@CoreyRobin) April 17, 2018

Now, of course, with Trump as President, the same crowd is saying — I won't say "believes," obviously — that the Presidency is an incredibly strong institution. Well done, all.
Stats Watch
Leading Indicators, March 2018: "Held down by the job components of unemployment claims and the factory workweek, the index of leading economic indicators came in at what is a still respectable 0.3 percent gain" [Econoday]. "This follows unusually strong increases of 0.7 percent and 0.8 percent over the last 3 reports. Yet, as the report notes, the slowing in employment signals during March bears watching."
Jobless Claims, week of April 19, 2018: "Initial jobless claims are favorable but increasingly less so" [Econoday]. "But it's not how low unemployment claims are that matters in forecasting the April employment report, it's the direction of claims and initial claims are no longer showing improvement. This uptick, following as it does the sharp downtick in payroll growth in March, will hold down expectations for April payrolls and also April's unemployment rate. There are no special factors in today's report."
Philadelphia Fed Business Outlook Survey, April 2018: "The headline for the Philly Fed index, which came in ahead of expectations, doesn't tell April's story which is one of slowing and price friction" [Econoday]. "The report's text basically offers just numbers but indications of tariff effects are visible… The bottom line for this report is slowing order growth with tariff effects inflating price readings but only having a limited impact on optimism." But: "Consider this a much weaker report than last month as key elements strongly declined" [Econintersect].
Bloomberg Consumer Comfort Index, April 15, 2018: Edged higher [Econoday]. "This year's tax cut has helped to underpin this year's consumer confidence readings."
Shipping: "Top-heavy growth in container tonnage sparks overcapacity concerns" [The Loadstar]. "According to Alphaliner, only 12 ships, equating to 21,778 teu, have been sold for demolition so far this year, compared with around 70 vessels for 230,000 teu at the same time last year."
Shipping: "Are ELDs making our roads safer?" [Freight Waves]. "There is one aspect about [Electronic Logging Devices (ELDs)] and the rigid Hours of Service (HOS) rules that you just can't get around: how long the driver has been awake—or already driven—before getting into the truck. That part of the equation just can't be reasonably measured. Remember the high profile case of Tracy Morgan's entourage getting rear-ended by a Walmart truck a few years ago? That truck driver was within his legal driving hours, but he had commuted nearly eight hours just to get to work." I would bet that as the gig economy eats trucking, this problem will become more and more common, if it is not common already.
Shipping: "FTR and Cass data indicate current trucking market conditions are as good as it gets" [Logistics Management]. "If you are in the trucking business, things are going pretty well of late, it seems, right? A few key monthly reports issued this week-FTR's Trucking Conditions Index (TCI), and the Cass Freight Index-indicate that the answer to that question is a resounding 'YES' and truly drive home that there may be, at the moment, not a better time for the trucking industry." Hmm. If this were a finance story, I'd read it as froth. But wake me when the credit markets are affected…
Shipping: "Driver pay jumps 15% in five years, but persistent shortages dog carriers" [Logistics Management]. "There has never been a more profitable time to be a truck driver—or a tougher time to be trying to hire one. By most accounts, the industry is about 50,000 qualified drivers short of what demand could handle…. For more than a decade, unionized carriers such as YRC and ABF Freight had a surplus of drivers, often several hundred or more on layoff status because of the soft economy of the past. That is no longer the case as less-than-truckload (LTL) carriers are joining their truckload brethren in the search for qualified, compliant drivers to replace those retiring or leaving the industry." Hmm. Working conditions? Debt?
Transportation: "CSX Corp. is getting more profitable as it gets smaller. The freight railroad more than doubled its net profit in the first quarter to $695 million and showed big gains in service performance, only a few months after Chief Executive James Foote undertook an 'apology tour' to sell CSX's shipping customers on the turnaround efforts" [Wall Street Journal]. "The results signal that CSX has its operations in order following snafus that came as the carrier implemented a plan by the late chief executive Hunter Harrison. CSX's revenue inched up only slightly from a year ago in the first quarter as volumes declined. But the company slashed its operating ratio to 63.7% from 73.2%, and critical service measures for train velocity and dwell time showed big improvements. For now, at least, running fewer trains means smoother operations and bigger profits." So maybe "Precision Railroading" wasn't a crock?
Transportation: "Oil is backing up so much in the Permian basin that producers may have to look to trucks to get more of the crude moving. The West Texas and New Mexico region at the heart of the U.S. shale boom has become a top area globally for expanding oil production. [I]t now appears to be choking on its own growth" [Wall Street Journal]. "Permian producers are encountering congested pipelines and shortages of materials and workers, souring some energy executives on forecasts that production will climb by a third within two years. The bottlenecks highlight how investment in the oil fields has outpaced infrastructure development and overwhelmed pipelines. That's threatening to hit financial returns as producers struggle to bring more equipment and workers into the region and even look to ship crude over the road." Again, if this were a finance story, I'd read it as froth.
The Bezzle: "California Opens Investigation Into Tesla Workplace Conditions" [Industry Week]. "[California's Division of Occupational Safety and Health] 'takes seriously reports of workplace hazards and allegations of employers' underreporting recordable work-related injuries and illnesses" and 'currently has an open inspection at Tesla,' said Erika Monterroza, a spokeswoman for the state's industrial relations department."
The Bezzle: "'I Fundamentally Believe That My Time at Reddit Made the World a Worse Place'" [New York Magazine]. "A conversation with former Reddit product head Dan McComas on the problems of growth as a metric and what Twitter is doing wrong." From the interview:
[McCOMAS] I think there's just a complete breakdown in the kind of thought process behind how your technology is going to affect the users that use it and the world at large, and the incentive structure that is behind Silicon Valley start-ups and how they're formed.

What's that incentive structure?

The incentive structure is simply growth at all costs. There was never, in any board meeting that I have ever attended, a conversation about the users, about things that were going on that were bad, about potential dangers, about decisions that might affect potential dangers. There was never a conversation about that stuff.
Hmm. Is that a "problem of growth as a metric," as the author says, or a problem with capital allocation as such? Perhaps there are other ways of doing business than chugging a bottle of 151-proof Scale™-brand animal spirits?
Five Horsemen: "Juggernaut Amazon is back in the saddle after Jeff Bezos says Amazon Prime has a hundred million subscribers" [Hat Tip, Jim Haygood].
NakedCap Mania-Panic Index: "The mania-panic index rose to 55 (complacency) after yesterday's marginal gain the S&P 500 index." [Hat Tip, Jim Haygood]. (The NakedCap mania-panic index is an equally-weighted average of seven technical indicators derived from stock indexes, volatility (VIX), Treasuries, junk bonds, equity options, and internal measures of new highs vs new lows and up volume vs down volume … each converted to a scale of 0 to 100 before averaging, using thirty years of history for five of the seven series.)
Facebook Fracas
"A flaw-by-flaw guide to Facebook's new GDPR privacy changes [TechCrunch]. This is just awful; one dark pattern after another:
with a design that encourages rapidly hitting the "Agree" button, a lack of granular controls, a laughably cheatable parental consent request for teens and an aesthetic overhaul of Download Your Information that doesn't make it any easier to switch social networks, Facebook shows it's still hungry for your data.
More fundamentally, the design choices reveal Facebook's determination to evade regulation and fail to comply. I hate to think that Facebook is an outlaw company like Uber, and with a culture that's rotten from top to bottom, but their design choices aren't helping me avoid that conclusion. Well worth a read (and other companies use the same tricks, so it's not just Facebook).
"No boundaries for Facebook data: third-party trackers abuse Facebook Login" [Freedom to Tinker]. "Today we report yet another type of surreptitious data collection by third-party scripts that we discovered: the exfiltration of personal identifiers from websites through "login with Facebook" and other such social login APIs… Facebook Login and other social login systems simplify the account creation process for users by decreasing the number of passwords to remember…. We've uncovered an additional risk: when a user grants a website access to their social media profile, they are not only trusting that website, but also third parties embedded on that site." Logging in to a site that is not Facebook with my Facebook password always struck me as demented, and I've never done it, not once. Now I know why.
Black Injustice Tipping Point
"After recent police misconduct in Sacramento, Boston and Philadelphia, here's how three Black police chiefs failed to do the right thing" [The Grio]. "Black police chiefs who adamantly defend what continues to be an unjust and racist system of policing are indeed a part of the problem. The way that several of them in command continue to cape for inexplicable instances of excessive police force shows that their blue blood is thicker than their Black one. At a time where videos are going viral with what appears to be solid evidence of foul play, Black commissioners, chiefs, and police officers seemingly continue to demonstrate an unshakable sense of loyalty to those who could do the same to them if not for a uniform and badge." After Obama, this should not be unexpected….
Health Care
"MEDICARE FOR ALL ORGANIZING GUIDE" [Democratic Socialists for Medicare for All]. Good to see DSA producing collateral like this. But don't stop with the brakelight clinics!
"Medicine's secret ingredient — it's in the timing" [Nature]. "More than four decades of studies describe how accounting for the body's cycle of daily rhythms — its circadian clock — can influence responses to medications and procedures for everything from asthma to epileptic seizures. Research suggests that the majority of today's best-selling drugs, including heartburn medications and treatments for erectile dysfunction, work better when taken at specific times of day. 'When you give a medication, you always know the dose,' says Lévi, who also now works at Warwick Medical School in Coventry, UK, where he leads a team associated with INSERM, the French national biomedical research agency. '.'"
Class Warfare
"Architecture, Aesthetic Moralism, and the Crisis of Urban Housing" [Common Edge]. "Because of this, alongside the historical weaponization of aesthetics by the ruling classes in the fight for social housing, it is imperative that left critiques of both the NIMBY homeowner-class and the market-driven YIMBY movement, avoid aesthetic posturing. While new-build architecture may be an easy target for both ironic internet memes and armchair criticism, the urban housing debate has people's lives and futures at stake, and thus must be firmly rooted in the political struggle for the right to the city." With excellent photographs.
News of The Wired
A public service announcement:
PEOPLE: Listen to your flight attendants! ALMOST EVERYONE in this photo from @SouthwestAir #SWA1380 today is wearing their mask WRONG. Put down the phone, stop with the selfies.. and LISTEN. **Cover your NOSE & MOUTH. #crewlife #psa #listen #travel #news #wn1380 pic.twitter.com/4b14lZulGm

— Bobby Laurie (@BobbyLaurie) April 17, 2018
"Hip-hop takes a victory lap" [The Economist]. I like the combination of the headline, and the source. I wonder what the next new thing is? Something out of K-Pop?
Decision Tree for Cognitive Biases" [Breakdown Notes]. "On wikipedia there is a list of cognitive biases, or as they call it, "systematic patterns of deviations from norm or rationality in judgement. While interesting to read, it is not in a format that is easy to digest when judging what biases might effect you in a particular situation. For this reason, I made this decision tree. It groups the cognitive biases by situations in which they may arise most often." Hmm. I'm trying to figure out whether a tree structure is really an appropriate data structure for this problem. Can't we arrive at the same cognitive bias along different and interconnected paths? Still, interesting!
Moar memes (the punchline is great):
— ????? (@KevinBuist) April 2, 2018
* * *
Readers, feel free to contact me at lambert [UNDERSCORE] strether [DOT] corrente [AT] yahoo [DOT] com, with (a) links, and even better (b) sources I should curate regularly, (c) how to send me a check if you are allergic to PayPal, and (d) to find out how to send me images of plants. Vegetables are fine! Fungi are deemed to be honorary plants! If you want your handle to appear as a credit, please place it at the start of your mail in parentheses: (thus). Otherwise, I will anonymize by using your initials. See the previous Water Cooler (with plant) here. Today's plant: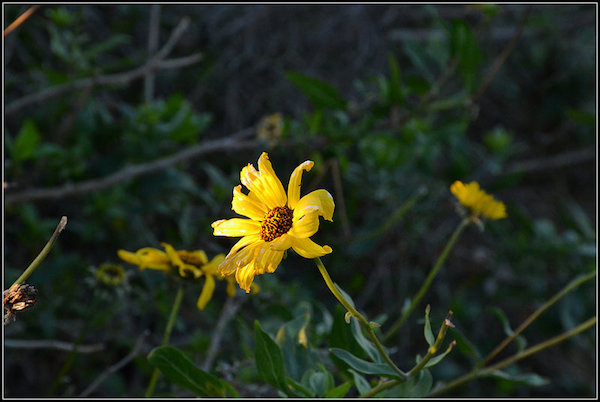 TH: "Wild sunflower. (Rancho Palos Verdes, California)." This looks like a ragged, end-of-season sunflower rather than a sunflower that's just starting out. But the bokeh — is it — in the background is very nice.
* * *
Readers: Water Cooler is a standalone entity not covered by the NC fundraiser. So do feel free to use the dropdown and click the hat to make a contribution today or any day. Here is why: Regular positive feedback both makes me feel good and lets me know I'm on the right track with coverage. When I get no donations for five or ten days I get worried. More tangibly, a constant trickle of small donations helps me with expenses, and I factor that trickle in when setting fundraising goals. So if you see something you especially appreciate, do feel free to click the hat!

To give more, click on the arrow heads to the right of the amount.
If you hate PayPal — even though you can use a credit card or debit card on PayPal — you can email me at lambert [UNDERSCORE] strether [DOT] corrente [AT] yahoo [DOT] com, and I will give you directions on how to send a check.