By Lambert Strether of Corrente.
Thank you, readers, for making this year's Mini-Fundraiser for Water Cooler a success; apparently "a finely calibrated and rugged bullshit detector" is a handy thing to have around; I'll do my best to keep mine calibrated and in working order. A few more comments from readers:
Thank you for everything that you do. I always appreciate your incisive commentary and humor. Water cooler is one of the highlights of my day. I only wish I could give more. Keep it up!
I plan to. And:
I can't tell you how much I rely, in difficult (and once in a while very rewarding) conversations with people around me, on the links and summaries and distillations of Water Cooler. I'm glad to be able to support it.
That is one of our goals. And:
I read Naked Capitalism every day. Keep up the great work! You are like a compass in the fog of bias, misinformation, and agendas.
This is another goal. Long-time reader Flora comments:
As another WASP's WASP I'll comment that we do not talk about money…. however… we do talk about investing. So, I invest in the Water Cooler with pleasure.
Thank you, readers, for investing in Water Cooler. Naturally, if any of you were out of town for the fundraiser, all contribututions are still gratefully received. And, based on feedback from readers, I'll also take my courage in both hands and wrestle the PayPal backend into offering more (and larger) options on the drop-down, so readers who want to invest a lot don't have to do multiple selections. One reader commented: "Aside from the nuisance factor involved, the more important factor that by limiting donation amounts to $100 you (consciously or not) deflate the value of the work you do. Why should some [glass bowl] like Kos get rich when you do so much better work?" Well, when you put it that way….
Thanks to all again!
* * *
Trade
"[French President Emmanuel] Macron, in an interview on 'Fox News Sunday,' indicated he'd appeal to President Donald Trump's practical side in arguing for a permanent exemption [from the administration's new steel and aluminum tariffs] for France and the 27 other EU members" [Politico]. "'I just say 'Where are your priorities"… It's too complicated if you make war against everybody. You make trade war against China, trade war against Europe. War in Syria. War against Iran. Come on, it doesn't work. You need ally. We are the ally.'"
"The U.S. and China may be taking steps to ease the trans-Pacific tensions that threaten to fracture key pillars of world-wide trade. U.S. Treasury Secretary Steven Mnuchin says he may head to Beijing for trade negotiations, and China says it welcomes the move following weeks of harsh words and new tariffs that threaten to escalate into a full trade war" [Wall Street Journal]. "On the Pacific, bulk vessels carrying U.S. sorghum to China turned around soon after Beijing added the major American export to its list of targets for retaliatory tariffs."
"One of the shipping industry's biggest acquisitions is caught up in U.S. national-security concerns. A U.S. review of Cosco Shipping Holdings Co.'s proposed $6.3 billion purchase of rival Orient Overseas International Ltd. is raising concerns about the Chinese state-run conglomerate's control of a major container terminal at California's Port of Long Beach" [Wall Street Journal]. "Cosco has told U.S. officials they are willing to sell or carve out the Long Beach Container Terminal, but it's unclear whether that would satisfy the U.S. The terminal is one of the one of the few in the U.S. that is automated and can handle the new generation of bigger ships, and for Cosco it's what one official called a 'prized asset' in the deal. The company's acquisition fits in with Beijing's global 'one belt, one road' initiative and the review signals the expansion faces clear limits." The Port of Piraeus is one thing. The Port of Long Beach is quite another.
Politics
2020
"Bernie Sanders Is Quietly Building a Digital Media Empire" [New York Magazine]. Worth reading in full. "Sanders is after something bigger, and he's getting there, in eye-popping fashion. In its first year, Bernie TV's viewership soared: His office says his 2017 videos were viewed over 800 million times, led by a clip described as 'Here's what happened when a Republican senator challenged a Canadian doctor on their single-payer health care system," which has been watched 32 million times." My weakness here is that I'm hyper-focused on print….
2018 Midterms
"Democrats Are Primed to Win Big, Reclaim the House, and Save Our Democracy. Here's How They Could Blow It." [Jonathan Alter, Daily Beast]. "[A] remnant of lefties are still living in Jill Steinland—acting as if the midterms are in the bag and they can indulge in expensive primary fights over minor policy differences that drain resources from the constitutionally critical task at hand." Alter helpfully reminds us that liberals and the left are, in fact, enemies. I mean, you kick your enemies, right? Well done.

"Democrats Look To Their Successful 2006 Messaging In Bid To Retake The House" [Amanda Terkel, HuffPo]. "Democrats are looking back to the last time they took control of the House for lessons on what may work this year, and they're starting to narrow in on a major theme: the Republican "culture of corruption, cronyism and incompetence." Holy moly. 2006 was Iraq, Katrina, and Bush trying and faiing to privatize Social Security. The story also mentions the Mark Foley scandal, which broke in September. Hilariously, burying the Foley matter in the House ethics committee was (IIRC) the second thing Pelosi did the day after election day, the first being taking impeaching Bush off the table. None of this means what Terkel thinks it means.

"Multiple indicators, including generic ballot polls , President Trump's approval ratings and recent special election results, point to midterm danger for Republicans. But without robust race-by-race polling, it's trickier to predict individual races six months out. Are Democrats the favorites to pick up the 23 seats they need for a majority? Yes, but it's still not certain which races will materialize for Democrats and which won't" [Cook Political Report]. "Our latest ratings point to 56 vulnerable GOP-held seats, versus six vulnerable Democratic seats. Of the 56 GOP seats at risk, 15 are open seats created by retirements. Even if Democrats were to pick up two-thirds of those seats, they would still need to hold all their own seats and defeat 13 Republican incumbents to reach the magic number of 218. Today, there are 18 GOP incumbents in our Toss Up column." What we're tracking in the Worksheet…
2016 Post Mortem
"'We did it to ourselves': Cory Booker blames low African American turnout for Trump's win" [Guardian]. Booker is right, but get a load of this quote from Gillibrand: "Trump 'is what the darkness looks like', said Gillibrand. 'He is what the darkness sounds like.'" Hysteria and oxymorons aside, I'm not sure what Booker would have thought about treating darkness as a sign of evil personified…
Realignment and Legitimacy
"Bernie Forces Ask Clinton And Top Democrats To Recommit To Cutting Superdelegates" [Ruby Cramber, Buzzfeed]. Lol no. "Elaine Kamarck, a DNC member who has studied presidential politics for years" actually wants to increase them.

It's Frank Luntz's job to be in touch. He's not:

I posted this photo on my Facebook page, and the responses were almost entirely negative: https://t.co/gkUz9XxUkj

Who would've thunk that so many people would be so triggered by a simple, bipartisan, good-hearted comment? https://t.co/PC6wJX3ZeJ

— Frank Luntz (@FrankLuntz) April 23, 2018

Since when is a pilot project "bold"?

Big shout out and gratitude to Senator @CoryBooker and his staff for taking a bold step forward with a federal job guarantee demonstration proposal! https://t.co/0ibJmvd7vX?

— Darrick Hamilton (@DarrickHamilton) April 23, 2018

Happy to see the Jobs Guarantee getting some press — it's actually a good sign that a shameless opportunist like Booker is taking it up — but modified rapture:

Remember, Social Security and Medicare began as small, pilot programs that eventually evolved to provide guaranteed coverage. Oh, wait, no.

— Stephanie Kelton (@StephanieKelton) April 23, 2018

"9 Democrats Sign Up To Help Wall Street Steal Cars" [Zach Carter, HuffPo]. "The CFPB's description of Wells Fargo's behavior is breathtaking. The company "forcibly placed duplicative or unnecessary insurance on hundreds of thousands" of vehicles owned by customers who had taken out a car loan with the bank… Yet some congressional Democrats are joining Republicans supporting legislation that consumer advocates say would strip the CFPB of the power to bring cases like the one it just settled with Wells Fargo. The bill, authored by one of the bureau's most ferocious critics, Rep. Sean Duffy (R-Wis.), has the backing of self-styled progressives, such as Rep. Gwen Moore (D-Wis.) and Sen. Tammy Baldwin (D-Wis.), along with six more conservative House Democrats and Sen. Joe Manchin (D-W.Va.)." This would seem to contradict Pelosi's "culture of corruption" wheeze, but who's looking for consistency or principle at this point? It's a big tent…
Stats Watch
Chicago Fed National Activity Index, March 2018: "A drag from employment made for abrupt slowing in the national activity index" [Econoday]. "Winter months can often be bumpy given the outsized effects of seasonal adjustments during this period. But looking at the 3-month average shows steady growth for this index." And but: "The single month index which is not used for economic forecasting which unfortunately is what the CFNAI headlines" [Econintersect]. "See the three month rolling average for the last 6 months – it shows an moderate economy.
Purchasing Managers' Index Composite Flash, April 2018: "Manufacturing leads another solid PMI report" [Econoday]. "New orders are the highlight for April posting the best combined month in 2 years, with backlogs also at a 2-year best. In a sign of capacity stress, delivery times increased sharply for manufacturers. Tariffs make their appearance in prices and are cited as a key factor behind the sharpest price increase in input costs in nearly 5 years. Selling prices also continue to move higher in what points to future pressure for consumer prices." And: "Businesses boosted production in April to match an increase in new orders" [MarketWatch]. "Companies also acted more aggressively to secure materials from suppliers because they are taking longer to deliver them. That suggests companies are running into bottlenecks, a potential hurdle for the economy if the situation gets worse."
Existing Home Sales, March 2018: "Supply is coming into the market and sales are improving" [Econoday]. "At the same time, sellers are getting what they're asking." And: "Sales were above the consensus view. For existing home sales, a key number is inventory – and inventory is still low" [Calculated Risk]. And: "Sales of previously-owned homes rose 1.1% in March, but were 1.2% lower than a year ago" [MarketWatch].
Housing: "Housing Recoveries without Homeowners: A Global Perspective" [Federal Reserve Bank of St Louis]. "As rents grew relative to home prices, together with the low returns of safe assets, rental properties became a more attractive investment. This attracted real estate investors who bid up prices while depressing the homeownership rate. Moreover, builders increased their supply of apartments and other multifamily developments…. In addition, the widespread use of internet rental portals such as Airbnb and VRBO has increased the opportunity to offer short-term leases, increasing the revenue stream from rental housing… There are several potential explanations, but to determine the cause of the decoupling of house prices from homeownership rates and what it means for the economy." I thought this was interesting, and I'd like to know what the housing mavens in the commentariat think of it.
Retail: "How vulture capitalists ate Toys 'R' Us" [The Week]. "[I]f Bain, KKR, and Vornado had never come along, Toys 'R' Us wouldn't be doing stellar, but it probably could've muddled through. As recently as last year, the company still accounted for 20 percent of all U.S. toy sales. Instead, the [debt] legacy of the leveraged buyout turned this into an existential crisis, and Toys 'R' Us filed for bankruptcy midway through last year. Then, when holiday sales didn't pan out, the company's leadership decided to sell or shutter all its stores. And 33,000 working people could lose their jobs. Bain, KKR, and Vornado will have to write off their investment, of course. But they did suck around $200 million in fees out of Toys 'R' Us over the course of their ownership. Basically, the trio took an imperfect-but-functioning company and cannibalized it for cash."
Retail: "Is Sears Disappearing Before Our Eyes?" [247 Wall Street]. "In a letter to Sears Holdings Corp. (NASDAQ: SHLD) dated last Friday, ESL Investments recommends that the company sell off its Kenmore appliance brand, its home improvement business (SHIP) and its Parts Direct business. ESL is the largest shareholder in Sears and one of its largest lenders. Eddie Lampert is also chief executive officer of both companies." That seems like an odd arrangment. More: "If ESL gets what it wants — and it's hard to believe there be a lot of competition for anything but the Kenmore brand — the only thing left of Sears will be its name and some Kmart stores that probably have a short shelf life."
Shipping: "As IMO targets are questioned, what is the truth about shipping emissions?" [The Loadstar]. "First International chairman Paul Slater, questioned shipping's role in climate change, calling the IMO's proposed plan 'fatuous, unrealistic and unnecessary.' He wrote: 'The CO2 issue has been grossly overstated…It has been shown that [shipping's] CO2 is absorbed by seawater [!!] without damaging results'. He also claimed to The Loadstar that there was no evidence that polar ice was melting." Hoo boy.
Shipping: "Workin' on the railroad now comes with a bonus" [Kansas City Business Journal]. "The romance of the rails isn't cutting it as a recruiting device. That's why two large railroads are offering signing bonuses of up to $25,000 to new employees. Union Pacific is offering bonuses of $10,000 to to $20,000 to train crews in cities like Kansas City and North Platte, Neb., and $25,000 to electricians in other locations. BNSF has bonuses starting at $15,000 for some positions. In addition to starting bonuses, Union Pacific is offering retention bonuses for older worker considering retirement."
Fodder for the Bulls: "U.S. economy hits brakes in early 2018, but it's gassed up and ready to go for the spring" [MarketWatch]. "The expected slowdown is not a shocker. For one thing, it's happened repeatedly over the past decade and a half. Growth starts out slow and then speeds up during the rest of the year…. After all, Americans spent a carload of money toward the end of 2017 in what was the best holiday shopping season since 2010. Consumer spending leaped 4% in the fourth quarter to mark the biggest advance in three years. Back-to-back 4% increases in consumer spending are quite unusual, though. The last time it happened was in 2003. In the early stages of 2018, Americans cut bank to rebuild their bank accounts after the savings rate fell to a 12-year low. As a result, the increase in consumer spending in the first quarter could drop to as low as 1%. That's a big deal since consumers account for almost 70% of gross domestic product. As they go, so does the U.S. economy." And then the argument that Trump's tax cuts put more money in people's pockets. Not mine!
Five Horsemen: "As the Five Horsemen chart approaches its one-year anniversary on Thursday, only Facebook has underperformed the S&P 500 index, by just over one percent" [Hat Tip, Jim Haygood].
NakedCap Mania-Panic Index: "The mania-panic eased to 52 (complacency) on Friday's mild market decline" [Hat Tip, Jim Haygood]. (The NakedCap mania-panic index is an equally-weighted average of seven technical indicators derived from stock indexes, volatility (VIX), Treasuries, junk bonds, equity options, and internal measures of new highs vs new lows and up volume vs down volume … each converted to a scale of 0 to 100 before averaging, using thirty years of history for five of the seven series.)
Rapture Index: Closes unchanged [Rapture Ready]. Record High, October 10, 2016: 189. Current: 182.
* * *
During the Mini-Fundraiser, one contributor asked for the definition of the Bezzle. Via Ed Harrison, "This comes from Chapter VIII of Galbraith's classic volume, The Great Crash 1929":
"In many ways the effect of the crash on embezzlement was more significant than on suicide. To the economist embezzlement is the most interesting of crimes. Alone among the various forms of larceny it has a time parameter. Weeks, months or years may elapse between the commission of the crime and its discovery. (This is a period, incidentally, when the embezzler has his gain and the man who has been embezzled, oddly enough, feels no loss. There is a net increase in psychic wealth.) At any given time there exists an inventory of undiscovered embezzlement in – or more precisely not in – the country's business and banks. This inventory – it should perhaps be called the bezzle – amounts at any moment to many millions of dollars. It also varies in size with the business cycle. In good times people are relaxed, trusting, and money is plentiful. But even though money is plentiful, there are always many people who need more. Under these circumstances the rate of embezzlement grows, the rate of discovery falls off, and the bezzle increases rapidly. In depression all this is reversed. Money is watched with a narrow, suspicious eye. The man who handles it is assumed to be dishonest until he proves himself otherwise. Audits are penetrating and meticulous. Commercial morality is enormously improved. The bezzle shrinks."
Now, I intepret The Bezzle broadly; I'd put Theranos in that category, for example: There was indeed a net increase of "psychic wealth" — and not just psyhic! — in the interim between Holmes beginning her scam and the revelations of her chicanery. The progression from hubris to nemesis, interestingly, also has a "time parameter."
News of The Wired
"Psychology suggests that when someone calls you the wrong name, it's because they love you" [Quartz]. "So, the next time you call someone you love the wrong name, don't fret: It's just a sign that you are lucky enough to have multiple loved ones to keep track of." And note the point on dogs.
"This new Nancy strip is lit – and it's got people on the internet going crazy" [Comics Beat]. I never understood Nancy.
"MIT Researchers Have Developed a 'System for Dream Control'" [Motherboard]. "So far Horowitz has tested the device on 15 subjects and found that it is able to reliably maximize the amount of time users spend suspended between wakefulness and sleep, as well as shape the content of the microdreams they experience. In other words, these MIT researchers have developed a low cost device that allows users to interface with sleep." What could go wrong?
Amazon is a "writing company":
From @JeffBezos Amazon Shareholder Letter. Worth considering that a 6-page memo is ~3000 words which is a 12-14 minute read on Medium (12pt Times, normal spacing, some bullets, etc.)

I think this is fantastic. Writing is thinking. pic.twitter.com/fLpJGNfCnW

— Steven Sinofsky ॐ (@stevesi) April 19, 2018
Maybe that English degree is good for something after all. And that sound like a really good way to run a meeting (though not a mass meeting, I think).
"Jupyter, Mathematica, and the Future of the Research Paper" [Paul Romer]. "Jupyter rewards transparency; Mathematica rationalizes secrecy. Jupyter encourages individual integrity; Mathematica lets individuals hide behind corporate evasion. Jupyter exemplifies the social systems that emerged from the Scientific Revolution and the Enlightenment, systems that make it possible for people to cooperate by committing to objective truth; Mathematica exemplifies the horde of new Vandals whose pursuit of private gain threatens a far greater pubic loss–the collapse of social systems that took centuries to build. Membership in an open source community is like membership in the community of science. There is a straightforward process for finding a true answer to any question. People disagree in public conversations. They must explain clearly and listen to those who response with equal clarity. Members of the community pay more attention to those who have been right in the past, and to those who enhance their reputation for integrity by admitting in public when they are wrong. They shun those who mislead. There is no court of final appeal. The only recourse is to the facts. . No other has ever achieved consensus at scale without recourse to coercion." Hmm.
"'One Has This Feeling of Having Contributed to Something That's Gone Very Wrong'" (interview) [Jaron Lanier, The Atlantic (Deschain)]. Interesting:
sOne of the problems is that we've isolated ourselves through extreme wealth and success. Before, we might've been isolated because we were nerdy insurgents. But now we've found a new method to isolate ourselves, where we're just so successful and so different from so many other people that our circumstances are different. And we have less in common with all the people whose lives we've disrupted. I'm just really struck by that. I'm struck with just how much better off we are financially, and I don't like the feeling of it.

Personally, I would give up a lot of the wealth and elite status that we have in order to just live in a friendly, more connected world where it would be easier to move about and not feel like everything else is insecure and falling apart. People in the tech world, they're all doing great, they all feel secure. I mean they might worry about a nuclear attack or something, but their personal lives are really secure.

And then when you move out of the tech world, everybody's struggling. It's a very strange thing. The numbers show an economy that's doing well, but the reality is that the way it's doing well doesn't give many people a feeling of security or confidence in their futures. It's like everybody's working for Uber in one way or another. Everything's become the gig economy. And we routed it that way, that's our doing. There's this strange feeling when you just look outside of the tight circle of Silicon Valley, almost like entering another country, where people are less secure. It's not a good feeling. I don't think it's worth it, I think we're wrong to want that feeling.

It's not so much that they're doing badly, but they have only labor and no capital. Or the way I used to put it is, they have to sing for their supper, for every single meal. It's making everyone else take on all the risk.
Silicon Valley hears footsteps. Or the more alert do.
Gorgeous:
Looking at the architecture of Iran's ruined pigeon towers today. pic.twitter.com/gVXOeHyU1H

— Paul ?? Cooper (@PaulMMCooper) April 2, 2018
* * *
Readers, feel free to contact me at lambert [UNDERSCORE] strether [DOT] corrente [AT] yahoo [DOT] com, with (a) links, and even better (b) sources I should curate regularly, (c) how to send me a check if you are allergic to PayPal, and (d) to find out how to send me images of plants. Vegetables are fine! Fungi are deemed to be honorary plants! If you want your handle to appear as a credit, please place it at the start of your mail in parentheses: (thus). Otherwise, I will anonymize by using your initials. See the previous Water Cooler (with plant) here. Today's plant (LR):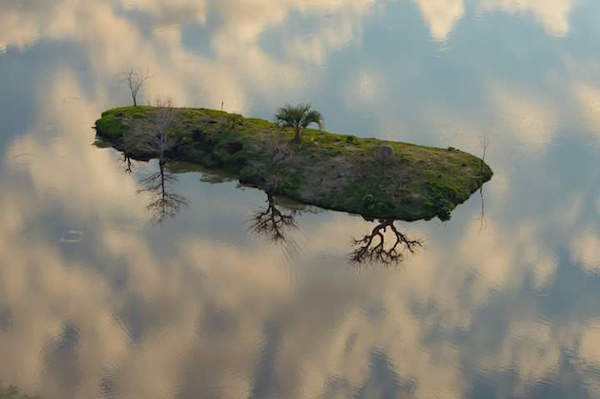 Paging René Magritte!
* * *
Readers: Water Cooler is a standalone entity not covered by the annual NC fundraiser. So do feel free to make a contribution today or any day. Here is why: Regular positive feedback both makes me feel good and lets me know I'm on the right track with coverage. When I get no donations for five or ten days I get worried. More tangibly, a constant trickle of small donations helps me with expenses, and I factor that trickle in when setting fundraising goals. So if you see something you especially appreciate, do feel free to click the hat!

To give more, click on the arrow heads to the right of the amount.
If you hate PayPal — even though you can use a credit card or debit card on PayPal — you can email me at lambert [UNDERSCORE] strether [DOT] corrente [AT] yahoo [DOT] com, and I will give you directions on how to send a check.