By Jerri-Lynn Scofield, who has worked as a securities lawyer and a derivatives trader. She now spends much of her time in Asia and is currently working on a book about textile artisans.
During last week's Commonwealth summit in London, UK prime minister Theresa May called for a new alliance to combat plastic pollution, as part of which "she was prepared to ban plastic straws and coffee stirrers" according to a Saturday piece in the FT. In December, her government had committed to eliminating all avoidable plastic waste by 2042, as well as implementing new measures such as a bottle deposit scheme.
Seriously? This is intended as a serious assault on plastics, but appears to me to be as well thought through and sufficient to confront the magnitude of the problem as her government's Brexit plans.
Some were willing to describe the plan as "bold". From the FT:
"Definitely the UK is taking a very bold approach to plastics right now. It is very visible," said Kim Christiansen, regional director for PlasticsEurope, an association of plastics producers. "It is a high-profile issue here in the UK, and higher than I think you would find in other European countries."
Not me. But then, I don't draw a paycheck from an association of plastics producers.
The UK's plan is as manifestly inadequate as the EU's first-ever European Strategy for Plastics in a Circular Economy, announced on January 16 (which I discussed further here). The average EU citizen generates 31 kg of plastics waste each year, according to statista. The figures vary widely among EU members: Ireland is the highest, 61 kg per person on average, and Bulgaria, the lowest, at 14 kg; the UK is a smidge more than 10% higher than the average, at 35 kg.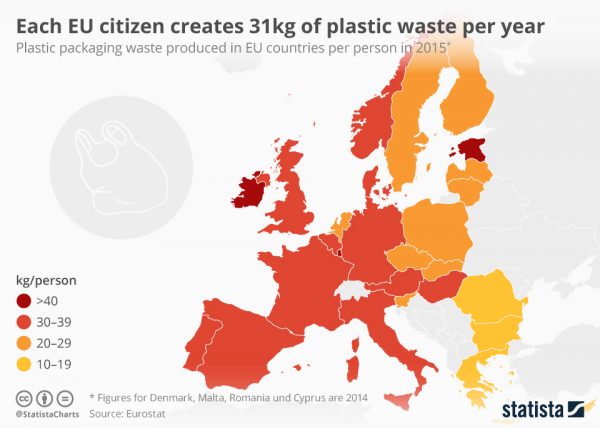 Source: statista.
May's approach is mere window-dressing, as two sources cited by the FT make clear:
"Cotton buds, plastic straws, things like that — they are low-hanging fruit," said Ferran Rosa, waste policy officer at Zero Waste Europe, a non-profit based in Amsterdam. "We need a systemic approach, and that would be much more challenging for the government."

Chris Cheeseman, a professor of materials resources engineering at Imperial College, said: "It is missing the point, and it's not going to do anything to reduce plastics in the ocean, which must be the ultimate aim.

"Banning plastic straws or plastic stirrers is just nonsense really, against the huge problem with waste management in developing countries," he added.
The UK recycles only about a third of the plastics waste it generates, due to limited recycling capacity, and exports the rest to developing countries. The current UK plastics recycling system creates incentives to export plastics waste. (Jerri-Lynn here: Will Larry Summers please pick up the white courtesy 'phone).
The BBC Blue Planet II series highlighted the problem of marine plastics pollution. Any long-term solution to the problem requires dealing with the waste before it gets to the sea. Over again to the FT:
"You can solve the problem in the oceans by solving the plastic problem on land," said Adrian Griffiths, chief executive of Recycling Technologies, a Swindon-based manufacturer of plastic recycling systems. "If you make plastic valuable on land, it will stop people from throwing it into the oceans."
Reining in Great Pacific Garbage Patch
But  what about the plastics that are already in the oceans? This question brings us to the second plastics news that caught my eye today, as reported in today's Independent:
Scientists are preparing to launch the world's first machine to clean up the planet's largest mass of ocean plastic.

The system, originally dreamed up by a teenager, will be shipped out this summer to the Great Pacific Garbage Patch, [GPGP] between Hawaii and California, and which contains an estimated 1.8 trillion pieces of plastic.

The experts believe the machine should be able to collect half of the detritus in the patch – about 40,000 metric tons – within five years.
Last month, I wrote about a study that found that the GPGP– twice the size of France– which is growing at a rate faster than previously believed (see that post here). Most of the material in the GPGP is bulky, and comprises abandoned fishing gear. From my earlier post:
ABC reports that the NGO Ocean Cleanup will launch a program to clean up ocean waste within the next twelve months– two years ahead of schedule– using technologies it has developed. Ocean waste will be encircled by  a barrier, which will then be transported back to land to be recycled. The NGO claims that full deployment of its systems would clean up 50% the GPGP in five years (Further discussion of this initiative is beyond the scope of this post.)
The initiative is admirable. It is an unusual– to say the least– to see a teenager identify a huge problem, design a solution, and implement it— well before his or her 30th birthday. Dutch engineering student Boyan Slat became concerned about plastics waste while diving in Greece when he was 16. Rather than despairing (according to the Independent):
"The plastic pollution problem has always been portrayed as something insolvable. The story has always been 'OK, we can't clean it up – the best we can do is not make it worse'. To me that's a very uninspiring message," said Mr Slat.
His response: creating The Ocean Cleanup when he was 18. This group will be launching the  clean up device later this year (as reported by the Independent):
The clean-up contraption consists of 40ft pipes – ironically made of plastic – that will be fitted together to form a long, snaking tube.

Filled with air, they will float on the ocean's surface in an arc, and have nylon screens hanging down below forming a giant floating dustpan to catch the plastic rubbish that gathers together when moved by the currents. The screens, however, will be unable to trap microplastics – tiny fragments.
That last sentence, about microplastics, leapt out at me. The system might well succeed in shrinking the GPGP, by bringing back some of the plastic waste to land where it can be recycled or otherwise managed. But it does nothing to address microplastics– which as I noted in my previous post, comprise only 8% of the GPGP, but have an outsize impact. These tiny pieces of plastic are ubiquitous, showing up fish, to bottled water, even sea salt. Their long-term impact on human life, not to mention other living creatures, is unknown.
Tackling  microplastics looms as a major challenge. Yet at this point, collecting the larger components in the GPGP is one necessary step forward– a point Slat has emphasised (over to the Independent):
He told US business website Fast Company: "Most of the plastic is still large, which means that in the next few decades if we don't get it out, the amount of microplastics can be tenfold or 100-fold. It's this problem that's waiting out there to magnify many times unless we can take it out."
What Is To Be Done
On the issue of what is to be done, an editorial in yesterday' FT called on governments and companies to clean up the worldwide plastics mess and featured three suggestions. The effort must be global, and the first necessary step is to reduce and where possible arrest  outright the amount of plastics generated. May's initiative is a step towards this goal, but a drop in the bucket compared to what's needed.
Second is to create a circular economy,  in which the aim is considers the entire life cycle of a product, and reduce waste throughout, replacing the prevailing  take-make-consume-dispose model (as I discussed further here).
And a final step:
A priority for research is to improve recycling technology. A hint of what might be possible came last week when an international team announced the discovery of an enzyme that can break down PET, the polymer used to make bottles; it was extracted from bacteria evolving to eat waste plastic in Japan. The next big EU research programme could lead the way by adopting plastic-free oceans as a "grand challenge".