The EU Just Made a Dramatic Move to Protect Bees Science Alert (David L)
Ethics debate as pig brains kept alive without a body BBC. OMG how horrific. "No evidence the animals were aware"? Yeah, they weren't looking for any. Recent evidence suggest that brains can keep functioning up to ten minutes after death…The researchers are reported to have raised ethical concerns, but why did they even go this far before opening up the debate?
Camels in Africa may have been quietly spreading prion disease for decades ars technica (Chuck L)
Did Math Kill God? New Republic
The rocks here in Oman are special, this scientist says. New York Times (furzy)
Google's Sergey Brin flags concerns over AI 'revolution' Financial Times (David L). All well and good, but why doesn't he concern himself with the crapification of Google first?
The military just created an AI that learned how to program software Futurism (David L). Anyone care to nominate TSB as a test site? This can't do any worse than IBM.
Evaluating the Association between Artificial Light-at-Night Exposure and Breast and Prostate Cancer Risk in Spain (MCC-Spain Study) National Institutes of Health. Notice the importance of sleeping in "total darkness" which you don't even get in cities with a lot of light pollution if you don't also have good curtains. And the blue computer light seems to worsen the effect somehow.
U.S. keeps China, puts Canada on IP priority watch list Reuters. Because Americans can buy reimported drugs from Canada. Help me.
New discovery could help in Lyme disease vaccines testing Miami Herald (David L)
North Korea
Koreas make nuclear pledge after historic summit BBC. What a well-timed Olympics can yield….

Two Koreas Agree to End War This Year, Pursue Denuclearization Bloomberg

On summit sidelines, China, Japan and Russia mull Korean chessboard Asia Times. I don't buy for one second that China is on the sidelines. China made Kim Jong Un show up for less than a state visit, and from China, Kim Jong Un announced he was willing to deunclearize (which has actually been a long-standing position, with the caveat that North Korea requires security guarantees, when the US reneges on those almost as a matter of course).

A Most Hopeful Korean Summit With Little Chance Of Final Success Moon of Alabama (Kevin W). Let me add another impediment. South Korea has a per capita GDP of $27,500. North Korea's is $1,300. South Korea cannot afford the costs of economic integration and the US is not about to write a, say, $1.5 trillion check.

So this thread is interesting. A few thoughts… https://t.co/GQ351u1szs

— T.K. of AAK! (@AskAKorean) April 27, 2018

Korean summit breaks ice but falls short on nuclear issue Financial Times
In a First, US Senate Unanimously Passes Resolution on Tibetan Reincarnation Central Tibetan Administration (furzy)
Brexit
Brexit: unravelling Richard North. A must read. Why chaos at various ports is guaranteed.
Warning signs for TSB's IT meltdown were clear a year ago – insider Guardian (Kevin W, Richard Smith). Even more bonkers than I'd thought. I had looked at key dates, as best as I could, and guesstimated that Sabadell had budgeted 31 months for the migration to a "brand new core system," which was clearly inadequate. It turns out the timetable was 18 months.
Syraqistan
Imperial Collapse Watch
Defense industry needs 5 percent annual budget growth to stay healthy, says new AIA report Defense News (Kevin W)
Big Brother is Watching You Watch
Microsoft's Tech Accord – what it tells us about the cyber state of play openDemocracy

Cops using genealogy websites to hunt Golden State killer got the WRONG MAN last year and ordered a 72-year-old nursing home resident to provide DNA Daily Mail. Recall we expressed concern about DNA usage yesterday? Another big issue is the samples are often contaminated with other DNA…and then you also have the problem of bad labwork. Contrast all this with the CSI TV/movie propagated false belief that DNA IDs are incontrovertible proof.
Tariff Tantrum
Mayday on May Day? Trump steel tariff deadline looms Nasdaq (Kevin W)
Trump Transition
Pelosi: "I Don't See Anything Inappropriate" In Rigging Primaries Caitlin Johnstone (Wat). Well, now that we have that clear…
An impossible dream? Democrats try to connect with Trump voters Reuters. EM: "Of course the Dem establishment is committed to its longstanding 'winning ways', i.e. identity politics über Alles:"
How Clintonites Are Manufacturing Faux Progressive Congressional Campaigns Counterpunch (Chuck L)
In Georgia, Sean Hannity is just another landlord hiking the rent Los Angeles Times (Chuck L)
DSA Growing Pains
DSA Is At A Crossroads Jeremy Gong. UserFriendly: "​Is it just me or does this look like ​COINTELPRO 2.0?"

The Left is Not a Church Benjamin Studebaker (UserFriendly)
Goldman Sachs is battling to contain an outbreak of mumps on the trading floor Business Insider
Sprint and T-Mobile Are Said to Be Close to a Merger to Compete at the Top New York Times (Kevin W). Please no. I like my T-Mobile just as it is, plus because German privacy rules, it shares somewhat less data with the authorities than US carriers.
Are Defenses of Free Speech Just Coded Arguments for Innate Differences? Atlantic. UserFriendly: "'Intellectuals' used VERY liberally."
THE STOCK MARKET SWINGS TELL YOU EVERYTHING YOU NEED TO KNOW ABOUT OUR RIGGED ECONOMY Intercept
Employment Costs Surge Most since 2008, Fed Raises Eyebrow Wolf Richter. EM: "The only kind of inflation which can ever be too high for the central bankers' tastes."
Class Warfare
The Struggle to Stay Middle Class New Republic (flora)

Study: Colleges that ditch the SAT and ACT can enhance diversity Minnesota Public Radio News (Chuck L)

'He's not listening': Teachers and Arizona governor at odds Washington Post (Kevin W)

On the Job Guarantee:

So as an expert on the history Joanathan Chait is talking about, let me set the record straight. (THREAD)

— Steven Attewell (@StevenAttewell) April 25, 2018
Antidote du jour (Tracie H):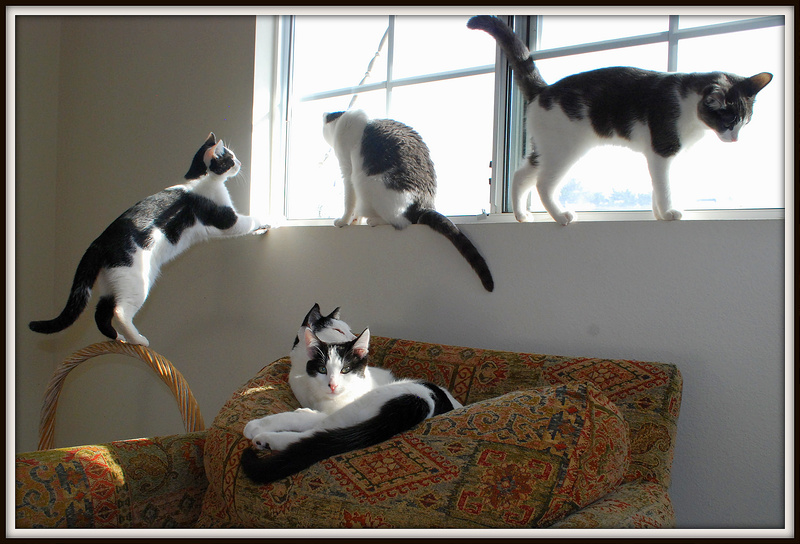 See yesterday's Links and Antidote du Jour here.