By Lambert Strether of Corrente.
Readers, sorry about the hiccup; my connection failed just before I needed to press submit. This Water Cooler is a bit light, because whenever I go to work on the primaries, it takes more time than I think, even when I budget more time than I think I will need. I'll make it up to you tomorrow, I swear! –lambert
Trade
"Trump Administration Delays Most Tariffs On Steel, Aluminum" [NPR]. "A source familiar with the decision says the administration has reached an agreement in principle with Australia, Argentina and Brazil, which may avoid the need for tariffs against those countries altogether. Talks continue with Canada, Mexico and the EU."
Politics
2020
"Kamala Harris builds an online army" [Politico]. "In the first quarter of 2018 alone, Harris spent more than $600,000 on web advertising and digital campaign consulting, far surpassing spending in that area from other senators' principal campaign accounts, including Sens. Sanders, Cory Booker (D-N.J.) and Elizabeth Warren (D-Mass.). Roughly 20 months before the first 2020 primary contests, Harris is spending big on online ads and email list development — grooming potential supporters long before a campaign begins in earnest."
2018
I'm still struggling with the phrase "Bush ethics lawyer":

Richard Painter did everything he could to stop the railroading of Franken from the Senate by people who were pushing their own careers at the expense of the Democrats. We believe his party switch is genuine & he'd make a great Democratic Senator. https://t.co/IkhB8Oi6w9

— UNITE & FIGHT (@stopthenutjob) April 29, 2018

But if liberal Democras rehabilitate the dude, there's no reason that dude's creatures shouldn't run on their ticket. In fact, I assume that's the goal (with the added frisson of kicking the left, since kicking the left is always good).

"Democrats should not expect a blue wave in mid-term elections" [The Hill]. "To win in the mid-terms, Democrats need to leave the anti-Trump bubble and conviction that a new majority of young, millennial, affluent, diverse and socially progressive voters will magically emerge in red states. Republican Senate candidate Roy Moore in Alabama was a gift to the Democratic Party. He was discredited and lost. Nevertheless, Democrats should not expect many such gifts. …. Polling on the generic ballot, indicating which party voters would support in a congressional election, show the Democratic Party ahead by 4 percent. This is down from 12 percent and means a more difficult path for Democrats to overcome the advantage Republicans have in Congress…. With the exception of the reelection of Barak Obama in 2012, Democrats have done poorly over the last four election cycles. To break the pattern requires letting go of their flawed and often demeaning attitude about working-class and red state voters." Lol no. To break the pattern means appealing to suburban Republicans. See above.
2016 Post Mortem
"A new Clinton wave is coming this spring" [Axios]. "Longtime Clinton supporters last week received an invitation offering access to the family (the green invitation features photos of Bill, Hillary and Chelsea) at a Clinton Foundation benefit on May 24 in New York, at prices ranging from $2,500 ('Friend') for cocktail party and dinner, up to $100,000 ('Chair') for 'Leadership Reception for two, a premium table of ten, program recognition as Gala Chair and invitations to the Clinton Foundation Annual Briefing.'" "Access to the family…" Just when I thought I was out… they pull me back in.

UPDATE "Cognitive hysteresis" seems like a useful formuation:

"In psychological fixations (also referred to as cognitive lockup…), the initial situation assessment tends to be appropriate […] As the incident evolves, however, people fail to revise their assessments in response to new evidence…" pic.twitter.com/2Devhelcq2

— میگم نره٬ میگه بدوش (@arbedout) May 1, 2018

From "Behind Human Error: Cognitive Systems, Computers and Hindsight" (PDF).
Realignment and Legitimacy
"Hope Locally, Hate Globally" [Project Syndicate]. "In survey after survey, in rich and poor countries alike, people report feeling satisfied with their family lives, happy with the neighborhoods they live in, optimistic about their personal futures – and downright gloomy about their countries and the world. Why?"

"The Spy Who Came Home" [The New Yorker]. Former CIA dude ("Skinner") comes home, becomes a good cop:

"We write these strategic white papers, saying things like 'Get the local Sunni population on our side,' " Skinner said. "Cool. Got it. But, then, if I say, 'Get the people who live at Thirty-eighth and Bulloch on our side,' you realize, man, that's fucking hard—and it's just a city block. It sounds so stupid when you apply the rhetoric over here. Who's the leader of the white community in Live Oak neighborhood? Or the poor community?" Skinner shook his head. " 'Leader of the Iraqi community.' What the fuck does that mean?"

That's a good quote. On the other hand, The New Yorker is legitimizing the extremely dubious role the intelligence community has placed for the past decade-and-a-half or so, as the spooks now, er, "embed" themselves in domestic institutions. Color me extremely skeptical.
Stats Watch
Purchasing Managers' Manufacturing Index, April 2018: "Of all the small sample surveys, the one that has consistently shown the least amount of exceptional strength has now joined the others" [Econoday]. "Looking for capacity stress? It's here with both input costs and selling prices accelerating to the strongest pace since mid-2011. And the sample concedes that the pressure on prices, at least to an extent, is due to metal tariffs imposed in March. Another possible sign of stress is a softening in job creation which may indicate that the PMI's sample is having a hard time finding new people." And: "The ISM Manufacturing survey declined and remained in expansion. The key internals are in expansion. The Markit PMI manufacturing Index is in positive territory and insignificantly improved" [Econintersect].
Institute For Supply Management Manufacturing Index, April 2018: "Clear signs of stress are the continuing signals from ISM's manufacturing sample" [Econoday]. "It's in the details where this is most apparent and less the composite index… Delivery times continue to lengthen, up 1/2 point to an unusual 61.1, and input costs continue to climb, up 1.2 points to 79.3. These are rare readings for this venerable survey… Orders keep pouring in… Metal tariffs, imposed in March, are disrupting business for at least some in the sample who are warning that business planning is being scrambled and that manpower is being dedicated to dealing with related issues and being shifted away from production. The nation's factory sector appears to be gaining momentum in what, however, may be an uneven environment." And: "below expectations… and suggests manufacturing expanded at a slower pace in April than in March" [Calculated Risk]. "Still a solid report."
Construction Spending, March 2018: "Construction spending data are known for their volatility which should limit the surprise from a very unexpected 1.7 percent decline" [Econoday]. "Today's data are a surprise for forecasters but are offset by a heavy upward revision to February." But: "There continues to be significant backward revision to the data – this month was upward. The rolling averages were unchanged. Also note that inflation is grabbing hold – and the inflation adjusted numbers are barely positive" [Econintersect]. "Also note that this sector is on an improving trendline. The employment gains year-over-year are near the same than the year-over-year growth in construction spending."
Banks: "TSB customers stopped from switching after it told banks to suspend transfers" [MoneySavingExpert.com]. Well, that's one way to prevent a bank run…
Tech: "Apple Results to Show iPhone Growth Problem and Cook's Plan to Fix It" [Bloomberg]. "The iPhone X's parts cost $115 more than the iPhone 8's, according to a November analysis. That made it difficult to price the product much below $999, without slicing Apple's legendary profitability. The new, lower-cost iPhone will use an LCD display that's about half the cost of the OLED screen in the iPhone X. It's also likely to use an aluminum casing versus stainless steel. That could bring the price close to $700, a level that's proven successful for many years…. While results on Tuesday will likely show slower Apple growth, this broader iPhone strategy could revive sales when the new devices come out toward the end of 2018. For most companies, one product facing growth headwinds wouldn't be a concern. For Apple, the iPhone generates about two-thirds of sales, and the other third comes mostly from products and services best used with an iPhone."
Tax: "US groups plough tax cash into capex ahead of investors" [Financial Times]. "A small group of technology and energy companies is driving a rebound in capital expenditure in the US, bucking expectations that boards would distribute most of the windfalls from recent tax legislation to shareholders…. The median S&P 500 company expanded its investment spending by a more modest 13 per cent year on year, according to Bank of America. Credit Suisse found that just 10 companies accounted for two-thirds of the first-quarter increase in capital spending, while broader surveys suggested many businesses remained more hesitant about investing."
Tax: "Investment Boom From Trump's Tax Cut Has Yet to Appear" [New York Times]. "[W]hile there are pockets of the economy where investment is picking up — among large tech companies and in shale oil business, for example — corporate spending on buying back stock is increasing at a far faster clip, prompting a debate about whether the law is returning money to the overall economy or just rewarding a small segment of investors… Data on the gross domestic product, released Friday, showed that business investment grew at a 6.1 percent annual clip during the first three months of 2018, down from 7.2 percent during the first quarter last year. Excluding oil and gas investment, which is particularly volatile, the investment pace grew slightly over the past year."
The Bezzle: "Tesla is burning through billions, and it's revealing an ugly reality about the company's financial situation" [Business Insider]. "Some Tesla watchers have been focused on how many workers Tesla now has. Bloomberg reports nearly 40,000. But what has gotten auto-industry experts' attention is how many employees Tesla has at its factory in Fremont, California. Automotive News noted that when Fremont was called NUMMI and was run as joint-venture between GM and Toyota, about 5,000 workers built 350,000 vehicles in 1997. Tesla, according to the publication, needed between 6,000 and 10,000 workers to make fewer than 100,000 vehicles in 2016. To increase the Model 3's production ramp, Musk recently said that that the assembly line would run 24/7 and that the company would go on a hiring surge. So Tesla is losing money the old-fashioned way, but getting far less value out of its workers than other automakers."
The Bezzle: "Anonymous Owner, L.L.C.: Why It Has Become So Easy to Hide in the Housing Market" [New York Times]. "L.L.C.s have eroded that expectation. There is little good national data tracking the rise of L.L.C.s. But in 2015, according to the Rental Housing Finance Survey from the Census Bureau and the Department of Housing and Urban Development, about 15 percent of all rental properties were owned by L.L.C.s, limited liability partnerships or limited partnerships. That represented one-third of all rental units, and that can include single-family houses or apartment buildings. Put another way: 92 percent of rental properties in America back in 1991 were held by individual owners whose names tenants could easily know. By 2015, that number had fallen to 74 percent, driven largely by the growth of L.L.C.s, although the market today includes other kinds of institutional investors as well."
Five Horsemen: "Alphabet falls into last place after Apple's modest bounce yesterday" [Hat Tip, Jim Haygood].
NakedCap Mania-Panic Index: "The mania-panic index receded to 55 (complacency) after yesterday's market decline" [Hat Tip, Jim Haygood]. (The NakedCap mania-panic index is an equally-weighted average of seven technical indicators derived from stock indexes, volatility (VIX), Treasuries, junk bonds, equity options, and internal measures of new highs vs new lows and up volume vs down volume … each converted to a scale of 0 to 100 before averaging, using thirty years of history for five of the seven series.)
Gaia
"Pa. House advances bill to ease rules for conventional oil and gas drillers" [Post-Gazette]. "Conventional drilling trade groups say the bill is intended to turn back the clock — to before 2012, when environmental rules were strengthened to regulate the industrial-scale operations of drillers targeting the Marcellus Shale. They say small, traditional drillers who operate shallower wells were swept up in the changes… In at least one instance, the bill would roll back measures that were included in the first oil and gas law from 1984: It would erase a requirement that before issuing a drilling permit DEP must consider a well's impact on public resources, like publicly owned parks and historical sites."
Pipeline protests:
The Media is completely ignoring the Mountain Valley Pipeline protests. West Virginia and Virginia residents are conducting tree sit-ins to stop this fracked gas pipeline from destroying the Appalachian Trail pic.twitter.com/dvltSuYdRa

— Michael Sainato (@msainat1) April 20, 2018
A very good question:
Why is this … in the user manual for the fancy poultry egg incubator I have pic.twitter.com/gDqFaJDCWZ

— pretty saro (@spindlypete) April 27, 2018
"Exterminating Sparrows: A Lesson From History" [Birding Beiing]. "The effectiveness of the ["Four Pests"] campaign [to eradicate rats, flies, mosquitoes and sparrows] was such that the Tree Sparrow population was decimated. And without the sparrows to curb the insect population, crops were being devastated in a way far worse than if birds had been spared. At least partly as a result, agricultural yields that year were disastrously low."
Big Brother Is Watching You Watch
Just like the Telescreen™:
I noticed on last week's Amazon's press release to investors Amazon announced Alexa will now listen without customers having to say the wake word. Huh. pic.twitter.com/klDjlKXm2w

— Matt Stoller (@matthewstoller) April 30, 2018
Class Warfare
"Calculating the Cost of a Jobs Guarantee" (interview) [Pavlina Tcherneva, Bloomberg].
News of The Wired
An interesting "matrix of emotions":
I loved @DisneyPixar's "Inside Out". Really enjoy this matrix combining the five base emotions with each other. I honestly think kids benefit from watching this movie as is creates a good starting point to talk about emotions. Source: https://t.co/UayfnUISdB pic.twitter.com/2KHvDT3DAI

— Simon Kuestenmacher (@simongerman600) March 30, 2018
I'm not sure how I feel about Disney doing the defining, though….
"Silicon Valley Can't Be Trusted With Our History" [Evan Hill, Buzzfeed]. "Information ephemerality, and our lack of a model for noncorporate control of digital information, has been a blessing for governments looking to rewrite history and a curse for those trying to document the truth in environments where it is being contested every day." I know there's material on, say, campaign 2004 that can be found today on the Internet today only because I blogged about it contemporaneously, and quoted it. (It's not a matter of search being crapified, though it is, or even of link rot; it's that the pages have bee taken offline.) Yves has said the same about material from the financial crisis. Our historical memory, it seems, does not even extend decades into the past.
"Motherboard Made a Tool That Archives Websites on Demand" [Vice]. Should be handy for the next Joy Reid episode, assuming a clear chain of custody.
"IRS Warned Congress of "Catastrophic System Failure" Six Months Before Tax Day Outage" [IEEE]. "On 17 April 2018, the final day for U.S. citizens to file 2017 tax returns, the U.S. Internal Revenue Service (IRS) suffered a major system failure related to the hardware supporting its 58-year old, 20-million line Cobol-based Individual Master File system (pdf) which is still being used today to process the vast majority of individual tax returns. As a result of the failure, the IRS extended by a day the filing due date." Makes the TBS episode look minor, potentially. (I think programmers conceptualize these problems as "technical debt." I've always wondered about that metaphor,,,,)
"Spinal Tap's Bassist Goes Solo… for Real" [Culture Sonar]. Excellent news! Favorite song-title: "Hell Toupee" [groans].
* * *
Readers, feel free to contact me at lambert [UNDERSCORE] strether [DOT] corrente [AT] yahoo [DOT] com, with (a) links, and even better (b) sources I should curate regularly, (c) how to send me a check if you are allergic to PayPal, and (d) to find out how to send me images of plants. Vegetables are fine! Fungi are deemed to be honorary plants! If you want your handle to appear as a credit, please place it at the start of your mail in parentheses: (thus). Otherwise, I will anonymize by using your initials. See the previous Water Cooler (with plant) here. Today's plant (TH):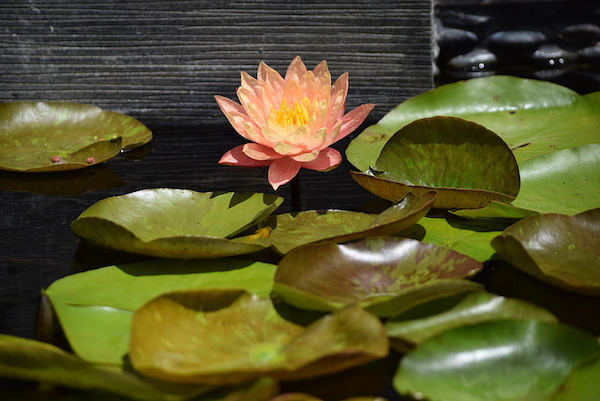 Here is another water lily, from a backyard fishpond. TH quotes: "Water Lily in a backyard fish pond: "The water lily has a special place in Sangam literature and Tamil poetics, where it is considered symbolic of the grief of separation…"
* * *
Readers: Water Cooler is a standalone entity not covered by the annual NC fundraiser. So do feel free to make a contribution today or any day. Here is why: Regular positive feedback both makes me feel good and lets me know I'm on the right track with coverage. When I get no donations for five or ten days I get worried. More tangibly, a constant trickle of small donations helps me with expenses, and I factor that trickle in when setting fundraising goals. So if you see something you especially appreciate, do feel free to click the hat!

To give more, click on the arrow heads to the right of the amount.
If you hate PayPal — even though you can use a credit card or debit card on PayPal — you can email me at lambert [UNDERSCORE] strether [DOT] corrente [AT] yahoo [DOT] com, and I will give you directions on how to send a check.