By Lambert Strether of Corrente.
Trade
"The U.S.-China trade war is on hold but that doesn't mean tensions between the countries are easing. Two days of trade deliberations in Washington ended with both sides arguing all night over what to say in a joint statement… but without Beijing acceding to a demand to cut the U.S. bilateral trade deficit by $200 billion. The standoff left Treasury Secretary Steven Mnuchin declaring the Trump administration is 'putting the trade war on hold,' and won't apply tariffs on Chinese imports while the countries seek to hammer out a deal. They are at an impasse over how detailed to get on the trade of specific goods" [Wall Street Journal].
Politics
2020
"Folks":

Booker says he's traveled across the country, to the South, "I've read books like hillbilly elegy, everything I can to try to understand folks – they have so much in common with people in my neighborhood."

— Alexandra Jaffe (@ajjaffe) May 15, 2018

If venture capitalist J.D. Vance, author of Hillbilly Elegy, had run for the Senate in Ohio, he would have run as a Republican. So that's two reasons he's ideal for Booker.

"As Midterms Approach, Bernie Sanders on Safest Ground Among Senate Incumbents" [Morning Consult]. "Sixty-one percent of Vermont voters said the liberal [sic] firebrand has done a good enough job to earn another term in office, while 32 percent said it's time to give someone else a chance. "
2018
"Can the wave of female House candidates lead to a 'tsunami' of wins?" [Guardian]. "Andrea Bozek, a spokeswoman for Winning for Women, a new organization that aims to be the conservative counterweight to Emily's List…. noted that the top two Republican fundraisers last quarter were women: Marsha Blackburn, running for Senate in Tennessee, and Martha McSally, running for Senate in Arizona. The only two women elected to Congress since Donald Trump took office have been Republicans: Karen Handel in Georgia and Debbie Lesko in Arizona."

"A Progressive Woman Just Beat The Establishment Candidate In Nebraska. Now It's A Test For The Left." [Buzzfeed]. "Kara Eastman, who runs a local nonprofit, won a nail-biting primary upset Tuesday over a longtime politician, Brad Ashford, in Nebraska's 2nd District — in what some progressives say is their most significant victory so far in 2018. Eastman's victory "validated the point of view that running on bold, inspiring populist ideas like Medicare for All is the way to motivate voters — both in the primary and the general," said Adam Green, a cofounder of the Progressive Campaign Change Committee, one of the few national groups that had backed Eastman." PCCC isn't even all that left IMNSHO…. More: "Eastman is a vocal supporter of Medicare for All, a policy championed by the likes of Bernie Sanders to create a single-payer health care system, and opposes any restrictions on abortion. Voters in Omaha last week said they mostly liked Eastman because they saw her as a "fresh face" — particularly contrasted with Ashford, who had represented the district for a term in 2014."

"Hillary and Bill Clinton Go Separate Ways for 2018 Midterm Elections" [New York Times]. "[I]n the 2018 election campaign, Hillary and Bill Clinton have veered in sharply different directions. Mrs. Clinton appears determined to play at least a limited role in the midterms, bolstering longtime allies and raising money for Democrats in safely liberal areas. Her husband has been all but invisible. And both have been far less conspicuous than in past election cycles, but for different reasons: Mrs. Clinton faces distrust on the left, where she is seen as an avatar of the Democratic establishment, and raw enmity on the right. Mr. Clinton has been largely sidelined amid new scrutiny of his past misconduct with women. Mrs. Clinton is expected to break her virtual hiatus from the campaign trail this week, when in a contested Democratic primary, her spokesman, Nick Merrill, confirmed." Wait, wait. Last I checked, Cynthia Nixon is a woman. Isn't there a special place in hell for women who don't help out other women?

"Stacey Vs. Stacey: The Democratic Fight For Governor In Georgia" [NPR]. "Stacey Abrams [as opposed to Stacy Evans] launched her campaign in Albany, a city in southwest Georgia where nearly three-quarters of the residents are black. It was symbolic. She believes Democrats keep losing statewide elections because they're too focused on winning over moderate white Republicans. 'Political analysts keep looking at not only what the structure of Georgia is, but they're also looking at the playbook that was used in Georgia, and that's an old playbook,' said Abrams. 'It's an old playbook that never invested in any of these communities of color in Georgia.' Abrams is convinced the only way a Democrat can win is by engaging with untapped minority voters, particularly those in rural communities, who've often been overlooked. She says it's not about excluding the Democratic base of white progressives, but broadening the coalition."

UPDATE "DCCC Makes Initial TV Reservations for Fall Fight" [Roll Call]. The numbers:

Here are the markets and dollar amounts of the DCCC's initial reservation:
Boston/Manchester, N.H. (WMUR) — $583,079
Cedar Rapids, Iowa/Waterloo, Iowa — $545,309
Detroit — $728,500
Lansing, Mich. — $219,300
Miami — $1,996,650
Minneapolis/ St. Paul — $6,170,045
Philadelphia — $1,698,891
Washington, D.C. — $717,039
2016 Post Mortem
"Clinton to be honored at Harvard for 'transformative impact'" [The Hill]. Irony is not dead.

"From the Jaws of Victory" [Jacobin]. Some highlights from Amy Chozick's Chasing Hillary, which really does sound like a fun read: "In the public's mind, Clinton's 'deplorables' quip is remembered as evidence of her disdain for much of Trump's fan base. But there was one other group Clinton had a similar dislike of: Bernie Sanders supporters. As one person who had talked to Clinton about the difference between Trump and Sanders crowds recounted, her feeling was that 'at least white supremacists shaved.'"

UPDATE "Why does Trump get away with corruption? Because Bill and Hillary Clinton normalized it" [Josh Barro, Business Insider].
New Cold War
"Stopping Robert Mueller to protect us all" [Mark Penn (!), The Hill]. "Rather than a fair, limited and impartial investigation, the Mueller investigation became a partisan, open-ended inquisition that, by its precedent, is a threat to all those who ever want to participate in a national campaign or an administration again. Its prosecutions have all been principally to pressure witnesses with unrelated charges and threats to family, or just for a public relations effect, like the indictment of Russian internet trolls. Unfortunately, just like the Doomsday Machine in 'Dr. Strangelove; that was supposed to save the world but instead destroys it, the Mueller investigation comes with no 'off' switch: You can't fire Mueller. He needs to be defeated, like Ken Starr, the independent counsel who investigated President Clinton. Finding the 'off' switch will not be easy. Step one here is for the Justice Department inspector general report to knock Comey out of the witness box. Next, the full origins of the investigation and its lack of any real intelligence needs to come out in the open." (Penn was a chief strategist and pollster for the 2008 Clinton campaign.)

"End Robert Mueller's investigation: Michael Mukasey" [USA Today]. "Recall that the investigation was begun to learn whether the Trump campaign had gotten help unlawfully from Russia…. Because Attorney General Jeff Sessions had worked on the Trump campaign, he recused himself from the matter, and so the deputy — Rod Rosenstein — took the decision to appoint a special counsel. The regulations require that such an appointment recite the facts justifying the conclusion that a federal crime was committed, and specify the crime. However, the initial appointment of Robert Mueller did neither, referring instead to a national security investigation that a special counsel has no authority to pursue. Although Rosenstein apparently tried to correct his mistake in a new appointment memo, he has thus far refused to disclose, even to a federal judge, a complete copy of it. . Nor have any of the charges filed in the Mueller investigation disclosed the Trump campaign's criminal acceptance or solicitation of help from the Russians." I missed that detail about the lettre de cachet aspect of the appointment memo…

"The FBI Informant Who Wasn't Spying" [Editorial Board, Wall Street Journal]. "Could a Trump FBI task agents to look into the foreign ties of advisers to the Bernie Sanders presidential campaign in 2020?"

"Hayden: The Intel Community and Presidents — Facts vs. Vision" [RealClearPolitics]. Hayden on Presidential transitions and the intelligence community: "HAYDEN : We knew that if it were to be a President Trump this [transition] would be a big speed bump because these attributes I described over here, I think the creator gave him an extra measure. He is inherently instinctive, spontaneous, not very reflective, prone to action, has an almost preternatural view of his own preternatural confidence in his own a priori narrative of how things work. So we well, this one's gonna be tough. To your point, it is a national tragedy and a perfect storm that the first time we had to do that with the new president, we knew it's always tough but it was gonna be especially tough with this one, through no one's fault, it was on an issue as you described. ." "Not the intel guys." Really?
Realignment and Legitimacy
I like the idea of "non-reformist reforms:"

"Reform vs. Revolution" can be a false dichotomy within the context of real Leftist conversation sometimes.

We like the concept of "non-reformist reforms" that Kali Akuno of @CooperationJXN explains in one "Jackson Rising" excerpt, so we've decided to share it with quotes below. pic.twitter.com/6LJNaKb78o

— Black Socialists of America (@BlackSocialists) May 20, 2018

The Jobs Guarantee might be such a reform, but the devil will be in the details. #MedicareForAll, too?

"The Surprising Popularity of 'Far Left' Policies" [Common Dreams]. ""The Far Left Is Winning the Democratic Civil War" was the headline over a Washington Post report (5/16/18) on the results of recent primary elections. So what counts as "far left" to the Washington Post, the newspaper owned by the world's richest human?… One starts to get the suspicion that these candidates are not really "far left" at all, and Jeff Bezos' Post is just telling you that they are in order to scare you away from voting for them."

"Making Unelected Power Legitimate" [Money and Banking]. "Increasingly, however, governments have chosen to implement policy through agencies with varying degrees of independence from both the legislature and the executive. This approach leads to a deep and important question: Under what circumstances does it make sense in a democracy to delegate powers to the unelected officials of independent agencies (IA) who are shielded from political influence? How should those powers be allocated to ensure both legitimacy and sustainability?…. . A key premise—that we share with Tucker—is that better governance can help substitute where simple policy rules are insufficient for optimal decisions."

"An audience with Ian Bremmer: 'Populism is going to get worse" [Financial News]. Bremer: "Humanity has given us absolutely no reason to believe that if we are heading into an environment where large numbers of people are economically expendable, we will do anything but treat them that way."

"Young People Keep Marching After Parkland, This Time to Register to Vote" [New York Times]. Of course, if expanding the base were a core Democrat Party function this would be a non-story. And speaking of voter registration–

UPDATE "'ACORN and the Firestorm': Uprooted" [People's World]. Sure is odd the liberal Democrats didn't spin up a new organization to replace ACORN's voter registration function.

UPDATE "Progress! States are finally replacing touchscreen voting machines — which provide no means for voters to know if their votes were recorded correctly — with new touchscreen ballot markers, which also provide no means for voters to know if their votes were recorded correctly … Wait what?" [Medium]. Nice Daily Mail-style headline!

"The U.S. Was Just Downgraded from a 'Full' to 'Flawed Democracy'" [Fortune]. "That's according to the Economist Intelligence Unit, which downgraded the U.S. in their 2016 Democracy Index published Wednesday. The move puts the U.S. in the same category as Poland, Mongolia, and Italy. To arrive at this conclusion, the paper analyzed over 200 countries and considered factors like political culture and political participation. 'Popular trust in government, elected representatives and political parties has fallen to extremely low levels in the U.S.,' the paper's authors wrote. 'This has been a long-term trend and one that preceded the election of [Donald] Trump as U.S. president in November 2016.'"
Stats Watch
Chicago Fed National Activity Index, April 2018: "After slowing at the outset of the year, the national activity index — led by manufacturing and employment — is back at its expansion best" [Econoday]. "This index still has a way to go before it begins signaling inflation risk…. Note that revisions, given lagging data, can be extreme in this report with only 51 of 85 indicators included so far [!!] for April's initial reading." And: "This suggests economic activity was above the historical trend in April (using the three-month average)" [Calculated Risk].
Household Income: "April 2018 Median Household Income Remains At Highest Level Since January 2000" [Econintersect]. "New data from the monthly Current Population Survey (CPS) indicate that median annual household income was $61,483 in April 2018. Median household income in April of this year was higher than for any other month since January 2000, yet only 2.0 percent above the January 2000 estimate of $60,257 after adjusting for price changes…. Median annual household income has displayed a somewhat erratic pattern over the past several years. More broadly, there has been a general upward trend in median household income since the post-recession low point reached in June 2011. This upward trend was initially marked by monthly movements, both up and down. Many monthly changes were not statistically significant. By the summer of 2014 however, that uneven trend became dominated by a series of significant monthly increases."
Energy: "Oil Prices Up almost 50% Year-over-year" [Calculated Risk]. "Prices collapsed in 2008 due to the financial crisis, and then increased as the economy recovered. Oil prices collapsed again in 2014 and 2015, mostly due to oversupply. Now oil prices are rising sharply again."
Retail: "J.C. Penney Co. Inc. is finding out how tough it's become to manage inventory while big forces are buffeting retail sales. The company is stepping up efforts to cut back stocks after seeing inventories grow 2.6% on a same-store basis in the last quarter" [Wall Street Journal]. "Michael Unger of The Hackett Group says managing inventory has grown more complicated, with seasonality becoming a bigger force even as stores try to keep more goods in stock to compete with online retailers."
Shipping: "Amazon pushes dedicated truck operation; will it suck oxygen out of the driver room?" [DC Velocity]. "Is Amazon.com Inc. draining the commercial truck driver pool? Yes, according to a top motor carrier executive, who told one of its best shippers—a customer prepared to tender abundant and predictable traffic at highly compensatory rates—that it would only agree to a 90-day contract extension once it comes up for renewal June 15. According to a person familiar with the matter, the carrier executive said drivers who would normally be available for recruitment were instead migrating to Amazon. The executive added that equipment and drivers would be diverted to the spot, or non-contract, market, which remains sizzling hot and appears to be a better deal for the carrier than signing static contracts while pricing remains so dynamic, the person said. Neither the executive, the carrier, nor the shipper were identified. At first blush, the executive's rationale appears absurd. Amazon has, by one estimate, a paltry 300 power units, a fleet size that would hardly move the needle… But as with everything at Amazon, there is more going on than meets the eye. For example, in March the company was at the huge Mid-America Truck Show in Louisville, Ky., to recruit fleets to join its dedicated trucking operation. The business, which goes by the name of Amazon.com.dedc.LLC, wants fleets that have at least three trucks, their own operating authorities, and drivers who can operate twin-trailers to haul goods in the company's distribution center network…."
Shipping: "Report: mobile robot revenue to reach $7 billion by 2022" [DC Velocity]. "One category of expected strong demand is mobile robots with mounted arms, a sector which has seen very few shipments to date, but "could be used to revolutionize warehouse picking and material handling" with fast growth from 2020 onwards, the firm said."
The Bezzle: "How One Company Scammed Silicon Valley. And How It Got Caught" [New York Times]. Theranos."Even for a private company like Theranos, disclosure is the bedrock of American capitalism — the 'disinfectant' that allows investors to gauge a company's prospects. Based on [Bad Blood author John Carreyrou's] dogged reporting, not even Enron lied so freely."
Five Horsemen: "Microsoft is just below a record high in late morning trade" [Hat Tip, Jim Haygood].
NakedCap Mania-Panic Index: "The mania-panic index receded to 60 (complacency) as the put-call ratio bounced to 1.03 in Friday's market decline" [Hat Tip, Jim Haygood]. (The NakedCap mania-panic index is an equally-weighted average of seven technical indicators derived from stock indexes, volatility (VIX), Treasuries, junk bonds, equity options, and internal measures of new highs vs new lows and up volume vs down volume … each converted to a scale of 0 to 100 before averaging, using thirty years of history for five of the seven series.)
Rapture Index: Closes down on wild weather. "The lack of activity has downgraded this category" [Rapture Ready]. Record High, October 10, 2016: 189. Current: 182.
Gaia
"Meeting resistance" [Science]. Introduction to a special issue. "Today, we find ourselves at the nexus of an alarming acceleration of resistance to antibiotics, insecticides, and herbicides. Through chemical misuse, resistance also brings widespread collateral damage to natural, social, and economic systems. Resistance to antifungal agents poses a particular challenge because a limited suite of chemicals is used in both agricultural and clinical settings. Evolution will always circumvent head-on attack by new biocides, and we may not be able to invent all the new products that we need. We must therefore harness evolutionary approaches to find smarter ways to minimize the erosion of chemical susceptibility. We now have it in our means to integrate a variety of approaches to pest and pathogen management, including rigorous regulation of prescription behavior, consistent use of clinical hygiene measures, physical barriers to crop pests, and alternative cropping regimes. We urgently need to revisit our reliance on chemicals to ensure our future medical and food security."
News of The Wired
"My Own Personal Nothingness" [Nautilus]. "The Buddhists have understood this notion for centuries. It is part of the Buddhist concepts of emptiness and impermanence. The transcendent, nonmaterial, long-lasting qualities that we impart to other human beings and to human institutions are an illusion, like the computer-generated world in The Matrix. It is certainly true that we human beings have achieved what, to our minds, is extraordinary accomplishment. We have scientific theories that can make accurate predictions about the world. We have created paintings and music and literature that we consider beautiful and meaningful. We have entire systems of laws and social codes. But these things have no intrinsic value outside of our minds. And our minds are a collection of atoms, fated to disassemble and dissolve. And in that sense, we and our institutions are always approaching Nothingness."
"America's Boulevards of Death" [Governing]. "There is a public-health crisis unfolding before our eyes in the United States, where the simple act of walking has become a life-threatening proposition. Recently, a pedestrian killed by an automated vehicle in Arizona made national headlines, but that was just the tip of the iceberg: The same week, 10 other people were killed while walking — just in Arizona. Across the country, the number of people who died while walking increased by nearly 50 percent from 2009 to 2016, from just over 4,000 to almost 6,000, at a time when traffic fatalities declined in many of our peer countries, including Britain and Canada. What can be done? It turns out that the culprit is quite clear. According to a recent report from the Insurance Institute for Highway Safety, almost the entire increase in pedestrian fatalities in the U.S. occurred on the 4 percent of streets in cities and suburbs that are wide and designed to carry heavy traffic, technically known as arterials. These are places designed for cars to run at expressway speeds, yet they are also where an increasing number of people live, work, go to school and shop. In many places, these high-speed roads are the local 'main street.'"
"Spend analysis of 6 years 686 rides and $12,041 spent on Uber" [Neal Mueller]. The author bio caught my attention: "Hi, I'm Neal. I'm a product lead at Google and a serial adventurer. I've climbed the Mount Everest unguided to the summit, swum the English Channel as part of a two-man relay, and rowed 1000-miles across the Arctic Ocean while collecting plankton samples to predict future whale migrations – we were inducted into the Guinness Book of World Records for the 'farthest row across the Arctic Ocean' in history."
"Do People Really Downsize?" [Oregon Office of Economic Analysis]. "Moving rates and downsizing among households in their early retirement years is not very common. In fact it is less common today than in decades past. However, among those that do move in their 60s and 70s, they downsize. Given the large Baby Boomer generation continues to age into their retirement years, the absolute number of such moves is expected to rise, even if it remains a relatively small share of the housing market overall."
"In 2015, Niamh Geaney, a 28-year-old Irish woman, was approached by a TV production company to participate in an unusual competition: a race to find her twin stranger, a stranger who looks exactly like her. Within two weeks of scouring social networks and every other available outlet, she'd found a dead ringer, Karen Branigan, from Dublin. Then she found another match, Luisa Guizzardi, from Genoa. And then another, Irene Adams, from Sligo. Identical quadruplets by appearance, in reality they were unrelated" [Aeon].
* * *
Readers, feel free to contact me at lambert [UNDERSCORE] strether [DOT] corrente [AT] yahoo [DOT] com, with (a) links, and even better (b) sources I should curate regularly, (c) how to send me a check if you are allergic to PayPal, and (d) to find out how to send me images of plants. Vegetables are fine! Fungi are deemed to be honorary plants! If you want your handle to appear as a credit, please place it at the start of your mail in parentheses: (thus). Otherwise, I will anonymize by using your initials. See the previous Water Cooler (with plant) here. Today's plant (pq):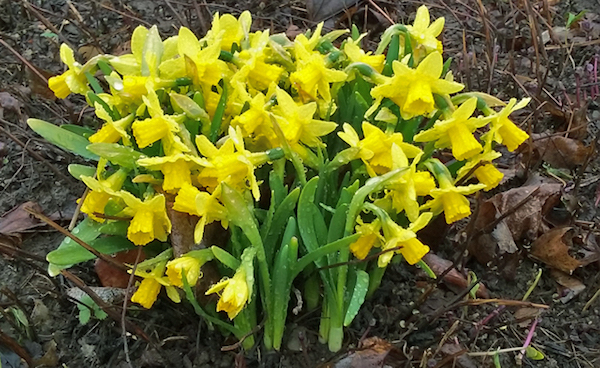 pq writes: "Finally, it LOOKS LIKE SPRING! Cold showers notwithstanding, it has been a joy to see something new popping up everyday on my afternoon walks. The bulbs have been peeking out from under the covers for weeks, but with daytime highs in the mid-30s and snow storms into the third week of April, they didn't show their faces. Three days of sunshine early in the week coaxed them out, and now they're making up for lost time."
* * *
Readers: Water Cooler is a standalone entity not covered by the annual NC fundraiser. So do feel free to make a contribution today or any day. Here is why: Regular positive feedback both makes me feel good and lets me know I'm on the right track with coverage. When I get no donations for five or ten days I get worried. More tangibly, a constant trickle of small donations helps me with expenses, and I factor that trickle in when setting fundraising goals. So if you see something you especially appreciate, do feel free to click the hat!

To give more, click on the arrow heads to the right of the amount.
If you hate PayPal — even though you can use a credit card or debit card on PayPal — you can email me at lambert [UNDERSCORE] strether [DOT] corrente [AT] yahoo [DOT] com, and I will give you directions on how to send a check.