By Lambert Strether of Corrente.
Trade
"U.S. hits EU, Canada and Mexico with steel, aluminum tariffs" [Reuters]. "U.S Commerce Secretary Wilbur Ross told reporters on a telephone briefing that a 25 percent tariff on steel imports and a 10 percent tariff on aluminum imports from the EU, Canada and Mexico would go into effect at midnight. 'We look forward to continued negotiations, both with Canada and Mexico on the one hand, and with the European Commission on the other hand, because there are other issues that we also need to get resolved,' he said. Ross offered little detail about what the EU, Canada and Mexico could do to have the tariffs lifted."
Politics
2020
"Democrats gear up for 2020 — and Bernie Sanders still leads the pack" [Salon]. "In the wake of Hillary Clinton's agonizing defeat, many Democratic voters will be eager for a female candidate, which could make both Harris and Gillibrand major contenders. Both have worked to shed their more moderate images and have moved toward the party's progressive wing on a whole range of issues." "Images." More: "Sanders has one factor working for him that none of his prospective alternatives can claim. He has managed to marshal a loyal army of progressive activists who stand for principles of social and economic justice that had seemingly been abandoned by the Democratic Party since the Bill Clinton years. [asks!] . That alone will make Sanders a formidable opponent for any and all Democrats who are considering taking him on."
2018
"Democrats struggle with midterm message on impeachment" [Politico]. They've been yammering about it daily for two years. How can they have done that and failed to develop a clear message? (The article has all sorts of weird confusions about the left and the base, too. So far as I know, the left is clamoring for policy issues like #MedicareForAll, from which — follow me closely here — Russia! Russia! Russia! is a distraction.

"Warren on Trump impeachment: 'I'm not there' yet" [The Hill]. "'I take this very seriously. This is a serious constitutional move. My view on this is, protect the special prosecutor, let him finish his work without political interference,' said the senator. 'Let him make a full report to the American people and then collectively we can make the decision about what the appropriate next step is.'"

"What If 2006 Model Isn't Enough for Democrats?" [Sean Trende, RealClearPolitics]. Good summary of 2006 events: Failed Social Security privatization, the Iraq debacle, Katrina, culminating in the Republican loss of the House and the Senate. I remember live-blogging it, soon after I moved to Maine: I broke out a bottle of champagne, fool that I was. Fast forward: "So why might this model not be enough for Democrats? There are three reasons. First, at least for now, Republicans are polling considerably better than they were in 2006. Second, 2006 can't be analyzed without acknowledging that it involved a number of [very entertaining] fluke-ish victories for Democrats… [I]if one doesn't count the six "clear" flukes, the Democrats' actual gain was 24 seats, which would barely be enough for them to win the House today….. Finally, there is the issue of exposure. Put simply, if a party enters an unfavorable election environment holding a large number of seats that are dispositionally inclined toward the other party, they will probably suffer worse losses… Republicans are much less exposed than Democrats were in 2010 or 1994, and are probably less exposed than they were in 2006."

NY-14: This is a very good ad:

It's time for a New York that works for all of us.

On June 26th, we can make it happen – but only if we have the #CourageToChange.

It's time to get to work. Please retweet this video and sign up to knock doors + more at https://t.co/kacKFI9RtI to bring our movement to Congress. pic.twitter.com/aqKMjovEjZ

— Alexandria Ocasio-Cortez (@Ocasio2018) May 30, 2018

NJ-02: "The NJ-2 Stockton townhall: Single-payer healthcare and campaign finance" [Citizens Media TV]. "During the town hall, and audience member asked if [Will Cunningham] supported single-payer healthcare. Cunningham talked about how the Affordable Care Act must be improved and that 'everyone deserves access to healthcare.' I followed up afterwards (before the subject of donations), asking him specifically whether or not he supports single-payer healthcare. He repeated his answer regarding access. When I pushed him to clarify whether or not he supports single-payer, he responded, 'That is my stance.'" Ha ha. He's weaseling, knows it, and shows it…. [Sean Thom] strongly supports single-payer healthcare…. [Tanzie Youngblood] Youngblood does believe strongly in single-payer healthcare." This is a good report on a district town hall. We need so much more of it; or, perhaps, we need to be able to search for it.

"Chuck Schumer Is Not Cutting It" [Splinter News]. Massive takedown.
2016 Post Mortem
"How Trump's Election Shook Obama: 'What if We Were Wrong?'" [New York Times]. "Riding in a motorcade in Lima, Peru, shortly after the 2016 election, President Barack Obama was struggling to understand Donald J. Trump's victory. 'What if we were wrong?' he asked aides riding with him in the armored presidential limousine. He had read a column asserting that liberals had forgotten how important identity was to people and had promoted an empty cosmopolitan globalism that made many feel left behind. 'Maybe we pushed too far,' Mr. Obama said. 'Maybe people just want to fall back into their tribe' [, deplorables clinging to their guns and religion]. His aides reassured him that he still would have won had he been able to run for another term and that the next generation had more in common with him than with Mr. Trump. Mr. Obama, the first black man elected president, did not seem convinced. 'Sometimes I wonder whether I was 10 or 20 years too early,' he said." That's not what I wonder. Is it what you wonder?
Realignment and Legitimacy
"The Polls Are All Right" [Nate Silver, FiveThirtyEight]. "The average error in all polls conducted in the late stage of campaigns since 1998 is about 6 percentage points…. This means that you shouldn't be surprised when a candidate who had been trailing in the polls by only a few points wins a race…. Polling the primaries is hard — the average polling error in all presidential primaries since 2000 is 8.7 percentage points. But primary polls aren't usually as bad as they were in 2016. Because voting in general elections operates along increasingly predictable demographic lines, pollsters can use demographic weighting to make up for other problems in their samples. They don't always have that luxury in the primaries, where demographic coalitions are more fluid and turnout is more difficult to model. Polling in the 2020 primaries could be a pretty wild ride."

"Polling Is Still Working, According to Nate Silver" [New York Magazine]. "In the end it's smart to pay more attention to the aggregate polling averages (most notably those maintained by FiveThirtyEight and RealClearPolitics) than to any one or two or three individual polls, and to avoid the temptation to hype polls showing one's own 'team' doing well while filtering out adverse findings — particularly if 'your' poll is conducted by a firm with a poor reputation and 'their' poll is gold."
Stats Watch
Personal Income and Outlays, April 2018: "Income isn't quite as soft and spending isn't quite as strong as they look while inflation readings are modest and steady" [Econoday]. "[G]as-driven or not, the rise in spending marks a strong opening for second-quarter consumer spending and, together with yesterday's big improvement in April goods trade, are both early indications of strength for second-quarter GDP. More fundamentally, concerns in yesterday's Beige Book that consumer spending was moderating look perhaps unwarranted and that steady growth, backed by respectable income, is now the more accurate description. For inflation, no alarms in this report with the overall rate holding on target for a second straight month but room still left to run for the core in its awaited approach to the Fed's 2 percent line." But: "The savings rate declined and remains near 21st century lows. Consumer spending growth is higher than income growth year-over-year. The backward revisions this month were relatively small" [Econintersect]. And: "The increase in personal income was at expectations, and the increase in PCE was above expectations" [Calculated Risk].
Pending Home Sales Index, April 2018: "The resale market can't get going with today's 1.3 percent decline in pending sales, which is far below Econoday's low estimate, pointing to the risk of an outright downturn" [Econoday]. "The results of this report are especially important as they offer an advance indication at the beginning of the Spring selling season, one that, based on all the data including this report, is not off to a strong start. Lack of homes for sale and rising mortgage rates are not positives for the housing market, apparently offsetting strength in the labor market." And: "The National Association of Realtors (NAR) seasonally adjusted pending home sales index improved. Our analysis says pending home sales is in contraction year-over-year" [Econintersect]. "The rolling averages remain in negative territory. The data is very noisy and must be averaged to make sense of the situation. There is no signs of a surge in home sales, although the trends continue to be generally downward despite this month's acceleration." And: "This was well below expectations of a 0.7% increase for this index. Note: Contract signings usually lead sales by about 45 to 60 days, so this would usually be for closed sales in May and June" [Calculated Risk].
Chicago Purchasing Managers Index, May 2018: "New orders, which had been slowing, are re-accelerating with backlog orders likewise rebounding. Production picked up in the month as did employment which, however, continues to be held back by lack of available labor" [Econoday]. "All the small-sample indications for May, including this one, have been strong and point to a solid month of growth for the economy."
Challenger Job-Cut Report, May 2018: "Pointing to strength for Friday's employment report, layoff announcements were especially low in May" [Econoday].
Jobless Claims, week of May 26, 2018: "Jobless claims remain steady at very low levels and are consistent with very strong demand for labor" [Econoday]. "All the readings in this report are at historic lows."
Bloomberg Consumer Comfort Index, week of May 27, 2018: "Unchanged" [Econoday]. "Consumer confidence measures, supported by the strong labor market, remain very solid."
Banks: "Judge approves a $142-million settlement over the Wells Fargo accounts scandal, calling it 'rough justice" [Los Angeles Times]. Wells Fargo might as well have reached into its depositors pockets and stolen their money. "Rough justice" isn't nearly as rough as the sheets in jail, which is where Wells Fargo executives should be.
Banks: "Big Banks to Get a Break From Limits on Risky Trading" [New York Times]. "Under the changes outlined Wednesday, banks will no longer have to offer proof for each specific trade and would instead have to enact strict internal controls and compliance programs to ensure they are meeting the requirements of the Volcker Rule. The change would allow banks to more freely engage in hedging, in which they execute trades in an effort to counteract risk in other parts of their businesses." No problem there!
The Bezzle: "Uber in 'discussions' to get Waymo self-driving cars on its network" [The Verge]. "Speaking today at the Code Conference, Uber CEO Dara Khosrowshahi says that his company is in 'discussions' to have Waymo self-driving cars added to its network. It's probably too early to think that these talks are definitely going anywhere yet, but it's nevertheless notable because we're less that four months past the resolution of a bitter legal fight between the two companies over alleged trade-secret theft. 'I'd welcome Waymo to put cars in our network,' he says."
The Bezzle: "Tesla Model 3 Gets CR Recommendation After Braking Update" [Consumer Reports]. "Consumer Reports now recommends the Tesla Model 3, after our testers found that a recent over-the-air (OTA) update improved the car's braking distance by almost 20 feet…. Until now, that type of remote improvement to a car's basic functionality had been unheard of. 'I've been at CR for 19 years and tested more than 1,000 cars,' says Jake Fisher, director of auto testing at Consumer Reports, 'and I've never seen a car that could improve its track performance with an over-the-air update.'" "Unheard of." CR gushing? Odd.
The Bezzle: "SECURITIES AND EXCHANGE COMMISSION, Plaintiff, vs. TITANIUM BLOCKCHAIN INFRASTRUCTURE SERVICES, INC.; EHI INTERNETWORK AND
SYSTEMS MANAGEMENT, INC. aka EHI-INSM, INC.; and MICHAEL ALAN STOLLERY aka MICHAEL STOLLAIRE, Defendants" (PDF) [Securities and Exchange Commission]. The SEC doesn't seem happy:
This new SEC ICO lawsuit hits all of the major ICO fraud highlights. https://t.co/GP3CHDUuRn pic.twitter.com/Am9cOLtrzX

— Palley (@stephendpalley) May 29, 2018
Tech: "Jeff Bezos Announces Customers Can Delete All Of Alexa's Stored Audio By Rappelling Into Amazon HQ, Navigating Laser Field, Uploading Nanovirus To Servers" [The Onion]. "Bezos added that once customers complete this process, they will still need to erase the backup copies of their Echo data stored in the drive he wears around his neck."
Tech: 'Microsoft is creating an oracle for catching biased AI algorithms" [MIT Technology Review (JB)]. "Microsoft is building a tool to automatically identify bias in a range of different AI algorithms. It is the boldest effort yet to automate the detection of unfairness that may creep into machine learning—and it could help businesses make use of AI without inadvertently discriminating against certain people. Big tech companies are to sell off-the-shelf machine-learning technology that can be accessed via the cloud. As more customers make use of these algorithms to automate important judgements and decisions, the issue of bias will become crucial. And since bias can easily creep into machine-learning models, ways to automate the detection of unfairness could become a valuable part of the AI toolkit." "Racing" is one of those words to watch for…
Tech: "ForwardX raises $10 million for AI-powered luggage that follows you" [VentureBeat]. "ForwardX intends to focus initially on luggage, but the company is also exploring the creation of mobility machines for last-mile deliveries, like the kind Marble uses for restaurant deliveries and Starship Technologies uses on corporate and university campuses. ForwardX is also in talks with ecommerce companies like JD.com and DHL to make robots capable of carrying 100 kilograms and following factory workers, [ForwardX COO Yaxin Guan] said." And I'm sure other applications can be imagined…
Five Horsemen: "As is their wont, Seattle sluggers Amazon and Microsoft are at fresh record highs in late morning trade" [Hat Tip, Jim Haygood].
NakedCap Mania-Panic Index: "Yesterday's market bounce lifted the mania-panic index from worry to complacency (54), as VIX, the put-call ratio and new 52-week lows all dropped on the pop" [Hat Tip, Jim Haygood]. (The NakedCap mania-panic index is an equally-weighted average of seven technical indicators derived from stock indexes, volatility (VIX), Treasuries, junk bonds, equity options, and internal measures of new highs vs new lows and up volume vs down volume … each converted to a scale of 0 to 100 before averaging, using thirty years of history for five of the seven series.)
Health Care
"Medicare Advantage vs. Medicare for All" [Health Over Profit]. "While Medicare Advantage is not an efficient or an equitable means of offering care to senior and disabled Americans, it's important to look into some of the benefits that satisfied patients (who tend to be healthy) are grateful for. All of these benefits would be offered (and enhanced) through a national health insurance system like National Improved Medicare for All (NIMA). NIMA would eliminate copays, narrow networks and provide long-term care, bringing both sick and healthy Americans into the same risk pool while extending that pool to include everyone. There is a growing consensus that Medicare Advantage, while masqueraded as offering better choices to patients about the type of care they receive, doesn't extend those choices to sicker enrollees."
"Virginia poised to expand Medicaid" [Politico], "The Wednesday vote on a budget that included Medicaid expansion took place after two key Republicans in the House and Senate agreed on . The proposal, which was approved on a 23-17 vote, relies on provider taxes to cover Virginia's expansion costs. The vote came after months of Republican party infighting following an electoral shellacking that revealed the state's leftward shift." A leftware shift that produces a deal like that isn't much of a shift and isn't in a leftward direction. I seem to recall quite recently a ginormous amount of liberal Democrat yammering about work requirements in a Michigan Medicaid reform (which thankfully did not pass). Won't it be great when work requirements are the new baseline?
Water
Puerto Rico, Flint….
Yesterday we passed out 135,000 bottles of water to Flint residents in 93 degree heat. We helped close to 1,000 families. People lined up 2 hours early and caused a traffic jam most of the distribution. #FlintIsStillInCrisis #Flint pic.twitter.com/02MkBM6WOm

— Mari Copeny (@LittleMissFlint) May 28, 2018
"'America's dirty little secret': the Texas town that has been without running water for decades" [Guardian]. From 2017, still germane: "Sandbranch is a small, poor, largely African American community just outside Dallas but its residents have to rely on charitable donations of bottled water." Sandbranch hasn't had running water for 30 years, so you can see we're just getting started with Flint. And Puerto Rico.
"The water war that will decide the fate of 1 in 8 Americans" [Grist]. "'We must all find a way to collectively use less water while respecting the Law of the River,' [Kathryn Sorensen, director of Phoenix's Water Services Department] says. 'That's of course a tricky proposition because the Law of the River is basically the most complex governance structure ever created by human beings.'"
Class Warfare
News of The Wired
"Depression: the radical theory linking it to inflammation" [Nature]. "In particular, the blood–brain barrier turned out to be less impenetrable than assumed. A range of research showed that proteins in the body could reach the brain. These included inflammatory proteins called cytokines that were churned out in times of infection by immune cells called macrophages. Bullmore pulls together evidence that this echo of inflammation in the brain can be linked to depression. That, he argues, should inspire pharmaceutical companies to return to psychiatry."
"Facebook of the dead" [Mark Dery, Boing Boing]. This is fun:
[T]he sludge-brained anomie of stoner noir is just what it looks like: the rudderless yawing of youth culture on the morning after the '60s. It's the numb realization that the tide that carried in the counterculture's utopian dreams and cries for social justice has ebbed away, leaving the windblown scum of Altamont and My Lai, the Manson murders and the Zodiac Killer. Stoner noir stares back at you with the awful emptiness of the black-hole eyes in a Smiley Face. Have a Nice Decade. As late as the mid-'70s, the iconography of rebellion®, at least in the tract-home badlands of Southern California, was a politically lobotomized version of hippie: the bootleg records, blacklight posters, underground comix, patchouli oil, and drug paraphernalia retailed at the local head shop.

But stoner noir isn't just the burned-out roach of '60s youth culture. It's equally the toxic mental runoff of suburban sprawl: dirthead existentialism. It's the psychological miasma that hung, like the sweetly rotten reek of Thai stick, over adolescent psyches battered by divorce, lives dead-ended in high school, torpid afternoons bubbled away in a Journey to the Bottom of the Bong. Stoner noir is the default mindset of teenage wasteland: life seen through a glass pipe, darkly.
A helpful suggestion:
don't grow a thick skin, grow an iridescent soft membrane that is deadly poisonous to the touch

— evil maid (@lenazun) May 30, 2018
* * *
Readers, feel free to contact me at lambert [UNDERSCORE] strether [DOT] corrente [AT] yahoo [DOT] com, with (a) links, and even better (b) sources I should curate regularly, (c) how to send me a check if you are allergic to PayPal, and (d) to find out how to send me images of plants. Vegetables are fine! Fungi are deemed to be honorary plants! If you want your handle to appear as a credit, please place it at the start of your mail in parentheses: (thus). Otherwise, I will anonymize by using your initials. See the previous Water Cooler (with plant) here. Today's plant (Samuel Conner):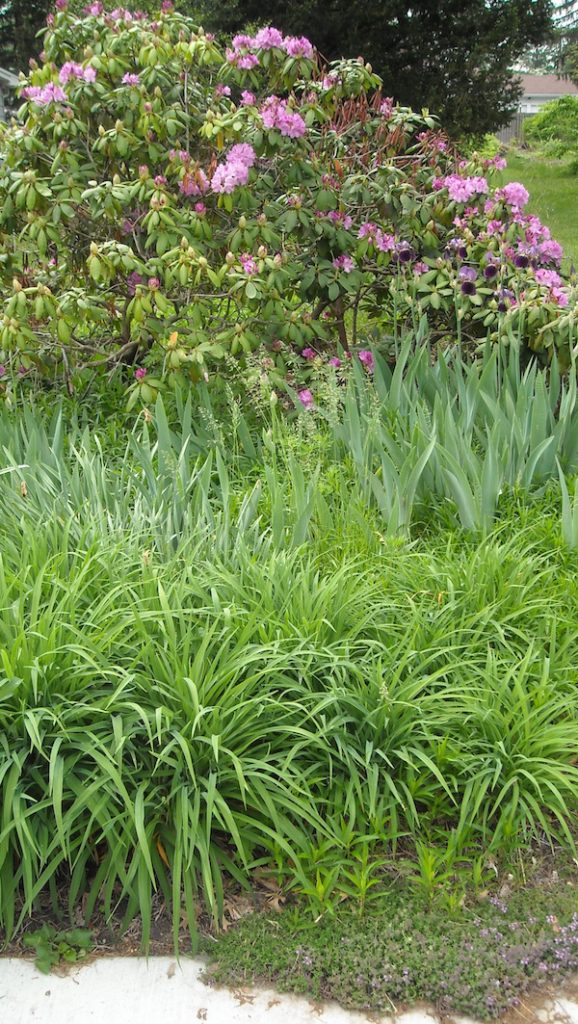 Samuel Conner writes:
I apologize for the non-ideal aspect ratio; this bed abuts a property line and I wasn't sure how the neighbor would feel about their home showing up in the photo, and there is something disagreeable on the other side; the cropping left it in this tall narrow shape.

Here's a little commentary:

Nurture green in stem and leaf. This bed in front of the Rhododendron was designed and installed by my master gardener sister and inadequately maintained by me over years. Nevertheless it seems to have thrived. From bottom to top: (at right) Creeping Thyme (var. "Magic Carpet"), Stella D'Oro Daylily and, at right, some Obedient Plant (more of which is present but not yet prominent throughout this bed), Daffodils with spent blooms at left and Iris in bloom. Discernible in the middle are the frond-like leaves of one of my nemeses, Chrysanthemum Weed (which, judging from where it first appeared, hitchhiked with the daylilies). Those need to come out but are very hard to reach now without damaging desirables. This bed has been in place for more than a decade and has thickened nicely; probably the irises and daylilies are overdue for thinning and replanting.. The Obedient Plant, belying its name, is invading the neighbor's lawn, but only slowly. I think of it as a reasonably obedient plant.

It is never in bloom all at once; perhaps is at its nicest in the Autumn when the Obedient Plant (which is throughout the bed, though that is not obvious in this photo) is tall and in bloom; then the bed is thick with bees attracted to the thousands of Obedient Plant blossoms.
One of my gaals as a gardener, besides avoiding work, is simply to sit and work in the middle of it. The bed, when it's "thick with bees," sounds ideal for that purpose.
* * *
Readers: Water Cooler is a standalone entity not covered by the annual NC fundraiser. So do feel free to make a contribution today or any day. Here is why: Regular positive feedback both makes me feel good and lets me know I'm on the right track with coverage. When I get no donations for five or ten days I get worried. More tangibly, a constant trickle of small donations helps me with expenses, and I factor that trickle in when setting fundraising goals. So if you see something you especially appreciate, do feel free to click the hat!

To give more, click on the arrow heads to the right of the amount.
If you hate PayPal — even though you can use a credit card or debit card on PayPal — you can email me at lambert [UNDERSCORE] strether [DOT] corrente [AT] yahoo [DOT] com, and I will give you directions on how to send a check.