Apologies for the crush of CalPERS stories, but the giant pension fund has a series of board meetings next week, and these pieces for different reasons are time sensitive. So get a cup of coffee and enjoy this three-act play of bad governance theater as best you can.
Of the three, this one is the most urgent. I hope you will take the trouble to send it along to all CalPERS beneficiaries and California voters that you know.
At the end of the post, I ask all readers who are in California to write their state Senator and Assemblyman, ccing the chairmen of the Senate and Assembly public pension committees as well as CalPERS CEO Marcie Frost, expressing your concern and consternation over the fact that someone who has made multiple, easily verified misrepresentations on his resume and Form 700 is still apparently acting as Chief Financial Officer of CalPERS. Among other things, he is still in charge of banking relations and financial accounting, roles where integrity is of paramount importance.
Readers may recall that we ran a series of posts on the misrepresentations that CalPERS' recently hired Chief Financial Officer Charles Asubonten made on his resume and a state-mandated disclosure of financial interest form, the Form 700:
The Los Angeles Times' Pulitzer Prize-winning reporter Mike Hiltzik confirmed the story we broke, and documented additional misrepresentations in Asubonten's resume: Questions about new CalPERS CFO's background and experience should be taken seriously by the pension fund. As we pointed out in our write-up on Hiltzik's article, CalPERS CEO Marcie Frost and Asubonten both effectively admitted to resume fabrications yet tried to act as if they somehow didn't matter.
Let us not forget that C-level executives are normally fired when single misrepresentations on their resumes come to light. And the falsehoods that Hiltzik and I wrote about weren't of the "he said, she said" variety. Most could be easily verified, as we showed, by comparing what Asubonten claimed with publicly available, authoritative documents, such as annual reports of a former employer, stock price records, and a court decision in South Africa.
CalPERS initially appeared to be doing the right thing. Adam Ashton reported in the Sacramento Bee that CalPERS had opened up an investigation into Asubonten in CalPERS has decided to review the claims that its recently-hired Chief Financial Officer Charles Asubonten made on his resume. We pointed out, in commenting on that piece, that Asubonten had made additional misrepresentations that were visible even on the heavily (and excessively) redacted copy of Asubonten's employment application that I obtained via a Public Records Act request. Misrepresentations on an employment application are perjury, which is a felony in California.
Yet Asubonten is presenting on a "business as usual" basis at next week's Finance and Administration Committee meeting: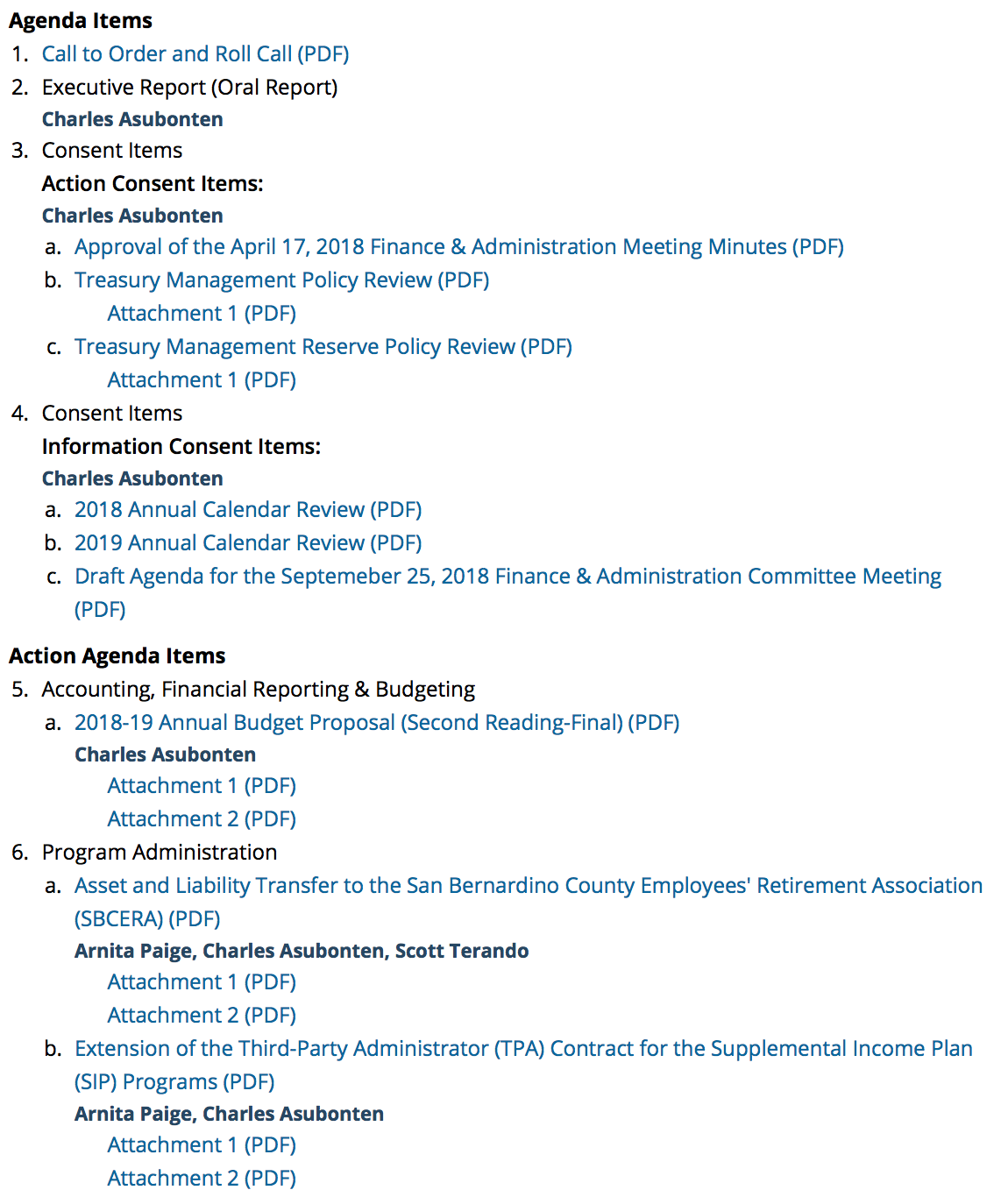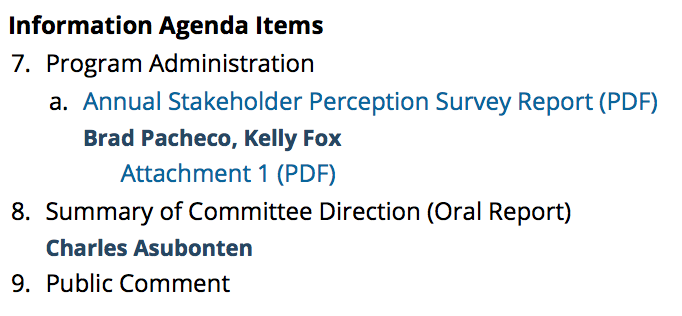 It is remotely possible that Asubonten is being allowed to conduct business in CalPERS' name because the investigation has not been completed. Our understanding is that state employees are not suspended until the allegations against them in a potential disciplinary action have been verified.
But given that it would take no more than an hour of clicking through some of the links in our posts and separately confirming that the links were indeed to independent sources, or verifying the stock price history that both Hiltzik and I pulled, it would seem highly unlikely that an investigation was still underway unless CalPERS for some reason chose to drag it out beyond this set of board meetings.
In addition, putting Asubonten in front of the board in such a prominent manner in light of the controversy over his misrepresentations would only increase the embarrassment to Marcie Frost were she to ask him to leave, which formally is not hard to do, since he is still on probation. Thus it seems almost certain that Frost is doubling down on backing Asubonten despite a virtually unheard of level of public documentation of what anyone with an Internet connection can confirm are numerous falsehoods.
I urge readers who are in California to write their state Senators and Assemblymen about this troubling example of mismanagement at CalPERS. The messages do not have to be long but should stress that they can easily verify the misrepresentations themselves, which is why it is so disturbing to see CalPERS defending a poor and now obviously reckless choice.
Please send this article to everyone you know in California. Encourage them to forward it, post it on social media, and most important of all, write their elected officials. It is highly unusual for members of the public to write the legislature about CalPERS matters; even a few letters will be a big wake-up call, particularly after the Los Angeles Times story.
Here are links to where you can find the e-mail addresses for California Senators and Assemblymen.
Be sure to include at least the chairmen of both pension committees, and even better, all committee members:
Here are the members of the Assembly's Public Employees, Retirement, and Social Security Committee:
And be sure to send copies to:
Marcie Frost Marcie.Frost@calpers.ca.gov
State Treasurer John Chiang john.chiang@treasurer.ca.gov
State Controller Betty Yee b.t.yee@sco.ca.gov
Letters from Naked Capitalism readers in the past have been effective on issues where it is much easier for CalPERS executives to muddy the water than here. So sally forth!
It appears that Frost is making a tremendous error in judgment, and one that puts her in long-term jeopardy.
Frost appears to have lost all objectivity as far as Asubonten is concerned. If she were to have dealt with this situation decisively, no one would remember it in two months. Instead, she is choosing to keep a top officer who is a liability to her and the organization, both by virtue of his verifiable history of fabrication, his lack of qualification for the position (which shockingly Frost seems unable to recognize; CalPERS insiders have confirmed our doubts about his competence) and the risk that even more falsehoods will be exposed.
Frost would be wise to take heed of the recent history of her predecessor, Anne Stausboll. Stausboll managed the timing of her arrival and departure as CEO superbly. She was the one that released the documents showing the massive fees that private equity firm Apollo, which already had a deep relationship with CalPERS, was paying to a placement agent. That kicked off a crisis that was bound to happen at some point. Stausboll thus assumed the mantle at CalPERS at a low point, and stabilized the fund, although we believe she did it a long-term disservice by turning away from transparency and greatly prizing loyalty over competence.
Stausboll kept CalPERS out of major controversies and left just as CalPERS was starting to get regular criticism for its underfunding and poor investment management.
Under Frost's tenure, CalPERS is getting far more negative coverage than it did under Stausboll. The fact that an outsider, Margaret Brown, with no union backing and only modest election funds, was able to oust an incumbent is proof that CalPERS is losing stature. Even loyal beneficiaries want a change in course, a path Frost seems unwilling to follow.
Stausboll, who left at 59 with complimentary press clips, made clear that she was looking for a new position.
If you now look at her LinkedIn page, you can see she failed. She describes herself as retired. The insular CalPERS board's high regard of her was not shared in the wider world.
If Frost wants to chart a career-limiting path for herself, tying an albatross like Asubonten around her neck is just the way to do it.