The latest report from the Maryland Public Policy Institute is short and succeeds at clear and to the point. It is also damning. Its implications are clear: public pension funds all over the US would do better to fire their investment staffs and hand management over to Vanguard, using a simple mix of 60% stocks, 40% bonds.
Moreover, the magnitude of the shortfall relative to the bog standard allocation for long-term retail investors is large. A 60/40 portfolio earned an average annualized return of 6.40% for the ten years ending June 30, 2017. That happens to be a full 2% more than what CalPERS earned on average over this period. To determine the impact more precisely, you'd need to look at the differences in performance on a year by year basis. However, if you simply take CalPERS total assets at the end of fiscal year 2007, which from what I can infer was $254 billion (remarkably, the 2007 CAFR does not seem to be on line any more), and compound a simple 2% forward, you get an extra $55.6 billion. If you added this to its calendar year end 2017 total assets of $350 billion, you'd have $405.6 billion, which would put it an 82.3% funding level versus its 71% mark at year end.1
Anyone interested in public pension funds should circulate this study widely.
The overview of the report focuses on the underperformance and high fees paid by the Maryland state fund, but then discusses its broader findings: that the 33 state funds it studied underperformed that simple 60/40 stock/bond mix, and that the funds that paid more in fees typically did the worst. Note that the 17 states not included had different fiscal year ends or too skimpy information to be studied properly. So there is no reason to think they did any better.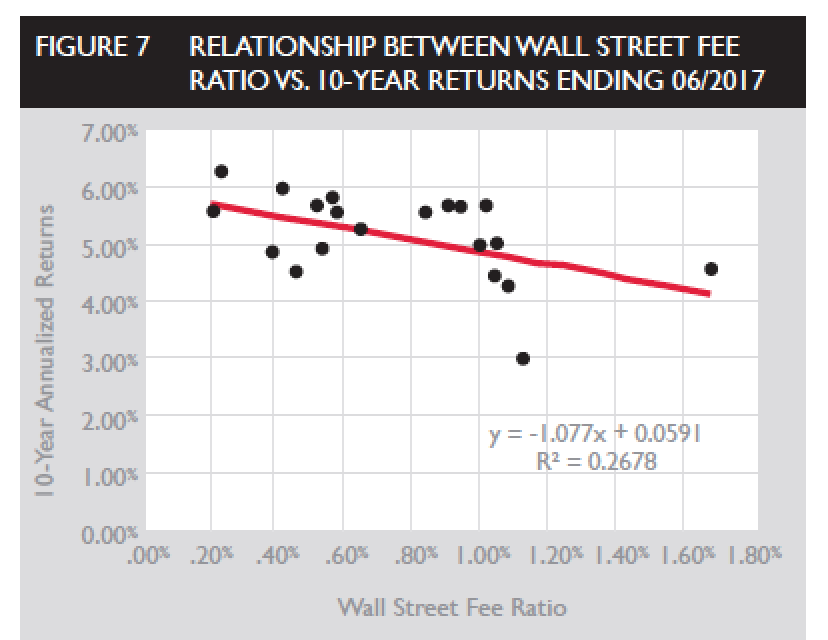 Consider this part:
Our study revealed that the top five Wall Street fee states produced lower investment returns over the last 10 years when compared to the bottom five Wall Street fee states. As shown in Figure 5 and Figure 6, on a 10-year annualized return basis, the top five fee states produced a return of 4.34 percent, while the bottom 5 states returned 5.50 percent.
CalPERS was actually in that low fee group, yet had the worst returns of that cohort, at 4.4%, which was more in keeping with the high fee group average of 4.34%.
One problem the authors attempt to compensate for is the fact that public pension funds report their expenses inconsistently, and even the ones that make a diligent effort to report them all, like South Carolina, aren't fully effective. In addition, for the states that invest in private equity (pretty much all), there is the additional problem of hidden fees charged at the portfolio company level and not reported to investors. Given the lack of reliable data, any approach to this problem is going to have shortcomings. For instance, the analysis winds up making South Carolina look like a high-fee state, when the appearance of it paying a lot in fees is due almost entire to its being the most comprehensive in reporting them. Similarly, CalPERS comes out being on the lower fee end. It ought to be by virtue of its size alone, but in fairness, it also does have a lower allocation to higher-fee strategies than many state pension funds in part due to its having renounced hedge funds in 2014.
The states with higher allocations to alternative asset also did worse: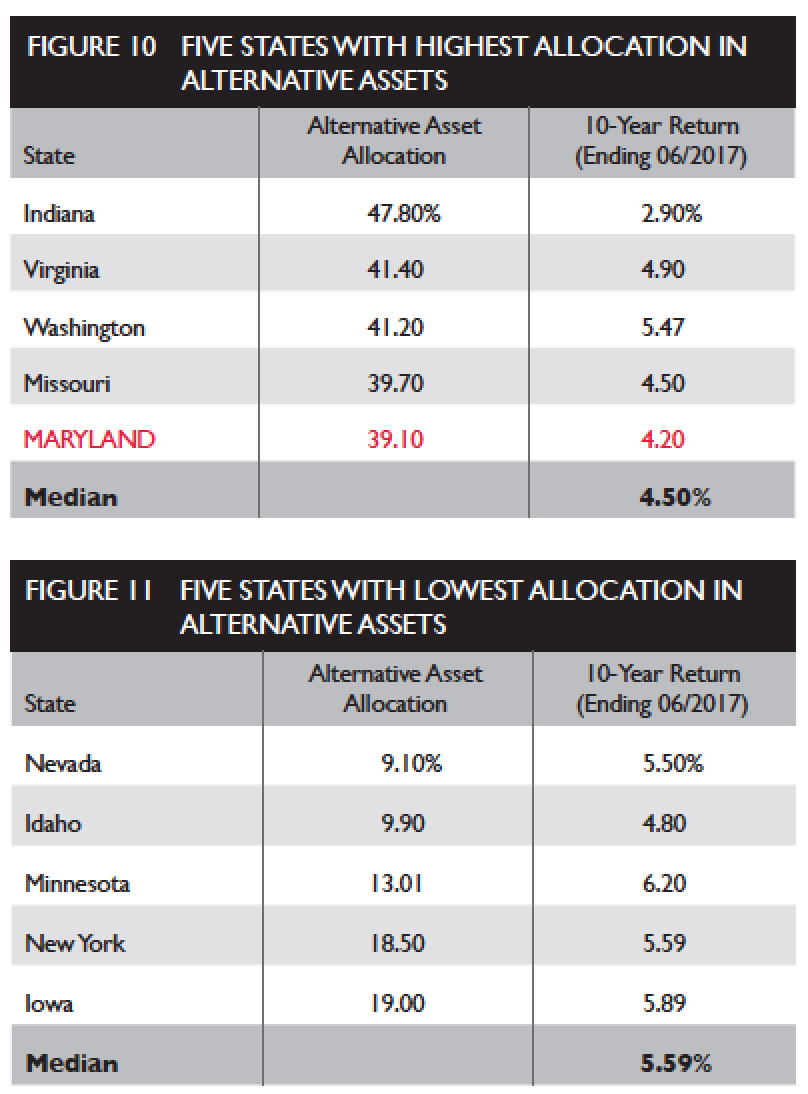 And since we also get asked why CalPERS puts undue faith in private equity, and Wall Street generally, the study's observations are germane:
Many stakeholders have asked us why the Fund, and other state pension funds, insists on active management, when the investment results are inferior to indexing. Our explanations include:
Human Nature: It is human nature to believe that your own fund can do better than others by selecting winning and losing investments, despite scientific evidence to the contrary, such as few mutual funds beating benchmarks for the last 20 years.
Agency Problem: Consciously, or subconsciously, pension fund investment executives do not want to 'index' themselves out of a job.
Investment Consultants: State pension funds hire investment consultants who provide advice to the states and act as gatekeepers to active managers wanting state contracts. These consultants tend to push for alternatives in a portfolio, claiming that alternatives provide better returns
and lower risks, despite the apparent contradiction with modern finance theory.
Stockholm Syndrome: Pension fund executives deal with so many Wall Street professionals and hear so many 'active management' marketing pitches, that they become 'industry captives.'
Note they didn't include soft corruption, like the staffers that oversee private equity investments getting to go to annual meetings in desirable locations like London and New York with lavish food and entertainment, and that more elaborate investment strategies also justify board members going on junkets to conferences overseas.
The final justification is that alternative investments, particularly private equity, allow for staff ot hope for better results. Lambert translated that as "snake oil."
Again, this little report makes a cogent case for public pension funds to do better by doing less. But as the list above indicates, no one at these funds is going to want to cut heads or simplify their strategies, since that would also imply lower pay for those who remain.
____
1 Finance experts would argue that a mere two-asset class portfolio is unduly risky, since more asset classes supposedly put you closer to the efficient investment horizon. Being in more asset classes does not increase return but is supposed to reduce risk. However, this view of the world is based on the Capital Asset Pricing Model, which its creator, William Sharpe, was forced to concede was bogus. A very abbreviated treatment from ECONNED:
[Mathematician Benoit] Mandelbrot's findings were a fundamental blow to economic theory, and have been recently popularized by Nassim Nicholas Taleb, who describes the realm where normal distributions work as "Mediocristan" and the realm where wilder forms of randomness apply as "Extremistan" and shows how most social, economic, and market outcomes reside there.

Other elements of the financial economics superstructure started to look shaky. The CAPM essentially fell apart. One of the problems has been defining the "market" against which individual assets were valued. In principle, it should be much broader than the stock market, since investors buy more than stocks, and perhaps should include all investable assets.

Another fundamental proposition in CAPM was that that investors could borrow unlimited amounts at the risk-free rate. Even Sharpe himself acknowledged that making that assumption more realistic, namely, that real-world borrowers pay a premium to the U.S. Treasury, face credit constraints, and pay even higher premiums with more leverage, was fatal to his construct:

The consequences of including such aspects of reality are likely to be disastrous in terms of the usefulness of the resulting theory. . . . The capital markets line no longer exists. . . . Moreover, there is no single optimal combination of risky securities; the preferred combination depends upon the investors' preferences. . . . The demise of the capital markets line is followed immediately by that of the security market line. The theory is in a shambles.

At that time (1970) Sharpe nevertheless argued for continuing to use CAPM, invoking Friedman's endorsement of unrealistic assumptions and the belief that even a flawed theory was better than no theory.
If you want a simpler argument, the yawning 2% gap between what CalPERS, which hires the best consultants and by virtue its size can invest at lower fees within an investment strategy that pretty much anyone else, says that the theoretical benefits of diversification by asset class don't appear to pay off in practice. That could be due to the fact that asset classes are no longer all that distinct, that returns march together much more than in the past (recall how the entire world seemed to be engaging in "risk on-risk off" trades in 2013 and 2014). Another proof is that hedge fund performance, contrary to the claims of its promoters, have been highly correlated with stock market performance since 2011. Similarly, private equity is essentially leveraged equity, and its apparent differences from stock market performance are largely the result of investor tolerance (indeed preference for) what are openly acknowledged to be phony ("smoothed") valuations, along with lagged reporting (one quarter plus stale results reported as current).
Policy-Report-2018-02