It seems that the Democrats have decided they need some sort of economic message[1] in 2018 after all:
But our plan to bring better jobs, better wages, and a better future to American families goes so far beyond that. #ABetterDeal

Read all of the proposals here: https://t.co/2CPXlViyQ8

— Nancy Pelosi (@NancyPelosi) May 21, 2018
This is great news, because it means we can, finally, put Yglesias's[2] viral and knowingly ironic "economic anxiety" meme to rest. James Kwak gives the origin story in 2016 ("A Cute Joke Gone Too Far"):
For weeks now, Vox columnist Matt Yglesias has been mocking the idea that "economic anxiety" is a substantial factor in the Rise of Trump. Here's one of dozens of examples:

It's strange how even $12 million in illicit Ukrainian money wasn't enough to slake Paul Manafort's economic anxiety.

— Matthew Yglesias (@mattyglesias) August 15, 2016

It's understandable where this particularly highbrow putdown (also used by other twitterers) came from. Belittling the economic anxiety explanation has two understandable if not entirely pure motivations. One is the idea that chalking up Trump's success to economic factors minimizes the central role of racism in his campaign; pointing out other reasons people might have for voting Trump distracts from the main issue or can even be seen (in an illogical sort of way) as an apology for Trump's racism. The second motivation is that, since Hillary Clinton decided to run on the poorly worded "America is already great" theme, talking about economic insecurity only plays into the hands of the enemy; instead, we should just pretend everything is hunky-dory. (Yglesias does not share this second motivation.) But to many people, including me, it seems bizarre to insist that economic anxiety has nothing to do with Trump's success, and much simpler to simply acknowledge that some of his voters are racists, some are worried about their economic prospects, and some are both.

Today, instead of letting the by-now-stale joke simply fade away, Yglesias decided to double down with a column arguing that Trump is all about "white grievance politics," not economic anxiety.
(For whatever reason, all the examples I can find of '@mattyglesias "economic anxiety"' using Twitter search come up "This Tweet is unavailable," and I'm not blocked. The Tweet to which Kwak links doesn't exist, now, either. Odd.) Anyhow, we can inter Matt's meme because Democrats seem to have decided that voters have something to be anxious about. After all, the Pelosi and Co. are now making economic promises like "better jobs" and "better wages," that implies that wages and jobs aren't all that they could be, right?[2]
So I'm going to help the Democrats out with their messaging, working on two assumptions: First, that Democrats wish to address or at least appear to address "economic anxiety" programatically; and second, that Democrats plan to appeal to at least some working class (i.e., waged) Trump voters, especially those who gave Trump the victory by flipping from Obama (which Democrats must do because the electoral college is deeply unfair, or because of gerrymandering, or just possibly because flipping suburban Republicans from Trump isn't the slam dunk Chuck Schumer thought it would be). I'm going to help them out by citing tod all the economic anxieties I can find that make Trump voters distinctive, and I'm going to throw the into the buckets of Maslow's Hierarchy of Needs: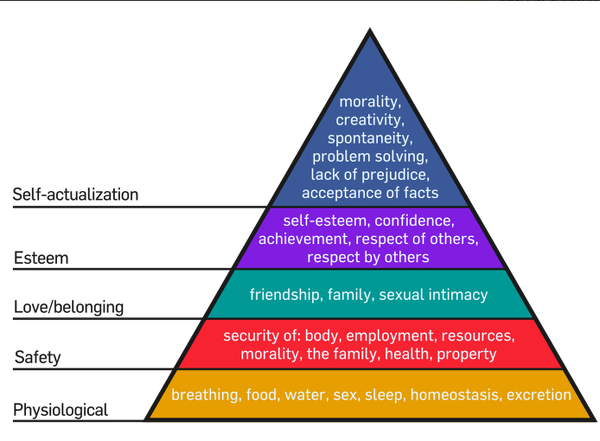 (None of this shows causality, of course, but I think the aggregation is impressive, and we may address causality at a later date.) I don't claim to have found every salient characteristic, and I welcome further contributions from readers. However, I've been collecting these links for some time, and I do try to keep track.)
Safety: Financial Insecurity
Gallup, "Financial Insecurity Higher for Those Who Favor Trump," October 10, 2016:
Americans who view Trump favorably are significantly more likely than other Americans to report feeling financially insecure. The large gap in financial insecurity persists even after controlling for income, education, occupation, party affiliation and various other measures of objective economic circumstances…. those with a favorable opinion of Trump are 23 percentage points more likely to say they are not feeling better about their financial situation these days, 17 points more likely to say they do not feel good about the amount of money they have to spend and 13 points more likely to say they are cutting back on spending…. Republicans and conservatives have reported higher levels of financial insecurity than Democrats and liberals since at least 2013, but these party and ideological differences do not account for the gap in financial insecurity between those who do and do not favor Trump. Republicans who view Trump favorably are still more likely to express economic insecurity on each item than Republicans who view him unfavorably.
(Parodoxically, those with high credit ratings also favor Trump; see here for the county analysis. I would go so far as to speculate that Trump voters high credit scores were Trump's base; and those in financial distress were Trump's margin — the voters who flipped from Obama.[3]) I'm filing this under "Safety" because if you're being hounded by debt collectors you're not safe.)
Physiological: Battlefield Casualties
Douglas L. Kriner and Francis X. Shen, "Battlefield Casualties and Ballot Box Defeat: Did the Bush-Obama Wars Cost Clinton the White House?", SSRN, June 2017:
there is a significant and meaningful relationship between a community's rate of military sacrifice and its support for Trump. Our statistical model suggests that if three states key to Trump's victory – Pennsylvania, Michigan, and Wisconsin – had suffered even a modestly lower casualty rate, all three could have flipped from red to blue and sent Hillary Clinton to the White House… With so much post-election analysis, it is surprising that no one has pointed to the possibility that inequalities in wartime sacrifice might have tipped the election. Put simply: perhaps the small slice of America that is fighting and dying for the nation's security is tired of its political leaders ignoring this disproportionate burden
Odd that "responsibility to protect" only starts at the water's edge…
Physiological: Public Health
From Jason H. Wasfy , Charles Stewart III, Vijeta Bhambhani, "County community health associations of net voting shift in the 2016 U.S. presidential election," PLOS One, October 2, 2017:
We have shown here that poor public health is associated with an aggregate shift towards voting Republican in 2016 compared with 2012. In particular, there was a statistically significant association between this voting trend and nearly every examined measure of public health. These results are important for several reasons. This election was marked by substantial relative differences in party voting. In some cases, states that had traditionally supported Republican presidential candidates shifted away from the Republican nominee while states that had traditionally supported democratic presidential candidates shifted towards the Republican nominee. These shifts realigned [hmm] patterns of party voting. Our results here suggest that aggregate health status was associated with these shifts in voting behavior between 2012 and 2016.

We have also demonstrated that this association of net voting shift with health status was stronger in states that changed political parties from 2012 to 2016. The association of net voting shift per unit of the unhealthy score was 5.9% greater in Iowa, Pennsylvania, Wisconsin, Michigan, Ohio, Florida, and the 2nd Congressional District of Maine than in states that did not shift Electoral College delegates from 2012 to 2016. In that context, although our results cannot demonstrate causality, our results suggest a possible role of public health in determining the ultimate outcome of the overall election.
In other words, poor public health was not only associated with voting for Trump, but with flipping to Trump.)
Physiological: Life Expectancy
Jacob Bor, "Diverging Life Expectancies and Voting Patterns in the 2016 US Presidential Election," American Journal of Public Health, October 2017:
Voters in counties in which life expectancy stagnated or declined between 1980 and 2014 were much more likely to vote for Trump… Nationally, life expectancy increased by 5.3 years during this period. In counties with below-average gains in life expectancy, a majority of voters chose Trump; in counties with above-average gains in life expectancy, most voters chose Hillary Clinton.
Ironically, then, liberal Democrats didn't need to call for the working class people who voted for Trump to die; they already were!
Physiological: Opiods
Michal Kranz and Skye Gould, "These maps show that counties where opioid deaths and prescription rates are highest are also places where Trump won big in 2016", Business Insider, November 2017:
Out of all the counties for which opioid overdose death data has been compiled by the CDC, there are 82 outlier counties where 15 people or more died per 100,000 people. Of these 82 counties, 77 voted for Trump in the 2016 presidential election, according to Townhall.com voting data. With several exceptions, the majority of these outlying counties lie in Appalachia or the rural West…. Historian Kathleen Frydl's research shows an even more striking trend. She noticed that many typically Democratic counties that were particularly heavily affected by the opioid crisis went red on election night. She named this segment of the population the "oxy electorate."
(The connection to Case-Deaton's work should be obvious to readers; see here for one approach.)
The Entire Hierarchy: Well-Being
Jeph Herrin , Dan Witters, Brita Roy, Carley Riley, Diana Liu, and Harlan M. Krumholz, "Population well-being and electoral shifts," PLOS One, March 2018:
Population well-being, an aggregate measure of positive mental, physical, and emotional health, has previously been used as a marker of community thriving. We examined whether several community measures of wellbeing, and their change since 2012, could be used to understand electoral changes that led to the outcome of the 2016 United States presidential election. We found that areas of the US which had the largest shifts away from the incumbent party had both lower wellbeing and greater drops in wellbeing when compared with areas that did not shift. In comparison, changes in income were not related to voting shifts. Well-being may be more useful in predicting and understanding electoral outcomes than some more conventional voting determinants.
Change versus more of the same, eh?
Conclusion
Of course, there are other factors behind Trump's victory, very much including geography (the rural/urban/suburban divide) and racism. However, my goal is provide Democrats with economic talking points. If (with Google) we define economics as:
The condition of a region or group as regards material prosperity.
Then every single one of those items above is an economic issue. What, after all, is more material, or less conducive to prosperity, than falling life expectancy or losing a family member to opioids? Or in a useless war? What is less conducive to well-being? It seems to me that when enormous organic damage is inflicted on a population, the effects can only be political, as we see in the rise of Hitler after the slaughter of millions in the trenches of World War I (or, conversely, the establishment of the NHS after the loss of millions in World War II). It boggles the mind that liberal Democrat apparatchiks and their tame stenographers have been systematically suppressing discussion of economic issues and policies since 2016, and I can only welcome the leadership's new embrace of the topic, however tepid. In any case, it now behooves them to explain how A Better Deal addresses the pain points listed above, concretely. (This applies especially to the competition specialists behind the Deal.) These are all, quite literally, issues of life and death.
NOTES
[1] To be fair, "A Better Deal" is only Pelosi (and Schumer); elsewhere in the Democrat universe of discourse corruption and (amazingly enough) the jobs guarantee are also candidates for messaging (although people like Larry Summers are already rushing in with targeted subsidy schemes that are not universal).
[2] Brian Beutler claims to have invented the phrase; but Yglesias propagated it assiduously, and the knowing still tag him with it.
[3] Making the Clintonite strategy of flipping the Republican base, not Trump's margin, all the more novel.