TSB is beginning to resemble Humpty Dumpty.
Readers might recall him from their nursery rhyme reading days. He could not, following his fall from a great height, be put back together again. TSB's management are resorting to the same approach which onlookers to his accident had. TSB had originally called in "all the king's horses" – well, Accenture, anyway, who got the gig originally here being eulogised in what must now sound like happier times for TSB – but that didn't work. So now they are in the midst's of calling in "all the king's men" – IBM are having a go.
So how are they getting on? There's a persistent background grumbling on Twitter about missing payments and some of the mainstream media (MSM) are continuing to run reports highlighting features that have apparently stopped working such as fraud monitoring and alerting. But as it's been pushed out of the MSM here in the UK by the Royal Wedding, Korea, endless Because Trump and Because Russia stories plus the inevitable Brexit nonsense we get fed, there's little bandwidth left for things like updating people on TSB. And for us Brits, we do tend to get browbeaten by dealing with this kind of situation and fairly quickly merely succumb to resigned acquiescence. Completely contrary to what, say, a New Yorker would do (there's a reason it's called a New York Minute; the British Minute, if we had one, could easily last several days).
As a TSB customer, I have been in the fortunate (?) position of having first-hand information on how the fault-fixing has progressed since the new TSB IT system went live a month ago. Once the scale of the problems had become apparent, I submitted a transaction on my TSB credit card, just to see what happened next.
Here, by way of an update, and we will continue to keep readers informed of developments in the future, is the current position.
First, the good news for TSB is that the basic system stability issues which either prevented TSB's customers from logging into their internet banking service or made access a lottery, seem to be if not completely resolved certainly a lot less of a problem than they were. In my albeit limited testing, I was able to log in without issues and didn't suffer from the random log offs which have made the internet banking service pretty much unusable for at least three weeks.
Once I got access to my product holding, however, matters were just a bad as before. The transaction which I had generated by using my credit card at the end of April is showing as an outstanding amount on the card account. But that is fine for TSB in terms of them knowing what their customers owe them. For we customers who might be now trying to settle our accounts, TSB merely kicks the settlement can down the road and lands it with us. Unfortunately for TSB, in order to make a debt enforceable, the indebted party – me in this case – needs to be notified of the outstanding amount and how they can clear their obligation.
For a credit card, this is served by sending the credit card account holder a statement. For my account the statement cycle should have been triggered on or around the 10th of the month (i.e. May 10th). For the past 10 days, then, I have been eagerly awaiting my statement to arrive (I never opt out of paper statementing) and even if the postal service had delayed it a bit, I should have received it last week.
Nothing has arrived.
Looking online confirmed my suspicions – statement production is still not working: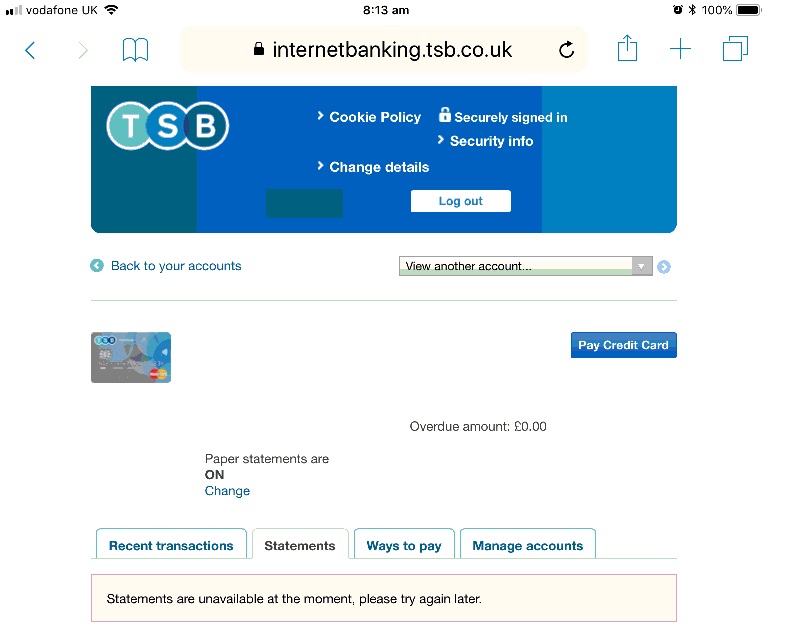 That "statement unavailable" message or other errors have been displayed on this product since TSB's IT migration. I always settle the balance in full anyway but I'm tempted to just do nothing and see how TSB end up responding. If they don't bill me as per my instructions to them to do this by paper statements, there's no legal or contractual obligation for me to pay them. Any late payment fees or interest charges are unenforceable.
And this is after a whole month. If something has broken and can't be fixed in a month, that shows either there's so much fire fighting to be done by TSB that anything which isn't an immediate problem, like money transmission (which needs to happen on the day of instruction), is put on the to-do list but not tackled right now. This would explain why fraud detection and notification or statementing aren't working.
Another possibility is that it's simply not possible to fix those issues at all, or else if you fix them, you break something else as a result. Time will tell.
So stay tuned, folks, for the next exciting installment!