By Lambert Strether of Corrente.
Trade
"Oil rises ahead of OPEC, pressured by China tariffs" [BOE Report]. "Adding extra pressure are global trade tensions. U.S. President Donald Trump last week pushed ahead with tariffs on $50 billion of Chinese imports, starting on July 6. China retaliated by imposing import duties on U.S. products, and suggesting that crude oil tariffs were planned… U.S. bank Morgan Stanley said in a note to clients that the trade spat meant that economic 'downside risks have risen'. U.S. oil exports have boomed in the last two years as shale oil production has surged, with China becoming one of the biggest buyers."
"Expect more fallout this week from President Donald Trump's announcement Friday that $50 billion in goods from China will face new 25 percent tariffs" [Politico]. "A senior administration official told told reporters that the tariffs were aimed at pressuring China to make structural changes to its policies that facilitate theft of U.S. technology and undermine U.S. access to the Chinese market, 'regardless of how you feel about the trade balance.' That implies that a deal satisfying the United States wouldn't necessarily entail a direct and immediate reduction in the trade deficit. But given Trump's laser-like focus on the trade balance, all bets are off. Also note that the first tranche of tariffs, on $34 billion in goods, is scheduled to take effect July 6, which isn't nearly enough time for China to make bureaucracy-shaking changes to prevent the tariffs from happening."
Politics
2020
But Federal taxes don't fund Federal spending:

There's 1 bill in the Senate to tax Wall Street speculators (a financial transactions tax). It's S.805, the Inclusive Prosperity Act introduced by Sen. Sanders. It would raise enough revenue to make public colleges & universities tuition free. So far, it doesn't have a co-sponsor

— Warren Gunnels (@GunnelsWarren) June 17, 2018

Stop trapping us in the austerity box!
2018
"Competitive Fight for U.S. House Brings Big Jump in Ad Spending" (map) [Bloomberg]. "The intensity of the fight for the U.S. House is playing out on the nation's television screens where the number of campaign ads is up more than 50 percent from where it was at the same point in the most recent comparable election year." With handy map.

UPDATE IA More like this, please:


The Iowa Progressives were showing their resistance toward party's Neoliberal Governor Nominee by flashing signs at @FredHubbell as he gave his acceptance speech using DNC approved phase of "quality affordable healthcare" instead of single payer. pic.twitter.com/4dOa13QBS7

— Barbara Ann ⏳?? (@BarbaraAKelley) June 17, 2018

UPDATE IA: "How Polk County funneled $844,000 to private schools through a corporation despite its ban on religious funding" [Des Moines Register]. "Polk County routed $844,000 in public money to nine Catholic schools and one Christian academy in 2012 and 2013 — despite state law and county policies that prohibit public funding for religious institutions. The county paid out the money in the form of grants to a corporation set up to pass the money on to the schools, a Des Moines Register investigation has found." And the called quote: "Official who recommended grants: 'I ain't apologizing for it'."

IA-01: "In Iowa, Republicans and Democrats fight for elusive independent voters, whoever they are" [WaPo]. "Nearly 40 percent of voters here are not affiliated with a political party, making them unpredictable in this era of sharply partisan politics. The group includes Iowans who are fed up with the federal government, tired of gridlock in Congress and distrusting of the major political parties. They are credited with playing a major role in Trump's victory in the district and are expected to decide this fall's midterm elections in the state."

WI: "Shell-shocked Democrats regroup in Wisconsin" [Politico]. "Interviews with nearly two dozen local party officials, candidates and operatives here describe an ongoing effort marked by unprecedented organizing and millions of dollars from out-of-state donors — a reflection of the party's urgency in reshaping the 2020 landscape in the upper Midwest, a Democratic bulwark that Trump toppled in 2016…. Already, more than $7 million has been committed this year toward efforts to reclaim Wisconsin. In recent months, billionaire Democrat Tom Steyer's NextGen America has designated $2.5 million to register and turn out young voters. Eric Holder's National Democratic Redistricting Committee has spent $675,000 on the midterm elections so far. The Democratic Governors Association has reserved about $4 million in air time in preparation for a top-of-the-ticket brawl with Gov. Scott Walker in the fall." So here we are, 140 days before the election, and we're relying on squillionaires like Steyer and Covington and Burling sleaze merchants like Eric Holder to handle what should be a core party function: Voter registration. (Oh, and we're going to turn out young voters. Heaven forfend we should simply aid citizens to enter the democratic process; reminds me of how the legal galaxy brains in the Gore campaign only challenged results in counties they thought they would in, in Florida 2000.)

UPDATE NY "Trial of former SUNY official Alain Kaloyeros to begin Monday" [Newsday]. "The trial of former SUNY official Alain Kaloyeros, who is accused of joining Todd Howe, an ex-lobbyist who had long-standing ties to Gov. Andrew M. Cuomo and close aides, in steering begins Monday in federal court in Manhattan. The twist: Unlike in a quid pro quo bribery scheme, Kaloyeros isn't charged with getting anything back. Instead, prosecutors say the physicist — whose success in attracting nanotechnology research money to SUNY led to an $800,000-a-year salary — hired Howe and tailored bids for large campaign donors to keep his job and stay in Cuomo's good graces after Cuomo became governor." A billion! That's real money!

UPDATE NY-14 "The Queens Machine That Turns Foreclosures Into Cash" [Village Voice]. Great lead: "The three lawyers who run one of the largest Democratic organizations in America have more than one way to get rich." More: "With its large swath of working-class homeowners, Queens was arguably New York City's ground zero for the housing crisis…. Southeast Queens, home to a large African American population, was hit particularly hard by predatory lenders…. The end result of this system is beleaguered Queens homeowners walking into court to face judges who owe their livelihoods to the three men. Friedheim recalled an otherwise pro-tenant Queens judge once paying particular deference to Gallo, knowing the firm he came from. She soon found out why. 'It's totally machine-connected,' Friedheim said. 'That's how it is.'" This is an ugly and tangled story, but I'm not seeing a smoking gun that implicates Crowley. Readers? And do we have any readers from Queens?

UPDATE DC: "In DC primary, minimum wage is the main topic of discussion" [Associated Press]. "The actual election in November is even more of a formality in the District of Columbia, where the Republican Party holds little sway. The greatest question mark surrounds a divisive ballot initiative that would change the way that restaurants and bars pay their tipped employees. Initiative 77 would eliminate the "tipped minimum wage" — the two-tiered system under which restaurant and bar owners pay servers, bartenders and bussers a lower hourly wage with the expectation that they will be compensated with tips from customers." "Divisive." Oh.

* * *

"Conclusive proof that it is Trump's policy to separate children from their families at the border" [Business Insider]. An extraordinarily ugly DHS form. So that's dispositive.

UPDATE "How Trump Came to Enforce a Practice of Separating Migrant Families" [New York Times]. This reads like a good tick-tock on the decision-making by this administration, and previous administrations.

UPDATE The material I accidentally deleted follows–

"Democrats intensify fight for immigrant children — and bludgeon Trump and Republicans ahead of midterms" [WaPo]. "Democrats, actively denouncing [the Administration's] zero-tolerance policy, have remained united against the GOP measures but are pushing a bill by Sen. Dianne of California to immediately block family separations." CA-04, CA-07, CA-10, CA-21, CA-25, CA-39, CA-45, CA-48, CA-49, CA-50…. Good if this happens! If we want to think seriously about policy, we would do several things: (1) center activist demands like abolishing ICE (and Joe Lieberman's DHS, too, while we're at itMR SUBLIMINAL You forgot the DEA!; (2) consider how U.S. support for murderous regimes, the DEA's "War on Drugs," and the destruction of Mexican agriculture fuel immigration (and asylum), for starters; the parallel to the mayhem and chaos our wars have induced in the Middle East, leading to emigration to the EU, is exact; and (3) be consistent and universal in our values, in particular family separation in the carceral state, especially privatized prisons. And that's before we consider death and suffering in the interior, by U.S. citizens ("deaths of despair"). Of course, we're not doing any of those things. Sanders, in particular, is not addressing #2.

"Beto O'Rourke, Veronica Escobar lead Father's Day march on tent city housing separated immigrant children" [Texas Tribune]. "Others attending the demonstration included Lupe Valdez, the Democratic nominee for governor; Democratic state Reps. Mary González of Clint and César Blanco and Lina Ortega of El Paso; and Gina Ortiz Jones, the Democrat challenging U.S. Rep. Will Hurd, R-Helotes; and Julie Oliver, the Democrat running to unseat Republican U.S. Rep. Roger Williams."

"Trump digs in on immigration amid family separation crisis" [Associated Press]. "To Rep. Adam Schiff, D-Calif., the administration is 'using the grief, the tears, the pain of these kids as mortar to build our wall. And it's an effort to extort a bill to their liking in the Congress.'" True, but rather rich from the Party that spent several decades telling the de-industrialized working class that they have "nowhere else to go." No grief, tears, pain for children there, eh? And no extortion, either. I appreciate the liberal thirst to regain the moral high ground, but if they would look downward, they'd see they're standing in sand. Or mud.

"Child Separation and History: the Canadian Residental Schools" [The Incidental Economist]. "There is a closer historical parallel than Nazi Germany: the treatment of indigenous children in Canada…. The system lasted well into the 20th century. About 150,000 children were taken from families and sent to the residential schools. Many children suffered physical and sexual abuse. The Canadian Truth and Reconciliation Commission estimated that 6,000 children died, but the count may be much higher. Many families were never notified that their child had died. That the number of dead children is uncertain is itself an indicator of how the system neglected them. What is the lesson from Canada? Most importantly, mass separation of children from their families can be grievously harmful to those children. Unless a child is in imminent danger of abuse or neglect, don't do it! However, all of Canada was harmed by the residential schools. The policy greatly added to the social inequity and distrust between the colonial and indigenous communities."

"Trump and the Baby Snatchers" [Charles Blow, New York Times]. "I don't have a long treatise to issue here, no meandering argument. I am simply outraged beyond my ability to articulate it. This practice of family separation must end, and Trump and every other politician who was silent about it or worse, endorsed it, must be held to account at the ballot box." Blow makes a strong argument for amnesty for the entrepreneurs who built the marijuana market and were sent to jail for decades during the war on drugs, thereby being separated from their families.
2016 Post Mortem
"Commentary: For Trump supporters, DOJ IG report amounts to 'Told ya so'" [Bloomberg]. "FBI agents getting meals, drinks and tickets to sporting events from reporters? Agents sending "vive la resistance" messages making oversight decisions in Trump's case? Not to mention the new revelation of the 26-year-old New York Times reporter engaged in a romantic relationship with a 57-year-old Senate Intelligence Committee staffer—one of the committees overseeing the RussiaGate probe. Plot twists like these would be laughed out of a script meeting…. The actions of the FBI or DOJ may, in the end, be defensible. No legal line may have been crossed. But for people who elected Donald Trump because they felt like their government viewed them as a problem to be solved and not as citizens to be served, the IG report confirms what they've feared all along."

"EXCLUSIVE: Hillary Clinton speaks at 8th grade graduation in San Francisco" [ABC 7 News]. "Former Secretary of State Hillary Clinton arrived at San Francisco's Hamlin School today for a very hush, hush appearance. She spoke at the private school's 8th grade graduation ceremony." Annual tuition: $34,500.
Realignment and Legitimacy
"Maine Voters Overrule Their Leaders" [The Atlantic]. The headline kinda makes you wonder who's doing the leading… "In 2016, Mainers approved the use of ranked-choice voting in a referendum, becoming the first state in the nation to adopt the so-called instant runoff method. The following year, however, the legislature voted to delay the new system for five years, until 2022, citing concerns about whether ranked-choice voting conflicted with the state constitution. The courts declared that the system would be in place for this year's primaries, allowing voters to test out ranked-choice voting and simultaneously decide whether to keep it. And so on Tuesday, the people of Maine overruled the politicians they elected to represent them, voting in yet another statewide ballot initiative to maintain the system they had already approved and veto the law delaying it. In a boost to advocates who want to expand ranked-choice voting nationwide, the most recent ballot measure passed with a larger margin—nearly nine points compared to four points in 2016—than the first referendum did. ',' Kyle Bailey, campaign manager for the Committee for Ranked Choice Voting, told me in a phone interview. ''" I voted last Tuesday using RCV; it's not hard; and it allowed my to express my preferences more precisely than the first-past-the-post ballot did.

"The Surprises In Maine's Primary Election Results, And What They Portend For November" [Maine Public Radio]. Mal Leary, MPR political correspondent: "Well, the ranked-choice voting folks did exactly what they said they needed to do, and that is . And we can say that by looking at the total turnout for folks who were running for governor, roughly 250,000 people voted in the ranked-choice voting question. When you look at how many people have cast ballots for governor, both Republicans and Democrats, it's still a little under 200,000. That's a big difference. That's a lot of unenrolled voters that the ranked-choice voting supporters got out to the polls. And I think it made a really big difference to them."

"So who won 2 of Maine's Democratic primary contests? Scanning, scanning …" [Portland Press-Herald]. "It's a time-consuming process that election officials expect to Monday, at least. The ranked-choice tabulation, meanwhile, is not expected to happen until Tuesday, although that timeframe could change." New voters showed up at the polls. And reporters need to wait to file their horse-races stories. Somebody call the w–a-a-a-m-bulance!

* * *

"Liberal Democracy Is Under Attack" [Der Spiegel]. "The upshot is that global politics are currently dominated by a handful of men — and only men — who have nothing but contempt for liberal democracy and who aspire to absolute control of politics, of the economy, of the judiciary and of the media. They are the predominant figures of the present — and the decisions they make will go a long way toward shaping the future ahead. finds itself in the middle of a slide back into the age of authoritarianism." Wowsers. I've helpfully underlined the material Thomas Frank of Listen, Liberal! would find especially intriguing…. (I've been listening to a lot of Thomas Frank lately. I can't understand why he doesn't have a forum here, in this country….

UPDATE "It Can Happen Here" [Cass Sunstein, New York Review of Books]. "Milton Mayer's 1955 classic They Thought They Were Free, recently republished with an afterword by the Cambridge historian Richard J. Evans, was one of the first accounts of ordinary life under Nazism." Lambert here: I cannot recommend Richard Evans' three-volume history of the Third Reich highly enough, and They Thought They Were Free is excellent, too. More: "With our system of checks and balances, full-blown authoritarianism is unlikely to happen here, but it would be foolish to ignore the risks that Trump and his administration pose to established norms and institutions, which help preserve both order and liberty. Those risks will grow if opposition to violations of long-standing norms is limited to Democrats, and if Republicans laugh, applaud, agree with, or make excuses for Trump—if they howl with the wolf." Ironically, Cass Sunstein, the "nudge theory" expert and Obama administration advisor, was also an advocate for "cognitive infiltration of extremist groups," prefiguring the million-dollar troll army David Brock ran for the Clinton campaign. I won't use the word "Stasi" but feel free to think it…
Stats Watch
Housing Market Index, June 2018: "Acceleration is not the indication from the home builders' housing market index" [Econoday]. "The reading for traffic is the lowest since November and is not a good sign for the homestretch of the Spring housing season." And: "A lot less than expected as the housing slump continues" [Mosler Economics].
Retail: The Electronic Entertainment Expo, commonly referred to as E3, which is a premier trade event for the video game industry, ended last week and top analysts are super-bullish. With gaming sales poised to grow an incredible 50% year-over-year in 2018, and grow annually a stunning 27% between 2017 and 2020, there could be some big upside for the top companies in the industry" [247 Wall Street]. Sanders better be making himself an avatar….
Retail: "Starting next month, Etsy is raising the transaction fee it charges sellers to 5% from 3.5%, and it will add a 5% fee on shipping costs" [Wall Street Journal]. Analysts and investors had suggested Etsy explore secondary revenue streams as growth slowed in in recent years and the company said it was working to find the right 'balance' between its technology and e-commerce functions. The response from Etsy's users was mixed, with some makers vowing to close up shop and head for cheaper online marketplaces. But a general manager with Etsy said the changes were designed "with the benefits to our sellers in mind," adding, "Etsy is only successful when our sellers are successful.'"
Shipping: "Cass Freight Index Report is strong again in May" [Logistics Management]. "The most recent edition of the Cass Freight Index Report from Cass Information Systems pointed to an ongoing thesis describing the state of the United States freight economy as "extraordinarily strong," given the ongoing gains in freight shipments and expenditures…. [Broughton Capital Founder and Managing Partner Donald Broughton] added that the first five months of 2018 are so strong that barring a negative 'shock event,' 2018 will be a very strong year for the transportation sector and the economy…. 'We have to go back to the easy comparisons of 2009-2010 to find such large percentage increases and the current comparison is anything but easy,' Broughton wrote."
Shipping: "Long freight trains are likely here to stay, given their vaunted status among railway investors–major railroads now report average train length with quarterly earnings, as a way to signal improving efficiency" [Wall Street Journal]. It occurred to me that the railroads could game their average train length by increasing the amount of slack in their trains, but I think I'm too cynical; the length of the sidings that allow one train to pass another are a real-world constraint on the lengths of trains. Oh well!
Shipping: "Changes in parcel landscape loom large as UPS, Teamsters knock heads again" [DC Velocity]. "The UPS Inc. of 2023 may be a very different company from the one that exists today. By then, brown drones may fill the skies. Package cars may operate with the driver in the passenger seat. Sunday deliveries may become routine. Local deliveries might be handled by citizen drivers using their personal vehicles instead of by professionals in the ubiquitous UPS vans. UPS robots could be walking parcels from one urban location to another. Deliveries may be made in 30 to 45 minutes after an order is received. Amazon.com Inc. may no longer be a big UPS customer, but rather a full-fledged competitor…. It is against this backdrop that UPS and the Teamsters union will hammer out collective bargaining agreements for the carrier's small-package and less-than-truckload (LTL) operations to replace the five-year pacts that expire July 31. At stake are the livelihoods of 268,000 employees, relationships with 1.5million regular customers, and the direction of the $100 billion U.S. parcel market, and, by extension, the nation's commerce."
Shipping: "Public trucking companies are logging some of their best results in years, but Wall Street is wary of whether the boom can last" [Wall Street Journal]. "Chattanooga, Tenn.-based U.S. Xpress Enterprises Inc. returned to public markets Thursday…, the second trucker to complete an initial public offering in the U.S. since 2010, excluding those done via acquisitions. But shares priced lower than expected, signaling investor concern that robust demand for trucking may have a limited window."
Shipping: "Analysts expect it will get harder and more expensive for companies to ship goods as demand increases in late summer and early fall, when shipping volumes typically peak" [Wall Street Journal]. "Analysts say large retailers and manufacturers have an advantage in the current market because they have contracted rates for much of their freight and don't have to rely on the spot market, where shippers book last-minute transportation and pricing is more volatile. But surging volumes mean some carriers are turning down loads that take them out of their way or refusing to deliver to locations known for long wait times at the loading dock."
Shipping: "Business Is Booming at the Panama Canal" [Wall Street Journal]. "Ships moving natural-gas and petroleum-product exports from the U.S. are the fastest-growing business for the Panama Canal, with annual revenue from tolls growing more than 20 times over the past two years….. Rising prices for ship fuel favor crossings through Panama that cut sailing time from Asia to the U.S. East Coast by more than 10 days compared with crossing the Suez Canal."
Concentration: "Maybe the Big Four Auditing Firms Do Need to Be Broken Up" [Bloomberg]. "So far, it's hard to know what's happening. One U.S. study, using data through 2013, found no relationship between the quality of firms' audit work and their aggregate consulting billings — but did find such a link at the individual audit- client level. In 2017, the International Forum of Independent Audit Regulators reported deficiencies in 40 percent of the audits its members inspected, down from 47 percent in a 2014 report. But again, interpreting these numbers isn't straightforward: They depend on what regulators choose to inspect and how tough they choose to be. Anecdotal evidence suggests that auditors' work still leaves much to be desired."
The Bezzle: "Tesla Short Sellers Sitting on $14 Billion Bomb That's Ready to 'Explode'" [247 Wall Street]. "As of the end of May, short sellers held nearly 31% of the outstanding float of Tesla Inc., a total of just over 39 million shares. That is a virtual tie with the highest level of short interest in Tesla in the prior 12 months….
The Bezzle: "Audi CEO Rupert Stadler arrested on emissions scandal investigation" [FreightWaves]. "The story has been unraveling itself for close to three years now, with evidence against the company mounting every year. Nonetheless, CEO Stadler had long swum under the radar, but the scandal has now gone too far for the company to turn things around. Last year, Zaccheo Giovanni Pamio, the head of thermodynamics in the diesel engine development department of Audi, was caught lying to the U.S. Environmental Protection Agency with charges of wilful law-flouting that ran deep into the higher management of Volkswagen and Audi. Various investigations are going forward as the German government is looking to see if the emissions test cheating was a concerted effort by all the major automakers to violate antitrust laws and breach EU air pollution standards knowingly. Audi, on its part, has been . With the arrest of CEO Stadler, the number of current and ex-executives of the company that are under the scanner have come to 20." From The Department of "Is Everything Run Like CalPERS?"
The Bezzle: "The SEC Will Leave Good ICOs Alone" [Bloomberg]. "[William Hinman, the Director of the Division of Corporation Finance at the Securities and Exchange Commission] suggested that, at least in limited cases, the SEC agrees with the notion that cryptocurrency startups can raise money by selling tokens (or token contracts) as securities early on before launching their network, but then flip into non-security 'utility tokens' once their networks are running and the tokens are usable."
The Bezzle: "Two Former Roadrunner Transportation Executives Charged Over Accounting" [Wall Street Journal]. "The indictment alleges that in 2014, Messrs. Wogsland and Naggs identified more than $7 million in misstated accounts and then left them on Roadrunner's books until early 2017 in order to boost the company's financial performance. The accounts included 'old, uncollectable customer debts with static balances; understated and increasing liabilities for historic debt owed by terminated drivers; and overstated accounts for licenses and other 'prepaid assets' that no longer had any actual value,' according to a Justice Department press release." Well, well. Presumably these practices are not ubiquitous.s
The Bezzle: "Ohio looks toward future of e-schools as ECOT assets are sold off" [Cleveland]. "Funding of e-schools was at the heart of the battle that forced the closure of what was once the largest charter school in Ohio and once the largest online school in the nation. For years, Ohio paid online schools for each student that was enrolled, but test results were poor and the state never made sure students participated in classes from their computers at home. After a 2015 charter reform law increased requirements to track student work, the Ohio Department of Education began demanding records of how long students spend on e-school websites. That led to two findings against ECOT, one for $60 million and another for $20 million, when it could not show students working online enough hours."
Five Horsemen: "In late morning trade, Facebook and Amazon are at record highs" [Hat Tip, Jim Haygood].
NakedCap Mania-Panic Index: "After Friday's mild market decline, the mania-panic index dipped to 63 (complacency) as the plurality of new highs over new lows continued to deteriorate" [Hat Tip, Jim Haygood]. (The NakedCap mania-panic index is an equally-weighted average of seven technical indicators derived from stock indexes, volatility (VIX), Treasuries, junk bonds, equity options, and internal measures of new highs vs new lows and up volume vs down volume … each converted to a scale of 0 to 100 before averaging, using thirty years of history for five of the seven series.)
Health Care
"The Limits to Trump's Medicaid Freedom for States" [Governing]. "[I]t turns out that there are limits to what the Trump administration will let states do. Here's what CMS has already declined, and what's still up in the air…." Declined: waiver for "three-year time limit for people to use Medicaid" (KS); "[Dropping] eligibility from 138 of the federal poverty line to just 100 percent" (AR). Pending: work requirements for Medicaid beneficiaries (AL, KS, MS, OK, SD); "drug test Medicaid applicants and deny them health care if they test positive" (WI).
Class Warfare
"The Death of a Once Great City" [Harpers (page 2)]. "What plagues New York, though, is not only the astounding rise in housing prices, disruptive as that is. It is also the wholesale destruction of the public city. Many of the city's most treasured amenities, essential to its middle-class character and built up for decades through the painstaking labors of so many dedicated individuals—working people and philanthropists, labor leaders and social workers, reformers and politicians—have now been torn away. Look at almost any public service or space in New York, and you will see that it has been diminished, degraded, appropriated…. The reasons for the subway's breakdown are legion. But the more telling lesson here is that a tax on the wealthiest New Yorkers to restore even the most vital public good cannot be so much as entertained." Much discussion of these and similar issues at the last New York meetup. It would be interesting to see if meetups in other cities that are "optimistic, diverse, dynamic, moving forward," like New York.
News of The Wired
"Human single neuron activity precedes emergence of conscious perception" [Nature]. "One of the greatest challenges of cognitive neuroscience is bridging the gap between the binary activity of single neurons and the complexity and vividness of conscious experience." And when we solve that challenge, imagine the possibilities for marketing!
"Some people can feel it on their own bodies when others are touched, hit, or stroked — and researchers are trying to figure out why" [Business Insider]. "Mirror-touch synesthesia." I wonder if people can be trained to do this.
"Decades-old PGP bug allowed hackers to spoof just about anyone's signature" [Ars Technica]. "For their entire existence, some of the world's most widely used email encryption tools have been vulnerable to hacks that allowed attackers to spoof the digital signature of just about any person with a public key, a researcher said Wednesday. GnuPG, Enigmail, GPGTools, and python-gnupg have all been updated to patch the critical vulnerability. Enigmail and the Simple Password Store have also received patches for two related spoofing bugs… The flaw, indexed as CVE-2018-12020, means that . It also has the potential to affect uses that went well beyond encrypted email." Not to defend Trump, but you will note that he set up a physical channel with the North Koreans, one of whom brought him a package, and a private verbal channel with Putin (in the conversation the political class went nuts about because no staffers were present). I cannot, however, recall a similar episode with Xi. Or am I overthinking this? Reader?
For quiet car fans:
Good morning to everyone except people who talk in the quiet car. #quietcarrules

— Amtrak (@Amtrak) June 15, 2018
IMNSHO, the most obnoxious variety of mobile phone is the walkie talkie, where you get to hear both sides of the conversation, with the sound coming from the speaker so distorted that you can't help but listen to it. Well, the other day I had to listen to a bunch of teenagers trying to arrange a sleepover using Alexa. TEENAGER: Alexa, text Mom _____…." ALEXA: "I'm sorry, I don't understand." TEEN: "[etc.]." Took them about ten minutes and they never did organize it (each one of 'em had to try). That's just as obnoxious as a walkie-talkie, in my book. Nobody seems to consider virtual assistants as as source of sound pollution in public spaces. But they are.
* * *
Readers, feel free to contact me at lambert [UNDERSCORE] strether [DOT] corrente [AT] yahoo [DOT] com, with (a) links, and even better (b) sources I should curate regularly, (c) how to send me a check if you are allergic to PayPal, and (d) to find out how to send me images of plants. Vegetables are fine! Fungi are deemed to be honorary plants! If you want your handle to appear as a credit, please place it at the start of your mail in parentheses: (thus). Otherwise, I will anonymize by using your initials. See the previous Water Cooler (with plant) here. Today's plant (SV):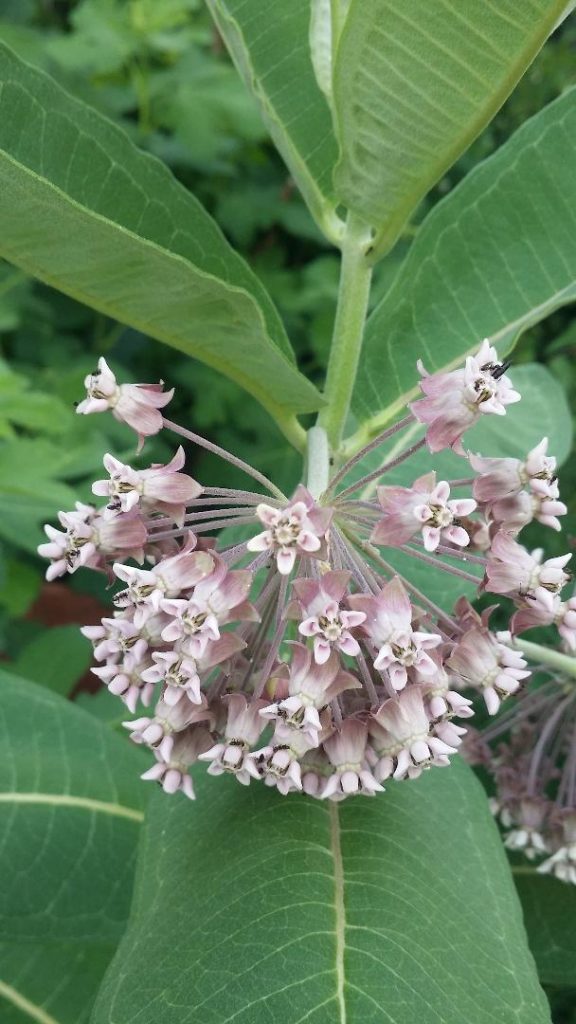 SV writes: "Have wanted these guys for so long in our garden…I forget why! But the paucity of pollinators is getting frightening."
* * *
Readers: Water Cooler is a standalone entity not covered by the annual NC fundraiser. So do feel free to make a contribution today or any day. Here is why: Regular positive feedback both makes me feel good and lets me know I'm on the right track with coverage. When I get no donations for five or ten days I get worried. More tangibly, a constant trickle of small donations helps me with expenses, and I factor that trickle in when setting fundraising goals. So if you see something you especially appreciate, do feel free to click the hat!

To give more, click on the arrow heads to the right of the amount.
If you hate PayPal — even though you can use a credit card or debit card on PayPal — you can email me at lambert [UNDERSCORE] strether [DOT] corrente [AT] yahoo [DOT] com, and I will give you directions on how to send a check.