Patient readers, I ended up writing too many little essays and not getting to everything else I wanted to do, so expect a bit more shortly. –lambert UPDATE And then I had a necessary conversation… UPDATE 2:45PM All done.
By Lambert Strether of Corrente.
Trade
"U.S. LNG not included in China's targeted tariff list" [Kallanish Energy]. "According to [Wood Mackenzie's head of Asia-Pacific Gas and LNG, Nicholas Browne], China's announcement last Friday, that it would pursue duties against the U.S. if Washington made effective its tariffs plan on July 6, excludes LNG for two key reasons. 'Firstly, LNG demand is growing rapidly in China. Secondly, the U.S. will be the key source of incremental supply growth in 2018 and 2019,' he said…. LNG has played a crucial role in limiting the extent of gas shortages during the last Chinese winter…. The U.S.-China trade war is at a 'nascent stage' with an uncertain extent or duration. However, Browne believes LNG is clearly seen as an essential good by the Chinese government… 'In the event of an escalation, LNG is likely to remain outside the bounds of any additional tariffs,' he concluded." So, in a game of chicken, China putting tariffs on LNG would be throwing the steering wheel out the window. And the moreso the more winter nears.
"Staying Ahead of the Electronics Component Shortage" [Industry Week]. "The shortage was caused by a classic case of demand far outstripping supply. Think back about a decade ago to the Great Recession. Suppliers were left with lots of inventory when demand dried up, seemingly overnight. Those same suppliers have operated out of an abundance of caution ever since, not believing orders, or demand, when it appeared. Back to today. We are experiencing a global innovation boom with connected gear in everything from clothing to consumer electronics to automotive manufacturing. This surge shows no sign of slowing. In fact, data indicates that the need for electronic components is growing exponentially. The problem is, they can't be manufactured quickly enough to keep up with demand. This is not a material shortage; it's a fabrication shortage…. Soon after the Trump administration slapped tariffs on aluminum and steel imports, China threatened to place duties on U.S. exports including electronics—though they have yet to pull the trigger."
"Tariffs present different global supply chain situations for shippers" [Logistics Management]. "For nearly 18 months, or even longer, there have been steady gains in United States-bound imports from China, with much of it due to the pending, now actual, tariffs, which have been by viewed by many as protectionist measures. What happens now remains to be seen on myriad fronts, but one thing for certain is that these new tariffs are not catching anyone by surprise…" This paragraph especially caught my eye:
Much of what is driving the White House's tariff endgame is the need to compete on a global basis, which requires the U.S. being able to grow its global exports, according to Walter Kemmsies, Managing Director, Economist and Chief Strategist for JLL's U.S. Ports, Airports and Global Infrastructure Group.

'It is important, as the U.S. [collectively] is not the youngest or most vibrant consumer group in the world,' he said. '. If you are really going to grow, you want to tie your economy to where the consumers are spending and the consumer is global and spending on things like food, where we are really well positioned, clothing, automobiles and appliances. We are also the world's most efficient plastics producer….we need to leave the markets open for that and also to compete on an equal basis. In the end, what the U.S. really is asking the world is to 'let our companies compete with yours on an equal basis.'"
Kemmsies is pointing to a deficiency in aggregate demand, even if he's not using that language. If you want 'vibrant' millennial consumers, try a Debt Jubilee. Combine that with an industrial policy to protect the industries behind our newly built tariff walls, and you might have something. Neither political party nor the political class generally will even consider either solution, of course, so if you are "really going to grow," you need to do something about that. Paging today's Philippe Égalité….
"The Trump administration's tough line on trade is reshaping economic alliances around the globe. Japan is finding common ground with China after years of skirmishes over territory and security…, as U.S. tariffs threaten Japanese firms that export semiconductors and other high-tech electronics to Chinese factories" [Wall Street Journal]. "Japan, which exported roughly $137 billion of goods to China in the most recent fiscal year, needs 'a hedge against Trump,' says one expert, while Beijing is looking to Japan for investment and expertise in advanced manufacturing as its economy slows. Meanwhile, the European Union and Australia launched free-trade talks Monday as other U.S. allies seek to strengthen economic ties in the wake of tit-for-tat tariffs."
Politics
2020
"Et Tu, Bernie?" [Chris Hedges, Truthdig]. I'm sympathetic to Hedges' position but not very much; the Hedges' wing is the very last place I'd look for a political strategist. "Paris is worth a mass," and if Sanders is getting a million views on a #MedicareForAll Town Hall, then have at it, say I.

UPDATE "Elizabeth Warren can unify Democrats and take back the White House" [The Hill]. "Any Democrat who wants to claim the Democratic standard in 2020 needs to appeal to both the Sanders and the Clinton wings of the party. If the Democratic nominee is poison to the Sanders followers, there will be an ugly scene at the convention, no show voters and some defectors to the Green Party…. Warren could bridge the gap between the two camps and she clearly is one of the frontrunners in the early going in the Democratic presidential sweepstakes…. Warren supported Clinton and unlike Sanders is an ardent Democrat. But there's not a dime's worth of difference in the stands between the positions of the two progressive Democratic senators. Warren is a fierce advocate of everything Sanders and his followers stand for. She actively supports his Medicare for All Plan, his comprehensive job program and his stand to negate the Supreme Court's Citizens United decision." Then again, if Warren had supported Sanders outright in 2016, she might be a high administration official today. Just saying.
2018
VA-10: "VA-10: Comstock Moves From Toss up to Lean Democratic" [Cook Political Report]. "Two-term GOP Rep. Barbara Comstock (VA-10) is a tough, resilient campaigner who has persevered as the prosperous Northern Virginia suburbs have zoomed away from her party in the Trump era. In 2016, she won reelection by six points while Hillary Clinton carried the seat 52 percent to 42 percent. But in the current political environment, Comstock is the single most vulnerable Republican incumbent in the House. Last Tuesday, Democratic strategists got what they wanted when state Sen. Jennifer Wexton comfortably won her primary, taking 42 percent to former State Department official Alison Friedman's 23 percent. Wexton, a former domestic violence prosecutor, is a proven vote-getter in Loudoun County, home to nearly half the 10th CD's residents (in 2016, Comstock was able to portray her opponent as a wealthy DC carpetbagger)."

IN: "GOP Poll: Donnelly in Position to Win in Indiana" [Inside Elections]. "After defeating a flawed candidate in 2012 and President Donald Trump winning Indiana in 2016 by nearly 20 points, Sen. Joe Donnelly is widely regarded as one of the most vulnerable Democratic senators in the country. But don't count him out yet, according to a new Republican poll."

* * *

UPDATE "Trump Escalates Family Separation Featured In Obama's Deportation Machine" [Splinter News]. A tick tock. "The material outcomes of Obama and Trump's deportation approaches, and the reaction among Democrats to both, tell us a lot about the circumstances in which incontrovertible violence is deemed acceptable in America…. Trump is adding to a foundation developed by Obama, who aggressively detained and deported undocumented immigrants for nearly his entire presidency. He did so while acting as though he was little more than a manager of the system—a helpless custodian of the law. There seems to be confusion. To be clear, family separation and child detention are a basic feature of American deportation proceedings. They occur on a routine and systematic basis, even if the government in charge isn't pounding its chest about it…. Obama organized ad campaigns in Central America that used the violent specter of these experiences to try and dissuade people from coming to the U.S. or sending their kids unaccompanied…. Unmistakably, Obama built a massive deportation machine, which involved the systematic detention of children and separation of families. Advocates organized against the administration on these issues for years, warning that it would only get worse if a Republican were to gain control of it. Judging by the discourse on immigration today, they were ignored. Now that Trump has materialized as the nightmare Republican from the future, which activists had warned about, Democrats and liberals avoid culpability and whitewash the past." Note Obama's ad campaign, which explicitly uses the threat of taken children to deter parents. So Trump's unique cruelty, in this example, is a matter of tone policing, not policy.

UPDATE "What's real, and what's not, about the U.S. border crisis" [Globe and Mail]. Another tick tock. "Nielsen has muddied the debate by insisting that children will only be separated in narrow circumstances, including if the adult has broken the law. That falsely leaves the impression that only children travelling with gang members or other violent criminals will be separated. But under U.S. law, the act of crossing the border without proper documentation is itself a crime and would trigger a separation. The result is that in the six weeks following Sessions' announcement, nearly 2,000 minors were separated from adults at the border." Trump could fire Sessions, killing several bird with one stone…

"Breaking through the administration's lies on immigration" [Columbia Journalism Review]. "There is no law requiring parents and children to be separated at the border; the administration has made the choice to refer parents crossing the border illegally for criminal prosecution rather than handling the cases in civil court." "Illegally." See: "Are undocumented immigrants committing a crime? Not necessarily" [CNN]. "Under federal law, it is a crime for anyone to enter into the US without the approval of an immigration officer — it's a offense that carries fines and no more than six months in prison." And: "Is Illegal Immigration a Crime? Improper Entry v. Unlawful Presence" [FindLaw]. "To be clear, the most common crime associated with illegal immigration is likely improper entry. Under federal criminal law, it is misdemeanor… [M]ere unlawful presence in the country is not a crime. It is a violation of federal immigration law to remain in the country without legal authorization, but this violation is punishable by civil penalties, not criminal. Chief among these civil penalties is deportation or removal, where an unlawful resident may be detained and removed from the country. Both improper entry and unlawful presence should be avoided by any immigrant to the United States, but an illegal alien cannot be criminally charged or incarcerated simply for being undocumented." This is all insanely complex, current controversies aside. Makes me wonder if there's some sort of existential crisis in the notion of the nation-state (which "open borders" people, at the very least, wish to radically reconstitute).

"Separating Families At The Border: The Hysteria Overlooks Some Key Facts" [Investor's Business Daily]. "But those protesting family separations should at least acknowledge that there are reforms available that don't involve returning to the days of 'catch and release,' while still keeping families together — which is the ideal solution — such as letting children stay in detention centers for more than 20 days, and boosting funds for family shelters at the border. Getting such reforms done in today's massively polarized environment, however, is unlikely. The question is, who's to blame for that?" I rarely quote IBD, but that "ideal solution" is telling.

"On Blue Waves, Red Meat, and Black Outreach" [RealClearPolitics]. "Against this furious pace of boxes checked and promises kept [by Trump], Democrats are accomplishing close to nothing – which is understandable, given that they do not control either house of Congress. But the larger problem is one of messaging caused by that structural reality: With no weapons for hunting, it is hard to produce red meat. In other words, when you hold no levers of power, you cannot generate concrete accomplishments upon which campaign talking points are based. This is the essential component of our current political climate that undermines hopes of a 'blue wave' in November. In any environment, Trump's skill at promotion and larger-than-life persona would consume the lion's share of oxygen; in this context, it will be difficult for Democrats to make their "Resistance" agenda look like much more than heel-nipping and sour grapes – not least because it amounts to heel-nipping and sour grapes." The author was a speechwriter for McCain-Palin, so this is effectively written, but do take it with a truckload of salt. I'm filing this with the rest of the #KeepFamilesTogether material for obvious reasons.

UPDATE An important thread on Obama and "border separation":


Thread: How did we get here?
In 2015, I shook President Obama's hand, thanked him for DACA, and asked him to reverse course & close the for-profit baby jails (also known as "family detention centers") he opened in Dilley & Karnes City, Texas. What he said shook me to my core 1/ pic.twitter.com/K5vi6S2RPj

— R. Andrew Free (@ImmCivilRights) June 19, 2018
UPDATE "If Only Michelle Obama Was Speaking Up for the Children of Flint! #ImmigrantChildren" [Medium]. "The last I checked the children of Flint were still without water, a contamination that culminated under her husbands watch, allowed by a GOP Governor and created by democrats (NAFTA) who ran the entire state, Detroit and Flint for decades. Democrats are now throwing around words like, 'internment camps' to describe immigrant housing, words to invoke fear and anger in their electorate but were silent when Obama did virtually the same. If they really want to see an area of children oppression that resembles an interment camp, they should go to Flint and look into the faces of children and babies who are poisoned for life and generations affected as well."
Lambert here: This brings me to a comment from alert reader MyLessThanPrimeBeef:
Let's focus on protesting (yesterday, today and tomorrow) and (here in this country where we can see, or the manipulators make sure you see, or elsewhere in the world as well, where our MSM cameras often choose not to see).

It has the appearance of virtue signaling (not that we know for sure), if or when we pick and choose.
I mentally flagged their comment because the lack of consistency and universality is what causes me to have such a visceral reaction to the liberal Democrat #KeepFamilesTogether campaign: It's grossly inconsistent (see above) and not universal. (I don't want to get up on my high horse too much; who among us is consistent about everything? And my universalism drops off sharply at the water's edge; see here).
But here's the deal: American slavery was uniquely profitable because, alone among the slave societies who participated in the Atlantic Slave Trade, our slave population reproduced itself. Thomas Jefferson: "In 1792 [Jefferson] calculated that the births of slave children produced capital at the rate of 4 percent per year: 'I allow nothing for losses by death, but, on the contrary, shall presently take credit four per cent. per annum, for their increase over and above keeping up their own numbers'" (scholarly controversy, in which I have just taken a side). However, today, at a macro level, for large slices of the American population (not the 1% or the 10%) life expectancy is decreasing (which has political ramifications, as it would and should). If this trend continues, our capitalist masters in the 21st Century will have done a worse job with their dependent population than the Slave Power did in the 19th. But oddly, or not, I don't see any hash tag activism or virtue signaling from liberal Democrats on this issue at all. Ten of thousands of excess deaths (of despair), families destroyed, communities devastated, and…. ***crickets***. One can only speculate why. A whirlwind, apparently, can be sowed in complete silence. Good to know.
Realignment and Legitimacy
"Judge Strikes Down Kansas Voter Law, Orders Sec. of State Kobach to Take Classes" [Governing]. "Robinson's ruling amounted to a takedown of the [Kansas voter citizenship law] that Kobach had championed and lawmakers approved several years ago. She found that it 'disproportionately impacts duly qualified registration applicants, while only nominally preventing noncitizen voter registration.' 'If eligible Kansans' votes are not counted despite believing they are registered to vote, it erodes confidence in the electoral system,' [Judge Julie] Robinson wrote…. Robinson rejected Kobach's argument that the law was needed to prohibit voter fraud. She said of the tens of thousands of people whose voter registrations have been canceled or suspended because of a lack of proof of citizenship, less than 1 percent have been confirmed to be non-citizens…. The ruling was also a slap against Kobach as an attorney. Robinson wrote Kobach had a 'well-documented history of avoiding this Court's orders.' She repeatedly criticized Kobach's conduct in court, noting that at least once he tried to introduce evidence despite Robinson having excluded it…. Robinson concluded her ruling by ordering Kobach to take six additional hours of continuing legal education in addition to any other hours required for a law license. 'The additional CLE must pertain to federal or Kansas civil rules of procedure or evidence," Robinson wrote." Ouch! Kobach will appeal.

"ACLU sues Kobach over program that exposed voters' personal information" [Kansas City Star]. "The American Civil Liberties Union is suing Kansas Secretary of State Kris Kobach over concerns that his Crosscheck voter program put the personal data of more than 900 Kansas voters at risk… They are asking for penalties, attorney fees and an 'injunction requiring Defendant to halt transmission of personal voter data until industry standard practices and procedures are implemented.'"

"Ohio's Dirty Postcard Trick Led the Supreme Court to Approve Jim Crow Voter Purge" [Greg Palast, Alternet]. Summarizing: The postcard, created and distributed by Kris Kobach (see above) is designed to make voters fail to return it, after which they are removed from the voter rolls. It's legalized voter caging.

* * *

"Breaking Up Is Hard to Do: Why Some States and Cities Want to Secede" [Governing]. "Vikki Consiglio wants amenities. To be precise, the Georgia woman wants fine dining, a Whole Foods and an upscale hotel. And she and many of her neighbors are willing to form a new city to get it. Consiglio is the head of the Eagle's Landing Educational Research Committee, a group that's pushing to form a new city out of the unincorporated portion of Henry County, Ga. That on its own isn't especially controversial. But to form a city with a high median household income, Consiglio and supporters of the Eagle's Landing incorporation want to bite off a chunk of the city of Stockbridge in the process…. In the case of Eagle's Landing, in Georgia, the newly formed town would take $8 million dollars from Stockbridge's general fund and leave that city with $13 million in municipal bond debt. Almost all of the 70 census tracts in what could become Eagle's Landing would have a median family income of more than $74,000, while the remaining 253 census tracts in Stockbridge would have a median family income of less than $56,000, according to Moody's." "Eagles's Landing." I love it.
Stats Watch
Housing Starts, May 2018: "The good news in May's housing starts report is centered in the present, less so in the outlook" [Econoday]. "Building in the housing sector, given reports of shortages of construction workers and also construction equipment, may be progressing at the fastest rate possible based on year-on-year rates of growth… The new home market, where sales are up in the low double digits, is a leading sector of the economy but appears to be bumping up against capacity constraints. Showing much less strength than new home sales have been resales which have been surprisingly flat…." And but: "May 2018 Residential Building Headlines Again Mixed" [Econintersect]. "The backward revisions this month were significantly upward.The nature of this industry normally has large variations from month to month (mostly due to weather) so the rolling averages are the best way to view this series – and it shows permits rate of growth improving and completions rate of growth also improving. We consider this a stronger report relative to last month." And but: "Note the low level of single family starts and completions. The "wide bottom" was what I was forecasting following the recession, and now I expect a few more years of increasing single family starts and completions" [Calculated Risk]. But: "No houses get built without a permit and 'building permits fell for a second straight month and very steeply in May'" [Mosler Economics].
Commodities: "Soaring lumber prices have U.S. home builders feeling down in the dumps. Homebuilder sentiment sank this month to match its lowest level this year, as tariffs on lumber and other imported materials make construction more expensive" [Wall Street Journal]. "Late last year, the U.S. locked in tariffs of 20% or more on Canadian lumber. While prices have eased some, earlier this month plywood was selling for 43% more than it did last year as U.S. buyers contending with a shortage of domestic supply pony up for Canadian softwood."
Retail: "Apple Inc.'s decision to produce more iPhones with cheaper screens could end up costing some suppliers. The leading U.S. smartphone maker is delaying its transition to a newer, more costly type of screen called organic light-emitting diode, or OLED, whose main producer is a division of rival Samsung Electronics Co. That's welcome news for companies that make cheaper liquid-crystal display" [Wall Street Journal]. "while most Apple handsets this year will probably stick with LCD displays, intense competition between suppliers means prices are headed downward."
Shipping: "Truckers sitting in sweet spot as decade winds down, State of Logistics Report says" [DC Velocity]. "U.S. trucking firms could be in the proverbial driver's seat by the end of the decade as favorable supply-demand dynamics combine with information technology adoption to generate solid profits and take market share from a railroad industry struggling to keep pace with innovation…. [A]dvanced line-haul technologies such as autonomous vehicles and truck platooning could be widely available to shippers over the next three to seven years… The rosy outlook for truckers seems counterintuitive, given challenges ranging from finding, hiring, and keeping qualified drivers; the productivity squeeze accompanying compliance with the federal mandate requiring most vehicles to be equipped with electronic logging devices; higher diesel fuel prices; road infrastructure problems; and elevated operating costs. For now, the authors said, railroads are sitting pretty as strong demand gives them pricing power—especially in intermodal—and as productivity improvements boost profit margins and the newly enacted corporate tax cuts increase their cash flows." So, reading closely, the "sweet spot" vis a vis rail is in the future ("five to seven years") and rail is "sitting pretty" now. Consultants talking their robot truck book?
Shipping: "Are we nearing peak container?" [Splash 247]. "It is impossible to know how different trends, uncertainties and discontinuities will combine together over the next 25 years."
Shipping: "Companies Spent a Record $1.5 Trillion on Shipping Costs in 2017" [Wall Street Journal]. "Costs for everything–from big-rig haulers and rail transportation to airfreight, parcel carriers and storage–have risen steeply since the middle of last year. And demand doesn't show any signs of slowing down, according to the Council of Supply Chain Management Professionals' annual State of Logistics report. In 2017, total spending on logistics rose to a record of nearly $1.5 trillion, up 6.2% from the year before, and about $250 billion more than companies spent on logistics in 2008. Rising interest rates, the higher price of fuel and impending tariffs on imports are expected to add to business expenses in the coming year, the report's authors said…. Leading up to and during the holiday season, demand for workers at e-commerce fulfillment operations and other facilities is also expected to increase, and with unemployment at historic lows that may be hard to accommodate. Mr. Monahan said many logistics and warehousing operations may turn increasingly to automation, using new technology to pick, pack and ship holiday orders."
Shipping: "Four management strategies for retaining labor" [DC Velocity]. "The study documented specific management practices and provided a measure of where logistics industry leaders are applying them well and where they could use improvement. The results revealed that some practices—such as the 360-degree review and training managers on proper coaching techniques—are widely followed, while other techniques—including developing objective performance standards and continuous improvement—are deployed only occasionally. Further study will be required to track the impact of these trends on companies' success in reducing turnover." Wages and working conditions notably not included.
The Bezzle: "Uber Neglected Simulation Testing on Self-Driving Cars, Insiders Say" [The Information]. "The rush to develop a commercial self-driving vehicle had led Uber to de-emphasize computer simulation tests that attempt to anticipate how autonomous vehicles would react in millions of driving scenarios. Engineers at the young simulation program were struggling to thoroughly test the company's autonomous driving software, in part because of a in the program, according to two people with direct knowledge of Uber's autonomous vehicle unit. That stood in contrast to the process at Alphabet's Waymo and some other major companies developing self-driving cars, where simulation testing was a top priority." "Lack of investment." That's interesting. I wouldn't have thought Uber was short of squillions.
The Bezzle: "Elon Musk emails employees about 'extensive and damaging sabotage' by employee" [CNBC]. "Tesla CEO Elon Musk sent an email to all employees on Monday morning about a factory fire, and seemed to reference possible sabotage. Now, CNBC has learned that Musk also sent an e-mail to all employees at Tesla late on Sunday night alleging that he has discovered a saboteur in the company's ranks." The fire was caused by "smoldering in an air filter in the welding area of the body line." Sounds consistent with the shoddy maintenance that caused the paint shop fires, so I don't see the issue. From Musk's email: "we had another strange incident that was hard to explain." That's the air filter. Here's an analogy: If a dryer caught on fire in Musk's house because nobody changed the lint filter, Musk would call that a "strange incident."
The Bezzle: "Elon Musk Allegedly Tells Tesla Staff to Remain 'Extremely Vigilant' Amid 'Sabotage,' Factory Fire" [Gizmodo]. "Earlier this year, the National Council for Occupational Safety and Health named Tesla one of the most dangerous workplaces in the US, following another investigation by Reveal that claimed the company was systemically under-reporting the number of injuries at the Fremont facility and cutting corners on safety to maximize staff time spent on production. (Tesla denies the allegations but says it has responded by making safety improvements.)"
Concentration: "Break up Google" [Editorial Board, Boston Globe]. "It is ironic that the company perhaps most responsible for unleashing a tidal wave of human creativity, learning, and, yes, competition is also stifling it. It is frustrating competition, discouraging innovation, punishing American business, and distorting the free marketplace of commerce and ideas. Europe has led the wider fight over the right to privacy and the regulation of data, but the time is right for the United States to lead on dismantling tech monopolies — starting with the most powerful player. So, how to start? [T]here are several ways to carve up Alphabet, the holding company of which Google is by far the largest and most important piece…." Interesting!
The Fed: "Inflation Policy" [Money and Banking]. "We suspect that the FOMC is engaged in what Alan Greenspan called 'risk management' policy. For example, they now refer frequently to the 'symmetric' nature of their inflation objective. We assume this means that they are willing to allow inflation to overshoot for a while. How much and for how long? No one can be sure….. It is easy to see why the FOMC now wishes to pick up the pace of normalization: near-term growth is likely to continue to outstrip the trend significantly at a time when there appears to be little slack in the economy. Adding in an adverse supply shock from developing trade frictions certainly won't help. Bottom line: the FOMC is still managing risks, but some risks have shifted." But will it work in theory?
Five Horsemen: "On yesterday's mild market decline the mania-panic index slid to 58 (complacency) as VIX and the put-call ratio rose, signifying rising concern" [Hat Tip, Jim Haygood].
NakedCap Mania-Panic Index: "After Friday's mild market decline, the mania-panic index dipped to 63 (complacency) as the plurality of new highs over new lows continued to deteriorate" [Hat Tip, Jim Haygood]. (The NakedCap mania-panic index is an equally-weighted average of seven technical indicators derived from stock indexes, volatility (VIX), Treasuries, junk bonds, equity options, and internal measures of new highs vs new lows and up volume vs down volume … each converted to a scale of 0 to 100 before averaging, using thirty years of history for five of the seven series.)
Rapture Index: Closes unchanged [Rapture Ready]. Record High, October 10, 2016: 189. Current: 180.
Gaia
"Looking for signs of global warming? It's all around you" [Associated Press]. "These days, plants and animals are arriving at Rocky Mountain Biological Lab a week or two earlier than they were 30 years ago. The robins that used to arrive in early April now show up in mid-March. Marmots end their winter slumber ever earlier…. 'If the climate weren't changing, we wouldn't see these kind of changes happen,' [University of Maryland biologist David] Inouye said while standing on a bed of wildflowers that are popping up on the first day of May as marmots snoop around nearby…. Starting about 30 years ago, the growing season in general around the Northern Hemisphere "rather abruptly changed to a new normal," with earlier springs and later falls, said Mark Schwartz, a University of Wisconsin-Milwaukee geographer. In the Lower 48 states, 2012 was the earliest growing season on record until it was edged out by 2017, he said… Katharine Hayhoe, a climate scientist at Texas Tech, has heard non-scientists accusing the government or researchers of manipulating temperature data to show warming. There's no cooking the books, she said; nature is broadcasting a clear signal about climate change. '," Hayhoe said. ".'" Hayhoe makes an excellent point. Many examples of citizen science in this article. Readers?
Black Injustice Tipping Point
"Why celebrating Juneteenth is more important now than ever" [Vox]. "Ironically, while Juneteenth has become the most prominent Emancipation Day holiday in the US, it commemorates a smaller moment that remains relatively obscure. It doesn't mark the signing of the 1863 Emancipation Proclamation, which technically freed slaves in the rebelling Confederate states, nor does it commemorate the December 1865 ratification of the 13th Amendment, which enshrined the end of slavery into the Constitution. Instead, it marks the moment when emancipation finally reached those in the deepest parts of the former Confederacy."
Notable omission:
just for comparison: June 10th had a Google Doodle "Celebrating Garden Gnomes" (https://t.co/0mwgVddvl1)

— Nick Seaver (@npseaver) June 19, 2018
UPDATE "How Ceiling Fans Helped Slaves Eavesdrop on Plantation Owners" [Atlas Obscura]. In the mid 19th century, slaves throughout the American South pulled at ropes and chains nonstop during summer mealtimes, to make plantation dining rooms bearable in beastly humid heat. The slaves would swing wooden panels or fringed fabric rectangles that were mounted on the dining room ceilings. The arduous labor created breezes and flicked insects away from the food and the guests' flesh. The fans were called punkahs—the same name was applied to their counterparts in India, which servants waved above British colonists. For American slaveholders, assigning people (usually boys and men dressed in brown and red livery) to work the punkah cords during parties was a way to flaunt wealth."
Class Warfare
"Disembowel Enoch Powell" [Dissent]. From April, still germane: "Powell was the first mainstream politician in Europe to claim that an out-of-touch, weak-willed liberal establishment had wrought upon the (white) working class the calamities of immigration and multiculturalism, and that only decisive, urgent action could save the nation from this crisis before it was too late….. The influence of Powellism rested on a populist media infrastructure of letter-writing and opinion polls—in effect, the social media of half a century ago…. Powell was disavowed by establishment politicians even as they accepted much of his agenda…. Powell was not only the first significant politician of Britain's populist right; throughout the 1960s, he was also the country's most prominent advocate of neoliberalism, an aspect of his politics that has since been forgotten. In 1958, Powell resigned as Financial Secretary over the government's refusal to end increases in social spending. This was the opening salvo in the campaign waged by neoliberal think-tank activists such as Ralph Harris, Arthur Seldon, Diana Spearman, and John Wood against the Keynesian social and economic policies constituting the postwar consensus. Under their influence, Powell began to make speeches criticizing public ownership, economic planning, and social security, and espousing floating exchange rates and legal restrictions on trade unions—what he called the 'doctrine of the market.'"
"Tesla Fights State Rules Linking Car Rebates to Labor Practices" [San Jose Inside]. "Tesla opposes a pending state rule that would require the manufacturer to certify its Fremont factory as a 'fair and responsible workplace' for customers to qualify for a generous discount on electric cars. The rebates—which take up to $7,000 off the price of a new plug-in battery-run or fuel-cell-powered transportation—are the centerpiece of Gov. Jerry Brown's plan to put 5 million clean energy vehicles on California roads by 2030. But the California Labor and Workforce Development Agency and the Air Resources Board want to withhold the incentive from companies hit with complaints about unfair labor practices. Elon Musk's Tesla released a 16-page letter earlier this month describing how the order would specifically undermine the company…."
"'Commie cadet' who wore Che Guevara T-shirt kicked out of US army" [Guardian (JG)]. "Top brass at Fort Drum's 10th Mountain Division accepted Rapone's resignation on Monday after an earlier reprimand for '.' Rapone said an investigation found he went online to advocate for a socialist revolution and disparage high-ranking officers and US officials. The army said in a statement only that it conducted a full investigation and 'appropriate action was taken.'" Nice to have that clarified. More: "In addition to classic socialist theorists such as Karl Marx, Rapone says he found inspiration in the writings of Stan Goff, a retired special forces master sergeant who became a socialist anti-war activist." More on Goff here and here.
"Our Instinct for In-Group Loyalty" [Splice]. On tribalism:
While the evolutionary basis of tribalism is clear, we're capable of developing institutions and structures that help us suppress our tribal impulses. And evolution has equipped us with tools that allow us to question and modify our behavior. As Peter Singer puts it in the 2011 edition of The Expanding Circle: Ethics, Evolution, and Moral Progress: "It is now generally accepted that the roots of our ethics lie in patterns of behavior that evolved among our prehuman ancestors, the social mammals, and that we retain within our biological nature elements of these evolved responses."

These elements include a tendency to engage in reciprocal altruism—the willingness to do someone else a favor with the expectation that the favor will be returned in the future. Singer points out that this inclination binds people together almost as powerfully as family ties: "Though kinship is the most basic and widespread bond between human beings, the bond of reciprocity is almost as universal." From productive trading relationships to mutual defense treaties, reciprocity can extend far beyond national borders.

We've also evolved the capacity to reason, which gives us the ability to recognize that there are people just like us in other parts of the world with interests and rights that must be respected.

These are both core components of Singer's argument that our ethical concerns have shifted to encompass larger and larger groups of people over time (hence the title of his book). He also notes that we now even include animals in our Even though our world remains carved up by borders and riven with tribal pathologies, it's impossible to argue that the circle hasn't expanded.
News of The Wired
From the Department of At Least It's Not COBOL:

maybe about once a week I give some thought to the reality that

(a) The F-35 software was written in C++, with Bjarne Stroustrup as a lead technical consultant

(b) Stroustrup at one point tried to use this as a selling point for the language

— '((Adam (Elkus))) (@Aelkus) June 18, 2018
This is real Snow Crash stuff. It's like YT's Mom worked on the F-35…
On metadata, a useful thread:

Mass surveillance systems run off metadata. Content collection/ analysis is fucking expensive, unless you are a high value target no one wants to be sitting around listening to your phone calls.

But social network analysis, call graphs & event logs are cheap & easy to exploit.

— Sarah Jamie Lewis (@SarahJamieLewis) June 17, 2018
"Welcome to Onion Social." [Onion Social]. "Onion Social is the next generation of the social networks, paving the way for users fed up with lesser social media websites to gain access to unfettered information, unparalleled reportage, and unmatched connectivity to friends and family without regard to the consequences." Line up, sign up, and re-enlist today!
* * *
Readers, feel free to contact me at lambert [UNDERSCORE] strether [DOT] corrente [AT] yahoo [DOT] com, with (a) links, and even better (b) sources I should curate regularly, (c) how to send me a check if you are allergic to PayPal, and (d) to find out how to send me images of plants. Vegetables are fine! Fungi are deemed to be honorary plants! If you want your handle to appear as a credit, please place it at the start of your mail in parentheses: (thus). Otherwise, I will anonymize by using your initials. See the previous Water Cooler (with plant) here. Today's plant (IME):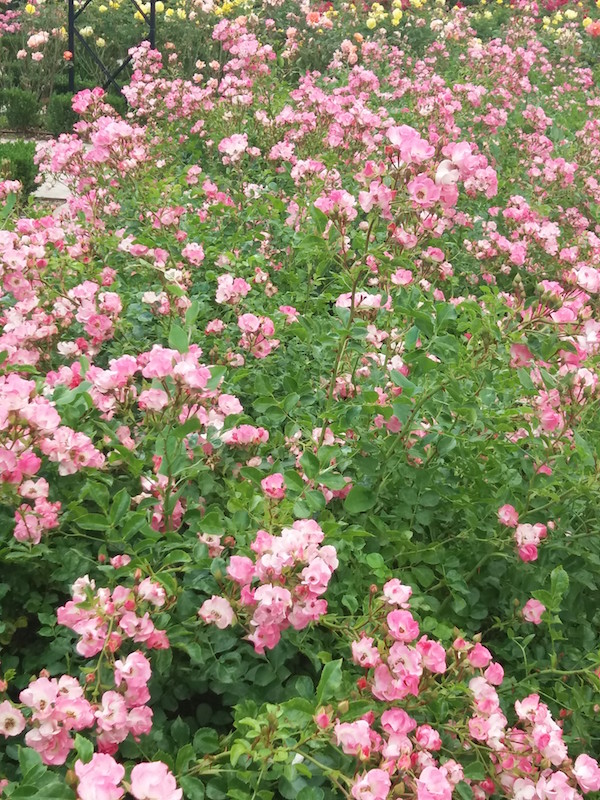 IME writes: "Yesterday at the bookseller fair in Retiro Park (Madrid) went to the rose garden and took some pics with my not so good cellphone."
* * *
Readers: Water Cooler is a standalone entity not covered by the annual NC fundraiser. So do feel free to make a contribution today or any day. Here is why: Regular positive feedback both makes me feel good and lets me know I'm on the right track with coverage. When I get no donations for five or ten days I get worried. More tangibly, a constant trickle of small donations helps me with expenses, and I factor that trickle in when setting fundraising goals. So if you see something you especially appreciate, do feel free to click the hat!

To give more, click on the arrow heads to the right of the amount.
If you hate PayPal — even though you can use a credit card or debit card on PayPal — you can email me at lambert [UNDERSCORE] strether [DOT] corrente [AT] yahoo [DOT] com, and I will give you directions on how to send a check.