By Lambert Strether of Corrente.
Trade
"Tariff War With China Hits California Cotton Market" [California Apparel News]. "In the latest salvo in the tariff war between the United States and China, the U.S. cotton industry is expected to receive a direct hit as China piles on an additional 25 percent tariff on U.S. uncombed-cotton imports. The tariff, which goes into effect July 6, is already being felt in California—where farmers in the Central Valley region of the state cultivate highly prized long-staple American Pima cotton that is soft to the touch and durable. Most of the crop is exported to China and India…. about 95 percent of the American Pima crop is exported every year, and typically China imports about 40 percent of that crop."
"EU Retaliation Tariffs Begin — Includes Apparel and Fashion" [Apparel]. "Beginning today, U.S. exports to the European Union will face an extra duty at their border. The duty will be levied against a range of products including agricultural goods and steel and aluminum, as well as many fashion and apparel articles, each of which will be assessed an additional 25 percent ad valorem tariff penalty… These duties come in response to tariffs imposed by President Trump on EU steel and aluminum on June 1. Europeans claim that breaks global trade rules."
"Trump's Metal Tariffs Have Yielded More Than $775 Million So Far" [Industry Week]. "Companies can win product exclusions from the metal tariffs after requests are posted online for 30 days for any objections if the needed raw material is not produced in the U.S. in a sufficient amount or quality, or for a specific national security reason…. As of Monday, there were 20,000 exclusion requests on steel duties with almost 1,800 objections posted, and 2,500 aluminum filings with about 50 objections posted. But more than 9,500 total requests and almost 2,000 objections are still pending for review, according to the Commerce Department."
Politics
2020
"A Night Among the Trump Believers Way Up North" [Ana Marie Cox, Rolling Stone]. "Look deeper than skin and you'll find Duluth is a struggling with the highest drug overdose rate in the state. U.S. Steel closed its gigantic Morgan Park plant in 1981, causing a slow cascade of desolation that stilled the concrete and hardboard plants and emptied out the grain elevators. Today, the small city of 80,000 scrapes by on tourism and as a port. There's a paper plant that has been on the verge of closing for 10 years. Duluth has a poverty rate (21 percent) that would rank it among the most desperate counties in West Virginia and per capita income just below that of Wheeling. Lake Superior's merciless beauty crashes up against a town whose shoreside skyline is dominated by stolid, brutalist mid-century relics and precarious-seeming industrial shipping contraptions, rusty and mostly silent. Downtown, every surface is covered with a thin layer of grime. It is, in other words, potential Trump Country…. That's the way the end of democracy sounds, I think: People so eager to join a chant they do it before they know all the words." • "Post-manufacturing cipher" is doing rather a lot of work in that paragraph, no? And "chanting" hardly seems in short supply…
2018
"What's Fueling Trump's Rise in the Polls" [Charles Cook, Cook Political Report]. "The Trump presidency has a plethora of unique attributes, but one of the most surprising to me is the lack of volatility of his poll numbers. Using the Gallup Organization's weekly polling as a yardstick so that we are comparing apples and apples, his job-approval rating to date has averaged 39 percent, usually staying in the 36 to 42 percent range. There have been many weeks when developments seemed to go his way but his approval numbers didn't go up much, if any. Other weeks, there was a lot of seemingly bad news but his approval numbers would go down very little, if at all. Spoiler alert: Korean summit developments and favorable economic news seem to be the magic elixirs for Trump, at least so far. When Trump's Gallup numbers go much outside that window of 36 to 42 percent, it is worth noting."

MO Senate: "McCaskill's husband invested $1 million in hedge fund tied to Caymans" [Kansas City Star]. "As a U.S. senator, Claire McCaskill supports cracking down on offshore tax havens. But the Missouri Democrat's husband has invested $1 million in a hedge fund tied to the Cayman Islands, one of the world's most notorious tax havens. Joseph Shepard's investment in Matrix Capital Management has earned him between $230,000 and $2.1 million in income since he first invested in 2013, according to McCaskill's financial disclosure forms… Bloomberg Markets Magazine recognized Matrix Capital Management as the second best-performing hedge fund on its list of 100 top-performing hedge funds in 2013, the year Shepard invested."

ME Senate: "Democratic U.S. Senate candidate from Maine arrested near U.S-Mexico border" [Bangor Daily News]. "Ringelstein, a Yarmouth educator vying to unseat independent incumbent U.S. Sen. Angus King, traveled to Texas and attempted to access the facility for a tour and to deliver a truckload of toys, bedding and water to children he says are being held inside the facility after being detained for illegally crossing the U.S. border with their parents." • A stunt by Zak Ringelstein, who also supports Medicare for All (uses "single payer," so not faux liberal). So I'm going to have to give Ringelstein serious thought.

WV Senate: "Never Say Die Senate Candidates: Don Blankenship Lost His Primary but Plans to Run in November Anyway" [Larry Sabato's Crystal Ball]. "[I]t remains to be seen if Blankenship will qualify for the general election ballot. Like most states, West Virginia's election code has statutory elements that either expressly or effectively prevent candidates who lost a party primary from running as the nominee of another party or as an independent."

NY Governor: "What is Serve America Movement? Obscure new party backs Stephanie Miner for governor" [Syracuse.com]. "Stephanie Miner's foray into the governor's race Monday came as little surprise. But she's running with a barely known non-partisan outfit based in Denver that left many political observers scratching their heads, wondering, "what's that?" Miner, a Democrat, will carry the torch of an obscure new political group called the Serve America Movement [here]– a group of former partisans founded in the wake of the 2016 presidential election. In ditching the Democrats, Miner angered local party leaders, who accused her of playing spoiler in the gubernatorial race this fall."

UPDATE He's a real Democrat!

Billionaire buys candidates…. "Democracy" pic.twitter.com/1YGbVOPBLn

— Kamala Harris is a cop (@BethLynch2020) June 21, 2018

Ka-ching….

* * *

UPDATE "Democrats look to gain in Southern California as outrage mounts over family separations" [Yahoo News]. "Due to diversifying demographics, declining GOP registration and Trump's difficulties appealing to college-educated suburbanites, Democrats outperformed their 2016 primary results countywide: by 9 percentage points in CA-49, 6 percentage points in CA-48 and 11 percentage points in both CA-38 and CA-45. The expert handicappers at the Cook Political Report currently rate one of these races as Lean Republican (CA-45), two as tossups (CA-39, CA-48), and one as Lean Democratic (CA-49). Orange County is, in short, one of the most politically volatile environments in the country right now — and in recent days the forced-family-separation issue has detonated there like a bomb. All five Democratic candidates have spoken out forcefully against the administration's approach." • As I've been saying since this moral panic began…

"Trump's Family Separation Scandal Has Revealed Every Species of Hypocrite" [Matt Taibbi, Rolling Stone]. "The heated controversy over Trump's awful family separation policy has been like one of those bug-zapping lights people stick next to pools – it's attracted virtually every species of hypocrite in American public life. The most conspicuous and ridiculous of these are the hand-over-heart never-Trump Republicans who – after decades of pushing vicious anti-immigrant rhetoric themselves – are now coming out of the woodwork to talk about how mistreatment of the undocumented is contrary to 'our principles and values.'" • Taibbi never mentions there's a runner-up to the Never Trumpers…

"Confusion swirls on border after Trump reversal on families" [Associated Press]. "The federal public defender's office for the region that covers El Paso to San Antonio said Thursday that federal prosecutors would be dismissing cases in which parents were charged with illegally entering the country and separated from their children. 'Going forward, they will no longer bring criminal charges against a parent or parents entering the United States if they have their child with them,' wrote Maureen Scott Franco, public defender for the Western District of Texas, in an email shown to the AP. In the Texas border city of McAllen, federal prosecutors unexpectedly did not pursue charges against 17 immigrants Thursday. A prosecutor cited Trump's executive order Wednesday ending the practice of separating families. But the Justice Department denied 'zero tolerance' has been rolled back."

"Trump to GOP: Stop 'Wasting' Time on Immigration" [Roll Call]. "That House immigration bill is merely a compromise among the chamber's GOP leadership and its various conservative and moderate factions. It is not expected to get any Democratic support and appears to lack the GOP votes to pass — like a conservative measure that flopped on the floor Thursday. The president suggested Thursday in a tweet that his party should drop its efforts to pass any immigration bill, writing 'what's the purpose' of even having votes if Senate Democrats oppose both House bills."

"Border patrol agents arrest 1 at I-95 checkpoint about citizenship" [Bangor Daily News]. "'If you want to continue down the road, then yes ma'am. We need to know what citizen — what country you're a citizen of," [a U.S. Customs and Border Protection] agent said Wednesday evening to two BDN reporters who went through the checkpoint. When questioned about what would happen if a driver declined to answer, he said the car would only be able to keep going if, after further questioning and upon the agent's judgment, 'the agent is that you're U.S. citizens.'… " • "Pretty sure," how? Maine seems somehow to have become more central than it is used to being…. It should be obvious to anyone that I-95 is an obvious choke-point for travel to and from Canada. (I remember in the landfill fight that the trucks bringing out-of-state trash into Maine would perform all sorts of tricks to avoid it, suggesting that the CBP is catching the amateurs.) Note that these border checks have been going on for some time:

The 100 mile border exception is, without exception (heh) the surveillance thing I tell people over and over that 1) never ceases to shock people 2) never reaches broad understanding. https://t.co/FGgfMzjhoB

— emptywheel (@emptywheel) June 22, 2018

I remember border patrol stops on Amtrak trains in upstate New York a few years ago. Pretty gross.

"EXCLUSIVE: 'They're together and safe': Father of Honduran two-year-old who became the face of family separation crisis reveals daughter was never separated from her mother, but the image of her in tears at U.S. border control 'broke his heart'" [Daily Mail]. • So the heart-tuggingly weaponized photo was fake tendentious, just as so many photos from Syria were. It's almost like there's a playbook for this stuff. Digital evidence is not evidence!

UPDATE "Defense Contractors Cashing In On Immigrant Kids' Detention" [Daily Beast]. • Many of them in the Democrat donor class. The article is illustrated, perhaps not helpfully, with the photo discussed above.

UPDATE "The place to save desperate, crying kids isn't the U.S. border. It's Honduras and Guatemala" [Will Bunch, Philadelphia Daily News]. "One problem is that most experts note, correctly, that American meddling in Central American affairs has played such a critical role in leading to the region's instability and violence in the first place."

"The liberal lurch left on immigration" [The Week]. "As President Trump steps back from the ledge on a mostly (though not entirely) self-inflicted political crisis at the border, liberals are shifting targets from migrant children being separated from their parents to families being detained at all… Where previous generations of liberals might have been worried about low-wage immigrants, legal or illegal, competing with similarly situated Americans, the dominant concern among contemporary progressives is the fact that immigrants are disproportionately people of color and thus any restrictions or enforcement will have a disparate impact on racial minorities." And this:

But even many of the more sophisticated advocates for minimal immigration enforcement fail to reckon with the counterarguments: that there are costs to specific Americans even if there are (sometimes overstated) ; that those Americans are themselves disproportionately black and Latino; that the victims of MS-13 are frequently Hispanic; that upward mobility isn't what it used to be; that unregulated immigration does not seem to be having a liberalizing effect either here or in other Western countries and is in fact coinciding with at least a partial resurgence of white racism.

Instead we are having an immigration debate that pits the specific and cruel against the well-intentioned but overly abstract, exaggerated fears against happy talk that ignores inconvenient truths. It's no way to run a country, and certainly not a nation of immigrants.

I seem to remember another globalization experiment based on "aggregate economic benefits" that had a really nice ring to it: "Free trade." Because "free" is good, right? Just like the "open" in "open borders" is good… That last experiment didn't end well and in fact caused life expectancy in the working class to drop, after de-industrialization destroyed communities. Perhaps the open borders movie will have a happier ending. In the absence of a genuinely international working class movement that can prevent labor arbitrage, forgive my skepticism.
Realignment and Legitimacy
"1 big thing: Trump, Russia, the elections — again" [Axios]. As I never tire of repeating, the litmus test for those proposing solutions for the "mechanics of voting" is whether hand-marked paper ballots, hand-counted in public are mentioned; if the system isn't digital, hackers can't hack it. ("The cheapest, fastest and most reliable components of a system are those that aren't there." –Gordon Bell.) No mention of that in the article. The fact that the intelligence community ("top officials") is taking charge of the "integrity" of our election systems should make the hair on the back of your neck stand up.

" before ranked ballots are counted and the Maine Legislature returns" [Bangor Daily News]. "Good morning from Augusta, where we're . The Democratic gubernatorial primary is still ranked-choice counting…" • The Maine political establishment, across the board, hates ranked choice voting, which is reason enough to impose it, as a majority of voters have, twice now. (Here's a Republican operative's assault; he notes that some Republican-leaning districts voted against it).

"Kris Kobach Instructs Kansas Election Officials to Violate Order from a Federal Judge" [GritPost]. "Bryan Caskey, who works for Kobach's office as the elections director for the state, apparently told county clerks on a recent conference call to ignore a federal judge's recent order to immediately cease its proof-of-citizenship requirement for voters. Kobach spokesperson Danedri Herbert told the Topeka Capital-Journal that the Secretary of State's office needs more time to review the 118-page order (PDF link) issued by U.S. District Judge Julie Robinson earlier this week… Judge Robinson's order specified that Kobach must 'immediately' inform local election administrators that they are not to require proof of citizenship. However, Herbert said Kobach's refusal to comply was simply a difference in legal interpretation."

* * *

UPDATE "States of Emergency" [The Nation]. "Climate change will be so central to human life and global politics in the coming years, [Geoff Mann and Joel Wainwrigh] argue [in their new work of political theory, Climate Leviathan that the response to it will shape the entire future world order." More:

At the core of Climate Leviathan are four types of political formation that the authors believe are likely to emerge in response to climate change. "Climate Leviathan" would be a system of global capitalism governed by a planetary sovereign—not necessarily the individual ruler Hobbes imagined, but nevertheless a hegemonic power capable of taking drastic action; "Climate Mao," an anti-capitalist system governed by sovereign power at the level of the nation-state or the planet; "Climate Behemoth," a capitalist system within the autarchic confines of the nation-state; and "Climate X," which rejects both capitalism and sovereignty for something yet to be determined. These four possible futures, Mann and Wainwright admit, are thus far inchoate. But as we blow past our carbon targets and the impacts of climate change become increasingly destructive, one of these is likely to emerge as the dominant mode of politics.

The most likely victor, the authors think, is Climate Leviathan.

Poor Peoples campaign:

Now is the time for massive nonviolent direct action to interrupt the policy violence of Trump & his enablers in Congress. #PoorPeoplesCampaign https://t.co/0ABTaJOfs4

— Rev. Dr. Barber (@RevDrBarber) June 21, 2018

It will be interesting to watch the coverage of the Poor People's Campaign this weekend. If there is any.

More consistent messaging from a socialist organization:

American immigration policy exists to sow racial division. Immigrants are not the reason your pay is low, and your healthcare costs are high, capitalism is

— Metro DC DSA (@mdc_dsa) June 22, 2018

Although their ridiculous f-a-a-a-m-ily v-a-a-a-lues tweet is still pinned….

UPDATE "Twitter, Trans Kids, Call-Out Culture, and a $10,000 Blunt" [The Stranger] "The idea that you must be a part of a demographic to write about it is contrary to the very nature of reporting: The job of the reporter is to listen to and relay other people's stories, but it's also to look for evidence, to dig into claims, to get at the truth. If you want all your stories to come directly from the source's mouth, enjoy getting all of your news from social media. Besides, if people only wrote about populations they fit in, that would mean that I'm only allowed to write about 35-year-old lesbians from North Carolina and Jesse is only allowed to write about Boston Jews who love the Celtics and, sorry trans writers, but no more cis stories for you. Hope you don't want to cover politics." • Serious points made in a very funny post. Spoiler: She doesn't smoke the blunt, so I can't file this under Guillotine Watch.
Stats Watch
PMI Composite Flash, June 2018: "Early indications of factory slowing in June, likely related to tariffs, are beginning to appear" [Econoday]. "The PMI report cites a "clear loss of momentum" with new orders slipping and with export sales at a 2-year low. Production in this sample is also down though the slowing isn't easing congestion in the supply chain as delivery times deteriorated the most in 11 years. A shortage of truckers tied to tighter regulations is cited. Optimism on the outlook is also sinking, down at year-and-a-half lows…. This report together with Philly offer the first hints of possible tariff effects, and they appear to be negative for growth and also inflationary. The Dallas and Richmond manufacturing reports will be out on Monday and Tuesday of next week respectively and will be closely watched for any new evidence."
Shipping: "UPS, Teamsters reach agreement; more freight on the road, Sunday deliveries seen" [FreightWaves]. "The Teamsters late Thursday announced it had reached an agreement in principle with UPS for a new five-year deal, avoiding the possibilty of a strike…." • Detail in the post; nothing about two-tier wage structures, thank heavens. Readers?
Commodities: "Why One Island Grows 80% of the World's Vanilla" [Atlas Obscura]. "Madagascar, where 80 percent of the world's vanilla comes from, has been going through a rough patch. A perfect storm of drought and a pair of cyclones hit vanilla farmers hard. The rippling effects have disrupted everything from the supply chains of massive multinational companies to the flavoring in fudge…. The reason that Madagascar is still on top of the vanilla game is grim: According to The Financial Times, it's one of the few regions with the right climate that is also poor enough to make laborious hand-pollination affordable."
Finance: "Big-name macro brains pull away from hedge fund peers" [Financial News]. "A select group of global macro hedge funds have established clear leads over their rivals so far in 2018, profiting from the return of choppy market conditions that suit their high-octane trading styles. By contrast, many of the more conservative, diversified macro funds run by mainstream asset managers — which have pulled in billions from retail investors in recent years — have struggled. Big political and economic events, such as US President Donald Trump's moves to reimpose sanctions on Iran and escalate trade tensions with China, or central banks' moves to raise interest rates after several years of holding them down, are reckoned to benefit macro strategies because as they spook financial markets, they provide savvy investors with trading opportunities." • So hedgies are volatility voters, too; at least the galaxy-brained ones.
Tech: "Personalisation is Asymmetric Psychological Warfare" [Terence Eden's Blog]. "Another privacy nightmare. An airline wants its cabin crew to know your birthday and favourite drinks order, to better personalise its service to you. My first instinct is to recoil in horror. It sounds like every dystopian sci-fi epic. But why do I feel this way? Partly it is the lack of genuine personality behind the interaction. It is the Uncanny Valley of sincerity. When Facebook wishes you happy birthday, it is a purely mechanical response – not an outpouring of genuine feeling…. They are hijacking your emotions…. But in the airline example, there is a sinister asymmetry. They know everything about you – and you know nothing about them."
Privatization: "Trump's Fix for Postal Service: Privatize It" [Wall Street Journal]. "The Trump administration is proposing to restructure the U.S. Postal Service with an eye to taking it private, a step it said would cut costs and give the financially burdened agency greater flexibility in adjusting to the digital age." • A long-term, and bipartisan project.
Five Horsemen: "Facebook is at a record high in pre-opening trade" [Hat Tip, Jim Haygood].
NakedCap Mania-Panic Index: "Yesterday's market decline sank the mania-panic index back into the worry zone at 48" [Hat Tip, Jim Haygood]. (The NakedCap mania-panic index is an equally-weighted average of seven technical indicators derived from stock indexes, volatility (VIX), Treasuries, junk bonds, equity options, and internal measures of new highs vs new lows and up volume vs down volume … each converted to a scale of 0 to 100 before averaging, using thirty years of history for five of the seven series.)
Police State Watch
"Opinion analysis: Court holds that police will generally need a warrant for cellphone location information" [SCOTUSblog]. "Over 40 years ago, the Supreme Court outlined what has come to be known as the 'third-party doctrine' – the idea that the Fourth Amendment does not protect records or information that someone voluntarily shares with someone or something else. Today the Supreme Court ruled that, despite this doctrine, police will generally need to get a warrant to obtain cell-site location information, a record of the cell towers (or other sites) with which a cellphone connected. In an opinion by Chief Justice John Roberts, the five-justice majority pointed to 'seismic shifts in digital technology,' which have allowed wireless carriers to collect 'deeply revealing' information about cellphone owners that should be protected by the Constitution. Roberts characterized the ruling as a narrow one, but it still drew criticism from the dissenting justices, who complained that it is likely to imperil, in the words of Justice Samuel Alito, 'many legitimate and valuable investigative practices on which law enforcement has rightfully come to rely.'" • Some rare good news. Now how about defining everything we create, digitally, as being "papers and effects" — 21st Century paper is digital — so the Fourth Amendment really works the way an, er, originalist would think it should work?
Neoliberal Epidemics
"A Landmark Study on the Origins of Alcoholism" [The Atlantic]. "Eric Augier, who recently joined Heilig's team, tried a different approach… After training rats to self-administer alcohol, he offered them some sugary water, too. This better mimics real life, in which drugs exist simultaneously with other pleasurable substances…. Consistently, 15 percent of them choose alcohol over sugar—the same number as the proportion of human drinkers who progress to alcoholism… Those alcohol-preferring rats showed other hallmarks of human addiction, too. They spend more effort to get a sip of alcohol than their sugar-preferring peers, and they kept on drinking even when their booze supply was spiked with an intensely bitter chemical or paired with an electric shock…. When Augier looked at the amygdala of alcoholic rats, he found signs of unusually low activity in several genes, all of which are linked to a chemical called GABA…. The consequences of this are unclear, but Heilig thinks that all this extra GABA hampers the rats' ability to deal with fear and stress. They are naturally more anxious, which might explain their vulnerability to alcohol." • These rats should have chosen to be born with better genes. And as for the human angle, nothing in our econonmy generates fear and stress, so we're good.
Class Warfare
UPDATE "The 9.9 Percent Is the New American Aristocracy" [The Atlantic]. "By any sociological or financial measure, it's good to be us. It's even better to be our kids. In our health, family life, friendship networks, and level of education, not to mention money, we are crushing the competition below. But we do have a blind spot, and it is located right in the center of the mirror: We seem to be the last to notice just how rapidly we've morphed, or what we've morphed into." More:
In between the top 0.1 percent and the bottom 90 percent is a group that has been doing just fine. It has held on to its share of a growing pie decade after decade. And as a group, it owns substantially more wealth than do the other two combined. In the tale of three classes (see Figure 1), it is represented by the gold line floating high and steady while the other two duke it out. You'll find the new aristocracy there. We are the 9.9 percent.
This is a must read (though it's not like the 9.9% will listen). Amazingly, the author doesn't cite to Thomas Frank… But it's still very good.
"White Deaths Exceed Births in a Majority of U.S. States" [University of Wisconsin Applied Data Lab (KD)]. The growing incidence of this white * has important implications for the nation's demographic future." • This is the study that gave rise to the depressing Twitter commentary I posted yesterday. You can bet that if the study had included income, the title and the headlines would be both less inflammatory and more accurate. And the commentary would have been better. NOTE * The decrease is "natural" — always watch that word — only if you factor out excess deaths "of despair" due to public policy: Deindustrializing the flyover states.
"Labor's Pay Gap" [Inside Sources]. "If anything, the AFL-CIO's flawed research changes the subject — from Big Labor's own "income inequality crisis." A review of union financial disclosures filed with the Labor Department found that dozens of union presidents make more than the average CEO. In fact, 146 union presidents earn a higher gross salary than the average CEO ($196,050). Three make more than $500,000 in base salary alone. And union officials can also expect much more than a salary, including paid-for travel expenses and other business disbursements. In 2017, 193 union presidents earned more than $196,050 in total compensation. Timothy Canoll, president of the Air Line Pilots Association, made nearly $793,000. Roger Robinson, president of the United Food and Commercial Workers Local 876, raked in more than $663,000. AFL-CIO President Richard Trumka, whose labor group put out the Executive Paywatch report, earned more than $315,000 last year — far more than a typical CEO." • Shockingly, a conservative venue deploys tu quoque. That said, I had discussion at the New York meetup with a reader in a position to know. I asked: "Why do unions suck?" (***cough*** CalPERS ***cough***) and his answer was to do the math how union dues translate into union executive salaries.
"Classless Utopia versus Class Compromise" [American Affairs]. "In academic and journalistic discourse, class is usually equated with an income or wealth category… Defining classes in terms of specialized social or economic functions is an improvement. Ancient Indo-European societies from South Asia to western Europe tended to share the idea that the community was divided among warriors, priests, and peasants, an idea which gave rise to the Indian caste system and the medieval European society of estates…. In modern industrial societies, Marx's claim that the major division would be among capitalists who control the means of production and proletarians without productive assets other than their own labor has proven to be influential and useful…. Thus the best definition of a class, I would suggest, is this: a class is a group of families within a society whose members are disproportionately likely to work in certain vocations and also disproportionately likely to marry and have children with one another. This definition unites the functional and nepotistic aspects of class." • Hmm. I dunno if I'd classify shelving canned goods at Walmart as a vocation. That said, since the family is the unit that reproduces labor power, it does make sense to include family in the set membership function that constitutes the working class. The family also introduces the time dimension, also sorely missing in, er, classical Marxist analysis. So, interesting.
"Thousands of Unfilled Jail Jobs, Millions in Overtime, 'Zero Room for Error'" [Governing]. "The difficulty in hiring and keeping corrections officers has sent overtime costs soaring, and contributed to safety and security issues, all over the country… In Delaware's case, an independent review came down hard on the use of excessive overtime as a factor that set the stage for the violent event. The report noted that 'correction officers were described as being so exhausted that it was 'chipping away at security and behavior.'… 'It's not a job that most people consider,' says Chris Gautz, spokesman for the Michigan Department of Corrections. "Growing up, people play cops and robbers, not convicts and corrections officers. You don't grow up thinking 'I want to be a corrections officer.'" • I'm sure privatization doesn't help, and I wonder whether similar factors are at play in immigration facilities.
News of The Wired
"The Mysterious 'Jumping Gene' That Appears 500,000 Times in Human DNA" [The Atlantic]. "For years, Miguel Ramalho-Santos tried to convince researchers in his lab to study a segment of DNA he personally thought was quite extraordinary: LINE1… It might have had something to do with LINE1's reputation. "People have called it junk DNA," says Ramalho-Santos. … It might have had something to do with LINE1's reputation. "People have called it junk DNA," says Ramalho-Santos." • Interesting sociology of science angle. The squillion-euro Large Hadron Collider looks like a dry hole; but junk DNA turns out to be gold. Science is has started to pop! Another example–
"Why the Medical Research Grant System Could Be Costing Us Great Ideas" [Incidental Economist]. "The medical research grant system in the United States, run through the National Institutes of Health, is intended to fund work that spurs innovation and fosters research careers. In many ways, it may be failing…. It has been getting harder for researchers to obtain grant support…. A recent study suggests the grant-making system may be unreliable in distinguishing between grants that are funded versus those that get nothing — its very purpose….. .The current system favors low-risk research. If you're going to fund only a small percentage of proposals, you tend to favor the ones most likely to show positive results. You don't want to have to defend null findings as a 'waste of money.'"
"Finally, a Problem That Only Quantum Computers Will Ever Be Able to Solve" [Quanta]. "A basic task of theoretical computer science is to sort problems into complexity classes. A complexity class contains all problems that can be solved within a given resource budget, where the resource is something like time or memory…. The two most famous complexity classes are "P" and "NP." P is all the problems that a classical computer can solve quickly. ("Is this number prime?" belongs to P.) NP is all the problems that classical computers can't necessarily solve quickly, but for which they can quickly verify an answer if presented with one. ("What are its prime factors?" belongs to NP.) Computer scientists believe that P and NP are distinct classes, but actually proving that distinctness is the hardest and most important open problem in the field…. Even in a world where P equals NP — one where the traveling salesman problem is as simple as finding a best-fit line on a spreadsheet — [computer scientists Ran Raz and Avishay Tal's] proof demonstrates that there would still be problems only quantum computers could solve…. 'Even if P were equal to NP, even making that strong assumption,' said [Lance Fortnow, a computer scientist at Georgia Tech], 'that's not going to be enough to capture quantum computing.'"
* * *
Readers, feel free to contact me at lambert [UNDERSCORE] strether [DOT] corrente [AT] yahoo [DOT] com, with (a) links, and even better (b) sources I should curate regularly, (c) how to send me a check if you are allergic to PayPal, and (d) to find out how to send me images of plants. Vegetables are fine! Fungi are deemed to be honorary plants! If you want your handle to appear as a credit, please place it at the start of your mail in parentheses: (thus). Otherwise, I will anonymize by using your initials. See the previous Water Cooler (with plant) here. Today's plant (ChiGal):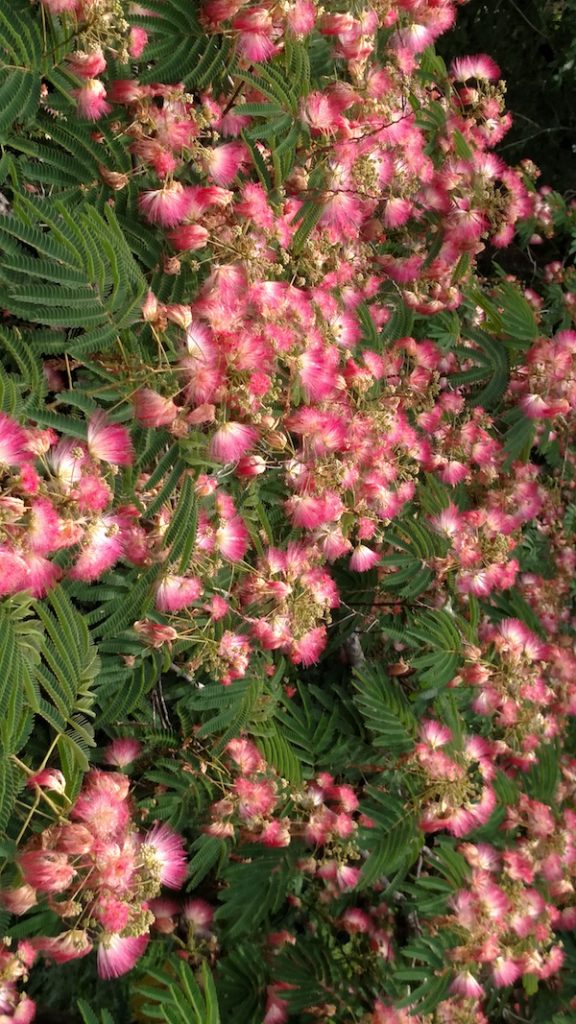 ChiGal: "The Carolina magnolia mimosa came out this month and is still at peak bloom."
Readers, I added a bullet ("•") as an abbreviation for "Lambert here," partly so what's quoted material and what's me is more clear, and partly to make the page a little less grey. If it doesn't work for you, I'll stop.
* * *
Readers: Water Cooler is a standalone entity not covered by the annual NC fundraiser. So do feel free to make a contribution today or any day. Here is why: Regular positive feedback both makes me feel good and lets me know I'm on the right track with coverage. When I get no donations for five or ten days I get worried. More tangibly, a constant trickle of small donations helps me with expenses, and I factor that trickle in when setting fundraising goals. So if you see something you especially appreciate, do feel free to click the hat!

To give more, click on the arrow heads to the right of the amount.
If you hate PayPal — even though you can use a credit card or debit card on PayPal — you can email me at lambert [UNDERSCORE] strether [DOT] corrente [AT] yahoo [DOT] com, and I will give you directions on how to send a check.