By Lambert Strether of Corrente.
Patient readers, the usual! I'll add some more material in due course, because there's an immigration comment I want to draw attention to — but today is finally a sunny day, and I have some weeds I need to dispossess, to see the earth with wildflowers. –lambert UPDATE All done. To the weeds!
Trade
"Trump Eases Demand for New Tools to Limit Chinese Investment" [Wall Street Journal]. "President Donald Trump suggested Tuesday that he will ease off his demands for tough new restrictions on Chinese investment in technology industries and will rely instead a 1988 law being updated by Congress that authorizes the government to review foreign investments for national security problems. 'We have the greatest technology in the world, people come and steal it,' he said in response to questions from reporters at the White House. 'We have to protect that and that can be done through CFIUS,' referring to an interagency group, the Committee on Foreign Investment in the U.S., which screens foreign investments to see whether they endanger national security." • Hoo boy. Trump encounters "the interagency process." Oh to be a fly on that wall….
"Transportation suppliers that have gone global are bracing for the impact of tariffs on their closed-loop supply chains. Cummins Inc. is preparing for levies on the products that the engine maker imports from its own factories in China to sell in the U.S. or use in its American plants. Cummins is among the many transport-equipment suppliers that have gone heavily international in recent years, creating as they've sought to sell more goods in different markets while manufacturing components and vehicles in various parts of the world" [Wall Street Journal]. • Who among us doesn't like complexity….
Politics
2020
"Does Trump's approval rating predict a 2020 re-election?" [CNN]. "But before Democrats assume that the crisis on the border will bring this President down, they might want to take a look at the recent poll numbers from Gallup. Despite everything that has happened over the last year and a half, the findings show that the President is not quite as weak as some of his opponents are hoping. Last week his job approval rating averaged 45%, the highest that it has been since his first week in office and, this week, slipped slightly to 41%…. Just as notable is the political breakdown of his rating, with a 38% approval among Independents and 87% among Republicans. If one adds a grade curve to these numbers, it's clear that outside of the Democratic Party, his approval is holding steady. His rating now is similar to Jimmy Carter (42%), Ronald Reagan (44%), Bill Clinton (44%) and Barack Obama (47%) in June of their second years. The good news for Democrats is that all four of those presidents experienced difficult midterm elections." • By Betteridge's Law, no. And this is one poll…
2018
"Democrats Must Show Up to Win Back Heartland Voters" [RealClearPolitics]. "Nearly one-third of the Democrats now serving in the U.S. House of Representatives come from just two states, California and New York. Startling, isn't it? Good for California and New York. But that statistic also describes how the Democratic Party has become a largely a bicoastal entity and has consciously abandoned much of the heartland… Ninety percent of life is showing up, the old adage goes. It's a nice reminder."• Abandoned the heartland to die, quite literally, as "deaths of despair" and the declining life expectancy figures show. Nice to know the political class can accomplish something, at least….

"Are Democrats Ready to Make Immigration an Issue in the Midterms?" [Amy Walter, Cook Political Report]. "Nitroglycerine. That's how one long-time political strategist recently explained the politics of immigration to me. It's one of those issues, he said, that can just as easily explode in your face as it can blow up the other side. Right now, it looks like the Trump administration is juggling bottles of the stuff…. Yet, even many Democrats are wary of overplaying their hand. And, it's not just because of Trump. For years, Democrats have watched Republicans effectively cast their party as more concerned with the rights and comfort of illegal immigrants than the safety, security and economic livelihood of American citizens." • Yes, it would be helpful at this point if Democrats addressed, however superficially and hypocritically, deaths of despair in the flyover states, and not with some [family blogging] training program or an off-the-rack opioid program.
Realignment and Legitimacy
"The 2016 Exit Polls Led Us to Misinterpret the 2016 Election" [New York Times] March 29, 2018: "Crucial disputes over Democratic strategy concerning economic distribution, race and immigration have in large part been based on Election Day exit polls that now appear to have been inaccurate in key ways. According to subsequent studies, — many of whom are culturally conservative — and overestimated the white college-educated Democratic electorate, a far more culturally liberal constituency. 'The short answer is that the exit polls are wrong,' Matthew DeBell, a senior scholar at Stanford's Institute for Research in the Social Sciences, emailed me."

"Exiting the exit poll: The AP's new plan for surveying voters after a not-so-hot 2016" [Nieman Labs]. "One hundred and seventy-four days remain until the United States' midterm elections (902 until the next presidential election, but who's counting) — which means there's still time to "evolve" how polling is conducted…. The 2016 presidential election wasn't polling's shining moment, with many post-mortems pointing to opinion polls misleading election forecasters and underestimating now-President Trump's support. It didn't help that some polls were tied to news organizations that don't really have the resources anymore to support this work — at least doing this work well…. These issues contributed to the Associated Press' and Fox News' departure from the Election Day polling data shared by the major networks last year. But now the wire service has built a new-and-hopefully-improved election data-gathering system made up of comprehensive surveys and online polling." • Since there's no particular reason to trust the election results absent hand-marked paper ballots, hand-counted in public, especially given the intelligence community's increasing involvement in the domestic electoral process, exit polling can potentially signal discrepancies.

"Gerrymandering Critics Suffer Twin Blows at the Supreme Court" [Governing]. "Having had little luck with the Supreme Court, critics of gerrymandering are taking their case directly to voters. Ohio voters approved a measure in May that will turn redistricting over to an independent commission if the legislature fails to adopt maps that win broad bipartisan support. Proposals to create independent redistricting commissions either have already qualified or could be on the ballot in several states this fall, including Arkansas, Colorado, Michigan and Utah."

* * *

"We Have a Crisis of Democracy, Not Manners" [Michelle Goldberg, New York Times]. "Over the last week, several Trump administration officials and supporters have been publicly shamed…. Naturally, all this has led to lots of pained disapproval from self-appointed guardians of civility…. As long as our rulers wage war on cosmopolitan culture, they shouldn't feel entitled to its fruits. If they don't want to hear from the angry citizens they're supposed to serve, let them eat at Trump Grill." • "Cosmopolitican culture…." As I climb one peak of liberalism, another, higher peak, Escher-like, continually appears…. No but seriously folks, I'm confused about all this. The Iraqi who threw his shoes at President Bush? Now he's running for Parliament, so good for him. It's also clear that if official Washington can't break bread together, it can't make deals together (no doubt what's behind Schumer and Pelosi's Bourbon-like statements). That said, I remember — as usual — when blogging began, and all of us who had been crowned "vituperative, foul-mouthed bloggers of the left" by David Broder made it our business to violate "civility" as much as we could. It was fun! Bush was elected twice. Then a con artist — Obama — took too many of us in. So it's not clear that our various exercises in incivility really accomplished anything at all (besides a momentary jouissance of transgression). Of course, today's exercise in callout culture is different in that shunning and shaming take place in physical space, as blogging does not. A minor concern: If you're going to start shaming people in public spaces, and the people shamed tend to carry guns, your tactics may have unexpected consequences. More centrally, and speculating from a class perspective: I believe that the 10% who form the Democrats' base suffered enormous ego damage from election 2016, because it called into question their right to rule (on behalf of their masters). So they're acting out of a sense of sudden powerlessness, for which I should have more sympathy than I do. Now, if the "incivility" starts to happen on a bipartisan basis — that is, is perpretrated by people who do not believe that evil entered our sunny little world on January 21, 2017 — I'll have more confidence such performances are conducted in good faith. I'd have even more confidence if they come to include the people who really run the country. An excellent locale for future incivilities would be fundraising events for the donor class. Both parties, of course.

Democrats channel Louis XVI (1):

In the crucial months ahead, we must strive to make America beautiful again. Trump's daily lack of civility has provoked responses that are predictable but unacceptable. As we go forward, we must conduct elections in a way that achieves unity from sea to shining sea. https://t.co/vlpqOBLK4R

— Nancy Pelosi (@NancyPelosi) June 25, 2018

Wowsers.

Democrats channel Louis XVI (2):

Oh yes. Let's get REALLY tough and deprive the Trumpies of Chanterelle & Scape Risotto! That will change EVERYTHING!✊ https://t.co/pkMeedlnFw

— David Axelrod (@davidaxelrod) June 24, 2018

Democrats channel Louis XVI (3):

My aversion to answering right-wing hate with left-wing hate is strategic as well as moral. The R's are trying to keep older, high-school educated white men angry. I want to show college educated GOP women there's no home for them in vulgar, vicious Trumpland.

— Paul Begala (@PaulBegala) June 25, 2018

A break for Nina Illingworth's tweet, a useful corrective to the cynicism realism I expressed above:

RE: "mainstream liberalism" and this "chasing fascists out of restraunts" thing…

the only thing that has actually put even a DENT in Trumpism has been massive #'s of pissed off people showing up & disrupting the shit out of whatever it is Trump and his minions are trying to do

— Nina Illingworth (@EIWBM_Cat) June 26, 2018

The thing is, the left needs not merely to put a "DENT" in Trumpism, it needs to take over the Trump+Obama+Bush+Clinton+Bush+Reagan+Carter car and drive it in a different direction entirely. I don't see how "disruption" does this.

Democrats channel Louis XVI (4):

There's "no hidden message" here. We like to keep it pretty straightforward. Donate $20.18 to get this shirt, and all proceeds will go toward defeating Trump-supporting Republicans this November. https://t.co/gMKvkwv5ti pic.twitter.com/DlxNIhAecU

— The Democrats (@TheDemocrats) June 22, 2018

Note the qualifier, " Republicans," and compare to Begala's tweet above. Raising a buck off refusing to expand your base to unregistered or justifiably cynical voters is always attractive.

"Occupy ICE Protesters Given an Ultimatum: Leave or Be Arrested" [Governing]. "The order to abandon camp comes hours after federal law enforcement agents entered the ICE building in the middle of the night to 'secure government property,' according to news release sent to media just after 3:30 a.m…. The tent community was mostly quiet through early Monday afternoon. Interspersed through tents lining the railroad tracks are places meant to serve different purposes: a quiet tent with a stocked bookshelf, a family tent for children filled with colorful toys, a pantry, a makeshift shower, an engineering tent, a medical station and a dishwashing station."

"Q&A: Do migrants who enter illegally get 'due process'?" [Associated Press]. "Due process can look different for each case. Rules for refugees, for example, differ from those seeking political asylum. A person's criminal record can play a role too, as can the location of entry, such as a designated port of arrival versus other parts of the border. Under current rules, a person detained within 100 miles of the border [see NC here] and who has been in the country for less than 14 days can be deported immediately, without being processed through immigration courts. But the person can also claim asylum, triggering a series of screenings by the federal government to determine if they are eligible. To qualify, they must demonstrate that they fear persecution as a result of their race, religion, political opinion or other factors. . Some people are released during the process, while others are required to wait in detention, depending upon the details of their case. The process of determining a person's claim to stay inside the United States can takes months or years to render a decision, in part because of the large number of cases and a shortage of immigration judges."

"The Line Between Us by Bill Bigelow" [Rethinking Schools]. "[T]he material here traces many lines between us. The most obvious are the multiple walls between the United States and Mexico. However, the lines inside Mexico are also growing more pronounced — between men and women, between countryside and cities, between rich and poor. When Bob Peterson and I were in Chiapas in July 2005, people told us that villages there increasingly are being emptied of the men, who are fleeing low prices for their crops and seeking work in sprawling Mexican cities or in the United States. Entire villages are now mostly women and children, the lines slicing relationships and families. Mexico's gulf between the haves and the have-nots is also growing. Mexico has long been one of the most unequal countries in the world, but it's getting worse. The line between the rich and poor in Mexico mirrors the inequality between the United States and Mexico. The typical U.S. hourly wage equals the typical Mexican daily wage… In the United States, the border legitimates lines between legal and illegal residents, and all that these categories entail. … But these are human-made lines, so they can also be unmade."

"Where the Wall Worked" [Politico]. "Tijuanans, though, tend to view the idea of yet another wall with indifference. 'We already have two walls. I'm not sure what another one would do,' says Miguel Marshall, a young entrepreneur in the city." • Readers? Anyone who has experience with the, cleaned up Tijuana?

I was going to hoist this by reader mMukluk from comments for further discussion, but it appears to have gotten plenty of thoughtful responses already, so I recommend that readers simply click through. Some quick thoughts of my own: (1) Recategorizing the problem from one of the nation-state to one of empire could change the moral dimension; in the same way that we owe the Syrian refugees succor from the wars we ourselves created, we owe (all? some fraction of?) Latinx migrants succor from the results of our own policies. (2) I don't see a principled description of the role of the state. "The first duty of the state is to protect — care for? — its citizens." I hear this from conservatives, but it's really a lot like FDR's New Deal compact, isn't it? Should the state control its borders? Concretely, should there even be immigration checkpoints? If not, what is the role of the state, since the distinction between citizen and non-citizen seems to have collapsed. (3) It still seems to me that labor arbitrage is an enormous problem, and we have the example of H1B visas to show that capital — here, as embodied by Silicon Valley oligarchs or rather crooks — wants cheap labor, knows how to get it, and immigration is one way to get it. I don't see this discussed very often, and by the open borders crowd, never. (4) I understand the appeal of amnesty: Millions have made their lives here, and deserve to stay, since we can hardly send those millions back. (I'm not up on the details of Reagan's amnesty, but what I recall seems vaguely onerous. I'm also concerned, since Everything Is Like CalPERS, that in the eligibility determination process for amnesty — asssuming there is one? — we end up creating another horrid Rube Goldberg device like ObamaCare). But, again, I don't see the principle behind it. Suppose we could magically deport the millions. Should we? If we do not, doesn't that imply a "porous borders" policy where X number of non-citizen migrants builds up, and we give amnesty again? What kind of sense does that make? As I said, if the United States is to turn into a gigantic Mr. Lee's Greater Hong Kong — pay $400 bucks, I think it is, and you get a passport — that might not be such a bad thing. But I need to be persuaded that all the systematic aspects have been thought through, and all the bad-faith yammering about babies doesn't help that one iota. And my key issue is #3. So, readers, have at it.
Stats Watch
Richmond Fed Manufacturing Index, June 2018: "Manufacturing activity in the Fifth District continued to accelerate" [Econoday]. "Boding well for future strength was an increase in backlog of orders… While employment grew in June, firms reported greater difficulties in finding employees with skills they need*…." NOTE * At the price they are willing to pay…. And: "The important Richmond Fed subcategories significantly accelerated. This was a stronger report than last month" [Econintersect].
S&P Corelogic Case-Shiller Home Price Index, April 2018: "Home prices slowed going into and during the early part of the Spring selling season with Case-Shiller the latest to confirm the softening" [Econoday]. "[P]rice concessions were apparent in last week's existing home sales report for May and yesterday's new home sales report as well. Demand strength for the Spring housing season appears to be less than convincing which for policy makers may actually be a plus given what may have been a pattern of overheated price appreciation last year." And: "According to the data, prices increased in 17 of 20 cities month-over-month seasonally adjusted" [Calculated Risk]. More: "The swings in the seasonal factors has started to decrease, and I expect that over the next several years – as the percent of distressed sales declines further and recent history is included in the factors – the seasonal factors will move back towards more normal levels" [Calculated Risk]. And but: "Many pundits believe home prices are back in a bubble. Maybe, but the falling inventory of homes for sale keeps home prices relatively high. I continue to see this a situation of supply and demand. It is the affordability of the homes which is becoming an issue for the lower segments of consumers" [Econoday].
Consumer Confidence, June 2018: "Tariffs may now be denting consumer expectations based on the consumer confidence index which dipped" [Econoday]. "But levels are still very strong in this report and the current condition index, which offers hints at near-term consumer activity, held nearly unchanged… The immediate implications of today's report are quite favorable, pointing to a solid month for consumer spending, but the longer-term outlook is perhaps beginning to erode." And: "Americans are still very optimistic about the U.S. economy, but a little less so than they were a month ago" [MarketWatch]. And but: "Consumer confidence has been on a multi-year upswing – but this upswing has yet to be reflected in increases in consumer spending" [Econoday]. • Surveys v. data, why oh why…
State Street Investor Confidence Index, June 2018: "Global institutional investors continued to decrease purchases of equities in June" [Econoday]. "Institutional investors stepped up their reduction of equity holdings in Europe, where political turmoil, including a populist government in Italy and the possibility of a more fragile coalition in Germany, continued to take a toll on investor confidence."
Shipping: "Why is Chicago overheated on Outbound and Inbound Turndowns?" [Freight Waves]. "Chicago is the top U.S. freight hub. Usually, it's a beautiful spot. Long haulers love going to Chicago because they know they can always find freight to bring out after they've brought a load in. There should be plenty of capacity in Chicago generally at all times, especially as it's a hub from so many directions. It has a lot of points of consolidation, and it often also flows out of Chicago in a lot of directions. When you have a lot of turndowns in Chicago, it's basically because you don't have the trucks there. SONAR's Outbound Tender Rejection Index (OTRI) has gone up to 20.88% in the past 9 days. The fact that Chicago is outpacing the market is significant. In the wintertime this would make sense. In the summertime, however, there's a lot of activity. The bottom line is that truckers don't turn down freight when it's scarce. And as you've probably heard the entire year of 2018, there is a lot of freight. So why, when capacity is so tight, is Chicago of all places overheated?…. From a national perspective, what we're seeing is that the long haulers have bigger and better things to do right now, like going out west where . L.A.'s Outbound Tender Rejection Index (OTRI) is one of the only places in the country that hasn't taken a dip. It stands at about 18%." LA is on fire, eh? Could affect the mid-terms…
Manufacturing: "US Manufacturing: There's Something Happening Here" [Industry Week]. "On one hand, it's possible that the sector is in absolutely fantastic shape. The numbers certainly suggest as much—we're currently at 21 straight months of growth in the industry, with U.S. manufacturing vacancy rates at just about a third of the 10-year average. At the same time… new manufacturing plants are suddenly sprouting up seemingly everywhere, while the regulations that many in the industry have long-argued stunt growth are being slowly peeled away. All of which seems terrific. However, it's also possible that the sector is in deep trouble. Or at least dangling over the edge of trouble. The industry has found itself facing an array of potentially disastrous issues: a looming threat of a trade war, inconsistent tariff arrangements, a skills gap that shows no sign of narrowing, and thick inscrutability from the policymakers shaping the future, just to name a few." • It would also be nice to know how many people are newly employed, net, and where, because of all this "growth." Perhaps I didn't get the memo….
Concentration: "Opinion analysis: Divided court defines credit-card networks as single two-sided market, rejecting antitrust challenge to anti-steering provision" [SCOTUSblog]. "Credit card firms sell transactions, the majority stressed, so plaintiffs must prove that the anti-steering provision increased the cost of transactions or reduced the number of transactions as compared to competitive markets. In this case, they failed to do so. Higher merchant fees were not sufficient proof and, in any case, might indicate a competitive market in which the consumer side of the market was receiving benefits, such as rebates or airline miles. Finally, the majority observed that the credit-card market has expanded, offering a larger variety of cards to diverse consumers and more credit cards overall."• Frankly, I'm baffled by this, even though it seems important. Readers?
Concentration: "Opinion: Breaking up Berkshire Hathaway may be the best idea in a post-Buffett world" [MarketWatch]. "Berkshire hasn't beaten the S&P 500 or the Dow Jones Industrial Average DJIA, by any of the following periods: One year, three years, five years, nine years (roughly, the recovery from the 2008 crash, which bottomed in March 2009) or 10 years. It hasn't beaten insurance companies — and insurance is its largest operating business. It's sitting on more than $100 billion in cash because it finds most available deals overpriced. It's heavily committed to utilities, which Berkshire runs well, but which are not a great business in the future. And the investment pool of stock bets on other companies that made Buffett legendary has slipped from world-beatingly great — since 1964, Berkshire's increase in stock-market value is a stupefying 2.4 million percent — to basically pretty good. It's really too large to post returns that beat the market by much anymore. Let's be real: A conglomerate of unrelated businesses like Berkshire, which owns everything from ultra-sophisticated reinsurance companies to Dairy Queen, hasn't been considered the optimal way to run corporations since the 1970s."
Five Horsemen: "Unlike its peers, Alphabet is not bouncing back after yesterday's rout" [Hat Tip, Jim Haygood].
NakedCap Mania-Panic Index: "Spikes in VIX and the put-call ratio sent the mania-panic index plunging to 39 (worry) after yesterday's shellacking" [Hat Tip, Jim Haygood]. (The NakedCap mania-panic index is an equally-weighted average of seven technical indicators derived from stock indexes, volatility (VIX), Treasuries, junk bonds, equity options, and internal measures of new highs vs new lows and up volume vs down volume … each converted to a scale of 0 to 100 before averaging, using thirty years of history for five of the seven series.)
Class Warfare
""We Are One Big Conversation" (interview) [Grassroots Economic Organizing]. "Today, the Central Cooperativa de Servicios Sociales des Estado Lara is a network of about sixty cooperatives and grassroots organizations in the Venezuelan state of Lara, with about 20,000 members. The cooperatives sell at weekly markets in Barquisimeto and provide community-backed loans, among many other services. One of its proudest achievements is its health center, the Centro Integral Cooperativo de Salud, which serves 200,000 patients every year. To start the health center in March 2009, Cecosesola raised US$1.8 million by selling fruit salads at the markets; by soliciting short-term, fixed interest deposits from cooperatives and individuals; and through consensus-based contributions made by all full-time staff."
"Workers Full of Poems: On Eddie Sadlowski, 1938–2018" [n+1]. "Organized labor's postwar success had rested on the bargain of wages for productivity. To question this productivist logic—the idea that hard labor deserved reward because it built the country—was pure blasphemy for hard-pressed blue-collar workers in a moment when steel jobs were starting to disappear. Still, he said it. 'I never met anyone in his right mind who loved working in the steel mill,' said Sadlowski. 'Working forty hours a week in a steel mill drains the lifeblood of a man. There are workers there right now who are full of poems and doctors who are operating cranes. We've run the workers into the ground. Ultimately, society has nothing to show for it but waste.'" • Very interesting and sadly forgotten history…
News of The Wired
"Apple never meant for you to spend so much time on your phone, Tim Cook says" [MarketWatch]. Cook: "We want people to be empowered from [their phones] and do things they couldn't do otherwise. But if you spend all your time on your phone, then you are spending too much time." • Something a hardware manufacturer can say without destroying their business model.
"Why We Should Save Earth Before Colonizing Mars" [Forbes]. "Our species is less than 250,000 years old. What we learn from cleaning up our own planet and preserving its flora and fauna will only help us when terraforming the world next door. And if we aren't out terraforming nearby star systems in another half million years, our civilization may have long disappeared anyway. Thus, we should deal with our own environmental issues here first. Then worry about terraforming Mars." • Assuming the aliens who've sensibly quarantined the solar system let us off-planet, that is. Whatever, or whoever, has caused all those mission failures hasn't gotten a close look at Elon Musk, yet…
* * *
Readers, feel free to contact me at lambert [UNDERSCORE] strether [DOT] corrente [AT] yahoo [DOT] com, with (a) links, and even better (b) sources I should curate regularly, (c) how to send me a check if you are allergic to PayPal, and (d) to find out how to send me images of plants. Vegetables are fine! Fungi are deemed to be honorary plants! If you want your handle to appear as a credit, please place it at the start of your mail in parentheses: (thus). Otherwise, I will anonymize by using your initials. See the previous Water Cooler (with plant) here. Today's plant (via):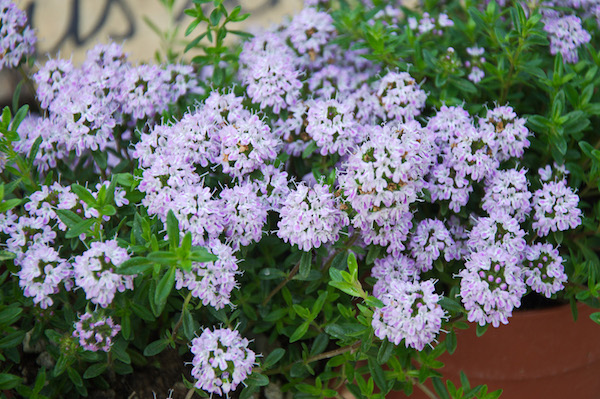 This is Wild thyme (Thymus serpyllum) not culinary thyme (Thymus vulgaris). My thyme is very invasive, quite vulgarly. I like it a lot.
* * *
Readers: Water Cooler is a standalone entity not covered by the annual NC fundraiser. So do feel free to make a contribution today or any day. Here is why: Regular positive feedback both makes me feel good and lets me know I'm on the right track with coverage. When I get no donations for five or ten days I get worried. More tangibly, a constant trickle of small donations helps me with expenses, and I factor that trickle in when setting fundraising goals. So if you see something you especially appreciate, do feel free to click the hat!

To give more, click on the arrow heads to the right of the amount.
If you hate PayPal — even though you can use a credit card or debit card on PayPal — you can email me at lambert [UNDERSCORE] strether [DOT] corrente [AT] yahoo [DOT] com, and I will give you directions on how to send a check.