Readers, I just got the cheapest possible Android phone, and so naturally I looked at the site. I had some issues with display (an ad partly overlapping the site motto). I'd like to know how widespread the problem is. Can those of you who view the side on cellphones describe your experiences in comments? Please remember to give your brand of phone and its operating system, with version! Those of you with problems can send us screen dumps via email, as well. Thank you! –lambert
Feral peacocks are attacking luxury cars after seeing their own reflections CBS
Triple Crown pushes Justify's breeding rights fee to record $75M ESPN
Who should create money? Swiss vote promises a revolution Global Handelsblatt
12 Northern California wildfires sparked by PG&E power lines, investigators say San Francisco Chronicle. For more on PG&E and the 2017 wildfires, see NC here and here.
Fibre optic wires, servers, and more than 550,000 miles of underwater cables: Here's what the internet actually looks like Business Insider (KW).
Venezuela's Narrowing Options Counterpunch (GF).
Trade Tantrum
Malaysia's Mahathir calls for review of Trans-Pacific trade pact Japan Times
The 'West' Is Past Moon of Alabama
Brexit
'Extraordinary secrecy' in Whitehall is crippling Brexit plans Guardian

Brexit trade proposals will not be published until after EU summit BBC
Northern Ireland: memory or amnesia? Le Monde Diplomatique
Syraqistan
The Left in Syria: From Democratic National Change to Devastation Verso
China
US-China: Why Taiwan is back on the agenda FT

Bad Dog robot is shocking China's youth out of their loneliness TechNode

Playing mahjong and betting on horse racing could decrease dementia risk, Hong Kong study finds South China Morning Post
North Korea
Kim Jong-un due to arrive in Singapore on Sunday afternoon as city state ramps up security South China Morning Post
New Cold War
The giant timeline of everything Russia, Trump and the investigations PBS

Trump's Policies Paying Off For Man Who Helped Make Him President: Vladimir Putin HuffPo. "The United States had been working on an agreement with the European Union nations, the Transatlantic Trade and Investment Partnership, but that effort was abandoned after Trump won the presidency." Good. Great!
Putin's 2018 marathon call-in show, boiled down to two paragraphs Meduza
Trump Transition
Uncovering the new administration's drone war policy C4ISRNET

Strange bedfellows: Trump backs Warren's pot banking bill American Banker. Owning Sessions?

Carson backs off plan to triple rents for poorest households Politico
Democrats in Disarray
Turning Affluent Suburbs Blue Isn't Worth the Cost NYT

Democrats Must Reject Howard Schultz and His Radical Centrist Ideology New York Magazine. "The U.S. government is not like a household or a business (although, plenty of businesses recognize the benefits of debt-financed investment) because it can print its own currency." MMT is gradually becoming conventional wisdom. But who added that parenthetical?

Beware the Democrats and Their Good Billionaires Truthdig

Chuck Schumer is the exact opposite of what Democrats need The Week

Joe Crowley Complains His Primary Opponent, Alexandria Ocasio-Cortez Is Making This Race "About Race" The Intercept
Bernie Sanders Is to Deliver a Commonsense Plan to Save the Postal Service The Nation
How Good Is the Trump Economy, Really? NYT
Guillotine Watch
"She Absolutely Has Sociopathic Tendencies": Elizabeth Holmes, Somehow, Is Trying to Start a New Company! Vanity Fair

The Rich Are Planning to Leave This Wretched Planet NYT. The URL: "pigs-in-spaaaaaace.html" (!).
'I must be doing something right': Billionaire George Soros faces renewed attacks with defiance WaPo
Partisan Divide on Benefit of Having Rich People Expands Gallup (UserFriendly). "Overall, 58% of all Americans agree that having a rich class is a benefit."
Class Warfare
Delta's new uniforms are giving some flight attendants rashes Business Insider (KW). Not for the first time…
The Critic Whose Olive Garden Review Went Viral Remembers How Anthony Bourdain Spoke Up For Her Buzzfeed
Antidote du jour (via). Today's lynx: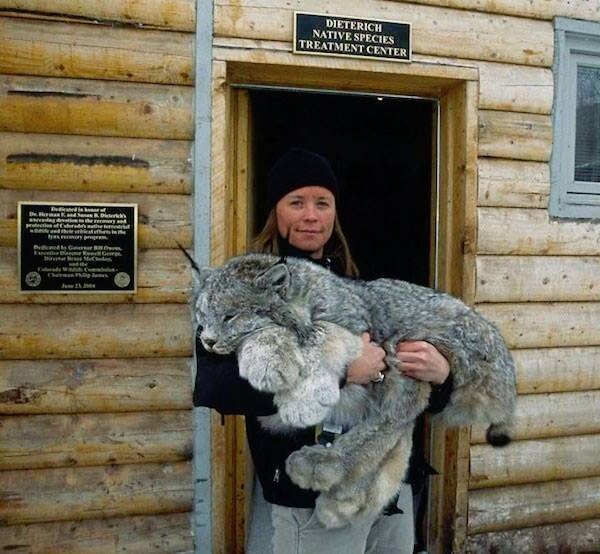 See yesterday's Links and Antidote du Jour here.