Scientists discover bees understand the concept of zero PhysOrg (Chuck L)
Why Scientists Are Upset About A Dinosaur Fossil's Sale – And $2.4 Million Price Tag NDTV (Kevin W)
NASA rover data shows Mars had ingredients needed for life Reuters (furzy). As if we need to give Elon Musk more encouragement.
Brazilian Footballers Will Have Timetabled Sex During World Cup 2018 – Reports Sputnik (Chuck L)
News drones reveal big companies are draining local water supplies in Peru, Colombia ICIJ (Timotheus)
About that tritiated water: Who will decide and when? Japan Times (David L)
China?
China Deals Shocking Blow To Solar Industry OilPrice

A better way to repel China in the South China Sea Asia Times. Kevin W: "This man's solution is to actually start a shooting war with China. (bangs head repeatedly on desk)."

U.S. Evacuates Multiple Employees From Chinese Consulate Over Mysterious Illness NPR (furzy)
India Advances Ill-Conceived Plan to Project Military and Economic Power into the Seas Alternet. Curious to get reader reactions.
North Korea
Venezuela's Oil Meltdown Defies Belief Wolf Richter (EM)
Venezuela Seeks OPEC Support Against U.S. Sanctions OilPrice
Brexit
Difficult to see how UK proposal on customs aspects of IE/NI backstop will deliver a workable solution to avoid a hard border & respect integrity of the SM/CU. A backstop that is temporary is not a backstop, unless the definitive arrangement is the same as the backstop. #Brexit

— Guy Verhofstadt (@guyverhofstadt) June 7, 2018
Police probing fire service over Grenfell Tower disaster BBC (Kevin W)
12,500 TSB customers leave after IT meltdown Sky News. Number seems low but other reports have described how TSB has made it hard to leave. Clive points out:
Clever use of tense "have left" — says nothing about the pipeline (how many customers have begun the switching process but this is still to complete — it takes 7 to 10 days once initiated). Plus you need a good credit score to open anything other than a very basic bank account. If you've got an overdraft you want to transfer to another bank (which you can't afford to clear first) and poor credit, you're stuck at TSB.
Carillion's accountants and lawyers will get £70m to manage collapse Guardian (Kevin W)
New Cold War
Austria Offers to Host Summit Meeting Between Trump and Putin Bloomberg
Syraqistan
U.S.-Saudi Pressure On Jordan Opens The Way For Iran Moon of Alabama

Be Very Afraid: Israeli forces Are Training American Police Mint Press (Judy B). Not exactly news. Bloomberg bragged about how the NYPD was the seventh biggest army in the world and was getting advice from Israel.
Big Brother is Watching You Watch
Homeland Security wants to monitor journalists. Time to sound the alarm. The Week (Chuck L)

Up to 14m Facebook users may have unknowingly posted private information to the public Abc.net.au (Kevin W)
Tariff Tantrum
Please tell Prime Minister Trudeau and President Macron that they are charging the U.S. massive tariffs and create non-monetary barriers. The EU trade surplus with the U.S. is $151 Billion, and Canada keeps our farmers and others out. Look forward to seeing them tomorrow.

— Donald J. Trump (@realDonaldTrump) June 7, 2018
Trump Transition
Health Care
Justice Dept. argues key parts of ObamaCare are unconstitutional The Hill

The 2 words you can't say in a Democratic ad: 'Single payer' Politico. Important.

Pelosi: 'Medicare for All' should be 'evaluated' if Dems win House The Hill (furzy). Translation: "We'll need to find better excuses for not doing it."
Michigan Court of Appeals rules in favor of Voters Not Politicians Detroit News (UserFriendly)
Black Injustice Tipping Point
Most voters are fine with NFL players' anthem kneeling: poll New York Post (RR)

Video shows Chicago police handcuffing 10-year-old after call about black male with gun NBC
Texas Student, Mother Detained for Waving to Each Other During Graduation Sputnik
Fake News
Facebook is hiring 'news credibility specialists' — after saying it didn't want to be in the business of judging news trustworthiness Business Insider
Wells Fargo Apology Ad Joins Facebook and Uber in Trend Rolling Stone (furzy)
Funds Like Magellan Need Gamblers Like Bill Gross Bloomberg (furzy)
SocGen chiefs ordered Libor rigging, US records show Financial Times
Bernanke Says U.S. Economy Faces a 'Wile E. Coyote' Moment in 2020 Bloomberg
Short-Termism Is Harming the Economy Wall Street Journal (furzy)
America's Startup Scene Is Looking Anemic Bloomberg
Academic Propaganda Protecting US Financial Imperialism Michael Hudson
Class Warfare
Nurse Practitioners, Physician Assistants Receive Class Action Status in VA Overtime Lawsuit PR Newsire

Research finds tipping point [~25%] for large-scale social change PhysOrg (Dr. Kevin)

The Steady Enmity of Powerful People Golem XIV
Antidote du jour. Bill B reports on Biggie Mayor:
To follow up on the story of the cat with the winning attitude that we ran into during our evening walk.

At first we suspected it might be pregnant. Nope, it's simply a tom cat who is well fed. It has a loyal following of around a half a dozen local residents who supply food at various points during the day (e.g. four meals a day plus midnight snack). Hence the name "Biggie Mayor." At the suggestion of the animal control folks, someone went to a vet's office nearby and discovered that there was already a file created for the friendly feline. The stated owner on file is missing in action.

Somehow the cat wandered over to our neck of the woods and decided he liked it. Definitely an indoor cat given his gentle demeanor. With one major exception, despite having eye problems the cat refuses to be placed in a box or in a car. Preferring the freedom of the great outdoors to even the hint of confinement. Hence making it difficult to deliver eye drops or other medicine. This cat can smell a set-up a mile away and immediately heads for the border.

One local nailed his medical records to a nearby fence. Biggie Mayor has been sleeping rough for over a decade. Good think he's plump and furry, it's been getting cold and windy during the evenings. Some nights I jog by and he's taking shelter under a the warm engine of an SUV. We've tried to supply him with padded shelter material but this cat is stuck in his ways.

Note the holder attached to the fence, it contains Biggie's medical history as various samaritans have gotten shots and delivered meds. It looks like someone is trying to habituate Biggie to a pet container so he doesn't flee the next time they try to take him for a checkup.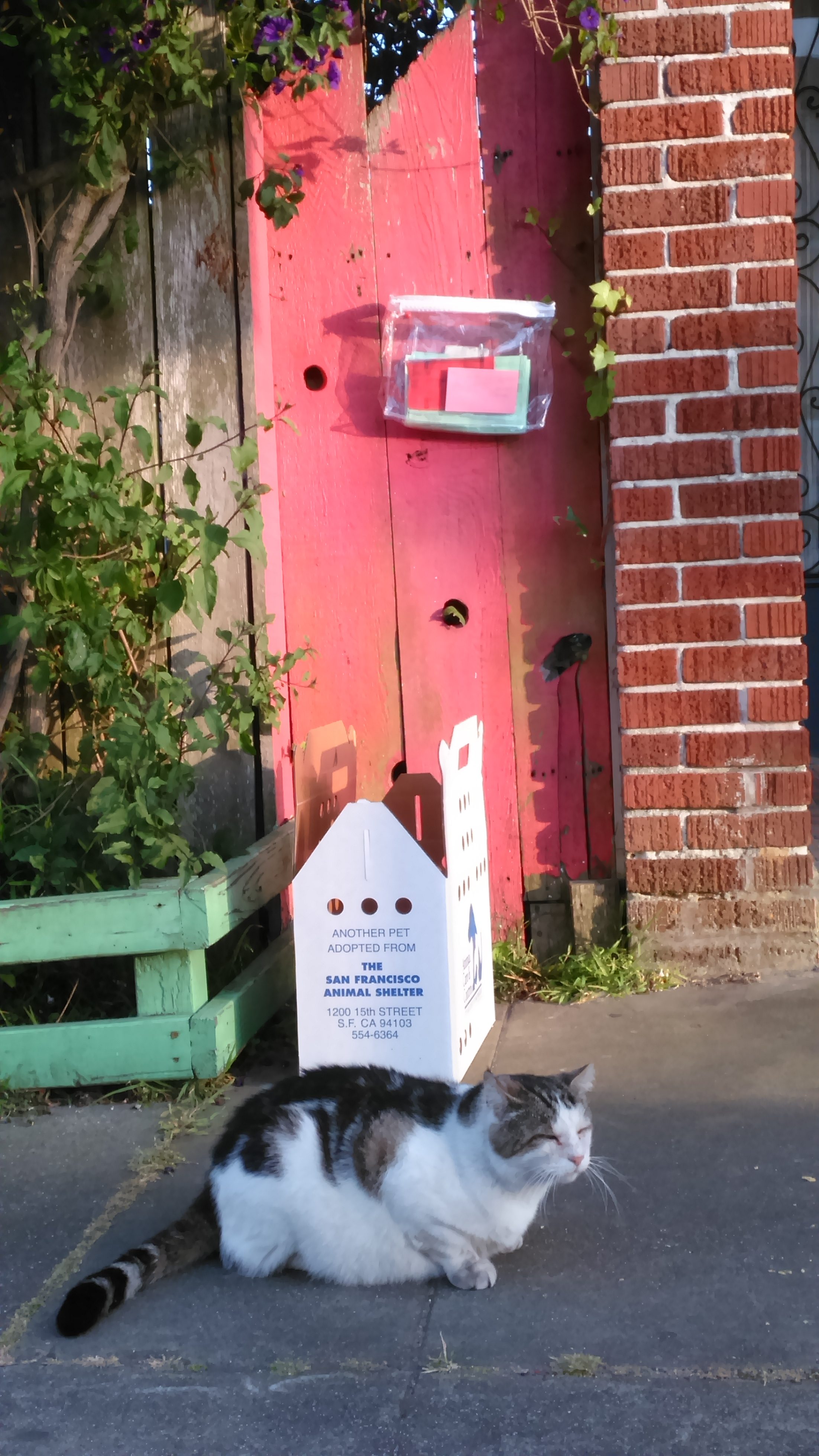 See yesterday's Links and Antidote du Jour here.