By Lambert Strether of Corrente.
Trade
"Opinion: Surprised by how little Trump's trade war matters to the economy? Just you wait" [MarketWatch]. "The mystery is why the economic and financial fallout from this escalation has been so limited. The U.S. economy is humming along. The purchasing managers' index was up again in June. Wall Street has wobbled , but there has been nothing resembling its sharp negative reaction to the Smoot-Hawley Tariff of 1930. Emerging markets have suffered capital outflows and currency weakness, but this is more a consequence of Federal Reserve interest-rate hikes than of any announcements emanating from the White House. There are three possible explanations. First, purchasing managers and stock market investors may be betting that sanity will yet prevail….. Second, the markets may be betting that Trump is right when he says that trade wars are easy to win… Third, it could be that the macroeconomic effects of even the full panoply of U.S. tariffs, together with foreign retaliation, are relatively small. Leading models of the U.S. economy, in particular, imply that a 10% increase in the cost of imported goods will lead to a one-time increase in inflation of at most 0.7%. This is simply the law of iterated fractions at work….."
"Trade tensions are triggering turmoil in one of agriculture's cornerstone supply chains. Soybean prices are at their lowest point in nearly a decade as Chinese buyers shift their purchasing to Brazil and businesses in other countries rush to U.S. suppliers for heavily discounted shipments. The shifting trade in a food-industry staple is the most visible sign yet of the tit-for-tat tariffs flying between the U.S. and China" [Wall Street Journal]. • China not being self-sufficient in soy sauce is about as nutty as us deindustrialized the heartland. Kidding! I think…
"Taking on the mantle of : Beijing is planning on pushing back against Trump by positioning itself as defender of the world trade order and bracing for what it is describing as an 'economic cold war,' in the words of a source close to decision-makers in Beijing" [Politico]. "The ministry statement comes amid a push by China to present the trade fight as a choice between upholding the multilateral trading system under the World Trade Organization as Beijing is doing, or letting Trump's unilateralism and protectionism prevail."• Reminds me of this passage from Richard Morgan's dystopian Altered Carbon: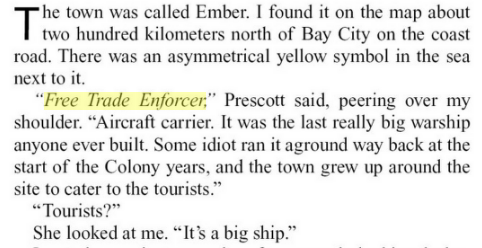 Politics
2018
"Novartis had 'longer and more detailed' relationship with Trump lawyer Michael Cohen, Senate report finds" [MarketWatch]. "[Novartis] Chief Executive Joe Jimenez and Cohen communicated multiple times after that and over the course of 2017, including an email exchange in which Jimenez sent Cohen Novartis' 'ideas to lower drug costs in the U.S.,' which were to be discussed with the Trump administration. Several of the ideas later appeared in Trump's drug pricing plan, released earlier this year, the report found." • Report prepared by Blumenthal, Murray, Warren, and Wyden. So corruption is the message now?

Hire the best:

Lanny Davis pushes back – on the record – to suggestion Cohen peddled access to Trump WH: "Mr. Cohen, who never introduced anyone from Novartis to anyone in the administration or Congress, did not 'sell access.' As a consultant, he provided strategic advice to his client."

— Ben Siegel (@benyc) July 13, 2018

I like "strategic advice." "Strategic advice" is good.

* * *

UPDATE Working Families Party provides post-debacle clarity on Crowley:


There are many ways for @JoeCrowleyNY to remove himself from the November ballot. It's outrageous that he refuses to show @Ocasio2018 the basic respect of doing so. Either way, we know who we're supporting, and we know who the next member of Congress from #NY14 will be. https://t.co/LmN0v1XH78

— NY Working Families (@NYWFP) July 12, 2018

So how did Crowley get on the WFP ballot line in the first place, for pity's sake? (Incidentally, nobody who remembers how Obama's mentor and Gore's Vice Presidential nominee, Joe Lieberman — thanks for the DHS, Joe! — ran and won as an Independent after an insurgent Ned Lamont beat him in the primary can be sanguine about Crowley's machinations here. Especially given Crowley's history–

See this from '98 – @JoeCrowleyNY manipulated election law to get himself appointed to Congress in a way that blocked any challenger. Now to justify not conceding to @Ocasio2018, hes pretending he just cares about the integrity of election laws & democracy https://t.co/Viq40HAuNB pic.twitter.com/v8fXDyeXF6

— David Sirota (@davidsirota) July 12, 2018

Teachout endorsement:

A few weeks ago, I was too much of a risk to be around in NYC politics. No political figure would even say my name.@ZephyrTeachout was the exception. She endorsed me in front of a small flower shop in Queens. No one came to cover it.

Today, things are a little different. pic.twitter.com/Q4wKyzUbL3

— Alexandria Ocasio-Cortez (@Ocasio2018) July 12, 2018

"The Team That Helped Elect Alexandria Ocasio-Cortez Has Its Next Mission: Lifting Kerri Harris Over Sen. Tom Carper" [The Intercept]. "Carper's 2006 vote is particularly relevant now, as the three-term Democratic incumbent faces a primary challenge from Kerri Evelyn Harris, a U.S. Air Force veteran and community organizer whose campaign is based on the argument that Carper has served the corporate and militarized interests that have funded his campaigns over the people of Delaware. She would be a more progressive, less militaristic, and less corporatist senator than Carper." • This is new, although I suppose Sanders team members traveling to the UK to help Momentum elect Corbyn is a precedent.

* * *

NJ-02: "New Jersey 2: GOP House Open Seat Shifts to Likely Democratic" [Inside Elections]. "The former Atlantic County Freeholder won the GOP nomination in New Jersey's 2nd District on June 5, but the National Republican Congressional Committee disavowed him on Monday after multiple offensive statements came to light. "Bigotry has no place in society — let alone the U.S. House of Representatives," said NRCC Chairman Steve Stivers of Ohio… It's one of seven Republican districts rated as a takeover for Democrats, compared to just one Democratic seat where Republicans are currently favored to win. Democrats need a net gain of 23 seats for a House majority and Inside Elections currently projects Democrats gaining 20-30 seats." • Inside Elections is the handicapper I've been using for the mid-terms worksheet…

GA Governor: "'My enemy is not a man': Ex-gubernatorial candidate has 'mission' to damage Cagle" [McClatchy]. "'This has nothing personal to do with Casey Cagle. I don't like what he represents,' [fourh-place Republican candidate Clay Tippins] said in an interview Wednesday. "My enemy is not a man — it's what that man represents. It's the leadership model … he represents the political model."
2016 Post Mortem
UPDATE "Vengeance Is Mine" [Jacobin]. From 2016, still germane: "The crisis of President Donald John Trump is the bill coming due on a four-decade social, political, and economic project that has succeeded in worsening, coarsening, and ending the lives of hundreds of millions of Americans. This disease permeates the air in America, crystallizing into a constellation of pain: loneliness, frustration, despair, as immutable as the stars in the night sky — distant, implacable, and hanging over every town in the country. Yet we don't even have a name for it. Liberals rear back in horror at the insane climate denialism of their opposite numbers — but what then is the liberal reaction to the reality that our country is a cesspit for the vast majority of its inhabitants, an everyday gambit of fear and humiliation? That "America is already great," or even more cloying and nonsensical, that "America is great because America is good" — is it any wonder the Democrats lost?" • What they call a "rollicking good read"…
New Cold War
"Mueller indicts 12 Russians for DNC hacking" (live feed) [CNN]. First post 10:35 AM (the announcement that Rosenstein's presser was on the way. "The Department of Justice on Friday announced indictments in the Mueller investigation against 12 Russian nationals and accused of them of engaging in a 'sustained effort to hack into the computer networks' of the DCCC, the DNC and 'the presidential campaign of Hillary Clinton and release that information on the internet under the names DCLeaks and Guccifer 2.0 and through another entity,' it announced in a press release. All 12 defendants are members of the GRU, a Russian federation intelligence agency within the main intelligence directorate of the Russian military, who were acting in 'their official capacities.'"

"12 Russian Intelligence Officers Indicted in Hacking Tied to the Clinton Campaign" [New York Times]. • Curious timing, thin story. There's no timestamp, but the first comment is 12:37PM. Now somewhat less thin, but still with no time-stamp (the indictment).

"Justice Department Charges Russian Cyberspies With Attack On 2016 Election" [NPR].12:07 PM ET. "'In my remarks, I have not identified the victims,' Rosenstein said. 'When we confront foreign interference in American elections, it is important for us to avoid thinking politically as Republicans or Democrats and instead to think patriotically as Americans. Our response must not depend on who was victimized.'" • Let me know how that works out…

"Mueller probe indicts 12 Russians for hacking Democrats in 2016" [WaPo]. 12:53 PM. "The 11-count indictment spells out in granular detail a carefully planned and executed attack on the information security of Democrats, implanting hundreds of malware files on Democrats' computer systems, stealing information, and then laundering the pilfered material through fake personas and others to try to influence voters' opinions." • Hmm. I hate to seem curmudgeonly, but I need to know how we know about the malware files. Did the DNC turn over their servers or machine?

"Mueller indicts 12 Russians in 2016 DNC hack" [The Hill]. "The indictment also alleges that the Russians used an organization as a 'passthrough' to release documents — though that organization is not identified." • Wikileaks? And therefore subsequent indictments coming?

"12 Russians accused of hacking Democrats in 2016 US election" [Associated Press]. 1:00PM. "The indictment also does not allege that any vote tallies were altered by hacking."
Realignment and Legitimacy
UPDATE "Trump and Putin: A Love Story" (Video) [ New York Times (OregonCharles)]. • Everything you would think, and more, including tongues entwined. I've always regarded "coming out" as a good thing, a tremendous victory, and I would have thought that liberal Democrat venues like the New York Times did, too. Now, the Times is using gay lovers as a trope for betrayal and treason, and also as a source of derision, for weakness. In service of warmongering, too! Frankly, I'm baffled. Imagine the liberal Democrat frothing and stamping if Fox had published a similar video of, say, Obama and Lloyd Blankfein during the bank bailouts! I can only conclude that the liberal factions in the political class have completely lost their minds, and with their minds, their moral compass. Their natural right to rule was rejected in 2016, and the collective trauma, the ego damage, was so great that they have never been able to recover from it. I'm not looking forward to a period when they regain power, either. We already know they'll come for the left; but gay people, too?

UPDATE "The Secrets of Leonard Leo, the Man Behind Trump's Supreme Court Pick" [The Daily Beast]. "When President Donald Trump nominates a justice to the Supreme Court on Monday night, he will be carrying out the agenda of a small, secretive network of extremely conservative Catholic activists already responsible for placing three justices (Alito, Roberts, and Gorsuch) on the high court. At the center of the network is Leonard Leo of the Federalist Society… Directly or through surrogates, [Leo] has placed dozens of life-tenure judges on the federal bench; effectively controls the Judicial Crisis Network, which led the opposition to President Obama's high court nominee, Judge Merrick Garland; he heavily influences the Becket Fund law firm that represented Hobby Lobby in its successful challenge of contraception; and now supervises admissions and hires at the George Mason Law School, newly renamed in memory of Justice Antonin Scalia. 'Leonard Leo was a visionary,' said Tom Carter, who served as Leo's media relations director when he was chairman of the U.S. Commission on International Religious Freedom (USCIRF), in an exclusive interview with The Daily Beast. 'He figured out twenty years ago that conservatives had lost the culture war. Abortion, gay rights, contraception—conservatives didn't have a chance if public opinion prevailed. So they needed to stack the courts.' Amazingly, said Carter, Leo has succeeded in this mission with few people taking notice." • "Amazingly…."

UPDATE "'White and Wealthy' Colleagues Called Out in Letter to DCCC Demanding Intern Pay" [Roll Call]. "A group of current interns at the Democratic Congressional Campaign Committee sent a letter Thursday to Chairman Ben Ray Luján requesting pay…. 'Most of our fellow interns, while undoubtedly bright, are white and wealthy and have , nor do we have fellow interns with diverse backgrounds to discuss issues, ideas, or experiences with,' the letter stated. 'This disconnect is then reflected [in] policy positions, now and in the future.'"

UPDATE He can't be a real Democrat:

NOT BAD, HARRY TRUMAN pic.twitter.com/9vvXFUMCFD

— Owen Ellickson (@onlxn) April 3, 2018

UPDATE "The problem with identity politics" [New Humanist]. "When we are attacked and oppressed on the basis of particular categories, we often try to affirm those categories as part of our identities, to turn the relation of oppression around, to proudly reclaim whatever term has been used to oppress us. Thus questioning the cohesiveness of that category is very threatening to our sense of self, which has now taken on much more urgency because it is a response to our oppression. This is in many obvious ways a completely reasonable response. The problem is that it leads us to become attached to categories which are produced by the structure of oppression. While inverting that relation and reclaiming an identity may be a step in coming to consciousness of this structure, actually undermining the structure will also involve undermining the identity. It is not hard to see why people take this personally." • Very thoughtful. Well worth a read.

UPDATE "The Capital of Kink" [Medium]. • Amid the relentless domestication, this sentence crept out: "She says the people at parties make the most incredible sounds. They cry out in , they groan and then they'll start laughing. She says it's sometimes hard to tell whether they are in or pleasure until there's a sound that suddenly makes it clear the person is 'having a great freaking time.'" • Good for them. I know government is not a household, and I certainly hope it's not a dungeon either. I mean, I'd hate to think that deindustrialized America was some sort of "scene"…
Stats Watch
Import and Export Prices, June 2018: "Price weakness is the signal from June's import price data" [Economic Calendar]. "Today's report stands in contrast to Wednesday's producer price report where pressures for energy and also tariff-related increases for metals were evident. But the import side of today's report is consistent with yesterday's report on consumer prices, that inflation right now is contained and, from the Federal Reserve's perspective, with no major risk of overshoot evident." And: "Month-over-month price index for fuel imports and food exports significantly declined" [Econintersect].
Consumer Sentiment, July 2018 (Preliminary): "Consumer sentiment is easing back so far this month" [Econoday]. "The weakness is in the assessment of current conditions… Expectations are steady… Trade war is in play, cited as a concern by 38 percent of the sample vs 21 percent in June and 15 percent in May. Yet levels in this report remain strong and continue to support expectations for solid summer growth in consumer spending."
ECRI WLI Growth Rate: "Even with the general downward trend in this index over the last 6 months, the forecast is for modest growth six months from today" [Econintersect].
Consumer Price Index: "Still looks to me like the rate increases have offered some support for the economy and also pushed cpi higher? Interest income channels? Forward pricing channels? ;)" [Mosler Economics].
Shipping: "Tariffs not enough to derail trucking economy" [FreightWaves]. "'The size of these tariffs and the goods they are being placed on are really not big enough to derail the [overall economy]; they really impact specific industries but [won't significantly hurt] the broader macro economy,' [FreightWaves' Chief Economist Ibrahiim Bayaan] said during the inaugural FreightWaves' Market Update webinar on Thursday. "What you do worry about is how these tariffs spill over into the rest of the economy. Just thinking about how the growth of the economy is, much of it is driven by how consumers feel about the economy, how businesses feel about the economy." • Watching the breakneck purchase of ships, trucks, and warehouses — because shipping is a cyclical, sporty game — I'm reminded of Kevin Muir's "I won't because all of me wants to" post from Haygood, yesterday, and the ensuing thread. Oh Lord, make a bear. But not yet!
Shipping: "U.S. Warehouse Supply at Its Tightest in Two Decades" [Wall Street Journal]. "For U.S. retailers, manufacturers, importers and exporters, warehouse space is at its tightest since 2000, when the first dot-com boom was driving strong consumer spending and imports from China were beginning to surge…. Some distribution centers have added fulfillment operations. Other warehouses have converted to 'cross-dock' facilities to handle last-mile delivery of bulky items. And many brick-and-mortar retail locations have added e-commerce services, reducing the storefront footprint…. 'You're seeing a broad shift in the blurring of the line between retail and industrial space,' [Tim Savage, senior managing economist for CBRE] said. 'So something that may appear as a complete retail space does have an industrial component to it.'"
The Bezzle: "Digital Exile: How I Got Banned for Life from AirBnB" [Medium]. "I still can't believe that leaving an offsite review was a bannable offense, but even more disturbing to me is the way AirBnB handled the situation with a one-sided, permanent, irreversible, closed book suspension. The part that's especially poetic to me is that AirBnB touts a firm brand message of community and connectedness with their "Belong Anywhere" campaigns but the frightening reality is that any individual user is completely disposable, without a shred of appeal to due process. I'm really thankful that I wasn't reliant on AirBnB income ." • An interesting social trend, that. I wonder if it's been measured, and how sensitive it will be to downturns?
The Bezzle: "Just how bad are New York drivers?" [DC Velocity]. "If you're hearing a lot of complaints from delivery drivers about bad motorist behavior, don't assume they're just being cranky. Their gripes might be legitimate—particularly if those drivers work in and around New York City." • GM's doing robot car testing in Manhattan, so I wonder how that's going? Assuming the algos are unfixable, how about we just make the human drivers liable for everything?
Mr. Market: "Goldman recommends cybersecurity stocks in anticipation of midterm-meddling fears" [MarketWatch]. "The investment bank wrote that cybersecurity stocks 'present a tactical opportunity ahead of [the] midterm elections' in November. Citing press reports that 'suggest rising concerns about the possibility of meddling' in the election, it wrote that a rise in security spending 'in anticipation of potential threats would boost the top-line of cybersecurity stocks.'" • One more reason that hand-marked paper ballots, hand-counted in public, will "never, ever come to pass."
Five Horsemen: "In a repeat of yesterday, four of the Fab Five (all but Apple) are at fresh record highs in late morning trade" [Hat Tip, Jim Haygood].
NakedCap Mania-Panic Index: "Yesterday's market romp lifted the mania-panic index to 56 (complacency)" [Hat Tip, Jim Haygood]. (The NakedCap mania-panic index is an equally-weighted average of seven technical indicators derived from stock indexes, volatility (VIX), Treasuries, junk bonds, equity options, and internal measures of new highs vs new lows and up volume vs down volume … each converted to a scale of 0 to 100 before averaging, using thirty years of history for five of the seven series.)
NEW Preview of Fed Indicators, Thursday closing values: "To the Fed's delight, while underlying inflation carried on rising and the traditional 2y10y yield curve continued sinking, its new 1q6qfwd short-term yield spread kicked up to 0.99%, leaving room for four more rate hikes before inversion. Life is good" [Hat Tip, Jim Haygood].
Gaia
"Did Our Species Evolve in Subdivided Populations across Africa, and Why Does It Matter?" [Cell]. "The view that Homo sapiens evolved from a single region/population within Africa has been given primacy in studies of human evolution. However, developments across multiple fields show that relevant data are no longer consistent with this view. We argue instead that Homo sapiens evolved within a set of interlinked groups living across Africa, whose connectivity changed through time…. The starting point for most genetic studies of human origins has been to investigate the depth of present-day diversity between and within African populations. Most studies have used simple 'tree-like' demographic models to infer population split times, neglecting or simplifying population structure, even if sometimes considering a degree of gene flow between branches." • Ha ha ha. I think it's like a law that every real world entity we model as a tree ("branches") is in fact a graph ("branches" + "flow between branches"). This could be a problem because programmers really like the tree data structure. Short trees! Anyhow, the article is dense, but really interesting. Well worth a read, my data structure hobby horses aside.
MMT
From the Department of This Seems Unncesssarily Complicated:
When the govt "borrows," it turns green paper ($ in fed accounts it already spent) into yellow paper ($ in different fed accounts aka 'treasury bonds'). At maturity, the yellow paper is transformed back into green paper by shifting those $ back to the fed accounts they came from.

— Stephanie Kelton (@StephanieKelton) July 13, 2018
From the Department of This Is Necessarily Simple:
Lovely short presentation by @ptcherneva likening unemployment and its pervasive, destructive effects to epidemics and therefore advocating preventative job guarantee schemes. #MMT #LearnMMT #JG #JobGuarantee #TalkMMT #ChangeTheScript #ChangeIsComing https://t.co/ZbtRzlocEi

— James Tapper (@JamesJohnTapper) July 11, 2018
Militia Watch
"Pardoned by Trump, Oregon ranchers ride home in style on Pence ally's private jet" [Los Angeles Times]. "A day earlier, ranchers Dwight and Steven Hammond were prisoners at the minimum-security federal prison on Terminal Island in San Pedro, serving five-year sentences for arson. But on Wednesday, following a Tuesday pardon by President Trump, the father-and-son pair got to fly home in style to Burns, Ore., on an oil company's private jet, riding alongside the company's founder, Forrest Lucas — who used his relationship with Vice President Mike Pence to help secure the Hammonds' release." • Ugly. Bad.
Class Warfare
"Worker Surveillance and Class Power" [Law & Political Economy]. "A rational firm, when deciding which tasks to automate, would have reasons to target the specialized skills that give workers bargaining power. To illustrate: with GPS data from millions of trips across town, Uber may be able to predict the best path from point A to point B fairly well, accounting not just for map distance, but also for current traffic, weather, the time of day, etc. In other words, its algorithms can replicate drivers' subtle, local knowledge. If that knowledge was once relatively rare, then Uber's algorithms may enable it to push down wages and erode working conditions."
"In Rural America, Violent Crime Reaches Highest Level in a Decade" [Governing]. "The violent crime rate in rural areas, meanwhile, has climbed above the national average for the first time in 10 years…. The explanations for this change are familiar ones. Not all rural areas are poor, but many have lost jobs as factories have closed and farming has become increasingly consolidated. Lack of employment has naturally led to increases in poverty, which is closely associated with crime. The opioid epidemic has hit rural America particularly hard, and methamphetamine remains a major problem in many small towns. While there's more rural crime than in the past, there's also a shortage of law enforcement. Dwindling tax bases mean fewer sheriff's deputies doing the work." • No babies, though, at least none that matter.
News of The Wired
"'Find Your Passion' Is Awful Advice" [The Atlantic]. "'If passions are things found fully formed, and your job is to look around the world for your passion—it's a crazy thought,' [Stanford's Greg] Walton told me. 'It doesn't reflect the way I or my students experience school, where you go to a class and have a lecture or a conversation, and you think, That's interesting. It's through a process of investment and development that you develop an abiding passion in a field.'" • More essentialist brain damage…
"'Everything we've heard about global urbanization turns out to be wrong' – researchers" [Place]. "The United Nations predicts the world's urban population is expected to grow to 70 percent by 2050 from 55 percent at present after becoming majority urban for the first time around 2008. Not so, say researchers based at the European Commission. Using a definition made possible by advances in geospatial technology that uses high-resolution satellite images to determine the number of people living in a given area, they estimate 84 percent of the world's population, or almost 6.4 billion people, live in urban areas. 'Everything we've heard about global urbanization turns out to be wrong,' said lead researcher Lewis Dijkstra. Asia and Africa, which are routinely cited as majority-rural continents that are rapidly urbanizing, turn out to be well ahead of figures in the U.N.'s latest estimates…. The reason for the past errors is simple, [European Commission lead researcher Lewis Dijkstra] said, because countries self-report their demographic statistics to the U.N. and they use widely different standards." • Jackpot….
"Single subatomic particle illuminates mysterious origins of cosmic rays" [Nature]. "A single subatomic particle detected at the South Pole last September is helping to solve a major cosmic mystery: what creates electrically charged cosmic rays, the most energetic particles in nature. Follow-up studies by more than a dozen observatories suggest that researchers have, for the first time, identified a distant galaxy as a source of high-energy neutrinos." • Science is popping…
* * *
Readers, feel free to contact me at lambert [UNDERSCORE] strether [DOT] corrente [AT] yahoo [DOT] com, with (a) links, and even better (b) sources I should curate regularly, (c) how to send me a check if you are allergic to PayPal, and (d) to find out how to send me images of plants. Vegetables are fine! Fungi are deemed to be honorary plants! If you want your handle to appear as a credit, please place it at the start of your mail in parentheses: (thus). Otherwise, I will anonymize by using your initials. See the previous Water Cooler (with plant) here. Today's plant (LR):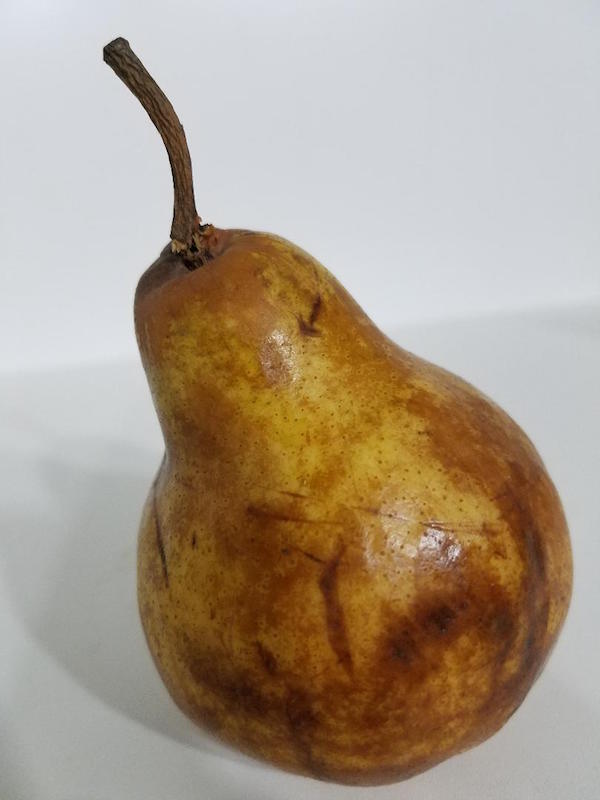 LR: "Don't be fooled by the marks on this pear. They are only skin deep. Underneath is the most delicious pear you ever tasted, if you like pears." And who doesn't love pears?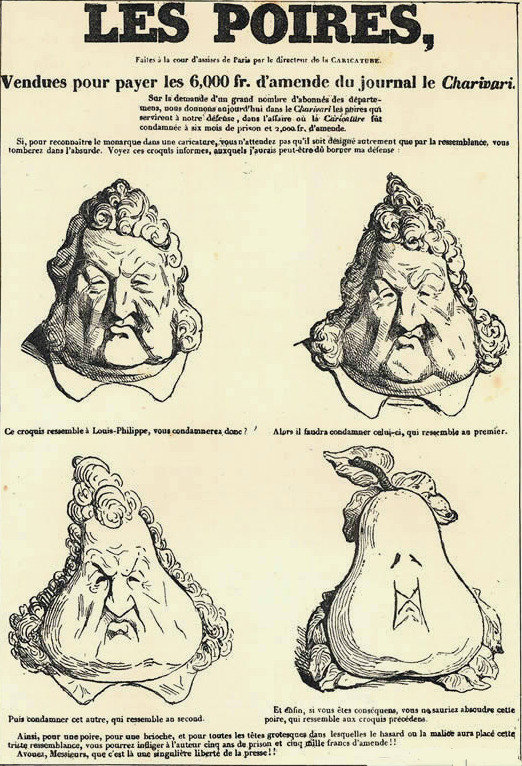 * * *
Readers: Water Cooler is a standalone entity not covered by the annual NC fundraiser. So do feel free to make a contribution today or any day. Here is why: Regular positive feedback both makes me feel good and lets me know I'm on the right track with coverage. When I get no donations for five or ten days I get worried. More tangibly, a constant trickle of small donations helps me with expenses, and I factor that trickle in when setting fundraising goals. So if you see something you especially appreciate, do feel free to click the hat!

To give more, click on the arrow heads to the right of the amount.
If you hate PayPal — even though you can use a credit card or debit card on PayPal — you can email me at lambert [UNDERSCORE] strether [DOT] corrente [AT] yahoo [DOT] com, and I will give you directions on how to send a check.