By Lambert Strether of Corrente.
Readers, I got wrapped around the axle on some mini-essays today, so I'll throw in a little more in a bit. –lambert UPDATE 2:53PM All done, along with some errands!
Trade
Lotta trade news today. Don't skip over this!
"The Trump administration at midnight began collecting 25 percent duties on $34 billion worth of imports from China, kicking into effect the first round of tariffs that specifically target Beijing. China is firing back with a 25 percent tariff of its own on imports of 545 American items — many of them agricultural products such as soybeans, cotton, rice, sorghum, beef, pork, dairy, nuts and produce" [Politico]. "The trading of tariffs mark the first concrete results of President Donald Trump's Section 301 investigation into China's intellectual property practices and forced technology transfers. The move also significantly ratchets up tensions between the world's two largest economies."
"The $2 Trillion Trade War Fallout" [Safe Haven]. "Fitch Ratings warned on Tuesday that increased trade tensions have raised the risk that new measures may be taken that would have a much greater impact on global economic growth than those enacted so far—to the tune of halting $2 trillion in global trade flow. It's a horrifying scenario, and one that Fitch warns could come about if the U.S. imposes auto tariffs on China, the EU, Mexico and Canada, prompting them to retaliate in kind, as they have done over steel and aluminum tariffs…. Whether this scenario will play out or not depends on how much of Washington's threats are bluster for more leverage—and not even Trump would appear to know that because this is all going down on the fly." • The trucking industry seems to be betting on bluster, if new truck orders and growth projections are a reasonable proxies.
"Must-know facts about the interwoven China-U.S. economic ties" [Xinhua]. "U.S. trade with China saved each American household up to 850 U.S. dollars on average annually, or about 1.5 percent of the U.S. median household income of 56,500 dollars, in 2015." •  Nice little economy you've got there. It would be a shame if something happened to it…. A collection of bullet points, but worth a read for how the Chinese elite sees pain points.
"US-China trade war could drive prices up and growth down" [Associated Press]. '[T]hose caught in the initial line of fire — U.S. farmers facing tariffs on their exports to China, for instance — are already hunkered down and fearing the worst. The price of U.S. soybeans has plunged 17 percent over the past month on fears that Chinese tariffs will cut off American farmers from a market that buys about 60 percent of their soybean exports. 'For soybean producers like me this is a direct financial hit,' Brent Bible, a soy and corn producer in Romney, Indiana, said in a statement from the advocacy group Farmers for Free Trade*. 'This is money out of my pocket. These tariffs could mean the difference between a profit and a loss for an entire year's worth of work out in the field, and that's only in the near term.'" NOTE * Farmers for Free Trade, a 501(c)(4). Note the corporate logos.
"Why Soybeans Are at the Heart of the U.S.-China Trade War" [Bloomberg]. 'China is the world's largest soybean consumer and remains heavily reliant on imports to satisfy demand. That's why the country's buying habits have an outsize influence on global prices. By imposing the tariffs on U.S. agricultural products, China is targeting one of the few sectors of the American economy that runs a trade surplus at a time when net farm income is poised to fall to a 12–year low. Soybeans are one of the largest U.S. goods exported to China—trailing just civilian aircraft and motor vehicles by value this year."
"Schumer: 'Goofy' tariffs hurting NY printers, newspapers" [Times-Union]. "Duties imposed on Canadian paper are expected to cost one print publisher millions annually and have pushed newsprint prices up 24 to 28 percent, jeopardizing jobs and finances and newspapers across New York, Senate Minority Leader Charles Schumer said Thursday…. 'I am going to put all the pressure I can on the Commerce Department' to reverse the tariffs, [Schumer] said Thursday. He estimates New York and Wisconsin are the two states most affected by the duties, and with help from Republican House Speaker Paul Ryan of Wisconsin, they 'can have a bipartisan one-two punch' against the duties." • I remember when Maine had a paper industry. We made newsprint, in fact. "The smell of money," we used to call it, when the wind came from the North where the mill was, so it wasn't all candy and parades, but at least there were jobs.
"What a U.S.-China Trade War Could Mean for the Opioid Epidemic" [Governing]. "Though Chinese officials deny that most of the fentanyl or other opioid substances originate in their country, they have in the past cooperated with U.S. efforts to control the flow of fentanyl onto American soil. If the tariffs become permanent, though, "it's most likely going to have a negative effect on other areas" beyond trade, said Jeffrey Higgins, a former Drug Enforcement Administration supervisory special agent. 'China could say 'We are no longer going to cooperate with the United States on controlling these synthetic opioids,' he continued. Fentanyl, one of the deadliest synthetic opioids, is up to 50 times more potent than heroin and can be 100 times more potent than morphine. Of the 64,000 drug overdose deaths in 2016, more than 20,000 were related to some form of fentanyl, a Centers for Disease Control and Prevention report shows. U.S. law enforcement and drug investigators consider China the primary source of this illicit drug and responsible for as much as 90 percent of the world's supply." • I'm surprised we're not blaming the Russians…
Politics
2020
"Culture of Fear and Ambition Distorted Cuomo's Economic Projects" [New York Times]. "In the ongoing trial of [Dr. Alain E. Kaloyeros — the former president of New York Polytechnic Institute], who is charged with wire fraud and wire fraud conspiracy, prosecutors say he was so worried about his standing with Mr. Cuomo that he hired a lobbyist with longstanding ties to the governor, and worked with that lobbyist to rig lucrative state contracts for the benefit of two firms — LPCiminelli of Buffalo and COR Development of Syracuse — whose executives had donated generously to Mr. Cuomo's campaigns…. The governor has not been accused of any wrongdoing, in either the Kaloyeros trial or the trial earlier this year of Joseph Percoco, once one of Mr. Cuomo's closest aides."

"How Worried Should Andrew Cuomo Be?" [Governing]. "New York splits its federal and state primaries, with the gubernatorial contest coming on Sept. 13. Primary turnout is always lower than in November, but having two separate primary dates lowers turnout even further. That could give a big boost to Nixon, whose supporters may be more ardent than Cuomo's." • That would be ironic! Democrats have gamed the electoral system into rottenness so badly they're vulnerable to insurgents, as with AOC.
2018
"Will 2018 be the year Democrats banish the demons of 1994? Signs point to yes." [USA Today]. "The 1994 election that ousted Democratic control of Congress was, first, seen as voter rejection of a government role in health care. The health insurance industry's "Harry and Louise" ad campaign defined the terms of that election as a backlash to "government-run" health care — a backlash that Democrats have grappled with ever since, through the Obamacare fight and beyond."• Thanks for butchering that one, Hillary. Still, it worked out well in the end, didn't it? Good description of a searing, formative moment for today's sclerotic liberal Democrat elite, however.

RI: "After Backlash, RI Democratic Party Withdraws Two Controversial Endorsements" [Rhode Island Public Radio]. "After a backlash that attracted national attenion, the Rhode Island Democratic Party has rescinded endorsements for two primary candidates, including one for a former Republican who supported Donald Trump in 2016. In a letter to Secretary of State Nellie Gorbea, RI Democratic Party Chairman Joseph McNamara said the party was withdrawing endorsements for Michael Earnheart and Greg Acciardo, a Democratic running for the seat now held by Sen. Mark Gee (R-East Greenwich.)"
Realignment and Legitimacy
"Here's What Happened the Last Time the Left Got Nasty" [Politico]. "Groups like the Weather Underground preached and carried out violence, including lethal violence… Most activists stopped short of planting bombs and shooting police officers…. By 1972, we should recall, a majority of Americans had come to oppose the Vietnam War, but greater numbers opposed the antiwar movement. Nixon cannily positioned himself as upholding law and order—a helpfully ambiguous phrase that lumped together the threats of rising crime, urban riots and rowdy left-wing activism. His invocation of the 'silent majority' aimed to bring together those who were put off by the noisy, disruptive and politically extreme protests. Trump, who has openly borrowed Nixonian terms like "law and order" and "silent majority," has already been using the confrontations with his administration's officials to shift the discussion from his immigration policies and onto the left's behavior." • On Trump, as IIRC Corey Robin has pointed out, the real danger is Son of Trump: Trump's methods and policies stripped of Trump's boorishness. On the lessons of the Weathermen for today, it's been a long time, but two points: Generically, let us remember that the first one to propose violence is always the cop. And the Weathermen turned into what they turned into precisely because they had no base in the working class at all (and I'm not sure, at that moment in time, the base was there to be had). Presumably today's left won't make the same mistake, which is why immigration policy is important, no matter what your position on policy….

"The growing Occupy Ice movement: 'We're here for the long haul'" [Guardian]. "[T]he Occupy Ice camp in Portland was unplanned…. 'This was definitely spontaneous,' [Whitney Handrich, one of the activists involved in Portland] said. 'But people have passed down knowledge from Occupy Wall Street, so that, I think, helps. So some of the lessons from that organization have been learned to make this more sustainable.'" • Handy picture:

(The type is small on the sign to the left. It reads: "Abolish ICE. Open all borders.") At least for the anarchist contingent, "Abolish ICE" is the path toward "Open Borders," as the image shows. This is natural, since one of the things a state does is control its borders, and anarchists wish to abolish the state. They, at least, have the courage of their convictions and are willing to state openly what their policy goals are. DSA (and the left (let alone liberals)) are more squishy. DSA, especially, had better work out how big, exactly, it wishes its tent to be. At the policy level, I don't see how you get to #MedicareForAll, which national DSA advocates, without the state. Or a $15 minimum wage. At the strategic level, I don't see how "Open Borders" puts the working class first, which should be the goal of the left, which has its own infestations of virtue signaling and posturing. If you're on the left and you accept the necessity of the state, then you accept the duty of the state to protect its citizens from, for example, labor arbitrage. (We might think of the H1B visa program as a pilot project for "Open Borders" and indeed that program suppressed wages very successfully.) If you want to end up with another crop of delusional, self-regarding, and explosively performative Weathermen for the 21st Century, then not connecting to the working class is exactly the way to go. As I have written:

Squaring local vs international workers circle…

Let me try. There are two programs to consider extending to non-citizens as well as citizens:

1) #MedicareForAll. Why? To prevent mass epidemics

2) #JobsGuarantee. Why? Because there's an enormous amount of work to be done.

What's left for citizens? The vote (and a passport). In a democratic society, the vote would mean determining where the money (resources) go a la #MMT; that's no small thing. In a democratic socialist society, that would mean control over capital allocation, an even less small thing.

I don't believe in open borders per se (which operationally means the end of the nation state), because I'm not an anarchist — the DSA's tent is too big if it includes them — but I don't see a reason why immigration couldn't be greatly increased under those terms.

But as things are … [Open borders] boils down to labor arbitrage aimed at US working class citizens and I'm not buying that package, even for some notional international working class solidarity, which I don't see happening any time soon.*

But the anarchists driving the Open Borders direct actions won't make these arguments, because they're anarchists. And nobody else will, from the DSA rightward. I don't know why, but I'm guessing liberal rhetoric about babies has rotted everyone's brain. NOTE * How I'd love to be wrong. But when I see that the supply chain is the existing order's most vulnerable point, and I see a subclass of workers who control an essential "choke point" workplace — the truck cab — having the same material problems in the U.S., China, and Brazil, and yet nothing is internationalizes (that I know of; readers?) I remain skeptical. The counter-argument would be class solidarity across the Rio Grande, but I don't see that argument being made either, perhaps because, contra liberal Democrat pieties, all "Latinx" "people of color" are not a single homogenous mass of undifferentiated potential midterms voters.

UPDATE "Democrats' rising star Senate candidate just said she won't vote for Chuck Schumer as party leader" [Vox]. "As much as that energy suggests that Democrats are united against Trump, real trouble lies ahead. Superstar* candidates like Alexandria Ocasio-Cortez ran and won on far-left platforms that include proposals like abolishing ICE and a federal jobs guarantee. Several candidates this year are pushing for Medicare for all, which some party leaders have considered too radical to seriously pursue. Now some of Democrats' most promising candidates are saying they won't support the existing party leadership if elected. All this raises real questions about whether the party's leaders are truly ready for the transformation they are about to face." NOTE * The contrast between the hackneyed "rising star" and the "superstar" that nobody heard of until, like, two weeks ago, is pretty amazing.

UPDATE "Trump's worst enemy: Middle-aged moms" [Jill Filopovic, CNN]. "[Woman are] so organized and loud it's impossible to miss them. It's women who are leading the protests against President Donald Trump's cruel immigration policies — some with their own children in tow as they protest separating families at the border. They're getting involved as political organizers, attending meetings, canvassing for candidates they believe in and making phone calls to pressure their elected officials. As Michelle Goldberg recently detailed in the New York Times, these are the women doing the thankless work of pounding the pavement." • Presuming that these women aren't Daughters of the Confederacy, the consequences can only be good, right?

UPDATE "Calling All Resistance Members! Roe V. Wade Is In DANGER! We Need YOU To Yell At JILL STEIN About The 2016 Election!" [ResitanceHole]. "Members of the Resistance, years from now your grandchildren will ask you what you did to rage at Jill Stein supporters online two years after her presidential run. When that moment comes, what will you tell them?"

UPDATE "What the Media Got Wrong About Ocasio-Cortez's Triumph" [The Nation]. "[ACO] dismisses the tension between identity and ideology as a false choice. As she told Nation reporter Raina Lipsitz, 'I can't name a single issue with roots in race that doesn't have economic implications, and I cannot think of a single economic issue that doesn't have racial implications. The idea that we have to separate them out and choose one is a con.' Ocasio-Cortez swamped Crowley with 57 percent of the vote in a district that is about 70 percent people of color. But some of her biggest margins came in Queens neighborhoods like Astoria and Sunnyside, among the whitest areas in the district, which are increasingly attracting young, creative types—who are also most inclined to support insurgent left candidates. As Salon's Andrew O'Hehir concluded, 'If she got Latino voters excited because she looked like them and spoke their language, she got Bernie Sanders voters excited for exactly the same reason.'"

UDPATE "Joy Amid the Ruins" [Dissent]. "There should be a word—maybe a juicy, complicated German one—for the experience of living through a history that's both tragedy and farce. It's a feeling we've all come to know. What else could explain the psychic breakdown of American liberalism in the Age of Trump? Surely you've noticed it, too. There's the latest viral Resistance theory claiming to have divined the strategy behind Putin's infinite-dimensional game of chess. There's a Democratic Party establishment that, fresh from betting everything on Hillary Clinton, looked at Tom Perez and said 'get this man on television.' There's the mainstream media, caught between Maggie Haberman's Twitter feed and a Morning Joe debate on whether Jarvanka can save us. Not even the jokes are funny anymore. Instead, there's Stephen Colbert explaining why that bad thing you read about on your phone earlier in the day is, in fact, bad. See it whole and the tableaux looks, more than anything, kind of sad. Viewed from another perspective, all this is just the latest in a long string of failures on the part of the American elite." • Good point on Colbert. Maybe I'm biased or wishful, but I think the jokes on the left can be pretty funny ("Underdogs know irony like they know air and water.") At least they're fresh. And speaking of not funny and not fresh—

UPDATE Louise Mensch brings the cray cray:


The @Ocasio2018-is-a-Russian-asset take has finally arrived, courtesy of the person the NYT Op-Ed presented as its Russia expert on the eve of US Congressional hearings into the 2016 election. pic.twitter.com/fLrbgI8wjF

— Glenn Greenwald (@ggreenwald) July 3, 2018

This doesn't seem to have taken, but give it time….
Stats Watch
Employment Situation, June 2018: "A very healthy employment report that shows brisk growth and also a movement into the workforce is headlined by a stronger-than-expected 213,000 rise in nonfarm payrolls for June which just tops Econoday's consensus range" [Econoday]. "The payroll breakdown is headlined by manufacturing which surged…. The rise in the number of people looking for a job is very good news, indicating that discouraged workers are more confident in their prospects. And very importantly, this gives FOMC members some breathing room as it reduces wage pressures and underscores Jerome Powell's stated desire to bring more people into the workforce." And but: "The household and establishment surveys were not in sync. The year-to-date employment is running above the pace of last year. This was another strong report" [Econintersect]. And: "The unemployment rate rose for a good reason — 601,000 workers searching for jobs" [MarketWatch]. "'The top level takeaway is that the labor market remains consistent with robust economic growth but not yet tight enough to generate the kind of upward inflation pressures that would encourage the Fed to raise rates more rapidly. Today's number is a very nice mix for risk assets—strong growth but still room for the Fed to move only gradually. I continue to expect rate hikes at quarterly intervals for the foreseeable future, but nothing more aggressive than that." — Eric Winograd, AB." But: "Wage growth was slightly below expectations in June" [Calculated Risk]. • So it's all good!
International Trade, May 2018: "The nation's trade gap narrowed sharply in May" [Econoday]. "China's trade surplus with the United States was $33.2 billion in May and $152.2 billion year-to-date, up 13.5 percent from the same period last year. Today's report is very positive for the economy showing strong demand for exports in what will be a positive for second-quarter GDP. It also underscores the strength of cross-border trade going into what appears to be a period reciprocal tariff actions." And but: "The data in this series wobbles and the 3 month rolling averages are the best way to look at this series. The 3 month averages are improving for exports and slowing for imports. The trade balance improved" [Econintersect]. "The data is worse if one considers inflation is grabbing hold in exports and imports – and the headline numbers are not inflation adjusted." And: "Both exports and imports increased in May" [Calculated Risk]. "Exports are 30% above the pre-recession peak and up 12% compared to May 2017; imports are 11% above the pre-recession peak, and up 8% compared to May 2017."
Weekly Leading Index: "ECRI's WLI Growth Rate Index Decline Continues" [Econintersect]. "Even with the general downward trend in this index over the last 6 months, the forecast is for modest growth six months from today."
Commodities: "The Death Of Diesel Has Sent Platinum Prices Crashing" [Safe Haven]. "Platinum is trading at a huge discount to its sister metal palladium, the second member of the platinum group metals (PGM). The platinum/palladium price ratio is now just a little above its record lows. The two precious-metal workhorses find applications mainly in the internal combustion engine (ICE), with platinum being the preferred emission scrubber for diesel engines while palladium does the same job for gasoline engines….. Platinum is trading at a huge discount to its sister metal palladium, the second member of the platinum group metals (PGM). The platinum/palladium price ratio is now just a little above its record lows. The two precious-metal workhorses find applications mainly in the internal combustion engine (ICE), with platinum being the preferred emission scrubber for diesel engines while palladium does the same job for gasoline engines."
Shipping: "Container rates stable, but carriers still cutting capacity despite peak season" [The Loadstar]. "[D]espite the looming peak season, it appears carriers are looking to further limit capacity. THE Alliance announced today it would merge two of its Asia-US west coast services – the PS5 and PS8 – and thus operate a total of six services on the trade. THE alliance partners took this action 'in response of schedule integrity improvement, extensive product enhancement and better cost efficiency.'" • Just like Comcast and Verizon. Cartels gotta cartel.
Shipping: "Infographic: The Parking Problem" (infographic) [Freight Waves]. "The truck parking issue has both social and economic consequences. Failure to find a spot within the hours of service puts many drivers at risk of parking in unauthorized areas." • The robot trucks better know how to park?
Transportation: "Acute pilot shortage and fewer available freighters likely to drive faster drone adoption" [The Loadstar]. "The worsening shortage of pilots and concerns about available freighter capacity down the road are adding a sense of urgency to the deployment of drones to fill the gaps. The pilot shortage is the more serious concern for cargo carriers. A study published by Boeing last year found that more than 637,000 pilots would needed between 2017 and 2037." • Hey, remember when being a pilot was a good job? Good times…
Transportation: "Zoox on HMI and Ergonomic design in autonomous & shared vehicles" [Automotive IQ]. Alexandra Sanborn, HMI and Ergonomics Integration Engineer at Zoox Inc.: "[P]eople want things their way. In the automotive space, they also want to know that they can trust the product to keep them safe. Building a vehicle that can accommodate personalization among customers in a community-like setting while also getting someone safely from point A to point B is the largest integrative challenge the autonomous ride service industry will face. We, of course, want every customer to be a satisfied customer." • I dunno. I don't recall hearing about any consumer demand whatever for turning their vehicles into "community-like settings." Where do they put Junior's sippy cup? And body fluids are one thing, but unknown body fluids are quite another….
Transportation: "The Futuristic and Constant Landscape of Morgantown" [Daily Yonder]. "Boeing developed the Personal Rapid Transit (PRT) system that runs between the WVU campuses and downtown in the early 70s. It's a fully automated, driverless system of eco-friendly light rail that zooms above the ground—guided by some obscure algorithm I can only imagine. It's and is adored by students and faculty alike (or so I am told)." • Anybody here from Boston remember remember the Boeing Green line cars? This article is well-worth a read; I'm only placing it here — and I'm being nice by not filing it under The Bezzle — to take a whack at the concept that Tech, because it's Tech, automagically comes up with good transportation solutions. Techies love pods, I don't know why. Robot cars are the newest pods.
The Bezzle: "Vacation rental scams are (almost) worse than a sunburn" [FCPA Blog]. "This week the FTC won a $5.2 million judgment against defendants who posted Craiglist ads for rental properties that "did not exist or that they had no right to offer for rent." When people responded to the ads, they were told to obtain credit scores from a company that automatically enrolled them in a credit monitoring service for $29.94 a month. Most of the victims didn't know they'd been enrolled." • With list of handy tips, most of them common sense ("don't wire money") others more subtle ("If the property is located in a resort, call the front desk"). Stay safe out there!
Five Horsemen: "All of the Fab Five sport modest gains today but none are setting new highs" [Hat Tip, Jim Haygood].
NakedCap Mania-Panic Index: "After yesterday's market bounce the mania-panic index rose to 38 (worry)" [Hat Tip, Jim Haygood]. (The NakedCap mania-panic index is an equally-weighted average of seven technical indicators derived from stock indexes, volatility (VIX), Treasuries, junk bonds, equity options, and internal measures of new highs vs new lows and up volume vs down volume … each converted to a scale of 0 to 100 before averaging, using thirty years of history for five of the seven series.)
Class Warfare
"The Week in Public Finance: The Red State That's Considering a 'Millionaire's Tax'" [Governing]. "[T]his fall, voters in conservative Arizona seem set to vote on whether to tax the state's wealthiest residents in order to pay for teacher raises. This week, organizers for the Invest in Education Act said they have collected enough signatures to put the question on the ballot in November…. Arizona is among a group of states that has prioritized cutting taxes over restoring education funding since the Great Recession. It was one of three governments gripped this spring by teacher strikes that shut down schools for more than a week to demand higher funding and better pay…. The measure is sure to face bitter opposition, as it's essentially a doubling of the income tax rate on the wealthy. That would be a tough sell in any state, let alone a low-tax, conservative one like Arizona…. Voter support for the tax hike so far is positive. Last month, a telephone poll conducted three weeks after the teacher strike ended found that 65 percent of voters said they would support the initiative in November." • Seems pretty mild, to me. Why not triple? Or quadruple?
"This 29-year-old couple lives, works and travels in a van, and they love it" [MarketWatch]. "How do you earn a living on the road? Nate is a self-employed videographer. I'd done business consulting remotely before, so I decided to start my company again [a short time after we started traveling]. If I could do it from home in Denver, I can do it from my van. I haven't fully replaced my previous salary yet, but I am living comfortably and able to save money. And I work less than I did at my former job, so I'd count that as a win!" • Not for everyone. Not so easy to garden from your van. The image that goes with the article is interesting: The van and its two occupations isolated in the middle of a desert. The perfect model of life under neoliberalism…
"Population shrinking across rural Indiana" [AgriNews]. "'There was a study done by IU Public Policy Institute,' said Katrina Hall, director of public policy at Indiana Farm Bureau. 'Their projections through 2050 show that 59 of the 92 counties, all of them rural, are losing population significantly. When people aren't in your location, you don't have workers. You don't have a tax base. The few that are left, primarily our farmer members, are left alone.'" • To be fair, rural migration to Brooklyn is going to cut wages for artisanal pickle makers. So it's all good!
"Kids today are waiting longer than ever in the classic marshmallow test" [Science News]. "This willingness to delay gratification has recently bloomed among U.S. preschoolers from predominantly white, middle-class families, say psychologist Stephanie Carlson of the University of Minnesota in Minneapolis and her colleagues. Youngsters aged 3 to 5 in the 2000s waited an average of two minutes longer during the marshmallow test than children in the 1960s did, and an average of one minute longer than 1980s kids did, the scientists report June 25 in Developmental Psychology."
News of The Wired
"7 ways to keep your smart home from being hacked" [MarketWatch]. • I read the article carefully, and I don't see the obvious solution: Don't make your home "smart." And if you add up the time spent doing things like software upgrades and futzing with your network — to be fair, I l-o-o-o-v-e upgrading software, paying for a separate Internet connection, and configuring a VLAN — I would bet smart homes net our "negative in convenience." Could it be that, as so often, "smart" is stupid (or more precisely, "smart," if you buy into it, is indeed smart, just not for you, but a rentier?)
"15. Human Sexual Behavior I" [Robert Sapolsky, YouTube]. Begins with a very funny and safe-for-work joke…
* * *
Readers, feel free to contact me at lambert [UNDERSCORE] strether [DOT] corrente [AT] yahoo [DOT] com, with (a) links, and even better (b) sources I should curate regularly, (c) how to send me a check if you are allergic to PayPal, and (d) to find out how to send me images of plants. Vegetables are fine! Fungi are deemed to be honorary plants! If you want your handle to appear as a credit, please place it at the start of your mail in parentheses: (thus). Otherwise, I will anonymize by using your initials. See the previous Water Cooler (with plant) here. Today's plant (Ed M):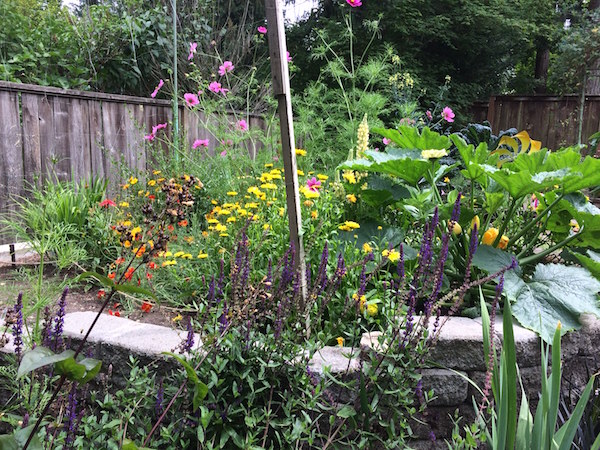 Ed M writes: "Combination of crocosmia (not yet in bloom), coreopsis, california poppy, calendula, and zucchini, left to right, topped by cosmos with saliva in the foreground." Lovely garden, same theory as mine :-)
* * *
Readers: Water Cooler is a standalone entity not covered by the annual NC fundraiser. So do feel free to make a contribution today or any day. Here is why: Regular positive feedback both makes me feel good and lets me know I'm on the right track with coverage. When I get no donations for five or ten days I get worried. More tangibly, a constant trickle of small donations helps me with expenses, and I factor that trickle in when setting fundraising goals. So if you see something you especially appreciate, do feel free to click the hat!

To give more, click on the arrow heads to the right of the amount.
If you hate PayPal — even though you can use a credit card or debit card on PayPal — you can email me at lambert [UNDERSCORE] strether [DOT] corrente [AT] yahoo [DOT] com, and I will give you directions on how to send a check.