By Jerri-Lynn Scofield, who has worked as a securities lawyer and a derivatives trader. She is currently writing a book about textile artisans.
Yesterday, Dealbook's Andrew Ross Sorkin wrote a column discussing the Navajo Nation's bid to buy firearms maker Remington, A Surprising Bid for Remington, and an Unsurprising Rejection— as a backdoor way of achieving some degree of gun control.
The company has recently emerged from bankruptcy. In May last year, Sorkin had written an earlier column, with this exhorting headline, Please, Please Buy This Gun Company that foreshadowed the terms of the Navajo Nation's bid :
More tantalizing is a pie-in-the-sky idea: whether a beneficent billionaire, like Michael R. Bloomberg, could buy the company and either try to transform it or shut it down — a sort of philanthropic euthanasia in the name of gun control.
According to PitchBook, in Remington rejects ~$500M bid from Navajo Nation:
Cerberus Capital Management spent nearly a decade searching for someone—anyone—to buy Remington Outdoor before the maligned gunmaker filed for bankruptcy earlier this year.
Additionally, the same source continues:
Cerberus handed over control of Remington earlier this year to creditors including Franklin Templeton Investments and JPMorgan Chase as part of Chapter 11 bankruptcy proceedings. The firm acquired its stake in the arms dealer in 2007 as part of a deal that merged Remington into a larger gun-industry entity called Freedom Group.
Navajo Nation Bid
There's not been little additional original reporting on the issue– and that which has appeared, largely regurgitates aspects of Sorkin's account.  I've not managed to find a copy of the bid, so, unfortunately, my discussion must rely on Sorkin.
Navajo Nation, which Sorkin describes as "one of the largest Native American tribes in the country with more than 350,000 members and land holdings of more than 27,000 square miles in Arizona, New Mexico and Utah" controls a $3.3 billion investment trust.
The Navajo Nation has made an all cash offer of between $475 and $525 million. According to the Dealbook account:
The Navajo Nation's plan for Remington was novel: It intended to shift the company away from its consumer business, including curtailing the sale of the AR-15-style weapons frequently used in mass shootings, to focus on police and defense contracts.

The tribe planned to use profits from those businesses to invest in research and development of advanced "smart guns" — those with fingerprint or other technology intended to prevent anyone but the gun's owner from using the weapon. Smart guns have so far failed to make much headway at the major gun manufacturers, which have faced pressure from groups like the National Rifle Association.

It's not clear that the tribe's proposal would have worked, of course. But the Navajo Nation would have had an advantage in sales for police and military contracts. Not only must a certain percentage of government business go to minority-owned companies, but the Native American Incentive Act also confers certain other advantages, according to the American Bar Association.

The only guns the Navajo Nation planned to sell to consumers were long guns like rifles and shotguns used by hunters.

"Navajo is a community of veterans and people of the land," the tribe's lawyer, Drew Ryce, said in an email. "We are indifferent to the AR-15 and happy to leave that business behind."
Also relevant is the Navajos' plans for Remington to create jobs on the reservation:
"Navajo has over 70 percent unemployment," Mr. Ryce wrote. "Over the next few years we would shift the assembly (i.e. lesser trained) parts of the business onto the reservation."

Over the longer term, he said, the tribe would have created the kinds of small machining operations that supply many parts to the company. "We would establish this specific machining of specific parts on-reservation and assemble and ship the products on-reservation," Mr. Ryce said.
To put this in context, as The Navajo Post reports:
To address high unemployment, Navajo leaders have long sought to bring manufacturing jobs to the reservation, which spans parts of Arizona, New Mexico and Utah
.
I include a map here, as I don't think many readers– US or otherwise– who aren't already familiar with this part of the country grasp just how large the sovereign territory controlled by the tribe is (even though the extent of that geographic control isn't really relevant to this discussion).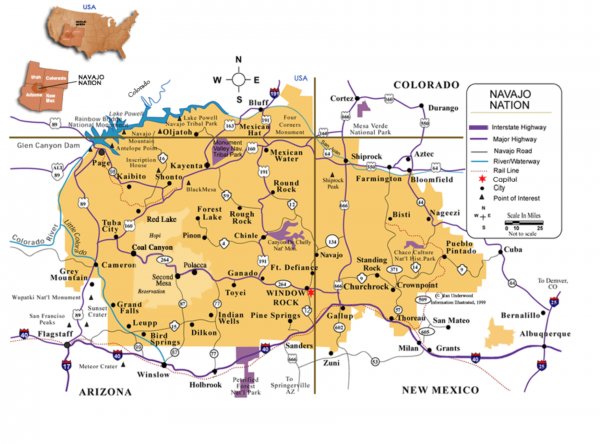 Source: The Navajo Nation Division of Economic Development, Where is the Navajo Nation?
What is more germane is that despite the rise of a student-driven gun control movement– including large protests nationwide protests earlier this year–  gun control remains stymied in the US– long after other countries have adopted drastic changes in the wake of massacres (e.g., Dunblane, Scotland, in 1996; Port Arthur, Tasmania, 1996).
I note that although discussion of the Navajo Nation Remington bid has yet to achieve even limited traction in the US MSM– despite the DealBook assist–  at least one foreign journalist appears regards these efforts as evidence of a slim wisp of gun control sanity (see this account in Les Echos, Pourquoi Navajo Nation n'a pas pu racheter Remington).
According to the DealBook account:
The bid was rejected last week after Remington had delayed a formal reply for nearly two months, according to a memo from Christopher Wu, president of Teneo Restructuring, a banker for the Navajo Nation.

"The conversation was cordial," he said of a call he received from Remington's general counsel in reply to the bid. "He conveyed an official message from the board thanking us for our interest in pursuing a strategic transaction. He let us know that the company at this time is not prepared to engage with third parties and they required time after their reorganization to assess their business."

When he asked about the delay, he wrote, he was told again that Remington was not prepared to engage with third parties. There was no mention that the bid price was too low.
What's Next for Remington?
It's not yet clear at this point what might be next for Remington– nor is the reason the Navajo Nation bid was rejected. In the absence of any further information, it remains to be seen whether any further transformative bid along the lines Sorkin suggested in May might succeed and transform Remington's business model.
I'm not holding my breath….